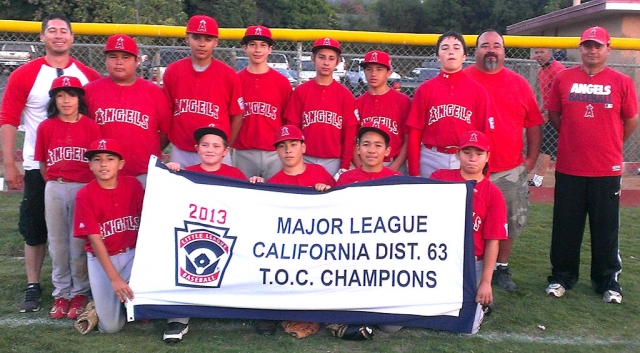 (l-r) (front row) Roy Esquivel, Tyler Court, Diego Magana, Victor Jimenez, Sissy Valencia, (back row) Josh Lagunas, Donovan Salas, Jose Romero, Andrew Perez, Ethan Aguilera, Ricky Holladay, and Blake Palacio. Coaches Fernando Perez and Memo Palacio. Manager Sergio Aguilera.
Enlarge Photo
By Gazette Staff Writer — Tuesday, June 18th, 2013
Congratulations to the 11-12 year old Major division Fillmore Angels who won their TOC Championship game this past Sat June 15th by beating Santa Paula 13-5. The Angels completed their season undefeated with a 18-0 record. That is two titles now for Fillmore Little League this year as the Minor A Cubs brought home the flag on June 8th by beating Montalvo 5-4. Thanks to everyone who came out to support theses teams and coaches.
Next up is All-Star Tournament hosted by Santa Paula Little League. Fillmore's 1st game will be Sunday 6-23 at 6:00 pm vs Goleta Valley. come out and show your support.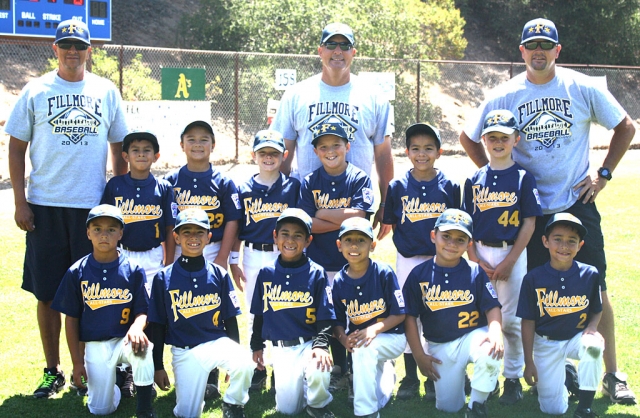 (l-t) (front row) Nathan Delgadillo, Jathan Magana, Mathew Magana, Nathan Perez, Joel Contreras and Theodore Ebell, (back row) Coach Pepe Munoz, Roman Munoz, Jarod Uridel, Ty Morris, Manager/Coach Terry Morris, Phillip Cervantez, Johnny Cardenas, Ty Weeks and Coach Ryan Weeks.
Enlarge Photo
By Gazette Staff Writer — Tuesday, June 18th, 2013
A big congratulations to the team, they placed 7th in the Minor B Allstar Tournament in Oak View, CA. This is the second year that there has been an Allstar tournament for this age group which consists of 7 and 8 year olds. They played one game on Saturday 6-8-13, one game on Sunday 6-9-13 and the final game was this last Sunday 6-16-13.
By Gazette Staff Writer — Wednesday, June 12th, 2013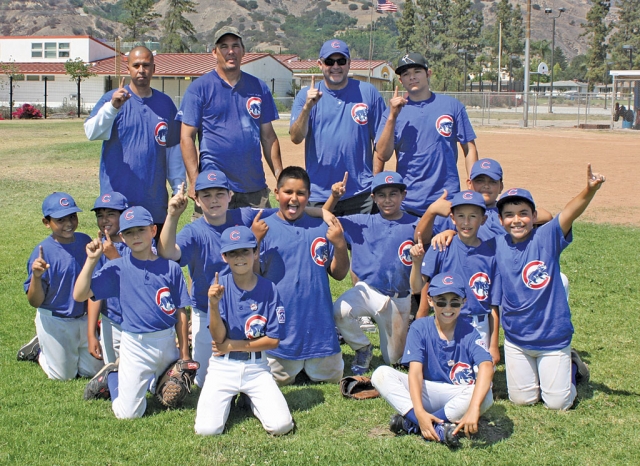 Congratulations to our Little League Minor A Fillmore Cubs who won their TOC Championship game Saturday, June 8th in Fillmore defeating Montalvo 5-4. This was Fillmore's first championship in recent memory for the Minor A division in the Tournament of Champions. In addition to the win over Montalvo the Cubs had road wins over Ojai and Santa Paula. The Cubs would like to thank all of those who came out to support them this past Saturday. Pictured above: Back row from left to right coaches: Frank Cantero, Robert Ferguson, Damon Villa, & Victor Gomez. Middle row from left to right players: Phillip Villanueva, Hector Cervantes, Connel Ferguson, Santos Valdez-Cortez, Nick Jimenez, & Joseph Andrade. Front row from left to right players: Seth Ellis, Damon Villa, George Mooradian, Jacob Cantero, & Jared Schieferle.
Enlarge Photo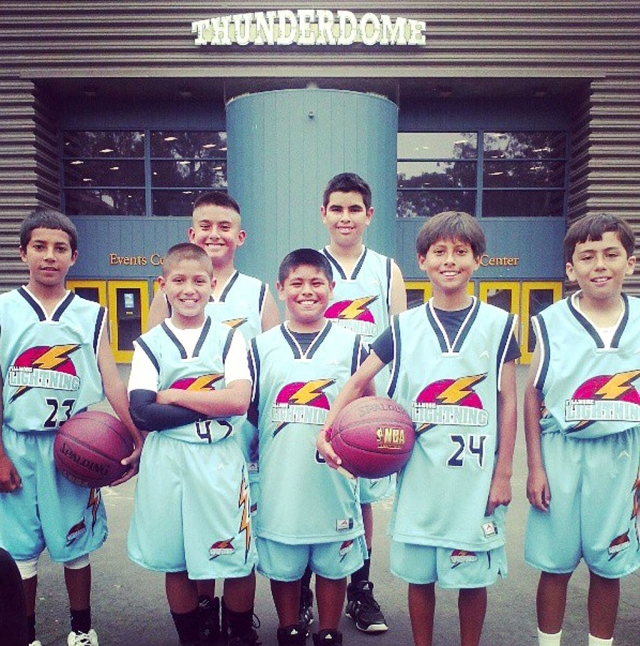 (l-r): Yobany Figueroa, Jaysson Carrillo, George Valenzuela, Justin McElroy, James Flores, Davis Flores, Fabian de Villar (not pictured: Roy Esquivel).
Enlarge Photo
By Gazette Staff Writer — Wednesday, June 5th, 2013
Fillmore's first boys basketball travel team "Fillmore Lightning" competed this past weekend at UCSB Thunder dome in the Swoosh Summer Kick-Off Tournament. Although they did not take the tournament, they did extremely well for their first time competing against veteran teams. Cal Hoops Elite vs. Fillmore Lightning (30-31), SB Vipers Black vs. Fillmore Lightning (47-53), Ventura Celtics vs. Fillmore Lightning (31-27). Next tournament will be held June 22nd and 23rd in Oxnard at Santa Clara High School.
By Gazette Staff Writer — Wednesday, May 29th, 2013
Fillmore takes 2nd place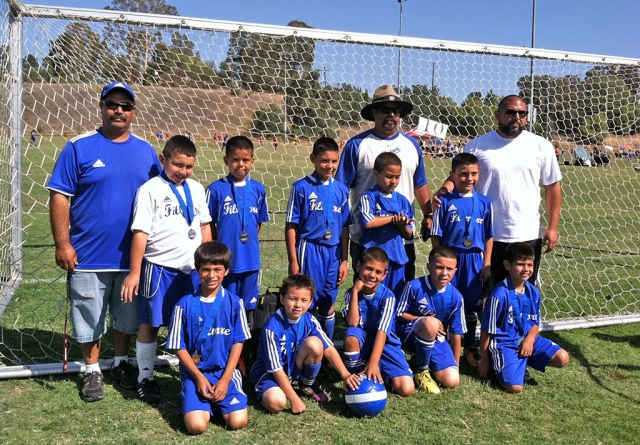 In the Thousand Oaks Memorial Day Tournament, Fillmore boys U-8 team played a U-9 team and took home second place. (l-r) (bottom row) Jathan Magana, Adrian Vasquez, Mathew Magana, Julio Negrete, Diego Alcaraz, (top row) Ivan Becerra, Angel Castorena, Armando Manriques, Alfredo Cardenas, and Dante Reyes. (not pictured) Sebastian Navarrete. Coaches are Joe, Damian and Javier.
Enlarge Photo
By Gazette Staff Writer — Wednesday, May 22nd, 2013
Perce's Kenpo Karate Studio recently competed in a local Karate tournament in Oxnard at St. Johns Lutheran Church. The tournament was held May 4th by the Flores Bros. Kenpo Karate Studio of Oxnard, and had over 130 Students competing from all over Southern California. The results are for Sparring Division 8-9 yrs. old Green-Brown belt 4th place Dave Bustos. 8-11 yrs. old Orange-Blue belt 1st place Celeste Aguilera. 9-10 yrs. old Brown belt 1st place Justice Rodriguez, 3rd place Emiliano Pinedo. 10-13 yrs. old green-Brown belt 1st place Crystal Pinedo, 4th place Erasmo Salazar. 14-18yrs. old Yellow-Blue belt 2nd place Angel Rodriguez. Teen-Adults Blue-Green 2nd place Javier Rodriguez.
Forms Divisions results are CONTINUED »
By Gazette Staff Writer — Wednesday, May 15th, 2013
U-8 boys soccer team from Fillmore went undefeated 12-0 for Oxnard primer soccer league. They took Frist place on Saturday score 7-5. Players names not in any order, Angel Castorena, Ivan Becerra, Alfredo Cardenas, Diego Alcaraz, Armando Manriqes, Mathew Magana, Jathan Magana, Adrian Vasquez, Julio Negrete. Coaches Joe & Damian Magana.
Enlarge Photo
By Gazette Staff Writer — Wednesday, May 8th, 2013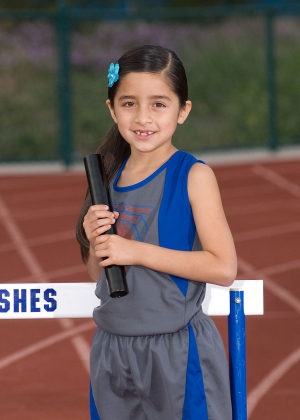 Andrea Laureano
Victor Ortiz, long distance head coach for the Heritage Valley Blazers, recently announced that Andrea Laureano, recently broke her own Ventura County record in the 1600m track event against the home team of the Ojai Roadrunners. Her time, at the April 27th event, of 6:29.52 smashed her previous record by 8.3 seconds. Miss Laureano, age 7, nipped the previous county record against the Thousand Oaks Flyers by .08 of one second. That record was originally established in 1996 by J. Mayers and then tied in 2003 by Taylor McGuirre of the Ventura Tigres.
When asked how she felt about breaking the long time record Andrea said, "I was excited. It was my goal to break the record since the beginning of the season." She said that she has been running track for the Blazers for two years and also for the Fillmore Condors Cross Country team last year. She loves running because it is fun and that she can do it all the time.
Her father and coach Rafael said that Andrea is one of six Laureanos running for the Fillmore/Santa Paula teams. "Andrea has been on the go since she's been in diapers. I haven't been able to slow her down since, so I might as well coach her", said Mr. Laureano. "My wife, Viviana, and I have been involved in the running world for quite some time. We enjoy helping young kids reach their goals and better their self esteem and we can do that best by teaching them how to run". He went on to say that he is grateful for all of the support that their programs get including that of all the other dedicated coaches involved.
"We are proud of Andrea's commitment to the sport and herself", said Julian Morral, president of the Heritage Valley Blazers. "It is our aspiration that others may see themselves in her success and want to come out and give running a try. It is a fun sport for the whole family." He went on to say that with Miss Laureano's success in this event she automatically qualifies for the varsity finals to be held on May 18th and the Championship meet on the first of June. In addition Andrea has qualified to run in the 800m post season events and so far has been just 1.79 seconds away from qualifying in the 400m. "I know that when she returns next year she'll master all of those events." said Morral.
The Heritage Valley Blazers was founded in 1992 when the Santa Paula and Fillmore track clubs merged. They represent track athletes from ages five to 16 years old. They race with other children throughout the county including Newbury Park, Ventura, Ojai, Thousand Oaks, Moorpark, Oxnard and Camarillo. It is part of the Ventura County Youth Track Conference. To learn more please go to: http://www.vcytc.org/track/about.html and http://www.vcytc.org/track/index.html. Information regarding the upcoming cross country season with the Condors which too represents kids from Santa Paula and Fillmore please go to: http://fillmorecondors.org/.
By Gazette Staff Writer — Tuesday, May 7th, 2013
233 swimmers from nine high schools from Ventura county, Santa Barbara county and LA county. The aquatic center was filled to capacity with swimmers, families and friends. FHS swimming coach: Lindsay Bricker
Below are results for Fillmore H.S. Swim Team from the Frontier League Finals that took place on Thursday, May 2. Prelims were held on Tues. April 30. Also included are the overall team results for Varsity Boys and Girls and JV Boys and Girls.
To help you read these results:
If you looked at Event #9 Girls 100 yd. IM JV, in 1st place was Elisabeth Manzano of Fillmore. The number to the far right of the swimmer's name is the points they scored.
By Gazette Staff Writer — Monday, April 29th, 2013
Football, Volleyball, Cross Country, golf, Pep Squad, Basketball, Soccer, Wrestling, Baseball, Softball, Track & Swimming...
Dear Future FHS Parent:
One of the most active community groups working with Fillmore High School every year is the Fillmore High School Athletic Booster Club. This group supports all fourteen athletic teams featured at the High School level. For instance did you know that each year the Athletic Booster Club distributes over $25,000 toward sports at FHS?
Without an active support driven Booster Club we cannot improve, introduce or even maintain existing athletic programs offered at Fillmore High School. So how can you help? Please consider serving as a Booster Club Board Member for the 2013-2014 school year. Elections to select next year's board will be held on MONDAY, MAY 6, 2013 at 6:30PM in the Athletic Office of FHS.
Please feel free to contact the Athletic Department with any questions or concerns you may have. We can be reached at #805-524-8491.
Matt Suttle
Matt Suttle, Athletic Director
msuttle@fillmore.k12.ca.us
Lynn Cole
Lynn Cole, Athletic Secretary
lcole@fillmore.k12.ca.us
By Gazette Staff Writer — Wednesday, April 24th, 2013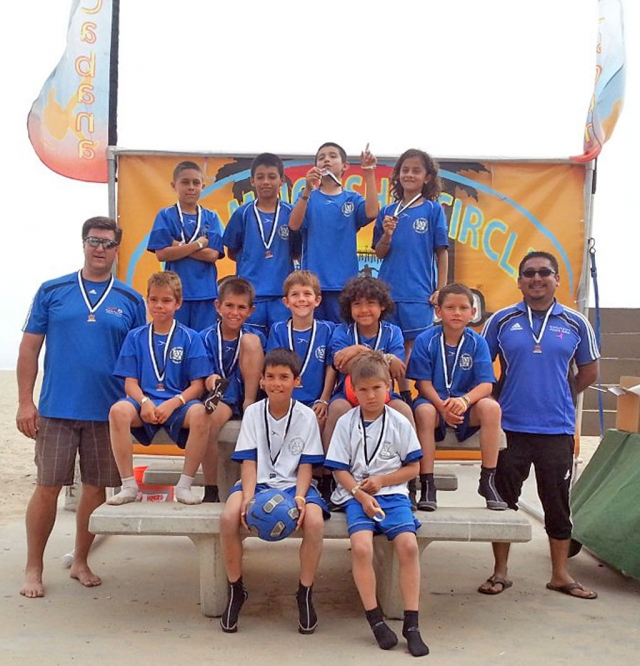 Our local Division U10 AYSO All-star Tournament team participated in Copa Cabana's Annual Beach Soccer Tournament this past weekend. They took second place. Congratulations for their hard work. They played four games in two days in the sand. (l-r) (front row) Damon Villa, Ull Rosten, (middle row) Asst. Coach Darren Rosten, David Goyette, Odin Rosten, Caden Lindsay, Matthew Munoz, Chip Alamillo, Coach Arnold Munoz, (last row) Luke Rangel, Adrian Martinez, Fabian Saldana, and Joey Esparza.
Enlarge Photo
By Gazette Staff Writer — Wednesday, April 24th, 2013
In the first year of Fillmore/ Santa Paula inter league play it was destined to be interesting to say the least, But on April 22nd 2013 11 year old Angel Viramontes would do what only two other players had done in Fillmore Little League history (Rick Stewart and Raphael Meza). Angel took the mound for the Fillmore Blue Jays. With a look of sheer determination and a cheek full of big league bubble gum. Angel started the game off with 3 consecutive strikeouts and continued through the game without letting more than the minimum of 3 batters at bat per inning, completing a "Perfect Game". It wouldn't have been possible without his great defense including Nick Herrera, Jake Saviers, Auggie Osegueda, Noah Faulkner, Jaysson Carrilo, Daniel Mynatt, Remy Richardson, David Julian, Michael Santa Rosa, Julian Lizarraga, Colby Walsh and JJ Dietz. He ended the game with 12 strikeouts
and scored 1 of the teams 2 runs as they went on to win 2-0 against the Santa Paula Red Sox. Interesting fact the last time a perfect game was pitched was Ralph Meza in 2001 and on that team was the Manager of the Blue Jays this year Jesse Stone.
By Gazette Staff Writer — Wednesday, April 17th, 2013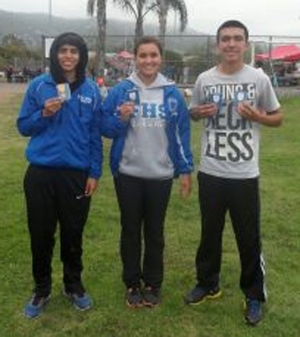 (l-r) Anthony Rivas, Kayla Grove and Carlos Briceno
On Saturday April 13th the FHS track team traveled to Carpinteria for the 94th annual Russell Cup, purportedly the longest running track meet in the state. Despite the gloomy weather conditions the team still managed to take home medals both on the field and on the track. Anthony Rivas was 4th in the Boys' Varsity 3200m with his time of 9:56.95. Kayla Grove heaved the round metal ball in the shot put for a best of 33-00 ¾ which earned her a 3rd place. Rounding out the hardware winners was Carlos Briceno, earning a medal for his 3rd place performance of 16.31 in the 110m high hurdles and his 2nd place finish of 44.42 in the 300m intermediate hurdles. Carlos also is the holder of the Freshman/Sophomore school record in the 110m High Hurdles.
The team will be competing home against Oak Park and Grace Brethren this Thursday at 3:00pm, hope to see you there.
By Gazette Staff Writer — Wednesday, April 17th, 2013
Boys & Girls Club, Fillmore on Saturday April 27 from 10am-2pm
WM. L. Morris Chevrolet, Saturday, MAY 4th
Please bring child for uniform fitting and his/her birth certificate.
For more info: AYSOfillmore.clubspaces.com or AYSOREGION242@gmail.com
Or contact: Leidy 638-6445, Arnold 906-9642, Greg 217-8364, Darren 551-4239
By Gazette Staff Writer — Wednesday, April 17th, 2013
By Gazette Staff Writer — Wednesday, April 3rd, 2013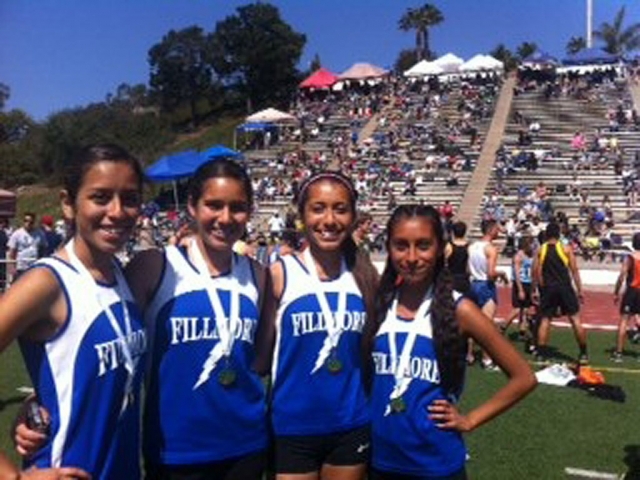 Girls FS (l-r) Briana Segoviano, Alexis Tafoya, Maria Perez and Irma Torres. Santa Barbara Easter Relays, frosh soph girls' relay team medaled in both the 4 x 800 (3rd) and Distance Medley (4th).
Enlarge Photo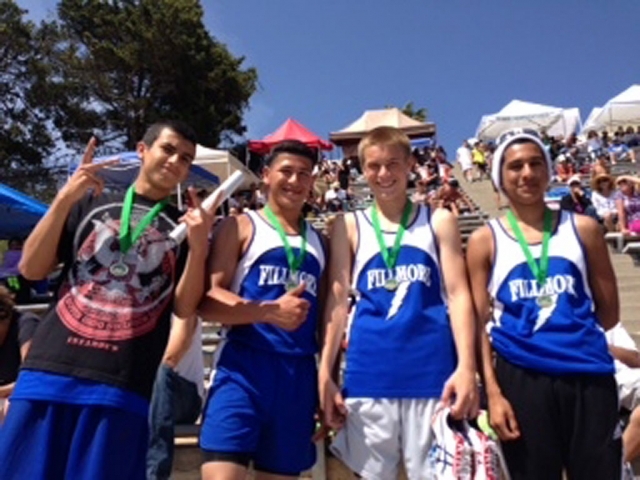 Boys FS (l-r) Aaron Cornejo, Arnulfo Izarraras, Hayden Wright and Demitriouz Lozano. Santa Barbara Easter Relays, frosh soph boys' team relay team medaled in the 4 x 100 (5th).
Enlarge Photo
By Jeremy MacMahon — Wednesday, March 27th, 2013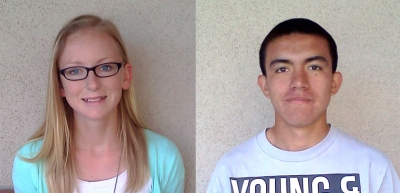 (l-r) Taylor Brown, one of the top 20 freshman girl 100m runners in the state and Carlos Briceno, one of the top 20 sophomore boy high hurdler runners in the state
Enlarge Photo
The first half of the Flashes track and field season winds down to a close and has seen some solid performances by key veterans and outstanding performances by fresh faced newcomers. This will certainly be an interesting season in the newly refurbished tri-valley league.
The girls' varsity, although small in early season action, is still formidable with returning veterans such as Kiana Hope, Jordyn Vassaur, and Maria Villalobos. The sprints reunite Kaytlin Magana, Alissabeth Hernandez, Banely Arevalo and Andrea Robles. Kaytlin and Sarena De La Cruz will also be moving into the long jump and triple this year. A key pick up in the throws is powerhouse Kayla Grove who teams up with Jessica Mayhew to heave heavy objects very far.
For the boys' varsity the returning distance experts come fresh off their cross country state win and include Justin Beach, Vincent Chavez, Frank Chavez, Nicolas Frias, Isaac Gomez, Adrian Mejia, Anthony Rivas and Hugo Valdovinos. For the sprinters, Alexander Banales, Javier Rodriguez and Andrey Sanchez return to show their speed. Hurdler Tyler Hackworth has already shaved over a second off of his best from last year and Joey Orozco will soon be recovered and jumping with Alexander. Ricardo Gutierrez anchors the varsity throwing team.
The girls' junior varsity has real talent waiting to step up. Taylor Brown is already one of the top 20 freshman girl 100m runners in the state with a best of 13.17. Assisting in the middle sprints is Jordan Manzano and going just a little bit further in the distance category is Irma Torres. Dasy Cota is the lone jumper covering both horizontal jumps and the high jump.
By far the largest section of the team the boys' freshman sophomore team is highly competitive. With Carlos Briceno in the top twenty sophomores in the state for the high hurdles and Daniel Flores close on his heels it seems incomprehensible that there are also speedy individuals in the sprint such as Hayden Wright, Demitriouz Lozano, Aaron Cornejo, and Arnulfo Izarraras. Their relay team has placed highly in several very tough meets. Francisco Erazo and Jorge Hurtado return to bring the distance to the forefront and Esteban Herrera, Chad Hope, and Chad Petuoglu help the throwers spin through the ring.
There are many, many other athletes that help bring a team together and absolutely deserve recognition. They will be integral parts of our success in the coming weeks. Hopefully they will also be recognized as the season progresses. For now we thank them for their contributions.
The team travels to Santa Barbara City College this Saturday for the Easter Relays. They will take on Santa Paula on Wednesday and then travel to the Spartan Relays on the following Saturday. Upon returning from spring break they will begin the exciting league completion phase of the season.
By Gazette Staff Writer — Tuesday, March 26th, 2013
Game played 3/25-2013
Score: FHS-13, HUENEME-1
FIVE INNINGS PLAYED Kayleigh Thompson & Mary Ortiz were 4 for 4
Miranda Faulkner winning pitcher allowing 1 home run to Hueneme's shortstop Serano
Over all record, Fillmore is 7 wins and 6 losses League record 1 win 3 losses
By Gazette Staff Writer — Wednesday, March 20th, 2013
(l-r) Cameron Reilley (Sponsored by Grant Wade), Kyle Medina (Sponosred by Abundio Medina & Tom Hooten), Emilio Hernandez (Sponsored by De La Rosa Auto Repair), Erick Cadena (Sponsored by Marcos Galaviz).
Enlarge Photo
By Gazette Staff Writer — Wednesday, March 20th, 2013
On a chilly Sunday morning, Saint Patrick's Day, Nico Frias and Isaac Gomez ran the 2013 L.A. Marathon. Morning is not being used lightly, they started at 7:30 a.m. and were done by 10:30 a.m.; their time 3 hours 10 minutes. They are runners by nature as their training is always on going. They run Cross Country with Fillmore High School and are currently on the track team. It should be mentioned that both boys do very well in their studies. How do they do all this; the only answer can be "they are young". Isaac is 17, a senior at FHS, and it is his second marathon. Nico is 16, a junior at FHS and this is his fourth marathon; first was when he was 13. They ran with Students Run L.A. hence the neon green singlet. Congratulations to both boys!!