By Gazette Staff Writer — Wednesday, November 7th, 2012
The Fillmore Condors Youth Cross-Country team is having one of it's most successful years to date! With over 35 athletes competing from the communities of Fillmore, Santa Paula and Piru, the Condors team are out-running teams from much bigger towns throughout Southern California. October 27th the Condors competed at the Conference Championships at Oak Canyon Community Park and came home with 5 team plaques! Our Bantam Girls (ages 9-10) took 1st place, Bantam Boys took 2nd. Our Midget Girls (ages 11-12) took 2nd place. Our Youth Girls (ages 13-14) took 3rd place and our Youth Boys team took 2nd. Quite an impressive accomplishment!
With such a great team of talented and hard-working youth athletes under the guidance of our dedicated coaches Rafa Laureano, Temo Laureano, and Victor Rodriguez, we are looking forward to having many of our athletes qualify for the AAU National Cross-Country championship race in Rock Hill, South Carolina on December 1st. Please consider supporting our fundraising efforts for this cause by attending our car wash to be held at El Pescador on Novermber 10, 2012 between 8:00 – 12:00. Cars are $5.00 and trucks are $10.00. We will also be holding a BBQ drive-thru dinner at the Fillmore Fire Station Thursday November 15, 2012 between 5:00 - 7:00. Plates are $8.00. Thanks for all your support... GO CONDORS!
By Gazette Staff Writer — Wednesday, November 7th, 2012
By Jeremiah Mac Mahon — Wednesday, November 7th, 2012
In a race at the vaunted Lake Casitas that was almost too close to call the coursers of the boys varsity give it their all and narrowly miss claiming a league title while the girls ride the shoe leather express to clinch fourth place in the league. In a phenomenal effort all but one member of both varsity teams set personal course records and gave it their all to qualify for CIF prelims.
The surge of the boys was led by break out sensation Hugo Valdovinos with a 1:06 PR to finish in 3rd overall at 16:04. Anthony Rivas was 5th overall with a 54 second PR to earn a clocking of 16:14. Close on his heels was Alexander Frias in 6th with a 16:21, this was enough for a 49 second improvement this year. 8th place was Issac Gomez's for the taking as he improved by 59 seconds over the year to clock a 16:33. Adrian Mejia rounded out the top 10 and was the fifth Flash as he improved by 31 seconds to record a 16:38. Displacing the competition was 11th place Jose Almaguer and 13th place Nicolas Frias. Jose had a 44 second improvement while Nico improved by 27 seconds. The boys finished 10 seconds apart with a 16:39 and 16:49 respectively. There was a 34 second spread 1st to 5th and a 45 second spread 1st to 7th both very commendable. In another rarity Fillmore put all 7 runners ahead of Oak Parks 5th scoring man but it was not quite enough to beat the newly crowned league champions who won by 4 points. The team did retain its number one ranking for division 4 in the State.
The femme fatales of the girls cross country charge was headed up by Kiana Hope who ran her fastest time on the course and finished 6th with a time of 19:18. This better this season time of 20:41 run at county and is her fastest time on the course. 21st overall and 2nd for the Flashes was Maria Villalobos. She completed the course in 20:52 which was a 38 second improvement. Alexis Tafoya hit 21:00 with a 50 second improvement to finish in 22nd overall. In 25th was Irma Torres who completed the 3 mile course in 21:14 which is a 1:39 second improvement. Laura Garnica continues to make huge gains as she finishes 27th in 21:28 a 2:13 second improvement this year. The break out sensation of the meet was freshman Briana Segoviano who in her first year made the varsity squad and finished 31st overall with a time of 21:45 a 1:15 second improvement over last week. To complete the varsity team was Jordyn Vassaur who finished in 22:40 at 38th place.
Up next the team will travel to Mt. SAC for the CIF prelims on Saturday morning. Good Luck Flashes!
By Gazette Staff Writer — Wednesday, November 7th, 2012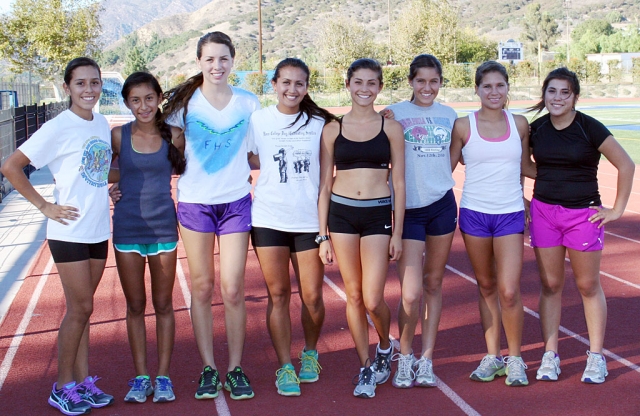 Fillmore Girls XC (l-r) Briana Segoviano, Irma Torres, Laura Garnica, Maria Villalobos, Kiana Hope, Alexis Tafoya, Jordyn Vassaur and Sofia Gallardo. The lady flashes advanced to CIF Prelims last Thursday. They are scheduled to race at Mt. San Antonio College on Saturday.
Enlarge Photo
By Gazette Staff Writer — Wednesday, November 7th, 2012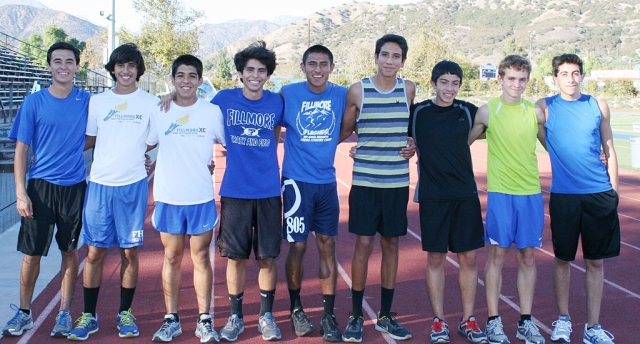 Boys XC CIF Team 2012 (l-r) Jose Almaguer, Frank Chavez, Adrian Mejia, Anthony Rivas, Hugo Valdovinos, Isaac Gomez, Nicolas Frias, Justin Beach and Alexander Frias. The flashes will compete at Mt. San Antonio College this Saturday in the CIF Prelim competition. Currently the Flashes are ranked #1 in division 4 for both CIF Southern Section and State.
Enlarge Photo
By Gazette Staff Writer — Wednesday, October 31st, 2012
Flashes are Frontier League Champions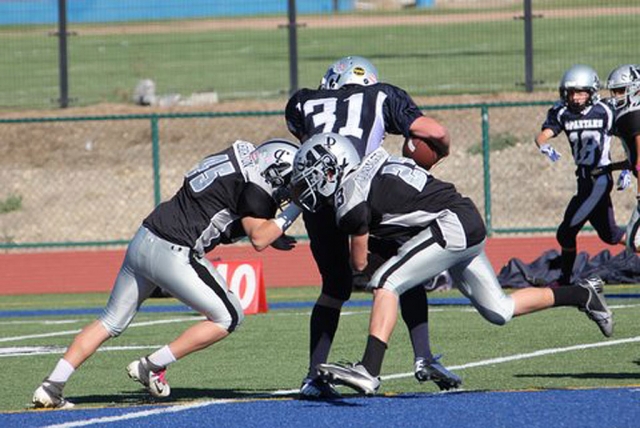 The Fillmore Raiders Senior team and the J-2 both won their first round of play-offs last Saturday. The Senior's beat Saugus 38-0 and will play away against Grace Brethern, Saturday November 3rd. J-2's beat Westlake 30-0 and will play at home this Saturday 2:00 p.m. against Crown Valley. Photos courtesy of Crystal Gurrola.
Enlarge Photo
By Gazette Staff Writer — Wednesday, October 31st, 2012
By Gazette Staff Writer — Wednesday, October 31st, 2012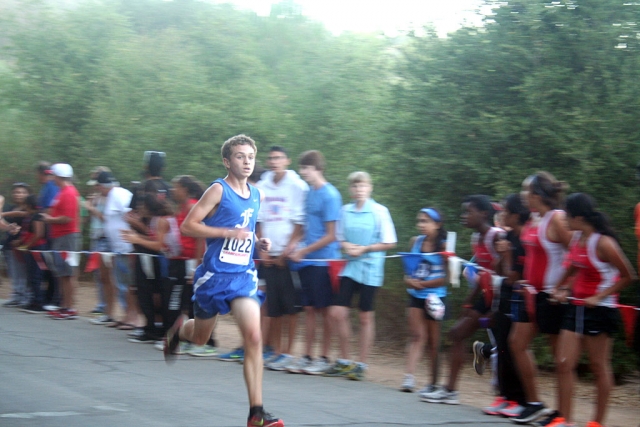 Varsity Boys' Runner of the Week - Justin Beach. Ran an impressive time of 17:22 at the Ventura County Championships.
Enlarge Photo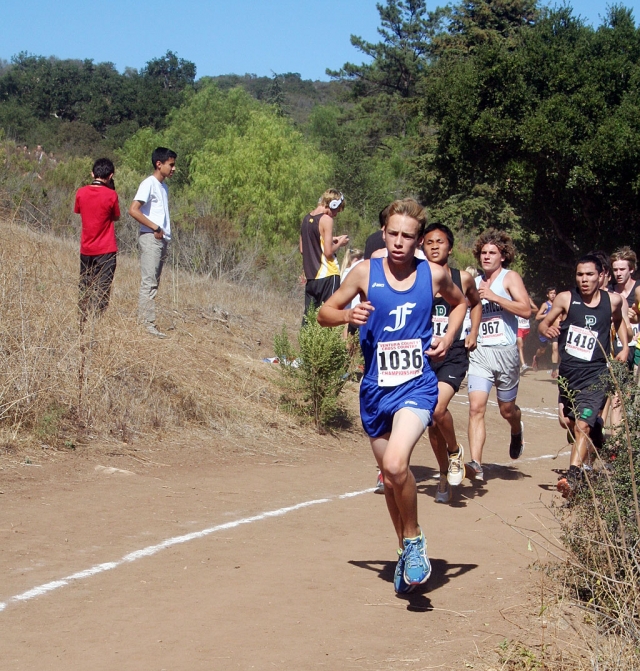 JV Boys's Runner of the Week - Nicholas Johnson. Had a stand out performance at Ventura County Championships with a time of 19:15.
Enlarge Photo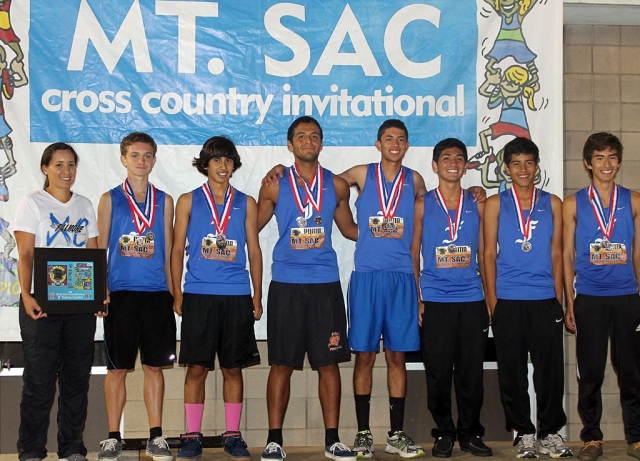 JV Boys National Championships (Division IV) (l-r) Ms. Tafoya, Justin Beach, Frank Chavez, David Enriquez, Jovani Oregon, Sammy Martinez, Mario Gaspar and Vincent Chavez.
Enlarge Photo
By Gazette Staff Writer — Wednesday, October 24th, 2012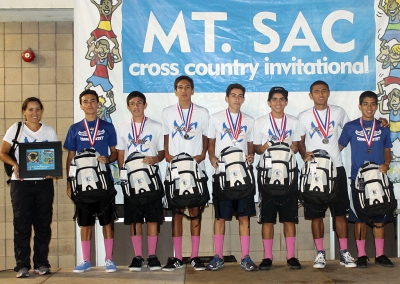 Boys Varsity Sweepstakes (Division IV) (l-r) Ms. Tafoya, Jose Almaguer, Nicolas Frias, Isaac Gomez, Alexander Frias, Anthony Rivas, Hugo Valdovinos and Adrian Mejia.
Enlarge Photo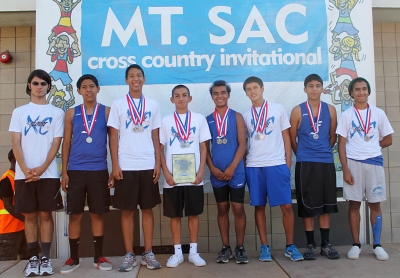 Sophomore Boys (Division IV) (l-r) Billy Volmert, Isai Bolanos, Francisco Erazo, Jorge Hurtado, Jaime Vargas, Gerardo Rodriguez, Ivan Hurtado and Demitriouz Lozano.
Enlarge Photo
On Tuesday, October 16, the team invited the league to challenge the home course at the Fillmore school farm and competed for the final Tri-Valley League rankings before the league championship. The boys' varsity placed second to Oak Park who is now tied with the Flashes in league while the girls maintained their 4th place spot. The junior varsity girls maintain 3rd in league but improved their score by 20 points. The junior varsity boys also find themselves in 2nd place overall in league.
Climbing Mt. SAC
On Friday the team packed up their lunches and headed to one of the biggest and most prestigious cross country races in the nation as they headed to Walnut, Ca for the Mt. San Antonio College Cross Country Invitational. The results were nothing short of amazing.
The best performances of the day came from the Boy's sweepstakes race and the JV National Championship race. Your Fillmore Flashes Cross Country teams won both races.
In a nail biter that came down to the finish the varsity boys managed to edge out Salesian by a narrow 4 point margin. Hugo Valdovinos surged to the forefront to finish 7th overall with a very impressive 15:55. Alexander Frias and Anthony Rivas finished 12th and 13th at 16:12 while Isaac Gomez was 28th at 16:33. Jose Almaguer and Adrian Mejia placed 30th and 31st at 16:36. The rising super star, Nicolas Frias, placed 55th with a clocking of 17:05 to round out the boys' varsity team.
The JV boys' race was an excellent example of pack tactics as Frank Chavez, Justin Beach, and Vincent Chavez placed 3rd, 4th, and 5th with Frank recording a 17:17 and Beach and Chavez at 17:31 and 17:32. Jovani Oregon was 13th at 17:45 and David Enriquez finished in 17:51 at 15th place. Finishing together to round out the team were Sammy Martinez and Mario Gaspar at 26th and 27th in 18:26
The boy's junior CONTINUED »
By Gazette Staff Writer — Wednesday, October 24th, 2012
Part 1
By Gazette Staff Writer — Wednesday, October 24th, 2012
Part 2
By Gazette Staff Writer — Wednesday, October 24th, 2012
Perce's Kenpo Karate Studio of Fillmore had it's annual karate tournament October 6, 2012 at Fillmore Middle School. The karate tournament had over 129 students competing from Ventura county, and Arizona. The results from Perce's Kenpo Karate students are as follow: forms divisions: 4-5 yrs. White belt 1st place Brody Addison, 2nd place Edward Sumaran, 3rd place Gabrielle Perce, 4th place Diego Ibarra. 6-7 yrs. White-Yellow belt participation Juan Castro, and Eugena Serna. 7-8 yrs. Yellow-Orange belt participation Ariana Benson.
10-11yrs. White-Yellow belt 4th place Alex Serna. 8-10 yrs. Orange-Purple belt 4th place Julie Vasquez. 7-8 yrs. Purple-Blue belt 3rd place Ty Morris. 8-9 yrs. Purple-Blue belt 4th place Aaron Carranza, participation Zackary Addison. 11-13 yrs. Purple-Blue belt 3rd place Crystal Pinedo, participation Cesar Lopez, 6-8 yrs. Green belt participation Austin Gunter. 8-9 yrs. Green-brown belt 3rd place Justice Rodriguez, 4th place Erasmo Salazar, participation Dave Bustos. 10-12 yrs. Green belt 4th place Samantha Gunter, participation Emiliano Pinedo, Gabriel Meza.
11-13 yrs. Green-brown belt 1st place Faith Bustos, participation Michael Morris. 16-21yrs. brown-black belt 3rd place Anthony Murray, 4th place Marcos Meza. Showmanship division results: 1st place Austin Gunter, 3rd
place Gabriel Meza, 4th place Emiliano Pinedo. Sparring results: 8-9 yrs. White-Orange belt 4th place Camilio Torres. 8-10 yrs. Green-Brown belt 1st place Justice Rodriguez, 3rd place Dave Bustos. 9-12 yrs. Green-Black belt participation Emiliano Pinedo. 12-14 yrs. Blue-Jr. Black belt 3rd place Angel Rodriguez, 4th place Michael Morris. Adults all belts 4th place Javier Rodriguez. For more information on training call Perce's Kenpo Karate at 524-6870.
By Gazette Staff Writer — Wednesday, October 17th, 2012
By Gazette Staff Writer — Wednesday, October 17th, 2012
By Gazette Staff Writer — Wednesday, October 10th, 2012
By Gazette Staff Writer — Wednesday, October 10th, 2012
By Gazette Staff Writer — Tuesday, October 9th, 2012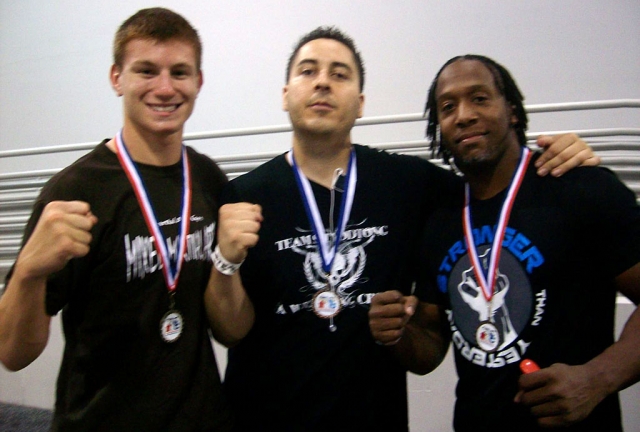 Fillmore Boxing Club's Eric Escoto wins bronze medal in 2012 NKC Muay Thai Kickboxing National Championship. Eric competed in the NKC National Championship at The Las Vegas Convention Center in Las Vegas , NV on Sept.28-29, 2012. More than 30,000 spectators were at the competition and expo. Eric would like to thank his family, friends, teammates, coaches and everyone that help him along the way. The Fillmore Boxing Club is a member of USA Boxing and offers adult and youth boxing classes For more information call (805) 443-8501.
Enlarge Photo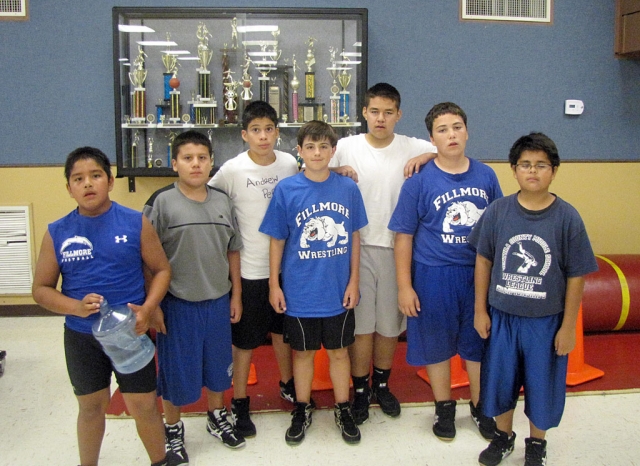 (l-r) Adrian Bonilla (4-0), Abraham Cervantes (1-1), Andrew Perez (4-1), Ian Overton (3-1), David Estrella (1-1), Jake Palacio (1-1), Juan Perez (1-1), and not pitured is Johnny Martinez (1-1)
Enlarge Photo
By Gazette Staff Writer — Tuesday, October 9th, 2012
The Fillmore Middle School wrestlers are Coached by Manuel (Chicken) Ponce (not pictured). They have wrestled Frank Intermidiate Middle School and Freemont Middle School, both in Oxnard. They will be wrestling Isbell Middle School on October 10 at Isbell (Santa Paula). Other Middle Schools in the leauge are Balboa (Ventura) and Matilija (Ojai). These boys have been working real hard, Their goal is to get to the league championships and do well.
By Gazette Staff Writer — Wednesday, October 3rd, 2012
Athletes of the Week (l-r) Melissa Nunez, Justin Beach, Laura Garnica, Jose Almaguer.
Enlarge Photo
By Gazette Staff Writer — Wednesday, October 3rd, 2012
Melissa Nunez
Melissa Nunez is the JV Girl athlete of the week because of her constant improvement. Melissa has shown a great effort during workouts and meets. She is a positive athlete, and a very hardworking runner. Melissa is a first year runner and a Junior at FHS. Way to go Melissa!
Justin Beach
Justin Beach is the JV Boy athlete of the week. He has placed second for the Fillmore High School Boys' team for the past two races. At the last race, the Dos Pueblos Invitational he was in the top 20 of which earned him a medal. Justin is a Junior and a three year runner. He is a dedicated and hardworking athlete. Awesome work Justin!
Laura Garnica
The FHS Athlete of the week is Laura Garnica. She has been through a rough first couple of weeks, but now is back on track. Laura ran a season best of 20:38. It was only her third race of the season due to injury. Laura is the only four year runner on the Varsity Team. She has been a varsity runner since her freshmen year. Laura is also the captain for the 2012 season. It is exciting to see what she will do during her last few months running for Fillmore High School. Keep it up Laura!
Jose Almaguer
The FHS Athlete of the week is Jose Almaguer. Jose Almaguer is the athlete of the week because of his great showing at Stanford Invitational and the workouts to the week prior. Jose had been fighting sickness and slight injury coming into the season. He is now back and ready to get his senior year rolling. He was the number one finisher at Stanford clocking at a 16:28 for the 5k and finishing 11th out of 235 athletes. We are all looking forward to what is next for Jose! Great work Jose!