By Gazette Staff Writer — Thursday, October 13th, 2016
Part 2 of 2
By Lolita Wyche-Bowman — Thursday, October 13th, 2016
On October 4, it was Fillmore vs. Santa Paula J.V. team at Santa Paula high school. Fillmore Flashes' number one and two players Michaela Boniti and Lizzie Castaneda won all six of their round robin matches scoring six of the seven points for the entire team. Both players are consistently steady and strong players playing singles for the Flashes. Doubles team Karime Renteria and Adanari Rosales also scored a point for the Fillmore Flashes wining one doubles match in a tiebreaker 7-6. Because the city of Fillmore only has two courts, the team plays all of the tennis matches away on the opponent's campus making it difficult for parents to watch their girls play. Despite this hurdle, the Flashes are having a good year as they continue to improve. As a final note, during the Santa Paula match, I especially noticed my doubles player Hayley Martinez executing numerous winning shots showing her knowledge for the game on the rise. Good job team! On October 10, we will be playing against Carpinteria and then against St. Bonaventure on October 13. The St. Bonaventure match will be played at the Ventura College courts.
Today, October 10, we played against Carpinteria for the second time this season losing with a score of 1-17. Lizzie Castaneda won one of her three tough matches today. Lizzie in consistent on the court and continues to score points for the team. As I always say, the girls are improving their tennis game every time they get out there during practice or during a match against an opposing team. It is wonderful to see the girls from Fillmore becoming successful at their first year playing this sport. Two matches are left in the season with St. Bonaventure and Laguna Blanca. As a new coach this year, I am hoping the city of Fillmore sponsors a tennis clinic to create new players for the future. I know there a kids and adults alike in Fillmore anxious to learn the sport.
By Kim Tafoya — Thursday, October 13th, 2016
Junior Everardo Magaña Garcia at the Clovis Invitational.
Enlarge Photo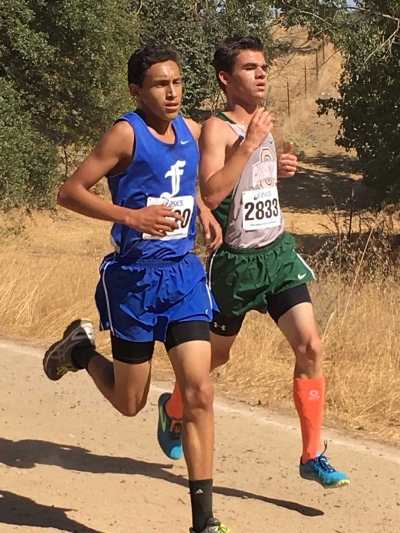 Junior Everardo Magaña Garcia at the Clovis Invitational.
Enlarge Photo
On Wednesday evening, several Fillmore runners competed in the Ventura County Twilight meet at Lake Casitas in Ojai. Four races were held with the first two running
a distance of 1.85 miles and the last two at a distance of 3 miles. Fillmore athletes competed at the longer distances.
In the boys race Mario Hurtado led all runners, placing 46th in a time of 19:15.5, he was followed by Gustavo Valdez 55th in 19:34, Jorge Acevedo 58th in 19:35.3, Jesus Castro 60th in 19:37.6, Antonio Villalobos 127th in 21:40.4, Anthony Hernandez 129th in 21:46.8, Erik Hernandez 133rd in 21:58.5, Daniel Cruz 139th in 22:08.6, Luis Leon 156th in 23:01.4, Sam Kafka 166th in 23:35.2, Andrew Ontineru 172nd in 24:10.8, and Pete Alvarado 185th in 25:58.4. The boys place 10th in the team competition.
The top finisher for the girls was Valerie Hernandez 37th in 22:57, followed by Maria Lupe Ruvalcaba 39th in 23:06.2. Both girls were awarded individual top finisher medals. They were followed by Allison Recancoj 48th in 24:01.1, Luz Ruiz 64th in 24;54.2, Yakeline Magana 80th in 25:37.9, Michelle Reyes 81st in 25:45.1, and Giselle Perez 95th in 26:41.3. The girls finished 9th in the team competition.
Every athlete improved their time on this course over last year's individual best, with the exception of those who ran this course for the first time.
On Saturday, October 8th, Fillmore Cross-Country athletes travelled to Fresno to compete in the Clovis Invitational. Woodward Park was hot and dusty.
The first race of the day found the boy's varsity team competing against some of the top State ranked teams in divisions 4 and 5. Johnny Martinez led all runners finishing in 34th place and posting a time of 17:21.4, he was followed by Adrian Orozco 36th in 17:24.9, Sergio Perez 49th in 17:40.8, Everardo G. Magana 60th in 17:52.6, Michael Sanchez 85th in 18:18, Nick Villela 93rd in 18:22.7, and Jonathan Ordaz 101st in 18:28.2.
The top finishing team for the day finished atop the podium with a first place finish. The overall winner of the F/S girls division 3 and 4 race was Fillmore's Carissa Rodriguez who crushed the competition and posted a personal course best of 19:14.5. This was a winning margin of 43.5 seconds over the second place finisher. She was followed by Andrea Marruffo 11th in 21:11.2, Diana Perez 19th in 21:39.2, Vanessa Avila 24rd in 21:50.8, Anahi Pascual 35th in 22:22.7, Nicole Gonzalez 24:29.3, and Cecilia Cisneros 58th in 23:35.7. The top four athletes also won individual medals for their outstanding efforts. The team was awarded a first place finisher plaque and medals for each of the top 7 girls on this team.
In the final race of the day, the Fillmore athletes placed 4th in Boys JV Division 3 and 4 race. The top performer for Fillmore was John Chavez who finished in 10th in 18:32.9, followed by Chris Andrade 13th in 18:40.7, Juan Ramirez 20th in 18:54.9, Jorge Acevedo 51st in 19:54.4, and Mario Hurtado 60th in 20:14.3. The top three athletes won individual finisher medals for their performances.
The Flashes will next host the second of 3 TCAA meets at Elkins Golf Course on Thursday, October the 13th with the first of 4 races beginning at 4 pm. Come out and support your teams, hope to see you there.
By Gazette Staff Writer — Thursday, October 13th, 2016
Oxnard Waves (majority of players are from Fillmore) support Breast cancer awareness month while wearing pink at their games this past weekend. The Girls had an awesome weekend with a victory over Moorpark 2-0 both goals were made by Aaliyah Lopez and assisted by Anahi Andrade and Sunday a victory over Bakersfield with a final score of 1-0 made by Aaliyah Lopez assisted by Alexis Mejia.. This weekend they will play against International FC in the city of Montebello.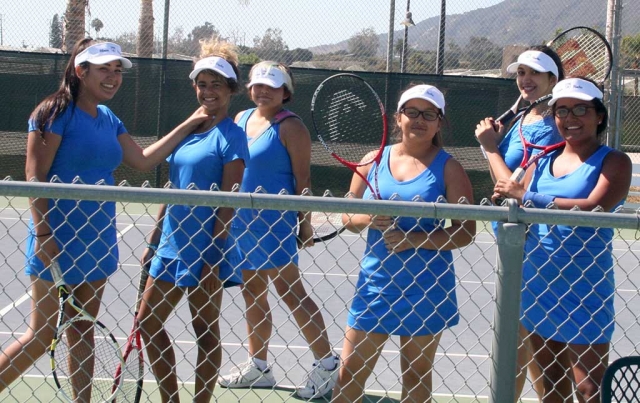 Flashes Girls Tennis take a photo to celebrate their first win of the season against Santa Clara Wednesday September 28th. (l-r) Lizzie Castaneda, Michaela Boniti, Hayley Martinez, Karime Renteria, Ivette Huerta and Mariah Gonzalez.
Enlarge Photo
By Lolita Wyche-Bowman — Thursday, October 6th, 2016
The Fillmore Lady Flashes tennis team is proud to announce our first win against Santa Clara high school in Oxnard. Our singles players Michaela Boniti, Elizabeth Castaneda, and Mariah Gonzalez endured long ralleys in their matches and managed to win 4 out of nine sets played.
A "round robin" was played leaving the final score of Fillmore 10 Santa Clara 8. In a round robin, each player or each doubles team plays one set against each player or team, as opposed to the old way of playing the best of three sets against one opponent. This modern way allows the players to get more experience playing against different opponents. As coach, I am so pleased at the progress the girls are making on the court. The team gets stronger every day. Thank you to Wm. L. Morris for providing transportation for the tennis team. We also welcome the public to stop by the city tennis courts to watch us practice. The Fillmore High School accepts donations to the Fillmore High School tennis club any time. Thank you to Mr. Ito for recognizing the need for a high school team again!
By Gazette Staff Writer — Thursday, October 6th, 2016
By Gazette Staff Writer — Thursday, October 6th, 2016
Varsity: This past week, The Fillmore Flashes played a Saturday game against Campbell Hall in North Hollywood. Fillmore recovered fumbles by Campbell Hall in the second and third quarters. Fillmore Flashes #35 Michael Aguilera with a 1 Yd Rushing Touch Down. Final score of the game was Campbell Hall 35 to Fillmore 6. Kevin Galvan had a great game on offense and defense, 13 tackles and 4 pancake blocks. "A hard loss to a tough team ranked #2 in division 13" Mr. Dollar.
Flashes JV: Fillmore Jv-28 vs Dominguez HS (Compton) 22. Fillmore Jv traveled to Compton last Thursday to take on Dominguez and was able to come away with a victory in a tough battle. Scoring rushing touchdowns for Fillmore were Bryce Nunez, Hugo Virto, Jake Saviors. Jake Saviors also threw a touchdown pass to Paget Ecklund. The defense was led by John Roberts, Victor Jimenez, Gabriel Gonzalez, and David Tovar. Fillmore JV is now 5-1 and plays away next week against Bishop Diego.
By Jennie Andrade — Thursday, October 6th, 2016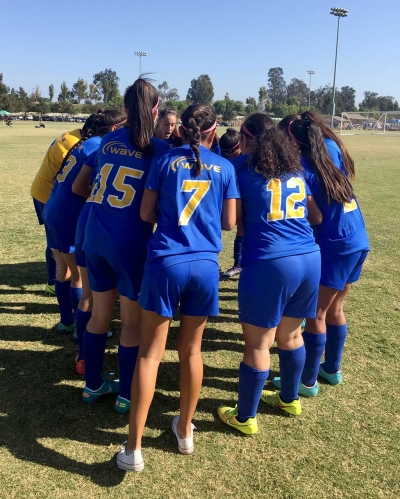 The Oxnard Wave team huddle together to get ready for the games this past weekend.
Enlarge Photo
The girls had a hard weekend starting with Saturday vs. Valencia United (second place team) which was a victory for our girls 3-1 with 2 goals made by Areanna Covarrubias and 1 goal by Lola Ruvalcaba. Sunday was a hard loss vs. the current 1st place team FC Camarillo with a score of 2-0. These young ladies are playing at a higher division and at a higher age group, but that doesn't stop them from playing their hearts out. This Saturday they will face Moorpark Express and Sunday they will face Central Aztecas from Lancaster. Good luck ladies.
By Gazette Staff Writer — Wednesday, September 28th, 2016
By Gazette Staff Writer — Wednesday, September 28th, 2016
By Gazette Staff Writer — Wednesday, September 28th, 2016
By Gazette Staff Writer — Wednesday, September 28th, 2016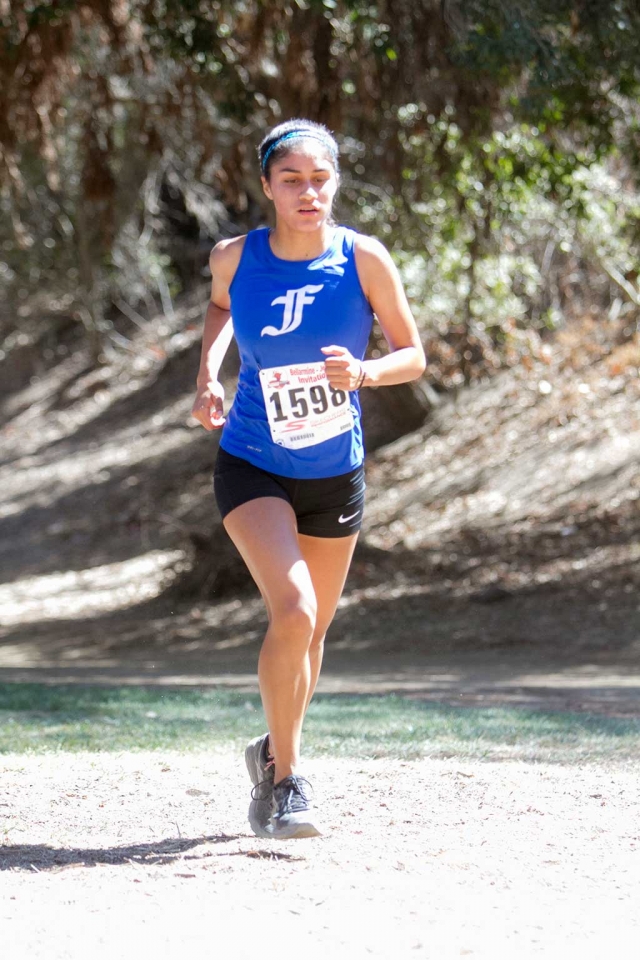 Fillmore High Cross Country's Andrea Marruffo wins the girls frosh soph race at the Bellamarine Jefferson Invitational.
Enlarge Photo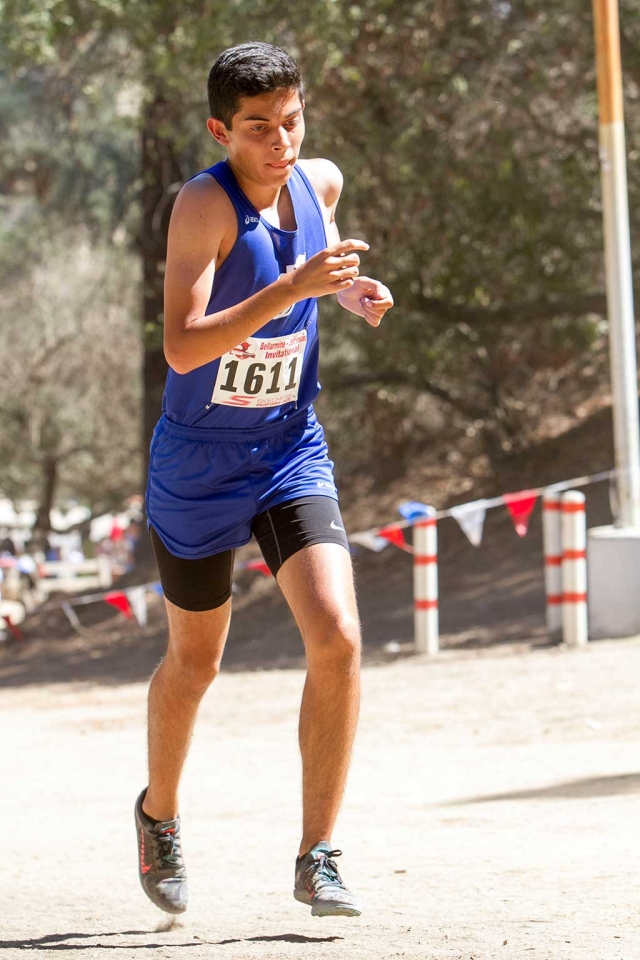 Flashes Cross Country's Christian Andrade wins the boys junior varsity race at the Bellamarine Jefferson Invitational.
Enlarge Photo
By Gazette Staff Writer — Wednesday, September 28th, 2016
This past week in Flashes Volleyball, Fillmore took on Santa Clara Thursday Sept. 22nd. Final Scores: Frosh Lost - 18-25, 13-25, JV Won-19-25, 25-12, 15-7, Varsity Lost-15-25, 11-25, 16-25. Highlights from the game Aviana Ramirez 4 aces, 6 digs, Lindsey Brown 14 digs, Kasey Crawford 2 aces, 4 kills, 5 digs, Ryan Nunez 4 kills, 3 blocks.
Fillmore Flashes traveled to Bishop Diego, this past Tuesday. Final Scores: Frosh Lost: 18-25, 13-25, JV Won: 19-25, 25-12, 15-7, Varsity Lost: 15-25, 11-25, 16-25. Varsity highlights Grace Topete had 2 Aces and 3 Kills.
Fillmore will be traveling to Carpinteria this Thursday September 29th.
By Gazette Staff Writer — Thursday, September 22nd, 2016
By Gazette Staff Writer — Thursday, September 22nd, 2016
By Gazette Staff Writer — Thursday, September 22nd, 2016
Part 1 of 2
By Gazette Staff Writer — Thursday, September 22nd, 2016
Part 2 of 2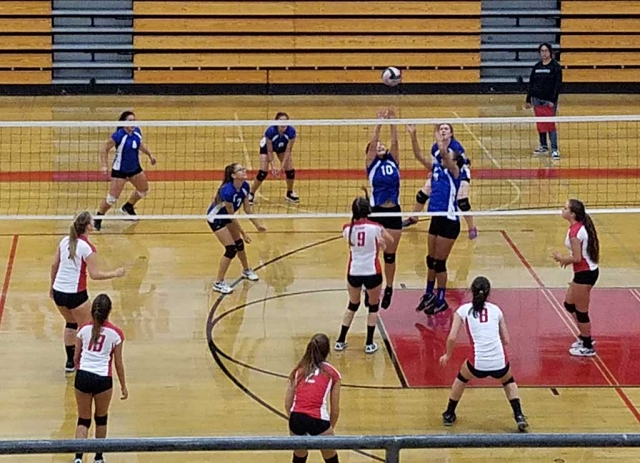 Fillmore's J.V. jump to make the block against Bishop Diego at this past Saturday's Tournament in Santa Paula.
Enlarge Photo
By Gazette Staff Writer — Thursday, September 22nd, 2016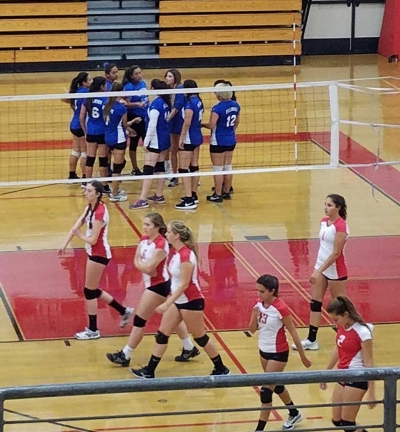 Fillmore J.V. Flashes huddle together before they take on Bishop Diego.
Enlarge Photo
Wednesday September 14th, Fillmore Girls Volleyball took on Pacifica High School. Both J.V. and Varsity took a win for these matches. J.V. Player Tori Gonzales had 11 serving aces, and 2 kills, J.V. scores were 25-13 and 25-10. Varsity player's Aviana Ramirez (setter) had 17 assists, 10 digs, 1 ace, Lindsey Brown (libero) had 20 digs and 3 aces, Gisselle De La Paz had 7 aces and 5 kills, Kasey Crawford had 8 kills and 1 ace. Final Varsity scores were 25-21, 14-25, 26-24, 23-25, and 15-4. Also, this past Saturday Flashes J.V. competed against multiple teams in a tournament hosted at Santa Paula High School.
Lastly, September 20th, the Flashes took on long time rival Santa Paula at home. Frosh and J.V. teams both beat their long time rival. Frosh Final Scores: 25-9, 25-18, J.V. Final Scores: 25-8, 23-25, 15-12. Flashes Varsity fell short to Santa Paula, but put up a good fight forcing them to play four out possible 5 matches. Varsity player's Lindsey Brown had 18 Digs, Kasey Crawford 8 digs, 4 kills, and 2 serving aces, and Dezeray Zavala 8 digs and 3 serving aces. Varsity Final Scores: 21-25, 22-25, 25-23, 17-25. Next matches will be at Santa Clara on Thursday September 22nd, and this Saturday Varsity will compete at a Tournament held at Santa Paula High School.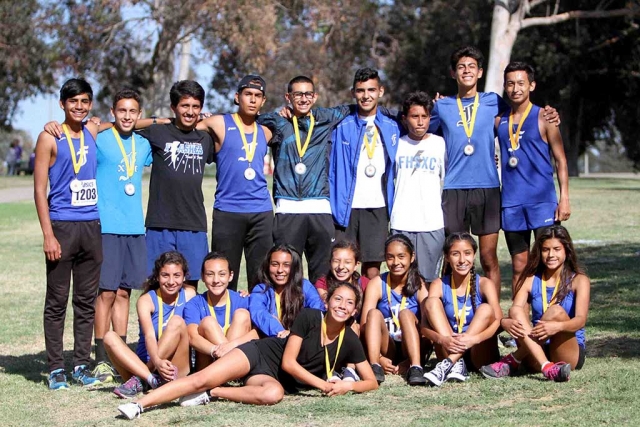 Flashes Cross Country 37th Annual Mt. Carmel /Movin Shoes Invitational. (l-r) Boys: Nick Villela, Everardo Garcia Magana, John Chavez, Sergio Perez, Michael Sanchez, Jonathan Ordaz, Juan Ramirez, Johnny Martinez and Adrian Orozco. Girls: Lauren Magdaleno, Carissa Rodriguez, Jackie Chavez, Arielle Estrada, Anahi Pascual, Nicole Gonzalez, Vanessa Avila and in front Diana Perez.
Enlarge Photo
By Gazette Staff Writer — Thursday, September 22nd, 2016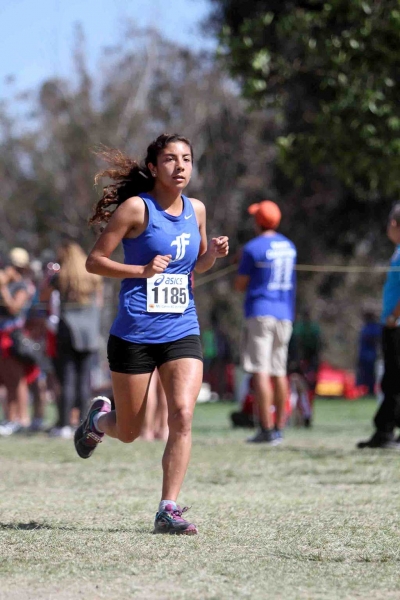 Senior Lauren Magdaleno at this past Saturday's 37th Annual Mt. Carmel/Movin Shoes Cross Country Invitational.
Enlarge Photo
On Saturday, September 17th the Fillmore High School cross country teams travelled to San Diego to compete in the 37th Annual Mt. Carmel/Movin Shoes Cross Country Invitational held at Morley Field in Balboa Park. Most of the teams competing were from the San Diego section. The course was very challenging with several hills on grass and dirt for the most part.
The freshman girls did not field a complete team, yet ran exceptionally well on this challenging course. Vanessa Avila led the charge finishing in 11th in a time of 18:23.66, she was followed by Anahi Pascual 29th in 19:23.13, Nicole Gonzalez 45th in 20:00.25, and Arielle Estrada 99th in 22:55.70.
Two Fillmore competitors lined up in the D2 girls sophomore race. Top finisher and fastest time for the Flashes for the third week in a row was Carissa Rodriguez. Carissa finished 3rd in her race in a time of 16:37.39. She was followed by teammate Diana Perez who ran a personal best of 18:15.66 finished in 14th place.
Jacqueline Chavez was the lone representative in the junior division. She placed 25th overall in a time of 19:01.06.
Once again one competitor ran in the senior division for the Flashes. Lauren Magdaleno finished in 33rd place in a time of 18:58.75
Two sophomore boys toed the line for the Flashes leading the way was Nick Villela 20th in 17:55.72, he was followed by Sergio Perez 29th in 18:17.59.
Fillmore sent four juniors to the starting line. Jonathan Ordaz led the way finishing in 23rd in 17:32.2. He was followed by Michael Sanchez 26th in 17:48.49, Everardo G. Magana 41st. In 18:23.18, and Juan Ramirez 101st. In 19:52.63.
The final race of the day featured seniors Johnny Martinez , Adrian Orozco, and John Chavez. These athletes ran well with Martinez finishing in 22nd in 17:25.83, Orozco 27th in 17:33.75 and Chavez 96th in 19:19.14. Johnny posted the fastest time for the Fillmore boy competitors on the day.
The Flashes ran well winning 13 out of a possible 16 medals. The Flashes will next compete at Camino Park in Ventura at 3:00 in the first of 3 league meets that will determine league standings and CIF SS D4 competitors.
By Lolita Wyche-Bowman — Thursday, September 22nd, 2016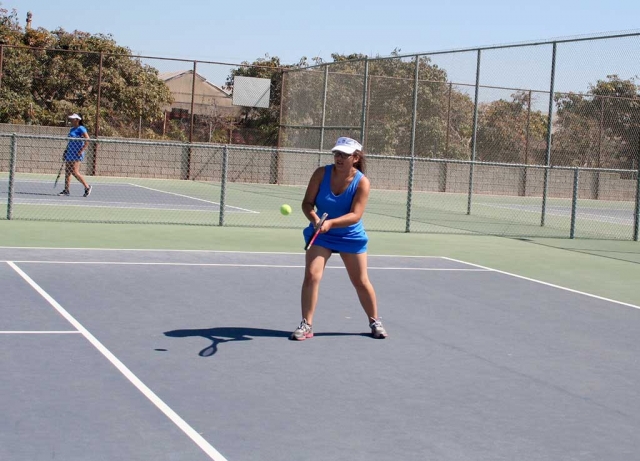 The Fillmore girl's varsity tennis team played against Carpinteria's junior varsity team. Fillmore's number one player Michaela Boniti won all three of her matches with the last being a close finish scoring at 7-6. Elizabeth Castaneda at number two, won two out of three of her matches scoring 6-1,6-1, and 2-6. Final score - Fiilmore 6 Carpinteria 12. (above) Karime Renteria warming up her backhand.
Enlarge Photo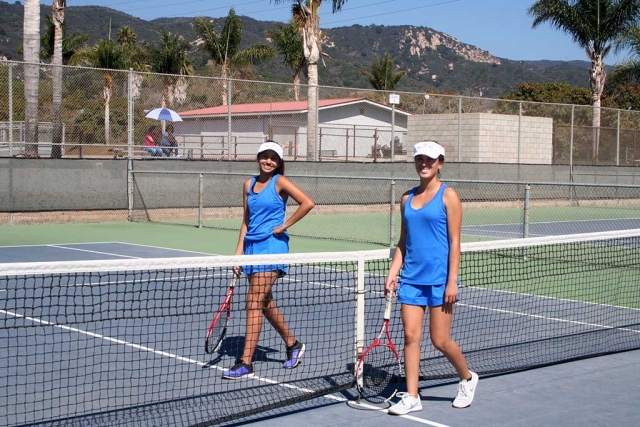 Left Adanari Rosales and right Briana Lopez smiling before they face their opponents.
Enlarge Photo