Flashes Compete in Ojai and Clovis
By Kim Tafoya — Thursday, October 13th, 2016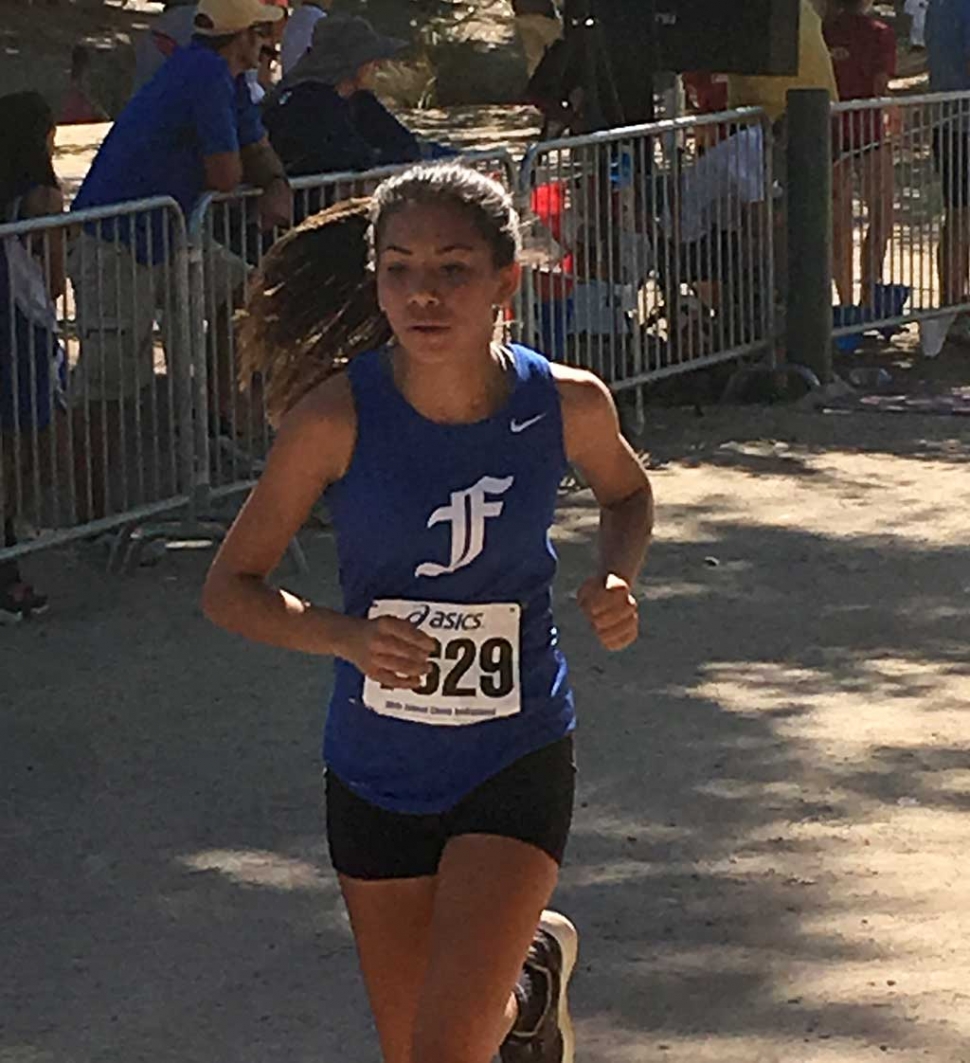 Junior Everardo Magaña Garcia at the Clovis Invitational.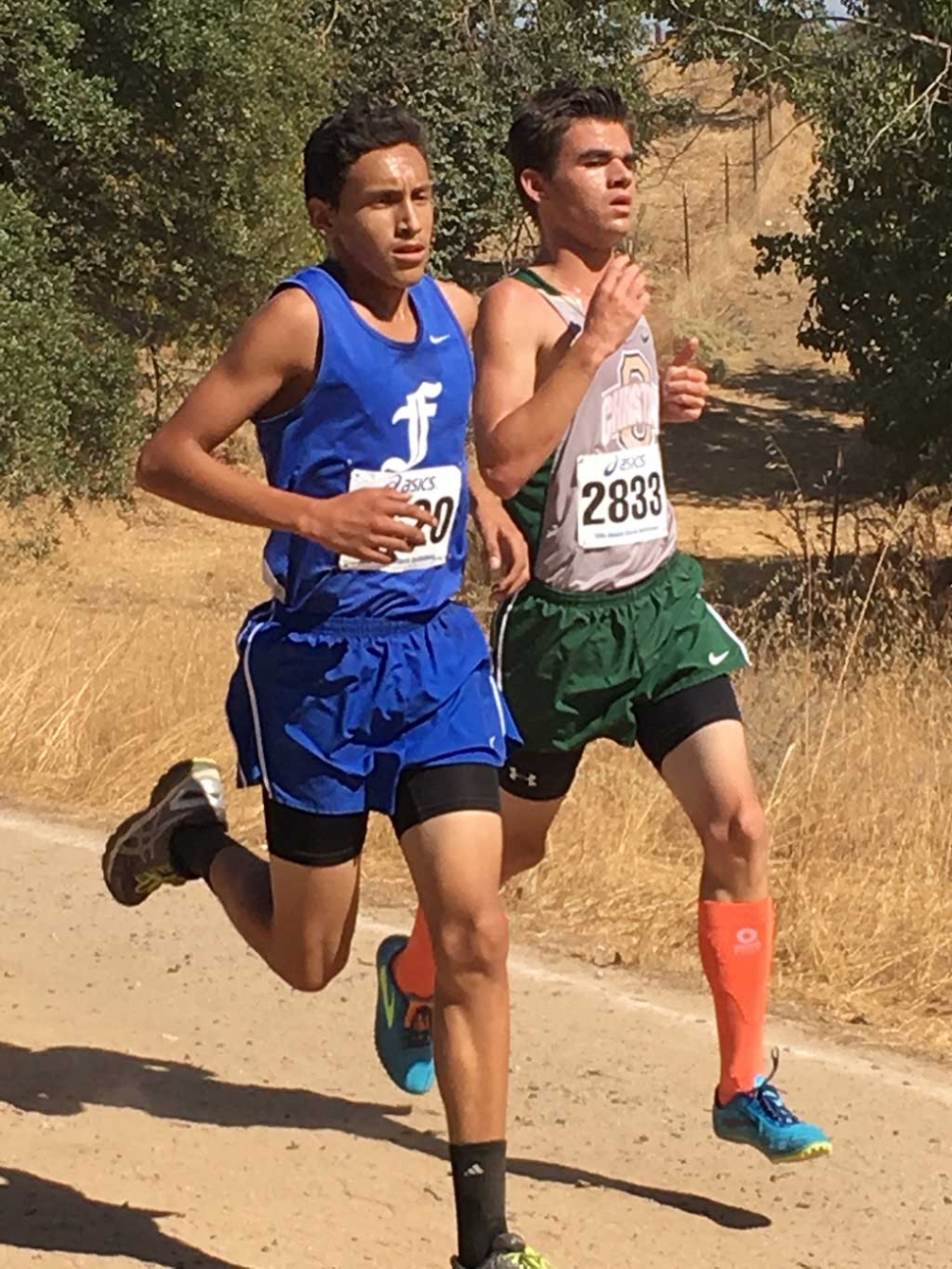 Junior Everardo Magaña Garcia at the Clovis Invitational.
On Wednesday evening, several Fillmore runners competed in the Ventura County Twilight meet at Lake Casitas in Ojai. Four races were held with the first two running
a distance of 1.85 miles and the last two at a distance of 3 miles. Fillmore athletes competed at the longer distances.
In the boys race Mario Hurtado led all runners, placing 46th in a time of 19:15.5, he was followed by Gustavo Valdez 55th in 19:34, Jorge Acevedo 58th in 19:35.3, Jesus Castro 60th in 19:37.6, Antonio Villalobos 127th in 21:40.4, Anthony Hernandez 129th in 21:46.8, Erik Hernandez 133rd in 21:58.5, Daniel Cruz 139th in 22:08.6, Luis Leon 156th in 23:01.4, Sam Kafka 166th in 23:35.2, Andrew Ontineru 172nd in 24:10.8, and Pete Alvarado 185th in 25:58.4. The boys place 10th in the team competition.
The top finisher for the girls was Valerie Hernandez 37th in 22:57, followed by Maria Lupe Ruvalcaba 39th in 23:06.2. Both girls were awarded individual top finisher medals. They were followed by Allison Recancoj 48th in 24:01.1, Luz Ruiz 64th in 24;54.2, Yakeline Magana 80th in 25:37.9, Michelle Reyes 81st in 25:45.1, and Giselle Perez 95th in 26:41.3. The girls finished 9th in the team competition.
Every athlete improved their time on this course over last year's individual best, with the exception of those who ran this course for the first time.
On Saturday, October 8th, Fillmore Cross-Country athletes travelled to Fresno to compete in the Clovis Invitational. Woodward Park was hot and dusty.
The first race of the day found the boy's varsity team competing against some of the top State ranked teams in divisions 4 and 5. Johnny Martinez led all runners finishing in 34th place and posting a time of 17:21.4, he was followed by Adrian Orozco 36th in 17:24.9, Sergio Perez 49th in 17:40.8, Everardo G. Magana 60th in 17:52.6, Michael Sanchez 85th in 18:18, Nick Villela 93rd in 18:22.7, and Jonathan Ordaz 101st in 18:28.2.
The top finishing team for the day finished atop the podium with a first place finish. The overall winner of the F/S girls division 3 and 4 race was Fillmore's Carissa Rodriguez who crushed the competition and posted a personal course best of 19:14.5. This was a winning margin of 43.5 seconds over the second place finisher. She was followed by Andrea Marruffo 11th in 21:11.2, Diana Perez 19th in 21:39.2, Vanessa Avila 24rd in 21:50.8, Anahi Pascual 35th in 22:22.7, Nicole Gonzalez 24:29.3, and Cecilia Cisneros 58th in 23:35.7. The top four athletes also won individual medals for their outstanding efforts. The team was awarded a first place finisher plaque and medals for each of the top 7 girls on this team.
In the final race of the day, the Fillmore athletes placed 4th in Boys JV Division 3 and 4 race. The top performer for Fillmore was John Chavez who finished in 10th in 18:32.9, followed by Chris Andrade 13th in 18:40.7, Juan Ramirez 20th in 18:54.9, Jorge Acevedo 51st in 19:54.4, and Mario Hurtado 60th in 20:14.3. The top three athletes won individual finisher medals for their performances.
The Flashes will next host the second of 3 TCAA meets at Elkins Golf Course on Thursday, October the 13th with the first of 4 races beginning at 4 pm. Come out and support your teams, hope to see you there.