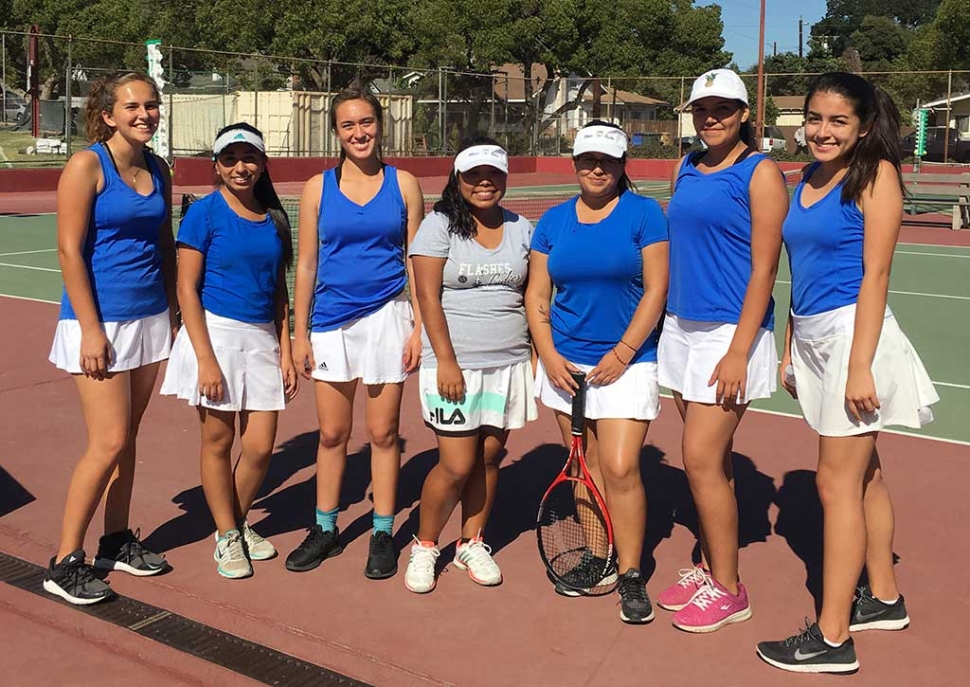 Fillmore High School Girls Tennis Team (l-r) Maria Gonzales, Ashley Tamayo, Briana Lopez, Jessica Flores, Karime Renteria, Amairani Aragon and Marisa Herrera.
By Gazette Staff Writer — Wednesday, September 27th, 2017
Thank You Parents!
A note from Coach Bowman.
This article is dedicated to the parents and friends of the Fillmore High school girls tennis team. On 9-26-17, we played against Santa Paula at their high school courts. What made this event so special was the parental support of the team, not to mention Mr. Ito's (Principal) appearance at the match. A special thanks to my friends, Sara, Gae, Joy, Ray, and Doug who showed up to watch the match. This is our foundation and a necessity for the team. This explains and reinforces the enthusiasm I see on the courts. I'm sure the parents were amazed to see their daughters playing the very technical game of tennis. Tennis is a skill based sport and takes a considerable amount of time to learn. I say that it takes about three months to learn all of the basic strokes; some may have a different idea. What is also great about this sport is the future opportunity to play with parents and friends down the road as tennis is a social sport and can b e played at all ages. Yes parents can learn too. Back to the team members; I am particularly amazed at two of my first year players, Ashley Tamayo and Jessica Flores, as they are tackling singles this season. This is a huge accomplishment to have the confidence to be on the court solo. Instilling confidence with this sport is always a positive outcome of athletics. Most of the girls are playing a sport they have never played before and are having fun! Briana, Karime, Maria, Marisa, and Amairani are getting better by the day. Good job team. We have work to do, lines to run, serves to master as we have more competitions down the road.