Harriers Split Squads Compete at Woodbridge and Ojai Invitationals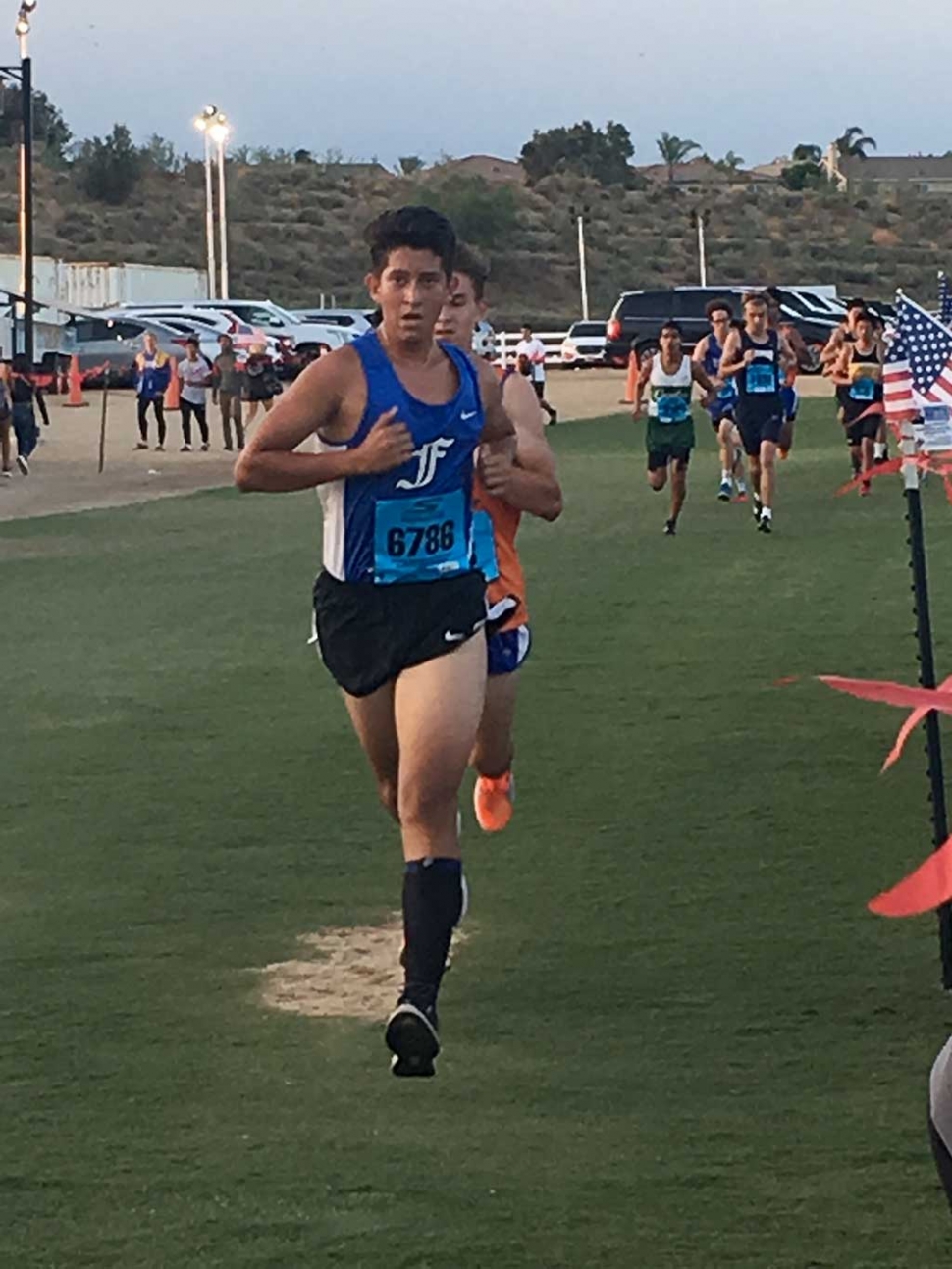 FHS Junior Antonio Villalobos at the Woodbridge Invitational. Photo courtesy Coach Kim Tafoya.
By Epi Torres — Wednesday, September 20th, 2017
Submitted by Coach Epi Torres
On Friday, Fillmore's top Cross Country athletes competed at one of the early season quality meets, the Woodbridge Invitational. This meet is a pre-season indicator of how well your training and conditioning measures up to the other quality school programs that participate in this highly competitive Invitational.
The Freshman boys started the day off on a positive note. Jesse De La Cruz and Fabian Del Villar lined up at the starting line along with 227 other competitors. Jesse ran his way to an impressive fourth place finish running a 17:12.2. This was Fillmore's top individual finish on the day. He was followed by his teammate Fabian who also ran impressively finishing in 8th place and posted a time of 17:24.9. Both athletes were awarded medals.
The second race for the Flashes featured the tandem of Davis Flores and Jesus Martinez. There were 241 competitors in this race. Both harriers medaled with Davis finishing in 15th place and running a personal best time of 17:08.8 and Jesus finishing in 45th in 18:06.7.
The Varsity girls race had a total of 32 teams and 234 individuals toed the line. The Fillmore girls ran to a third place finish, 18 points behind 4th ranked CIF Southern Section team Bishop Amat. The Flashes were led by Junior Carissa Rodriguez who finished in 6th place in a personal best time of 18:01, she was followed by a much improved Diana Perez who finished in 13th place in 18:25.2, Vanessa Avila 29th in 19:07.3, Giselle Perez 57th in 19:48.8, Anahi Pascual 59th in 19:56, Jacqueline Perez 104th in 20:55.6 and Allison Recancoj 116th in 20:56. The girls were awarded a third place finish plaque for their fine effort. The top 5 athletes in this race were also awarded finisher medals.
The boys race had a total of 27 teams and 195 runners. Fillmore boys finished in 3rd place as a team placing them ahead of Bishop Amat the 8th ranked team in the current CIF Southern Section D4 rankings. The top performer for the Flashes this week, was senior Everardo Garcia Magana who finished in 14th place and posted the fastest time of the day for the boys in 15:40:8. He was followed by Michael Sanchez 19th in 15:45.2, Jesus Castro 36th in 16:05.4, Sergio Perez 40th in 16:16.8, Rey Laureano 16:19.3, Nick Villela 62nd in 16:40.4, and Jonathan Ordaz 65th in 16:44.7. The top 5 runners for Fillmore averaged an excellent 16:01 over the 3 mile course, and were awarded individual medals. This team also won a team plaque.
On Saturday the remainder of the Fillmore teams competed at the Ojai Invitational. For the first time this year they competed over a hilly, challenging course.
The first girls race was competed over a 3 mile course. Arielle Estrada led the Fillmore group finishing in 83rd place in 23:00.8. She was followed by Emma Orozco 117th in 23:46.3, and Michelle Reyes 135th in 24:32.4.
The boys followed and also ran the 3 mile course. Top runner was Matthew Munoz who finished in 150th in 19:45.8, he was followed by Alex Recancoj 151st in 19:46.4, Erik Hernandez 196th in 20:40.5, Gustavo Valdez 258th in 22:24.7 and Daniel Cruz 264th in 22:48.2.
The second group of girls ran a shorter 1.85 course. They were led by Jacqueline Ruiz who finished was 18th in 13:58.8. She was followed by Lorena Izarraras 30th in 14:30.8, Isabella De La Cruz 37th in 14:52.3, Paulina Fernandez 50th in 15:28.2, Sandra Murillo 62nd in 16:02.3, Eva Vieyra 92nd in 17:07.5, Liliana Felix 93rd in 17:08.4, and Emma Ortiz 102nd in 17:41.9. The top 4 Fillmore runners in this race were awarded finisher medals.
The second group of boys also ran a 1.85 course. Top runner for this race was David Bustos 60th place in 12:42.5. David was award an individual medal for his fine effort. He was followed by Luis Leon 65th in 12:51.4, Erick Gutierrez 74th in 13:04.5, Samuel Kafka 75th in 13:05.7, and Andrew Otineru 93rd in 13:38.4.
The Flashes will next compete on September the 20th at El Camino Real Park in Ventura. This will be the first of three league meets that will determine League Championships and which Varsity teams will represent the Tri-County Athletic Association at the Southern Section Division 4 CIF Prelims meet.