Flashes Compete at VC Cross Country Championships
By Epi Torres — Wednesday, November 3rd, 2021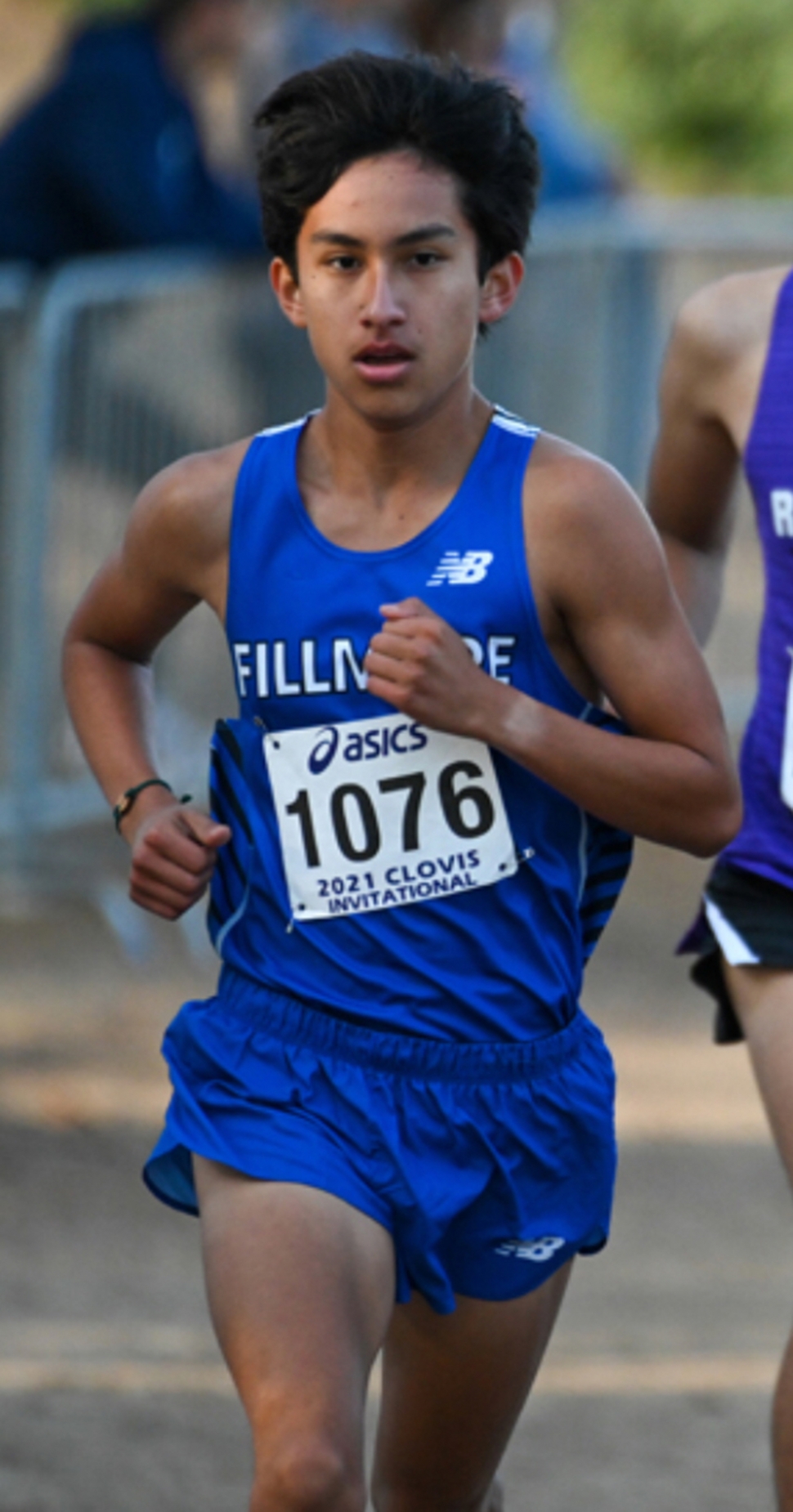 Flashes Camilo Torres placed 2nd at the Ventura County Cross Country Championship this past Friday, October 29th. Photos courtesy Coach Kim Tafoya.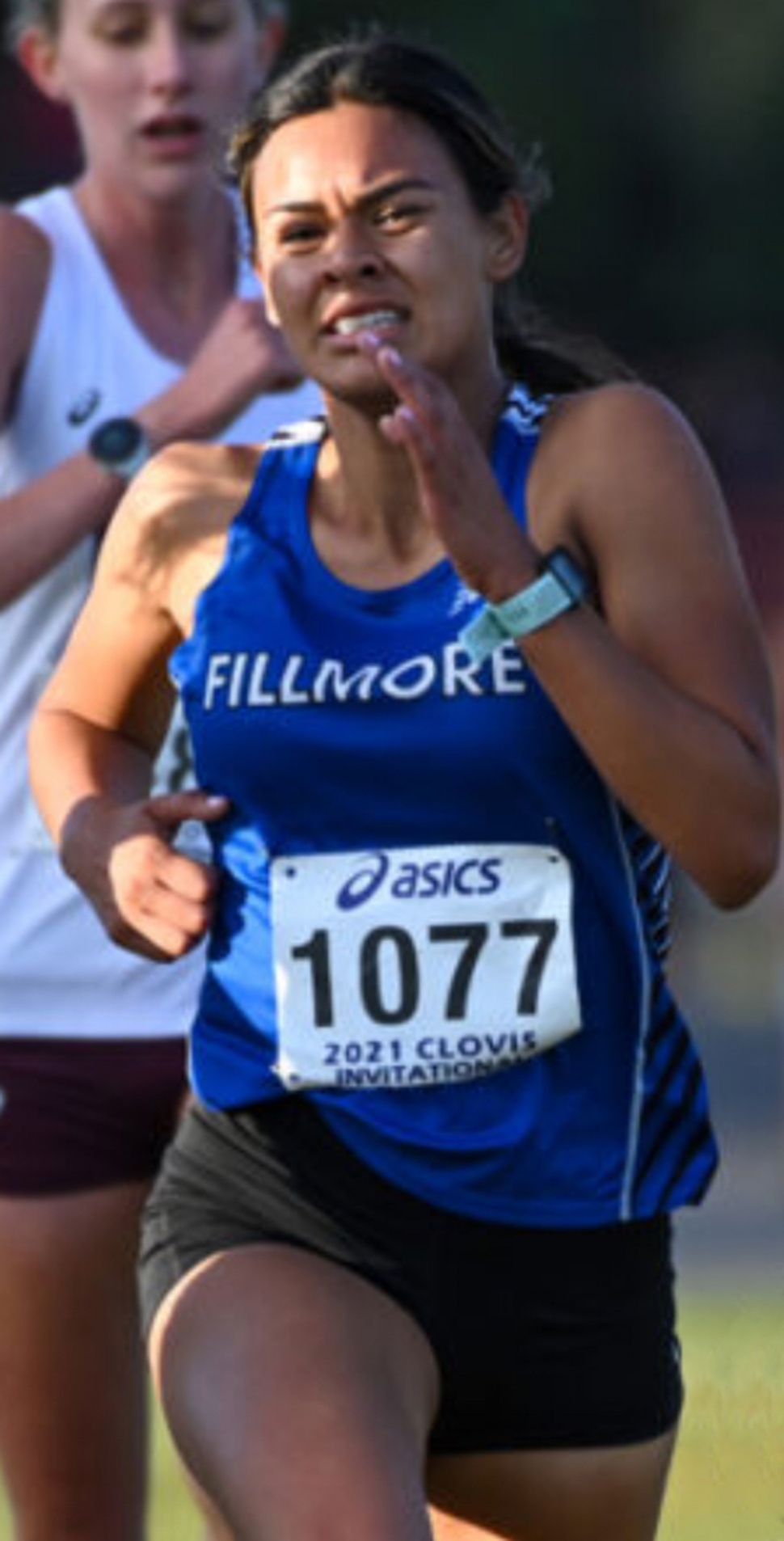 Fillmore's Alianna Tapia placed 16th.
On Friday morning, the Fillmore cross country teams joined 15 other county teams and competed on the Lake Casitas Course in Ojai at the Ventura County Cross Country Championships. Along with county honors, this is another opportunity for the Fillmore teams to compete on the same course that will host the Citrus Coast League Final on Thursday. There were 7 races with large and small school divisions racing together.
Fillmore had three athletes in the boy's freshman race. Eduardo Vigil was the top finisher in 6th place. Eduardo continues to improve and ran another personal best on this rugged course in 18:47.3. He was followed by Chris Perez 12th in 19:20, and James Torres 40th in 24:19. All three athletes were medal winners in this race.
The freshman/sophomore girls followed. They were led by Alexandra Martinez who finished in 19th place in 23:37.6. She was followed by Diana Santa Rosa 23rd in 23:58.2, Alexa Martinez 55th in 28:24.6, Aryanne Munoz 58th in 30:20.8, Alexandrea Gonzalez 30:27.8, and Abigail Magana 60th in 30:44.4. All the Fillmore athletes were awarded medals in this race.
The Varsity girl's race followed and Fillmore's top runner, Alianna Tapia finished in 16th in 20:12.5. She was followed by Niza Laureano 26th in 20:36.7, Nataly Vigil 46th in 21:43.2, Andrea Laureano 60th in 22:49.3, Monique Hurtado 65th in 23:02.1, Angelica Herrera 24:04.4, and Athena Sanchez 80th in 25:01.9.
The highly competitive varsity boys followed. Camilo Torres ran to win for the entire race, yet finished a close second in 15:47.8. Camilo was followed by Nicholas Hurtado 59th in 18:13.9, Kobe Lizarraga 60th in 18:14.1, Angel Laureano 63rd in 18:23.1, Diego Ramirez 65th in 18:31.4, Joshua Estrada 66th in 18:34.7, and Angel Garcia 75th in 18:55.3. The top 6 athletes in this group were medal winners.
In the girls JV race Lilliana Montejano led three Fillmore competitors finishing in 21st place in 24:32.5. She was followed by Daisy Guerrero 39th in 26:42.5, and Jasmine Vega 59th in 31:13.7. All three athletes were medal winners.
The lone competitor in the boys JV division was Luis Castaneda. Luis medaled and finished 44th in 21:23.3.
For our next meet, we will return to this course on Thursday. The results of this meet, along with two prior meets will determine which varsity teams will represent the league in CIF post league competition. It will also determine league champions at all 4 levels. Starting time for this event is 2 pm.