By Gazette Staff Writer — Wednesday, January 22nd, 2014
By Gazette Staff Writer — Tuesday, January 21st, 2014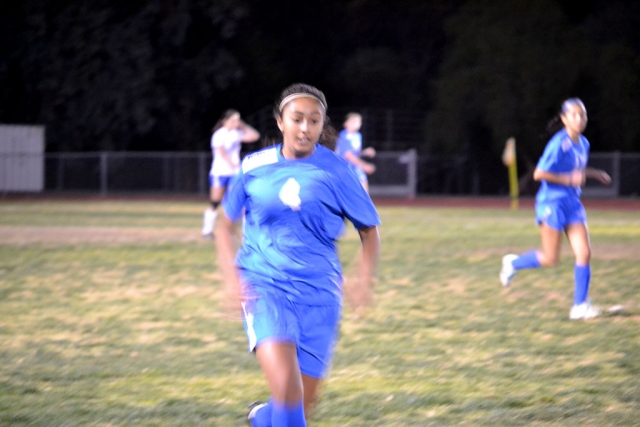 Lady Flashes fell 3-0 to Nordhoff High School. Nayeli Baez # 17 & Esmeralda Murillo #99 played well for the lady flashes.
Enlarge Photo
By Gazette Staff Writer — Wednesday, January 15th, 2014
By James Farr — Monday, December 30th, 2013
The Fillmore Flashes mens basketball team took the court against the Camarillo Scorpions. The Scorpions took control early and never looked back. The Scorpions were up by 23 points after 1 quarter of play. The Flashes went nearly the whole second quarter with out a single point, however they scored their first 4 points of the quarter in the last 20 seconds. The Scorpions were up by a comfortable 50 points at halftime with the score being 58-8 in favor ot the Scorpions. The Scorpions kept their foot on the gas pedal taking an 80-20 lead into the 4th quarter. Camarillo went on to win by an astounding 63 points. The final score was 92-29. Fillmore travels to Nordhoff next Thursday the 26th for their annual Nordhoff tournament. Their next game after that is the annual Alumni game on the 4th at 5:30. Then they open up league with Carpentaria at home. GO FLASHES!
By James Farr — Monday, December 30th, 2013
The Lady Flashes took on Roseville on Saturday. Fillmore was able to keep up with Roseville as the Flashes were only down by 2, 14-12, at the end of the first quarter. Roseville expanded their lead to 8 at the half. The Lady Flashes were down 24-16 at halftime, despite the fact that they missed some easy shots. Roseville asserted themselves in the third quarter taking a 36-22 lead into the 4th. Roseville finished strong to take the win with the final score being 46-31 in favor of Roseville. The J.V team takes the court on the 30th against Ventura at 11:30, and again on the 4th against Saint Bonaventure on the 4th at 2:30. The Varsity Flashes next game is the Alumni game on the 4th at 4pm. They open league against Santa Paula at Santa Paula on the 7th.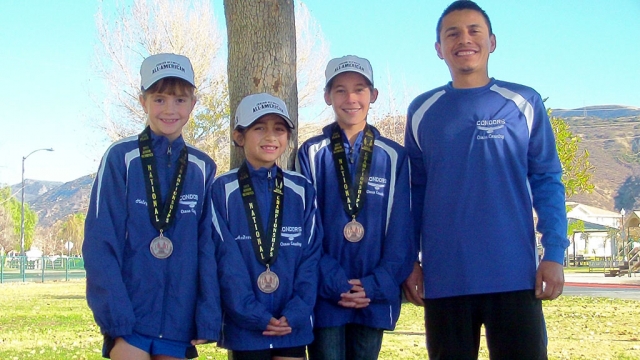 L-r) Haley Wilkinson, Andrea Laureano, Nevaeh Walla and coach Rafael Laureano.
Enlarge Photo
By Gazette Staff Writer — Monday, December 23rd, 2013
The Fillmore Youth Condors cross country team competed in San Antonio, Texas, at the Unites States of America Track and Field (USATF) Junior Olympics National Cross Country Championships on Dec. 14th 2013. After competing in two meet qualifiers, association and regional, the condors were able to take fifteen athletes to nationals and compete against the best in the country "it wasn't easy , but we knew we had the talent and self motivate athletes to go to nationals" the coaches said. This program has been active for ten years and since the first year they started they have been able to take athletes to compete at the national level. They have ran at Amateur Athletic Union (AAU) and USATF national cross country meets for the California Comets, a team formed by all the teams from the SCUSATF conference. However, this year was special one, the Condors competed at the Nationals as "Free Spirit Condors" taking fifteen athletes and represented themselves as one team. Andrea Laureano, Haley Wilkinson and Yarabi Herrera ran in the 8 and under Division. Haley Wilkinson place 13th and Andrea Laureano placed 21st out of 194 girls and both runners became an All-American. All-American is an honorary athlete recognition given to only the top 25 outstanding athletes in the nation at this meet. For the boys division ages 9 to 10, Camilo Torres, Alexander Gurarie and Rey Laureano competed against 329 kids and placed in the top one hundred. In the girls division ages 9 to 10, Jordyn Walla placed 31st and Vanessa Cabral 85th out of 308. For the girls ages 11 to 12 division, Nevaeh "Nieves" Walla placed 21st and also was named All-American, Carissa Rodriguez place 31st, Syenna Ponce, Gema Toledo, Rebecca Schultz, and Hannah Wilson ran in the same race in which 405 athletes competed. For the boy's age's 13 to14 division Joaquin Rodriguez placed 110 out of 415 athletes. "We are very happy that we were able to go as Condors, we believe we have given these kids a great experience that they will never forget." They are very glad that several organizations from Fillmore and people from our community have helped to make this happen and they want to thank them: Fillmore Rotary Club, Fillmore Fire Department, Chuy from El Pescador,Heritage Valley track club, The Fillmore Lions Club, and everyone in our community that helped with the fundraisers. The Condors have a saying "PAIN IS TEMPORARY AND PRIDE IS FOREVER".
By Gazette Staff Writer — Monday, December 23rd, 2013
Saturday January 4th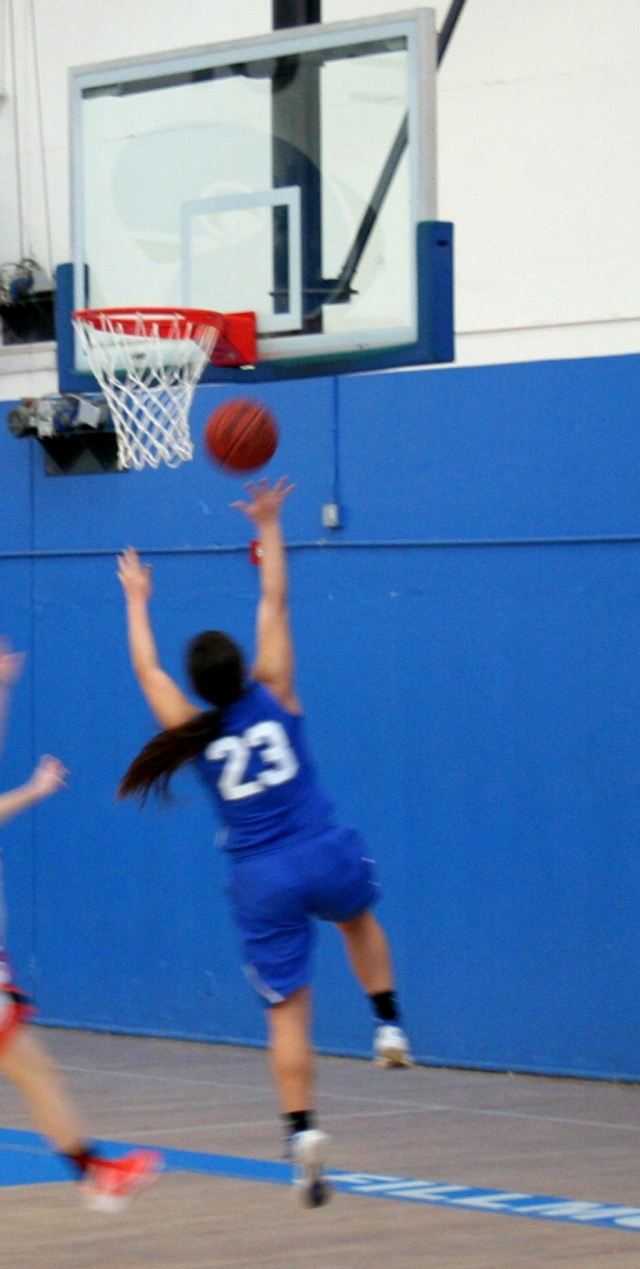 Kayla Grove goes up for a layup. Kayla scored 13 points, 7 rebounds and 4 steals this past Saturday. The Fillmore Flashes will host two Alumni Games on Saturday January 4th, 2014. The lady flashes will play first at 4:00 pm followed by the flashes at 5:30 pm. Please come out and support our current varsity teams along with the past players from Fillmore High School. We look forward to seeing you at the game.
Enlarge Photo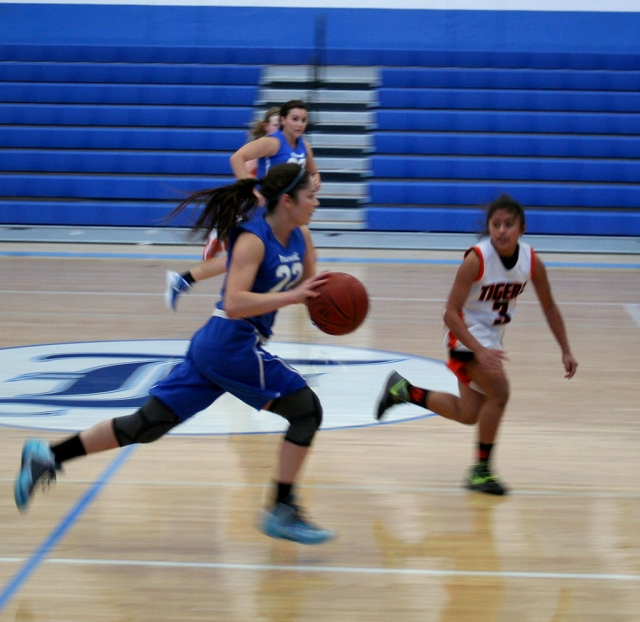 Anyssa Cabral with a fast break to score 2 points with teammate, Kayla Grove. Anyssa had 12 points, 2 rebounds and 3 steals against opponent Roseville, California.
Enlarge Photo
By James Farr — Wednesday, December 18th, 2013
The Fillmore men`s basketball tournament took place this weekend. The Flashes ended up taking home 4th place. Fillmore played the first game of the tournament against Santa Ynez. The first half of the game was a defensive battle as both teams were tied 21-21 with 1 minute left before halftime. It appeared that both teams would go into the locker room tied at half, but Santa Ynez made a shot in the closing minute to take a 23-21 lead. Fillmore came into the third quarter looking recharged as they took the lead 35-30 going into the final quarter of play. However Santa Ynez made the plays that mattered most in the 4th quarter en route to a 52-47 victory over the Flashes.
In the second game of the tournament the Flashes battled the C.I Raiders. Fillmore came out aggressive as they lead 22-7 at the end of the first quarter. The Flashes kept coming as they built a 22 point lead in the second quarter, and took a 38-20 halftime lead. Fillmore never looked back as they trounced C.I for their first win in the tournament.
In the third and final game of the tournament Fillmore took on Rosemond. Despite a slow start from the Flashes, they still found themselves tied with Rosemond at 13-13 at the end of the first quarter. In the second quarter Rosemond started to assert themselves. Fillmore found themselves down by 5 at halftime with the score 29-24 in favor of Rosemond. Fillmore couldn't get anything going in the third quarter, scoring only 7 points. Rosemond found themselves up by 17 at the end of the third quarter, and they kept pouring it on as they went on to beat the Flashes 65-41. Fillmore got 4th place in the tournament.
Fillmore next game is against Camarillo on Wednesday the 18th at Fillmore high school. GOOD LUCK AND GO FLASHES!
By Gazette Staff Writer — Wednesday, December 11th, 2013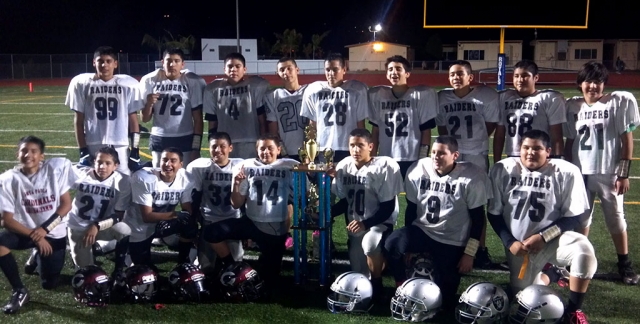 Fillmore Raiders J2, Coached by Head Coach Ralph Meza merged with Santa Paula Cardinal Youth football to form a team and competed in the 12u division. They played two games on Friday to win the championship. First victory was against Santa Ynez 41-0 and second victory was against another Fillmore team 60-48 to win the championship. Pictured (top row) Jose Romero#99, Rafa Meza#72, Daniel Lopez#4, Timmy Luna #26, Pedro Jimenez#52, Victor Jimenez#21, Beto Mejia #88, Daniel Navarro#21. (bottom row) Christian Solis, Aj Gomez, Jordan Ornales, Hugo Virto, Chris Hill, Ricky Holladay, Michael Coronado, Alex Mejia. Not pictured: Head Coach Ralph Meza, Coach Milo Solis, Coach Pete Jimenez, and Coach Troy Eskridge.
Enlarge Photo
By Kim Tafoya — Wednesday, November 27th, 2013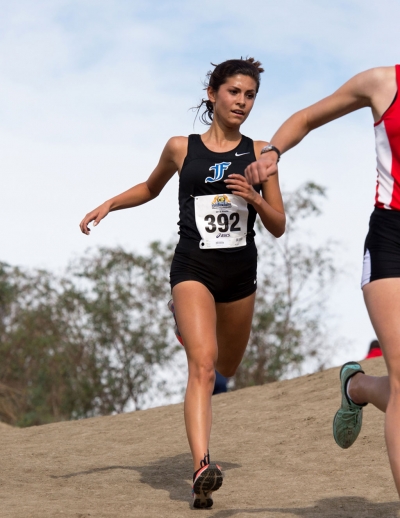 Kiana Hope. She qualified to the State Championship Meet at Woodward Park as an individual.
Enlarge Photo
This past Saturday, the Fillmore boys and girls Cross Country Team travelled to compete at Mt. San Antonio College at the CIF Southern Sectional Finals. Both teams were fierce in competition. The boys finished 11th overall with front runner Jesus Mendoza, a senior and first year runner with an incredible performance of 16:35. Juniors Jorge Hurtado, Dominick Gonzalez and Francisco Erazo were close behind with times of 16:41, 16:47 and 16:55. These runners have made huge gains throughout the season and will be runners to watch next years as seniors. Seniors Justin Beach ran a 16:51, along with senior Mario Gaspar with a time of 17:49. Once again, the boys had an amazing season. Congratulations to all.
The girls program showed many gains throughout the season. The girls finished 13th at CIF finals, gaining 3 spots from last year. The lady flashes were led by senior Kiana Hope with a time of 18:26, she placed 4th overall in her race with an individual qualification to the 2013 Division IV State Cross Country Championship meet. Teammates Alexis Tafoya, a junior, was the 2nd for the lady flashes with a time of 20:25. Running together at the end, senior Jordyn Vassaur and sophomore Briana Segoviano were 3rd and 4th for the lady flashes with times of 20:50 and 20:51. Rounding out the lady flashes were junior Sofia Gallardo and freshman Marisol Martinez with times of 22:31 and 23:43.
Kiana will continue on to the 2013 State Championships this Saturday, Nov 30th at Woodward Park in Fresno California. As a sophomore, in 2011 Kiana advanced to the CIF Prelims, as a junior in 2012 she competed at the CIF Finals. Now as a senior, she will go on to compete at the State Championship meet. We are truly proud of her accomplishments and want to wish Kiana the best. Way to go Kiana!
By Gazette Staff Writer — Wednesday, November 27th, 2013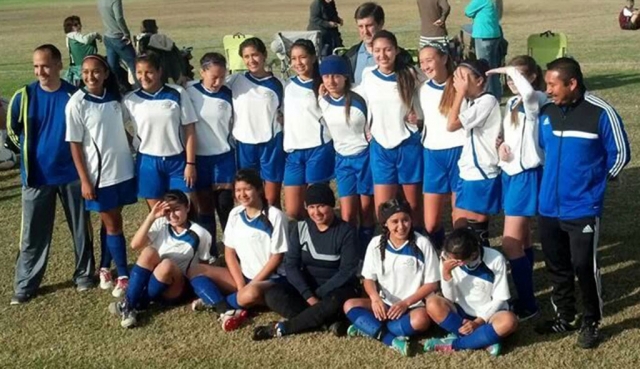 AYSO Fillmore Ca Region 242 Section 10 U-16 Girls Playoffs in Bakersfield Ca. U-16 Girls First time win Championship at Bskersfield State Farm Sports Village. Top Row: Reylene Martinez, Brianna Santa Rosa, Emily Garnica, Esmeralda Murillo, Yaneli Enriquez, Vanessa Estrada, Rachrl Rivera, Taylor Flores, Ryan Nunes, Caroline Esquivel, Coach Arnold Munoz Bottom Row: Coach Omero Martinez, Jocelyn Munoz, Lisette Martinez, Beatriz Morales, Salma Gomez, Elsa Grace Topete, Coach Willie Diaz Not in picture: Coach Chris Gomez Sarah Vollmert Janet Mendez and Veronica Cruz.
Enlarge Photo
By Gazette Staff Writer — Wednesday, November 27th, 2013
The Team began the Ventura Fall Classic in pool play by defeating Aztecs 4-0, Crazy Eights 15-0 and Snipers 12-0 shutting out all teams and only allowing 2 hits. In elimination the team faced Crazy Eights for the semi final and defeated them by a score of 10-0, leading them to to the championship game vs Aztecs.In the Championship game Lady Menace shut out the Aztecs by a final score of 6-0.
Our young ladies performance was outstanding by leaving every team faced scoreless and only allowing 3 hits in 5 games! Our pitching staff consisted of Kayleen Jacinto, Natalie Sanchez and Dominique Medina of which combined a total of 52 strike outs.
Team Members are: Liliana Arana, Anahi Arreola, Alexis Carillo, Amber Cervantez, Savannah Higgins, Kayleen Jacinto, Marissa Lugo, Analise Luna, Dominique Medina, Natalia Montelongo, Liliana Murillo, Tamara Rodriguez, Natalie Sanchez and Julyssa Tobias. Coaches: Jose Arreola Emilio Jacinto, Eddie Lugo and Hector Sanchez
By Gazette Staff Writer — Wednesday, November 27th, 2013
2014 season is here
HOME OF THE 10U WESTERN NATIONAL CHAMPS!
FILLMORE GIRLS SOFTBALL
MINI-SOX & T-BALL
Softball Registration fee: $120 + $40 Pre-Paid Raffle Ticket Fundraiser + $40 Snack Bar Fee
Mini-Sox/T-Ball Registration fee: $100 + $40 Pre-Paid Raffle Ticket Fundraiser + $40 Snack Bar Fee
Your player fee includes: Uniform Jersey & Visor/Hat, field usage, insurance, umpire fee, ASA fees & award
Each player will be required to sell 40 raffle tickets (given at sign-ps)
Anyone interested in Coaching? Please bring copy of DL and your ASA background check. Forms may be printed at: http://www.socal-asa.com/index.php
Under: ASA Background Checks
REGISTRATION DATES: ***EARLY BIRD FEE in Dec. minus $20***
 ***12/7/13 Saturday @ Shiells Park 10:00am to 1:00pm
 ***12/14/13 Saturday @ Shiells Park10:00pm to 1:00pm
 01/4/14 Saturday @ Shiells Park 10:00am to 1:00pm
 01/08/14 Wednesday @ El Pescador 6:00pm to 8:30pm
 01/11/14 Saturday @ Shiells Park 10:00am to 1:00pm
 01/15/14 Wednesday @ El Pescador 6:00pm to 8:30pm
 01/18/14 Saturday @ Shiells Park 10:00am to 1:00pm
$25 late fee assessed after 1/18/14, late sign ups will be accepted at assessments
PLEASE BRING A COPY OF YOUR CHILDS BIRTH CERTIFICATE;
REQUIED AT TIME OF REGISTRATION
Who's Eligible?
Boys ages 4 ½ to 6 years as of April 30, 2014
Girls ages 4 ½ to 14 years as of January 1, 2014
Other Important Dates:
 01/25/14 Softball Assessments @ Shiells Park
(Mini-Sox & T-Ball DO NOT
need to attend)
8U & 10U 12:00pm - 2:00pm and
12U & 14U 2:00pm - 4:00pm
 01/28/14 Parent Meeting @
Memorial Building Hall 6:30pm -
8:00pm
FGS will accept donations of used
equipment; Bats, gloves, helmets etc...
***
TEMPORADA 2014 ESTA AQUI...
¡CASA DE LOS 10U OCCIDENTAL CAMPEONES NACIONALES!
El BEISBOL de CHICAS de FILLMORE,
MINI-SOX y T-BALL de Niños
Tasa de registro: CONTINUED »
By James Farr — Wednesday, November 20th, 2013
The Flashes season came to a screeching halt last Friday night when they lost to the Citrus Valley Black Hawks by a score of 41-14.
The game started out as a defensive struggle as both teams didn't allow a point. That all changed when Black Hawks quarterback Lance Douglas ran the ball for a touchdown. Citrus Valley missed the extra point and went up 6-0. The Flashes answered back on a kickoff return for a touchdown by Hayden Wright to give Fillmore a 7-6 lead with 7:30 left in the 2nd quarter. The Black hawks answered back on their next possession to go back on top 13-7 with 4:10 left in the 2nd quarter. He Flashes got the ball back, however, they were forced to punt the ball away on 4th and 1. Citrus Valley scored another touchdown just before half to take a 20-7 halftime lead. Fillmore kicked the ball off and Citrus Valley went straight to work scoring another touchdown to take a 27-7 lead with 8:23 left in the 3rd quarter. Fillmore tried to get something going to help make it a game, however, they were forced to punt on their next 2 possessions, and went into the 4th quarter down 27-7. The Black hawks scored again with 11:46 left in the game to extend the lead 34-7. Fillmore got the ball back, but they punted it back to Citrus Valley. The Black hawks ran the ball 30 yards down to the 1 yard line and scored a touchdown on the very next play to extend the lead to 41-7 with 7:47 left in the game. The Flashes scored a touchdown on a run by Adam Jimenez. However it was to little to late as the Flashes lost the game 41-14. Good luck to Citrus Valley as they go on to play at Big Bear next Friday night. Fillmore had a good season. They never gave up. GOOD LUCK NEXT YEAR FLASHES!
By Gazette Staff Writer — Wednesday, November 20th, 2013
By Kim Tafoya — Wednesday, November 20th, 2013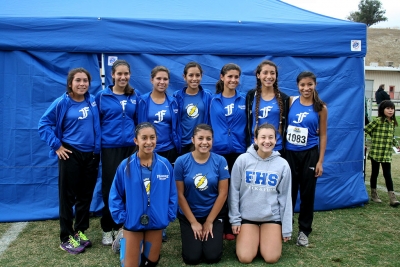 Girls CIF Cross Country Team (l-r) (top) Sofia Gallardo, Alexis Tafoya, Jordyn Vassaur, Briana Segoviano, Captain Kiana Hope, Lupita Perez and Marisol Martinez. (bottom) Irma Torres, Erika Texin and Kimberly Vazquez.
Enlarge Photo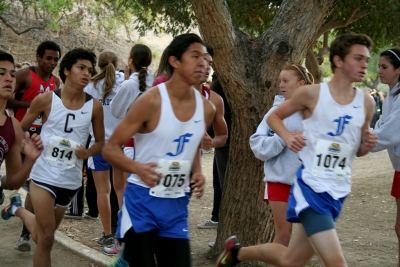 (l-r) Teammates Francisco Erazo and Justin Beach working the first mile loops at Mt. San Antonio College during CIF Prelims.
Enlarge Photo
On Saturday the team raced at the 2013 Cross Country CIF Prelims held at Mt. San Antonio College. To advance to the CIF Finals both teams had to place in the top 16 out of the 32 teams at the prelims. Both boys and girls advanced and will compete this Saturday November 23rd. The girls' team has qualified to the CIF finals for two consecutive years, where the boys have qualified to CIF finals for the past four consecutive years.
CIF Prelims
On Saturday the team put forth some amazing performances. Both teams are at their peak performance where times make the difference in advancing on to the next race. We are proud of the efforts and the daily workouts that all our runners are putting in to prepare for their final weeks of cross country running.
The boys' team finished seventh in their perspective heat. Jorge Hurtado had the top performance for the flashes placing 24th in his heat with a very impressive 16:38. Dominick Gonzalez and Francisco Erazo finished 27th and 34th with times of 16:46 and 17:02, while Mario Gaspar was 5th at 17:11. Justin Beach and Nicolas Frias placed 48th and 52nd at 17:19 and 17:26.
The girls' team finished fifth in their perspective heat. Kiana Hope had the top performance for the lady flashes placing 5th in her heat with a time of 18:50. Jordyn Vassaur finished 17th with a time of 19:59. Lupita Perez placed 24th in the race, clocking a 20:38. Alexis Tafoya was close behind at 27th with a time of 20:43 followed by teammate Briana Segoviano finishing 33rd in 20:57. Sofia Gallardo, and Marisol Martinez were the finished the round up for the lady flashes with times of 22:21 and 22:26.
For full results of the whole team go to http://prepcaltrack.com and look at the division 4 results.
By James Farr — Wednesday, November 13th, 2013
Flashes stay on top with 48-14 over Santa Clara
When Santa Clara and Fillmore took the field on Friday everyone knew what was at steak. It was just a question of who would come out on top. Could Fillmore force a tie and become Co- champions? Or would Santa Clara be at the top all alone? This game would answer both those questions.
Santa Clara received the ball first to begin the game. On Santa Clara's first offensive play the ball was intercepted by the Flashes. Fillmore took the ball inside their 20 yard line where Hayden Wright scored the games first touchdown from 16 yards out with 8:40 left in the first quarter. Fillmore forced Santa Clara's offense off the field with a 3 and out on Santa Clara's next possession. Fillmore took over possession of the ball and scored their second touchdown of the night with 2:19 left in the 1st quarter. The Saints, down 14-0 looked to get something going as they returned the kickoff down to the 44 yard line. Santa Clara took the ball down to the 10 yard line where the quarterback threw a 10 yard strike into the endzone with 11:52 left in the 2nd quarter. On the Saints next possession, down 14-7 they looked to tie the game up, but were stopped by the Flashes on 4th and 3 from the 13 yard line. On Fillmores next play they handed the ball off to Tyler Esquivel who burst up the middle for a 75 yrd gain. Fillmore got the ball down to the 10 yard line where they handed the ball off to Chino for a 10 yard touchdown to give Fillmore a 21-7 lead with 6:04 left before halftime. Santa Clara appeared to have scored a touchdown, but a penalty negated the touchdown. Santa Clara missed a field goal and went into the locker room down 21-7 at the half.
Fillmore returned the kickoff 70 yards. Later on the drive Tyler Esquivel scored a touchdown, however the PAT was blocked. Fillmore lead 27-7. On the Saints next possession they scored a 1 yard touchdown to cut the lead to 27-14 with 3:41 left in the 3rd quarter. The Saints held Fillmore and forced a 4th and 1. Fillmore handed the ball off to Justin Coert and they got a first down. Fillmore extended their lead to 34-14 thanks to a touchdown run by Hayden Wright with 3:28 left in the 3rd quarter. Santa
Clara could not get anything going as they were forced to punt on their next possession with 1:52 left in the 3rd quarter. The Saints got the ball back thanks to a fumble by the Flashes. Fillmore was up 34-14 with only 1 quarter left to play.
Santa Clara attempted a Field goal and missed it, and the Flashes returned it all the way to the 42 yard line. Santa Clara held Fillmore on 3 plays and forced a punt. On the next play Santa Clara fumbled it back to Fillmore. The Flashes then handed the ball off to Justin Coert as he took it down to the 5 yard line setting up a touchdown run by Carson Mclain to give the Flashes a 41-14 lead with 7:45 left in the game. Santa Clara tried to get another score in, but they fumbled it back to the Flashes. With 4:46 left to play Carson Mclain handed the ball off to Hayden Wright as he ran it 50 yards for a Fillmore Flashes touchdown.
Fillmore went on to beat Santa Clara by a score of 48-14 forcing both teams to be co-champions. Santa Clara won the coin flip to take possession of the #1 seed. Good luck to the Saints as they play Banning high school (Banning, Ca) next week at Santa Clara. Fillmore takes the #2 seed in the playoffs as they gear up to take on Citrus Valley (Redlands) next Friday at 7pm. GOOD LUCK, AND GO FLASHES!
By Gazette Staff Writer — Wednesday, November 13th, 2013
By Gazette Staff Writer — Wednesday, November 13th, 2013
By Gazette Staff Writer — Wednesday, November 13th, 2013