By Gazette Staff Writer — Wednesday, April 30th, 2014
Oxnard, April 19th, 2014
By Gazette Staff Writer — Wednesday, April 16th, 2014
By Gazette Staff Writer — Tuesday, April 8th, 2014
April 27th
The Fillmore Bears still have open registration through April. We are a new football organization that will practice at Two Rivers Park, Shiells Park and intend to play home games at Fillmore High School. We are not a travel team rather an option for those in the Fillmore, Santa Paula, Piru area to play football and cheer. We are having a carwash fundraiser at W.L. Morris on April 27th from 8am to 2pm. Pre-sale tickets are being sold for $10. Please support our new organization as we continue to grow. We have over 50 cheerleaders and 35 football players. Please visit our website www.socalfillmorebears.com
Ram Medina
Head Coach/President Fillmore Bears
By Gazette Staff Writer — Monday, April 7th, 2014
Thousand Oaks Track and Field Competition
By Gazette Staff Writer — Wednesday, March 19th, 2014
By Gazette Staff Writer — Wednesday, March 19th, 2014
The So Cal Fillmore Bears is looking to expand their organization by adding additional football teams and just last week we have officially added cheerleaders to our organization. Under the direction of Katie Aguilar a new cheer squad is taking shape with the addition of almost 20 girls and counting. The cost is approx $300 per cheerleader with a $25 registration fee. There has been a request to field additional teams this year in our senior division of 13 and 14 year old boys. As well as the Gremlin division made up of 6 & 7 year olds. We are also looking to field a Bantam team made up of 10 & 11 year olds. This Sunday March 23 there will be sign ups at Luv2Dance Studio 341 Central Ave from 12:00-2:00pm. We would like to thank Sandra Cummings for allowing us to hold our sign ups at her studio. The cost for football is $175 per player and if a team is not able to reach the minimum number of players a FULL REFUND will be given as should be the practice and policy for all Non Profits. Thank you for your support and assistance as we move forward to give our families an option to play football that is much more affordable and led by experienced coaches. Here are the weights for the PYFL we feel these weights and ages give a smaller chapter such as ours a better opportunity to play with other larger chapters.
Ram Medina
Head Coach/President SoCal Youth Football Bears
By Gazette Staff Writer — Wednesday, March 12th, 2014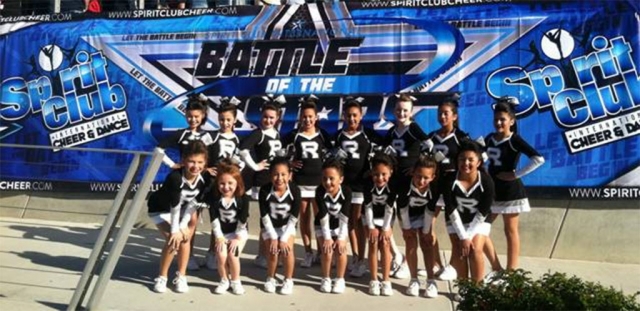 Fillmore's very own youth Raider's cheerleading squads have brought home the victory once again. After leaving Las Vegas as National Champions just two months ago, they have done it again. They just competed at a Spirit Club International Cheerleading Competition in Ontario, where Team White and Team Black came home as champions winning 1st place. To put the icing on the cake, Team White won Grand Champions, with the highest score overall. (l-r) (top row) Bryanna, Olivia, Ellie, Zoe, Rosie, Jacey, Valeria, Natalie, (bottom row) Angelina, Azaria, Daisy, Addy, Daniella, Alyssa, Hennessy.
Enlarge Photo
By Gazette Staff Writer — Wednesday, March 12th, 2014
The SoCal Youth Football Organization will have one team playing in the larger and more competitive Pacific Youth Football League for the 2014 season. We hope to continue to grow and have more teams next year as part of the SoCal Bears. Our nickname reflects the state bear as we pay respect and homage to the state we all live in. Our color scheme will be royal blue, white, and black as we pay respect and homage to Fillmore High School. Our player fees are considerably less than the Fillmore Raiders as we will charge $175 per player. We continue to request sponsorships and donations through corporations, local businesses, and private citizens in and around Fillmore. We would like to thank everyone that supported our attempt to give everyone in our community an option as to where their child can play football and in the future where their child can be a cheerleader. Please visit our website www.socalyouthfootball.org
Ram Medina
Head Coach/President SoCal Youth Football Bears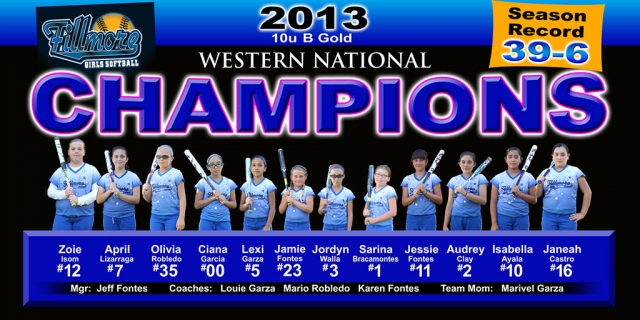 FGS opening ceremonies took place Saturday March 8th 2014 to kick off the 2014 season, FGS recognized the 10U Western National Champions with a banner that will be displayed at the field. The guest speaker was Team USA #2 Sam Fischer who motivated all the player to work hard and follow their dreams as she is an example of just that. Sam Fischer threw the first pitch to the western national team catcher Isabella Ayala to commence the 2014 season. Special THANK YOU to all board members and coaches who volunteer and make this league possible for our community.
Enlarge Photo
By Gazette Staff Writer — Tuesday, March 11th, 2014
By Gazette Staff Writer — Wednesday, March 5th, 2014
3-1 Vasquez
Set 1: 19-25 Vasquez
Set2: 26-24 Fillmore
Set3: 16-26 Vasquez
Set 4: 10-25 Vasquez
Highlight player: 12th grader Jorge Ruiz with 11 kills
By Gazette Staff Writer — Wednesday, March 5th, 2014
Fillmore Athletic Boosters
Fillmore Athletic Boosters will be holding their 4th annual casino night on Saturday, March 15th at Britt Park from 6PM until midnight. All proceeds benefit student athletes and the athletic programs at Fillmore High School. Tickets are $30 and include funny money, beer, appetizers, raffle, DJ, and a no host bar. For more information please contact Jennie Andrade at 340-3601. We appreciate our community's support towards a great cause!
By Gazette Staff Writer — Wednesday, February 19th, 2014
With the new TV show "Friday Night Tykes" making a big splash and creating a national interest, a non profit has been created in Fillmore Ca. SoCal Youth Football has been formed and is in the process of seeking sponsors and donations to help a team from Fillmore and other nearby cities to fly to Texas and play one of the teams from the hit TV show. The goal is to create an annual game that will pit a team from California versus a team from Texas. The new non profit does not interfere with the current Fillmore Raiders program as the game in Texas and other tournament participation will come after the season and perhaps before in the spring or early summer. The goal is have a core group from Fillmore along with other kids from other cities on the 25 man roster. If you have any questions you can contact Ram Medina at the team website www.socalyouthfootball.org or email ram8724@sbcglobal.net
By Gazette Staff Writer — Wednesday, February 19th, 2014
Fillmore Youth Football & Cheer are looking for Head Coaches for the 2014 Season. Head Coach selection will be made February 25th @ 6:30 in the Fillmore High School Conference Room. Applications are available for printout on our website at fillmoreyouthfootball.net. Applications must be received to our Secretary Kristen Dollar or mailed to our PO Box( #34 Fillmore, Ca 93015) by February24th 6:30 P.M. . Kristen may be contacted at 805-216-9027.
By Gazette Staff Writer — Wednesday, February 19th, 2014
On 2-11-14 the lady flashes traveled to Santa Clara. They got off to a slow start allowing Santa Clara to score in the 20th minute of the game. Needing a tie or a win the Lady flashes picked up the intensity and took the lead with goals from Nayeli Baez & and Liz Llamas. Santa Clara countered with a late goal to tie the game 2-2. Game went into overtime where neither team could capitalized on scoring opportunities.
Needing a victory to advance to CIF the lady flashes traveled to Villanova. Liz Llamas got the lady flashes on the board with a break away which she put in the net. Fillmore took a 1-0 lead. Villanova tied the game with a late goal. The game went into over time where Reylene Martinez scored the winning goal with a 20 yard shot. With the victory the lady flashes qualified for CIF and will face Oxnard High on 2-21-14. Good Luck!!!
By Gazette Staff Writer — Monday, February 17th, 2014
Congratulations boys basketball, girls basketball & girls soccer for making the CIF playoffs. Fillmore also wins five tri-valley league titles. Congratulations to our wrestlers for becoming league champions within their weight divisions - George Orozco, Nick Stehly, Damien Gonzalez, Dominick Gonzalez and David Cadena
By Gazette Staff Writer — Wednesday, February 12th, 2014
Lady Flashes fell to Bishop Diego 3-1 on Thursday January 30, 2014. Fillmore jumped out to a 1-0 lead when Nayeli Baez put a penalty shot away. Bishop bounced back with three goals; 3-2-1 in League. Lady Flashes faced the undefeated Nordhoff Rangers on February 4, 2014. Ryan Nunez #7 missed early on a scoring opportunity sending the ball wide. The game was tight with both teams battling to take control of the game. Ryan Nunez scored on a 10-yard shot with an assist from Reylene Martinez #4 to take a 1-0 lead at halftime. The Rangers came out strong, but the Lady Flashes held them off with a total team effort to win 1-0. Esmeralda Murillo #99, Maria Suarez #11, Ana Rincon #10, Brianna Santa Rosa #16 played well defensively; 4-2-1 in League Play
By Gazette Staff Writer — Tuesday, February 11th, 2014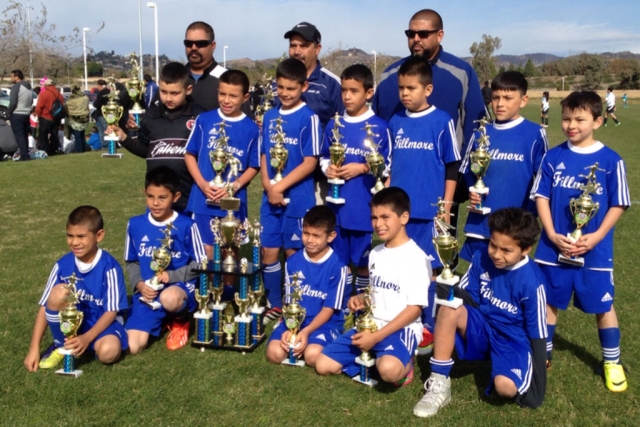 Fillmore took second place in the Oxnard Youth Soccer League. They played against Leon from Oxnard in the finals and won 2-0. (l-r) (bottom) Mathew, Sebastina, Deigo, Jathan, Alfredo. (top) Ivan, Julio, Armando, Fernando, Angel, Dante, Adrian. Coaches Damian, Joe, Javi.
Enlarge Photo
By Gazette Staff Writer — Monday, February 10th, 2014
Team: So Cal Choppers Black
Age: 12u travel fast pitch softball
Location: Santa Clarita , Ca
We are looking to add a few more players please contact coach Brian at (310) 962-2266 to arrange a tryout or join us for one of our team practices and show off your daughters softball skills.
By Gazette Staff Writer — Tuesday, February 4th, 2014
Oxnard College Athletics is proud to announce Ron McClurkin, a full-time faculty member in the PE/Health Department, as the Head Men's and Women's Basketball Coach for the 2014-15 season. "Coach McClurkin has tremendous experience coaching in the conference and brings many intangibles to the position. We are confident that Ron is the right coach to bring both basketball programs back to a high level of success," said Athletic Director Jonas Crawford.
The appointment brings Coach McClurkin full circle. He was head coach for the Oxnard College men's team from 1993-2007. During that 14-year span, McClurkin amassed 194 wins and three WSC Championships (2000, 2002, 2003). McClurkin was the head coach at El Camino College (1988-1992). He also led LA City from 1992-1993 and most recently, West LA from 2010-2012.
"I'm excited for the return of a new era in Condor Basketball," said McClurkin. "I'm happy the program was brought back in time to recruit some excellent local students. I enjoyed working with players like Danny and Juan Guzman, Paul Guerrero, Jess Pena, and Mike Oranda (in my first stint at Oxnard College), who are now professionals in the community. We will continue that tradition in the coming seasons."
"It's great to have a full-time coach back in the OC Athletic Department. Ron will ensure that all student-athletes are provided maximum opportunity and support for achieving their academic goals and have the best possible environment to compete to the fullest extent of his or her capability," commented Crawford.
Any men or women interested in playing basketball for the Condors are encouraged to contact Ron McClurkin at 805-986-5800 (x2075) or by email at RMcClurkin@vcccd.edu.
By Gazette Staff Writer — Tuesday, February 4th, 2014
The Oxnard College Athletic Department is proud to announce the reinstatement of Women's and Men's Basketball for the 2014-15 school year. Reinstating Oxnard College's Basketball programs will provide an opportunity to extend the mission of being a multicultural, comprehensive institution of higher learning. Oxnard College empowers and inspires students to succeed in their personal and educational goals.
Meetings were held with students, faculty, staff, and friends to gather feedback. A variety of factors were considered in making the final decision, including the impact on student life, college-community relations, and the role of athletics as a rallying point for the vitality of the institution.
The Condors will field both Women's and Men's Basketball teams for the 2014-15 season. Scheduling, recruitment of student-athletes, and many other pertinent logistical details will need to be addressed soon. Plans are underway for a full coaching staff to be in place before the end of spring semester so that recruiting can take place.
"It's a breath of fresh air for our department and college," said Athletic Director, Jonas Crawford. "This reinstatement is a great sign that our institution is on the rise and shows the tremendous value our administration has for athletics." Oxnard College President, Dr. Richard Durán, commented, "I am pleased to be able to restore two athletic programs to provide opportunities to develop students outside of the classroom."
If anyone is interested in playing for the Condors next season, please contact the Oxnard College Athletic Department at (805) 986-5825 or email Jonas Crawford, Athletic Director, at jcrawford1@vcccd.edu.