Grammy-nominated singer Perla Batalla to give two free concerts at CI
By Gazette Staff Writer — Monday, April 25th, 2016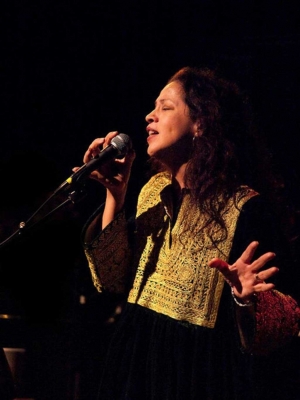 A Grammy-nominated vocalist, composer and arranger who first gained international attention as a backup singer for vocalist Leonard Cohen will give two free concerts on the CSU Channel Islands (CI) campus at 5 and 8 p.m. on Friday, April 29.
Los Angeles native Perla Batalla will lead a musical dramatic piece called "Blue House: Hearts on the Outside" at 5 p.m. in Malibu Hall. The performance is inspired by the frescoes, canvasses and private journals of two of the most significant painters of the 20th century: Frida Kahlo and Diego Rivera.
"Perla Batalla in Concert" will be performed at 8 p.m. The show will draw from her Mestiza heritage as well as her musical work touring with Leonard Cohen. "Mestiza" refers to a woman of mixed heritage.
Batalla's father was a mariachi musician who owned a popular Spanish record store and her mother was from South America.
CI part-time reference librarian and music lover Stephen Brogden arranged the concerts, having seen Batalla perform at the Thousand Oaks Library when Brogden served as the director.
"I thought Perla would be an ideal candidate for the first show at CI," Brogden said. "I had invited her to play twice at the Thousand Oaks Library and she was always a pro. Great voice, engaging stage presence, and more than willing to share the stage with young artists she likes."
Batalla knows the importance of someone believing in you. It was Cohen who encouraged her to strike out on her own as a soloist, a move that resulted in critical acclaim for her music, including a Grammy nomination for her album "Mestiza."
Brogden was also impressed that Batalla is a firm believer in the next generation of performers.
"At a time when art and music are marginalized in the education of youth, I am more than ever committed to educational outreach as I travel throughout the country," Batalla said. "Exposing young audiences to the beauty of art, music and poetry through live theater may be the only hope we have."
Brogden says he hopes to continue bringing live concerts of this caliber to CI. The performance was possible because of a grant from the Instructionally Related Activities fund at CI.
For more information on Perla, visit www.perla.com.
Admission is free, but an RSVP for Blue House; Hearts on the Outside is required at https://www.eventbrite.com/edit?eid=24576439793.
RSVP for Perla Batalla in Concert at: https://www.eventbrite.com/myevent?eid=24575080728.
Limited parking is available on campus with the purchase of a $6 daily permit; follow signs to the parking permit dispensers. Free parking is available at the Camarillo Metrolink Station/Lewis Road with bus service to and from the campus. Riders should board the CI Vista Bus to the campus; the cash-only fare is $1.25 each way. Buses arrive and depart from the Camarillo Metrolink Station every 30 minutes from 7 a.m. to 10 p.m. Monday through Friday. For exact times, check the schedule at www.goventura.org.