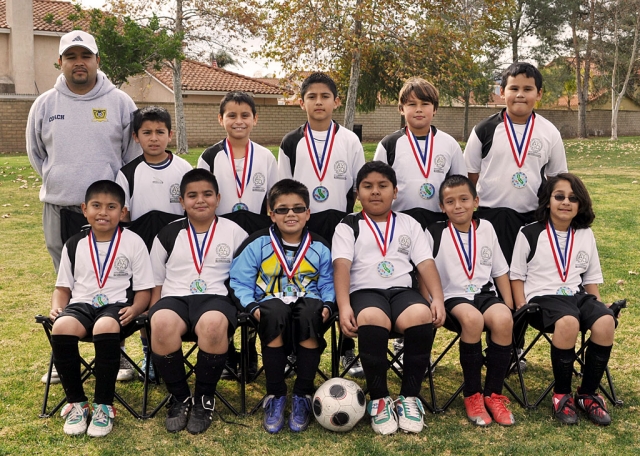 Top row left to right: Coach Ignacio Calderon, equipment manager Joel Garza, Players: Cristian Mijares, Captains: Enrique Gutierrez and Julian Calderon, Daniel Vaca. Bottom row: Geovany Lopez, Andres Avila, Goal Keeper Cristian Hernandez, Daniel Munoz, Alejandro Rodriguez and Jose Hinojosa. (Not in picture) Coach Octavio Hernandez, player Dante Galvan and team mom Alyssa Calderon.
Enlarge Photo
By Gazette Staff Writer — Wednesday, January 20th, 2010
Congratulations to the Fillmore AYSO Wolverines U-10 Boys for winning the AYSO Area 10W Championship. Area 10W includes teams from Ventura, Santa Paula, Oxnard, Camarillo, Carpentaria and Santa Barbara. Fillmore Wolverines defeated Santa Barbara in the finals in overtime. As Area 10W Champions, Fillmore wolverines will represent Area 10W at the area playoffs that will be taking place in Bakersfield in the month of February.
By Gazette Staff Writer — Wednesday, January 20th, 2010
By Gazette Staff Writer — Wednesday, January 20th, 2010
On Wednesday Jan. 13, the Fillmore Flashes Girls Soccer team played away against Carpinteria Warriors, by half time they were down by 3. Fillmore lost 0-7. On Friday January 15, Fillmore played against Oaks Christian, Fillmore unfortunately lost 0-9. The players played hard until the very end, and did not give up. Varsity continues to play this Friday against St. Bonaventure at home 6:00 p.m.
By Gazette Staff Writer — Wednesday, January 13th, 2010
By Gazette Staff Writer — Tuesday, January 12th, 2010
24th Season - 2010
Signups are just around the corner!!
Get your registration forms at http://www.hvblazers.org
Julian Morral @ (805)612-7442 email: JMorral@verizon.net
Maria Harendez @ (805)432-2408 email: bmhfamily@verizon.net
Age (divisions are separate for boys and girls)
Divisions Gremlins: Born in 2002-2003
Bantams: Born in 2000-2001
Midgets: Born in 1998-1999
Youth/Intermediates: Born in 1994, 1995, 1996 & 1997
Events 100, 200, 400 and 800 meter runs, 4x100 relay, the 1 mile and long jump - all ages
High jump and shot put - ages bantam and older.
4x400 relay, 2 mile run and 100 meter hurdles - midgets, youth and intermediates only
Registration January 16th & February 6th at Santa Paula High School Boys Gymnasium and El Pescador
Dates in Fillmore from 9:00 AM to 1:00 PM.
Last chance for late registrations will be at the Santa Paula high school track during the first week of practice. Copy of birth certificate is required at registration.
Practice Practices are Monday, Tuesday & Thursday beginning February 16, 2010 at 5:15p.m. (Santa Paula
Dates HS track field). Track meets will be every Saturday starting March 20, 2010 until June 5th , 2010
COST $100 first child, $90 additional children, $110/$100 after February 6th
We will have a chocolate fundraiser available to help offset the cost.
A separate $50 check (per family) for refundable deposit is required to ensure parent participation.
By Gazette Staff Writer — Friday, January 8th, 2010

On January 2, 2010 Fillmore HS soccer teams faced the alumni. They defeated the Alumni 4-2. Jose Mariscal scored 1, Marquis Garibay Scored 2, and Javier Valdovinos also scored a goal. Ernesto Ballestoros, and Jose Marsical each had an assist. For the Alumni, Sergio Lara and Dominique Jasso each had a goal. Javier Alcaraz had an assist. The game was played with four quarters each consisting of 25 minutes. In the first quarter Fillmore Flashes faced the 2005 CIF champions, the score at the end of the first quarter was 0-0.
Enlarge Photo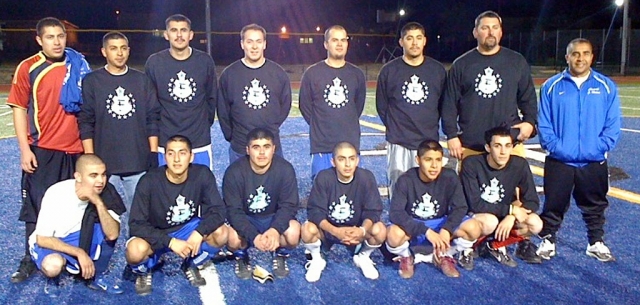 It was nice to see the 2005 CIF champions playing together once again.
Enlarge Photo
By Gazette Staff Writer — Wednesday, December 30th, 2009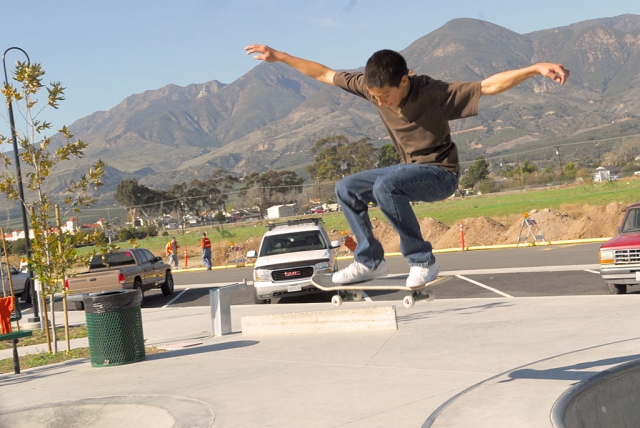 Flying High - It was a beautiful day Tuesday, December 29th and a lot of skaters took advantage of it at Two Rivers Park. They should name this move The California Condor.
Enlarge Photo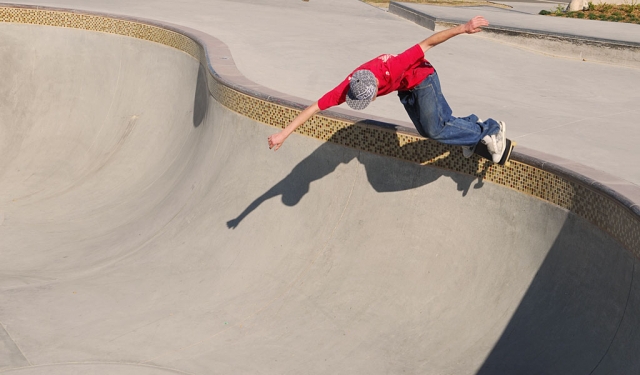 Zoom Zoom Zoom - Two Rivers Skate Park sees more action than any other place in Fillmore. Skaters are swarming in the bowls from open to closing. Was it worth $1.1 million? You bet!
Enlarge Photo
By Gazette Staff Writer — Wednesday, December 23rd, 2009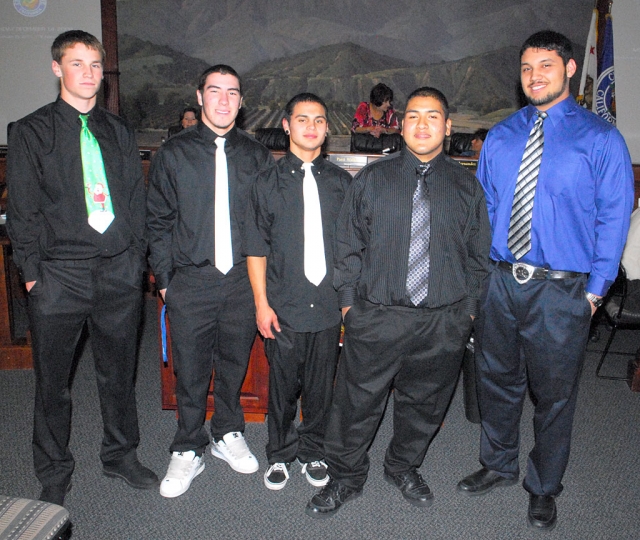 Pictured Above (l-r) are All-County recipients for Fillmore: Corey Cole, Matt De La Cruz, Zach Golson, Jose Rangel, and Emilio Gomez. Cole and Golson received Small School's All-County Offensive Backfield; De La Cruz, All-County Linebacker; Rangel, All-County Offensive Lineman, and Gomez, All-County Defensive LIneman. Oaks Christian, Santa Paula, Nordoff, Grace Bretheren, Oak Park, and VIllanova were included in this catagory.
Enlarge Photo
By Gazette Staff Writer — Monday, December 21st, 2009
24th Season - 2010
Signups are just around the corner!!
See attached Flyer...
By Gazette Staff Writer — Wednesday, December 16th, 2009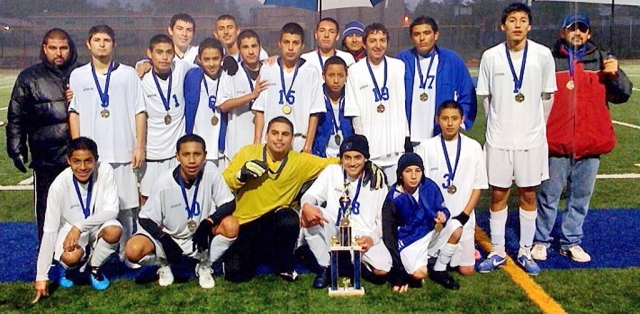 FHS boys soccer team held a tournament this past weekend, twelve teams entered the Heritage Valley JV Boys tourney. Several games were played and the remaining final four teams playing were Fillmore vs. Oak Park and Camarillo vs. Augora. Fillmore beat Oak Park 4-0 with goals by Juan Mariscal and 3 by Alexis Barajas. Augora beat Camarillo 2-0 and advanced to the final to face Fillmore. Camarillo beat Oak Park 1-0 taking 3rd place in the tournament. In the Championship game Fillmore played Agoura, both teams had chances to open up the score but each team played strong defense, not allowing any goals until there was about two minutes left in the second half. Juan Valdovinos scored the winning goal to avoid penalty kicks. First place went to Fillmore, Second Place Augora, and Third Place Camarillo. Pictured above but not in order are the FIllmore Flahses JV Soccer team: Andrew Michel, Oscar Alferez, Ruben Camarena, Jaime Magdaleno, Luis Cisneros, Hugo Valdovinos, Adolfo Rodrigues, Jesus Zarate, Arturo Vega, Jaime Gallegos, Juan Valdovinos, Miguel Salgado, Arturo Cornejo, Isreal Dominguez, Alexis Barajas, Isair Valencia, Nicolas Mendez, Bryan Ayala, Yoni Murillo, and Juan Mariscal.
Enlarge Photo
By Gazette Staff Writer — Wednesday, December 16th, 2009
Last Thursday night Dec. 10th, FHS beat Channel Islands. 50-45 in the opening round of the 59th annual boys' varsity tournament. Game highlights Chris De La Paz had 11 points and 10 rebounds, James Nelson had 9 points, 9 rebounds and 6 steals, Angel Barajas had 9 points, 6 rebounds and 3 assists. FHS continued in the tournament and played Friday against Carpinteria beating them 57-51, game highlights, Joe Estrella: 14 points, Nelson: 11 points, 5 rebounds, De La Paz: 13 points, 9 rebounds, 4 steals
Barajas: 7 points, 10 rebounds. Saturday: Fillmore lost to Oaks Christian 65-51 in tournament finals, finishing second. Corey Cole (named all tournament): 11 points, 3 assists, 3 rebounds, 1 steal. De La Paz (named all tournament): 14 points, 9 rebounds. Nelson: 6 points, 6 rebounds. Estrella: 8 points, 4 rebounds. Barajas: 3 points, 7 rebounds.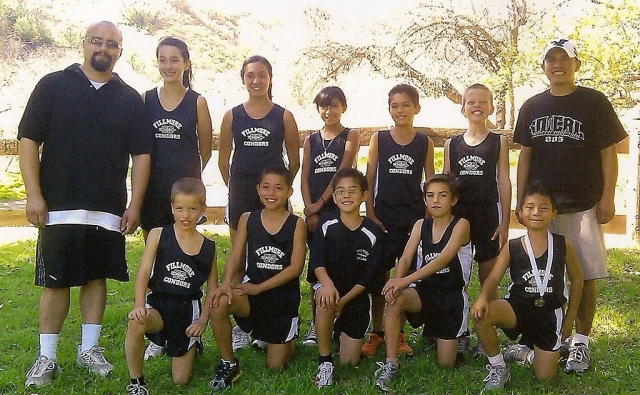 Pictured (l-r) Top Row: Coach Javier Barajas, Raquel Aguilar, Sarah Lopez, Irma Torres, Javier Barajas Jr., Colin Richter, Coach Rafael Laureano, Bottom Row: Aidan Richter, Fernando Trujillo, Daniel Barajas, Thorin Rosten, and Juan Carlos Laureano.
Enlarge Photo
By Gazette Staff Writer — Wednesday, December 9th, 2009
The Fillmore Condors (aka Southern California Comets) cross-country team members (Javier Barajas Jr., Irma Torres, Thorin Rosten, Daniel Barajas, and Juan Carlos Laureano) qualified for the AAU National Championships this season. On behalf of the coaches (Javier Barajas and Rafael Laureano,) the team and the parents, we would like to thank the sponsors for helping to get the team to Orlando Florida where the AAU National Championships took place.
Congratulations to runners that went to the AAU National Championships!!!
Their final results were:
Javier Barajas Jr., Midget boys, won 3rd place with his team.
Daniel Barajas and Thorin Rosten, Bantam boys, won 1st place with their team.
Juan Carlos Laureano, Primary boys, won 2nd place with his team and placed in the top 25 (19th) as an individual.
Irma Torres, Midget girls, won 4th place with her team.
Once again thank you to our sponsors: Heritage Valley Blazers, Fillmore Sun Risers Rotary Club, Gold Coast Embroidery, La Unica, Super A Foods and Jiffy Lube for allowing the team to hold two car washes to earn more funds, and all the families and companies that purchased raffle tickets!
It was an excellent season for the whole team and without the generosity from sponsors, coaches/team, and families; it would not have been possible.
Thank you again and Merry Christmas!
By Gazette Staff Writer — Wednesday, December 2nd, 2009
By Gazette Staff Writer — Wednesday, December 2nd, 2009
By Gazette Staff Writer — Wednesday, November 25th, 2009
By Gazette Staff Writer — Wednesday, November 18th, 2009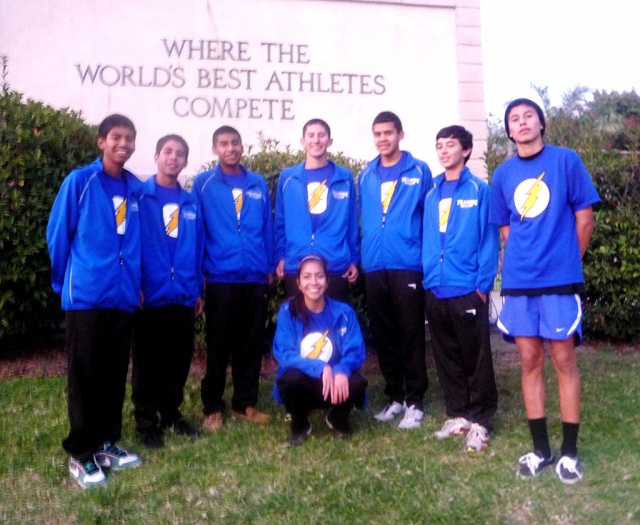 Pictured above (l-r): Alexander Gonzalez, Adrian Mejia, Paul Gonzalez, Anthony Chavez, Eddie Baez, Jose Almaguer, Juan Mariscal and below Andrea Barrera. After a long summer training and a season of personal records for these individuals, the Fillmore Flashes Boys Varsity Cross Country team and Andrea Barrera qualified for CIF Prelims this past Saturday. The team competed at Mt. San Antonio college this past Saturday and took 20th overall in their division in the Southern Section. Cross Country Photo's courtesy of Kim Tafoya.
Enlarge Photo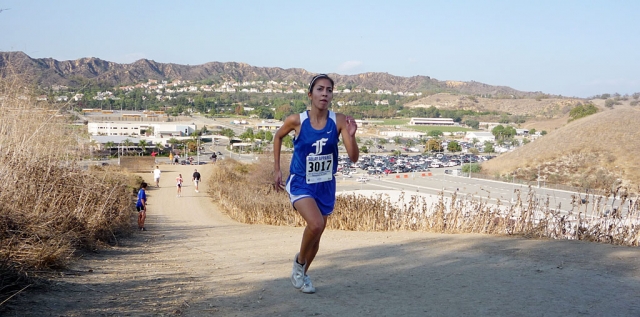 Andrea Barrera placed 6th in her race as an individual runner and qualified for the CIF Finals which will take place this Saturday. Andrea has an excellent chance of making it past finals and going on to the State Championships.
Enlarge Photo
By Gazette Staff Writer — Wednesday, November 18th, 2009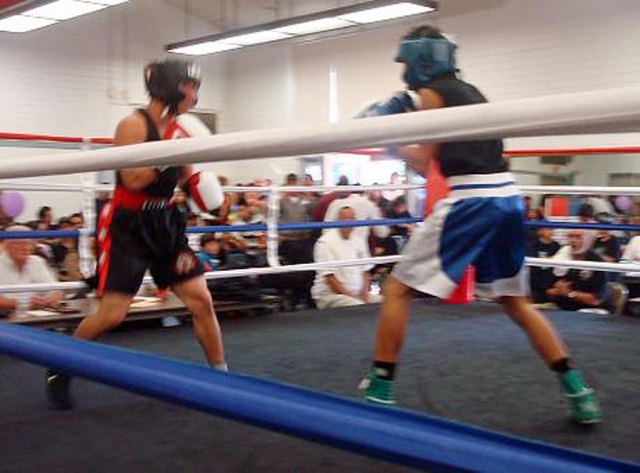 The Fillmore Boxing Club's Jonathan Minero competed in the 120 lb. division at the Jerry Ortiz Memorial Boxing Gym's annual boxing event November 15th in El Monte at Lambert Park. The Fillmore Boxing Club is a member of USA Boxing and offers adult and youth boxing classes at Body Image Gym for more information call (805) 524-0891 or (805) 443-8501.
Enlarge Photo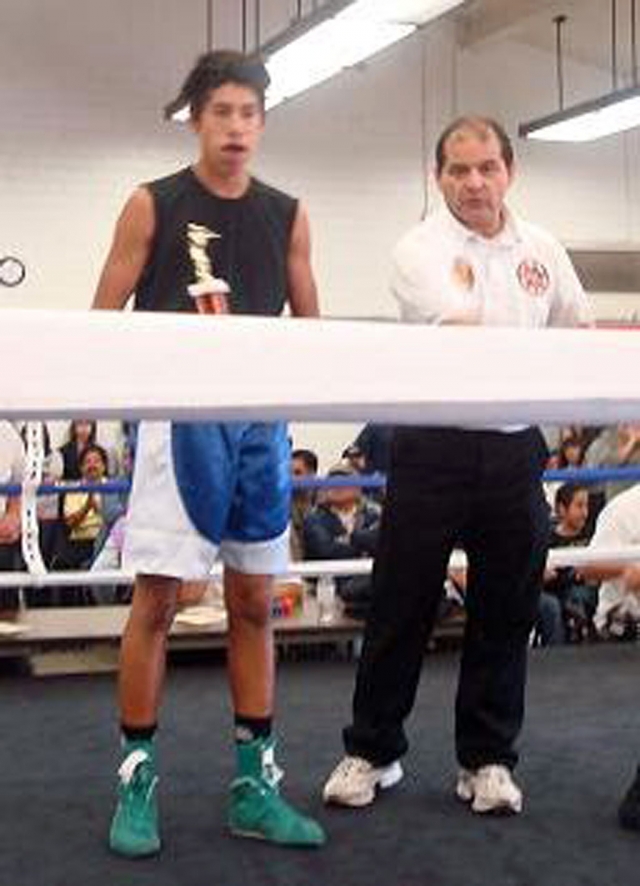 Jonathan Minero
Enlarge Photo
By Gazette Staff Writer — Wednesday, November 18th, 2009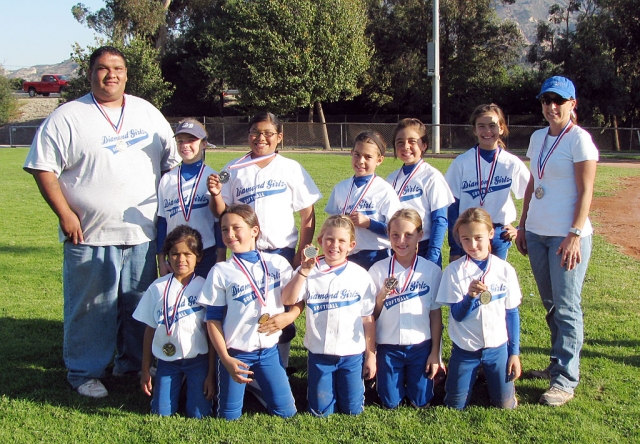 Fillmore Diamond Girlz Travel Team took 1st Place in the Santa Paula Fall Tournament. The girls went 6-0. Pictured Top Row: Coach Leo Venegas, Chloe Stines, Mckenzie Hernandez, Cali Wyand, Tots Cervantes, Amanda Villa and Coach Carina Crawford. Bottom Row: Leana Venegas, Maddie Charles, Lindsey Brown, Natalie Couse, and Kasey Crawford.
Enlarge Photo
By Gazette Staff Writer — Wednesday, November 18th, 2009

The Fillmore Girls Volleyball team would like to thank all of the sponsors for their generous donations for our annual Spike-A-Thon. With your help we raised close to $3,000.
Enlarge Photo
By Gazette Staff Writer — Wednesday, November 18th, 2009
FALL 2009
VOLLEYBALL
1st Team All League- Maria Victoria Ayala, 2nd Team All League-Chanti Sumaran, Ana Morino
Honorable Mention -Yesenia Avila, Tatiana Gonzales, Taylor DeZavala
FOOTBALL
LEAGUE MVP OFFENSIVE-PLAYER-OF-THE-YEAR-Corey Cole
LEAGUE MVP LINEMAN-OF THE YEAR - Jose Rangel
1st Team All League Offense - Zach Golson (RB), Nick Paz (RB), Chris DeLaPaz (WR), Tony Cortez (TE). 1st Team All League Defense - Matt DeLaCruz (LB), Derek Luna (LB), Emilio Gomez (DL). 2ND Team All League Offense - Johnny Golson (RB), Cody Jackson (OL), Gabriel Gomez (OL), Kevin Brock (OL). 2nd Team All League Defense - Dylan Dawson (LB), Tate Suttle (LB), Major Lee (LB), Sammy Orozco (LB). Honorable Mention-Brandon Nelson (DL)
FRONTIER LEAGUE COACH-OF-THE-YEAR: MATT DOLLAR
ASSISTANT COACHES: CURTIS GARNER, MATT SUTTLE, DAVE WILDE, LEVI HOLLADAY