Flashes defeat Santa Ynez 31-8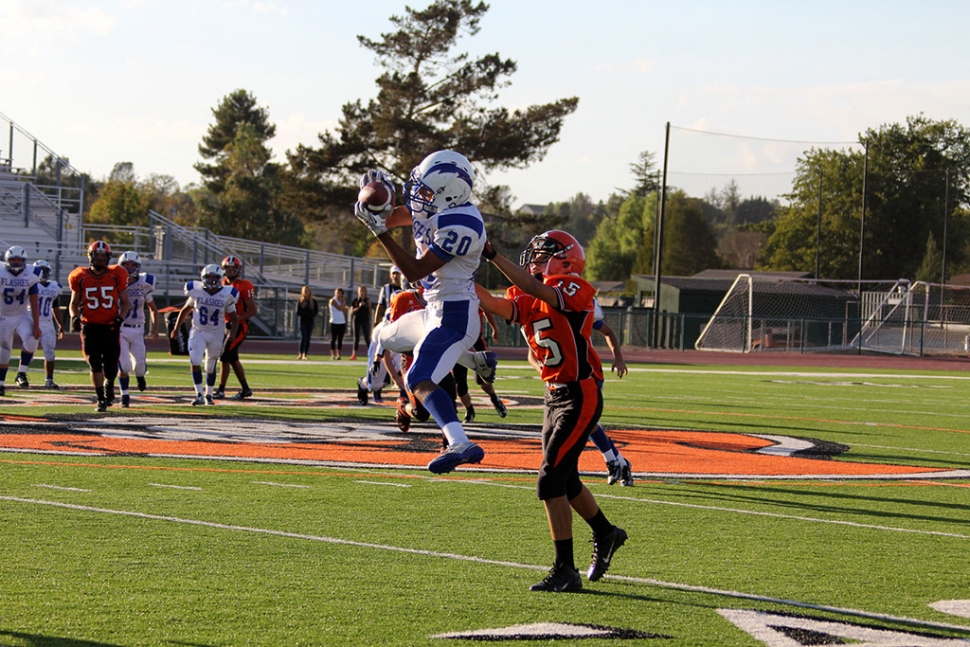 #20 George Tarango Making a first down catch in J.V.'s first loss in 2 and a Half years
By James Farr — Wednesday, October 1st, 2014
Go Flashes!
J.V. #61 Cody Isaacs making a tackle in the back field
Varsity #35 Emilio Hernandez Making a catch for the first down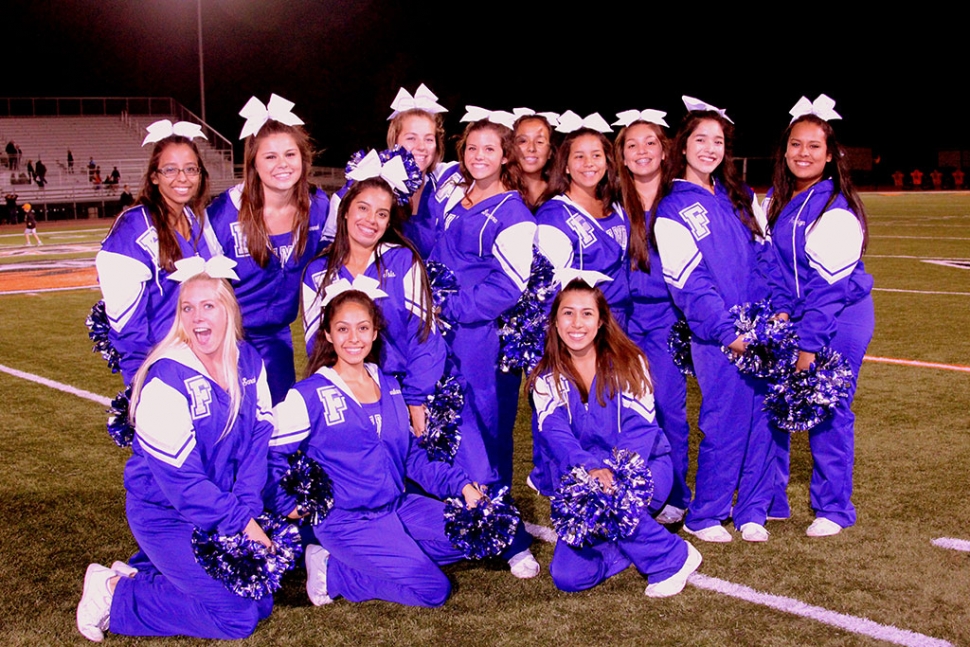 Varsity Cheer after Flashes win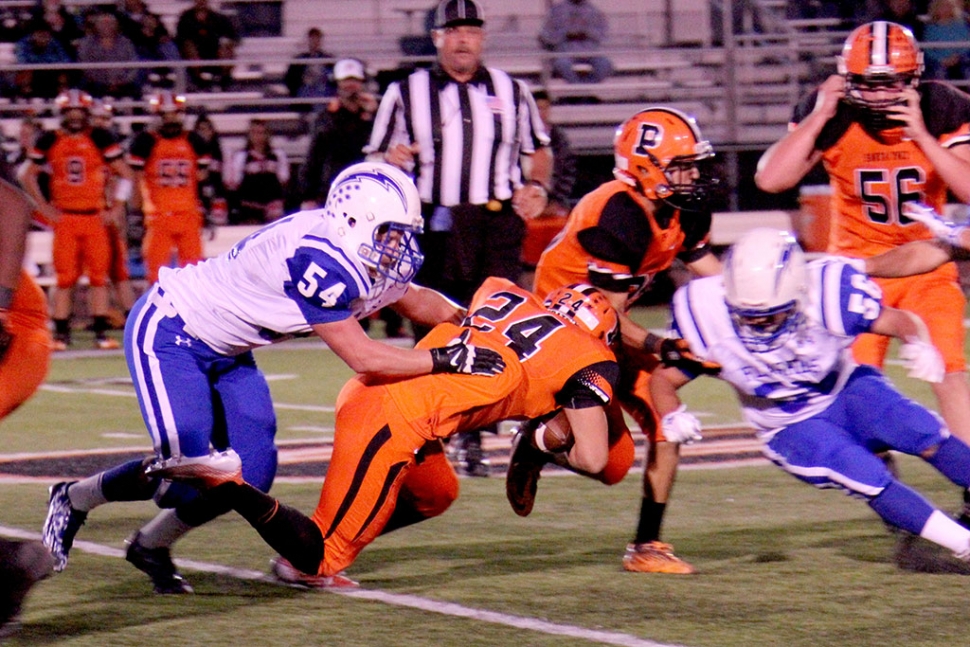 Varsity #54 Chad Petuoglu making a tackle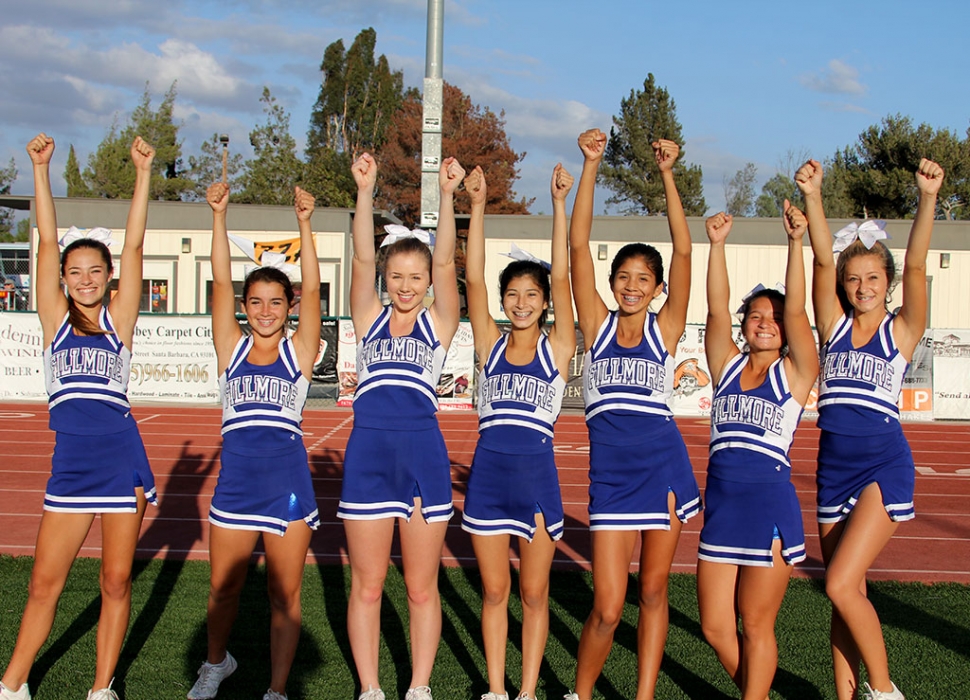 J.V. Cheer
The Fillmore Flashes traveled to Santa Ynez last Friday to take on the Santa Ynez Pirates. On their first possession of the game Fillmore got the ball all the way down to the 9 yard line before they handed it off to running back Hayden Wright for a 9 yard touchdown. That gave Fillmore an early 7-0 lead. Santa Ynez got the ball for their second time, however Fillmore defense came to play, and they were forced to punt the ball away. Later on in the first quarter the Flashes extended their lead to 10-0 thanks to a field goal by Justin Coert.
Fillmore got the ball later on in the second quarter where they handed it off to Hayden Wright for a touchdown to give Fillmore a 17-0 lead before half.
The defense played well in the first half pitching a shut out. Santa Ynez was threatening to score as they got the ball down to the 11 yard line. The threat was averted as the Pirates fumbled the ball away and it was recovered by Fillmore. On the next play the Flashes handed the ball off to Andres Andrade who exploded 89 yards for the touchdown.
Down 28-0 late in the third quarter Santa Ynez tried desperately to mount a comeback. The Pirates scored a touchdown with 11:40 left in the game. They went for the 2 point conversion and they got it as they cut in to the lead. Fillmores defense proved to much for the Pirates as that was their only score of the game. Fillmore tacked on a late field goal to make the score 31-8 in favor of the Flashes.
Good luck to the Pirates on the rest of their season. Next week Santa Ynez plays away at Templeton high school. Meanwhile, Fillmore plays at home this week against Hueneme High School. GO FLASHES!