New Starting Quarterback For Concordia University
By Gazette Staff Writer — Wednesday, September 3rd, 2014
Corey Cole Is Surrounded By Experienced Returners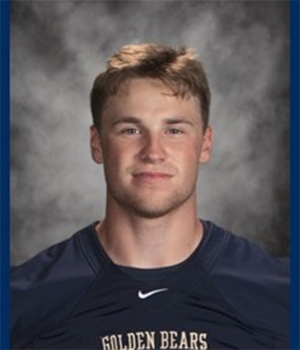 Corey Cole
The Golden Bear football team opens the season this Saturday, September 6 at 6 p.m. at #3 Minnesota Duluth.
A staple under coach Ryan Williams in his time at the helm of the program has been quarterback competition. While the team has featured an incumbent starter every season, Williams has entered camp with the starting spot up for grabs each year.
It has been no different this fall, "With five quarterbacks, we have a talented group of players that are all at different stages of their career," said Williams.
He continued, "Corey Cole won our starting job in camp because of some of the things he brings to the table athletically and his decision making ability.
He'll get his first shot at the quarterback position. "Even though he hasn't played in a game at quarterback at the college level yet, we've put him through a lot of paces in practice and scrimmages where I feel he'll do a very good job when that game day comes."
"Corey's been a really good decision maker in camp. He's thrown the ball better than in previous years when he competed for a starting job. Above all, his speed, athleticism and ability to make something out of nothing and scramble when a play breaks down is pretty threatening."
Cole enters his junior year as the starting quarterback after serving a key role as a wide receiver and kick returner last year. He was fourth on the team in receptions (17), yards (190) and led the team in kickoff returns (13) with a 30.0 yard average including an NCAA record 100-yard return for a touchdown in a 28-24 win at Wayne State.
As a freshman in 2012, he had five catches for 74 yards and was the primary punt returner with 14 returns (out of 15 for the team) for a 6.1 yard average and a long of 17.
Corey is 2011 Graduate of Fillmore High School. He is the son of Craig and Lynn Cole and the younger brother of former Concordia offensive guard Curtis Cole.