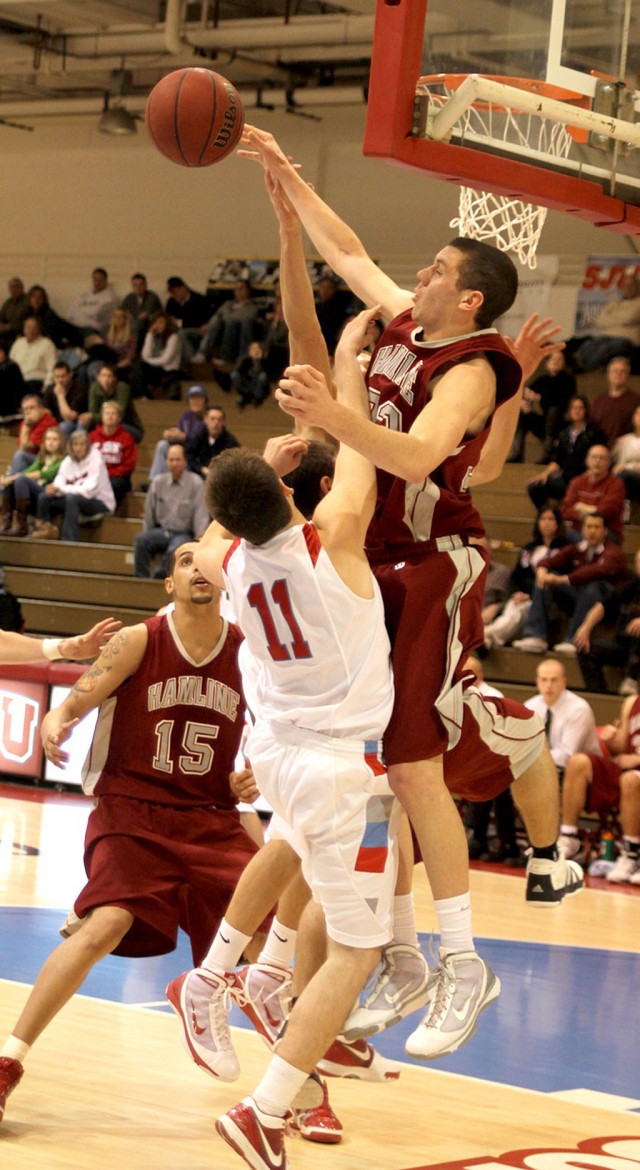 Noah Aguirre
Enlarge Photo
By Gazette Staff Writer — Monday, April 5th, 2010
Four members of the Hamline University men's basketball team, including Fillmore, California native Noah Aguirre, were honored by the Minnesota Intercollegiate Athletic Conference for their play during the 2009-10 season.
The Pipers finished the season with an overall record of 15-11 and were 11-9 in MIAC play. The overall record marked the first time since the 1993-94 season that the Hamline basketball program has finished above .500 and was the most wins since a 16-9 record in 1990-91.
Junior Carl Hipp (Little Canada, Minn.) led the charge for the Pipers, earning both All-MIAC and All-Defensive Team honors. The center led the Pipers in overall scoring with 17.7 ppg, 16.9 ppg in MIAC play. Hipp averaged 9.4 rebounds per game and tallied 69 blocked shots this season. He also had 18 steals.
Ray Brown (Sr., Saint Paul, Minn.) joins Hipp as an All-MIAC honoree, averaging 17.2 ppg overall and 18.6 ppg in conference play. He averaged 7.3 rebounds per game this season and blocked 24 shots. He also had 31 steals and 52 assists.
First-years Jordan Schmidt (Northbrook, Ill.) and Aguirre were two of the five players in the MIAC named to the All-First-Year Team. They were third and fourth on the team in scoring, respectively. Schmidt averaged 7.6 ppg
overall and 6.9 ppg in MIAC play. He led the Pipers in assists with 70 total.
Aguirre had an average of 7.3 points per game, 3.2 rebounds a game. Aguirre had 43 assists, 17 Aguirre named 2009-10 MIAC All-Rookie Team steals and 5 blocks. He started 20 of 26 games. He averaged 23 minutes a game, shot 44% from the field, 85% from the foul line. He had a season high of 27 pts.
Hamline ended the season 15-11, 5th place in the MIAC conference. The team lost in the first rd. of playoffs to end their season. Hamline came to CA. in Dec. to play in the Cal Lutheran tournament in Thousand Oaks which Hamline won the championship.
Noah is looking forward to traveling to Greece on a basketball tour with his team this summer. Noahs major is undecided. Hamline is located in St. Paul MN.
By Gazette Staff Writer — Wednesday, March 31st, 2010
By Gazette Staff Writer — Wednesday, March 31st, 2010
Lady flashes pull one out of the hat!
By Gazette Staff Writer — Wednesday, March 31st, 2010
JV suffers the first loss of the season( 4 - 6) in 7 innings at home game last Thursday..
The JV team held the Eagles 2-0 until the 4th inning when Oak Park tied the score. Fifth inning defensive errors for the Lady Flashes resulted in 4 more runs for the Eagles. the normally strong offensive JV team had only 7 hits( singles by; Karinna Carrillo/catcher, Jamie Carrillo/outfield , Marissa Vasquez/shortstop, Candace Stines/outfield, Briana Garcia/3B , and Mary Ortiz/1B, the only dbl came from Stines(sophmore), The teams will meet again on April 29th @ Oak Park HS.
By Gazette Staff Writer — Wednesday, March 31st, 2010
Fillmore Youth Football and Cheer announces it's registration dates for the 2010 season.
Stop by the Fillmore Boys & Girls Club on the following dates to register: Saturday, April 17th 10am - 2pm, Saturday, April 24th 10am -2pm, Wednesday, April 28th 6pm - 8pm.
Football fees are $190. A $20 discount will be given to the 2nd sibling and a $10 discount for each additional sibling. Cheer fees are $75. A $10 discount will be given to each additional sibling. Total payment is due at sign ups. Football teams will be limited to 25 players. Participants will be registered on a first come first serve basis, including returners.
All registration fees include a picture package, T shirt and shorts and a free physical sponsored by CMH Centers For Family Health. Look for registration information coming home soon from your child's school. For additional information, please visit our website at www.fillmoreyouthfootball.com or contact President, John Holladay at homeforholladays@sbcglobal.net.
By Gazette Staff Writer — Wednesday, March 31st, 2010
A committee composed of graduates of Fillmore High School is developing a Sports Hall of Fame to recognize and award the outstanding athletes, coaches and teams that have been a part of Fillmore High School for the past 100 years. The intent is to recognize those individuals who were active in high school athletics as well as those who continued their athletic accomplishments in colleges or universities and in the amateur competitions and in some cases into the professional ranks. We also want to recognize those coaches who were responsible for the successes of these athletes and also the outstanding teams in all sports. If you know of anyone who would qualify for consideration for one of these awards, please contact : Joe Woods, Fillmore High School Sports Hall of Fame, P.O. Box 697, Fillmore, CA 93016
By Gazette Staff Writer — Wednesday, March 24th, 2010
By Gazette Staff Writer — Monday, March 22nd, 2010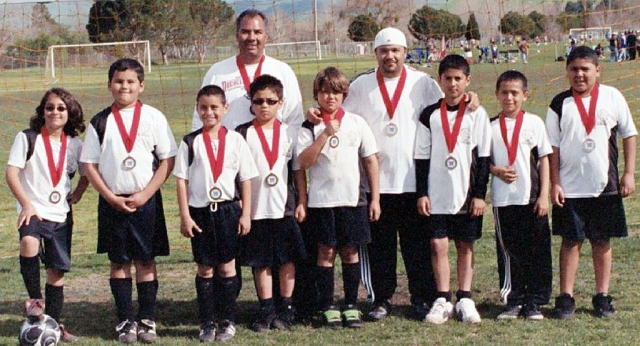 (l-r) Jesus "JJ" Hinojosa, Daniel "Nano" Vaca, Cristian Mijares, Cristian "Kiki" Hernandez, Coach Octavio Hernandez, Julian "Ju" Calderon, Coach Ignacio Calderon, Enrique Gutierrez, Alejandro "Alex" Rodriguez, Daniel Munoz. Not in picture. Giovany Lopez and Andres Avila.
Enlarge Photo
By Gazette Staff Writer — Wednesday, March 17th, 2010
After winning area 10W championship in December 09, the Fillmore Wolverines participated on the 2009/2010 Section 10 League Playoffs. During this tournament we defeated teams from Bakersfield, Fresno, Lompoc and Victorville. We participated on this tournament as AYSO area 10W Champions and we proudly advanced to the finals of this tournament. Unfortunately we were only a step away from State Championship but finished the tournament second, an accomplishment that no other Boys U10 Fillmore AYSO team has done in the past. Our boys played hard and never gave up despite all the obstacles we faced during the tournament. This tournament took place during the last week of February in the city of Bakersfield. A weekend that will be remembered by both parents and players for a long time. The rain, wind and the freezing temperatures could not stop the Fillmore Wolverines from completing a near perfect playoff run of 9 straight wins. Unfortunately, being from a small town such as Fillmore, gave us a big disadvantage while competing against bigger AYSO organizations like Santa Barbara. A city with AYSO members that can influence the game and capable of bending the rules to their advantage. We are proud of our Wolverines and remember, keep your head up high and be proud to represent Fillmore AYSO. Thanks to all the parents for taking the time and making this season a season to remember. Thanks to our team mom Alyssa Calderon, our coaches Ignacio Calderon and Octavio Hernandez. GO WOLVERINES.
By Gazette Staff Writer — Monday, March 15th, 2010
Perce's Karate Studio of Fillmore competed in 17th Annual Bryan Hawkins All American Kenpo Karate Tournament in Granada Hills, February 27, 2010. There were over 300 competitors from southern California. Kata 8-9 yrs. old purple-green belt: Participation Alex Turcios, Kata 6-7 yrs. old purple-green belt: 4th place Blake Boren. Freestyle 6-7 yrs. old purple-green belt: 2nd place Blake Boren. Freestyle 13-15 yrs. old brown-black belt: Participation Valery Rodriguez. Kata 10-12 yrs. old brown-black belt: Participation Tyler Bode. Kata 6-7 yrs. old purple-green belt: Participation Dave Bustos Jr. Freestyle 6-7 yrs. old purple-green belt: 3rd place Dave Bustos Jr. Kata 8-9 yrs. old purple-green belt: Participation Faith Bustos. Kata 13-15 yrs. old brown-black belt: 4th place Andy Topete. Self-Defense 13-15 yrs. old brown-black belt: 3rd place Andy Topete. Weapons 15 and under brown-black belt: 2nd place Andy Topete. Kata 13-15 yrs. old purple-green belt: 1st place Anthony Murray. Self-Defense 13-15 yrs. old purple-green belt: 1st place Anthony Murray. All the students who competed from Perce's Kenpo Karate did an excellent job. We are proud of your Participation and Support.
By Gazette Staff Writer — Wednesday, March 10th, 2010
By Gazette Staff Writer — Wednesday, March 10th, 2010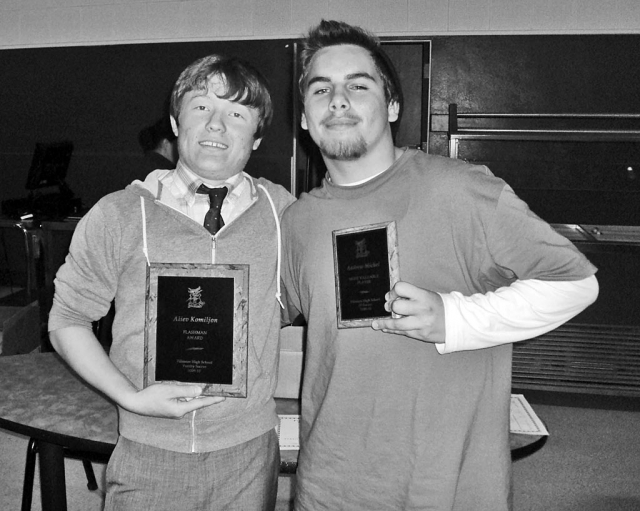 Fillmore Flashes Boys Soccer team held their banquet Wednesday, March 3rd. Above are two of the award recipients honored at the banquet : (l-r) Alievo Komiljon - Varsity Flashman Award, and Andrew Michell - JV MVP.
Enlarge Photo
By Gazette Staff Writer — Friday, March 5th, 2010
By Gazette Staff Writer — Wednesday, March 3rd, 2010
Fillmore Youth Football and Cheer Organization is accepting applications for New Board Members Elections are set for Monday, March 22 at 6:30pm Fillmore Senior Center 533 Santa Clara St.
Please contact Christina Holladay, at (805)797-7038 All applications are due back to Christina Holladay by Friday March 19th at 5:00pm. It is mandatory that all applicants be present to accept nomination.
By Gazette Staff Writer — Monday, February 22nd, 2010
By Cindy Blatt — Wednesday, February 17th, 2010
Heritage Valley Aquatics practice at the Fillmore Aquatic Center and the Santa Paula High School pool.
Three HVA swimmers from Fillmore participated in a swim meet hosted by Rio Mesa Swim Club on January 16 & 17. Paige McKeown (age 7) dropped almost 7 seconds in her 25 yd. freestyle. Remy Richardson (8) swam a 100 yd. freestyle for the first time and placed 7th. He was 9th in the 25 yd. backstroke and he dropped his time by a seond in the 25 yd. butterfly placing 5th. Kyle Popp (12) participated in five events and achieved best times in four events including dropping 13.97 seconds in the 100 breaststroke and fifteen seconds in the 100 Individual Medley.
Thirteen HVA swimmers participated in the CONTINUED »
By Gazette Staff Writer — Wednesday, February 10th, 2010
The scene could have been something out of a movie. A large gym and in the middle of the gym was one wrestling mat under the gleaming lights and crowds lining both bleachers. Wrestlers lined up and to take their turn on the mat under the lights with the crowd in full support. Small school single mat wrestling at its best was on tap Friday February 2nd when the Flashes hosted the Individuals Tri-Valley League Finals. Fillmore, Santa Paula, Nordoff and Mailbu wrestlers all competed for Individual standings in the league. The gym was filled with wrestlers, coaches and fans. New Jewish Community School did not participate in the match due to the conflict between their Sabbath and tournament dates. Respect goes to NJC for standing up for what they believe in.
Wrestling started at 5:15 PM with JV Girls Matches, and then progressed to JV Boys Matches, followed by the elimination rounds for Varsity. By the time the Varsity Matches were completed and the Awards Ceremony completed it was close to 10:00 PM. The action flowed from start to finish.
Taking Tri-Valley Individual League Championships was: Mark Zavala at 119 pounds and Christian Conaway at 145 pounds.
Flashes wrestlers who took runner up in the league include: Robert Bonilla (112), Jonathan Minero (125), Tyler Gray (130), Kyle Castaneda (145), Rodolfo Lopez (140), Anthony Edwards (171), Sammy Orozco (191) and Anthony Perez (heavyweight).
Taking the title for JV's was Austin Davis at 171 pounds. Three Lady Flashes; Ariele Legan (108), Brenda Alvarez (135) and Alexis Ramirez (165) also won titles.
Previously reported the Flashes Wrestling Team is comprised of all under classman. With a solid feeder program firmly seeded in the Middle School the 2010-11 season looks oh so sweet. This year Fillmore took second in league as a team. They're already firmly looking to knock Santa Paula off their perch next year.
The determination of Fillmore advancing to CIF as a team is undetermined at this time. What is known is individual Flashes wrestlers will compete in the CIF Individual tournament.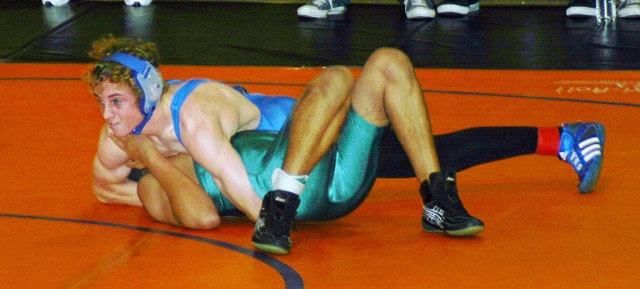 Christian Conaway wrestles his opponent. Conaway won by a pin. Fillmore lost by one point for the Tri -Valley League Title. Fillmore will host the Tri-Valley League Finals on February 5th at 4:00 pm at the F.H.S. Gym.
Enlarge Photo
By Gazette Staff Writer — Wednesday, February 3rd, 2010
Wrestling returned to Fillmore on Jan 27 when the Flashes hosted Santa Paula Cardinals in a Tri Valley League match. Due to extenuating circumstances Coach Calderon was forced to reorganize the team for the match, which placed the team at a disadvantage for the match. Typical of the Flashes they accepted the challenge and did their best. Wrestlers putting points on the board for the Flashes included; Robert Bonilla wrestling at 112 pounds, Sammy Orozco wrestled at 189, Christian Conaway wrestled up in the 152 pound class and Marc Zavala wrestled at 125, one Flashes wrestler received a bye at the 145 pound class.
Final team score was Santa Paula 36, Fillmore 35. Sadly for the Flashes his match determined who would lay claim to the Tri Valley League Championship for the 09-10 season.
On 1/20 The Flashes Varsity Wrestlers traveled to Chaminade High School in West Hills for the Chaminade Invitational. 26 schools competed in the event. Sammy Orozco took 3rd place in his weight category. Several others took 5th and 7th place. Competition at this event was fierce and will likely represent what the Flashes will be up against as they begin CIF wrestling in a few weeks.
On 2/5 Fillmore will host the Tri Valley League Finals. School Participating include: Santa Paula, Nordoff, Malibu, New Jewish Community and Fillmore.
Make plans to come to come out and support the Flashes at their final league match.
By Gazette Staff Writer — Wednesday, February 3rd, 2010
January 20, Fillmore played against St. Bonaventure, in the 74th minute of the game Daniella Diaz score. The goal keepers Xochilt Diaz and Jasmin Rubio had 17 shots on goal. Fillmore lost 1-5. January 22, Fillmore against Nordoff. Thalia Alcaraz played a great game and was the lone scorer against Nordoff, Fillmore lost 1-2. January 25, Fillmore played against Oak Park and lost 0-8. Goal keepers: X. Diaz and Rubio played well. January 27 Fillmore against La Reina Fillmore played well but lost 0-4. Alcaraz and Kat Stewart played a good game in the middle against La Reina.
By Gazette Staff Writer — Tuesday, February 2nd, 2010