By Anonymous — Wednesday, May 20th, 2020
By Anonymous — Wednesday, May 20th, 2020
VCPWA's 8th annual Public Works Week event May 17-23 goes virtual, bringing all the bells and whistles from years prior
While Ventura County Public Works Agency's (VCPWA) most exciting and educational event of the year, Public Works Day, is no longer able to conduct in-person tours, students and the community can look forward to an interactive virtual tour and activities right at their fingertips.
VCPWA will be providing a virtual tour of its favorite experiences, demonstrations, and materials to be utilized as an educational or social connection piece for students to learn more about the latest innovations in technology, careers, and science at VCPWA while also making it available to the whole community.
The theme of this year's event, "Embracing Change – A Better Way, Every Day" exemplifies the ability of VCPWA to adapt and grow while maintaining our mission and vision for the community. This year's event going virtual is just another example how we are all embracing change and making our work better each step of the way.
Students, faculty and the community can look forward to the following highlights during the virtual tour including but not limited to:
Composting and food waste recycling with worms
A day in the life of a Hydrologist
Behind the Scenes of the Moorpark Wastewater Treatment Plant
Topography-how the lay of the land influences the direction that rainwater flows to the ocean and to underground aquifers
Pervious Concrete; demonstration of a type of pavement that is porous enough to filter storm water, capture pollutants, reduce flooding and runoff to the ocean and re-charge underground aquifers with much needed water.
Demonstration of technologies that are put to work within PWA
Debris removal from a road
Road repair after a storm
Information on our public transit in our community
Drone video and how it is used by VCPWA
Kits to make your own street signs
Public Works careers
"We are so excited for the opportunity to create a virtual platform for our favorite event of the year. We understand that times are tough right now, so we thought what better way to re-inspire the students, that are currently learning remotely, than to share our innovations with them virtually," says Jeff Pratt, Director of the VCPWA.
VCPWA's National Public Works Week (NPWW) was first launched in 2012 and has grown exponentially over the years from 125 students to over 1,000 students. The Agency hopes to have an even bigger audience with the added virtual feature to engage students throughout the county as they adapt to an ever-changing learning environment.
The entire community is invited to join the VCPWA Public Works Day virtual education tour which will be shared through Twitter, Facebook, Instagram and LinkedIn via a link on the VCPWA webpage https://www.vcpublicworks.org/npww.
By Anonymous — Wednesday, May 13th, 2020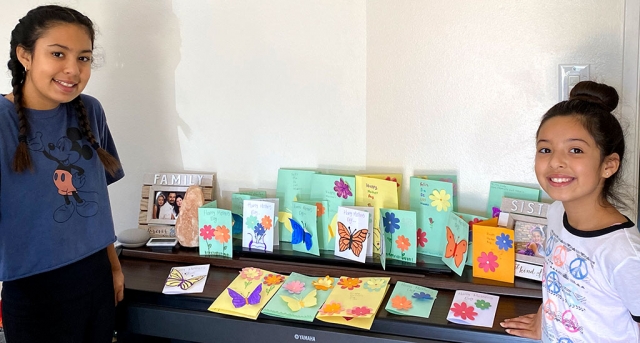 "Our daughter Yesenia Robles and her sister Alejandra made Mother's Day cards for the Moms at Fillmore's Greenfield Care Center facility and delivered them on Mother's Day, for all the Moms who couldn't be visited by their family member's during this pandemic. Inset is a sample card made for a Greenfield Care Center resident. Yesenia and Alejandra also made cards for other Moms who appreciated them. If you see them or try to talk to them, they are very shy and humble. We are very proud of our daughters for being so humble and very good girls at school." Courtesy the Robles family.
Enlarge Photo
By Nick Johnson — Wednesday, May 6th, 2020
By Anonymous — Wednesday, April 29th, 2020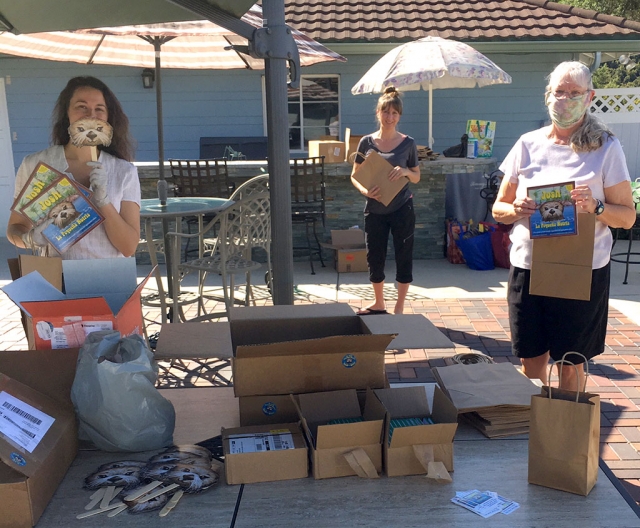 The Rotary Club of Fillmore is working to ensure Preschool children in the community receive Josh the Otter water safety materials before summer. They are partnering with the Fillmore Unified School District. Pictured are Katharine McDowell, Kelli Couse and Cindy Blatt holding up materials while remaining 6 feet apart, practicing social distancing guidelines. Courtesy Martha Richardson.
Enlarge Photo
By Anonymous — Wednesday, April 29th, 2020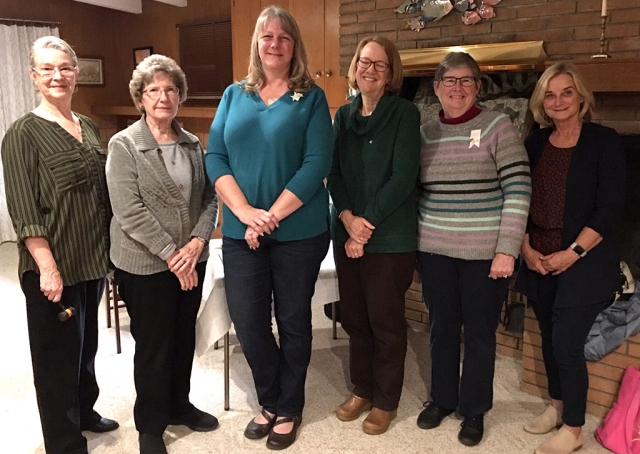 The Fillmore PEO (Philanthropic Educational Organization) Chapter GY installed new officers in March of this year. Pictured are the new officers: President Jan Lee, Vice President Mary Ford, Recording Secretary Amy Berger, Guard Barbara Peterson, Treasurer Martha Gentry, Chaplin Martha Roger. Not pictured is Corresponding Secretary Carmen Zermeno. Courtesy Martha Richardson.
Enlarge Photo
By Nick Johnson — Wednesday, April 29th, 2020
By Anonymous — Wednesday, April 22nd, 2020
Fillmore's Nova Storage added a new mural to the front entrance of their building pictured above is the new mural which was done by a Fillmore local artist Gabriel Cardenas. Photos courtesy Nova Storage.
Nova Storage purchased the historic building located at 455 A St in 2016. Since then, Nova has invested over $1.2 million into the property. Built in 1946 for the Fillmore Citrus Association, the building was known as Packing Plant #2. The building served the citrus farmers around Fillmore until 1994 when earthquake damages closed the building and packing operations moved to a facility in Piru. The building sat abandoned until 2004.
This historic building now features safe and secure self-storage and RV parking on the property for the Fillmore community at large.
To enhance the appearance of the historic building, an 8 by 10-foot mural now adorns the front wall. The mural, painted by local Fillmore artist Gabriel Cardenas, honors, respects and preserves Fillmore's great agricultural heritage. The mural was approved by the Art Commission of Fillmore on December 11, 2019. It is the first approved mural in the city!
Larry Layne, the principal owner of Nova Storage, believes that "being part of the communities we serve is important and something we embrace as policy." Larry found Fillmore charming; a town where he wanted to do business. Fillmore reminds him of growing up in San Fernando, where once the area had farms and farmers markets to buy fresh produce.
Upon learning about the Fillmore Citrus Association packing house history, Layne embraced the idea of presenting crate label artwork. Crate label art is displayed in the entrance foyer and on the office walls and now, with a beautiful mural on the building frontage. History is on display at Nova Storage, Fillmore! Nova has had a great response from our customers so far, receiving several compliments about the work of art provided to our community.
Talented local Fillmore artist, musician, and "artivist" Gabriel Cardenas was brought in to bring this idea to life. Cardenas is currently a Master's graduate student at Cal State University, Northridge (CSUN) where he is pursuing research in Chicano Art politics and Muralism. Previously, Gabriel exhibited his art in and around Santa Barbara where he received his bachelor's degree from UCSB. As a teacher and mentor to youth in the community, Gabriel has led various mural installation projects, and his hope is to teach, mentor and foster a generation of critical thinkers through the practice of art.
"It's an honor and privilege to be able to paint a mural in my home town, my mother used to work in these packing houses way before I was born". - Gabriel Cardenas
Nova storage has been in the industry since 1978 and continues to be active in the communities they serve, providing Ventura County, the San Fernando Valley, High Desert and South Los Angeles with superior customer service and offering clean and secure facilities at the lowest rate. Stop by one of their nine storage locations, or find them on Facebook, Instagram, or on their website NovaStorage.com.
By Anonymous — Wednesday, April 22nd, 2020
The Fillmore Women's Service Club announces that applications are now available for graduating High School Seniors. For 49 years, the FWSC have presented multiple scholarships, totaling over $500,000.
The deadline for this years scholarships is May 19th, 2020.
EDUCATIONAL SCHOALRSHIPS: Open to any graduating High School Senior that is going to public or private school, who resides within the Fillmore Unified School District and is continuing on to college or university. The student does not need to be attending school within the school district to be eligible.
TRADE AND ARTS SCHOLARSHIPS: Open to any graduating High School Senior that is going to public or private school, who reside in within the Fillmore Unified School District and is continuing on to a trade school, college or university, to pursue a career in a trade or the arts. Grades are not a factor.
The student does not need to be attending school within the school district to be eligible.
DIANA ROJO EDUCATIONAL SCHOLARSHIPS: Open to any graduating High School Senior who resides within the Fillmore Unified School District, in Fillmore and is planning to attend college or university.
Applications are also available for the FWSC ADULT WOMEN"S SCHOLARSHIP. This scholarship is for the educational improvement of women in the workforce, who reside within the Fillmore Unified School District, to better thee lives of their families and our community. Open to women 25 years or older, planning to return to college or trade school, or are currently attending such a school.
Due to the current pandemic, applications can be mailed to the FWSC, P.O. Box 151, Fillmore, CA 93016 or emailed to SusanDray@Hotmail.com. Interviews may be conducted by phone or online. High School Seniors can pick up an application with the counselor, or go online to www.FillmoreWomensServiceClub.com. For more information, please call Taurie at (805) 551-9244.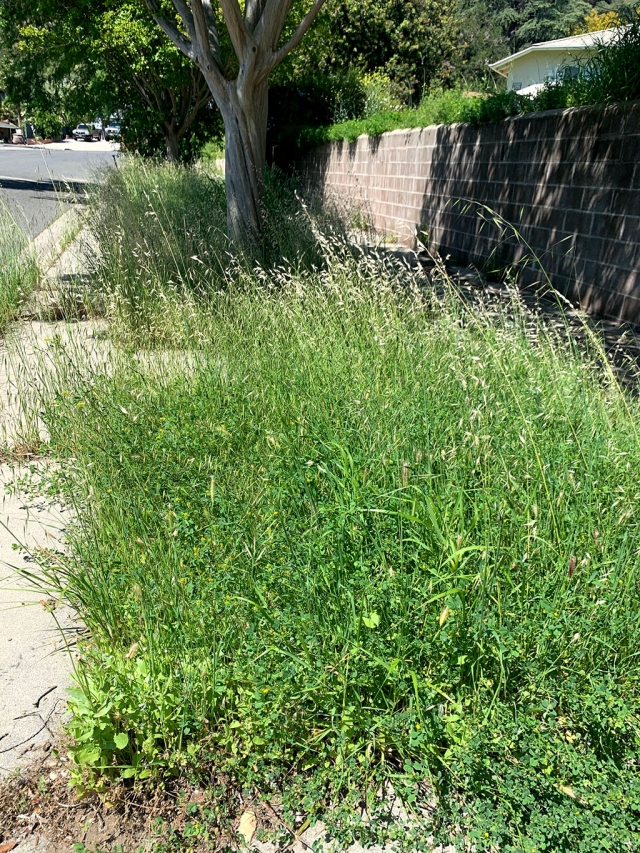 Fillmore Fire Department will be issuing weed abandonment notices in the next few weeks, the deadline for clearance will be set for June 1st. Photo Courtesy Fillmore Fire Department.
Enlarge Photo
By Anonymous — Wednesday, April 22nd, 2020
Courtesy Fillmore Fire Department
With all of the rain that Fillmore received this past winter and now with warmer weather here, the annual growth of unwanted weeds is going gang busters. Now is the time to start clearing all of the weeds and unwanted brush on your property. The warmer weather will soon dry out those weeds and increase the fire danger around your own home. Unfortunately, many Fillmore residents are self-quarantined right now, for those that are able, clearing your weeds is a good way to stay busy and get some exercise. Formal weed abatement notices from the Fillmore Fire Department will go out in the next couple of weeks with a clearance deadline of June 1. For those residents that have heavy brush or tree trimmings, a free Community Drop Off of unwanted vegetation will take place in May with a date soon to be announced.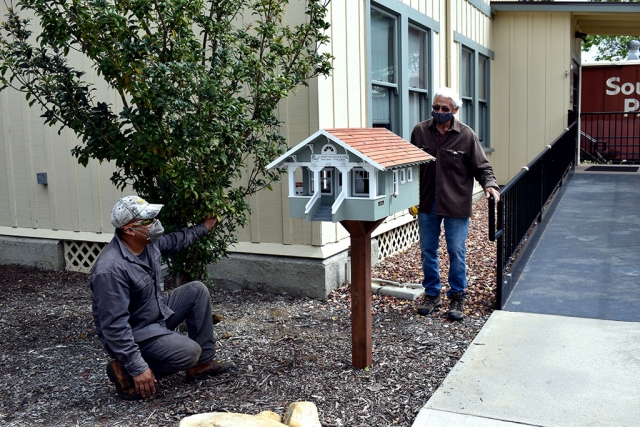 This past weekend Ramon Garcia and Jack Stethem finished installing Fillmore's newest Little Free Library just outside the Fillmore Historical Museum. Photos courtesy Fillmore Historical Museum.
Enlarge Photo
By Anonymous — Wednesday, April 15th, 2020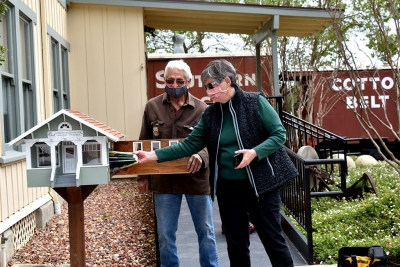 Jack Stethem and Museum Executive Director Martha Gentry filling the library with books for readers to enjoy.
Enlarge Photo
Courtesy Fillmore Historical Museum
The Fillmore Historical Museum at 340 Main Street is happy to be the site of the newest Little Free Library in Fillmore. Built by Jack Stethem, a Museum Board of Directors member, it is a replica of the 1906 Ira and Kate Hinckley House which is part of the Museum Historical Park. Dr. Hinckley was one of the first dentists in Fillmore and his son, Lawrence Hinckley, was a renowned local artist and ran the Artists' Barn Studio. It was installed at the Museum by Jack Stethem and Garcia Jr. Landscaping. The books were donated by Friends of the Library and members of PEO Chapter GY of Fillmore.
Marie Wren started the Fillmore Little Free Library initiative in Fillmore with a model of Fillmore's Southern Pacific depot, built by Jack Stethem. The Depot is also one of the buildings at the Historical Park. Little Free Library is an international nonprofit organization that inspires a love of reading, builds community, and sparks creativity by fostering neighborhood book exchanges around the world. Stop by and "take a book, leave a book." More information on Little Free Libraries can be found at http://littlefreelibrary.org
By Anonymous — Wednesday, April 15th, 2020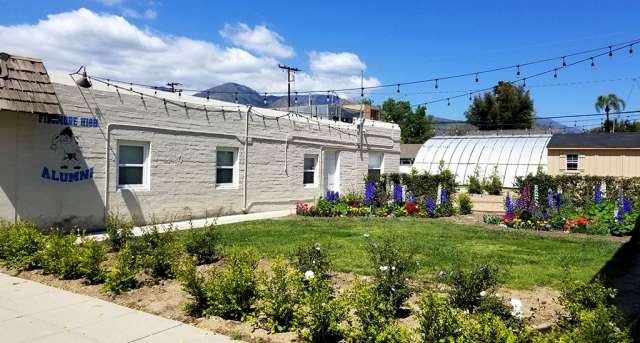 The Fillmore Alumni office planted a beautiful flower garden on the east side of their property, and had some concrete work done. A new shed was added to the back of their property as well.
Enlarge Photo
By Nick Johnson — Wednesday, April 15th, 2020
By Anonymous — Wednesday, April 15th, 2020
CITY OF FILLMORE
CITY COUNCIL AND SUCCESSOR AGENCY REGULAR
TUESDAY, APRIL 14, 2020 at 6:30 PM
CITY HALL 250 CENTRAL AVENUE
TUESDAY, APRIL 14, 2020 at 6:30 PM
AGENDA
1. CALL TO ORDER
2. PLEDGE OF ALLEGIANCE
3. ROLL CALL
4. APPROVAL OF AGENDA
5. PUBLIC COMMENTS - Pursuant to the Governor's Executive Order N-29-20 issued on March 17, 2020 in response to the present State of Emergency due to the threat of COVID-19, the City Council is conducting this public meetings via teleconferencing and will make this meeting accessible electronically to all members of the public seeking to observe and to address the City Council, and all requirements in the Brown Act requiring the physical presence of Council Members, the Clerk, City personnel, or the public as a condition of participation in or quorum for a public meeting are waived. To participate please refer to the City Manager's Temporary eComment Policy.
6. CONSENT CALENDAR - Recommendation for Item 7A. through 7C. is to Approve by voice vote.
6.A City of Fillmore Warrant Register - April 14, 2020
6.B CITY COUNCIL AND SUCCESSOR AGENCY MINUTES, MARCH 24, 2020
6.C ADOPTION OF ORDINANCE NO. 20-929, REPEALING FILLMORE MUNICIPAL CODE CHAPTER 3.28, DWELLING UNIT CONSTRUCTION TAX.
7. NEW BUSINESS
7.A Consideration of the First Amendment to the Subdivision Improvement Agreement with Hearthstone for Tract Map 5520.
7.B RESOLUTION NO. 20-3766 – APPROVING THE FISCAL YEAR 2020-21 PROJECT LIST TO BE FUNDED BY THE ROAD REPAIR AND ACCOUNTABILITY ACT OF 2017 (SB 1).
7.C AWARD OF CONTRACT FOR THE MAINTENANCE RENEWAL OF THE SHIELLS PARK BASEBALL INFIELD AREAS.
7.D Request to Approve First Reading of the Vehicle Parking Ordinance along State Route 126 through Fillmore.
7.E Review and Initiation of Proceedings for the Annual Levy of Assessments for the City of Fillmore Landscape and Lighting District No. 02 and Heritage Valley Landscape and Lighting District 2007-1; Consideration of Preliminary Approval of the Engineer's Report Regarding the Proposed Increased Assessments; and Setting the Public Hearing to Consider Assessment Increases.
7.F Review of the Engineer's Report Regarding the Proposed Increased in Assessments for the City of Fillmore Storm Drain Maintenance Districts and Consideration of a Resolution to Initiate the Proceedings and the Intent to Levy the Annual Assessments and Setting of a Public Hearing to Consider This Proposal.
7.G DESIGNATION OF CITY'S AGENTS IN APPLYING FOR REIMBURSEMENT FROM THE CALIFORNIA GOVERNOR'S OFFICE OF EMERGENCY SERVICES (Cal OES).
7.H CONSIDERATION OF ORDINANCE NO. 924 ESTABLISHING REQUIREMENTS FOR UNDERGROUNDING EXISTING UTILITIES AND FINDING OF EXEMPTION FROM CEQA
8. COMMITTEE, COMMISSION, AND BOARD REPORTS
9. CITY COUNCIL REPORTS, RECOMMENDATIONS, AND COMMENTS
10. CITY MANAGER
11. ADJOURNMENT - MAYOR TIM HOLMGREN ADJOURNS TO THE NEXT REGULARLY SCHEDULED MEETING AT 6:30 P.M. ON TUESDAY, MAY 12, 2020, CITY HALL, 250 CENTRAL AVENUE, FILLMORE, CA 93015.
By Anonymous — Wednesday, April 8th, 2020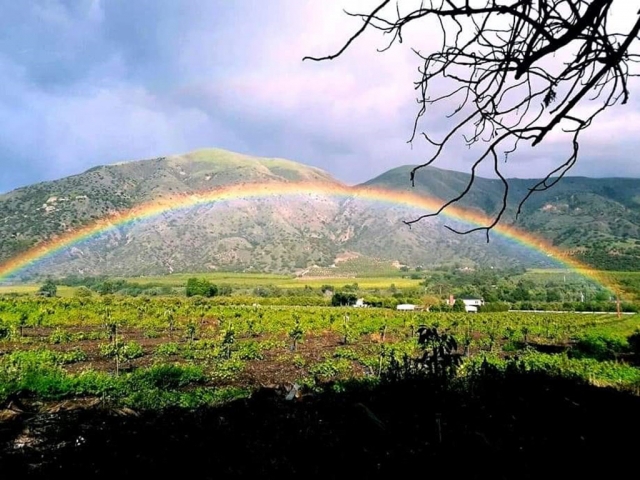 A rainbow arched over Grand Avenue after last week's rain. Courtesy Michele Carrillo.
Enlarge Photo
By Nick Johnson — Wednesday, April 1st, 2020
By Nick Johnson — Wednesday, March 25th, 2020
By Anonymous — Wednesday, March 18th, 2020
The Economic Development Collaborative has compiled a list of resources now available for employees and employers who have been impacted by COVID-19. As new resources become available, this guide will be updated as needed. Here is the link to access the guide: https://edcollaborative.com/covid19/
By Nick Johnson — Wednesday, March 18th, 2020
By Anonymous — Wednesday, March 18th, 2020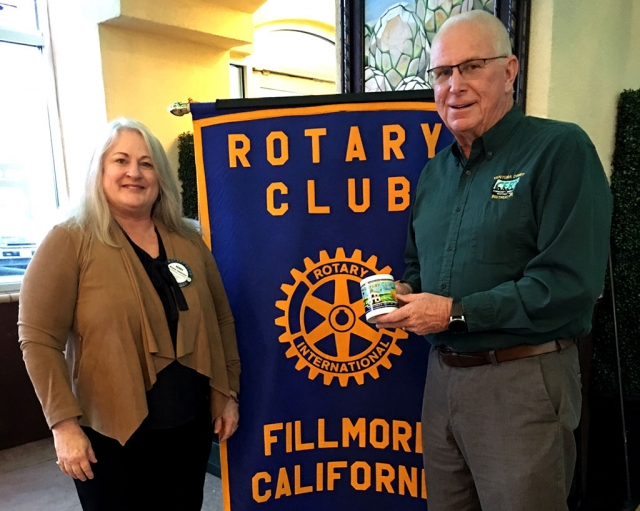 Pictured is Renee Swenson, President-Elect with Rotary speaker Steven Lazenby from CERT the Community Emergency Response Team. He related how firefighters go around the world to help during earthquakes etc., and see untrained teams of people trying to help. This was the inspiration to begin a training program. Steven talked about the classes and what is taught: general emergency readiness and response, fire safety, medical triage and treatment bandaging and splinting, search and rescue, team management and more. The class members will be ready to respond in an emergency in their neighborhood and the community. His quote was, "Do the most good, for the most people you can." In other words, you may not be able to help everyone, but do what you can. Courtesy Martha Richardson.
Enlarge Photo