By Gazette Staff Writer — Wednesday, December 18th, 2019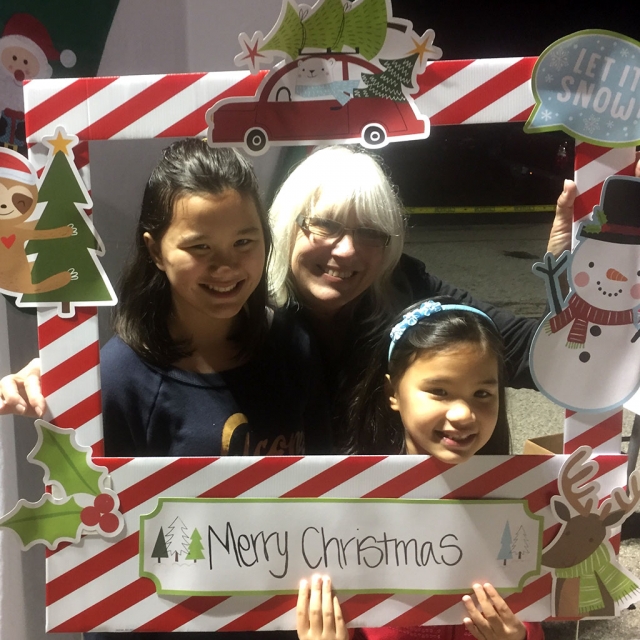 Greenfield Care Center hosted a Christmas festival on the evening of Saturday, December 14th. Santa listened to holiday wishes and gave out candy canes, while visitors had their pictures taken. Free hot chocolate, pastries, popcorn and cotton candy were given out while the visitors strolled through the arts & crafts booths.
Enlarge Photo
By Nick Johnson — Wednesday, December 11th, 2019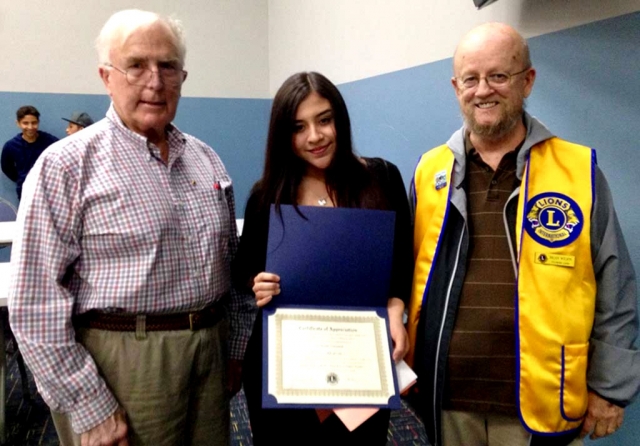 Pictured are Lions Club members Bill Dewey (left) and Brian Wilson with last year's Lions Club Student Speaker Contest winner Alina Herrera.
Enlarge Photo
By Gazette Staff Writer — Wednesday, December 11th, 2019
The topic for the 2020 Speaker Contest will be "Homelessness in California: What is the Solution?"
This topic is very important as California has the majority of the homeless persons in the nation. We need to solve this problem in order to alleviate the social and humanitarian problems. The contest will be held on Monday February 3 at 6:45pm at the Scout House on the eastern end of Sespe Avenue. Parents, students, educators and the general public are invited to attend. The contest is open to all Fillmore area students of high school age regardless of the school of attendance (including home taught, those attending outside of the district and foreign exchange students).
The winner will receive $100 and all participants $25 providing their speech is at least 5 minutes. The winners of each stage of competition will receive a financial award and be invited to the next level of the contest. The ultimate winner will receive a total of $21,000 for a scholarship to a school of their choice. Students Interested in participating must contact the Lion's Club Chair Bill Edmonds at 805-524-4839 or Mrs. Mendez at Fillmore High School. Students should enter early and begin writing early as it takes time to research and prepare. Only six students can enter the contest. The first six who enter and are prepared to compete will be chosen. Those turning in the application will be notified of a required meeting to review the rules and to ask any questions that they might have.
Good luck to all the students.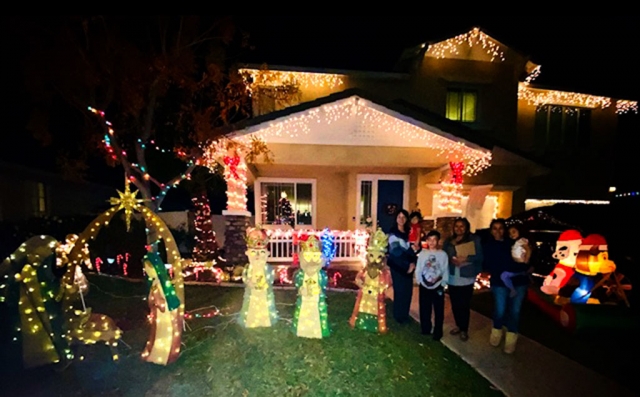 Pictured are this year's Holiday Yard of the Year winners: (l-r) Annette Cardona, Kamrie Cardona, Noah Halcon, Ari Larson of Fillmore Civic Pride, Brittany Halcon and Alani Halcon.
Enlarge Photo
By Gazette Staff Writer — Wednesday, December 11th, 2019
Congratulations to Annette Cardona. Her lovely home is the 2019 Holiday Yard of the Year! They have been putting up their light display for about 15 years. The decorating is a family affair with traditional scenes on one side of the front yard and Disney decorations on the other side. The home is located at 79 Rio Grande Avenue. Ari Larson from Fillmore Civic Pride will present Annette and family with a $40 gift certificate courtesy of Otto & Sons Nursery (1835 E. Guiberson Rd.)
Other holiday lights around town include former Holiday Yard of the Year winners: 910 Taylor Lane, 360 C Street, 408 Robin Court and 408 Edgewood, just recently featured on the television show, The Great Christmas Light Fight on ABC.
For more information on Civic Pride please contact Ari Larson 805.794.7590 or email her at petenari55@hotmail.com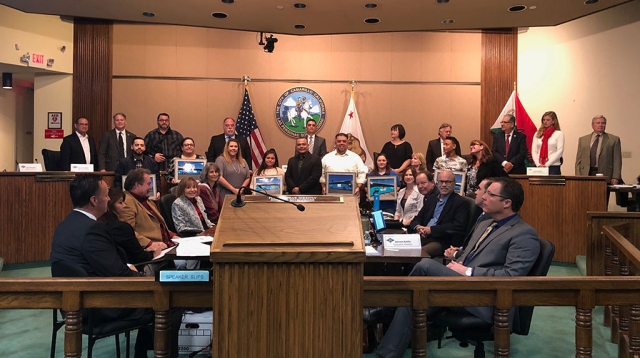 Pictured are representatives of Ventura County's seven Boys & Girls Clubs, recognized by the Ventura County Transportation Commission (VCTC) for their participation in the agency's youth art contest. Courtesy VCTC.
Enlarge Photo
By Gazette Staff Writer — Wednesday, December 11th, 2019
Five VCTC Intercity buses proudly display artwork from young local artists
The Ventura County Transportation Commission (VCTC) has partnered with all seven Boys & Girls Clubs in Ventura County for a youth art contest. The goal of the contest was to encourage young people to think about the role of transportation in their lives and communities. Winning artwork, created by kids ages 10-13, is now proudly displayed on five VCTC Intercity buses.
Using small grants from VCTC to cover the cost of art supplies and materials, the Boys & Girls Clubs conducted the contest over the summer of 2019 with hundreds of kids creating original artwork inspired by the theme, "Oh the Places You'll Go." Each club then used its own process to select a winner.
"Partnering with the Boys and Girls Clubs is a great way for VCTC to connect with young people in Ventura County," said VCTC Chair Manuel Minjares. "These talented young artists are not only our region's future drivers and transit riders; they are also our future leaders."
VCTC extends its appreciation to the following Clubs for their participation in the contest: Boys & Girls Club of Camarillo, Boys & Girls Club of Greater Conejo Valley, Boys & Girls Club of Greater Oxnard and Port Hueneme, Boys & Girls Club of Greater Ventura, Boys & Girls Club of Moorpark, Boys & Girls Club of Santa Clara Valley and Boys & Girls Club of Simi Valley.
Buses displaying the winning artwork will travel throughout VCTC Intercity Transit's service area for the next few months. For more information on the contest and to see a behind-the-scenes video of the installation of the artwork visit goventura.org or call (800) 438-1112.
About the Ventura County Transportation Commission
The Ventura County Transportation Commission is the regional transportation planning agency committed to keeping Ventura County moving. Program information is available at goventura.org.
By Gazette Staff Writer — Wednesday, December 4th, 2019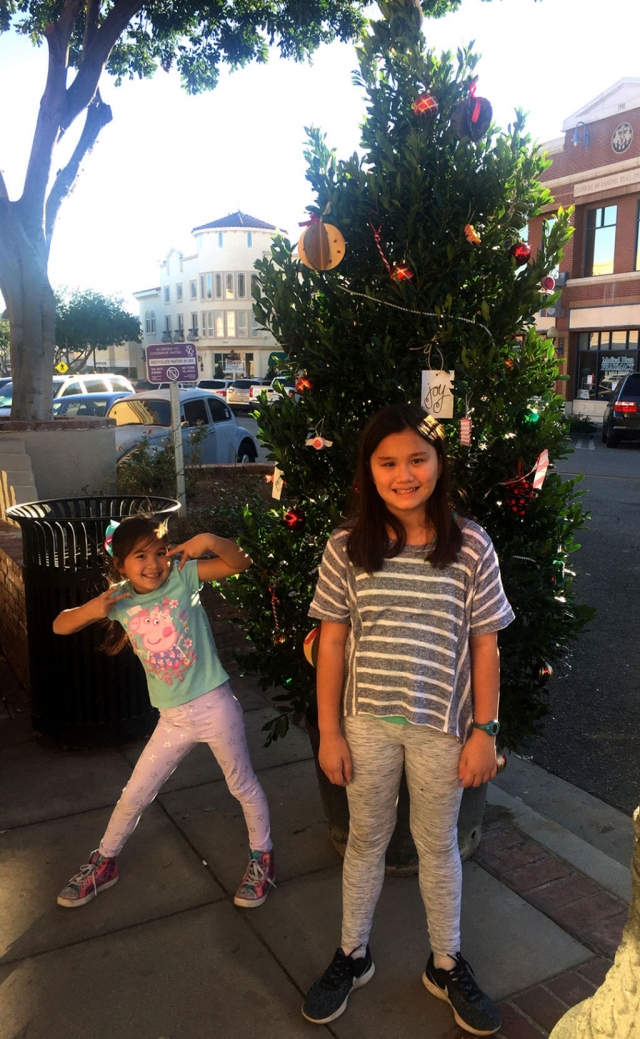 It's time again to decorate Central Avenue for the holidays! Last year Jenna and Heather Furness stopped to enjoy one of the many decorated Christmas trees lining Central Avenue. School children, local clubs and groups, churches, businesses and families are all invited to choose a tree to decorate. Show that the Christmas Spirit is still alive and well in Fillmore - the last, best, small town in California. Now go decorate a tree!
Enlarge Photo
By Gazette Staff Writer — Wednesday, December 4th, 2019
It's That Time of Year Again Fillmore Folks
It is that time of the year to send a 'Christmas card to our community of Fillmore' with the annual Christmas trees downtown- all decorated by local families, organizations, businesses and school classrooms. There are over 50 trees this year generously lent to our town by Moon Nursery.
You know the drill:
1. If possible, we ask that there be no money involved in the decorating of your tree, but instead use that incredible Fillmore ingenuity and creativity! Homemade is best! Leave on the tree's nursery ID as the tree will be returned to Moon Nursery, but it is yours to decorate however you are inspired!
2. We are going to ask for one thing though this year: could you make sure your tree is kept happy with a gallon or two of water when needed? Watching over the trees will also be our 'water angel' (Thanks Steve!) but let's try to gift him with nothing to do!
3. All the trees will be up and available Dec. 9th on- you can pick any unclaimed tree on Central. Keep you're decorating simple -please, no flocking your tree, and no glass or sharp edged ornaments in your decorating. Finally, your tree will need to be 'spruced up' as needed (especially after a rain or wind!). They will come down around the New Year.
4. The only 'advertising and marketing' allowed will be in gratitude for the good hearts of our community, and for the hope of goodwill and peace in the coming year!
If you have any questions please email: reginastehly@gmail.com
Again, the trees are on a first come first serve basis, they will be decorated anytime December 9 on, and we all need to keep them looking beautiful until the end of the year!
Have a great time with your tree! And thank you for your participation in the Beautiful and loving Fillmore tradition.
Blessings heaped upon blessings to the wonderful people of Fillmore!
By Gazette Staff Writer — Wednesday, November 27th, 2019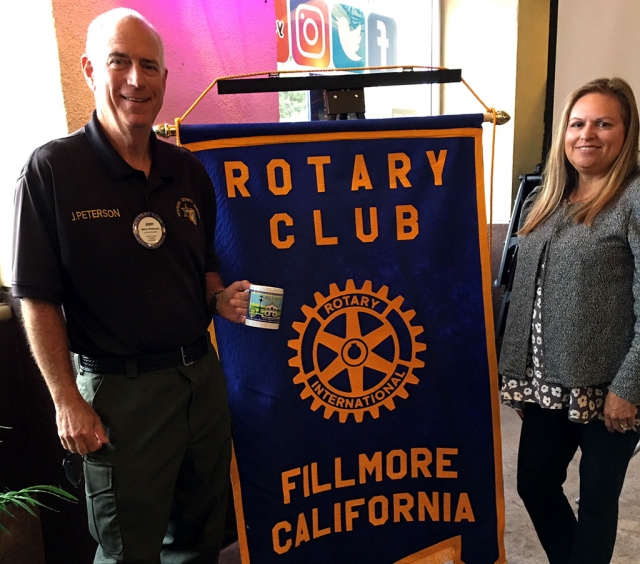 Pictured is Rotarian Jerry Peterson who presented a very meaningful video from a TV show called Inspiring America. It showed positive news about great things American people are accomplishing. Courtesy Martha Richardson.
Enlarge Photo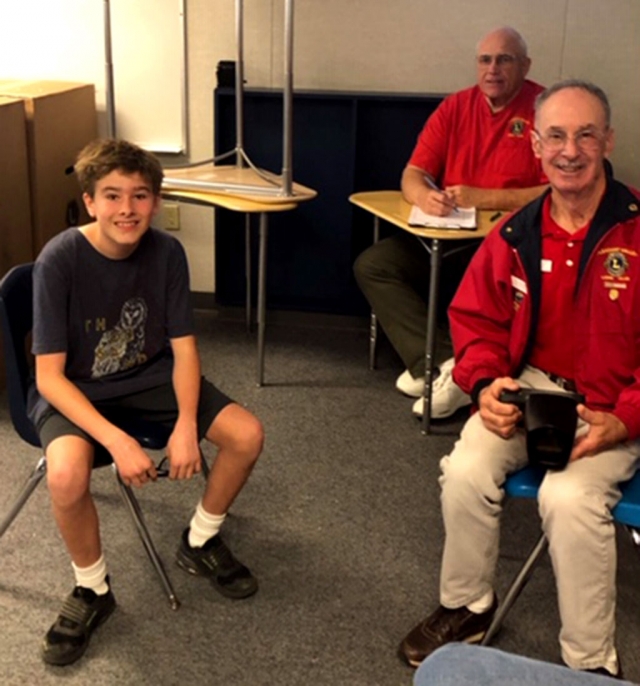 Pictured is Fillmore Middle School eighth grade student Cody Spore ready for his vision screening, while members of the Lions Club look on.
Enlarge Photo
By Gazette Staff Writer — Wednesday, November 27th, 2019
For the past several years, the Fillmore and Pleasant Valley Lions' Clubs have helped the Fillmore Unified School District with vision screening. Students in designated grades, as mandated by the State of California, have their eyes checked. Should the screening indicate any issues that could interfere with learning, the school nurse will notify the parents. All Fillmore elementary schools and the Fillmore Middle School took advantage of the opportunity to have their students screened for free by the Lions' Clubs machine.
The Lions' Clubs purchased the highly efficient and effective machine that does the vision screening in schools around Ventura County. They earned the money through fund raising events. Many years ago, Helen Keller challenged the Lions' Club International to become the "Knights of Sight." The members accepted. Not only do local Fillmore Lions' Club members volunteer to help with the screenings at school, they also assist children who may need corrective lenses. In addition, they collect glasses around town to send to other countries where glasses may not be available for those in need.
The Fillmore Lions' Club is an active group. They have several other projects. Many of you enjoyed the annual enchilada dinner that was held in November. Be sure to attend the Christmas parade on December 7th.
By Gazette Staff Writer — Friday, November 15th, 2019
Ventura County Public Works Agency to encourage community on waste management solutions at collection event, Nov. 18-19
VENTURA COUNTY CA – Small changes make a big difference in the environment, especially with regards to waste management and the way the community recycles. In preparation for VCPWA's participation in America Recycles Day, Nov. 18-19, students from an Ojai-based enrichment program visited the Integrated Waste Management Division to learn about ways to reduce their carbon footprint.
As a way to reduce waste in schools, students went about measuring their waste and taking steps such as composting and recycling to reduce waste. As they researched, they became more curious and concerned that their efforts may be pointless if a large proportion of their recycling is just thrown into landfills. This led them to reach out to environmental resource analyst, David Goldstein, for the truth on where Ventura County's recycling goes and how we can maximize our efforts to conserve resources.
Students filmed and interviewed VCPWA's David Goldstein, asking questions such as what systems are in place to help the community understand the importance of recycling, what items can be recycled, and what other schools do to improve recycling efforts.
"This process was not only insightful but also empowering for the young environmental activists," said Natasha Efross. "Goldstein provided answers to our questions that were not always simple or what we expected, but they gave students clear next steps to take on their path to completing a relevant environmental project for their community."
Additionally, students were guided through a vermicompost demonstration at VCPWA's compost demonstration site. They learned an effective and environmentally friendly way for the community to recycle food scraps.
"It's so important to educate our youth about the importance of recycling, and I enjoyed the opportunity to be interviewed by the students at the Ojai Charter School. We encourage small changes to make a difference in our community," said David Goldstein, Administrator of Ventura County Recycling Market Development Zone, coordinated by the VCPWA.
As part of America Recycles Day, VCPWA is coordinating a collection event, Nov. 18-19 at the Hall of Administration during normal business hours to encourage the community to incorporate better recycling habits into daily routines. Residents can drop off gently used shoes, prescription eyeglasses, non-expired car seats and twin-size blankets where they will be donated to Soles4Souls, Lions Recycle For Sight Program, and RAIN Transitional Living Center. An electronic waste recycling event, sponsored by General Services Agency, will also be held during that time.
For more information about how to recycle and reduce your carbon footprint, visit https://www.vcpublicworks.org/wsd/iwmd/.
Event Information:
Who: VCPWA's America Recycles Day Collection Event
What: Shoes, prescription eyeglasses, car seats and blankets
When: Nov. 18-19 during normal business hours
Where: Hall of Administration at the Ventura County Government Center
Also: Electronic waste at the Service Building, also November 18-19.
By Gazette Staff Writer — Wednesday, November 13th, 2019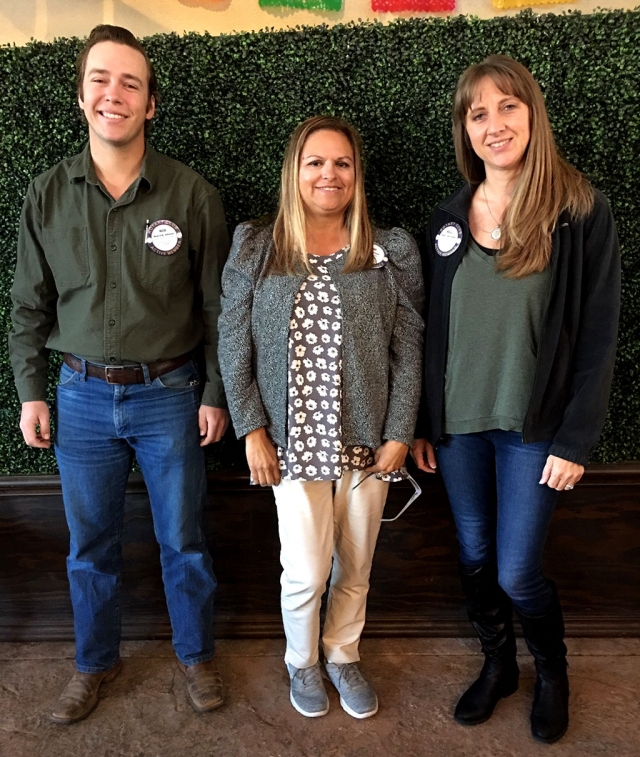 Rotary welcomes their new members Nick Johnson (left) and Kelli Couse (right) who we're presented with Rotary badges by Rotary President Ari Larson (center). Photo Courtesy Martha Richardson.
Enlarge Photo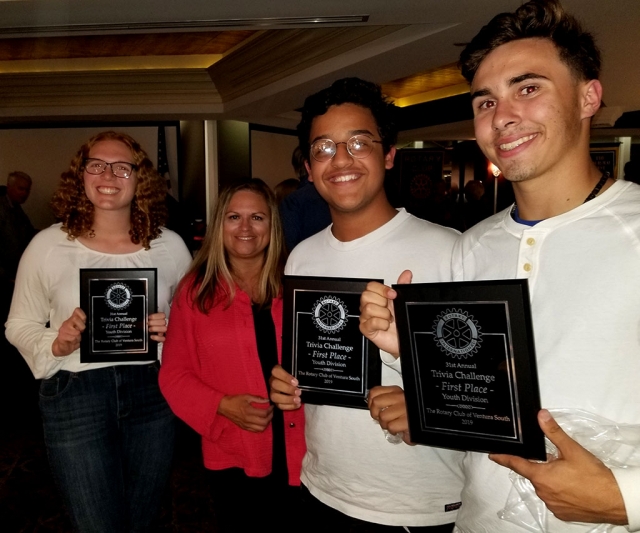 Pictured left to right are Interact President Isabella Palazuelos, Fillmore Rotary President Ari Larson, Mujtaba Naeem and George Mooradian. Photo courtesy Cindy Blatt.
Enlarge Photo
By Cindy Blatt — Wednesday, November 13th, 2019
Fillmore High School Interact Club won the Youth Division at the 31st Annual Trivia Challenge hosted by the Rotary Club of Ventura South. The Rotary Club of Fillmore sponsored the Interact Club team and also entered a team of Rotarians. The event was held at the Tower Club in Oxnard on Wednesday, November 6th.
The Trivia Challenge is a fund-raising event that benefits the Ventura County Library's READ Adult Literacy Program. Funds go to purchase of needed books and materials used by tutors and learners in the READ program.
The FHS Interact Club competed against six other Interact Clubs in the "Jeopardy" style challenge. Team members were Club President Isabella Palazuelos, George Mooradian and Mujtaba Naeem. Fillmore Rotarians included Kyle Wilson, Clark Johnson and Dave Andersen. Thank you to Mr. Jeremiah MacMahon, Interact Advisor, for your support. Way to go FHA Interact Club!
By Gazette Staff Writer — Wednesday, November 13th, 2019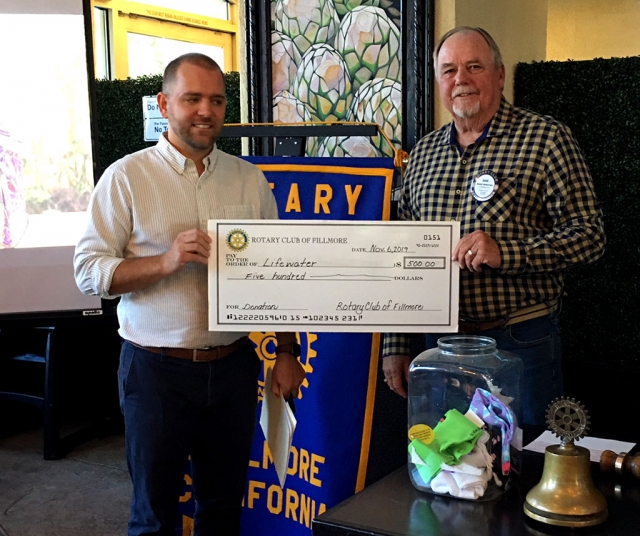 Pictured (l-r) is Tyson Babayco speaker from Lifewater with Rotarian Dave Andersen, International Chairman. Tyson Babayco, from Lifewater, began his program with this announcement, "every 60 seconds a child dies from water borne diseases". The video showed a dirty water stream that women walked miles to collect and take home to drink and cook with. Now with the help of the Lifewater Organization, which began 40+ years ago, water wells are dug, personal hygiene and sanitation lessons have been taught and lives have changed in 45 countries. The five lessons that are taught in each village are cleanliness using a table to wash their hands, a latrine, storing clean water safely in closed containers, using drying racks for dishes and cleaning their compounds. The communities using these practices are now flourishing. The Rotary Club of Fillmore donated $500 to this organization. Photo courtesy Martha Richardson.
Enlarge Photo
By Gazette Staff Writer — Wednesday, November 13th, 2019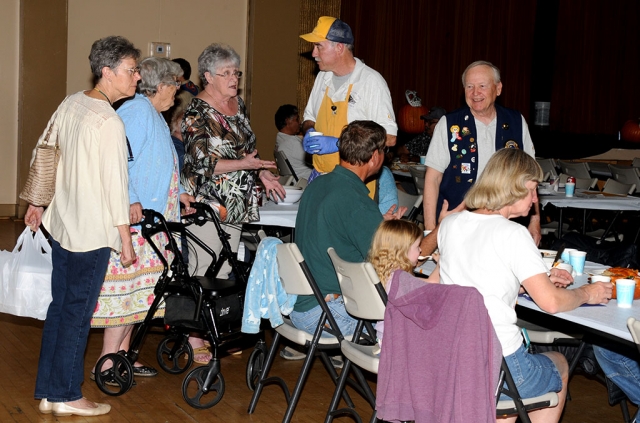 Saturday, November 2nd at the Veterans Memorial building from 5pm to 7pm the Fillmore Lions Club held their Annual Enchilada Dinner. Families and friends from the Fillmore community gathered for a great time and good food. Each dinner came with enchiladas, rice, beans, and salad.
Enlarge Photo
By Gazette Staff Writer — Wednesday, November 6th, 2019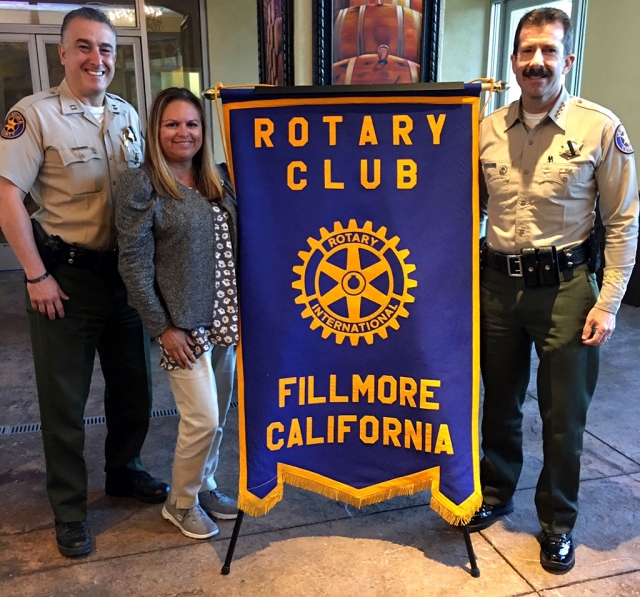 Last week Rotary Club of Fillmore President Ari Larson inducted Fillmore Police Chief Garo Kuredjian (far left) into Rotary. Also pictured far right is Ventura County Sheriff Bill Ayub who presented the program to the club last week. Photo Courtesy Martha Richardson.
Enlarge Photo
By Nick Johnson — Wednesday, November 6th, 2019
By Gazette Staff Writer — Wednesday, October 30th, 2019
She is among many of children diagnosed with cancer who have benefited from services provided by Teddy Bear Cancer Foundation (TBCF)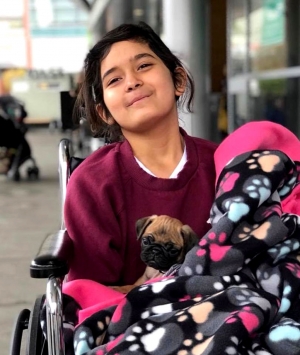 Fillmore resident Felicity Pastrana, at age 10, was diagnosed with acute lymphoblastic leukemia. She is among many of children diagnosed with cancer who have benefited from services provided by Teddy Bear Cancer Foundation (TBCF).
As the finale to Teddy Bear Cancer Foundation's incredibly successful Gold Ribbon Campaign held in September for National Childhood Cancer Awareness Month, we want to continue to raise awareness for children dealing with cancer by honoring special young heroes in your community who want to share their story about their personal journey with cancer.
Below is a personal story about Felicity Pastrana's journey:
When Fillmore 10-year-old, Felicity Pastrana walked out of her fifth-grade class in Ventura County one day in November 2015, she never imagined she wouldn't be returning to school for the next two years.
On Nov. 18, 2015, Felicity was diagnosed with leukemia and her daily routine quickly transitioned from sitting in class with her friends, to fighting for her life. Her studies consisted of working with a home hospital teacher on a weekly basis, provided she wasn't too sick to meet.
When she was well enough to return to school, TBCF was there to cover the cost of an in-depth neuropsychological test through its Educational Advocacy Program to assess the negative impact from chemotherapy treatments on her development and learning. The result of the test provided a case for an Individualized Education Plan to be developed so that she could receive special education classes.
As part of the Educational Advocacy Program, TBCF additionally covered the expenses of a state credentialed teacher to provide tutoring for Felicity.
"Despite the enduring trauma her body had been through, Felicity always showed up with a smile and excitement to see what new learning adventures awaited her. It was more than just assistance with the academic transition, it was a time to listen, guide and validate the multitude of feelings that surrounded her as she was trying to live life as a child again," Felicity's tutor Tyra shared.
"If she didn't receive that extra help, she would have had a much harder time. She is now in remission and receiving As and Bs in her 8th-grade classes in Middle School!" said Felicity's mom, Victoria.
Teddy Bear Cancer Foundation (TBCF) is a non-profit organization providing financial and emotional support to families of children with cancer living in Santa Barbara, Ventura, and San Luis Obispo counties. Services are providing to families that have a child diagnosed with cancer up to age 18 and continue until they reach 21 years of age. teddybearcancerfoundation.org
By Gazette Staff Writer — Monday, October 28th, 2019
Submitted by By Rick Beavin, California Market President, Humana
If you're one of 56 million Americans eligible for Medicare, it's important to understand coverage options when selecting your health plan for 2020. Research can take time, and many people find working with a licensed health insurance agent helpful when deciding between Original Medicare, Medicare Advantage plans, Prescription Drug Plans and Medicare Supplement plans. Answering these five questions can help you make an informed choice during the Medicare Annual Election Period, October 15 to December 7:
Are my doctors, hospitals and specialists in network? Most Medicare Advantage plans offer online tools to help you find doctors and hospitals that are in a plan's network. A licensed agent can also help you look up hospitals and doctors to see if they're in a plan's network and taking new patients and confirm what's in network if you're a seasonal resident.
Which plans will cover my prescription drugs? Original Medicare does not cover most prescription drugs. Many Medicare Advantage plans include prescription drug coverage, or you can sign up for a Part D Prescription Drug Plan separately. A licensed agent can look up the medications you would like covered and help you estimate what the cost of each drug would be on a plan.
Are there new, innovative benefits I should consider? Beyond vision, hearing and dental coverage, if you aim to become healthier, look for fitness program benefits as many Medicare Advantage plans offer a gym membership. If you travel or appreciate technology, virtual doctors are helpful services when you can't see a doctor right away. Most Medicare Advantage plans now offer transportation to doctor appointments and the gym.
Will a zero monthly premium plan save me money? Private insurers help keep premiums down through programs like disease and chronic care management, which help people better manage health conditions and, in turn, reduce medical costs. You'll still need to pay your Medicare Part B premium, which covers medical services and preventive care. You might want to use the additional premium dollars you save for out-of-pocket medical costs, such as co-pays.
Do I need to sign up for Medicare Parts A and B if I'm still working? If you or your spouse have health insurance from an employer, you can delay enrolling in Medicare until the employment or the coverage stops. At that point, you're entitled to a special enrollment period of up to eight months to sign up for Medicare without incurring any late penalties.
Resources are available to help you in this process, including licensed sales agents, local seminars, and websites such as medicare.gov and humana.com/Medicare. You can also call 1-800-MEDICARE (1-800-633-4227) (or TTY: 1-877-486-2048) 24 hours a day, seven days a week, or call Humana at 1-800-213-5286 (TTY: 711) 8 a.m. to 8 p.m. local time seven days a week.
As with any major decision, proper research will go a long way toward making the best plan choice for your personal health care needs.
Humana is a Medicare Advantage HMO, PPO, and PFFS organization, and stand-alone prescription drug plan, with a Medicare contract. Enrollment in any Humana plan depends on plan renewal.

Pictured at extreme right, Dr. Jesus Vega with students at Santa Paula campus.
Enlarge Photo
By Gazette Staff Writer — Wednesday, October 23rd, 2019
Last Thursday the Gazette's publisher had the pleasure of meeting with Patti Blair, Administrative Officer to the Chancellor and Board of Trustees, VCEC Assistant Dean Dr. Jesus Vega, and Sarene Wallace, VCCCD's marketing department, at the East Campus in Santa Paula.
Dr. Vega's unique experience as a first-in-family college graduate was discussed. A more complete personal biography will be published in the Gazette next week.
The Ventura County Community College District (Moorpark, Oxnard, Ventura, and Santa Paula) is experiencing significant growth these days. The East Campus in Santa Paula now has 123 students. Courses leading to certificates in areas such as medical assistant, child development, sociology, criminology, agriculture business and Ag economics are popular.
The campus also provides hybrid courses in arts and humanities.
Online courses are becoming more popular, and high school-college courses are available.
The visit was very informative concerning the growth, popularity, and availability of courses. We agreed that college education is available to students at any age today. The college is also focusing on studies and professions which have a significant financial benefit on all students.
Many thanks to Patti Blair, Dr. Vega, and Sarene Wallace for making the visit possible. Expect to hear more, in greater detail, from the growing Santa Paula East Campus in the near future.
By Gazette Staff Writer — Wednesday, October 16th, 2019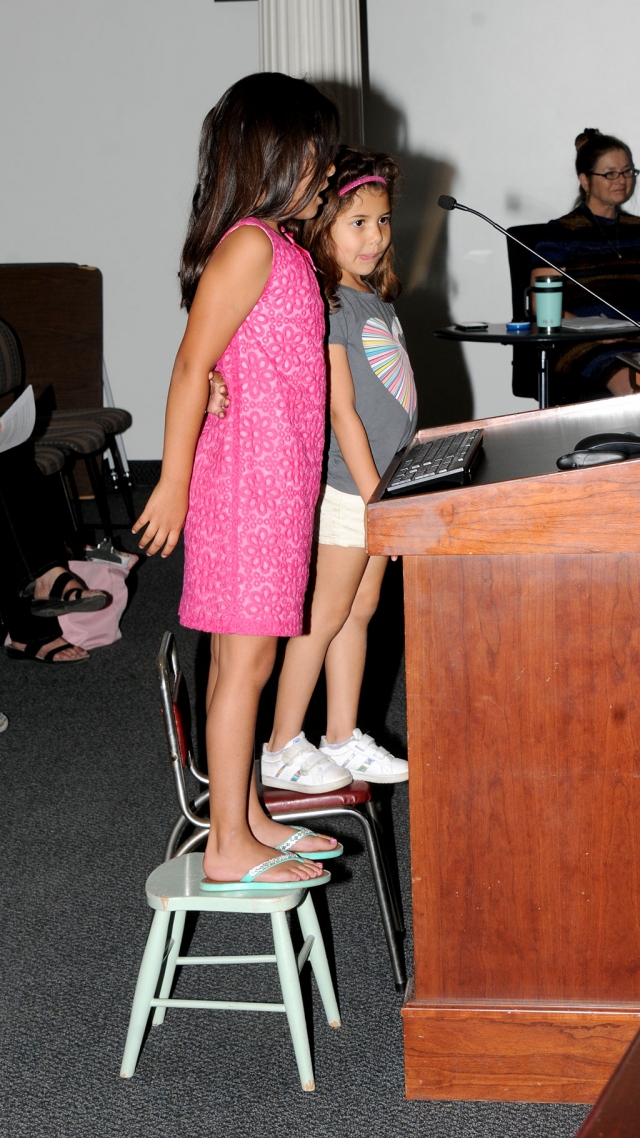 Fillmore cousins, Alexis Amaro, 7, and Destiny Amaro, 5, are learning about keeping their Fillmore community clean by volunteering to pick up trash that disrespectful people dump in public places. They were seen cleaning up the public parking area east of Central Avenue behind downtown businesses. Hopefully the idea of "Volunteer Clean Up" will spread faster than the spreading of trash. Great job girls! You should be proud.
Enlarge Photo