By Gazette Staff Writer — Wednesday, February 28th, 2018
Courtesy Maria Christopher.
March 3, Santa Clara Riverbed Hike - A St. Francis Am Disaster Commemoration Month Event.
Please join us on March 3, at 10:00 AM for a Santa Clara River bed hike on The Nature Conservancy Hanson property near Santa Paula. It will be led by TNC hike leader, Amy Davis. She will talk with the participants about the St Francis Dam disaster's impact on the river channel, scouring, and sediment load, as well as TNC's restoration efforts at the Hanson site and their impact on the Santa Clara and future flooding.
The address to meet at is 1368 Mission Rock Road. At the end of Mission Rock road there is a yellow farm gate with a TNC sign, people can park next to that gate and Amy will meet hikers there and guide them into the property. The hike will start from there at 10am.
Please let your hiking and history friends know. After the hike, take time for lunch at one of Santa Paula's unique restaurants and visit their museum. The Oil Museum will have a dam related exhibit opening that day.
A complete list of The March 2018 St. Francis Dam Disaster Commemoration Month Activities can be found at SAINTFRANCISDAM.com.
The Heritage Valley Tourism Bureau thanks The Nature Conservancy for their willingness to host this event and for all they are doing to preserve the Santa Clara River Valley.
By Gazette Staff Writer — Wednesday, February 28th, 2018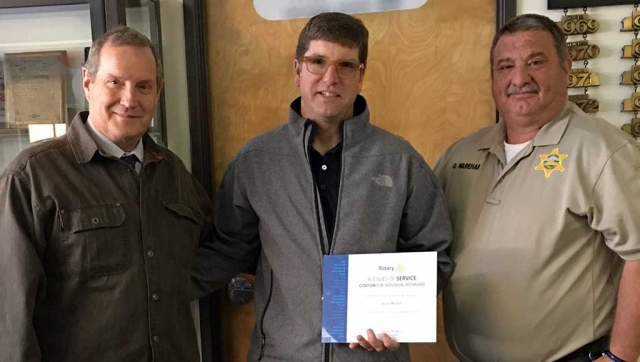 Fillmore Rotary Recognize Member Sean Morris. Kyle Wilson (left) pictured with Dave Wareham (right) presenting Sean Morris the "Avenues of Service Citation Award." Sean was recognized as being an outstanding Rotary member in Club Service, Vocational Service, Community Service, International Service and Youth Service. Sean is a fine example to the all club members. Photo courtesy Martha Richardson.
Enlarge Photo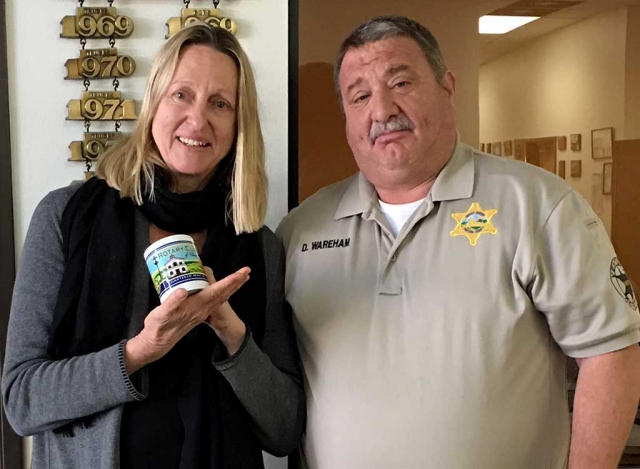 Rotary Club Learns about Roan Mills Bakery. Andrea Crawford from Roan Mills Bakery, receiving a Rotary Mug from Rotary President & Police Capitan Dave Wareham for sharing with the about how her career began growing and selling salad greens to restaurants. Later she expanded to growing wheat, making various breads, pasta, pizza etc. The Bakery can be found on Central Avenue in Fillmore and is open on Wednesday's and Saturday's. Photo courtesy Martha Richardson.
Enlarge Photo
By Gazette Staff Writer — Wednesday, February 28th, 2018
By Gazette Staff Writer — Wednesday, February 21st, 2018
Museum exhibit remembers dam tragedy and ensuing flood.
Three minutes before midnight on March 12, 1928, the St. Francis Dam collapsed, sending 12.4 billion gallons of water downstream. The resulting flood killed over 400 people, with 103 still missing to this day. The St. Francis Dam disaster is considered the second largest disaster in California history, in terms of loss of life, and is the largest man-made disaster in the state.
The dam was erected in rural San Francisquito Canyon; floodwaters traveled down San Francisquito Canyon to the Santa Clarita Valley, then turned west following the Santa Clara River south of Piru, Fillmore, and Santa Paula, through unincorporated Ventura County, out to the Pacific Ocean. It forever changed the communities in its 54-mile destructive path.
In remembrance of the 90th anniversary of the St. Francis Dam Disaster, the California Oil Museum will exhibit "When Dams Fail: Lessons Learned from St. Francis and Other Notable Incidents" from March 3, 2018 through July 8, 2018. This exhibit covers more than a century of time and provides a look into several of America's dreadful dam disasters, the impact on the lives of those affected, and the lessons learned through investigative research and retrospective evaluations.
Understanding the underlying causes for dam failures is a critical component to preventing recurrence and future incidents. Visitors will learn reasons dams fail, including design flaws, operational inefficiencies, and natural or environmental causes, as well as safety measures that have been implemented to reduce the risks to human life, property, and the environment from dam related hazards.
A special presentation will be given on Saturday March 3, from 2:00-3:00 pm. Archaeologist Anne Stansell will share her research findings on why the St. Francis Dam disaster has been largely forgotten on a state and national level, but tenuously remembered within the flood-zone. Seating for this special presentation is limited.
The California Oil Museum is housed in the original headquarters of the Union Oil Company of California, a beautiful historical building which is listed on the National Register of Historic Places (NPS-86002619.) The Museum is dedicated to enriching the lives of local citizens, county schoolchildren, and visitors from around the world, and encourages each guest to understand the significance of the petroleum industry and its California history, as well as develop an appreciation of the world of science. The California Oil Museum is located at 1001 E. Main Street in Santa Paula. The Museum is open Wednesdays through Sundays from 10:00 AM - 4:00 PM. Admittance is free, a suggested donation of $4 is appreciated.
By Gazette Staff Writer — Wednesday, February 14th, 2018
Fillmore Chamber of Commerce will be hosting the Fillmore Community Awards Dinner on Friday, March 30th at 5:30pm at the Veteran's Memorial Building.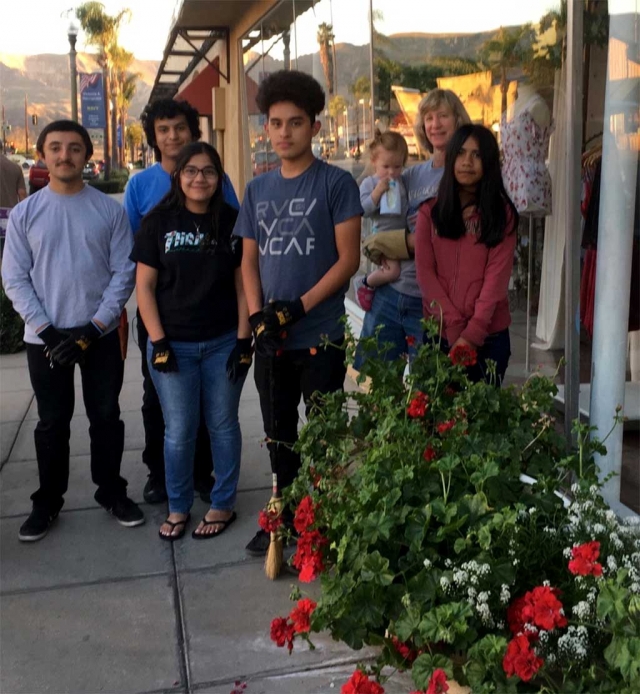 Wednesday, February 7th the Vision 2020, Civic Pride Committee and their volunteers gathered for a photo after a long day of pruning plants all along Central Avenue. Pictured above left to right Javier Sandoval, Adrian Escobar, Joanna Ponce, Jairo Rios, Cindy Klittich and Dori Klittich as they smile after a day of hard work. Photo Courtesy Linda Nunez.
Enlarge Photo
By Gazette Staff Writer — Wednesday, February 14th, 2018
Vision 2020, Civic Pride Committee was hard at work pruning plants in the pots along Central on Wednesday, February 7th. We are always amazed to see how much trash is put into these pots with flowers when there are trash receptacles in plain sight! I wonder what this tells us about "human nature"! Does anyone have an idea how we could train people to use the trash receptacles? We were so happy to have Paul Benavidez and 4 of the Leos group from high school working with us. "Leos" members helping were Javier Sandoval, Adrian Escobar, Joanna Ponce, and Jairo Rios, Cindy Klittich and "sidekick". Dori Klittich pruned roses and added soil and fertilizer to help these plants flourish. Bardsdale 4 H member, Nuviah Vega, assisted Cindy with all the work. Others working hard, but not pictured were Sarah Hansen, Karen Bagley, Susan Hopkins, Paul Benavidez, Jim Nunes and Linda Nunes. We were able to complete all the pots and the rock planter along the 126 because of all these "helpers"! This effort by multigenerational volunteers working together is what makes our community so special and meets
Civic Pride's Statement of Vision. "Foster a thriving small town atmosphere in which people give their time and talents for the good of the community."
By Gazette Staff Writer — Wednesday, February 14th, 2018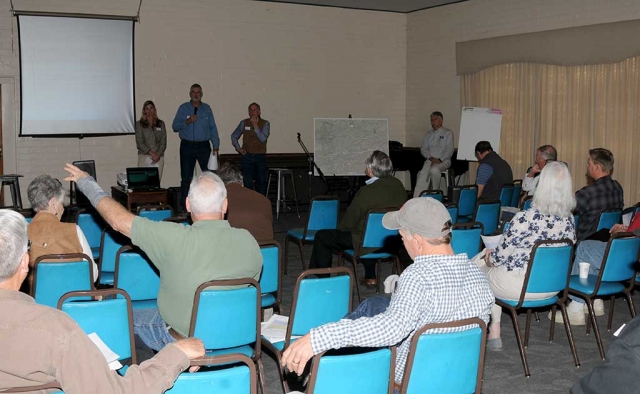 Wednesday, February 7th from 9:00am to 11:00am at the Veteran's Memorial Building the Fillmore & Piru Water Basins Groundwater Sustainability Agency held a FPBGSA Budget Workshop. Local residents were invited to come and share their thoughts with the Directors of the Agency as well as have their questions or concerns answered.
Enlarge Photo
By Gazette Staff Writer — Wednesday, February 14th, 2018
Lisa Hammond and Ray Medrano from the Citizens Patrol gave a presentation last week to Fillmore Rotary Club. They spoke on the main purpose of the Citizens Patrol, which is crime protection by civilian volunteers. They help the local Sheriff's Department by being the eyes and ears throughout Fillmore, Piru and Bardsdale. When they are on patrol they report any suspicious activity to the Sherifff's Dept. They also help work security for local parades, high school proms, and work Bike Rodeo, as well as traffic control. They work a fireworks booth with the Explorers Club so that they can raise money for scholarships. Courtesy Martha Richardson.
Enlarge Photo
By Gazette Staff Writer — Wednesday, February 7th, 2018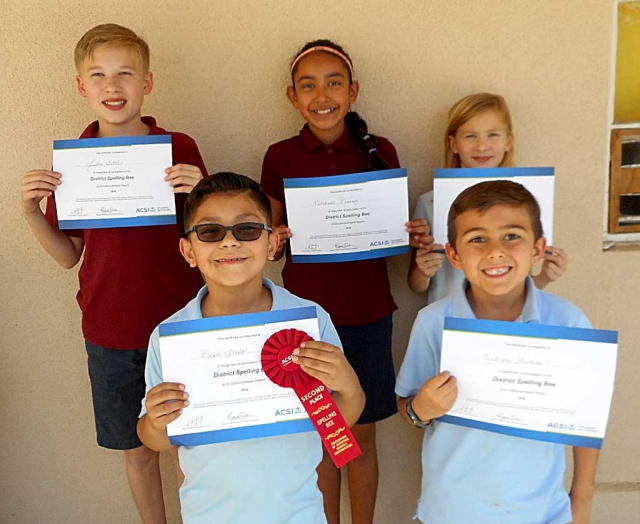 On Saturday, January 20, Fillmore Christian Academy sent 5 students to the ACSI District Spelling Bee at The Oaks Christian School in Westlake Village. Each of the students had already competed and won in their grade level Spelling Bee at Fillmore Christian Academy. In addition the 1st grade FCA speller, Ralph Avila, won a second place ribbon at the District Spelling Bee in Westlake Village. Congratulations to all of our FCA students!! The students representing Fillmore Christian Academy are pictured above Back row (left to right): Justin Tuttle (5th grade), Viviana Ramirez (4th grade), Danica Tuttle (3rd grade), Front row (left to right): Ralph Avila (1st grade), Zachary Mumme (2nd grade). Photo Courtesy Tracy Hackney.
Enlarge Photo
By Gazette Staff Writer — Wednesday, January 31st, 2018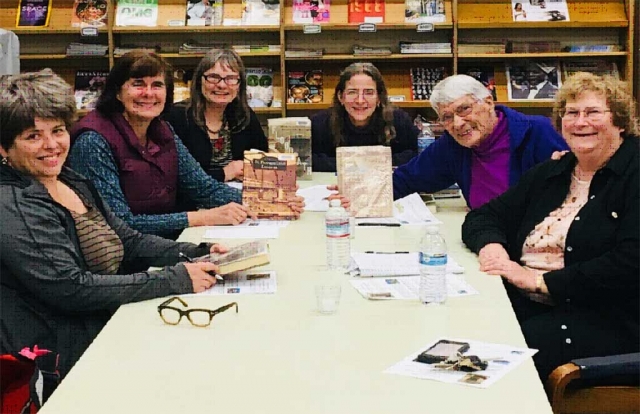 Fillmore Reads is a community book club sponsored by Soroptimists International of Fillmore and Fillmore Friends of the Library. Community members are welcome to meet at the Fillmore Library, 502 Second Street. They normally meet the last Thursday of the month at 6 pm. Their selected title for January was Floodpath –The Deadliest Man-made Disaster of the 20th Century America and the Making of Modern Los Angeles by Jon Wilkman. Mr.Wilkman will be giving a presentation and book signing in honor of the Fillmore 90th Anniversary Commemoration of the St. Francis Dam Disaster on March 17, 2018 from 10:00 am – 11:00 am at the Fillmore City Hall. For more information regarding the book club, please contact Cathy Krushell at 524 - 3355.
Enlarge Photo
By Ari Larson — Wednesday, January 24th, 2018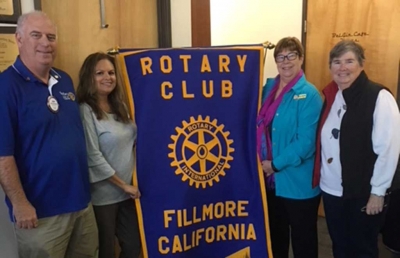 (l-r) Rotary Club members Jerry Peterson and Ari Larson with Sue Zeider and Martha Gentry. Sue and Martha will be speaking at the St. Francis Dam 90th Anniversary this coming March. Photo courtesy Ari Larson.
Enlarge Photo
Martha Gentry and Sue Zeider from the Fillmore Historical Museum gave a presentation to the Rotary Club of Fillmore on the upcoming 90th Anniversary of the St. Francis Dam Disaster. They invite the public to attend the commemoration in Fillmore on Sat. March 17th. An opening ceremony and dedication of a plaque will start the day at 9:00 am in front of Fillmore City Hall. There will be a guided bus tour to the site of where the dam was located, leaving from Fillmore at 12:30 pm and return at 5:30 pm. Speaker Jon Wilkman, author of Floodpath: The Deadliest Man-Made Disaster of the 20th Century and the Making of Modern Los Angeles will be speaking at 10:00 am. Exhibits will be on display at the Fillmore Historical Museum. Seating is limited on the bus tour so the public is encouraged to RSVP ($30 per person) as soon as possible. For tickets call The Fillmore Historical Museum 805.524.0948 or for information on other commemoration activities in the Santa Clara River Valley, go to www.saintfrancisdam.com
By Gazette Staff Writer — Wednesday, January 24th, 2018
Fillmore Wellness Center is Scheduled to Re-Open newly branded as "ReGEN Yoga and Movement Studio" on February 3rd from 1pm - 5pm. They will be hosting an open house for the community to see the facility, meet the instructors, and will offer sign ups for memberships if interested. We have over 25 classes schedule per week with several free classes. First class is complimentary! Visit their website fro more information regenyoga.com
By Gazette Staff Writer — Wednesday, January 17th, 2018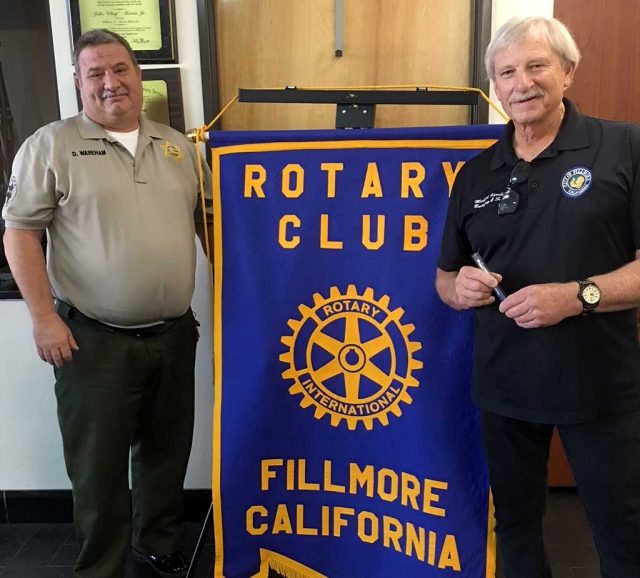 Fillmore Rotary Club President Dave Warham (left) presented Fillmore Building Inspector Michael Koroknay with a Rotary mug after his presentation about the Earthquake Brace & Bolt program. He discussed home foundations and what could happen during an earthquake. He informed the Club that homeowners can receive up to $3,000 toward an earthquake retrofit. The program is Earthquake Brace & Bolt and the timeline to apply is January 23-Feburay 23, 2018. Photo courtesy Martha Richardson.
Enlarge Photo
By Gazette Staff Writer — Wednesday, January 10th, 2018
Above is a view of the Sespe Creek looking from Grand Avenue after a full night of rainfall from this past week's storm.
Enlarge Photo
By Gazette Staff Writer — Wednesday, January 3rd, 2018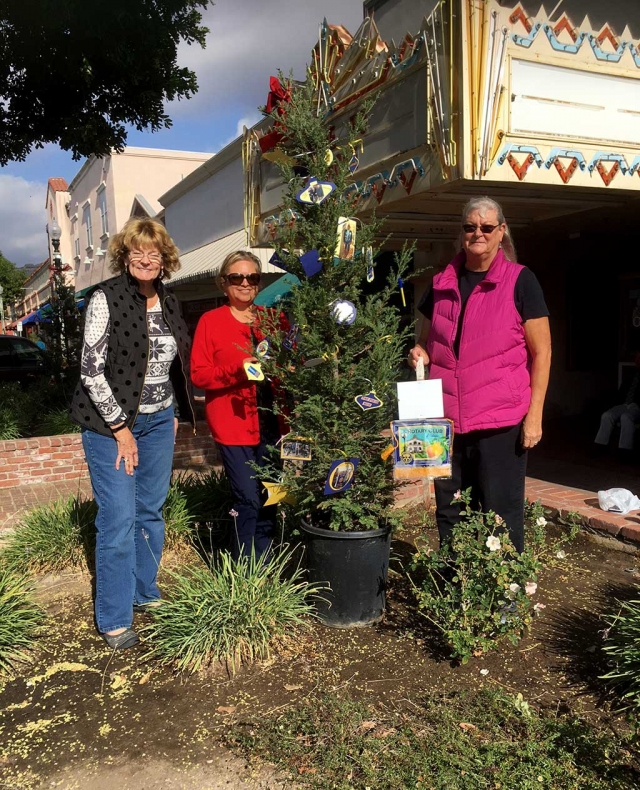 Pictured (l-r) are Fillmore Rotary Club members Martha Richardson, Ari Larson, and Cindy Blatt who were in charge of decorating this year's Rotary Christmas Tree on Central Avenue. Photo courtesy Martha Richardson.
Enlarge Photo
By Gazette Staff Writer — Wednesday, December 27th, 2017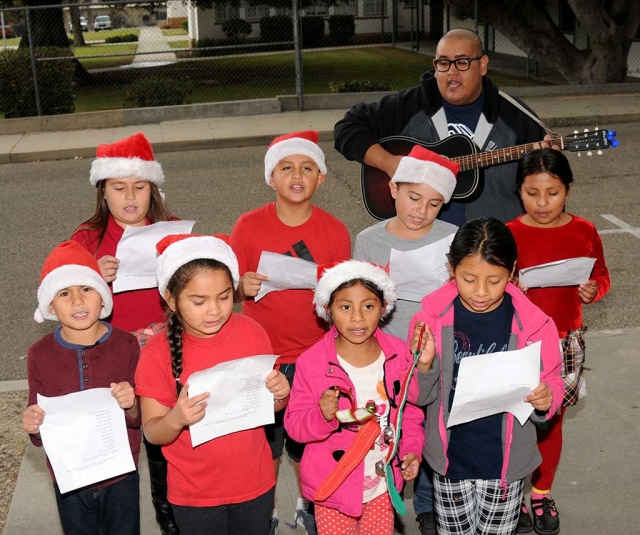 On Thursday, December 21st carolers from the Fillmore Boys and Girls Club stopped by the Fillmore Gazette and sang some Christmas Carols to the staff. The group walked up and down the main streets of Fillmore visiting local businesses and singing Christmas Carols to spread the Christmas spirit.
Enlarge Photo
By Gazette Staff Writer — Wednesday, December 27th, 2017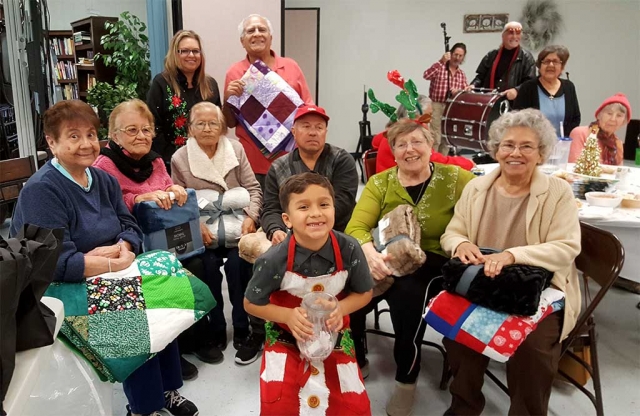 Thanks to the mini grant we received from the 100 Women who care about Ventura County, the Santa Clara Valley was able to donate 8 blankets and handmade quilts to seniors attending the event! Attendees had a lot of fun listening to the music of the "Unkle Monkey" band and enjoying delicious tamales, rice, beans, salad and desert! In attendance from the Santa Clara Valley Hospice was Martha Navarrete, Director, Ari Larson, Board Member from Fillmore, and Case Worker Ramona Golson also resident of Fillmore. Marie(please check name), Manager of the Senior programs was very grateful for the blankets and for their assistance conducting the raffles of tens bags containing food and other wonderful gifts. Photos taken by Martha A. Navarrete.
Enlarge Photo
By Gazette Staff Writer — Wednesday, December 27th, 2017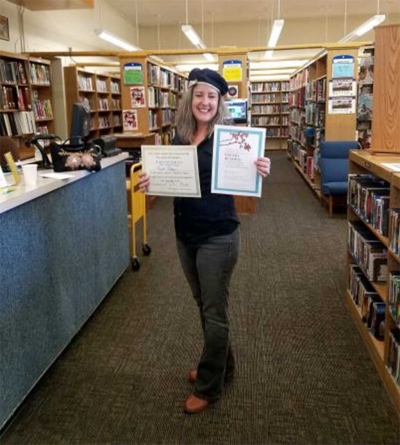 Lisa Mahony won first place for her entry "The First Time."
Enlarge Photo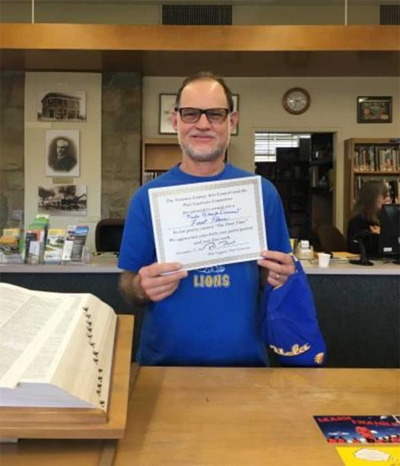 Tom Sommers, who also won, placed first place for "Nude Blank Document," second place for "A Cold Beach Cascade," and honorable mention for "News of Harold's Passing."
Enlarge Photo
The First Time Poetry Contest, sponsored by the Ventura County Arts Council and the Fillmore Library, is pleased to announce two first place winners! Congratulations to Lisa Mahony for her entry, The First Time. Congratulations to Tom Sommers who won in three categories. He received first place for Nude Blank Document, second place for A Cold Beach Cascade, and honorable mention for News of Harold's Passing. Samantha Mostad also received an honorable mention for her poem, King of the Night. There was a good response from the community of Fillmore. The judges were impressed with the quality of writing submitted.
The winners have been invited to read their works at a special poetry event to be held in January at the E.P. Foster Library in Ventura.
By Gazette Staff Writer — Friday, December 22nd, 2017
Recovery services ongoing for families who lost homes due to Thomas Fire
In conjunction with in Ventura County, the American Red Cross intends to close the evacuation shelter at the Ventura Fairgrounds Friday, Dec. 22 at 3:00 p.m.
The shelter opened on Dec. 4 for residents who were evacuating the Thomas Fire. Red Cross workers will continue assisting those affected by the fire. The Red Cross opens and closes shelters at the request of local officials.
The Red Cross plays a critical role in helping families and communities get back on their feet in the weeks and months after a disaster. Trained Red Cross caseworkers connect one-on-one with people to help them navigate what often can be a confusing, complicated and time-consuming world of disaster recovery.
All American Red Cross disaster assistance is provided free of charge and is made possible by the voluntary donations of time and money from caring individuals and corporate partners.
HOW TO GET HELP
The Red Cross has a Client Assistance Center open in Ventura for anyone who has suffered damage due to the wildfires. The Client Assistance Center is located inside the Ventura County Credit Union at 6026 Telephone Dr., Ventura from 10:00 a.m. to 7:00 p.m. The facility will be closed Dec. 24 and 25 and will reopen Tuesday, Dec. 26. A pop-up Client Assistance Center will be open Friday, Dec. 22 at the Ojai Public Library located at 111 E Ojai Ave, Ojai, CA from 10:00 a.m. to 3:00 p.m.
Red Cross workers will be conducting client casework and distributing cleaning supplies. Residents seeking assistance are asked to bring proof of residency, and if possible, a photo ID. It is not mandatory, but it will help speed up the process.
For more information, contact the Red Cross client casework line at (512) 745-2920.
HOW TO HELP
You can help people affected by disasters such as floods, fires, tornadoes and hurricanes by making a donation to support American Red Cross Disaster Relief. For more information, visit redcross.org/donate.
HOW TO VOLUNTEER
Regardless of where disaster strikes, the local Red Cross is already in place, ready to
respond immediately. Aid is routed and distributed by local Red Cross volunteers with
intimate knowledge of the area and needs. Learn more about becoming a Red Cross volunteer or sign up today at redcross.org/volunteer.
About the American Red Cross:
The American Red Cross shelters, feeds and provides emotional support to victims of disasters; supplies about 40 percent of the nation's blood; teaches skills that save lives; provides international humanitarian aid; and supports military members and their families. The Red Cross is a not-for-profit organization that depends on volunteers and the generosity of the American public to perform its mission. For more information, please visit redcross.org or cruzrojaamericana.org, or visit us on Twitter at @RedCross.
By Gazette Staff Writer — Friday, December 22nd, 2017
After serving for two weeks as a one-stop center for fire recovery information and assistance, the Local Assistance Center that was jointly run by the County and the City of Ventura will close its doors on Saturday, Dec. 23, at 5 p.m. Residents still seeking services are encouraged to visit the Center by Saturday, or may obtain services after Saturday at existing local County and City offices.
The County of Ventura and the City of Ventura opened the Center on Dec. 13 at the Poinsettia Pavilion in Ventura to assist residents from all areas affected by the Thomas Fire. It has been staffed by a wide array of County, City, State and Federal agencies, as well as a number of non-profit organizations.
"The Local Assistance Center, which has helped 1,968 households to date, has served as a great example of how County and City government can work together to aid our residents across jurisdictions," said County Executive Officer Mike Powers.
Residents have used the Local Assistance Center to start their recovery from the fire. Information is available on debris removal, permits, housing, rental assistance, vital records, property assessments, public assistance, crisis intervention and stress management, and even services such as replacing driver's licenses. Health care resources are available on site to provide assistance, education, and connections to other health services in the community.
"The assistance center provided a very useful service as the County and the City and our partners responded to the substantial needs of our community and those most directly affected. While the use of the center has decreased significantly over the last few days, the City will continue to offer a full array of direct services and assistance to folks at City Hall. Those that still need help can contact us at City Hall or come to City Hall where we have a fire related service counter established", said Dan Paranick, Assistant Ventura City Manager.
The Local Assistance Center will remain open on Thursday, December 21st and Friday, December 22nd 9 a.m. to 7 p.m., and on Saturday, December 23rd, 9 a.m. to 5 p.m. The County has also opened Recovery Information Center trailers in Ojai and Santa Paula which will operate from 8 a.m. to 5 p.m. until Friday, Dec. 22. These two locations offer debris removal and permitting information, public assistance and housing/rental assistance, and connections to Health education, resources and counseling.
"We can continue to serve people effectively and efficiently through our regular channels," said Barry Zimmerman, Director of the County Human Services Agency, which oversees the Center. Contact information for agencies that have been present at the Local Assistance Center is attached.
To further aid fire victims, Ventura County Recovers (venturacountyrecovers.org) continues to offer a registration feature that allows residents to register their contact information to receive information on specific topics. They can also register the address of their damaged or destroyed property so that officials can proactively provide them with information and official notices related to the rebuilding process.