By Gazette Staff Writer — Wednesday, April 16th, 2014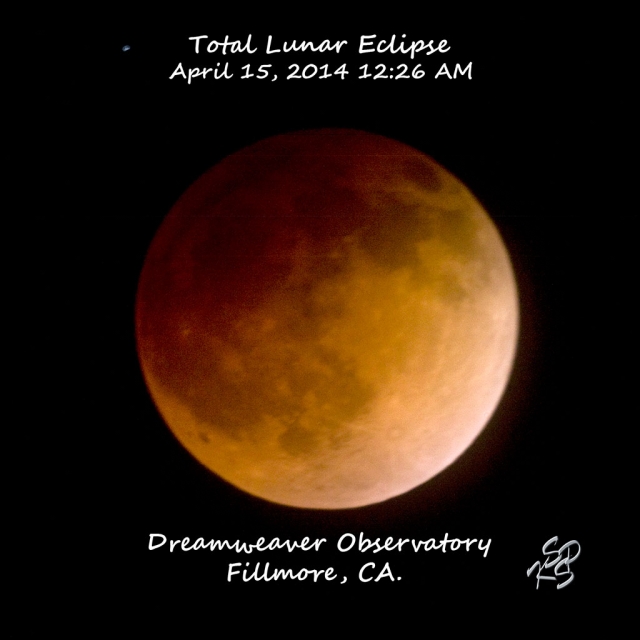 Moon in total eclipse. Taken with a 1250 mm telephoto lens @ f/10. Exposure on the eclipsed moon was 2 seconds. Photo courtesy KSSP Photo Studios, Fillmore, CA.
Enlarge Photo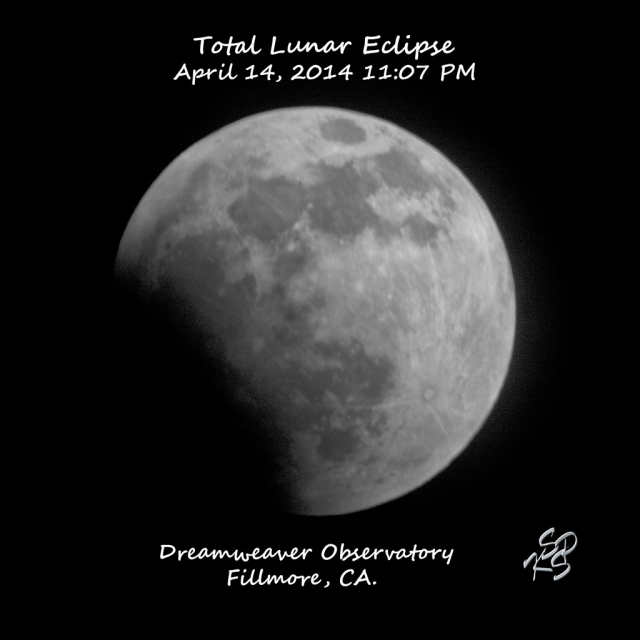 Partial phase of the eclipse.
Enlarge Photo
By Gazette Staff Writer — Wednesday, April 16th, 2014
Area health care providers to offer health information and testing to attendees
Free health screenings, demonstrations and health information will be available at the Spring and Your Health, Health Fair from 8 a.m. to 2 p.m. on April 26 at the Ventura College Foundation's weekend Marketplace, an outdoor shopping experience held on the Ventura College campus east parking lot at the corner of Telegraph and Day roads.
Health screenings will include blood pressure; height, weight and BMI; blood glucose levels; and anemia. Information will be available in English and in Spanish on Covered California, Cal Fresh/Food Share of Ventura County and MediCal, along with programs related to women's health, domestic violence, senior services, mental wellness and employment. Kids Dental Kare will provide dental health information on services for children on MediCal and other programs, and the American Center Society will have information on cancer prevention, screenings and treatment.
Additional participating agencies include the Promotoras y Promotores Foundation, St. John's Hospitals, Community Memorial Health System-Centers for Family Health, ASPIRA Counseling, Mil Mujeres, Gold Coast Health Plan, Linderes Campesinas, Inc., Every Woman Counts, HICAP and California Rural Legal Assistance.
By Gazette Staff Writer — Tuesday, April 15th, 2014
Rancho Camulos Museum and National Historic Landmark Volunteers Needed
Volunteer Open House May 3
Become a part of where the history, myth and romance of Old California still linger. Lead tours or volunteer to assist with other museum activities depending on your interests and availability. Join us as we expand to meet the needs of our new Visitor Center. May 3 at 10:00 AM is your opportunity to learn more about our local history and how you can make a difference in bringing history alive for others. The museum is located on Highway 126, just 10 miles west of the I-5 freeway near Piru. For more information about Rancho Camulos Museum visit www.ranchocamulos.org. Email (info@ranchocamulos.org) or call the museum (805-521-1501) to sign up for the Volunteer Open House or to get more information.
Celebrate Mother's Day at Rancho Camulos Museum May 10
On Saturday May 10th bring your Mom for a unique Rancho Camulos National Historic Landmark experience. Bring a picnic and blanket and spend some quality time enjoying the beautiful gardens. The roses are in their prime and the aroma is breathtaking. Docent-led tours will focus on the stories of mothers throughout Camulos history and each touring mother will receive a freshly cut rose from the garden. The suggested donation is $5 for adults and $3 for children. Reservations are not required but are appreciated. Email (info@ranchocamulos.org) or call the museum (805-521-1501). Rancho Camulos is on Highway 126, 2 miles East of Piru and 10 miles west of the I-5 at Santa Clarita and will be open for tours at 1:00, 2:00, and 3:00. See www.ranchocamulos.org for more information about the museum.
Rancho Camulos Museum Artist's Day May 16
Calling all Plein air painters, photographers and others seeking visual inspiration to fuel
their creativity. Rancho Camulos' gardens are at their peak. Set up your easel, explore the grounds with your camera, or settle into a quiet spot to begin mapping out your next novel, screenplay or other creative project. Cost: $25 per person. Price includes breakfast, lunch and a museum tour. Reservations required by May 10th. Call 805-521-1501 or email us at info@ranchocamulos.org.
Ramblings at the Rancho – Western State of Mind May 17
Western State of Mind led by John Bergstrom performs music from and about the west, including tunes from the old west, the heydays of movie westerns, and original songs telling stories about the west. You sometimes catch them including a classic country tune to round out the show. May 17th, High Noon at Rancho Camulos Museum. The $5 suggested donation also includes a docent- led tour.
Reservations are not required but are appreciated. Rancho Camulos is on Highway 126, 2 miles East of Piru and 10 miles west of the I-5 at the Santa Clarita Newhall Ranch Road exit and will be open for tours at 1:00, 2:00, and 3:00. See www.ranchocamulos.org for more information about the museum.
Rancho Camulos Museum Contact Information
5164 East Telegraph Road /P.O. Box 308, Piru CA 93040 /Hwy 126, 2 miles East of Piru and 10 miles West of the I-5 at www.ranchocamulos.org /info@ranchocamulos.org
By Gazette Staff Writer — Wednesday, April 9th, 2014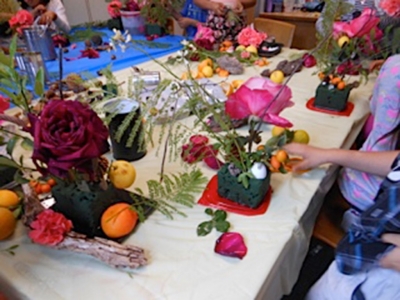 Boys & Girls Club members enjoyed making arrangements with flowers and fruit.
Enlarge Photo
In order to encourage and prepare more children to enter Vision 2020, Civic Pride's Flower Show, members Sarah Hansen, Joanne King, Cindy Klittich, and Linda Nunes held a workshop at the Boys/Girls Club on March 25 from 2-3 PM.
Fresh flowers and various natural items such as twigs, fruit on branches, dried seed pods, and ferns, along with florist foam that had been soaked overnight and different types of trays or containers were brought to show the children how to make their own arrangement that would meet the judge's criteria for the show.
Joanne King talked about the basic rules that are listed in the bright yellow brochures that are available around town at the city hall, library, Patterson's Hardware and the Treasure Station. Each child filled out an entry tag that they can bring to the show on Saturday, April 12 between the hours of 7:30am to 10:00am, along with their flowers and other items to make their arrangement in the "youth room". The entry is free for all school age children living within the Fillmore Unified School district.
The children let their creative nature take over and had great fun producing beautiful arrangements. These were lined up by the "artist" and Joanne King talked about each one's good points.
The Fillmore Flower Show will be held April 12 and 13 at the Senior Center at 533 Santa Clara St. Entry time is Saturday, April 12 from 7:30-10:00 am only. Adults have an entry fee of $5.00 for unlimited entries. Adults may bring their bouquets and arrangements ready to show. Youth must bring all their flowers, containers or other items for their arrangement to make the arrangement, or bouquet in the youth room without parental assistance. The young people come up with fantastic creative "master pieces". Youth can also enter a previously written poem or essay of one page on the show theme, "100 Years of Flowers".
By Gazette Staff Writer — Wednesday, April 9th, 2014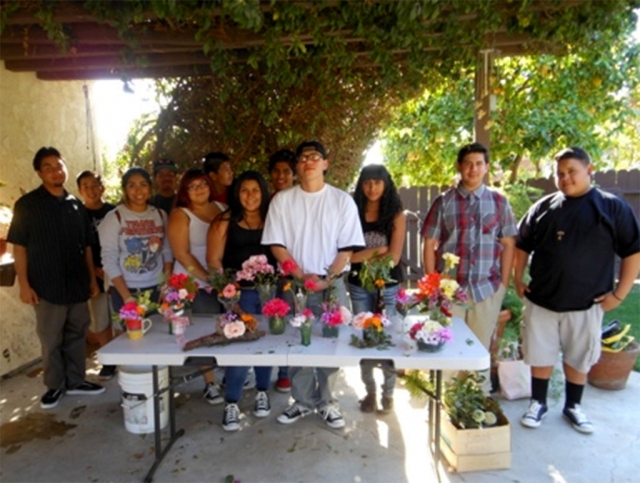 One Step A La Vez teens display their creations at a workshop led by Civic Pride committee members to engage Fillmore's youth to enter the flower show and practice making an arrangement.
Enlarge Photo
By Gazette Staff Writer — Wednesday, April 9th, 2014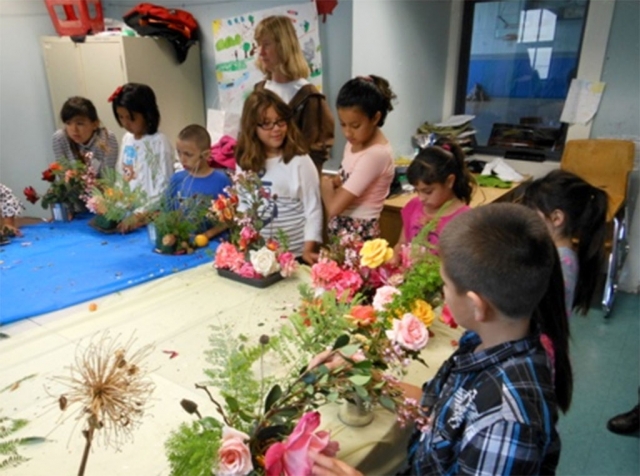 Civic Pride member Cindy Klittich assists at a Boys & Girls Club workshop about entering the flower show and making arrangements.
Enlarge Photo
By Gazette Staff Writer — Tuesday, April 8th, 2014
Taurie Banks has received the honor of being accepted by the Southern California Equestrian Sports organization (SCES), for the development of National and International Riders.
Taurie has been riding horses since she was 7 years old. She knew at a young age that horses would be her life. For over thrity years she has trained and studied horsemanship and riding from sources all over the world. She now has the opportunity to use grants to help fund her in her journey.
Taurie is no stranger to International competitions, having competed many horses in many disciplines successfully over the years. She had two horses that she trained selected for the 1984 Olympic Modern Pentathalon, and has ridden with many Olympic Riders and Trainers. Last year she won two World Championship titles at the Pinto World Championship Show in Oklahoma, on two different horses.
The Southern California Equestrian Sports, Inc. (SCES) is a non-profit organization dedicated to help equestrian riders and organizers raise tax deductible funds to compete in or support their National and International competitions throughout the United States.
SCES is designed to help athletes and owners expand their financial resources to train and compete by allowing supporters to receive a tax deductible benefit for contributions. SCES understands the financial commitment it takes to compete at the highest levels of equestrian sports; therefore established an organization to help foster development and competition
SCES has been granted a tax exempt status under Section 501C3 of the Internal Revenue Code. All contributions are tax deductible at the maximum allowed by law and donations can be made on behalf of Southern California Equestrian Sports, Inc.
Taurie was accepted by the group by achieving certain riding and competition requirements and having glowing recommendations from International riders and coaches.
"I've known Taurie for over 10 years and have had the great pleasure of watching her develop into a world-class equestrian," stated Daniel Stewart, United States Equestrian Team Coach. "I believe Taurie would be an admirable choice (for the SCES program) because of her incredible natural talent, high degree of coachability, hard-working and positive attitude, skilled riding ability and incredible dedication to our sport."
With the grant funding available to her, Taurie hopes to continue to develop her team of horses, and get them the mileage that they need to become top horses.
"I have always been able to manage the daily upkeep of the horses and get them started on the local level, but as you start to compete at the larger competitions, the fees and expeneses go up." Taurie explains. "I have had some wonderful owners, and friends and family, to help me through the years, but we are looking at the big leagues now!"
Taurie is hoping to find supporters looking for the financial benefit of a tax deductible donation, who love horses and would like to be a part of her team, or possibly future horse owners who may enjoy the thrill of owning, or part owning, one of these amazing equine athletes.
"I really would like people to be a part of the journey with me," Taurie added. "No matter the size of their financial support, I want them to see what a difference they can make and how amazing this sport is. I am honored to be selected and cannot wait to get out there and really go for it!"
Donations of all sizes are welcome and can be made through her website www.tauriebanks.com, or through the SCESports.org website. If you would like to send a check, make it payable to SCES:
SCES
1902 Orange Tree Ln, Ste 130
Redlands, CA 92374
Make checks payable to SCES, and add a sticky note with "Taurie Banks" so that the funds will go to her Grant Program.
If you are interested in information on horse ownership or more information about Taurie Banks, go to www.kingscornerstables.com, or call 805 727-3444.
By Gazette Staff Writer — Tuesday, April 8th, 2014
By Gazette Staff Writer — Tuesday, April 8th, 2014
Livingston Visiting Nurse Association will hold Diabetes Classes to introduce basic information regarding diet, medication, exercise, blood sugar monitoring, new developments and common problems. Open to the public and free of charge, no registration is necessary. Call 805-642-0239 for information. The classes are held:
• In Ventura, first Tuesday of the month: May 6 10 @ Livingston VNA, 1996 Eastman Ave, #109, from 1:00 – 2:30 pm.
• In Camarillo, first Wednesday of the month: May 7 @ Camarillo Community Center, Room 3, 1605 Burnley Street, from 2:30 to 4:00 pm.
• In Simi Valley, first Wednesday of the month: May 7 @ Simi Valley Senior Center, 3900 Avenida Simi, from 10:30 am – 12:00 noon.
• In Thousand Oaks, fourth Wednesday of the month, May 28 @ Goebel Senior Center, 1385 E. Janss Rd, from 1:30 – 3:00 pm.
By Carmelita Miranda — Tuesday, April 8th, 2014
Total Lunar Eclipse April 14-15, 2014
It has been a long time since there has been a good astronomical event over Fillmore. This Total Lunar Eclipse will be seen, weather permitting, over most of the western United States.
Here is the timing of the event...
Partial phases begin at 10:59 p.m. 4/14/14
Totality begins at 12:08 a.m. 4/15/14
Greatest phase of eclipse at 12:46 a.m. 4/15/14
Totality ends at 1:23 a.m. 4/15/14
Partial phases ends at 2:32 a.m. 4/15/14
The moon should be easy to see, because it will be nearly overhead around midnight. If you want to try and photograph this event, it is best to use a long telephoto lens. Try frame the eclipsed moon with a palm or other large tree, or a person "holding" the eclipsed moon in their hand. Be imaginative and try to get a picture of this very unusual total lunar eclipse. Just imagine trying to take a picture of a giant orange-colored peach setting in the sky. The color of the eclipse will depend on the dust or particulates that are in our atmosphere. It can range from light orange to blood red. Just go out, bring a blanket or bundle up on a lounge chair and find a nice seat with a view of the open night sky and look for the Total Lunar Eclipse after midnight. Enjoy this astronomical event!
Carmelita Miranda
Dreamweaver Observatory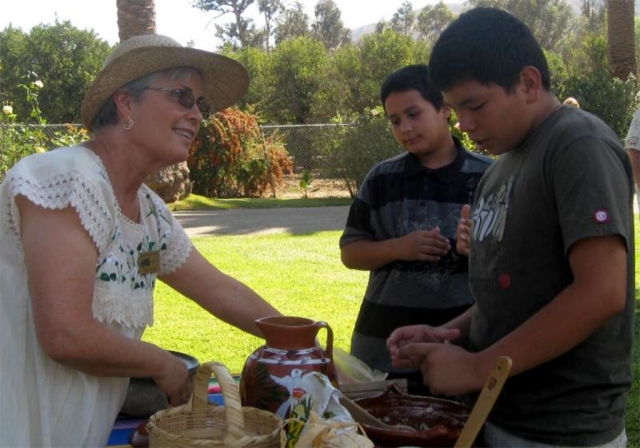 Rancho Camulos Museum docent Carmen Zermeno teaches young visitors about 19th century tortilla making, a primary staple in feeding rancho families, workers and guests.
Enlarge Photo
By Gazette Staff Writer — Monday, April 7th, 2014
Spend a morning at beautiful and historic Rancho Camulos Museum and learn how you can use your time and talents to preserve and share this unique site. We are a small but active museum with a dedicated group of museum volunteers. Our program on May 3 will include a brief overview of the history of Rancho Camulos and its origins as a Mexican land grant. You'll also learn about the many volunteer opportunities available at our museum, and introduce you to some of the friendly members of our volunteer team.
We are seeking tour docents, gardeners, help with special events, historic preservation projects, and all those interested in protecting and sharing this National Historic Landmark site. Come learn more about the museum and how you can make your mark on local history.
By Gazette Staff Writer — Monday, April 7th, 2014
Ventura, CA - Community Memorial Health System is pleased to announce it has recently earned the CNOR® Strong designation from the Competency & Credentialing Institute (CCI). The CNOR Strong designation is given to facilities having at least 50 percent of its OR nursing staff CNOR certified, and provides programs that reward and recognize its certified nurses. This is the first year CCI has awarded this elite status to facilities nationwide.
The CNOR® certification program is for perioperative nurses interested in improving and validating their knowledge and skills, and providing the highest quality care to their patients. Certification also recognizes a nurse's commitment to professional development. It is an objective, measurable way of acknowledging the achievement of specialty knowledge beyond basic nursing preparation and RN licensure.
Research shows that nurses who earn the CNOR credential have greater confidence in their clinical practice. Thus, a team of certified nurses who have mastered the standards of perioperative practice provides even more empowerment, further advancing a culture of professionalism and promoting improved patient outcomes. This strength in numbers is why CCI launched the CNOR Strong program; to recognize those facilities committed to making a difference for its patients both inside and outside of the OR.
Patient safety and CONTINUED »
By Gazette Staff Writer — Monday, April 7th, 2014
Inspections Begin Statewide

Cal Fire
Sacramento, CA - CAL FIRE inspectors have begun conducting Defensible Space inspections throughout the 31 million acres of State Responsibility Area (SRA) in California.
"Creating and maintaining Defensible Space is critical for the protection of homes," said Chief Ken Pimlott, CAL FIRE director. "It has never been more critical to strengthen our fire prevention efforts in light of the elevated fire conditions we have been experiencing in California. We have increased our inspection staffing and now we need the public to make sure they, too, are prepared for the increased fire risk due to drought."
Defensible space inspections are supported by the SRA Fire Prevention Fee, which is an annual fee assessed to rural residents for fire prevention activities in the SRA. The Fire Prevention Fee resulted from a law signed by Governor Brown in 2011 which imposed a fee to residents owning habitable structures in the SRA.
California Public Resources Code 4291 requires homeowners living in State Responsibility Area to maintain 100 feet of Defensible Space around structures. CAL FIRE inspectors will be educating residents and evaluating properties to make sure they are in compliance with state law.
Here are some tips that can help homes survive wildfires:
â€˘ď€ Maintain 100 feet of Defensible Space around all structures.
â€˘ď€ Clear all needles and leaves from roofs, eaves and rain gutters.
â€˘ď€ Trim branches six feet from the ground.
â€˘ď€ Use trimming, mowing and power equipment before 10 a.m.
â€˘ď€ Landscape with fire resistant and drought tolerant plants that require little water.
â€˘ď€ Remove branches away from roofs and 10 feet from the chimney.
â€˘ď€ Keep wood piles and flammable materials at least 30 feet from the home.
â€˘ď€ Use fire ignition resistant building material
For more information on preparing for wildfires and defensible space visit: www.ReadyForWildfire.org. Watch this short video on Defensible Space: Click Here and on this year's dry conditions: Click Here.
Remember Defensible Space is YOUR responsibility.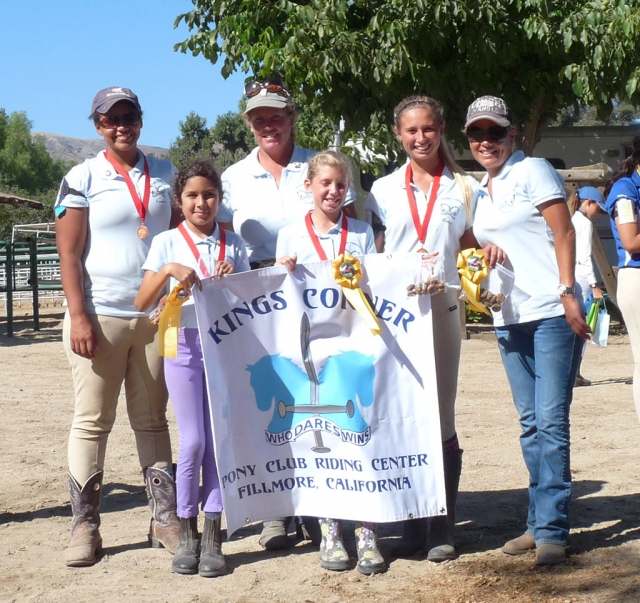 Pony Club members Jasmin Parson, Isabela Ibarra, Instructor Taurie Banks, Jillian Morris, Bailey Brantley, and Chaperone Tania Brantley.
Enlarge Photo
By Gazette Staff Writer — Wednesday, April 2nd, 2014
Kings Corner Pony Club sent four members to the Camino Real Regional Quiz Rally coming home with high honors and qualifying for the United States Pony Club Championships.
The Quiz Rally is a designed to test the knowledge of the Pony Clubber. There are several stations including Classroom, Mega Room, and Barns. They are also required to do a written test. Competitors may be asked to identify feed, equipment, or safety issues. Topics can include colors, breeds, conformation, first aid, horse management, competition rules and much more. They work as an individual in most cases and as a team during Mega Room.
The Kings Corner competitors were on mix teams with competitors from other clubs throughout the region.
Isabela Ibarra, 10, from Fillmore, competed as a "Jr D" and placed 2nd place with her team. Jillian Morris, 11, from Fillmore, Placed 1st with her "Jr D" team and she qualified for the Championships in Kentucky, by placing 2nd Individual.
In the "C" Division, Jasmin Parson, 24, of Thousand Oaks, place 1st place with her team and she was 2nd for individual. Bailey Brantley, 16, of Fillmore, placed 6th and both Jasmin and Bailey Qualified for the Championships.
The Championships will be held this July at the Kentucky Horse Park. Pony Club members from all over the United States and Internationally come to compete and learn. Along with the Quiz competition there are several riding competitions, including Dressage, Eventing, Show jumping and Tetrathalon. Tetrathalon is where competitors run, ride, shoot targets, and swim.
Bailey Brantley would love to take her horse, "Boy's Knight Out", to Kentucky and is going to try to qualify for the Eventing team and Show Jumping team, and will be trying to qualify for Tetrathalon at the Rally in April. She will only be able to compete on one team and still has three more qualifying competitions ahead of her. If she qualifies for more than one discipline, and is short listed for the teams, she will have to pick the discipline she would like to do in Kentucky.
Jasmin Parson is going to double qualify in the Show Jumping with her horse "JuJu Bee Alexander" and will also be trying to qualify as a Horse Manager. Each riding team is made up of four riders and one Horse Manager. The Horse Manager is critical at Pony Club competitions because the riders are judged on their skills and safety when working around the horses and the stables.
"We may be small, but we are mighty!" says Taurie Banks, Center Administrator and Instructor of this This fledgling club. "The girls have studied hard and been practicing. I am so proud of them and I am very excited that they can be a part of such an amazing experience as the Nationals and the Pony Club Festival."
The girls are excited and honor to represent California and Kings Corner Training Stables. They will continue to compete in the riding qualifying competitions and will be short listed on teams by the end of May. The competition is July 15 through the 18th, with the horses being shipped a few days prior.
If anyone is interested in more information about kings Corner Pony Club Riding Center may call (805) 727-3444 or go to www.kingscornerstables.com. For more information about the United States Pony Club go to www.ponycub.org.
The Kings Corner Pony Club riding Center and qualifying for the United States Pony Club Championships in Kentucky.
The girls will be competing in the Tetrathalon Rally this weekend, I will send an update after the weekend when the results and team qualifying status is released.
By Gazette Staff Writer — Wednesday, April 2nd, 2014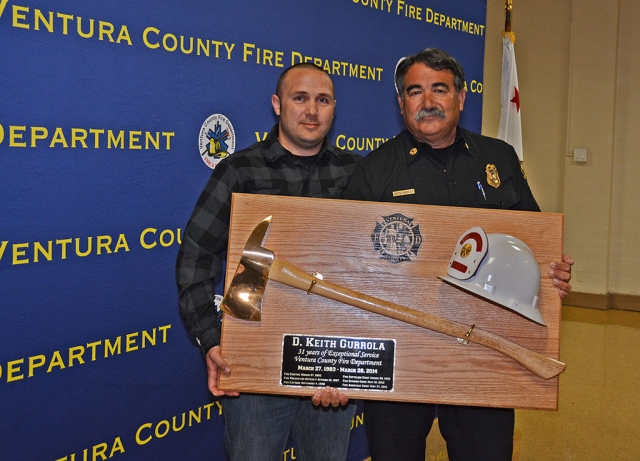 Keith Gurrola was honored at his retirement last Friday. He was the operations Chief for the Ventura County Fire Department. Keith was born and raised in Piru and according to all in attendance, is a great guy.
Enlarge Photo
By Gazette Staff Writer — Wednesday, April 2nd, 2014
By Gazette Staff Writer — Tuesday, April 1st, 2014
Los Olivos, CA - California High School Rodeo Association (CHSRA) District 7announced that its 2014Challenge team took first place in overall team points at the Challenge of Champions held March 21-23 in Plymouth, California.
Each of the nine CHSRA districts sends three contestants to compete in each event. All contestants compete in the long go, and the top ten performers compete in the short go. Points earned by district members in the two rounds are aggregated to determine the top team.
"District 7 is known for producing outstanding athletes who compete well at the state level, so it's not surprising that we were the top team again this year," said Ed Hamer, District 7 adult board president. "We're so proud of the members who represented us so well this year at Challenge."
Thirteen District 7 members qualified for the short go, placing them in the top 10 in the state of California:
Wacey Barrington, King City, steer wrestling
CerstenBranquinho, Los Alamos, breakaway roping
Wyatt Fisher, Arroyo Grande, cutting
Tatem Forsberg, Fillmore, tie-down roping, team roping (header)
Hayley Hamer, Los Olivos, cutting
Lane Luis, Los Alamos, team roping (heeler)
Emily Mangione, Nipomo, pole bending
Sage Massey, Parkfield, cutting, team roping (header)
Meghann McNulty, Orcutt, cutting
Chance Ruffoni, Arroyo Grande, team roping (heeler)
Tristan Ruffoni, Arroyo Grande, team roping (header)
Zachary Varian, Parkfield, tie-down roping
Johanna Work, San Miguel, breakaway roping, team roping (heeler)
Tatem Forsberg and Lane Luiswon buckles for first place in team roping, with an aggregate time of 17.07.
District 7's final rodeos for the 2013-2014 rodeo season are scheduled for April 5at the Santa Ynez Equestrian Center in Santa Ynez and April 27at the Parkfield Rodeo Arena in Parkfield. Both rodeos start at 8:00 am. These events are open to the public and admission is free. District 7 encourages the public to come out and experience firsthand the excitement of rodeo and the athletic abilities of these high school students and their horses.
About CHSRA District 7
CHSRA is a nonprofit organization that maintains the order and standards set up by the National High School Rodeo Association (NHSRA) and promotes high school rodeo on a state level. District 7 encompasses San Luis Obispo, Santa Barbara and Ventura Counties. The districtis committed to promoting the highest type of conduct and sportsmanship at the various rodeos to encouraging boys and girls to continue in school and participate in rodeos and then continue on to college.For additional information, visit www.chsradist7.com or contact the membership secretary at staceynance@mac.com.
By Gazette Staff Writer — Monday, March 31st, 2014
Ventura, CA - Healthcare decisions at the end of life – democracy or death panels? – will be the focus of a free seminar Community Memorial Health System is holding as part of its 2014 Ethics in Healthcare Series on Wednesday, April 16.
Jim Hornstein, M.D., chairman of the Bioethics Committee at Community Memorial Hospital, will moderate the seminar that will be held from 5:30 to 7 p.m. at the Museum of Ventura County, located at 100 E. Main St. in Ventura. The seminar will be held in recognition of National Healthcare Decision Day.
Other featured speakers will be Charles Pankratz, M.D., medical director of CMHS's Palliative Care Services; Diana Jaquez, R.N., CMHS's Palliative Care Services clinical manager; and Leslie-Lynn Pawson, M.D., chief of staff and palliative care physician of the Ventura County Medical Center.
Registration is free but reservations are required. Call 1-800/906-6093, or visit www.cmhshealth.org/rsvp.
Community Memorial Health System is a not-for-profit health system, which is comprised of Community Memorial Hospital, Ojai Valley Community Hospital, and 11 family-practice health centers entitled Centers for Family Health. The health system is located in Ventura County, California.
By Gazette Staff Writer — Monday, March 31st, 2014
SUBJECT: Ojai Library Fiber Festival
CONTACT: Tanya Villasenor
Tanya.Villasenor@Ventura.org
805-646-1639
EVENT DATE: April 27, 2014 from 11:00AM-3:00PM
PLACE: Ojai Library; 111 E. Ojai Ave, Ojai
The Ojai Library is excited to announce the first Ojai Library Fiber Festival, Sunday, April 27 from 11:00am to 3:00pm. The public is invited to explore the joys of fiber and fiber related crafts.
There will be demonstrations, classes and a fiber market featuring local artisans.
This event is free.
Demonstrations will include dyeing and hand-spinning. Drop-in classes in knitting, crochet and spindle spinning will be offered. Materials for classes will be provided while supplies last.
Vendors of fiber and fiber related objects will be on site. For a list of vendors and more information on this one of a kind event contact the Ojai Library or check out the Ojai Library page at http://www.vencolibrary.org/locations/ojai
The Ventura County Library is open 24/7 at www.vencolibrary.org
By Gazette Staff Writer — Wednesday, March 26th, 2014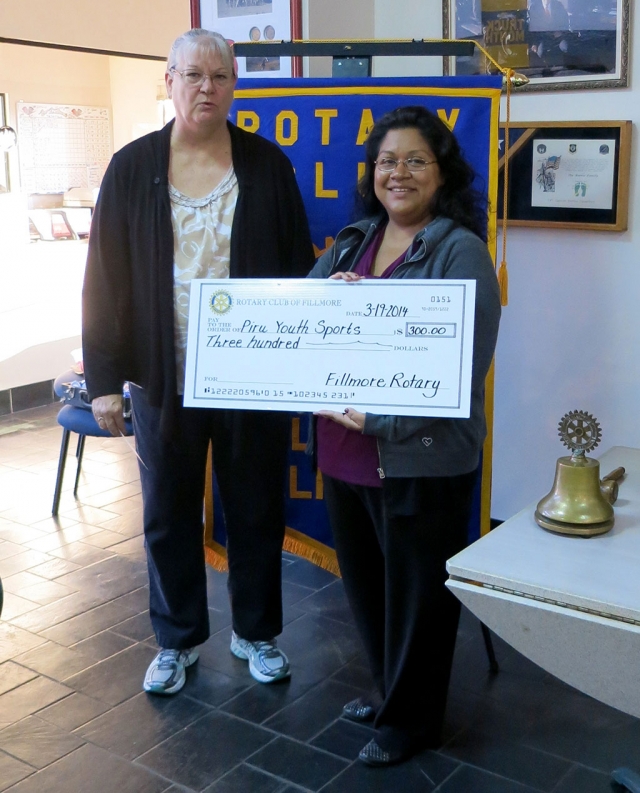 Cindy Blatt, of the Rotary Club of Fillmore, presented Joanne Torres, of Piru Youth Sports, a check for $300. This is the sixth year of youth sports with over 160 students involved in baseball this season.
Enlarge Photo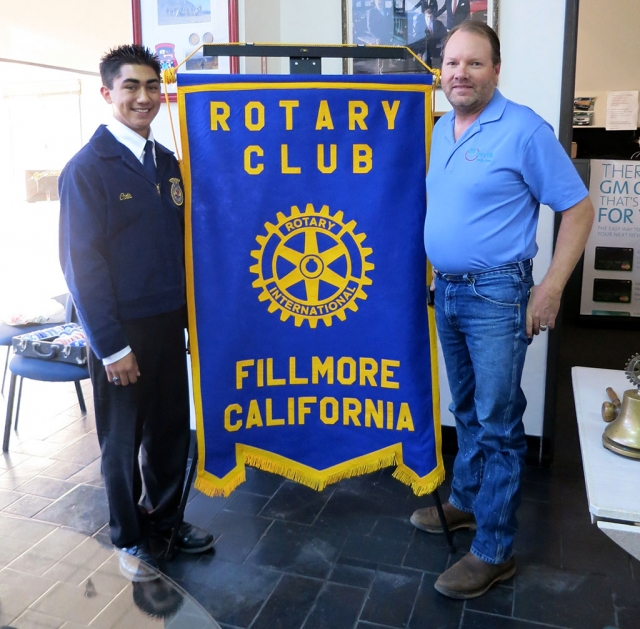 Chris Berrington, of Fillmore FFA, and the newly elected South Coast Regional Vice President visited Fillmore Rotary last week. Scott Beylik invited him to speak.
Enlarge Photo