By Gazette Staff Writer — Tuesday, January 27th, 2015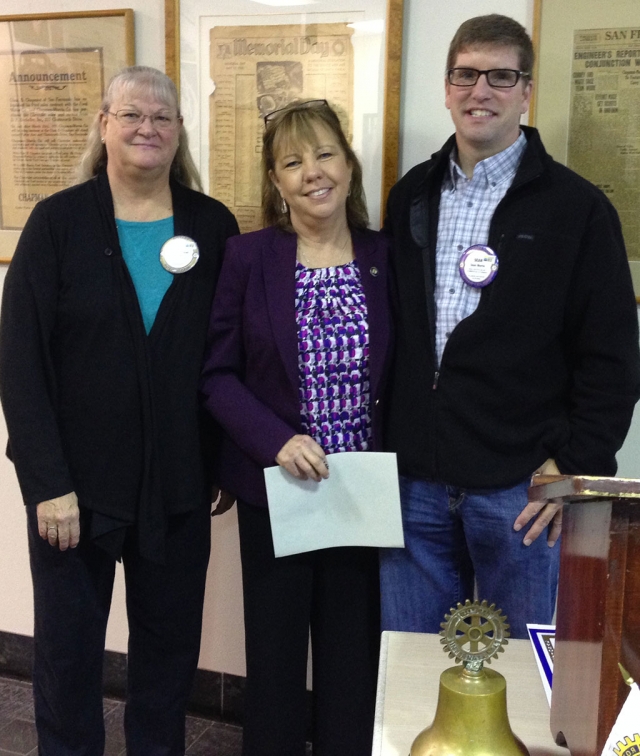 Sponsor, Cindy Blatt, new Rotary member, Carrie Broggie and Rotary President Sean Morris.
Enlarge Photo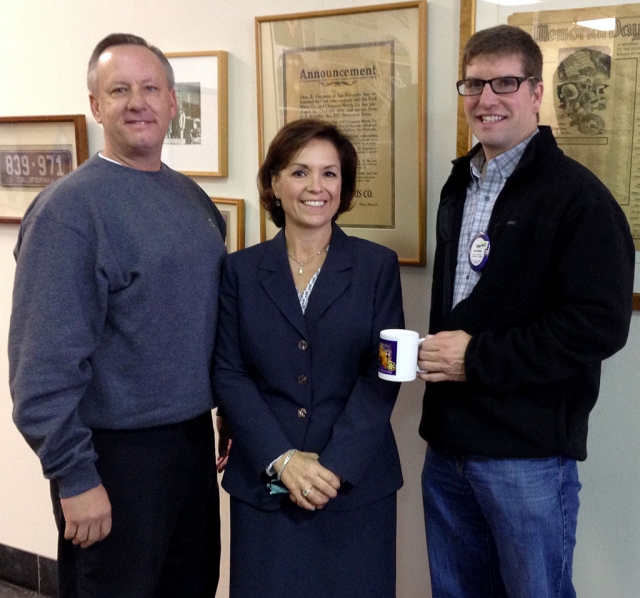 Program Chair Brian Richmond presented Judge Patty Murphy, who discussed the effects of Prop. 47 on the Judicial system. Sean Morris presented Patty with a Rotary mug.
Enlarge Photo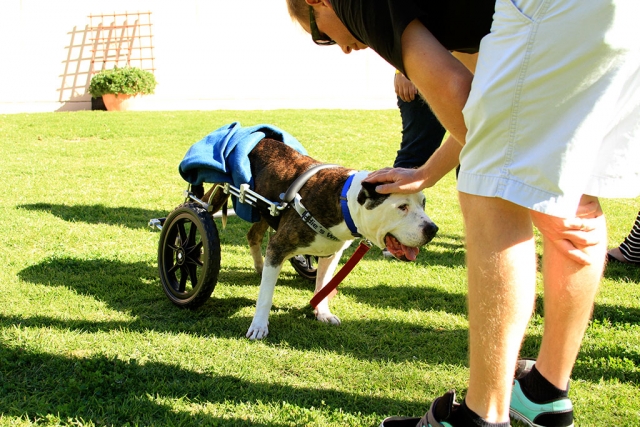 Buddha
Enlarge Photo
By Gazette Staff Writer — Tuesday, January 27th, 2015
Buddha, a gentle, 10-year-old pitbull, has faced many challenges. He lost the use of his back legs and learned to use a pet wheelchair. Buddha says goodbye to his temporary home at the Santa Paula Animal Rescue Center this week to move to a rescue sanctuary to await a new, permanent home.
A Santa Paula Police Department officer found the dog lying by the side of the road, unable to use his back legs. The officer brought him to the Santa Paula Animal Rescue Center (SPARC), where the staff rushed him to a pet emergency hospital. The dog was diagnosed with degenerative myelopathy/neuropathy, meaning he lacks the strength to use his back legs and his condition may worsen with time. It appears the dog, named Buddha, had either been dumped or had dragged himself to the road, scraping his leg raw in the process.
Buddha recovered from his scrapes and bruises but needed help with mobility. In January, SPARC received the gift of a donated wheeled cart from Eddie's Wheels, a company in Massachusetts which custom-makes wheels for dogs. The carts cost up to $600. SPARC is very grateful for the donation.
With encouragement and lots of treats from the SPARC staff, Buddha has learned to use his new wheels. After a few days with his new wheels, Buddha now enjoys getting out for a "spin" several times a day and is becoming more confident. When he becomes more proficient using his cart, he'll be able to enjoy spending time with other dogs again.
Buddha is a gentle old soul who has been greeting and socializing with SPARC visitors for months as their "office dog." He's been looking for a home all the while, but this week will be his "farewell" to SPARC as he will be leaving for greener pastures, moving to a rescue sanctuary that provides medical supervision and will care for him in a loving environment until he finds the perfect, forever home.
Donations to help with Buddha's and other SPARC animals' medical care can be made at www.santapaulaarc.org. SPARC is a private, non-profit organization and is the first and only no-kill animal shelter in Ventura County. SPARC is a place where homeless animals are brought for humane care without risk of being killed due to lack of space, illness or injury. SPARC relies on private donations to care for the animals.
By Gazette Staff Writer — Tuesday, January 27th, 2015
Wednesday, February 4, 2015
Start 2015 with a guided tour of the Ojai Meadows Preserve!*
Docent and naturalist for the Ojai Valley Land Conservancy,StuartNiebel, will guide us on a 60-minute, easy, walking tour describing the Conservancy's efforts to reclaim the Meadows using native plants and grasses.
Lunch-11:30am, Tour-1pm, both in OJAI
Group reservation @ 11:30 for self-paid lunch before the tour
at Eggs 'n' Potatoes Restaurant - 1103 Maricopa Hwy, Ojai 93023
805-646-5346 Lunch specials start at $11 + beverage, tax and tip
*Directions to Meadows - Highway 33 Entrance:
Take Highway 33 west (towards Maricopa) from the Highway 150/33 intersection at the
Rotary Community Park. Go past the high school and the football stadium, turning left
at the next available break in the highway's dividing island.
Park in the small parking lot for the Preserve or along the curb of the highway.
Please Note: Rain or very muddy conditions will postpone lunch/tour to a later date.
R S V P REQUESTED !!
Call or email Lora Clarke by Jan 31st
805-218-2105, loralclarke@yahoo.com
By Gazette Staff Writer — Monday, January 26th, 2015
Ventura, CA - Ventura County Clerk Recorder Mark Lunn announced that the County Clerk's Office will be open on Saturday, February 14, 2015 from 9:00 a.m. until 3:00 p.m.
Lunn stated, "Valentine's Day is our busiest wedding day of the year. Since the holiday falls on a Saturday this year, we will extend our office hours to accommodate couples that want to marry on this romantic day."
The County Clerk's Office, located at the County Government Center, Hall of Administration, Main Plaza, 800 South Victoria Avenue, Ventura CA 93009-1260, will be open solely to issue Marriage Licenses and perform marriage ceremonies. Standard Marriage License and ceremony fees will apply.
Appointments are highly recommended and can be made by calling (805) 654-2263. Additional information can be found by visiting www.VenturaClerkRecorder.org.
By David W. Rowlands — Wednesday, January 21st, 2015
Guest Column by City Manager David W. Rowlands
Behind city council's leadership, Fillmore is in for a big year in 2015. Construction has started on new retail projects and housing sales are moving in a positive direction.
Economic Development
You may have noticed all the construction along Highway 126 over the past several months. The Stop project at the Business Park is in the process of building a new Dollar General store and pads for several other retail establishments. The City anticipates being able to identify future tenants over the next few months. Family Dollar has also started construction along Highway 126 near the Best Western Hotel. Both projects are planned to open later in 2015 expanding the shopping opportunities for our residents and guest.
The City has entered into a contract with The Retail Coach a national retail consulting, marketing research and development firm that combines strategy, technology and expertise to develop and deliver retail recruitment and development strategies. The Retail Coach has and will continue to visit our businesses and provide recommendations to the City Council that will support the City's overall retail recruitment and development goals. Another aspect of the study will be the development of marketing material for targeted retailers and identify companies to recruit to Fillmore.
Fillmore Volunteer Firefighters Foundation
When Rigo Landeros was appointed Fire Chief, one of his first goals was to establish a foundation for the Fire Department. The Foundation was formed in November 2010.
Over the years, with the help of Patrick Maynard, the Foundation has received over $275,000 in grants. In addition, the Foundation has raised an additional $28,000 through donations and its annual golf tournament. These funds have been used to purchase new breathing apparatus, new radios, new turnouts and fire nozzles, and to provide training and repairs to the City's fire station.
The Foundation's Board is comprised of the following individuals:
Scott Beylik, Mike Bush, Bill Morris, Mike Richardson, and Scott Klittich. When you see these individuals in the community, please give them a big thank you. Under their leadership and Mr. Maynard's ability to obtain grant funding they have saved the City over $300,000.
Thank you to everyone who makes Fillmore the "Last Best Small Town".
By Gazette Staff Writer — Wednesday, January 21st, 2015
The Lions Student Speaker Contest will be Monday, Feb. 2 at 7:00 pm sharp. The topic is "Water conservation-How can we reduce, recycle and reclaim?" The wimnner will receive $100 and the runner-ups $25. No more than 6 speakers can compete-so enter quickly. There will be a mandatory meeting on Thursday Jan. 29 at lunch time in the fillmore highschool conference room.( also after school for those who cannot attend at lunch. Please contact Bill Edmonds at 524-4839 or Mr. Dann, or Mr. Olverton at the highschool.
By Gazette Staff Writer — Wednesday, January 21st, 2015
February 13, 2015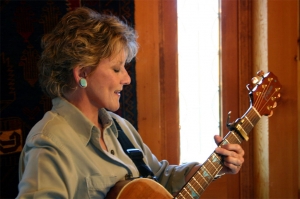 American country singer and songwriter Lacy J. Dalton will perform a benefit concert for the Santa Paula Animal Rescue Center on Friday, Feb. 13, at the Discovery Ventura nightclub, 1888 E. Thompson Blvd, Ventura.
Dalton, who had a number of hits in the 1980s, including "Taking It Easy," "Crazy Blue Eyes" and "16th Avenue," will be joined by Nashville recording artist Ryan Hinkle.
Doors open for "A SPARC of Love" concert at 7 p.m. General admission tickets are $35. VIP tickets are available at $55 but seating is limited. VIP tickets include early admission at 6:30 p.m. and guaranteed seating in the VIP area as well as a performance meet and greet.
Proceeds from the event benefit the animals of the Santa Paula Animal Rescue Center.
For information, reservations and ticket sales call (805) 889-4800 or contact sparceventsinfo@gmail.com.
SPARC is a private, non-profit organization and is the first and only no-kill animal shelter in Ventura County. SPARC is a place where homeless animals are brought for humane care without risk of being killed due to lack of space, illness or injury. SPARC relies solely on private donations.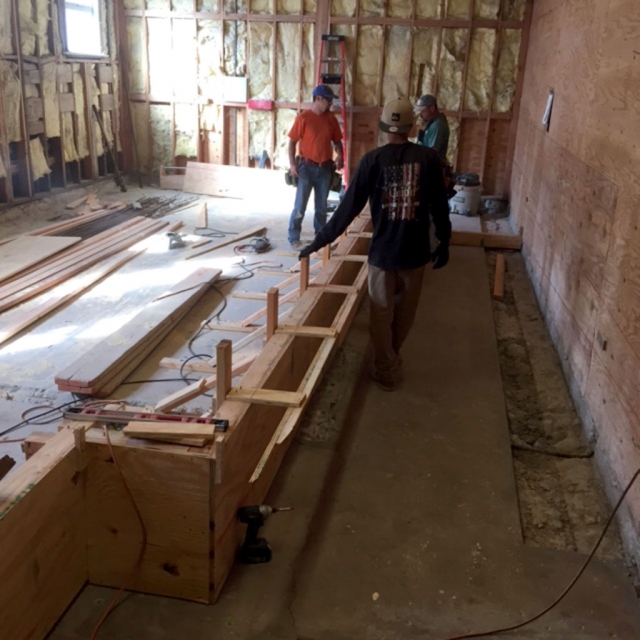 Crew members Joe Duran, Jose Cobian and David Urrea.
Enlarge Photo
By Gazette Staff Writer — Wednesday, January 21st, 2015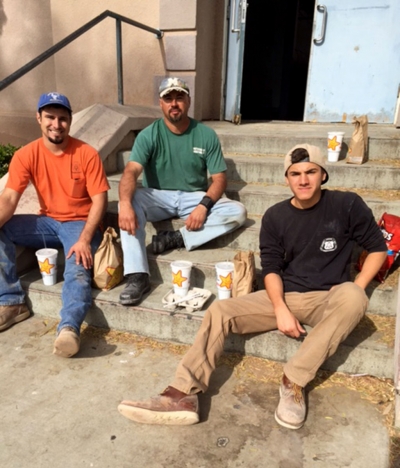 Construction of a new Teen Study Room at the Boys & Girls Club of Santa Clara Valley remains underway.
Enlarge Photo
While most people were watching the football championships Sunday we continued on with the construction of a new Teen Study Room at the Boys & Girls Club of Santa Clara Valley. Framing and footings were built in anticipation of a future cement pour. Three amazing men from Southwest Regional Council of Carpenters Local #150 were hard at work. Jose Cobian, David Urrea and Joe Duran were the three who donated their time on Sunday. This is an amazing project that will benefit the local teens in Fillmore. When finished the Teen Study Room will have staff that can assist teens not only with their homework but work with them on such things as how to fill out job application and scholarship papers. A financial literacy course is also planned. We are excited about expanding our Positive Place For Kids. This is a $113,000 renovation project as the room under renovation was the former girls shower room when the facility was the girls gym at Fillmore High School many years ago. If you would like to make a donation to this project, checks can be sent to Teen Study Center c/o Boys & Girls Club of Santa Clara Valley PO Box 152 Santa Paula, CA. 93061.
By Gazette Staff Writer — Tuesday, January 20th, 2015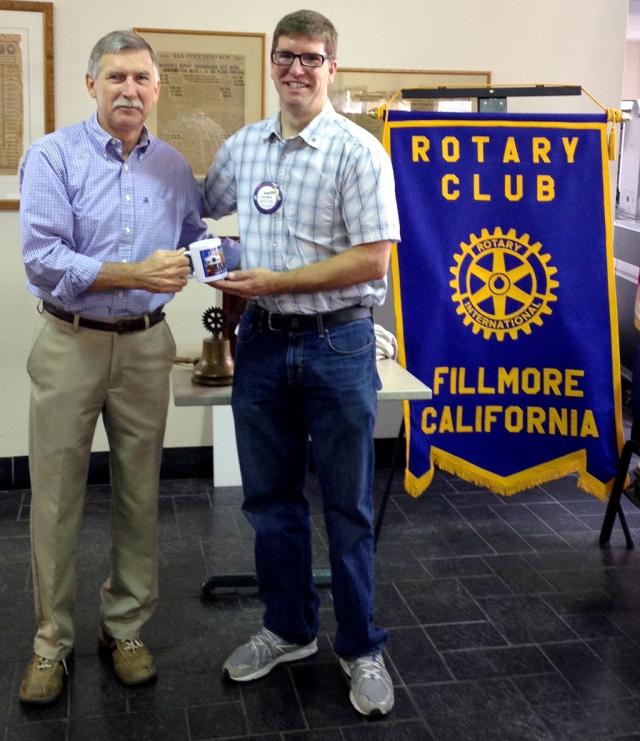 Chuck Spence, a retired airline pilot, began VITA Volunteer Income Tax Assistance Program. Trained IRS Certified volunteers aide low income people with their tax preparations, at no cost to them. Last year they had 100 volunteers. They are interested in having a site in Fillmore. Sean Morris, Rotary President presented Chuck with a Rotary mug for his interesting program.
Enlarge Photo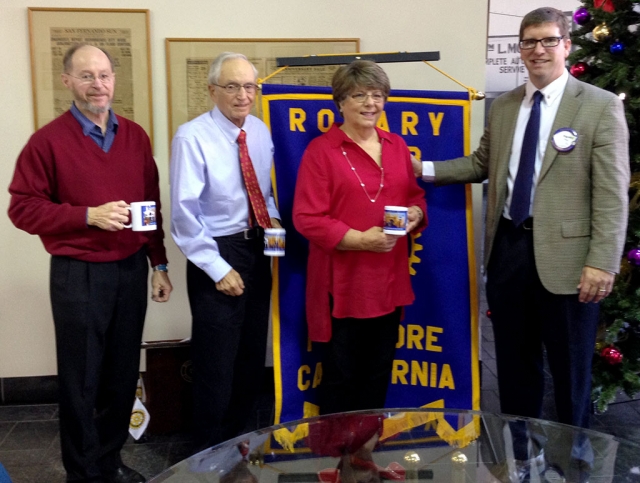 The Rotary Club enjoyed and excellent program presented by members of the Ojai Rotary Club.Kay Bliss introduced their Nomad Project in Niger. Dr. Skankey informed the Club of his educational program for mid-wives there. The women learn prenatal care and delivery techniques that can be implemented in their rustic desert environment. Fillmore Rotary is part of this project. (I didn't get the first man's name (left), but rest are Dr. Skankey, Kay Bliss and Sean Morris)
Enlarge Photo
By Gazette Staff Writer — Tuesday, January 20th, 2015
January 27
Ventura, CA - Diabetes, a common disease that causes long-term damage to the body, will be the focus of a free seminar when Community Memorial Health System opens its 2015 Educational Seminars series on Tuesday, Jan 27.
Debra Ouyang, M.D. who specializes in endocrinology, will lead the discussion during the seminar to be held from 6 to 8 p.m. in the eighth-floor Nichols Auditorium at Community Memorial Hospital, located at 147 N. Brent St.
Diabetes affects an estimated one out of 10 Americans, and those numbers are rapidly increasing. Dr. Ouyang will discuss what causes diabetes, what people can do to prevent it and, if they already have the disease, what they can do to improve their health.
Dr. Ouyang received her medical degree from Eastern Virginia Medical School and completed her residency at Cedars-Sinai Medical/West Los Angeles Veterans Administration program. Dr. Ouyang is a member of the American Association of Clinical Endocrinologists, the American Thyroid Association and the Endocrine Society.
Registration is free but reservations are required. Please visit cmhshealth.org/rsvp or call Brown Paper Ticket at 1-800/838-3006.
Future scheduled educational seminars include: Hyperbaric Oxygen and Wound Care on Feb. 24; Joint Pain and Arthritis on Feb. 28 in Ojai; Cosmetic Surgery on March 10; Neurological Diseases of Aging on April 21 in Oxnard, Update on Management of Brain Tumors on May 12; and Skin Cancer on June 16.
Community Memorial Health System is a not-for-profit health system, which is comprised of Community Memorial Hospital, Ojai Valley Community Hospital, and 12 family-practice health centers entitled Centers for Family Health. The health system is located in Ventura County, California.
By Gazette Staff Writer — Monday, January 19th, 2015
The Fillmore Senior Center will be holding an "Open House" Saturday, January 31 from 10:00 am -2:00 pm, at 533 Santa Clara Street in Fillmore. FSC Teachers and Artists are looking forward to the Open House and are planning to share their amazing talents and provide some "Interactive Art" activities with our guests.
The Fillmore Senior Center also provides instructional and recreational classes during the month to educate our seniors on Fall Prevention, Hi-Cap, AAA Driving Classes, Low Vision, Alzheimer's Support, Spanish class, Busy Hands (Knitting & Crochet) Gourd Class, and Line Dancing, among others. This is a great place to gather with other seniors to socialize, learn new skills such as watercolor, collage, tai chi, senior exercise, yoga, sketching, knitting, crochet, watch movies, play cards or Board games use computers or you just want to get out of the house and your 55+ years, this is just the place for you. Refreshments will be served. For more information please Call 805-524-4533
By Gazette Staff Writer — Monday, January 19th, 2015
Honoring Dr. King's legacy with a "day on, not a day off"
Fillmore, CA - The Cabrillo Economic Development Corporation (CEDC) will host its third annual Martin Luther King (MLK) Jr. Day of service day event on January 19. This year, CEDC has organized a park clean-up effort which will take place at the Two Rivers Park in Fillmore, located at the corner of River Street and "C" Street. Everyone is invited to join in and lend a hand in service to the community to help celebrate Dr. King's birthday and legacy.
"CEDC's Annual MLK Day of Service is a day where we work side-by-side with our fellow residents and community members to beautify a community," said Marco Ramirez, CEDC's Community Building Director, whose team is helping to organize the event. "The City of Fillmore is providing the tools and equipment; we want everyone to help us contribute hands and positive energy. Last year, more than 100 Fillmore residents participated in the event—and we want that number to increase. Bring your friends and family!"
Participants are asked to bring a piece of new or gently used clothing to donate to CEDC's PACT project. PACT is a project called "Providing Accessible Clothing to Teens." PACT is a free clothing closet for low-income youth under the age of 18 based in Fillmore. The project was started by a group of Fillmore High School youth who wanted to give back to their community. For more information, visit www.pactyouthcloset.org.
This year marks CEDC's third MLK Day event in Fillmore. The intent of the event is to leverage the strength of local citizens to enhance and beautify the places where they live.
This local MLK Day event in Fillmore is part of a national Day of Service which will take place nationwide on January 19. The national Day of Service honors Dr. King's legacy and commitment to transforming our nation through service to others. These events portray America's collective spirit of advancing economic opportunity and taking action to solve problems in local communities across the United States.
Dr. King committed his life and his work to expanding opportunity for all Americans. Dr. King's vision of harnessing the power of volunteering and service to transform our communities is more important than ever. The MLK National Day of Service is an opportunity to re-commit ourselves as citizens by volunteering in service to one another. MLK Day is also, importantly, a launching pad for an entire year of service. Working together, we will create economic opportunities by improving education, strengthening health care services, and improving financial literacy.
By Gazette Staff Writer — Monday, January 19th, 2015
The Friends of the Santa Paula Blanchard Community Library invite all book lovers to their First-Saturday-of–the-Month and Mid-Week book sales. The next First-Saturday Sale will beFebruary 7, 2015, from 10AM to 2PM. The mid-week sales are every Tuesday, Wednesday, and Thursday from 12 Noon to 2PM, except holidays. The sales are held in "The Back Stacks", accessed from the north parking lot of the library at 119 N. 8th Street, Santa Paula, CA.
The February special will be a 48 volume set of children's history books with wonderful illustrations and a 6 volume set of "The Third Reich", a history of Hitler's Germany with lots of interesting photos.Both are priced at $1.00 per set. There are also great choices in fiction, non-fiction, and children'sbooks with prices from $.50-$2.00.The unique collection of rare and collectible books start at $4.00.For more information email fobcl@yahoo.com.
By Gazette Staff Writer — Monday, January 19th, 2015
Camarillo selected as an LA2015 Host Town, providing culture, training and accommodations to international athletes in July 2015
Camarillo, Calif., Jan. 14, 2015 – At a special event this morning on campus at CSU Channel Islands (CI), the city of Camarillo announced today that the community has been officially selected to participate in the Special Olympics World Games Host Town program from July 21-24, 2015. Before the Special Olympics World Games begin on July 25, 2015, more than 7,000 athletes from 177 countries will be welcomed to Southern California through the Host Town program. As many as one hundred communities from San Luis Obispo to San Diego will have the honor of being selected as an official Host Town.
"We are thrilled to see so many communities eager to participate in this integral component of the World Games," said Patrick McClenahan, president and chief executive officer of LA2015, the Games Organizing Committee. "The Host Town program will not only create lasting memories for these athletes and coaches from around the world, but leave a lasting legacy for the communities who are opening their doors, hearts and minds to host these inspiring athletes."
The Host Town program in Camarillo is a collaboration between CSU Channel Islands, the City of Camarillo and the Camarillo Chamber of Commerce. Together, they will welcome a delegation from the 2015 Special Olympics World Games and show the athletes and coaches all that Camarillo has to offer.
"As a university dedicated to helping students reach their highest potential, we are honored to welcome athletes who challenge themselves each day to do their personal best," said CI President, Richard R. Rush.
Camarillo Mayor, Bill Little and Camarillo Chamber of Commerce Chief Executive Officer, Gary Cushing, are both delighted to be working with CI as Camarillo prepares for an international stage.
"Not only does this CONTINUED »
By Gazette Staff Writer — Wednesday, January 14th, 2015
Former assemblyman and Afghanistan War veteran Jeff Gorell will serve as Grand Marshal when the annual Ventura County St. Patrick's Day Parade marches down Main Street for the 27th time in downtown Ventura on Saturday, March 14.
The theme of this year's parade, which begins in front of Mission San Buenaventura at 10 a.m., is "Honoring Our Troops."
Gorell represented the 37th District in the California Assembly from 2010 to 2012, and after the decennial redistricting, the 44th District from 2012-2014. Just before the Nov. 2, 2010 general election, Gorellannounced that he was being deployed to Afghanistan on March 18, 2011 as a lieutenant commander in the U.S. Navy Reserve.It marked Gorell's second year-long tour of duty in Afghanistan; his first started three weeks after 9/11 in 2001.
Upon winning, Gorell spent less than three months in office before becoming the first sitting California lawmaker since World War II to be called into active military duty overseas. During his deployment, 14 bills were sponsored in his name. Gorelllater served as vice-chairman of the Assembly Budget Committee and now serves as Commander in the U.S. Navy Reserve.
The whole county will be turning out in green on Main Street on March 14. Last year's parade drew over 90 entries, including floats sponsored by civic groups, nonprofits and local businesses and restaurants; marching bands; car clubs; horses; clowns and the Biggest Green Pig in the World. There also will be high school pep bands, youth groups and fun-loving adult groups entered in the parade.
The Ventura County St. Patrick's Day Parade, which ends at Laurel Street, is presented by the Ventura Elks Lodge #1430. The event's committee is accepting entries for the parade. For entry forms or more information about the parade, visit www.venturastpatricksdayparade.com, or call 643-4275.
By Gazette Staff Writer — Tuesday, January 13th, 2015
County Supervisor Kathy Long, 3rd District would like to announce to all residents of Ventura County that the next Santa Paula Tattoo Removal Clinic will be held on Saturday January 17th, 2015 from 8:30 am – 12 noon, no appointments necessary. Orientation for first time participants will be at 9 am located at 1334 E. Main St. the Santa Paula Medical Clinic. Due to overwhelming response, spaces will be limited.
County Supervisor Kathy Long spearheaded this clinic in collaboration with the following agencies: Ventura County Public Health, Ventura County Probation Agency, Ventura County Sheriff's Department, Santa Paula Family Care Clinic, Interface Children Family Services, and CalWORKS.
The clinic not only welcomes participants but volunteers to run the clinic. If you have any questions, or would like to find out how you can help, please call the Santa Paula Family Care Clinic at (805) 933-1242.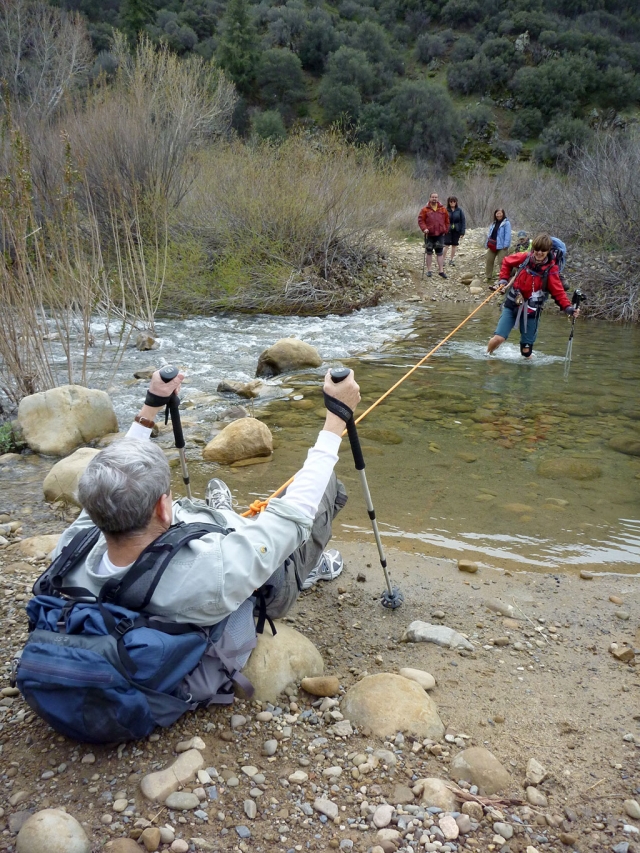 Learning how to get safely across a fast moving creek is practiced by WBC students. Photo by Cara Peden.
Enlarge Photo
By Gazette Staff Writer — Tuesday, January 13th, 2015
The adventure and insights of the film and book by Cheryl Strayed -- "WILD: From Lost to Found on the Pacific Crest Trail" – are well known by participants of the Los Padres Sierra Club's Wilderness Basics Course (WBC).
That's because WBC has been transforming and enhancing peoples' lives for six years now, using the vast swath of wild land in Santa Barbara and Ventura counties that include woods, forests, chaparral, mountains, valleys, grasslands, semi-desert areas, rivers, creeks and nearly 500 fish and wildlife species … all chock full of adventure under a big sky.
The Los Padres Chapter's course runs Feb. 4 through March 25 and offers thorough training for adults and teens (13-17 with parent)of various levels of fitness, in the classroom and outdoors. Class is held every Wednesday at 7 p.m. and participants apply the knowledge during day hikes, car camp and overnight backpacks in Santa Barbara and Ventura counties.
"We offer this class so that people can enjoy the outdoors with more knowledge and take on a spirit of adventure. That's our reward, along with meeting new friends and having a blast," said WBC leader Teresa Norris.
WBC's dedicated staffis ready to share their skills and stories, demonstrating hiking techniques, equipment, navigation, first aid and safety, among many other skills including cooking delicious meals.
Participants will meet like-minded people anxious to leave the urban scene behind for a while and, to quote the Sierra Club's motto: "To explore, enjoy, and protect the wild places of the earth."
"The WBCstrengthened my knowledge of the outdoors and reinforced my commitment to safety and preparation," said Lars Yahr who became a staff member after he took the course.
The goal is to increase enjoyment by being prepared and confident that a trip outdoors will be positive and rewarding, even if you lose your way, the weather turns bad or a medical problem crops up.Of course, avoiding those surprises is the highest priority and WBC prepares the students for such events.
For more details, call 524-7170, email lospadresWBC@gmail.com, or go on the Facebook page or website:
www.facebook.com/lospadresWBC
www.lospadres.sierraclub.org/WBC
By Gazette Staff Writer — Monday, January 12th, 2015
As the county's only non-for-profit Home Health and Hospice provider, we support the total well-being of our community. As part of our services, we host free monthly education classes throughout the county which include the following:
Livingston's Hospice Volunteer Training
Is part of your New Year's resolution giving back? Consider joining Livingston Memorial Visiting Nurse Association's outstanding volunteer team. This 8-week volunteer training program is only offered once a year and will be heldTuesdays,January 27-March 17 10am-1pm at the Livingston's Ventura offices at 1996 Eastman Avenue, suite 101. There is no fee for this course.
Training is conducted by our professional staff including RN's specializing in hospice and palliative care, medical social workers, spiritual care and bereavement counselors. Volunteers are considered an integral part of the Livingston's hospice team and receive on going supervision and training.
To receive more information about the training or to registercontactVolunteer Coordinator Maddy Hazard, MPH at (805) 642-0239 x775 or emailmhazard@lmvna.org.
By Gazette Staff Writer — Wednesday, January 7th, 2015
Happy New Year!
Attention all gardeners! It is never too early to begin thinking about your entry for the Fillmore Flower Show. This year's theme is "Bursting with Beauty." The show will be held in the Fillmore Senior Center April 11 and 12, 2015.
For over 70 years, the Fillmore Flower Show has delighted both participants and viewers alike. The Vision 2020 Civic Pride Committee is pleased to sponsor the show again this spring. Many of you have been planning your entry since the show last year. For others, consider participating for the first time. Encourage your children, grandchildren, friends and neighbors to display their beautiful blooms.
All residents of the Fillmore Unified School District are eligible to enter. Entry divisions are: Single Stem Cut Roses, Single Stem Cut Iris, Other Single Stem Cut Flowers, Arrangements in a Single Container, Bouquet, Miniature Arrangement and Bouquets (not to exceed 4 inches by 4 inches), Potted Plants, Dish Gardens and Youth Arrangements. For our youth wishing to express the theme in writing, there is also Youth Composition competition.
Now is the time to mulch and weed, dig and spread, nourish and plant. Mother Nature will reward you with a beautiful rainbow bursting with color. Then, all you have to do is share the beauty with the rest of your community at the Fillmore Flower Show.
By Ray Dominguez — Tuesday, January 6th, 2015
FARM WATCH: SPECIAL ALERT
A message from Detective Ray Dominguez:
Farm Watch readers, please review the attached informational flyer for additional information reference the attempted murder investigation being actively investigated by the Sheriff's Major Crimes Bureau. I am calling on each of you for your assistance in locating this subject/suspect vehicle. Because of the large number of farms, ranches, and rural areas to be searched we are asking that you assist the Sheriff's Office Investigators by speaking with your employees, neighbors, and checking your properties including outbuildings, barns, sheds, etc. for this suspect/vehicle. If you locate the vehicle or suspect please do not confront him or approach the vehicle as he is extremely dangerous and you could potentially disturb or destroy viable evidence in the area. Please contact the Sheriff's Office immediately and request a deputy respond to your location.
The following advice is always wise if you suspect illegal activity on your property:
• Call the Sheriff's Office immediately at 911.
• Be a good witness
• Note suspect descriptions such as age, height, weight, facial hair, clothing, and shoe type.
• If a vehicle is involved, obtain a license plate number and note vehicle color, body damage, bumper stickers, camper shell, after market tires and wheels, etc.
• Provide the dispatcher with information about the time and last known direction of travel.
Agricultural Crimes Detective Ray Dominguez ray.dominguez@ventura.org
805-797-6424 Cell#
Be alert and stay safe!
Ray
Geoff Dean - Sheriff
Steve DeCesari and Gary Pentis - Assistant Sheriffs