By Gazette Staff Writer — Thursday, November 3rd, 2016
By Gazette Staff Writer — Wednesday, October 26th, 2016
Fillmore Unified School District Superintendent Dr. Adrian Palazuelos and Board Member Scott Beylik recently spoke to the Fillmore Lions Club. They talked about the schools and the need for modernization and long-overdue upgrades and repairs, especially at Fillmore High School. They urged support for Measure V on the November ballot, which would fund $35 million in improvements. (Above) Superintendent Palazuelos (left) and Beylik (right) received Lions Club mugs from Lions President Scott Lee.
Enlarge Photo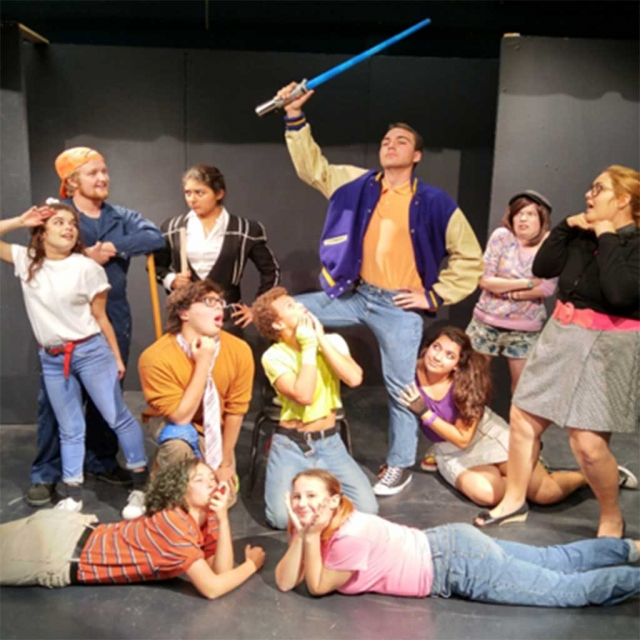 Fillmore High School Drama Club announces new production to open in November.
Enlarge Photo
By Gazette Staff Writer — Wednesday, October 26th, 2016
Fillmore High School's drama club, led by director Josh Overton, is bringing an original 80's jukebox musical to their stage in early November. "Totally Rad!" showcases the many talents of the students at Fillmore High and features some fantastic tunes from the 80's by Madonna, U2, The Go-Go's, The Police, and much more!
The 20+ member cast, led by Blake Palacio, Elana Strazzula, and Giselle Lozano, has been hard at work and can't wait to share this fun stage experience with you!
"Totally Rad!" opens Wednesday, November 2nd at 7pm in the drama room (right across from the Memorial Building) at Fillmore High School. There are also performances on November 3, 4, 5, 6, 9, 10, and 11. The Sunday, November 6th performance is at 2pm. Doors open 30 minutes before curtain. Tickets are $5 for senior citizens and students, $7 for adults. Snack and drinks will be available to purchase. All proceeds benefit the Fillmore High School Drama Club. Seating is limited and we expect this show to sell out, so get to the theatre early! Tickets only available at the door.
By Gazette Staff Writer — Monday, October 24th, 2016
By Gazette Staff Writer — Monday, October 17th, 2016
The Ventura County Writers Club is proud to announce the opening of their 17th annual short story contest. The fiction contest is open to all writers and winners receive cash prizes. Adult first place prize award is $500, second place is $250 and third place is $125. In the high school category, first place award is $100, second place is $75 and third place is $50. Winners are published in the club's biennial anthology. The contest closes at midnight on November 15, 2016.
Entries must be family friendly, original and previously unpublished—not appearing in any newspaper, magazine, or book, whether or not the author received compensation. Authors may enter multiple stories. Entrants may only receive one cash prize. Entries are accepted through submittable.com.
Stories are limited to 2,500 words or less. The submission fee for each story submitted: $15 U.S. for adult VCWC members; $25 U.S. for adult non-members; and $10 for high school students. Winners will be notified in early January 2017. Award Ceremony is January 10, 2017. Go to http://venturacountywriters.com/contests/short-story for more information or call Sheli Ellsworth at 805.499.3490.
Our club is open to writers at all ages and all levels of writing. We meet the second Tuesday of every month at 7:00 PM at the Pleasant Valley Senior Center, 1605 Burnley Street in Camarillo, CA. Meetings are free and open to everyone.
By Gazette Staff Writer — Thursday, October 13th, 2016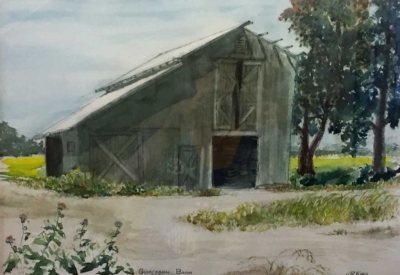 "Guiberson Barn" by Joanne King
Enlarge Photo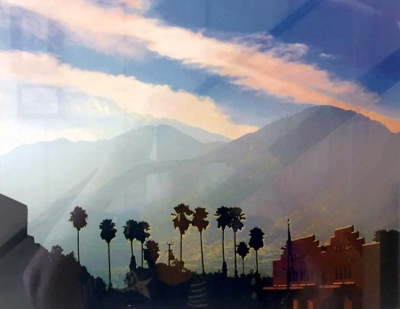 "Fillmore Fire Station" by Lady Jan Faulkner
Enlarge Photo
The Fillmore Historical Museum is pleased to be hosting an art exhibit "Southern California Images" produced by the Fillmore Artists Guild. The exhibit will be in place in the Rancho Sespe Bunkhouse building, 340 Main St., through November 19th. Our very talented local artists have produced interesting and beautiful work using a variety of media and local subjects. All are for sale. We at the museum hope that you will take the time to visit and admire their work. The museum is open on Tuesday, Wednesday, Friday from 9-12; Thursday from 1-4 and Saturday from 10 -3. For more information telephone: 805-524-0948.
By Gazette Staff Writer — Thursday, October 13th, 2016
Drought tolerant plants help win Yard of the Month for Hernandez Family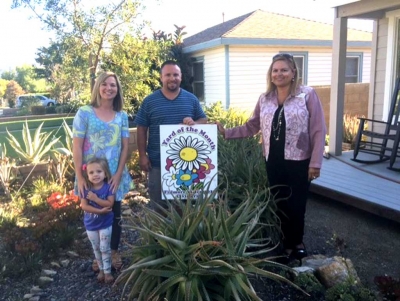 September Yard of the Month Winner's (l-r) Brynn, Megan, Eli Hernandez and Ari Larson.
Enlarge Photo
Congratulations to the September 2016 Yard of the Month recipients, the Hernandez family, consisting of Eli, Megan and their daughter Brynn. Presenting them the award this month was Ari Larson, a member of the Fillmore Civic Pride Vision 20/20 group. When asked about the inspiration for the front yard landscape, Eli said that, "In the midst of the current drought, I decided it best to replace my already dying grass with drought tolerant and succulent plants. Using a few of my late grandfather's aloes as focal points, I designed a colorful yet water conscious landscape using Fescue, Salvia, Euonymus, Cordyline and Rosemary. To fill in the rest, I used succulents including Crassula, Senecio, Sedum, Echeveria and Aeonium. I incorporated a few wooden containers filled with a few of the already named succulents to create depth. Over the years, I have continued to add and take away plants to change up the look and it always gives me something to work on all year round." View the home's inspiring use of succulents and drought tolerant plants at 649 Mountain View in Fillmore. Also, thank you to Otto & Sons Nursery for their donation of a $40 gift certificate to the family. For more information on Fillmore Civic Pride Vision 20/20 please contact Linda Nunes at 805.302.7527
By Gazette Staff Writer — Thursday, October 13th, 2016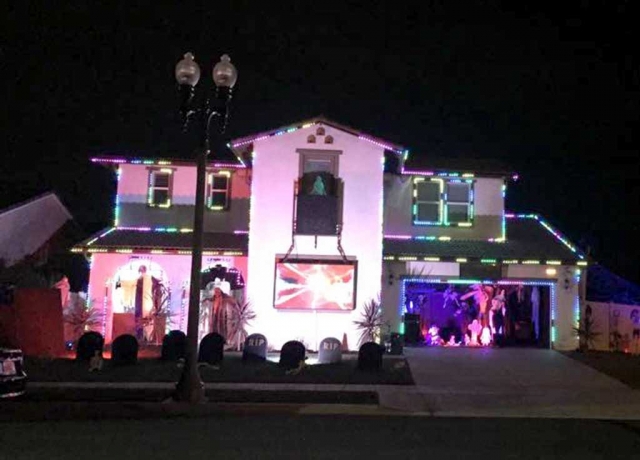 Halloween season is in full swing in Fillmore! A creepy holiday light and music show is on display at 408 Edgewood in The Bridges every night at 7:00, 7:30 and 8:00pm. The display includes music and visuals from Michael Jackson's Thriller, Ghostbusters and The Nightmare Before Christmas. Cruella de Vil and Capt. Hook also join the mayhem, along with music from all your favorite haunts, including songs from Disney's haunted mansion. You can tune into 97.7 FM on your car radio to listen to the frightfully familiar music. Homeowner Ron Howard went all out to make sure this Halloween is Spooktacular! Ghosts and goblins welcomed.
Enlarge Photo
By Gazette Staff Writer — Thursday, October 13th, 2016
Photographers... and wannabe photographers... meet to explore photographic possibilities Thursday, October 13, 2016, 7 p.m. at the Active Adult Community Center, 533 Santa Clara Street, Fillmore, CA.
Free! All that's needed is a camera, enthusiasm and an itchy shutter button finger.
In the near future, field trips, workshops, guest presenters. Shoot a theme for critique. Learn tips and techniques while enjoying the fun of photography.
When appropriate, to help photographers execute the assignment, brief instruction coinciding with the theme will be provided by facilitator Bob Crum, professional photojournalist.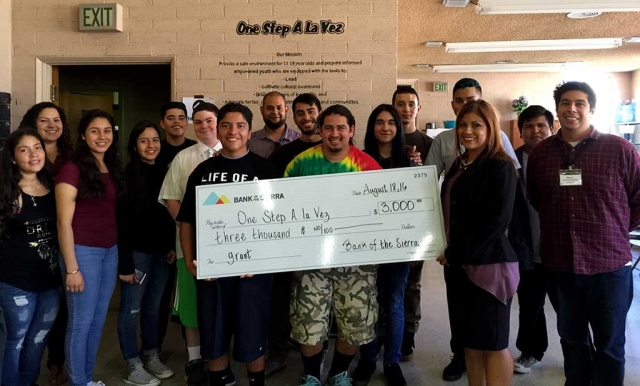 Bank of the Sierra donates $3000 grant to Fillmore's One Step a la Vez Teen Center's for thier Silk Screen Print Shop project.
Enlarge Photo
By Gazette Staff Writer — Thursday, October 13th, 2016
One Step a la Vez teen center, with the support of several community donors and a generous $3000 grant from Bank of the Sierra, is busy creating a social business in the form of a silk screen print shop.
The One Step Print Shop will create internships and eventually paid positions for teens to learn the business of silk screening. According to Executive Director, Kate English, "This will give them [teens] a chance to learn the basics of running a business, from marketing and sales, to the software/design aspect, and the actual mechanics of the silk screen equipment." She also stated that youth involved in the print shop program will take financial literacy classes and learn the importance of a budget, managing an account and building good credit.
Capstone students from California State Channel Islands University will be assisting the One Step Print Shop in researching equipment purchases and potential clients as part of a service learning program and the Social Business area of study at the university.
One Step a la Vez is a drop-in teen center and after school program in Fillmore for teens with safe space, homework help, video games, music lessons, a computer lab and community improvement committees for teens to participate in. For more information about the non-profit center contact Kate English, 805-625-7067.
By Gazette Staff Writer — Thursday, October 13th, 2016
The City is seeking applicants who are interested in serving on the Ventura County Citizens Transportation Advisory Committee (1 citizen member), as well as the Ventura County Transportation Commission ( 1 citizen member).
The Ventura County Citizens Transportation Advisory Committee (VCCTAC) is an advisory group to the Ventura County Transportation Commission for purposes of transportation planning and identification of unmet transit needs. This committee meets the first Friday of every month, except August, at 9:00 a.m. at Camarillo City Hall.
There is currently one (1) scheduled vacancy on VCCTAC; term to December 2019. Applicants must be City residents. Applications for VCCTAC are due November 14, 2016.
For further information on committee functions, please contact Mike Houser, (805) 376-5063 or mhouser@toaks.org.
Applicants are vetted using a standard review process, and if selected, will be appointed.
Additionally, there is currently one scheduled vacancy for a citizen member on the Ventura County Transportation Commission (VCTC). VCTC's mission is to improve mobility within the County and increase funding to meet transportation needs. To fulfill that mission, the VCTC establishes transportation policies and priorities ensuring an equitable allocation of federal, state and local funds for highway, transit, rail, aviation, bicycle and other transportation projects.
One applicant from the City of Thousand Oaks will be considered for a single opening, to be selected amongst all the 11 Ventura County cities, including the County of Ventura, on VCTC. This person will not be an elected official, but will be a resident of Ventura County. Applicant will be appointed to the commission after review by the Ventura County City Selection Committee. Applications for VCTC are due November 14, 2016.
For further information, please contact Jay Spurgin, (805) 449-2444 or jspurgin@toaks.org.
Applications, and additional recruitment information, may be accessed on the City's Website at http://www.toaks.org/departments/city-clerk/boards-commissions/committee.... Application material may also be requested from the City Clerk Department, 2100 E. Thousand Oaks Blvd., (805) 449-2151 or CityClerk@toaks.org.
By Gazette Staff Writer — Wednesday, October 12th, 2016
The Ventura County Rose Society will hold its monthly meeting on Thursday, October 27, 2016 at the Ventura County Office of Education Conference Center at 5100 Adolfo Rd., Camarillo.
The doors will open at 6:30 p.m. for advice from Consulting Rosarians and refreshments, We will have our Little Rose Show at 7:00 P.M. Our presentation will begin at 7:30 P.M.
The VCRS meeting will feature Corey Welles who is the Plant Health Care Coordinator at Lotusland. Corey will be talking about plant health with an emphasis on roses and sustainable ways to have plant health in drought conditions.
Visitors are always welcome to our VCRS meetings. For more information contact; Janet Sklar at 818-993-6622 or Dawn-Marie Johnson at 805-523-9003. Our website is http://www.venturarose.org/
By Gazette Staff Writer — Wednesday, October 12th, 2016
California Lutheran University's Center for Nonprofit Leadership announces the following upcoming workshops for October. These workshops are designed to provide practical and applicable skills for nonprofit leaders in Ventura County and beyond. All workshops will be held at Cal Lutheran's Oxnard Campus at 2201 Outlet Center Dr., Oxnard.
• Positive Communication Strategies for Your Team—This interactive workshop will help you become a more effective communicator, problem-solver and trusted, focused leader. To be held Wednesday, Oct. 12 from 9 a.m. - noon. Cost for members: $45, non-members: $50.
• Building a Board that Works—Nonprofit consultant Andy Robinson explains how to take your board from good to great! Perfect for new board members as well as seasoned leaders interested in expanding their skill set. This event is co-sponsored by the Greater Conejo Valley Chamber of Commerce. To be held Wednesday, Oct. 19 from 8 a.m. - 12:30 pm. Cost is free for members, non-members, $75.
• A Tailored Development Plan that is Right for You—In this two-workshop session, we will create or refine your plan to maximize the dollars you raise and even out the peaks and valleys of your income. To be held Thursday, Oct. 20 from 9 a.m. - noon. Part two to be held Nov. 3 from 9 a.m. - noon. Cost for members: $75, non-members: $90.
• Perfecting Your Pitch–This workshop will examine how to create a thoughtful, intentional ask that considers who your donor is and what they care about. To be held Tuesday, Oct. 25, from 9 a.m. - noon. Cost for members: $45, non-members: $50.
• Planning to Plan: Strategic Planning Preparation—The phrase "strategic planning" can spark fear and frustration with executive directors and boards of directors. This workshop will explore the important steps in the strategic planning process and how to adapt them based on organizational needs. To be held Thursday, Oct. 27 from 1 - 4 p.m. Cost for members: $45, non-members: $50.
For more details or to register for a workshop, visit callutheran.edu/nonprofit. For questions regarding registering for a workshop, contact program coordinator, Leanne Blackwell at (805) 493-3740 or blackwell@callutheran.edu.
As the only management training center of its kind in Ventura County, the Center for Nonprofit Leadership provides practical and affordable professional development opportunities for nonprofit leaders. The Center focuses on offering training, technical assistance, and access to research materials to help strengthen the leadership of nonprofit organizations throughout Ventura County and beyond. For more information, visit callutheran.edu/nonprofit or contact the Center at (805) 493-3740 or email blackwell@callutheran.edu.
By Gazette Staff Writer — Wednesday, October 12th, 2016
October 29, 2016
By Gazette Staff Writer — Thursday, October 6th, 2016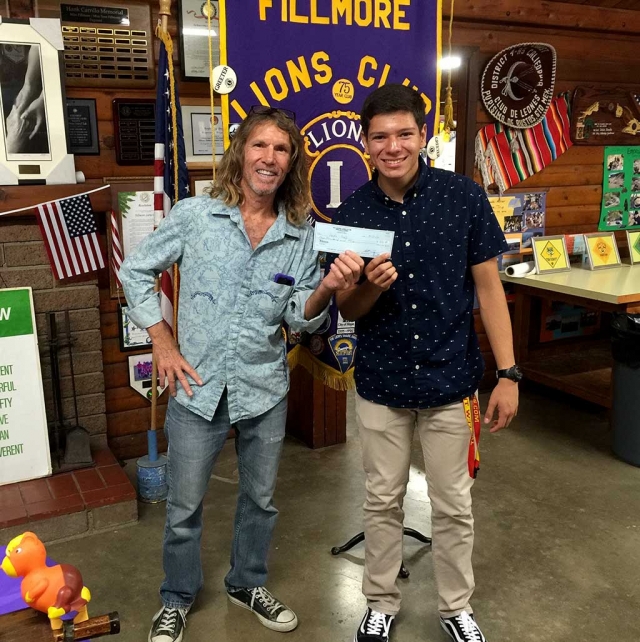 Fillmore Lion Paul Benavidez (left) presents a check for $500 to Leo Club Vice President Jaime Malagon, a senior at Fillmore High School. The Fillmore Lions Club sponsored the new club for young people, which was chartered in 2014. The Lions Club donates money each year to support the Leos. Lions clubs sponsor approximately 5,800 Leo clubs in 140 countries. While helping others in their community, Leos develop leadership skills and experience teamwork in action.
Enlarge Photo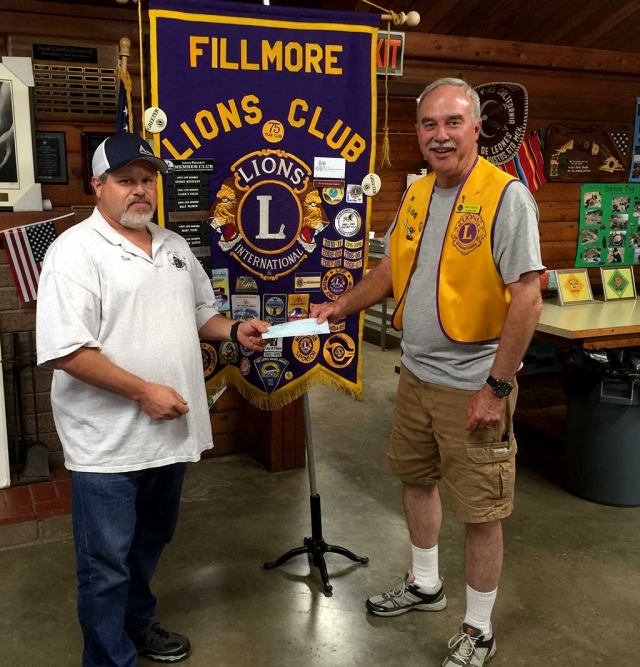 Brett Chandler, Scout Master for Fillmore Troop 406 and treasurer for the Fillmore Lions Club, accepts a $500 check from Lion Ron Smith at a recent meeting. The lions support the troop which shares the scout clubhouse with he Lions club.
Enlarge Photo
By Gazette Staff Writer — Wednesday, September 28th, 2016
One month left to take advantage of solar savings!
Solarize 126, a community-led program offering group discounts on solar electrical systems, is available for one more month before it expires on Oct 31st. The program offers vetted installers and sizable discounts on solar installations to homeowners in Ventura County along California State Route 126. Solarize 126 is offered as a partnership between The Community Environmental Council (CEC), The Ojai Valley Green Coalition (OVGC), and the vetted installer partners.
The Community Environmental Council (CEC) began offering Solarize programs in Santa Barbara in 2011 as a tool to make going solar simpler and more affordable, and to increase the amount of renewable energy in the region. Since 2011, CEC has helped over 480 homeowners go solar in Santa Barbara, Ventura, Ojai, and surrounding communities. Solarize 126 is the first time that the Solarize program is being offered in Santa Paula, Fillmore, and Piru. "With discounted, fixed pricing from vetted installers and education through workshops and independent consultation, Solarize has streamlined going solar and made to process easier on the customer," explained Jefferson Litten, CEC's Director of Energy Programs, "We are excited to bring the program to the Santa Clara River Valley." The neighboring community of Ojai has hosted Solarize programs for four years, with 41 solar systems installed through the program within the Ojai Valley. Solarize 2015 participant, Sandra Blasé explained, "It was a great program. I was looking into putting solar on my house, but it was a little beyond my budget. This program made it possible to do it. So far I have had no problem with it and California Solar Electric did a great job. It was installed quickly and professionally."
Solarize 126 features two local solar installers, California Solar Electric and Coastal Solar, who are both offering special discounted pricing for 126 corridor residents. The firms were selected for Solarize 126 after careful evaluation and vetting by a committee of local experts. Both companies are locally owned family businesses with years of experience in the region. "We are very excited to partner with California Solar Electric and Coastal Solar for this year's program," said Litten. "Not only are both companies local, they are both offering top quality panels and installation."
As part of the program, CEC and OVGC will host free educational workshops covering solar technologies, energy efficiency, financing options and the Solarize program. "The workshops are a great opportunity to learn the ins and outs of going solar - from technical aspects to the effects on home values, to how your electric bills will shrink," said Litten. Robert Garven, a Solarize Participant in 2015, was particularly grateful for the education he received through Solarize. Robert explained, "I went to a homeowner workshop, and when I left an hour later I felt like I knew everything that I needed to know about going solar. The workshops saved me hours of research and the installers I worked with were fantastic"
In addition to monthly savings on their electricity bills, Solarize participants will help support the CEC and OVGC's missions to increase renewable energy in the region. For each homeowner that goes solar through the program, CEC's partnered solar installers will pay, at no additional cost to the homeowner,
a small fee which covers program costs and allows CEC and OVGC to continue to offer the program to local communities.
Solarize 126 launched on August 1, 2016, and runs through October 31, 2016. During this time, homeowners with the zip codes of 93015 and 93060 can switch to solar at a fixed, group-purchasing price the program's vetted installers, California Solar Electric and Coastal Solar.
Upcoming Workshop:
Tuesday, October 4 6:00-7:30pm Blanchard/Santa Paula Community Library, 119 N 8th St, Santa Paula, CA 93060
More information is available at www.Solarize126.org or by calling 805-963-0583 x 101.
About the Community Environmental Council
Since 1970, the Community Environmental Council (CEC) has led the Central Coast region – and at times California and the nation – in creative solutions to some of the toughest environmental problems. Today CEC is focused on the climate, encouraging global change through local action with five initiatives: Drive Less, Choose Electric, Go Solar, Ditch Plastic, and Eat Local.
By Ventura County Sheriff Department — Wednesday, September 28th, 2016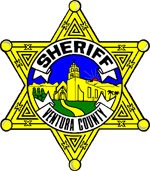 Ventura County Sheriff's Department
According to the Center for Disease Control, "Millions of Americans ride bicycles, but less than half wear bicycle helmets. For example, a national survey conducted in 2001-2003 found that only 48% of children ages 5-14 years wore bicycle helmets when riding. Further, older children were less likely to wear helmets than younger children. In 2010 in the U.S., 800 bicyclists were killed and an estimated 515,000 sustained bicycle-related injuries that required emergency department care. Roughly half of these cyclists were children and adolescents under the age of 20. Annually, 26,000 of these bicycle-related injuries to children and adolescents are traumatic brain injuries treated in emergency departments." (http://www.cdc.gov/healthcommunication/toolstemplates/entertainmented/ti...)
To promote safe riding and the wearing of safety equipment, the Fillmore Police Department held its Second Annual Bicycle and Skateboard Safety Rodeo this past Saturday, September 24th, at the Fillmore Middle School. The event, which was free to the public, featured safety instruction, an obstacle course, bicycle and skateboard safety inspections, and proper helmet fitting. New donated bicycles and skateboards were raffled to children at the event. California state law (21212 VC) requires all bicycle riders and skateboarders, under the age of 18, to wear helmets. 123 free helmets were given to children in need, 92 children completed the safety course, and 45 bicycles were registered with the Fillmore Police Department to help prevent theft and assist with the return of lost or stolen bicycles to their owners. The Fillmore Police Department and Ventura County Sheriff's Office will continue to register bicycles throughout the year for a $5.00 fee.
The event was combined with a Public Safety Day, allowing children and their parents to meet the first responders who protect Bardsdale, Fillmore, Piru, and the surrounding county and federal lands. Agencies on hand included American Medical Response, Fillmore Fire Department, Ventura County Fire Department, Fillmore Police Department, Ventura County Sheriff's Office, California Highway Patrol, California Fish and Wildlife, and Los Padres National Forest Fire Department and Law Enforcement.
This event was made possible by through the generous help of the Fillmore Fire Foundation, Fillmore Police Department's Citizen Patrol, First 5 Ventura County – Santa Clara Valley, Fillmore Lions Club, Fillmore Rotary Club, Ventura County Deputy Sheriff's Association, Baskin-Robbins, Mejia's Nursery, Ragatz Performance Bicycles of Santa Paula, and SkateLab of Simi Valley. FOOD Share and the Ventura County Health Care Agency provided additional support and resources to the attendees.
Nature of Incident: Fillmore Bicycle and Skateboard Safety Rodeo / Public Safety Day
Report Number:
Location: Fillmore Middle School, 543 A Street
Date & Time: September 24, 2016, 9:00 AM – 12:00 PM
Unit(s) Responsible: Fillmore Police Department
Prepared by: Sergeant Kevin Vaden
News Release Date: 9-26-16
Media Follow-Up Contact: Sergeant Kevin Vaden
805-524-2233 / kevin.vaden@ventura.org
Approved by: Captain Dave Wareham
By Gazette Staff Writer — Wednesday, September 28th, 2016
Interested in getting your novel, memoir, poetry collection, or children's book in eBook and print-ready formats? Ventura County Library now has Pressbooks, an easy online tool that allows you to create professional quality versions of your book in popular publication formats.
Combined with other aspects of BiblioBoard Digital Library, our newest online resource, local authors now have free access to the following tools for local publication:
• PressBooks: An easy-to-use online tool for authors, allowing you to create professional, print ready, quality versions of your books, memoirs, or poetry collections in ePUB, MOBI, and PDF formats.
• SELF-e: An innovative collaboration between Library Journal and BiblioBoard enabling authors and libraries to work together to share self-published ebooks to eager readers looking to discover something new.
• Indie California: great reads in all genres from local authors. Start reading today to find your next favorite book!
Ventura County Library Director Jackie Griffin says, "Adding BiblioBoard with PressBooks, SELF-e, and Indie California to our digital eLibrary reinforces Ventura County Library as a center for community engagement. We are excited to promote local authors and put diverse and self-published books into our reader's hands."
BiblioBoard's mobile apps available free from Apple App Store and Google Play.
Find PressBooks under BiblioBoard in the Ventura County eLibrary.
The Ventura County Library is available 24/7 at www.vencolibrary.org
Ventura County Library System:
Inspiring our community to explore, discover and connect.
By Gazette Staff Writer — Thursday, September 22nd, 2016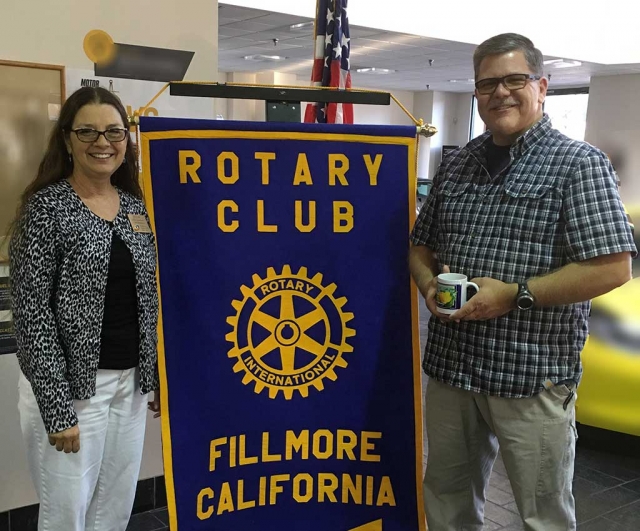 Rotary President Julie Latshaw presented a Rotary mug to Sergeant Kevin Vaden. He informed the Club about the Public Safety Day/Bicycle Rodeo which will be held at the Fillmore Middle School, on September 24, from 9-12. It will be an enjoyable event for children and adults.
Enlarge Photo
By Gazette Staff Writer — Thursday, September 22nd, 2016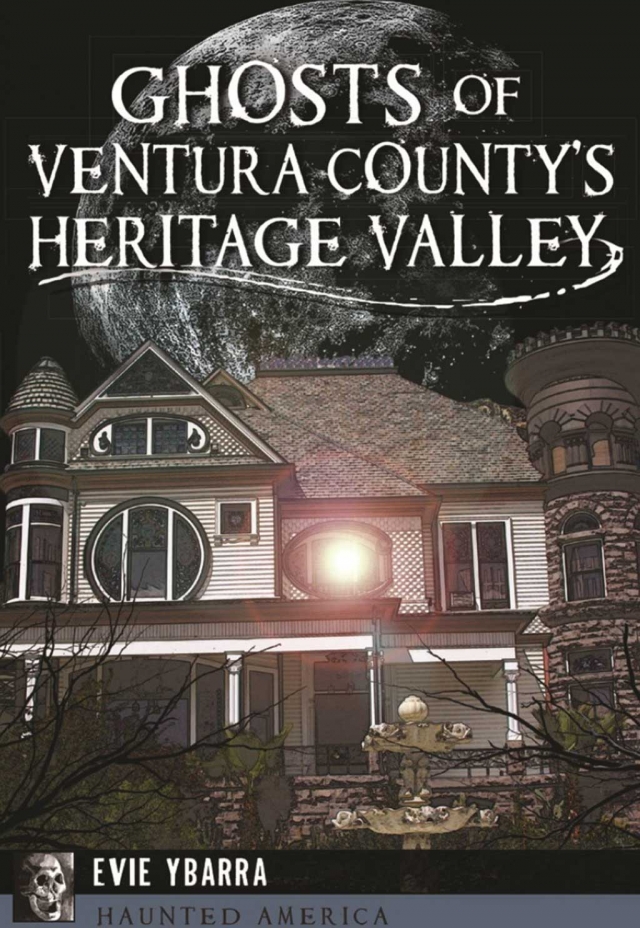 Fillmore Historical Museum will be hosting a book signing on September 28th at 3pm-5pm. The book is about many of the tales, legends and hauntings in the Heritage Valley. Stories about Fillmore, Rancho Sespe, Santa Paula and Piru are included. The title is GHOSTS OF VENTURA COUNTY'S HERITAGE VALLEY, written by Evie Ybarra.
Enlarge Photo