By Gazette Staff Writer — Tuesday, June 3rd, 2014
By Ventura County Sheriff Department — Tuesday, June 3rd, 2014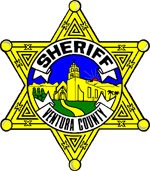 Ventura County Sheriff's Department
To further enhance our services to the community, the Sheriff's Office is offering voter registration forms at all of our stations. The forms can be used for new voter registration, or to update information such as address changes.
Once completed, the forms can be dropped in the mail free of charge, or they can be left with our staff at any of the sheriff's substations throughout the county. We will gladly send the forms to the Ventura County Registrar of Voter's office for processing. The deadline for voter registration is always 15 calendar days before an election.
Our patrol stations can be found at the following locations:
Camarillo: 3701 East Las Posas Road
Fillmore: 524 Sespe Avenue
Headquarters: 800 South Victoria Avenue, Ventura
Lockwood Valley: 15021 Lockwood Valley Road
Moorpark: 610 Spring Road
Ojai: 402 South Ventura Street
Thousand Oaks: 2101 East Olsen Road
For statewide voter assistance, please call (800)345-VOTE (8683). To register to vote online, please visit the website at: www.registertovote.ca.gov
Prepared by: Sgt. Eric Buschow
Media Release Date: June 2, 2014
Follow-Up Contact: Capt. Don Aguilar (805) 797-7349
Approved by: Cmdr. Bill Ayub
By Gazette Staff Writer — Tuesday, June 3rd, 2014
Hey Kids & Teens! From June 1 through August 9, Ventura County Library urges you to gallop, crawl, slither or fly to join the Summer Reading Program, "Paws to Read" for a summer of fun and prizes. Earn prizes for every 5 hours that you read (or are read to) and enter into an end-of-summer grand prize drawing. Wait there is more!!! Check out all the free fun filled activities--animal shows, puppet shows, magic, crafts and games--happening at Ventura County Library throughout the summer by visiting www.vencolibrary.org.
There's also a serious side to summer reading. Research has shown that reading over the summer prevents summer reading loss. To succeed in school and life, children and young adults need ongoing opportunities to learn and practice essential skills. "Paws to Read" reminds kids that reading is for fun-as well as for learning.
By Gazette Staff Writer — Monday, June 2nd, 2014
Livingston Hospice conducts several adult bereavement support groups to help those who have experienced a loss. Explore and express feeling, understand the grief process and receive emotional support. Open to the public, no cost, all are welcome; the groups are held at:
• The First Presbyterian Church, 850 Ivywood Drive, Oxnard; Every Wednesday, (June 4, 11, 18, 25); from 3:00 – 4:30 pm
• Livingston Memorial VNA, 1996 Eastman Ave (#112), Ventura; Every Wednesday, (June 4, 11, 18, 25); from 6:30 – 8:00
• Help of Ojai, 370 Baldwin Road, Ojai; On 2nd & 4th Tuesday, (June 10 & June 24 ); from 10:30 am – 12 noon
• For the newly bereaved: at Livingston Memorial VNA, 1996 Eastman Ave, (#112), Ventura; second Thursday, (June 12 ); from 6:00 – 7:30 pm
Call 642-1608 for more information.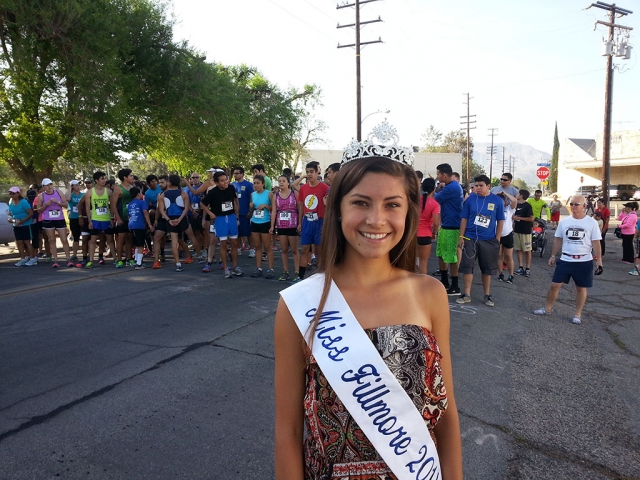 Kiana Hope, Miss Fillmore 2014, honorary starter.
Enlarge Photo
By Cindy Blatt — Wednesday, May 28th, 2014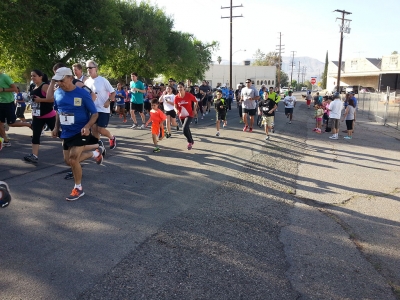 Start of the Heritage Valley 5-10K Run & Fitness Walk.
Enlarge Photo
The annual Heritage Valley 5k-10K Race, Fitness Walk, Fun Run and Health Fair was again a success. Over 150 runners & walkers entered this year. The race is sponsored by the Rotary Club of Fillmore with partners Fillmore Unified School District and Cops Running for Charity. Runners & walkers of all ages enjoyed great weather. After the race the participants, family members and friends enjoyed the sunshine on the lawn of FUSD administration waiting for final results. Vendors included Relay for Life, Attraction Spa, Runners Lane of Santa Clarita, and Greg Palmer of Jatamansi Massage. Timing systems and results were handled by Podium One Timing and Race Management of Santa Clarita.
Donated prizes were raffled off by Rotarians Bob Hammond and George Golden. Raffle items were donated by Starbucks, El Pescador Restaurant, Fosters Freeze of Santa Paula, Rabalais' Bistro, Rancho Simpatica & Ed McFadden, Attraction Spa, Richardson Ranch, Cindy & Mike Blatt, Don & Ruth Gunderson, Rigo Landeros, Jan Marholin, Fillmore Piru Citrus Association, The Scented Path, Central Station Bar & Grill, and Elkins Ranch Golf Course.
Overall female winner of the 5K was Erika Ruiz in 21:38.12 and overall male winner was Anthony Rivas in 17:25.1. Overall female winner of the 10K was Maria Villalobos in 46:57.8 and overall male winner was Kevin McSweeney in 39:16.9. These winners received a gift certificate from Runners Lane. Medals were presented to the top three places in each age group/gender.
Teams participated for the opportunity to win funds for their favorite charity. The first place team in the 5k was the FitQuest with Rory. A $100 donation will be made to American Cancer Society. The first place team in the 10K was FitQuest with Jason. A $100 donation will be made to San Salvador Mission in Piru.
Fun Run entrants, Asher Gonzalez (3yrs), Ariel Sanchez (7) and Jason Martinez (12) participated in a 1 mile run. They all wore #1 on their running bibs as they ran around the Sespe School and FUSD administration building.
The Rotary Club of Fillmore would like to thank our sponsors and supporters with special acknowledgement to our Silver & Bronze Sponsors. Silver Sponsors: Fillmore Piru Citrus Assocation, Valley Care IPA, Union Bank and Harrison Industries.
Bronze sponsors: Mission Avocados, Hands-On Consultations, Edward Jones, Gary & Vicki Ball, Ag Land Services, Richardson Ranches, VCDSA and Ventura County Search & Rescue. Fitness Fans: Aguirre Financial, Bennett's Honey Farm, Cindy & Mike Blatt, Jan Marholin, FitQuest, Western Yosemite Insurance Services, Valley Crest Trees, Barkley Insurance, & Risk Management – Sean Morris, Sketchpad Publications, Water Art Design, Krazy Jumps (tables), The Water Store (water & ice), Santa Clara Valley Bank (10 cases of bottled water), Subway (sandwich platters), Super A (boxes of fruit) and all the raffle item donors.
Thank you to all our volunteers: Epi Torres, Joe Martinez, Rafael Laureano, Julie Lugo, Daisy Palma, Scott & Jan Lee, Ari Larson, Shane Ragatz, Julie Latshaw, Stephen McKeown, Paige McKeown, Diane Wareham, Shelly Johnson, Joanne Torres (PYS), Ivette Huerta, Brian Richmond, Kim Tafoya, Trina Tafoya, Tony Tafoya, Mario Gaspar, Lupita Perez, Isaac Gonzales, Anthony Rodriguez, Adriana Rodriguez and Cristian Cabrera. (Our apologies to anyone we missed!).
Funds raised from this event go to school sports & fitness equipment and Rotary community projects like FHS & Sierra H.S. scholarships, dictionaries to all third graders, RYLA (youth leadership camp), Car Seat project, public access gate at FHS track, Condor Cross Country, Grad Nite Live, Cub Scout Pack 3400 – just to name a few.
By Gazette Staff Writer — Wednesday, May 28th, 2014
Car Wash For Froggy Estrada Saturday May 31st, 10:30am at Super A Parking Lot.
Half Fundraiser, Half Donation towards Froggy's Pro Career expenses his Pro License and Medical expenses. Additional money left from the Car will go back to his traing facility West Coast Jiu Jitsu.
Froggy will be leaving the Amateur level with a 5 & 0 record. His Pro contract will be with NFA (National Fight Alliance) and will be fighting against Marlin McGee who has a record of 5 & 3 as an Amateur and 0 & 2 as a professional. So come show your support for a local trying to do big things in this community, every bit helps.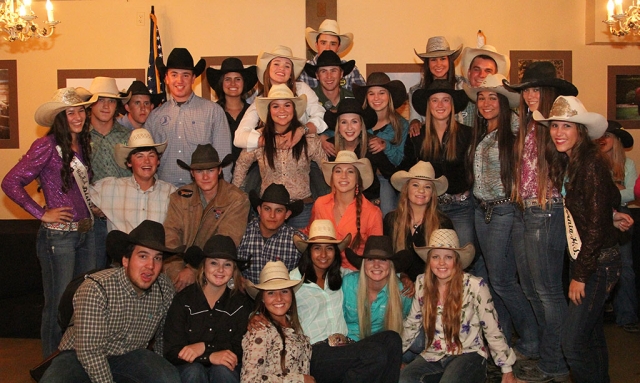 CHSRA District 7 has completed its 2013-2014 rodeo season and a number of our members will be going to the state finals rodeos in the next two months. Seventeen junior high division members qualified for CHSRA Junior High State Finals and 31 high school division members qualified for CHSRA High School State Finals. Pictured Back row (Row 1) Chance Ruffoni, Hayley Hamer, Tristan Ruffoni, Cody Snow, Kelly Knouse, Makenna Kramer, Taylor Rivera, Cayden Cox, (Row 2) Kassidy Hamer, Wacey Barrington, PJ Capone, Cheyenne Rey, Shaley Stickler, Cersten Branquinho, Kelsi Pond, Darbie Pond, Kara Kester, (Row 3) Zack Varian, Cash Parrott, Tatem Forsberg, Corinn Bowman, Victoria Covert, Front row (Row 4) Caden Clay, Johanna Work, Meghann McNulty, Emily Mangione, Sarah Nance, Sage Massey.
Enlarge Photo
By Gazette Staff Writer — Wednesday, May 21st, 2014
California High School Rodeo Association (CHSRA) District 7 today announced qualifiers for this year's Junior High State Finals and High School State Finals rodeos. Throughout the year, members accumulate points based on their performance at local and multidistrict rodeos, with high school members competing in eight rodeos and junior high members competing in seven. The top five point earners in each event qualify for state finals.
"District 7 is fortunate to have a number of highly talented rodeo athletes," Ed Hamer, District 7 adult board president. "The competition within our district is intense and the point spread can be very small. So qualifying for state finals is a major accomplishment. We know these members will do an outstanding job of representing us at the state level, and a number of them will go on to participate in the National High School Finals Rodeo and the National Junior High Finals Rodeo this summer."
CHSRA High School State Finals Rodeo is scheduled for June 9 - 13 in Bishop, California. The District 7 State Finals team includes Tatem Forsberg, Fillmore, Fillmore High School – team roping (header), tie-down roping, boys cutting.
About CHSRA District 7
CHSRA is a nonprofit organization that maintains the order and standards set up by the National High School Rodeo Association (NHSRA) and promotes high school rodeo on a state level. District 7 encompasses San Luis Obispo, Santa Barbara and Ventura Counties. The district is committed to promoting the highest level of conduct and sportsmanship at the various rodeos and encouraging members to continue their education. For additional information, visit www.chsradist7.com or contact the membership secretary at staceynance@mac.com.
By Gazette Staff Writer — Wednesday, May 21st, 2014
On May 17th, 2014 the Fillmore FFA held it's 3rd annual May Festival Pancake Breakfast. It was a success! Four
hundred and fifty community members including our own Miss Fillmore Kiana Hope, the Sheriff's Deputies and Explorers! We served all you can eat pancakes with a side of eggs and sausage donated by the Old Fashion Country Butcher.
A special thanks to Tom Mayhew, Mike Saviers, and Adrian Garcia for cooking more than 600 pancakes and sausages!
Thank you to all who helped and for continued support. We hope to see you all next year!
By Gazette Staff Writer — Tuesday, May 20th, 2014
Summer is coming, and while schools and libraries across the nation are gearing up to get kids involved in summer reading programs, E.P. Foster Library wants to ask: "Why should kids have all the fun?"
For six weeks in June and July, you can participate in E.P. Foster Library's Summer Reading for Adults contest. Entering is simple: just read a book and tell us about it! Any book is fair game, simply visit http://tiny.cc/fostersrp after June 14th to fill out an online form with the title of the book, your name, and the best way to contact you. Your name will be entered in a weekly prize drawing along with the other readers for that week. If you don't win, don't worry—just enter again the following week!
All interested adults (age 18 or older) with a valid Ventura County Library card are eligible to enter. At the end of the contest, the library will hold a drawing for our grand prize: an Amazon Kindle Paperwhite! So while you can only win one weekly prize, all entries will be included in the final drawing; that gives you up to six chances to win that Kindle!
Summer Reading for Adults will begin on Sunday, June 15, and continue until July 27. For additional information about the context, contact the E.P. Foster Library at 805-648-2716.
E.P. Foster Library is located at 651 E. Main Street in Ventura. Hours of service are Monday – Thursday 10-8, Friday & Saturday 10-5, and Sunday 1-5.
The Ventura County Library is available 24/7 at www.vencolibrary.org.
By Gazette Staff Writer — Tuesday, May 20th, 2014
By Gazette Staff Writer — Tuesday, May 20th, 2014
Home Style
Saturday May 24th 2014 9 a.m. - 5 p.m.
at East Area Field, Hallock & Hwy 126
Admission: Adults $5, Children free
Live Music Food Vendors Arts & Crafts Beer Garden
Chili Cook-off Kid's Zone Display Booths
Sanctioned by the Safe Fun Come & see!
International Chili Society
We thank our Sponsors: City of Santa Paula & Police Department, Ventura County Deputy Sherriff's Association, Crown Disposal, Limoneira, Brokaw Nursery, Mission Produce Inc, Santa Paula Times, Ventura County Star, House Arrest Band, D.J. After Hour Productions, Attorney Ben A. Schuck III, Anacapa Mobil Home Park, Rancho Santa Paula Mobil Home Park, Rubber Neck Signs, Ventura Crane Inc.
Jumping Joe and anonym person with Hospice at Heart.
Vendors and Cooks are still welcome to sign up. For Deadlines and Application Information please contact
Hospice: 805 525-1333 or scvhospicehomesupport@verizon.net or Leanne Thompson at 805 651-4246
By Gazette Staff Writer — Tuesday, May 20th, 2014
Triple P Positive Parenting Program is currently being offered to the Fillmore community. Triple P has been working with the schools and SARB for the last 3 years to help parents deal and manage difficult behaviors they may be facing with their children. The Parenting group is free and is currently holding its meetings at the One Step A La Vez in Fillmore. They meet on Monday's, from 6pm to 7:30pm. Interface is reaching out to the community of Fillmore to help them become aware of strategies that can benefit not only their children but their households. A priority is to help parents feel supported in their role as a parent.
By Gazette Staff Writer — Wednesday, May 14th, 2014
In observance of the Memorial Day holiday, employees of Santa Clara Valley Disposal will be taking the day off on Monday, May 26. As a result, Fillmore city residential customers will have their trash and green waste collected on Saturday, May 31, one day later than usual.
The regular Friday collection schedule will resume the following week.
For more information, call 647-1414.
By Gazette Staff Writer — Tuesday, May 13th, 2014

The FUSD Elementary Bands along with the FMS and FHS Bands will present a concert on Monday, May 19 at 6:00 in the FMS Gym. Admission is free. Refreshments will be sold by the Fillmore Band Boosters.
Enlarge Photo
By Gazette Staff Writer — Tuesday, May 13th, 2014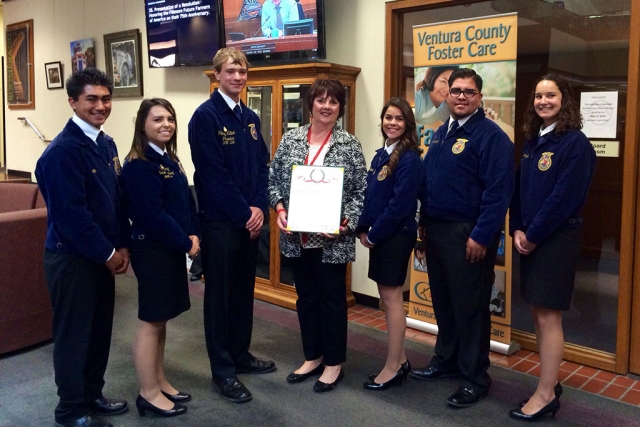 Tuesday May, 13th Supervisor Kathy Long presented the Fillmore FFA students with a proclamation celebrating 75 years of continued service in developing and educating community leaders in Agriculture and Leadership.
Enlarge Photo
By Gazette Staff Writer — Tuesday, May 13th, 2014
Fillmore FFA 3rd Annual May Festival Pancake Breakfast Saturday May 17th "Parade Day", 7:00 - 9:30 am
at the Fillmore Veterans Memorial Bldg.
By Gazette Staff Writer — Tuesday, May 13th, 2014
One Step a la Vez is now busy planning their summer program for teens ages 13-19. Center membership is free. Presently being considered are a Water Week, including swimming and the beach, Equestrian Week, Art Week, Week of Music, and various field trips. The center welcomes community input and partnering. For more information about the program, or to view their upcoming calendar events: find them on facebook or at www.myonestep.org.
By Gazette Staff Writer — Tuesday, May 13th, 2014
One Step a la Vez overflowed with community support, beautiful music and well fed folks last Saturday. The fundraising Tardeada (afternoon event) was a great success in its aims to not only raise awareness and funds for the drop-in teen center and after school program but to create an event for the city of Fillmore that would celebrate the music and heritage of the Latino culture. The local and gifted band Conjunto Zacamandu, featuring Tomás Herrera entertained the crowd with their Vera Cruz style vocal and harp music.
One Step A La Vez's mission is to serve the communities of the Santa Clara Valley by providing a safe environment for 13-19 year olds and preparing informed, empowered youth who are equipped with the tools to lead; cultivate cultural awareness; bridge the gaps of inequality; and advocate for fair, just, and healthy individuals and communities.
By Gazette Staff Writer — Tuesday, May 13th, 2014
Ventura, CA - Community Memorial Hospital and Ojai Valley Community Hospital, the foundation facilities of the Community Memorial Health System, received top recognition in the Ventura County Star's 2014 Readers' Choice Winners & Favorites awards.
Community Memorial Hospital was the West County winner in the Hospital category, while Ojai Valley Community Hospital earned West County favorite designation. The newspaper's balloting was conducted online over a three-week period in January and February. The Star issued its Readers' Choice in its May 4 edition.
"CMHS's administration, board of trustees, medical staff and employees are deeply committed to providing the highest quality healthcare to our friends and neighbors throughout Ventura County," said CMHS President and CEO Gary Wilde.
Wilde added that superb medical facilities play an important role in a community's quality of life, "ranking alongside other factors, such as housing, employment opportunities, effective education and cultural and social life. We are honored to be a cornerstone of this community, having provided more than a century of noble service."
CMH and OVCH earned the recognition while in the midst of big changes for both medical facilities.
A new six-story, 325,000-square-foot hospital is being built next to the current 242-bed CMH, and is scheduled to open in 2015. It will have 250 private rooms, comfortable space for families and a healing garden on the grounds.
The new CMH, which meets seismic demands, also will have a larger Emergency Room and greater imaging capability than the present hospital. It also will have additional Heart Catheterization labs, expanded Intensive Care and Cardiac Care Recovery Units and a larger Level III Neonatal Intensive Care Unit. The hospital's 10 surgical theaters will have leading-edge medical technology.
The 103-bed OVCH, meanwhile, is undergoing an extensive modernization project that includes construction of a new entry in the Spanish Colonial Revival style that better integrates the look of the facility within the Ojai Valley environment. It also includes plans to build a new 60-bed Continuing Care Center (skilled nursing facility) to replace the existing CCC facility.
Community Memorial Health System is a not-for-profit health system, which is comprised of Community Memorial Hospital, Ojai Valley Community Hospital, and 11 family-practice health centers entitled Centers for Family Health. The health system is located in Ventura County, California.
By Gazette Staff Writer — Tuesday, May 13th, 2014