By Mark Ortega — Wednesday, October 22nd, 2014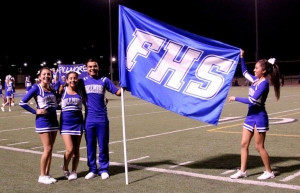 Hello Alumni. The Alumni Association invites the whole community of Fillmore and Alumni to come up to Beautiful Santa Barbara this Saturday To cheer on our 6-1 Fillmore Flashes. Our Flashes play the 7-0 Bishop Diego Cardinals at Santa Barbara City College at 7:00pm Saturday evening. The Alumni Association will be camped out at Shoreline Cafe for the big pre game party across the street from the stadium from 4:00pm to 6:00pm. Come have an early dinner then literately walk across the street to cheer on our team. It's the first Tri-Valley league game of the season, and our Flashes need our community support. See you at Shoreline Cafe at 4:00pm, then onto the game to cheer on our Flashes. Let's do this!
By David W. Rowlands — Wednesday, October 22nd, 2014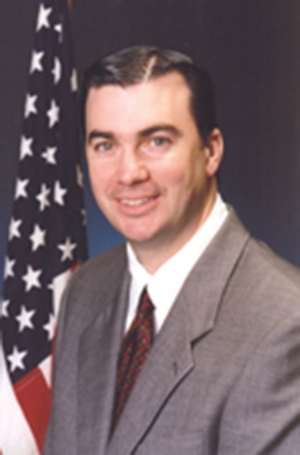 David W. Rowlands, City Manager
It is my pleasure to serve as your city manager and take in the beauty that surrounds our great city. It is my hope to work with the Fillmore-Gazette to provide guest columns discussing the happenings at City Hall. This first column will focus on economic development and communication.
Economic Development
The council will be adopting an Economic Development Strategic Plan to assist the city in moving forward with economic development activities in Fillmore at their Tuesday, October 28 meeting. The plan is a living document that establishes direction for Fillmore's short and long-term economic development.
The Plan identifies actions for the city to pursue as it enacts business retention, expansion, and attraction efforts, supports a fiscally healthy government, and realizes key development projects across the City. The plan includes major objectives, specific goals, and proposed implementation actions.
Part of the plan calls for city staff to meet individually with business located in the Downtown core to hear their views on what is needed to make their business grow and be successful. Meetings have taken place with a number of Downtown businesses with more to come. In addition, staff attended a Downtown merchant meeting to hear their concerns. Through these meetings the city, plans to devise different ways to help attract additional shoppers to our Downtown core.
At the direction of city council we are looking at modifying the fees associated with developing in the Fillmore Business Park. I believe if we are able to make the necessary changes developers will strongly consider new development in Fillmore. We have heard the fees at the Business Park make projects difficult to start.
Communication Plan
The City recognizes the value of citizen involvement and the wealth of good information and resources that the citizens of Fillmore possess. It is important to increase the City's understanding of citizen concerns, ideas and values so that they can be utilized to make better decisions. Much of the City's overall success is shaped by the quality of its communication efforts. Therefore, a proactive approach is needed to foster effective two-way communication. The City is dedicated to improving the image of Fillmore and flow of information to its constituents through an aggressive communications and outreach strategy. The goal of the communications strategy is to identify opportunities to share the City's message and streamline the methods by which those messages are shared. A key component to the plan is to ensure that all communication; printed, televised and electronic is bi-lingual as 58% of our residents speak Spanish as a second language in their homes. The City wishes to work with our residents, businesses, visitors and school district to keep Fillmore the "Last Best Small Town".
By Gazette Staff Writer — Monday, October 20th, 2014
The Friends of the Santa Paula Blanchard Community Library invite all book lovers to their First-Saturday-of–the-Month and their Mid-Week book sales. The next First-Saturday Sale will be on November 1, 2014, from 10AM to 2PM. The mid-week sales are every Tuesday, Wednesday, and Thursday from 12 Noon to 2PM. The sales are held in "The Back Stacks", accessed from the north parking lot of the library at 119 N. 8th Street.
There will be great choices in fiction, non-fiction, and children'sbooks with prices from $.50-$2.00.The unique collection of rare and collectible books start at $4.00.This month's special is a 20 volume set of Harvard Classics published in 1910, a $60.00 value on sale for $15.00.
For more information email fobcl@yahoo.com
By Gazette Staff Writer — Wednesday, October 15th, 2014
The Fillmore Lions Club has announced that this year's student speaker contest will be held on February 2 – a Monday at the Fillmore Scout House at the end of Sespe Ave by Pole Creek. The topic will be – Water Conservation – What can we do to conserve, recycle, and reclaim." This topic is very interesting and appropriate in light of our present drought. Chair Bill Edmonds states that the total prize money in scholarships and cash will again be over $21,000. The Fillmore winner will receive $100 (an increase) and will advance to the next round. Runner ups will receive $25. The winner goes on to compete against the winners of the other local Lions Club in early March. All high school age youth who live within Fillmore Unified School District boundaries are eligible to compete. This includes home taught students, foreign exchange students as well as Fillmore residents who attend other high schools.
Students who wish to enter may contact Bill Edmonds at 524-4839 or; Ms. Morielli at Fillmore High School. Edmonds emphasizes that this public speaking competition will be very worthwhile to the students and very interesting to their parents; and to the community. Public speaking competition will also look good on college applications and resumes. Students should get started early because it takes time to develop and practice a good speech.
By Gazette Staff Writer — Wednesday, October 15th, 2014
The Ventura County Lodging Association (VCLA) is sponsoring a free anti-terrorism and security training session Friday, October 24 at the Four Points Sheraton in Ventura (1050 Schooner Dr.). The daylong class (9:00 a.m. to 3:00 p.m.) is open to all individuals responsible for maintaining security at lodging and other private facilities in Ventura County.
Attendees will receive an overview on how to increase awareness of suspicious behaviors and links to larger threats, and how to report information to the proper law enforcement authorities. The program is intended to encourage relationships with federal, state and local law enforcement.
"The primary goal of any private facility, whether it is a hotel, motel, RV park or office building, is to provide a secure environment for its employees and guests," says Rebekah Evans, executive director of VCLA. "This program will show how to train staff to be alert and aware of the threats that are out there."
The program, "Infrastructure Liaison Officer Training," will be presented by Hal Kempfer from InfraGard, a national education and information-sharing program created by the Federal Bureau of Investigation (FBI) and the private/public sector.
To pre-register, go to www.InfraGardLosAngeles.org and click on the "InfraGard Training" tab. For questions, call FBI special agent Carrie Kokenis, carrie.kokenis@ic.fbi.gov, 310-420-5284.
Ventura County Lodging Association (VCLA)
The Ventura County Lodging Association (VCLA) is comprised of lodging facilities and destination marketing organizations in the California cities of Camarillo, Oxnard and Ventura. VCLA represents 61 members including hotels, motels, bed & breakfasts, RV Resorts, resort rentals, the Camarillo Chamber of Commerce, Oxnard Convention & Visitors Bureau and Ventura Visitors & Convention Bureau. Its "VenturaCountyWest" marketing campaign is designed to attract overnight leisure and business visitors to the region. www.venturacountywest.com www.facebook.com/venturacountywest.
By Gazette Staff Writer — Wednesday, October 15th, 2014
CAMARILLO, CA - A strong 3rd quarter showing of more than $400,000 raised has boosted fundraising totals for the Gorell for Congress campaign to more than $1 million raised to date in this nationally targeted election rated as a "toss-up" by nearly every major political analyst.
"The momentum continues to grow for our campaign," declared Gorell. "Our financial support is surging across Ventura and Los Angeles Counties as polling from both parties shows this election contest is neck and neck."
"I'm humbled that an overwhelming number of my campaign contributions are coming from individual citizens," continued Gorell. "By contrast, nearly 90% of my opponent's contributions come from outside the district - not from her constituents, but from outside interests."
"Based on the fundraising numbers, it is very clear which candidate has the most local support and which candidate is dependent on Washington, DC," stated Gorell. "I am the only candidate in this race who represents a change from the dysfunctional partisan mess in Congress with the skills necessary to help move America forward."
"Republicans, Democrats, Independents and many first-time donors have stepped up on behalf of Gorell to help counter the baseless negative attacks from the incumbent and outside interests. As we head into the final stretch, our best ever quarter in fundraising demonstrates the momentum, electability and outpouring of support behind Jeff's candidacy," said Gorell Finance Director Shahla Seaborn.
Assemblyman Jeff Gorell was elected to the California legislature in 2010 where he serves as Vice Chairman of the Assembly Budget Committee. He is also a Commander in the U.S. Navy Reserve and veteran of the War in Afghanistan. Jeff serves on the faculty of California Lutheran University in Thousand Oaks where he been an adjunct professor of public policy since 2006. From 1999 to 2006, Gorell served as a Ventura County Deputy District Attorney.
By Gazette Staff Writer — Tuesday, October 14th, 2014
By Gazette Staff Writer — Monday, October 13th, 2014
CAMARILLO, CA - Camarillo Hospice, a volunteer hospice and grief counseling center, will host an educational luncheon on Thursday, October 23, 2014, at The Wedgewood at Sterling Hills, from 11:30 a.m. to 1 p.m. Titled "Hard to Swallow," the program will feature Karen Simon, M.D., and Chaplain David Knapp discussing the perils and pitfalls of various treatments for the late stage dementia patient.
"This program is designed to broaden understanding of treatment choices for physical changes that occur as a result of dementia," comments Dr. Simon. "Without being too technical or medical in nature, we will provide basic information designed to help the individual make sound treatment decisions for loved ones with a dementia diagnosis."
Dr. Simon, who is a graduate of The Feinberg School of Medicine at Northwestern University, is Board Certified in Internal Medicine and Gastroenterology. She completed her Residency at Cedars Sinai Medical Center and a Fellowship at UCLA Medical Center. Currently she is a member of Ventura County Gastroenterology, with offices in Camarillo and Oxnard.
Chaplain Knapp is Chaplain Supervisor for the Dignity Health St. John's Hospitals in Camarillo and Oxnard and AlmaVia of Camarillo.
The cost of the luncheon is $20 per person, and reservations are required. Reservations may be made by phone to 805-389-6870 x 10 or email to info@camarillohospice.org.
Founded in 1978, Camarillo Hospice is a volunteer hospice and grief counseling center dedicated to the dignity of life by providing care, comfort, support and counseling to individuals and families facing a life-limiting illness and/or grieving the loss of a loved one, and education on end-of-life issues to the community at large. All services and programs are free of charge. Annually, Camarillo Hospice assists more than 4,000 individuals plus another 4,000+ via telephone assistance, referral and presentations. For more information, please call 389-6870 or log onto www.camarillohospice.org.
By Mark Ortega — Monday, October 13th, 2014
By Gazette Staff Writer — Monday, October 13th, 2014
The Ventura College Santa Paula Site is pleased to present the fall art show, Nine Points of View, exhibited by the Artists Guild of Fillmore. The exhibit runs October 13 through December 19, 2014. A Meet The Artist Reception will take place Thursday, October 23, 2014 from 6:00-9:00pm.
The Artists Guild of Fillmore was founded in 2009 to create interest in original work created by local artists. Nine Fillmore artists are featured in the show: Lois Freeman-Fox, Luanne Hebner Perez, Virginia Neuman, Joanne King, Wana Klasen, Lia Verkade, Doris Nichols, Lady Jan Faulkner and Judy Dressler. Nine Points of View showcases nine diverse artistic styles in a variety of media including watercolors, oils, acrylics, pastels, mixed media and more.
The artwork is on display at the Ventura College Santa Paula Site located at 957 Faulkner Road, Suite 106, in Santa Paula. Free parking is available. Gallery hours are Monday through Thursday, 8:00 a.m. to 8:30 p.m.
By Gazette Staff Writer — Monday, October 13th, 2014
Sadie Mae, the most severely neglected of four horses brought into protective custody to the Humane Society of Ventura County's Ojai shelter in September, is showing marked improvement.
HSVC Shelter Director Jolene Hoffman reports that the mare rescued from a Fillmore ranch has gained 63 pounds in three weeks but is still about 340 pounds underweight.
"Sadie Mae is doing really well, she has more energy, but she's still extremely emaciated," Hoffman said. "She has a long, long way to go."
Hoffman said she and HSVC staff appreciate the ongoing financial support and interest shown in Sadie Mae's recovery by the public. As a result, Hoffman said, the Ojai-based nonprofit will be posting weekly updates and pictures of her on its Facebook page.
Sadie Mae's recovery could take another eight months, Hoffman said, so the HSVC is still seeking donations to cover the extreme cost to feed as well as provide medical and farrier care for her and the other three neglected horses housed at the shelter. It also is accepting gift cards to feed stores.
Donations may be brought to the Humane Society shelter at 402 Bryant Street in Ojai or sent to PO Box 297, Ojai, CA93024. For more information, call (805) 656-5031, or visit www.hsvc.org.
The Humane Society of Ventura County is a private, nonprofit organization founded in 1932. It does not receive federal, state or local tax dollars to operate and relies solely on private donations.
By Gazette Staff Writer — Wednesday, October 8th, 2014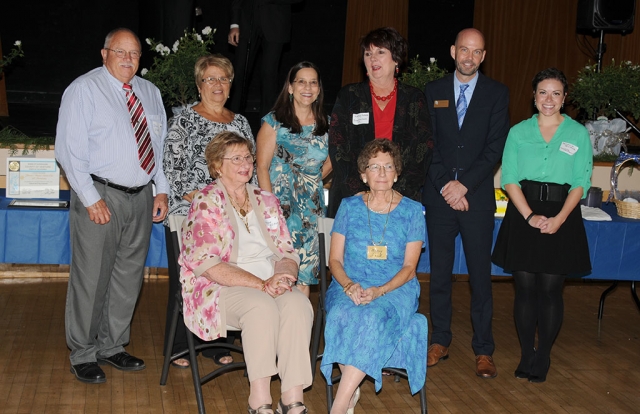 On September 27th, the Fillmore Ebell Club celebrated its 100th Anniversay, and the 50th anniversary of the Fillmore Women's Service Club (FWSC). Seated in photo is (l-r) Jeanne Klittich, president of the Service Club, and Mary Ford. Standing is Dave Wilde and Lucy Rangel both Fillmore Unified Board of Education members, Shelley Johnson representing California State Assemblyman Jeff Gorell, Superintendent Kathy Long, a gentleman representative for U.S. Congresswoman Julia Brownley, and a representative for California State Senator Hannah Beth Jackson. Each presented proclamations of appreciation for the contributions each club has made to the community of Fillmore. Mary Ford accepted the proclamations as president of Ebell. Jeanne Klittich, president of the Fillmore Women's Service Club accepted on their behalf. The presenters stressed Ebell's contribution through education, culture, art, literature, music, and other fine arts. FWSC was lauded for service to the community and the many scholarships given to Fillmore students. The evening included socializing, dinner, and dancing.
Enlarge Photo
By Gazette Staff Writer — Wednesday, October 8th, 2014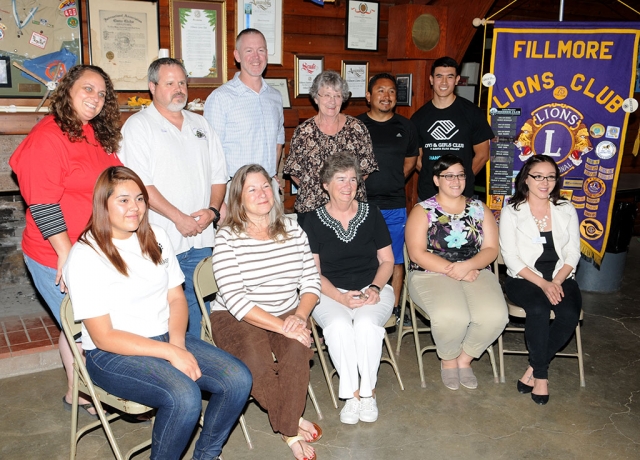 The Fillmore Lions Club held a regular meeting on Monday, October 6th, where it gave away $12,000 to 10 local programs. List of Checks Presented at Lions Club: One Step A La Vez,$1,000; Scout Foundation, $5,000; Historical Society, $750; Friends of the Library, $500; FHS Drama, $500; FHS Sports $500; AYSO, $500; Senior Center, $1,000; FHS Band, $1,000; Boys & Girls Club $1,000; Total Presentation tonight $12,000; Total Fillmore Lions local community donation budget 2014 – 15 $26,400; Total Fillmore Lions Lion related project budget $5,400.
Enlarge Photo
By Gazette Staff Writer — Wednesday, October 8th, 2014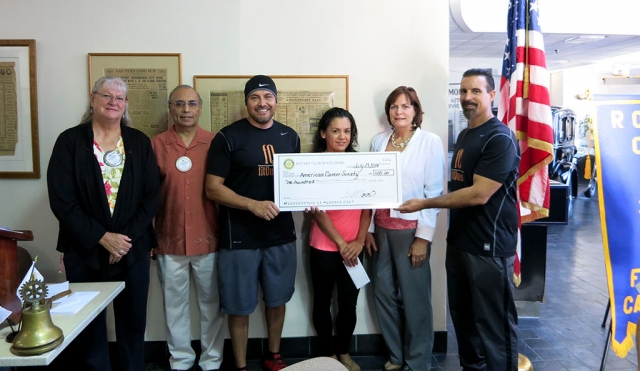 The Rotary Club presented checks to two winners of the 5/10K Run. The checks were for their favorite charities. The Sheriff Foundation supplies funds to help communities and to enhance services in the Sheriff Department.
Enlarge Photo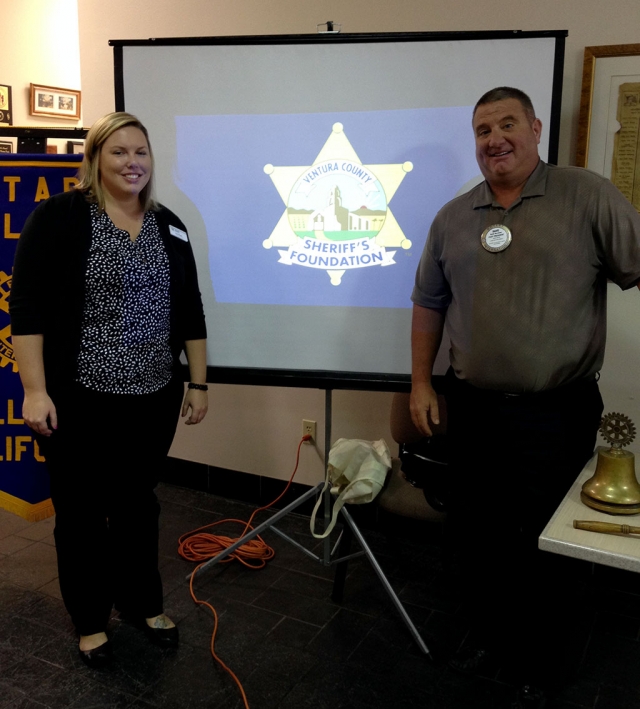 Sharon Pierik, President of the Sheriff Foundation and Fillmore Police Chief Dave Wareham.
Enlarge Photo
By Gazette Staff Writer — Tuesday, October 7th, 2014
The Ventura County Medical Association, representing hundreds of physicians from throughout the community, announced this week their endorsement of Jeff Gorell for Congress in California's 26th District.
"I'm honored to have the support of our community doctors," said Jeff Gorell. "With the enormous issues facing Ventura County and our nation related to health care access, it means a great deal to me to know that I have the confidence of our local physicians and surgeons to be the right representative for Ventura County in the U.S. House of Representatives. Like my work in Sacramento, I intend to be a problem-solver in Congress, and no doubt there are plenty of problems to solve in the area of medicine and wellness."
"The Ventura County Medical Association is proud to support Jeff Gorell for Congress." Said Mary Carr, Executive Director of VCMA. "Jeff developed a reputation in the State Capitol as a pragmatic and thoughtful legislator on the issues of health care. Doctors here appreciated the access and responsiveness they found in Assemblyman Gorell, and believe of the candidates for this seat this election, Jeff Gorell is the best qualified to represent the 26th District. We look forward to helping him get elected and have transmitted our Association's endorsement to California Medical Association CALPAC and American Medical Association for their consideration."
Assemblyman Jeff Gorell was elected to the California legislature in 2010 where he serves as Vice Chairman of the Assembly Budget Committee. He is also a Commander in the U.S. Navy Reserve and veteran of the War in Afghanistan. Jeff serves on the faculty of California Lutheran University in Thousand Oaks where he been an adjunct professor of public policy since 2006. From 1999 to 2006, Gorell served as a Ventura County Deputy District Attorney.
By Gazette Staff Writer — Monday, October 6th, 2014
Rideshare Week is here and it's the perfect time to be a part of a new social network! Beginning today and continuing through Friday, the Ventura County Transportation Commission (VCTC) and Ventura County Air Pollution Control District (VCAPCD) are encouraging commuters all across Ventura County to join together and make a new connection: Rideshare.
Through alternative modes of transportation such as carpooling, vanpooling, telecommuting, public transit, biking, or walking, commuters are taking part in reducing emissions and keeping our environment clean and beautiful. During Rideshare Week, participants will utilize social media to share their "green" commute by tagging #VCTCRSW2014 and making new ridesharing connections. It's a social network you can feel good about joining.
Added bonuses are this year's prizes. All who pledge will have the opportunity to win Apple iPad tablets, iPods, iTunes gift cards, and VISA gift cards. The top 5 employers will also receive a special prize.
"Sharing the ride CONTINUED »
By Gazette Staff Writer — Monday, October 6th, 2014
Ventura, CA - Lung cancer accounts for more deaths than any othercancer in both men and women.Smoking is the leading cause of lung cancer. Learn more about tobacco-related cancers at a free symposium Community Memorial Health System is holding on Saturday, Oct. 25 at the Ventura Beach Marriott.
The annual Cancer Symposium, which runs from 7:30 a.m. to 1 p.m., will include presentations by leading physicians and specialists. Thomas Fogel, M.D., will give opening remarks and serve as moderator. Topics to be covered are:
ïź Head and neck cancer, by David Hantke, M.D.
ïź Esophageal and stomach cancer, by Tesu Lin, M.D.
ïź Lung cancer, by Robert Bernstein, M.D.
ïź Lung screening using low-dose computed tomography (CT), by Irwin Grossman, M.D.
ïź Kidney cancer and partial nephrectomies, by Seyed Khoddami, M.D.
ïź Bladder cancer, by Marc Beaghler, M.D.
A light continental breakfast will be offered before the event, at 7:30 a.m., and a question-and-answer session with the panel of experts will follow the presentations. Also, a "Tobacco Bus of Horrors" tour will be available to attendees during a mid-morning break and following the symposium.
The symposium is co-sponsored by the American Cancer Society, Cancer Support Community, Community Memorial Hospital's Cancer Resource Center, the CMHS HealthAware Program, Grossman Imaging Center, Ventura County Hematology Oncology Specialists and KVTA radio.
The Ventura Beach Marriott is located at 2055 E. Harbor Blvd. in Ventura.
Space is limited, and reservations are required. Please visit www.cmhshealth.org/rsvp or call 800/838-3006.
Community Memorial Health System is a not-for-profit health system, which is comprised of Community Memorial Hospital, Ojai Valley Community Hospital, and 12 family-practice health centers entitled Centers for Family Health. The health system is located in Ventura County, California.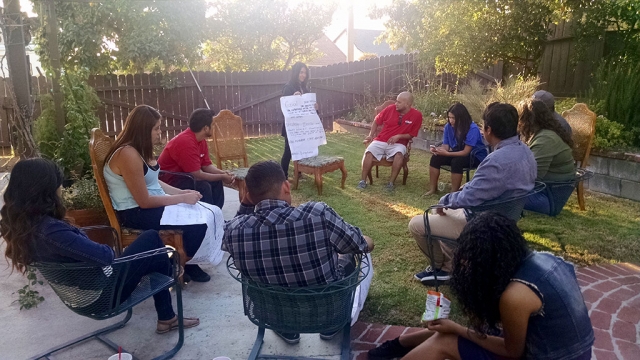 One Step youth leaders setting goals and strategies for their committees. Photo by Lynn Edmonds.
Enlarge Photo
By Gazette Staff Writer — Tuesday, September 30th, 2014
Teen drop-in center, One Step a la Vez, has a variety of committees available for youth to participate in: Social Equality Club, Farmworker & Affordable Housing Committee, Transportation Committee and the Youth Leadership Board. The youth leaders from each of these committees met Friday September 26th to set goals and strategies for their committees for this school year. The youth identified many goals including: creating a safe-zone at Fillmore High School for youth who are bullied; advocating for improved transportation in the Santa Clara Valley to include a bus route connecting Ventura to Santa Clarita with stops in Fillmore, Rancho Sespe & Piru; advocating for affordable housing in the Santa Clara Valley; and hosting bilingual information workshops that would help farmworkers find out more about affordable housing options in their areas of employment. Youth from the Santa Clara Valley are encouraged to come participate in these committees and learn about advocacy.
This coming Thursday October 2nd the center will be taking some youth on a field trip to an art show in Oxnard titled "Schools Not Jails." Interested youth should contact the One Step Center at 805-625-7066.
One Step a la Vez is located in Fillmore at 421 Sespe Ave. Tokens for bus transportation can be provided at no cost to Piru and Rancho Sespe youth wishing to attend the program after school. Center is open from 1-7pm on school days and homework help is available daily.
Coming up at One Step a la Vez:
9/30 Tuesday- Domestic Violence Support Group (Interface)
9/30 Tuesday- Art Class 3:30pm
10/2 Thursday- Palmer Drug Abuse Program counselor available 3pm
10/2 Thursday- Field Trip: Schools Not Jails Art Show 5:30pm
10/3 Friday- Youth Leadership Board Meeting 4:30pm
10/6 Monday- Interface Counselor available by appt.
By Gazette Staff Writer — Monday, September 29th, 2014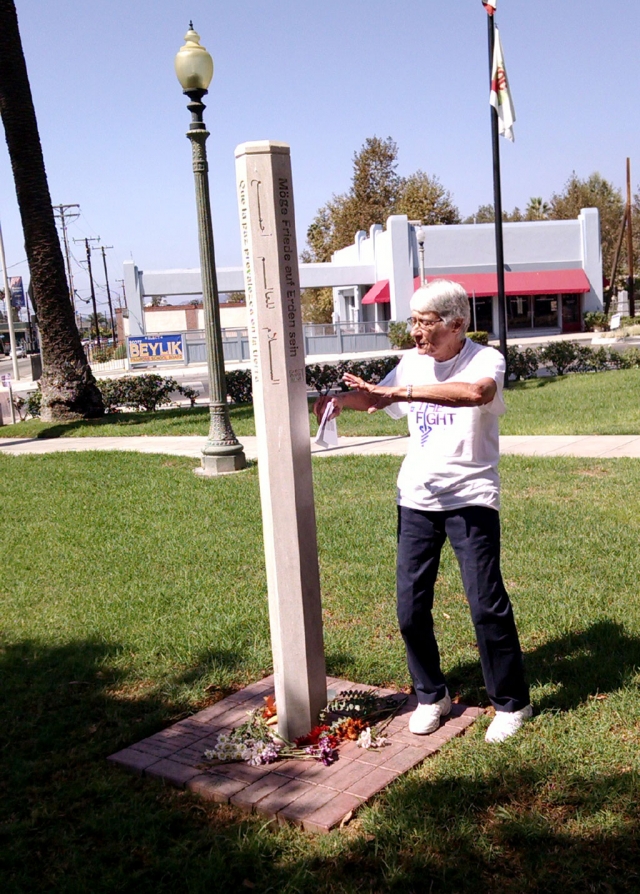 A group gathered around the Fillmore Peace Pole in Fillmore City Park on September 21 to remind us all of the need for peace in our families, our community, our nation and the world. The Peace Pole was installed in 2009 by the Fillmore Sorptimist Club under the leadership of Sarah Hansen. It has engraved into the pole "Let Peace Prevail on Earth" in seven languages, honoring the seven continents. The languages selected are Chumash, English, Spanish, Japanese, Arabic, Hebrew, German with a translation in Braille.
Enlarge Photo
By Gazette Staff Writer — Monday, September 29th, 2014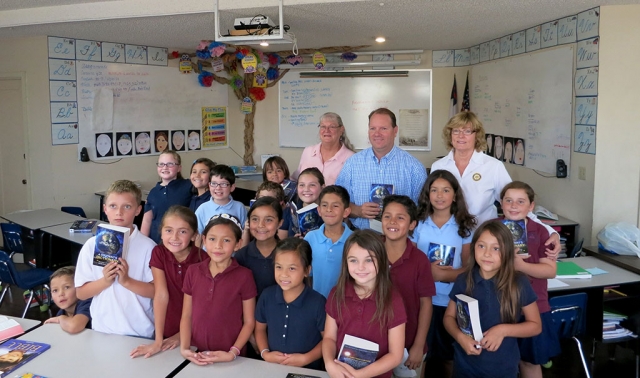 Rotary members Cindy Blatt, Scott Beylik and Martha Richardson visit the students at Fillmore Christian Academy and present each student with a dictionary. The Rotary Dictionary Project was very successful again this year. Rotary members visited each Elementary School in the Fillmore Unified School District and presented each third grader with a dictionary, they can keep. The Club has been doing this for ten years and has given about 4,000 dictionaries away.
Enlarge Photo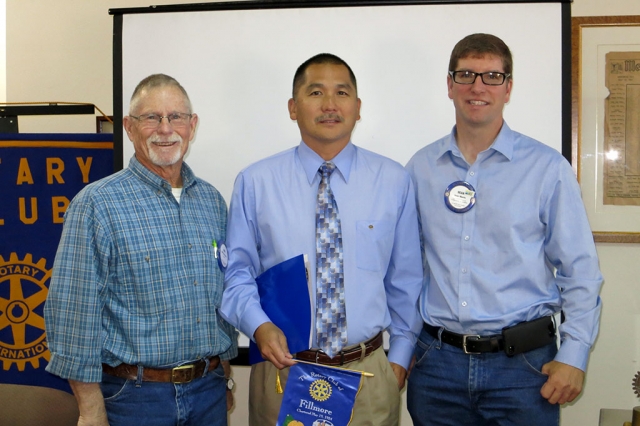 Rotary Club of Fillmore inducts new member. Bob Hammond, sponsor, Tom Ito, Principal of Fillmore High School, and newest member of the Rotary Club and Sean Morris, President.
Enlarge Photo