By Anonymous — Wednesday, June 17th, 2020
Interface Children & Family Services' 211 has teamed up with Fillmore Unified School District and MORRIS CHEVROLET to get school lunches to kids in need. Many schools have continued offering school lunches for students who have qualified for free or reduced lunches, but some families haven't had the means to get their children to the free lunch sites every day.
Interface reached out to a popular food delivery service to ask if they would help provide free school lunch delivery to the students from Fillmore Unified School District. The delivery service agreed, but shortly after realized that there aren't drivers for delivery in the Fillmore area, leaving many at risk children even more vulnerable to food scarcity. Interface's 211 Assistant Director, Angela Barosso said, "We thought it was such a worthy program, we didn't want to tell Fillmore we couldn't do it, so we decided to do it ourselves while still trying to find help from other agencies."
Until a reliable food delivery solution could be identified, three of 211's Specialists volunteered to start delivering a week's supply of lunches to eligible children and families. The volunteers delivered for two weeks in a row but continuing to deliver these door to door lunches would require a new partnership and collaboration between caring community entities.
Interface's 211 Director, Kelly Brown, reached out to former Fillmore Mayor and Interface board member Manny Minjares, who connected 211 with Bill H. Morris of MORRIS CHEVROLET who quickly responded to the call for assistance. Morris recruited 3 volunteer drivers who used the MORRIS CHEVROLET vans to pick up 100 bags for 54 families over the last two weeks. In addition to this service, Morris has been providing medical appointment and other transportation needs, exposing a stark reality of lack of transportation services available to vulnerable populations across our communities, particularly in rural areas.
Jason Corona, the Director of Child Nutrition Services at Fillmore Unified said, "Our Child Nutrition Services staff have really been amazing in all this to prepare 2000 meals bags in a few hours with the support from the Superintendent Dr. Palazuelos. Our families have really appreciated the help 211 and MORRIS CHEVROLET has been providing." The school lunch services will continue through the end of July, and MORRIS CHEVROLET said they are happy to help as long as they can. 211 is proud to partner with the Fillmore Unified School District and MORRIS CHEVROLET to create innovative solutions during these challenging times.
About Interface Children & Family Services
Interface is Ventura County's leading nonprofit social services agency, providing free, proven, and responsive services to address the complex physical and emotional needs of 59,000 local clients every year. Its 30 programs utilize 10 evidence-based practices to serve children, teens, adults and families who are typically low-income and struggling with poverty, domestic violence, human trafficking, homelessness, incarceration, child abuse, neglect and abandonment. Interface also connects 150,000 clients per year to a vast network of health and human services in 21 counties through its 2-1-1 Information and Assistance program.
Interface's core program areas are: Mental Health and Trauma Treatment, Domestic Violence Intervention and Child Abuse Prevention, Youth Crisis and Homeless Services, Human Trafficking Intervention, Reentry Services, Early Child and Family Development, and 2-1-1 Information and Assistance. The agency has pioneered several programs including launching California's first 2-1-1 call center, initiating Ventura County's Pay for Success Program, and was one of the first agencies in the state to open a domestic violence shelter. Interface opened the only human trafficking shelter for adults and is the only state funded provider of child abuse treatment in the region. The agency operates out of five locations including Camarillo, Moorpark, Oxnard, Santa Paula and Thousand Oaks, and will be providing early education and parent support at an additional 13 First 5 Neighborhoods for Learning Powered by Interface sites.
This important work is sustained through donations and grants from individuals and organizations, as well as by the work of dedicated volunteers and staff. For more information please contact Interface Children & Family Services at 4001 Mission Oaks Blvd, Suite I, Camarillo, CA 93012 by telephone at 805.485.6114 or visit www.icfs.org.
By Anonymous — Wednesday, June 17th, 2020
This past week Two Rivers Park and Fillmore's County Fire Station was fuddled with Firefighters and their equipment from all over the county to help fight the Lime fire in Piru which began on Wednesday, June 10th.
Enlarge Photo
By Anonymous — Wednesday, June 17th, 2020
Courtesy Fillmore Rotary Club
During their zoom meeting the Rotary Club of Fillmore's Scholarship Committee made up of Scott Beylik, Andy Klittich, Dick Richardson, Barbara Filkins and Garo Kuredjian presented Rotary Scholarships to Sierra High School Seniors Liliana Felix, Paige McKeown and Alina Barrera.
They also presented Rotary Scholarships to Fillmore High School Seniors Ariana Ocegueda, Erin Overton, Isabella Palazuelos, Anahi Andrade and Jared Schieferle. And announced the recipient of the Rigo Landeros Service Above Self Scholarship to Isabella Palazuelos and the "Don and Ruthie Gunderson Scholarship to Erin Overton.
The Interact Club, of Fillmore High School participated in the Rotary 4-Way Test Essay Contest and the winner's essay was sent on to the Rotary District contest. Cindy Blatt announced the First Place winner of both contests, Isabella Palazuelos!
By Anonymous — Wednesday, June 17th, 2020
What occurred in Minneapolis was deeply troubling, and, along with the rest of the world, we found it difficult to watch. We condemn police brutality and will not tolerate racism. Today we are here to tell you we stand with those who seek change so that every person of color is treated with dignity and respect. In order to truly have "liberty and justice for all" we must work together to eliminate racism and all forms of discrimination from our society. We also hurt and have feelings of anger, frustration, and disgust that the actions of a few impact the work of so many dedicated and hardworking peace officers in this Country.
This week we heard chants from some regarding all the "Racist Cops" and saw signs proclaiming, "All Cops are Bastards." For years we have worked to connect with our communities and listened to their concerns. We have strived to demonstrate that law enforcement officers are human beings with families who deeply care about their communities. Now we find ourselves painted by some with a broad brush that makes it appear there is a face of hate on every peace officer. We are heartsick because we join the world in wanting a better place to live for everyone. We recognize the way to accomplish this goal is through unity and solidarity. We must come together as a community; we must listen, we must learn, and we must grow together. At VCDSA, we find racial discrimination abhorrent and we hope you will work with us to ensure that the practices and policies of peace officers reflect this. We are proud to work for departments who previously established policy and training to improve de-escalation practices. Here in Ventura County, we feel grateful and fortunate to have the support of our community. We have a community that understands funding public safety is critical to keeping our community strong and safe. We are blessed to live and work in this place that has consistently been ranked as some of the safest communities in the Country.
We live in a cancel culture world and defunding the police has become a trending topic as a proposed cure for racism. Defunding police is becoming a popular cry to correct tragic mistakes similar to those in Minneapolis. Unfortunately, the effect would be contrary to the objective because defunding the police will punish innocent peace officers and make Ventura County or any jurisdiction less safe for citizens and visitors. Looking at policy and making changes that may need to be changed, training officers in diversity and culture, and most importantly, hiring the best of the best to do a difficult job, all cost money.
A jurisdiction that does not spend money on public safety will hire officers who need to work second jobs to make ends meet, as was the case in Minneapolis. To defund the police will create communities that are neither strong nor safe, and we fear will eventually result in the anarchy and chaos that we witnessed with the violent riots and looting of past weeks.
"We urge you to reject the approach of defunding police as one that is dangerous to the way of life we enjoy in this County," VCDSA President Nick Odenath says. "In Minneapolis, officers are poorly compensated, and a review of their department policies reflects a mindset that is stuck in a different time and not consistent with 21st Century Policing. We need to assist all departments in making sure they are brought into this era of policing but not take actions that will destroy those departments that have progressed to modern policing practices. It is our hope you will join us in this call for reason and sanity and work for genuine change in those systems that do not work."
About Ventura County Deputy Sheriffs' Association
Founded in 1959, the Ventura County Deputy Sheriffs' Association (VCDSA) represents the deputies from the Ventura County Sheriff's Office and Investigators from the Ventura County District Attorney Bureau of Investigations.
By Nick Johnson — Wednesday, June 17th, 2020
By Nick Johnson — Wednesday, June 10th, 2020
By Nick Johnson — Thursday, June 4th, 2020

"Life of Lulu" by Nick Johnson
Enlarge Photo
By Anonymous — Monday, June 1st, 2020
2,400 new LED light fixtures will replace streetlights in unincorporated areas of Ventura County
In an effort to make unincorporated streets safer, Ventura County Public Works Agency (VCPWA) and Southern California Edison (SCE) are working together to begin work on May 26 to replace existing high pressure sodium vapor fixtures with energy efficient Light Emitting Diode (LED) lights.
The project, which will take 3-4 weeks to complete, will upgrade 2,400 street light fixtures with new LED lights that have a Correlated Color Temperature (CCT) of 3000K, which exudes a warm white hue that is safer for both people and wildlife.
"SCE is excited to be implementing new LED streetlights in Ventura County that will save energy and cost, and provide improved lighting conditions for residents, drivers, and pedestrians, said Rudy Gonzales, Government Relations Manager at Southern California Edison. "The new lights provide for better vision and safety while still helping to maintain a dark sky environment."
In addition, the LED lights are much longer lasting and will save in energy and cost while also minimizing light pollution. They are Dark Sky Compliant, which means they direct more light to the ground than the sky.
"Innovation is the watchword of our Ventura County Public Works Agency, as coordination and collaborations such as this with SCE, work together," said Jeff Pratt, Director of VCPWA. "In this case, by ensuring our unincorporated areas of Ventura County have LED lights that are safer for both people and wildlife, and to minimize light pollution."
By Nick Johnson — Wednesday, May 27th, 2020
By Anonymous — Wednesday, May 20th, 2020
By Anonymous — Wednesday, May 20th, 2020
VCPWA's 8th annual Public Works Week event May 17-23 goes virtual, bringing all the bells and whistles from years prior
While Ventura County Public Works Agency's (VCPWA) most exciting and educational event of the year, Public Works Day, is no longer able to conduct in-person tours, students and the community can look forward to an interactive virtual tour and activities right at their fingertips.
VCPWA will be providing a virtual tour of its favorite experiences, demonstrations, and materials to be utilized as an educational or social connection piece for students to learn more about the latest innovations in technology, careers, and science at VCPWA while also making it available to the whole community.
The theme of this year's event, "Embracing Change – A Better Way, Every Day" exemplifies the ability of VCPWA to adapt and grow while maintaining our mission and vision for the community. This year's event going virtual is just another example how we are all embracing change and making our work better each step of the way.
Students, faculty and the community can look forward to the following highlights during the virtual tour including but not limited to:
Composting and food waste recycling with worms
A day in the life of a Hydrologist
Behind the Scenes of the Moorpark Wastewater Treatment Plant
Topography-how the lay of the land influences the direction that rainwater flows to the ocean and to underground aquifers
Pervious Concrete; demonstration of a type of pavement that is porous enough to filter storm water, capture pollutants, reduce flooding and runoff to the ocean and re-charge underground aquifers with much needed water.
Demonstration of technologies that are put to work within PWA
Debris removal from a road
Road repair after a storm
Information on our public transit in our community
Drone video and how it is used by VCPWA
Kits to make your own street signs
Public Works careers
"We are so excited for the opportunity to create a virtual platform for our favorite event of the year. We understand that times are tough right now, so we thought what better way to re-inspire the students, that are currently learning remotely, than to share our innovations with them virtually," says Jeff Pratt, Director of the VCPWA.
VCPWA's National Public Works Week (NPWW) was first launched in 2012 and has grown exponentially over the years from 125 students to over 1,000 students. The Agency hopes to have an even bigger audience with the added virtual feature to engage students throughout the county as they adapt to an ever-changing learning environment.
The entire community is invited to join the VCPWA Public Works Day virtual education tour which will be shared through Twitter, Facebook, Instagram and LinkedIn via a link on the VCPWA webpage https://www.vcpublicworks.org/npww.
By Anonymous — Wednesday, May 13th, 2020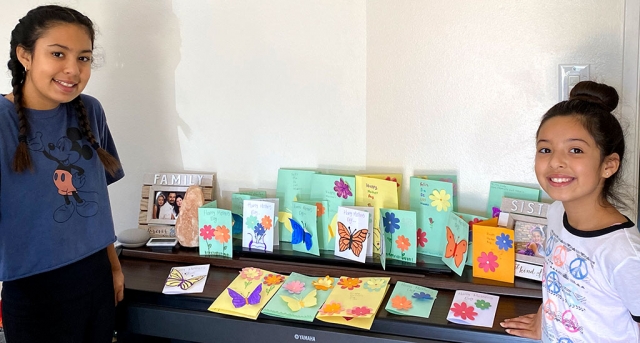 "Our daughter Yesenia Robles and her sister Alejandra made Mother's Day cards for the Moms at Fillmore's Greenfield Care Center facility and delivered them on Mother's Day, for all the Moms who couldn't be visited by their family member's during this pandemic. Inset is a sample card made for a Greenfield Care Center resident. Yesenia and Alejandra also made cards for other Moms who appreciated them. If you see them or try to talk to them, they are very shy and humble. We are very proud of our daughters for being so humble and very good girls at school." Courtesy the Robles family.
Enlarge Photo
By Nick Johnson — Wednesday, May 6th, 2020
By Anonymous — Wednesday, April 29th, 2020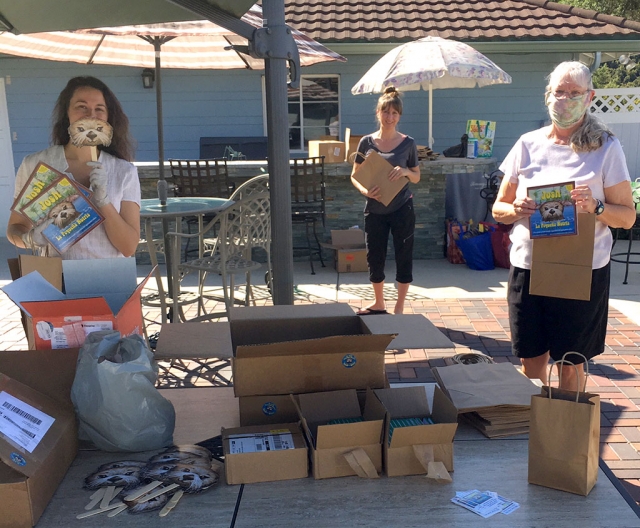 The Rotary Club of Fillmore is working to ensure Preschool children in the community receive Josh the Otter water safety materials before summer. They are partnering with the Fillmore Unified School District. Pictured are Katharine McDowell, Kelli Couse and Cindy Blatt holding up materials while remaining 6 feet apart, practicing social distancing guidelines. Courtesy Martha Richardson.
Enlarge Photo
By Anonymous — Wednesday, April 29th, 2020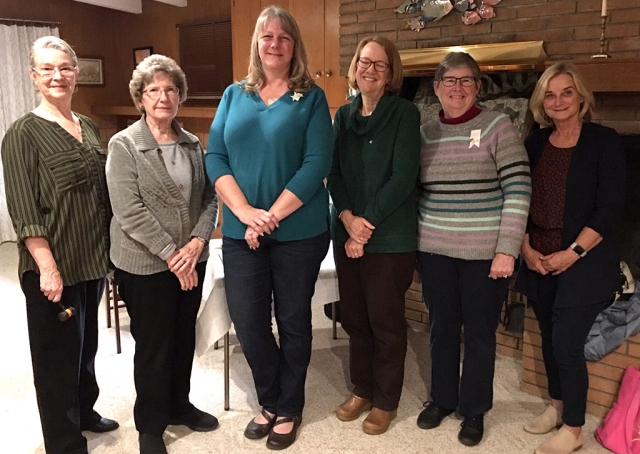 The Fillmore PEO (Philanthropic Educational Organization) Chapter GY installed new officers in March of this year. Pictured are the new officers: President Jan Lee, Vice President Mary Ford, Recording Secretary Amy Berger, Guard Barbara Peterson, Treasurer Martha Gentry, Chaplin Martha Roger. Not pictured is Corresponding Secretary Carmen Zermeno. Courtesy Martha Richardson.
Enlarge Photo
By Nick Johnson — Wednesday, April 29th, 2020
By Anonymous — Wednesday, April 22nd, 2020
Fillmore's Nova Storage added a new mural to the front entrance of their building pictured above is the new mural which was done by a Fillmore local artist Gabriel Cardenas. Photos courtesy Nova Storage.
Nova Storage purchased the historic building located at 455 A St in 2016. Since then, Nova has invested over $1.2 million into the property. Built in 1946 for the Fillmore Citrus Association, the building was known as Packing Plant #2. The building served the citrus farmers around Fillmore until 1994 when earthquake damages closed the building and packing operations moved to a facility in Piru. The building sat abandoned until 2004.
This historic building now features safe and secure self-storage and RV parking on the property for the Fillmore community at large.
To enhance the appearance of the historic building, an 8 by 10-foot mural now adorns the front wall. The mural, painted by local Fillmore artist Gabriel Cardenas, honors, respects and preserves Fillmore's great agricultural heritage. The mural was approved by the Art Commission of Fillmore on December 11, 2019. It is the first approved mural in the city!
Larry Layne, the principal owner of Nova Storage, believes that "being part of the communities we serve is important and something we embrace as policy." Larry found Fillmore charming; a town where he wanted to do business. Fillmore reminds him of growing up in San Fernando, where once the area had farms and farmers markets to buy fresh produce.
Upon learning about the Fillmore Citrus Association packing house history, Layne embraced the idea of presenting crate label artwork. Crate label art is displayed in the entrance foyer and on the office walls and now, with a beautiful mural on the building frontage. History is on display at Nova Storage, Fillmore! Nova has had a great response from our customers so far, receiving several compliments about the work of art provided to our community.
Talented local Fillmore artist, musician, and "artivist" Gabriel Cardenas was brought in to bring this idea to life. Cardenas is currently a Master's graduate student at Cal State University, Northridge (CSUN) where he is pursuing research in Chicano Art politics and Muralism. Previously, Gabriel exhibited his art in and around Santa Barbara where he received his bachelor's degree from UCSB. As a teacher and mentor to youth in the community, Gabriel has led various mural installation projects, and his hope is to teach, mentor and foster a generation of critical thinkers through the practice of art.
"It's an honor and privilege to be able to paint a mural in my home town, my mother used to work in these packing houses way before I was born". - Gabriel Cardenas
Nova storage has been in the industry since 1978 and continues to be active in the communities they serve, providing Ventura County, the San Fernando Valley, High Desert and South Los Angeles with superior customer service and offering clean and secure facilities at the lowest rate. Stop by one of their nine storage locations, or find them on Facebook, Instagram, or on their website NovaStorage.com.
By Anonymous — Wednesday, April 22nd, 2020
The Fillmore Women's Service Club announces that applications are now available for graduating High School Seniors. For 49 years, the FWSC have presented multiple scholarships, totaling over $500,000.
The deadline for this years scholarships is May 19th, 2020.
EDUCATIONAL SCHOALRSHIPS: Open to any graduating High School Senior that is going to public or private school, who resides within the Fillmore Unified School District and is continuing on to college or university. The student does not need to be attending school within the school district to be eligible.
TRADE AND ARTS SCHOLARSHIPS: Open to any graduating High School Senior that is going to public or private school, who reside in within the Fillmore Unified School District and is continuing on to a trade school, college or university, to pursue a career in a trade or the arts. Grades are not a factor.
The student does not need to be attending school within the school district to be eligible.
DIANA ROJO EDUCATIONAL SCHOLARSHIPS: Open to any graduating High School Senior who resides within the Fillmore Unified School District, in Fillmore and is planning to attend college or university.
Applications are also available for the FWSC ADULT WOMEN"S SCHOLARSHIP. This scholarship is for the educational improvement of women in the workforce, who reside within the Fillmore Unified School District, to better thee lives of their families and our community. Open to women 25 years or older, planning to return to college or trade school, or are currently attending such a school.
Due to the current pandemic, applications can be mailed to the FWSC, P.O. Box 151, Fillmore, CA 93016 or emailed to SusanDray@Hotmail.com. Interviews may be conducted by phone or online. High School Seniors can pick up an application with the counselor, or go online to www.FillmoreWomensServiceClub.com. For more information, please call Taurie at (805) 551-9244.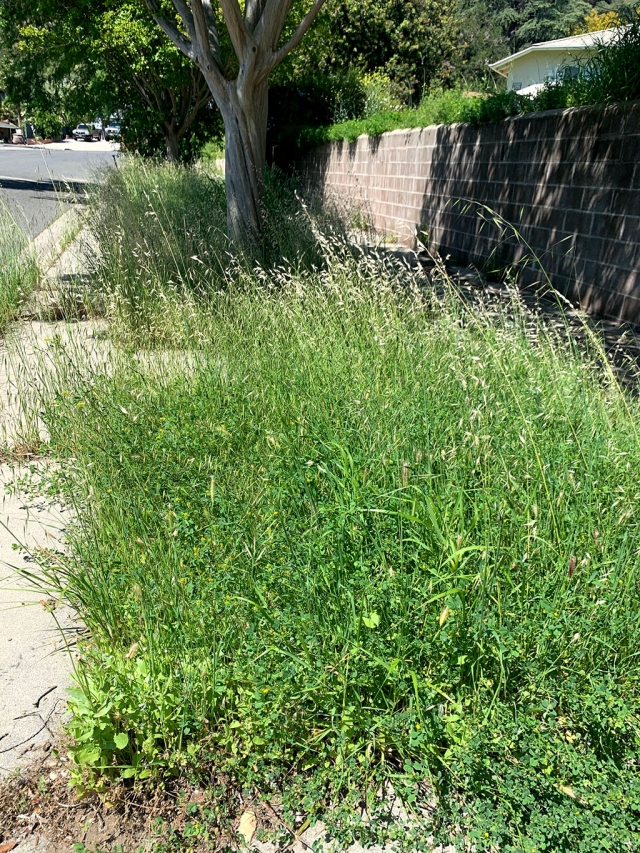 Fillmore Fire Department will be issuing weed abandonment notices in the next few weeks, the deadline for clearance will be set for June 1st. Photo Courtesy Fillmore Fire Department.
Enlarge Photo
By Anonymous — Wednesday, April 22nd, 2020
Courtesy Fillmore Fire Department
With all of the rain that Fillmore received this past winter and now with warmer weather here, the annual growth of unwanted weeds is going gang busters. Now is the time to start clearing all of the weeds and unwanted brush on your property. The warmer weather will soon dry out those weeds and increase the fire danger around your own home. Unfortunately, many Fillmore residents are self-quarantined right now, for those that are able, clearing your weeds is a good way to stay busy and get some exercise. Formal weed abatement notices from the Fillmore Fire Department will go out in the next couple of weeks with a clearance deadline of June 1. For those residents that have heavy brush or tree trimmings, a free Community Drop Off of unwanted vegetation will take place in May with a date soon to be announced.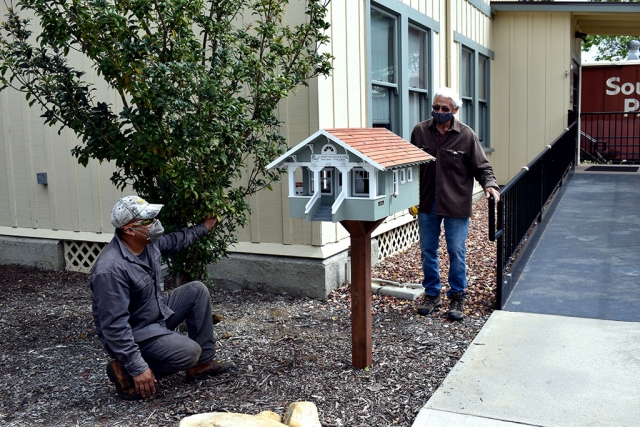 This past weekend Ramon Garcia and Jack Stethem finished installing Fillmore's newest Little Free Library just outside the Fillmore Historical Museum. Photos courtesy Fillmore Historical Museum.
Enlarge Photo
By Anonymous — Wednesday, April 15th, 2020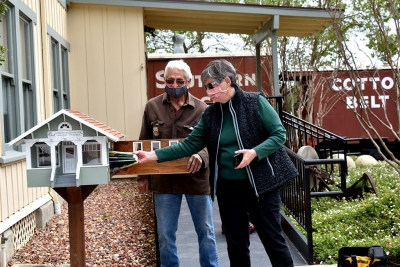 Jack Stethem and Museum Executive Director Martha Gentry filling the library with books for readers to enjoy.
Enlarge Photo
Courtesy Fillmore Historical Museum
The Fillmore Historical Museum at 340 Main Street is happy to be the site of the newest Little Free Library in Fillmore. Built by Jack Stethem, a Museum Board of Directors member, it is a replica of the 1906 Ira and Kate Hinckley House which is part of the Museum Historical Park. Dr. Hinckley was one of the first dentists in Fillmore and his son, Lawrence Hinckley, was a renowned local artist and ran the Artists' Barn Studio. It was installed at the Museum by Jack Stethem and Garcia Jr. Landscaping. The books were donated by Friends of the Library and members of PEO Chapter GY of Fillmore.
Marie Wren started the Fillmore Little Free Library initiative in Fillmore with a model of Fillmore's Southern Pacific depot, built by Jack Stethem. The Depot is also one of the buildings at the Historical Park. Little Free Library is an international nonprofit organization that inspires a love of reading, builds community, and sparks creativity by fostering neighborhood book exchanges around the world. Stop by and "take a book, leave a book." More information on Little Free Libraries can be found at http://littlefreelibrary.org