By Gazette Staff Writer — Wednesday, July 19th, 2017
Greenfield Care Center in Fillmore has graduated their first 2017 CNA class. The next class will start the second week of August. To register please go to Greenfield Care Center at 118 B St in Fillmore to complete an application. The instructor, Beatrice Colin/LVN, will then schedule an interview. Pictured (l-r) Itzel Lopez, Shovita Herrera, Denise Martinez, Destiny Orozco, Janet Espinoza, Marcela Hernandez, Silvia Garcia, Adriana Mercado, Jessica Acevedo, Blanca Reynoso, Teacher: LVN Beatrice Colin. Photo courtesy of Ari Larson/Fillmore Chamber of Commerce.
Enlarge Photo
By Gazette Staff Writer — Thursday, July 13th, 2017
CEC Launches Solarize Ventura County
Successful group-purchase program expands to entire County
The Community Environmental Council (CEC)'s Solarize Ventura County - a community-led, group-purchasing program for residential solar electric systems will run throughout Ventura County June 12 – September 8, 2017, bringing discounted prices on high quality solar installations to Fillmore and Santa Paula residents.
The CEC's Solarize programs have operated in Ventura County since 2012 beginning with the first Solarize Ojai Program. Since then, 162 home owners in the City of Ventura, the Ojai Valley and along Highway 126 have taken advantage of the program's vetted installers, discounted pricing, and educational workshops. This year's Solarize Ventura County is the first time that the program has been offered throughout the entire County. The program has the backing of Ventura County jurisdictions: Cities of Ventura, Oxnard, and Camarillo, which are co-hosting the educational workshops. Ventura County's Regional Energy Alliance has also partnered with the Solarize Program to increase the amount of renewable energy adoption in the County. In total, CEC's Solarize Programs that have been offered in various jurisdictions throughout the central coast have helped 524 homeowners go solar.
"The goal of our Solarize program is to make going solar more simple and affordable for homeowners," noted CEC's Renewable Energy Specialist, April Price. This year's two partner solar installers, California Solar Electric and Coastal Solar, will offer sizable discounts on solar installs throughout Ventura County. Price explained, "Our installer partners were selected by a committee of local experts. They studied the companies, their practices, and their equipment to make a responsible selection on behalf of Ventura County homeowners."
Solarize Ventura 2016 participant C.Wyles shared her experience with the Solarize process, "The program was excellent for providing the confidence that I wasn't going to get taken advantage of financially or in any other respect. I particularly liked the fact that the contractor was chosen from local businesses and vetted for me. The system is up and running and I'm perfectly happy with it, and thrilled to be using fewer resources than previously."
Solarize Ventura 2016 participant John Buccola also voiced his satisfaction with the program and its result, "We aggressively shopped for various options for our solar installation and found the Solarize program more competitive and personalized to our needs. They educated us on our options, qualified the installer and negotiated an incredible price. One year later, we are thrilled with the system - which offsets all our electrical usage. Thank you Solarize!"
Throughout the Solarize program, CEC will host free, educational workshops throughout the county to help homeowners better understand solar technologies, energy efficiency, and financing options. "The workshops are a great opportunity to learn the ins and outs of going solar - from technical aspects, to the effects on home values, to how your electric bills will shrink," said Price. She went on to say, "We are excited to bring the benefits of the group purchase discount to the entire county- this Solarize Program has excellent pricing on high quality equipment and installs. I think that people will be surprised at how affordable it is to purchase a solar system, and to generate your own electricity."
Anyone interested in learning about solar is encouraged to attend one of these upcoming workshops:
Thursday, July 20th, 6:00pm
Ventura City Hall, Community Meeting Room, 501 Poli Street, Ventura, CA 93001
Thursday, July 27th, 6:00pm
Oak View Park and Resource Center, 555 Mahoney Avenue, Oak View, CA 93022
Wednesday, August 2nd
6:00pm (English)
7:00pm (Español)
City of Oxnard, Community Room, 300 West Third Street, First Floor, Oxnard CA 93030
Thursday, August 17th, 6:00pm
Newbury Park Branch Library, 2331 Borchard Road, Newbury Park, California 91320
(Co-presented with the City of Thousand Oaks)
Monday, August 21st, 6:00pm
Blanchard/Santa Paula
Community Library
119 N 8th Street
Santa Paula, CA 93060
Tuesday, August 22nd, 6:00pm
Thousand Oaks library
1401 E Janss Rd
Thousand Oaks, CA 91362
(Co-presented with the City of Thousand Oaks)
CA 93030
Solarize Ventura County participants will also help support CEC's mission in the community. For each homeowner that goes solar through the program, the solar installers will pay, at no additional cost to the homeowner, a small fee which helps CEC continue to offer Solarize programs in local communities.
To learn more or apply for Solarize Ventura County, homeowners can go to SolarizeVentura.org or call (805) 963-0583 x 101.
About the Community Environmental Council (CEC)
Since 1970, CEC has led the Santa Barbara region – and at times California and the nation – in creative solutions to some of the toughest environmental problems. CEC innovates and incubates real life solutions in areas with the most impact on climate change. Our programs provide pathways to clean vehicles, solar energy, resilient food systems, and reduction of single-use plastic. Find CEC on the web at www.cecsb.org and on Facebook/CECSB and Twitter/CECSB. Our mailing address is: Community Environmental Council, 26 W Anapamu, Second Floor, Santa Barbara, California 93101
By Bob Crum — Wednesday, July 12th, 2017
Part 1 of 3
By Bob Crum — Wednesday, July 12th, 2017
Part 2 of 3
By Bob Crum — Wednesday, July 12th, 2017
Part 3 of 3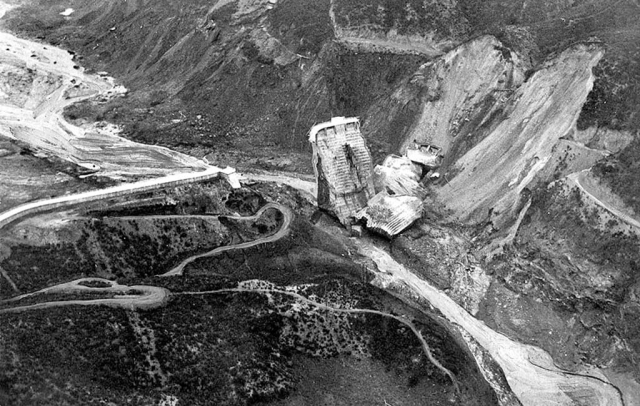 Aerial photo of Saint Frances Dam.
Enlarge Photo
By Gazette Staff Writer — Wednesday, July 12th, 2017
Congresswoman Julia Brownley (D-Westlake Village) issued the following statement commending passage in the U.S. House of Representatives of H.R. 2156, legislation she co-sponsored that will establish a memorial for the 1928 Saint Francis Dam disaster:
"The collapse of the Saint Francis Dam was one of the most catastrophic tragedies in our state's history — second only to the 1906 San Francisco earthquake. This major historical event has remained in obscurity for far too long. From the victims who sadly lost their lives to the heroic telephone operators and California Highway Patrol officers who tried to warn residents of the rushing waters, this memorial will commemorate the stories of local residents for many generations to come. I am pleased the House has passed this bipartisan bill to recognize an important part of our history, and I look forward to working with Congressman Knight, as well as Senators Feinstein and Harris to see its passage through the Senate and ultimately ensure that this bill becomes law."
By Bob Crum — Wednesday, July 5th, 2017
By Gazette Staff Writer — Wednesday, June 28th, 2017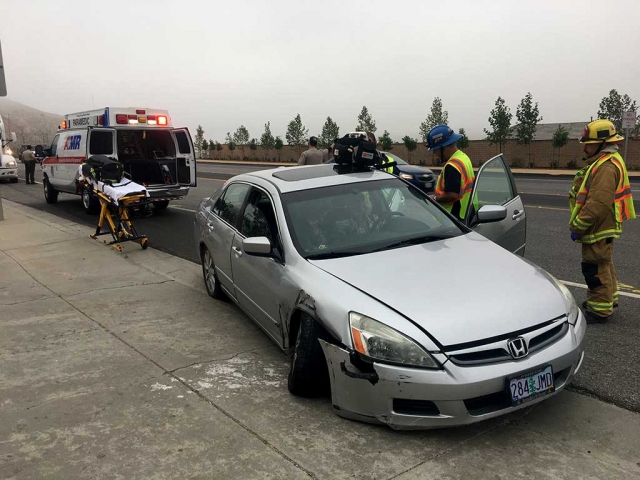 On Friday, June 23rd, an accident occurred between a Silver Honda and a big rig truck near the 100 block of Ventura Street, west of Pole Creek. One patient was sent to the hospital. Cause of the accident is still under investigation. Photo Courtesy Fillmore Fire Department.
Enlarge Photo
By Gazette Staff Writer — Wednesday, June 28th, 2017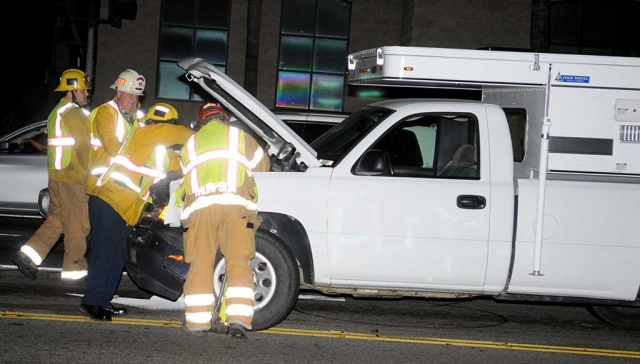 Monday evening near the Ventura and A Street intersection, a vehicle struck a white truck head on, causing significant damage. The second unknown vehicle fled the scene before authorities arrived. No injuries were reported at the time of the accident.
Enlarge Photo
By Gazette Staff Writer — Wednesday, June 28th, 2017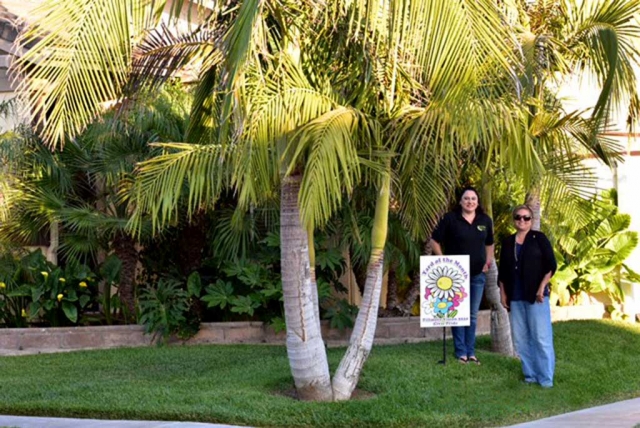 The June Yard of the Month has a tropical feel. Pictured (l-r) Lorena Jimenez and Ari Larson. Photo courtesy Ari Larson.
Enlarge Photo
By Gazette Staff Writer — Wednesday, June 28th, 2017
Yard of the Month has a Tropical Feel
Congratulations to Ralph and Lorena Jimenez on being named the June 2017 Yard of the Month. Their beautiful green tropical oasis features King, Queen and Pickling palms along with Banana trees and Tulips. They have three children, Matthew (attending UC Merced), Nick and Sophia. The Jimenez family was presented with a gift certificate for Otto & Sons Nursery. The house is located at 898 Union Pacific St. If you would like to nominate a yard in your neighborhood or have questions about Fillmore Civic Pride please contact Ari Larson at petenari55@hotmail.com or 805.794.7590.
By Gazette Staff Writer — Wednesday, June 28th, 2017
By Gazette Staff Writer — Wednesday, June 28th, 2017
The Ventura County Air Pollution Control District (APCD), in partnership with the Ventura County Community Foundation, is kicking off the Plug-in Electric Vehicle Rebate Program to encourage Ventura County residents to choose lower emission vehicles. This program has been funded at $226,946 from the Ventura County Community Foundation's Clean Air Fund, which was formed in 1992 from a $1.5 million donation from 3M. This rebate program was approved by the Ventura County Air Pollution Control Board on June 20, 2017.
This rebate program will incentivize the purchase or lease of 140 plug-in Model Year 2017 or newer electric vehicles in the county, with vouchers worth either $1,100 for plug-in hybrids or $2,200 for battery electric vehicles. Electric vehicles qualifying for the Ventura County rebate include all those listed on the California Clean Vehicle Rebate Project website (www.cleanvehiclerebate.org) except hydrogen-powered vehicles and electric motorcycles. The California income limits will not apply to the Ventura County rebate program. Instead, rebates will be limited to those vehicles with a base MSRP of no more than $75,000.
According to Michael Villegas, Ventura County Air Pollution Control Officer, "This program will effectively reduce air pollution emissions and save consumers up to $2,200 in addition to any available state and federal incentives."
Ventura County residents thinking about purchasing a new vehicle should consider the many advantages of a plug-in electric vehicle in addition to helping to protect our air quality.
Reservations for rebates are required to insure availability. However, the reservations will expire eight weeks from the date of issuance. The rebate process is fully explained, and application forms are available, on the APCD website, http://vcapcd.org/index.htm#EVVoucher or by contacting Stan Cowen at the Ventura County Air Pollution Control District at 805/645-1408 or stan@vcapcd.org.
The Ventura County Community Foundation (VCCF) is a charitable foundation committed to promoting and enabling philanthropy, building long term capital to benefit Ventura County. Its four primary roles are to be a careful steward of the funds entrusted to its care, a long term partner dedicated to donor intent, an effective grantmaker focusing on the needs of nonprofits and of the community, and a community Leader and convener, focusing on the common good.
By Gazette Staff Writer — Wednesday, June 21st, 2017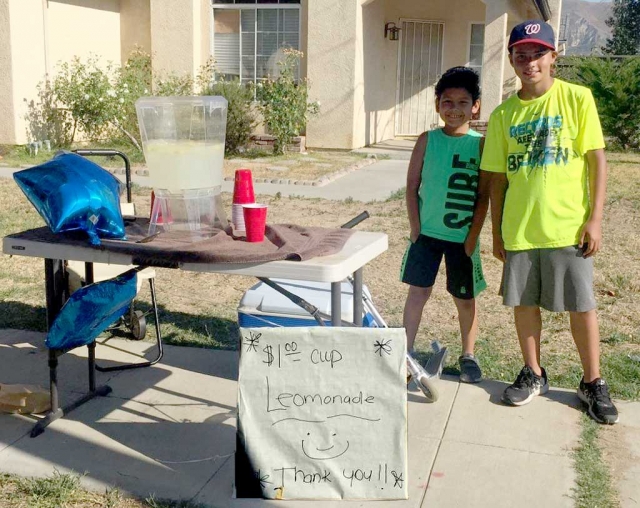 There is nothing better than some fresh lemonade on a hot summer day. Two friends (l-r) AC, 10, and Albert, 11 opened a lemonade stand this week at the corner of River and Central. Just doing their part to help people stay cool during this summer heat wave.
Enlarge Photo
By Gazette Staff Writer — Wednesday, June 21st, 2017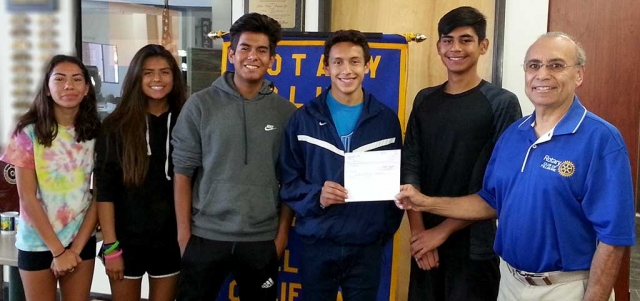 Members of the Fillmore High School Cross-Country Team were presented with a check for $150 by Joe Aguirre of the Fillmore Rotary Club for their win in the Heritage Valley 5K Team Challenge. Pictured (l-r) are Diana Perez (11th), Vanessa Avila (10th), Sergio Perez (11th), Everardo Garcia Magana (12th), and Nick Villela (11th), Joe Aguirre. Photo Courtesy Cindy Blatt.
Enlarge Photo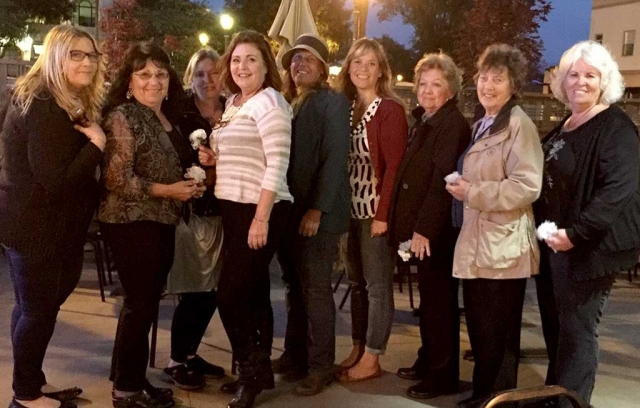 Fillmore Women's Service Club hosted their Installation Dinner, where they presented outgoing President Susan Banks with a gift to show their appreciation for all her hard work over the past years. Pictured (l-r) Daneille Quintana, Mimi Burns, Charmaine Delgado, Kelly Towy, Taurie Banks, Kristie Neal, Marilyn Griffin, Susan Banks and Pam Smith.
Enlarge Photo
By Gazette Staff Writer — Wednesday, June 21st, 2017
The Fillmore Women's Service Club held their Installation Dinner at the Genmai Japanese Restaurant on Central Avenue. A good time was had by all and our thanks to Genmai for the good food and service in making this a wonderful evening.
Susan Banks, outgoing President was presented with a gift and a beautiful scrap book depicting articles and photos of the 2016-2017 year. Susan thanked the club for their hard work and support of all the projects completed and for all the good ideas for the future.
Pam Smith conducted the installation of the new board of officers. Danielle Quintana, President, Mimi Burns, First Vice, Charmaine Delgado, 2nd Vice, Fundraising, Kelly Towry, 3rd Vice, Membership, Taurie Banks, 4th Vice, Youth, Pam Smith, Recording Secretary, Kristie Neal Corresponding Secretary, Susan Banks, Parliamentarian. and Marilyn Griffin, Secretary.
The Fillmore Women's Service Club is starting a Young Women's Group, open to girls 14 to 21. The program will include volunteer work, guest speakers, and building general self esteem. Any girl wishing to join can contact Taurie at 551-9244.
The Club will be having the Fireworks Booth fund raiser, west of Saint Franics Church in the Dollar General Parking lot. (look the the pink signs). Please support our scholarships and community service.
Any woman, 21 years of age or order are welcome to come visit us, and help make a difference to the lives of people in our community.
By Gazette Staff Writer — Wednesday, June 14th, 2017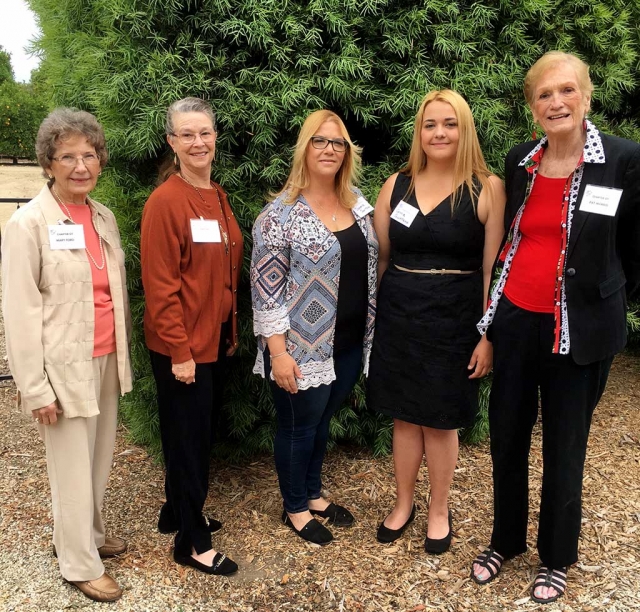 The Fillmore PEO Chapter presented Connie Quintana with the PEO (Philanthropic Education Organization) Education Award. Pictured l-r Mary Ford, Jan Lee, Danielle Quintana Mother, Connie Quintana, and Pat Morris. Photo Courtesy Martha Richardson.
Enlarge Photo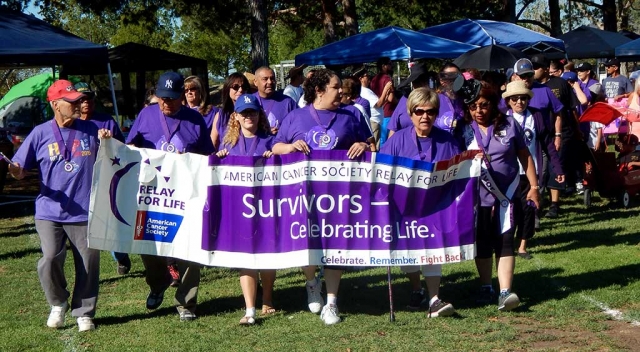 Pictured is a group from Relay for Life 2016 starting the Survivor lap, which kicked-off last year's relay. Photo Courtesy Relay for Life Fillmore-Piru.
Enlarge Photo
By Gazette Staff Writer — Wednesday, June 14th, 2017
The Relay for Life of Fillmore-Piru would like to welcome the community to come participate in a series of forums over this summer for the Fillmore-Piru communities to learn more about the American Cancer Society and Relay for Life.
Over the Summer we will be hosting three community forums: free and open to anyone!
1. Hotel Partnerships- June 19th, 2017
2. National Cancer Information Center/ Cancer.org- July 24th, 2017
3. Survivor Speaker Kymmer Crookston- August 21st, 2017
All forums will begin promptly at 7pm and will end around 8pm at the Active Adult Center in Fillmore. (533 Santa Clara St, Fillmore CA)
On June 19th, the American Cancer Society representative Caitlin Barringer will be speaking on our local hotel partnership agreement with Brighton Management. Where local hotels partner with the American Cancer Society by providing complimentary rooms for visiting cancer patients utilizing our incredible local doctors, hospitals, and treatment centers. We will discuss qualifications, and how to use these services.
American Cancer Society would like to give a special thanks to the following hotel management firm and hotels for joining us in the fight against cancer and providing one less thing that a patient needs to worry about! Brighton Management, Ventura Beach Marriott, Sheraton Four Points Ventura Harbor, Holiday Inn Express Ventura Harbor, Courtyard Oxnard, Residence Inn Oxnard, Holiday Inn Express Port Hueneme, Hampton Inn Channel Islands.
Relay for life of Fillmore-Piru will be happening September 23rd-24th, 2017 from 9am-9am at Shiells Park in Fillmore. For more information on the Relay for life of Fillmore-Piru, please visit www.relayforlife.org/fillmoreca, or contact Caitlin Barringer (805)644-4237.
Relay for Life of Fillmore-Piru will also be holding their first ever corn hole tournament at the Relay for Life event; from 12pm-5pm Saturday September 23rd. For more questions or to register please email Charissa McLain at charissa.mclain@gmail.com. First place prize will be (4) Southwest One Way Domestic Flight E-Passes.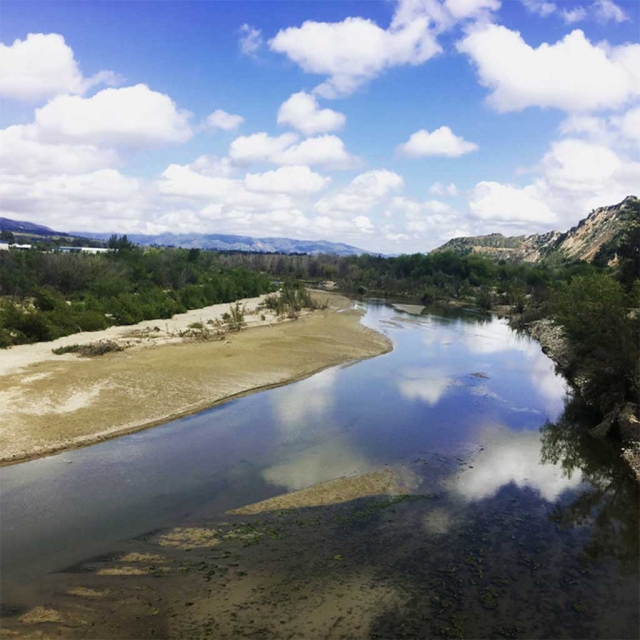 Santa Clara River main stem at 12th street bridge. Photo courtesy Candice Meneghin.
Enlarge Photo
By Gazette Staff Writer — Wednesday, June 14th, 2017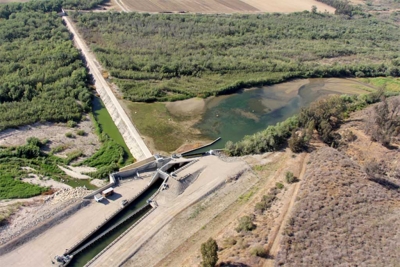 Vern Freeman Diversion. Photo courtesy Mike Weir.
Enlarge Photo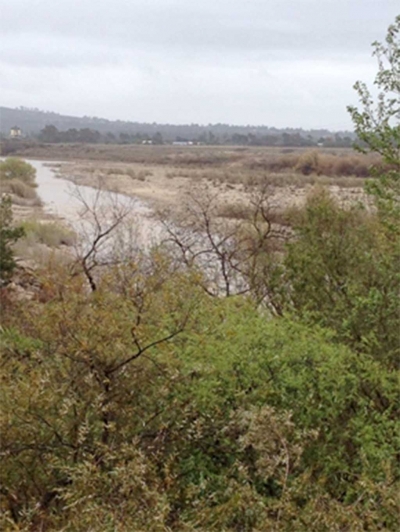 Santa Clara River Downstream of Freeman Diversion, Photo courtesy Nina Danza.
Enlarge Photo
Story courtesy California Trout Project
Southern steelhead need unobstructed passage throughout the length of the Santa Clara River, from the ocean to the upstream areas of tributary creeks, to complete their lifecycle and reproduce. Experts on fish and water issues will explain how much flow is needed to provide minimum depth for fish when they migrate, and how to restore passage at man-made barriers that impede fish movement, at 'Water Talk: Designing for Fish Passage and Instream Flow' on Jun 29, 6:30pm at Patagonia (235 W. Santa Clara Street, Ventura).
"Half of the ocean-going anadromous salmon species in California are on the road to extinction within the next 50 years," reports Candice Meneghin, CalTrout Conservation Manager, "Our recent report SOS II: Fish in Hot Water (http://caltrout.org/sos/) reveals dams are a major problem because they disrupt the historic pattern of in stream flows as well as block fish migration." In the Santa Clara River, operation of Pyramid and Santa Felicia Dams (on Piru Creek) and Freeman Diversion (downstream of Santa Paula on the Santa Clara River mainstem) change the timing, magnitude, duration and frequency of historical stream flows. Flow release and capture at these water utilities, especially during average or low water years, need to fit with natural rainfall occurrences so minimum in stream depth occurs for fish passage.
The first speaker at the Water Talk will be Bill Trush, Co-Director of the Humboldt State University River Institute presenting scientific results on what hydrological changes have occurred in nearby southern California Rivers and why these now threaten steelhead populations. A second speaker will be Tom Hicks, a California water law and conservation attorney with special expertise in stream flow enhancement, who will discuss water transfers and explain case studies used to increase in stream flows. The Santa Clara River Steelhead Coalition will also be showcasing their outreach video Restoring Resilience that introduces member and participant organizations, the steelhead habitat restoration actions underway on the watershed, and how this promotes connectivity from the headwaters to the ocean for steelhead recovery.
Program attendees will understand more about designing projects on the Santa Clara River for fish passage, including restoring minimum flows, locations of existing impediments that block migration, and tools and programs available to help integrate steelhead recovery into multi-benefit projects that support fish, water and people. The program is an excellent opportunity for students, residents and advocates to learn from science-based, solutions-oriented professionals involved with environmental protection and sustainability.
All Water Talks are free, open to the public and hosted by the Santa Clara River Steelhead Coalition whose mission is to protect and restore wild Southern steelhead and its habitat in the Santa Clara River watershed. The Coalition is chaired and coordinated by California Trout, a nonprofit organization dedicated to ensuring resilient wild fish in healthy waters for a better California.
For more information contact Nina Danza, California Trout Project Coordinator at ndanza@caltrout.org.
By Gazette Staff Writer — Wednesday, June 7th, 2017
Submitted By Rotary Club of Fillmore
The annual Heritage Valley 5k-10K Race, Fitness Walk, Fun Run was once again a success. Over 225 runners & walkers entries were received this year – up from 202. The race is sponsored by the Rotary Club of Fillmore with partners Fillmore Unified School District and Santa Clara Valley Explorer Post 2958. Runners & walkers of all ages enjoyed good weather. After the race the participants, family members and friends enjoyed the sunshine on the lawn of FUSD administration waiting for final results. Booths included Clinicas Del Camino Real and Norma Moreno, massage.
Overall female winner of the 5K was Kiana Hope in 19:50.3 and overall male winner was Everado Magana in 17:22. Overall female winner of the 10K was Niza Laureano, age 10, in time of 41:52.4 and overall male winner was Oscar Orozco in 35:55.7. These winners received a gift certificate from Inside Track in Ventura and local fruit bag. Medals were presented to the top three places in each age group/gender.
Teams participated for the opportunity to win funds for their favorite charity. The first place team in the 5k was FHS Cross Country Team and second place team was Condors Youth Cross Country. The first place team in the 10K was Santa Clarita Runners. They also were the team with the most participants.
The Rotary Club of Fillmore would like to thank all of those who participated and supported this event. We'd like to thank our sponsors and supporters with special acknowledgement to our Gold, Silver & Bronze Sponsors & Fitness Fans. Gold Sponsor: Union Bank. Silver Sponsors: Gold Coast Embroidery, Bank of the Sierra, Fillmore Piru Citrus Association. Bronze Sponsors: Dick & Martha Richardson, Edward Jones Financial, Fillmore Search & Rescue, HANDS-On Consultations, Heritage Valley Blazers, Piru Petroleum Club, Quality Ag, Inc., Western Yosemite Insurance Services. Fitness Fans sponsors: Ari Larson, Diamond Reality, Aguirre Financial, and Jan Marholin.
There were many, many donations of raffle items and in-kind donations: Water Store generously donated water and ice for our water stops for runners. 7-Eleven & Sparkletts & Julie Latshaw donated bottled water. Subway donated two sandwich trays. Super A donated boxes of fruit. Ed McFadden donated fruit for runners and raffle baskets. Additional raffle donations came from: Adrian Rangel Photography, Aguirre Financial, Andy Klittich, Ari Larson, Bank of the Sierra, Bennett's Honey Farm, Beylik Farms, Bright View Tree Company, Chivas Skin Care, Cindy Blatt, Martha Richardson, Don & Ruth Gunderson, Edward Jones, El Pescador Resturant, Elkins Ranch Golf Course, Fillmore & Western Golf Course, Fro-yo, Baskin Robbins, Inside Track, Jan Marholin, Kate English, Mountain View Golf Course, Norma Moreno, Renee Swenson, Rotary Club of Fillmore, Sandra Lupercio, Union Bank, Vallarta's.
Thank you to all our volunteers: Santa Clara Valley Explorers Post, Fillmore Search & Rescue, Epi Torres, Joe Martinez, Daisy Palma, Fernando Vancini (PYS), Stephen McKeown, Paige McKeown, Diane Wareham, Kim Tafoya and members of FHS cross-country, Josh Cox and members of the FHS Interact Club. (Our apologies to anyone we missed!).
Proceeds from this event help fund Fillmore/Piru Youth Programs, FHS Athletic programs and other Rotary projects like: FHS & Sierra H.S. scholarships, dictionaries to all third graders, RYLA (youth leadership camp), Condor Cross Country, Cub Scout Pack 3400, Piru Youth Sports, FHS X-country, FHS swim team, FHS Mock Trial, just to name a few.