By Gazette Staff Writer — Friday, December 22nd, 2017
Recovery services ongoing for families who lost homes due to Thomas Fire
In conjunction with in Ventura County, the American Red Cross intends to close the evacuation shelter at the Ventura Fairgrounds Friday, Dec. 22 at 3:00 p.m.
The shelter opened on Dec. 4 for residents who were evacuating the Thomas Fire. Red Cross workers will continue assisting those affected by the fire. The Red Cross opens and closes shelters at the request of local officials.
The Red Cross plays a critical role in helping families and communities get back on their feet in the weeks and months after a disaster. Trained Red Cross caseworkers connect one-on-one with people to help them navigate what often can be a confusing, complicated and time-consuming world of disaster recovery.
All American Red Cross disaster assistance is provided free of charge and is made possible by the voluntary donations of time and money from caring individuals and corporate partners.
HOW TO GET HELP
The Red Cross has a Client Assistance Center open in Ventura for anyone who has suffered damage due to the wildfires. The Client Assistance Center is located inside the Ventura County Credit Union at 6026 Telephone Dr., Ventura from 10:00 a.m. to 7:00 p.m. The facility will be closed Dec. 24 and 25 and will reopen Tuesday, Dec. 26. A pop-up Client Assistance Center will be open Friday, Dec. 22 at the Ojai Public Library located at 111 E Ojai Ave, Ojai, CA from 10:00 a.m. to 3:00 p.m.
Red Cross workers will be conducting client casework and distributing cleaning supplies. Residents seeking assistance are asked to bring proof of residency, and if possible, a photo ID. It is not mandatory, but it will help speed up the process.
For more information, contact the Red Cross client casework line at (512) 745-2920.
HOW TO HELP
You can help people affected by disasters such as floods, fires, tornadoes and hurricanes by making a donation to support American Red Cross Disaster Relief. For more information, visit redcross.org/donate.
HOW TO VOLUNTEER
Regardless of where disaster strikes, the local Red Cross is already in place, ready to
respond immediately. Aid is routed and distributed by local Red Cross volunteers with
intimate knowledge of the area and needs. Learn more about becoming a Red Cross volunteer or sign up today at redcross.org/volunteer.
About the American Red Cross:
The American Red Cross shelters, feeds and provides emotional support to victims of disasters; supplies about 40 percent of the nation's blood; teaches skills that save lives; provides international humanitarian aid; and supports military members and their families. The Red Cross is a not-for-profit organization that depends on volunteers and the generosity of the American public to perform its mission. For more information, please visit redcross.org or cruzrojaamericana.org, or visit us on Twitter at @RedCross.
By Gazette Staff Writer — Friday, December 22nd, 2017
After serving for two weeks as a one-stop center for fire recovery information and assistance, the Local Assistance Center that was jointly run by the County and the City of Ventura will close its doors on Saturday, Dec. 23, at 5 p.m. Residents still seeking services are encouraged to visit the Center by Saturday, or may obtain services after Saturday at existing local County and City offices.
The County of Ventura and the City of Ventura opened the Center on Dec. 13 at the Poinsettia Pavilion in Ventura to assist residents from all areas affected by the Thomas Fire. It has been staffed by a wide array of County, City, State and Federal agencies, as well as a number of non-profit organizations.
"The Local Assistance Center, which has helped 1,968 households to date, has served as a great example of how County and City government can work together to aid our residents across jurisdictions," said County Executive Officer Mike Powers.
Residents have used the Local Assistance Center to start their recovery from the fire. Information is available on debris removal, permits, housing, rental assistance, vital records, property assessments, public assistance, crisis intervention and stress management, and even services such as replacing driver's licenses. Health care resources are available on site to provide assistance, education, and connections to other health services in the community.
"The assistance center provided a very useful service as the County and the City and our partners responded to the substantial needs of our community and those most directly affected. While the use of the center has decreased significantly over the last few days, the City will continue to offer a full array of direct services and assistance to folks at City Hall. Those that still need help can contact us at City Hall or come to City Hall where we have a fire related service counter established", said Dan Paranick, Assistant Ventura City Manager.
The Local Assistance Center will remain open on Thursday, December 21st and Friday, December 22nd 9 a.m. to 7 p.m., and on Saturday, December 23rd, 9 a.m. to 5 p.m. The County has also opened Recovery Information Center trailers in Ojai and Santa Paula which will operate from 8 a.m. to 5 p.m. until Friday, Dec. 22. These two locations offer debris removal and permitting information, public assistance and housing/rental assistance, and connections to Health education, resources and counseling.
"We can continue to serve people effectively and efficiently through our regular channels," said Barry Zimmerman, Director of the County Human Services Agency, which oversees the Center. Contact information for agencies that have been present at the Local Assistance Center is attached.
To further aid fire victims, Ventura County Recovers (venturacountyrecovers.org) continues to offer a registration feature that allows residents to register their contact information to receive information on specific topics. They can also register the address of their damaged or destroyed property so that officials can proactively provide them with information and official notices related to the rebuilding process.
By Gazette Staff Writer — Friday, December 22nd, 2017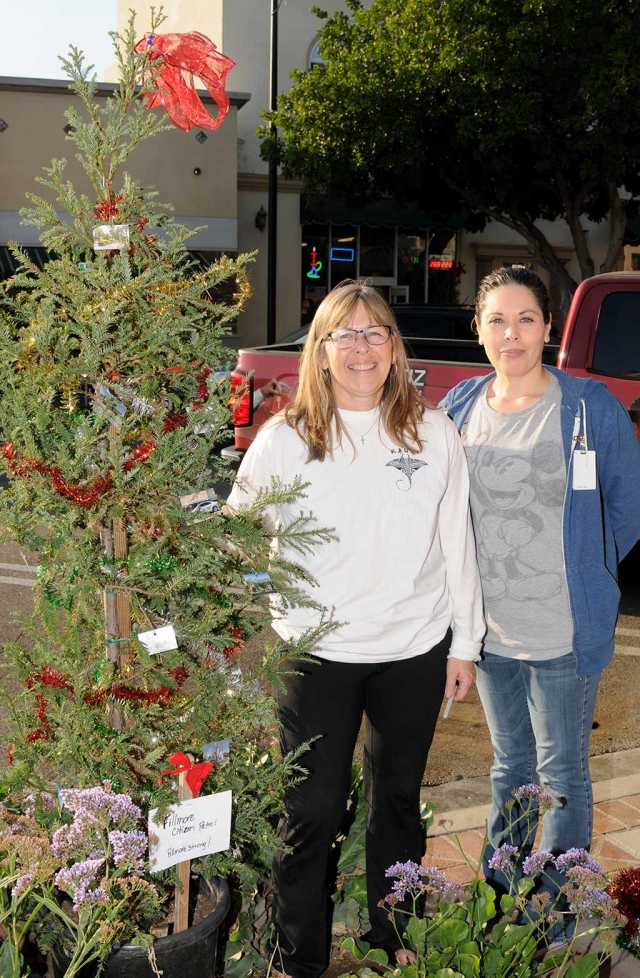 Lisa Hammond (left) and a friend were seen on Central Avenue decorating one of the many Christmas trees that lined Central Avenue downtown. Each tree is decorated in it's own way to represent the club or organization. These ladies were decorating their tree for the Fillmore Citizens Patrol.
Enlarge Photo
By Gazette Staff Writer — Wednesday, December 20th, 2017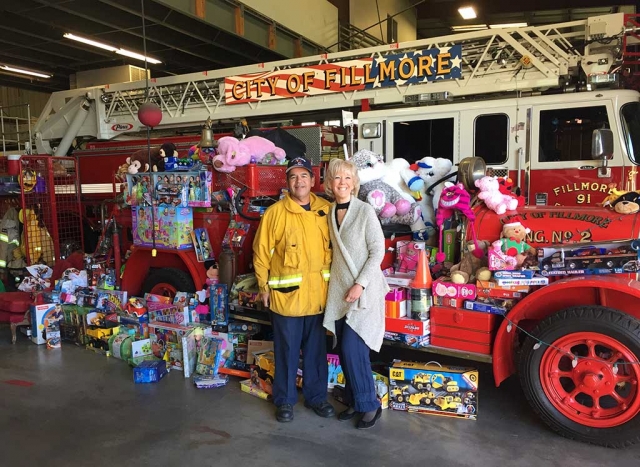 Fillmore Assistant Fire Chief Bill Herrera standing with Jane David who dropped off toys that the International Soroptimist of Fillmore collected from their Annual Fashion Show, Saturday, December 9th. Read more in Letters to the Editor on page 2. Photo courtesy Fillmore Soroptimist Club. Photo courtesy Jane David.
Enlarge Photo
By Gazette Staff Writer — Wednesday, December 20th, 2017
Written By Heather Furness, Grade 4, Gazette Cub Reporter
Merry Christmas everyone! I hope you're ready for Christmas because it's one week away!
If you feel you don't have enough decorations, follow these D.I.Y. steps in order.
1. Get brown, red, white, black, and pink paper.
2. Cut the brown paper to get a round head (It can be an oval, too.)
3. Cut the red paper into a small circle and glue it to the middle of the brown circle.
4. Cut the white paper the same size as the red circle. (Cut two white circles.)
5. Cut the black paper that's a smaller circle then the white circles. (Two circles for black, too.)
6. Glue the white circles on the head and glue the black circles on the white circles.
7. Cut little ovals for the ears and the same for pink but smaller.
8. Glue the brown ears to the head and the pink inside the ears.
If you followed these steps, you should've gotten a Rudolph! Anyways, hopefully you have a Merry Christmas with your friends and family!
By Wanda Castel de Oro — Wednesday, December 20th, 2017
I OD'ed over the weekend. But not on the usual pharmaceutical or distilled devices. And not on eggnog, or marshmallow Santa's or snowman cookies—yet. No, I overdosed on Hallmark Christmas movies. This wasn't an accidental overdose; I planned it, with weeks of pre-recording maneuvers.
I watched approximately 30 movies, good, bad, ugly and uglier. For comparison I threw in a few Hallmark-wannabes on Lifetime. But Hallmark has the secret formula for success, which I am about to bore you with. Here it is

*Every female wears bright red lipstick and is underfed. They also have large teeth, think Men In Black.
*Often featured are two college sweethearts who were madly in love until one decided to leave town for a career opportunity and promised to come back in six months to a year but never did. The end. This promise is always made in the airport with TSA officers nowhere in sight. One of them could scream BOMB and they would still be able to board.
*Ten Years Later—that's usually when they meet up again, past their prime and bitter, and feigning indifference when they—surprise!—reunite over a project they are forced to work on together. There's a lot of stuttering and huffing followed by long-glances.
*Nobody seems able to clear up a simple misunderstanding immediately. They all go mute, unless one is leaving and the plane is just about to take off, then they won't shut up.
*They can't sleep and make cookies at 2am.
*Unemployment must be unusually high in Hallmarkland. People are always heading for job interviews when they run into, literally, a stranger who spills hot cocoa on them. There is a connection between stained clothing and love.
*Speaking of hot cocoa, everyone drinks it with homemade marshmallows and whipped cream, stirred with a candy cane in their favorite Christmas mug that their father/mother/Aunt Mary gave them moments before they died. They probably choked on a marshmallow. I can't figure out why they are so picky about their hot cocoa—these are the same people who eat takeout Thai for Christmas dinner because their dog died on Christmas Day 28 years earlier and they are still pissed at the world.
*They are always ambushing each other with snowball fights. It's a little unnerving.
*Sometimes they are single parents. They use their children as an emotional shield. "I'm just worried about little Tommy getting hurt." If there's a sidekick nearby they will respond, "Just Tommy?" Fade to commercial.
*All children with single parents are ticklish. This has a bit of a sadistic feel to it, like the snowballs.
*Grown men don't seem to mind playing Twister or making gingerbread houses with an 8-year old they met just two days earlier after running into mom and spilling hot cocoa on her white blouse while she was on her way to a job interview.
*Snowflakes are miracles, magical and an excuse to kiss. But
 the kiss is always interrupted by the 8-year old kid. The only thing that interrupts the moment more than a kid is a cellphone. Turn the damn thing off!
*Every woman is named Holly, Merry, Laurel, Ginger or Poppy. Evidently there was a blackout nine months before they were all born in December.
*There is Mistletoe everywhere but the bathroom.
*The women are clumsy. They fall off ladders a lot while placing their grandmother's angel on top of the Christmas tree they hated half an hour earlier. The ex who ran off 10 years ago catches them, under the mistletoe, and the cell phone rings. Then they drink hot cocoa.
*The special 108-year old Christmas ornament Grandpa saved from the Nazis always gets broken. This too seems to spark romance.
And there you have 60-plus hours of wasted time compressed into one simple article. Now that I have fulfilled my Hallmark Christmas movie binge, I am going to detox with Law & Order.
By Gazette Staff Writer — Wednesday, December 20th, 2017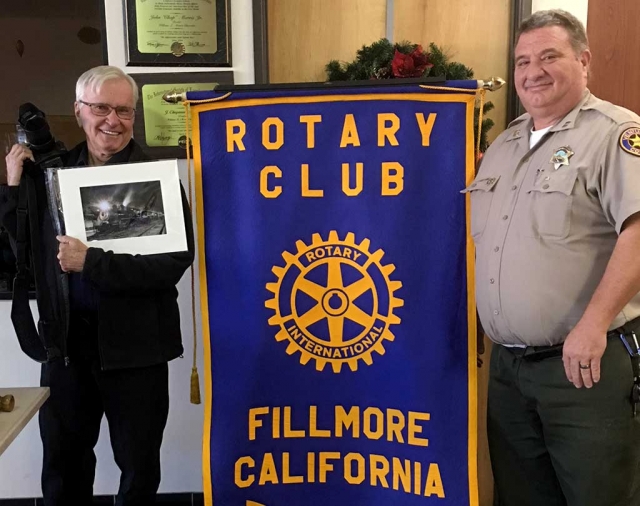 Bob Crum, our local photographer, presented the program last week. He began his photography career in the Air Force and later became a photo journalist for a magazine in Florida. He does all his own printing and feels he can control the look he wants in each photo. His passion is landscape photography and his pictures certainly reveal that. Photo courtesy Martha Richardson.
Enlarge Photo
By Gazette Staff Writer — Wednesday, December 13th, 2017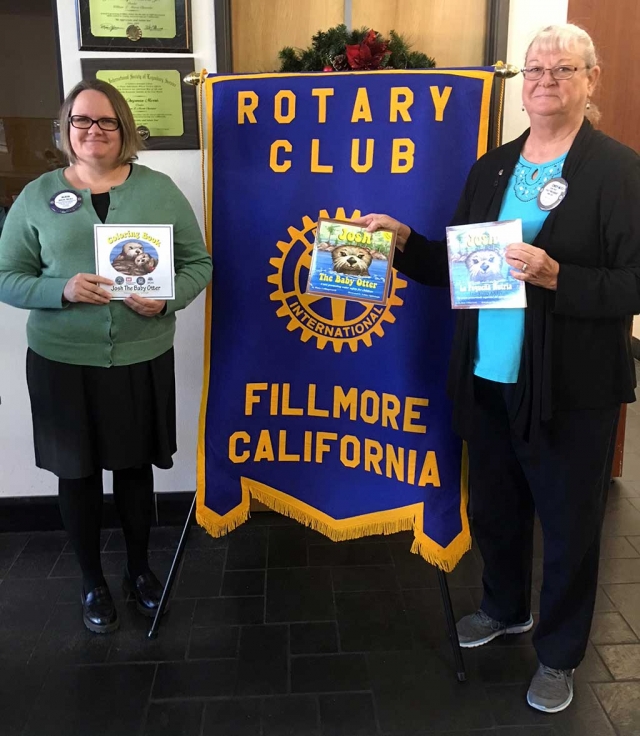 Alicia Hicks and Cindy Blatt presented a new Rotary Literacy project called "Josh The Otter." It is a water safety program which will be presented to Preschoolers and Kindergarteners. Photo Courtesy Martha Richardson.
Enlarge Photo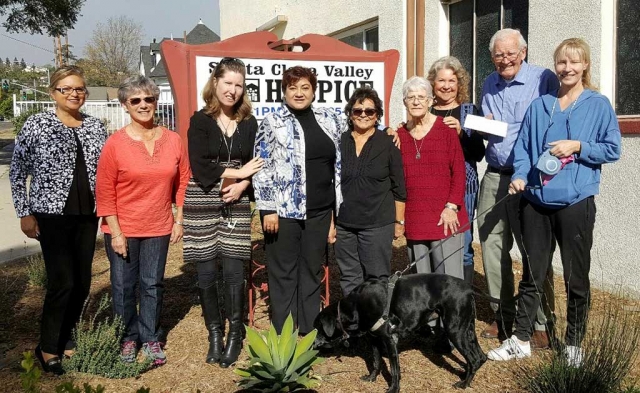 The Santa Clara Valley Hospice as they accept their $4,500 donation towards their 100 Women's group. From left to right, Ari Larson, Barbara Vogel, Michele Morony, Martha A. Navarrete, Rachel Bustillos, Joan Toston, Jeanice Lambert, Bob Russell and Melissa Mabry. Photo courtesy Santa Clara Valley Hospice.
Enlarge Photo
By Gazette Staff Writer — Wednesday, December 13th, 2017
The Santa Clara Valley Hospice / Home Support Group is grateful to be the recipient of $4,500 donation from 100 Women who care about Ventura County.
Checks and cash totaling $4,500 were presented to President Rachel Bustillos and other Board Members by Michele Morony and Melissa Mabry representing the generous group.
The 100 Women's group was founded to meet unmet needs in Ventura County communities through the work of valuable nonprofit organizations. The grant comes in a timely manner considering the state of our community due to the fires. Santa Clara Valley Hospice received and made many phone calls to seniors to verify their safety and well being. The Board of Directors will use these funds to stock their supplies of 4 wheel walkers, wheelchairs, and other medical supplies to better serve the community. "This donation will give the agency a good start for 2018", said Martha Navarrete, Director.
Rachel Bustillos, Board President, stated "We are so fortunate being in the conditions that our community is due to the fire that these ladies thought about our seniors. We are thankful for their generosity. We take pride that our organization gives 100% of what we receive back to people in the communities we serve".
Michele Morony stated, "We are grateful to partner with the Santa Clara Valley Hospice and for the invaluable work they do".
The SCV Hospice is a community volunteer nonmedical hospice serving the communities of Saticoy, Somis, Santa Paula, Fillmore, and Piru. If you have any questions about the services or to make a donation, call 805.525.1333. They are a 501(c) 3 nonprofit organization and all donations received are tax deductible.
By Gazette Staff Writer — Wednesday, December 13th, 2017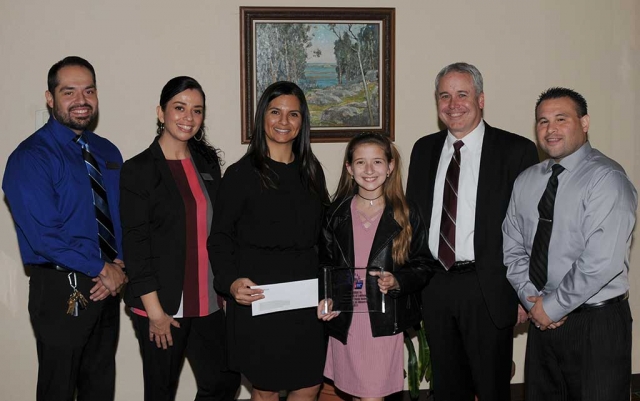 On Thursday, November 30th as part of Union Bank's Investment in the community, they presented Presley McLain with a check for $1,000 in support of the Fillmore/Piru Relay for Life. Presley McLain was selected from nominations all over the state as the 2016 California Division Statewide Recognizing Excellence Special Recognition Youth Engagement Recipient. Pictured (l-r) Francisco Pesantez, Sandra Ambriz, Berta Vassaur, Presley McLain, Brian Gilpatrick, and Noco Vargas.
Enlarge Photo
By Gazette Staff Writer — Wednesday, December 13th, 2017
By Gazette Staff Writer — Wednesday, December 13th, 2017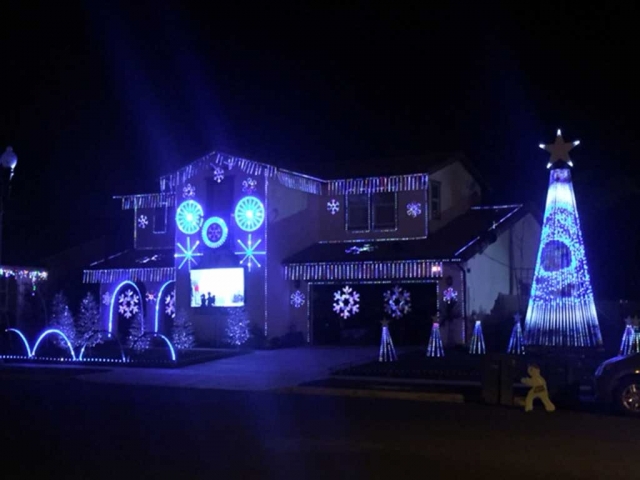 Be sure to visit the house at 408 Edgewood Drive for the their Holiday Light Show "The show consists of over 49,000 RGB lights. 28,672 are used in our P10 Panel Matrix that looks like a TV. Each pixel is capable of millions of colors. There are 22 power supplies, 6 RGB Pixel controllers, and many cables to tie it all together. Our Mega Tree is 20 feet tall and uses 2,600 RGB pixels with fascinating designs and movement to complement each song. I use xLights to sequence the show for all songs. With 27 songs, there is a variety: some classics, some upbeat, and a few surprise songs you would never expect. 'Despacito' has been a crowd favorite!" The show runs Sunday through Thursday (5:30pm to 9:30pm), and Friday and Saturday (5:30pm to 10:30pm).
Enlarge Photo
By Gazette Staff Writer — Wednesday, December 6th, 2017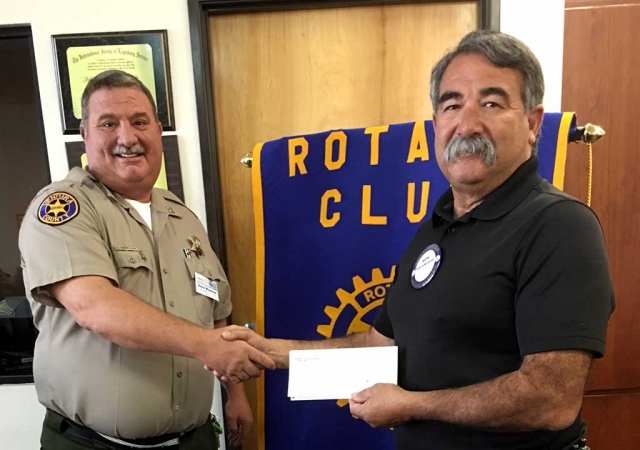 Police Chief Dave Wareham, left, presents Fillmore Fire Chief Keith Gurrola with a donation check for $500 from the Fillmore Rotary Club to go towards books for the Community Give Away which will take place December 16th.
Enlarge Photo
By Gazette Staff Writer — Wednesday, December 6th, 2017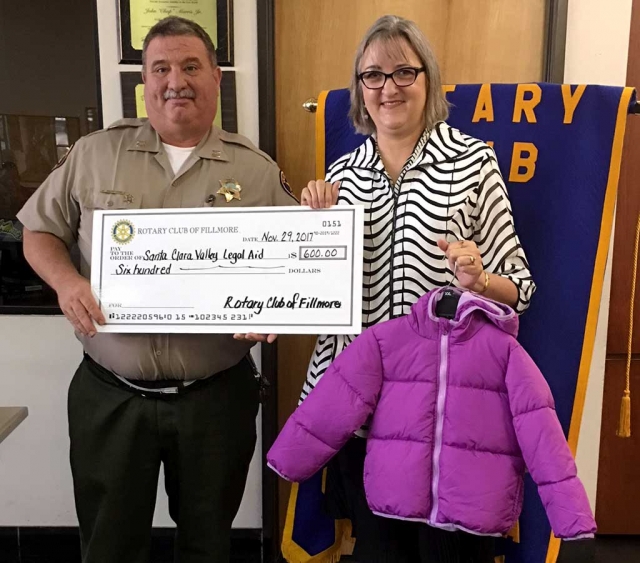 Police Chief Dave Wareham of the Fillmore Lions Club presented Laura Bartels, of Santa Clara Valley Legal Aid with a check for $600 toward the purchase of new coats. The coats will be given out at the Community Christmas Giveaway on Dec. 16. Donations are still needed, call 524-1934 for more information.
Enlarge Photo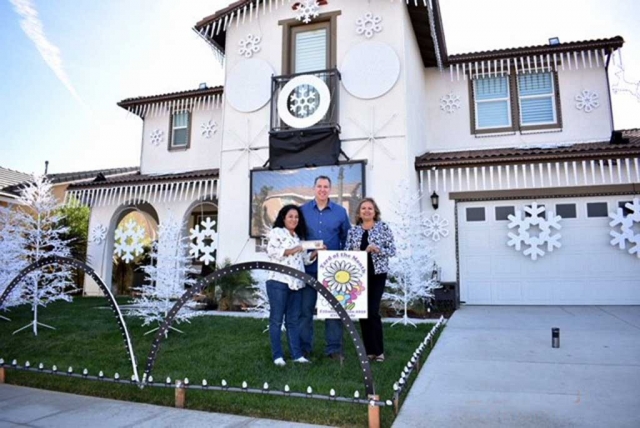 Ari Larson from Fillmore Civic Pride (right) presenting Rosa and Ron Howard with a $40 gift certificate to Otto & Sons Nursery, for being the 2017 December Yard of the Month.
Enlarge Photo
By Ari Larson — Wednesday, November 29th, 2017
Perfect for the holidays, the Fillmore Civic Pride December 2017 Yard of the Month offers lots of beautiful lights and sounds! Ron and Rosa Howard, the owners of the home, would like to invite the community on Saturday, December 9th, to their 2nd Annual Toy Drive at their home (408 Edgewood Drive) starting at 6:00pm. Then, the Fillmore Fire Department will make their way to the festivities at around 7:00pm for photos and to shed some light on the Luv2Dance group, who will be dancing to a favorite Christmas hit. Join them for some hot cocoa and cookies with Santa! They recommend dressing warmly!
Says Ron Howard: "The show consists of over 49,000 RGB lights. 28,672 are used in our P10 Panel Matrix that looks like a TV. Each pixel is capable of millions of colors. There are 22 power supplies, 6 RGB Pixel controllers, and many cables to tie it all together. Our Mega Tree is 20 feet tall and uses 2,600 RGB pixels with fascinating designs and movement to complement each song. I use xLights to sequence the show for all songs. With 27 songs, there is a variety: some classics, some upbeat, and a few surprise songs you would never expect. 'Despacito' has been a crowd favorite!" The show runs Sunday through Thursday (5:30pm to 9:30pm), and Friday and Saturday (5:30pm to 10:30pm).
When asked what their motivation was for all the work and effort they put into the decorations, Ron and Rosa said they wanted to give back to the community. They said Fillmore is a special place for them, and they wanted to thank all of the community, municipal, and local business support they received to make the event possible. Special thanks to: Fillmore Rental, Fillmore Building Supply, Fillmore Fire Department, Fillmore Sheriff and Explorers, and the City of Fillmore.
By Gazette Staff Writer — Wednesday, November 29th, 2017
WHAT: SCVi information night for Fillmore-area families
WHEN: Wednesday, Dec. 6 at 6 p.m.
WHERE: Fillmore Active Adult Center, 533 Santa Clara St.
FILLMORE, CA - Families are invited to a special information night for Fillmore-area residents to learn more about Santa Clarita Valley International -- a tuition-free public charter school -- and meet the school's leaders. SCVi has no district boundaries for families, allowing kids from kindergarten through 12th grade to attend school on a campus closer than Ventura or Moorpark alternatives.
iLEAD Schools maintain a unique emphasis on using methods that foster Learners' social-emotional development. A cornerstone of SCVi's educational philosophy involves Project-Based Learning, an innovative, research-based method of instruction that requires students to tackle deeply engaging projects about real-world issues. They use critical thought, inquiry and synthesis to create solutions and present their findings to their peers. For Learners in upper grades, an academic and college counselor works hand in hand with each student to create a plan to help them succeed academically, emotionally and socially. SCVi is the only school in the Santa Clarita Valley to offer the rigorous International Baccalaureate¼ (IB) Diploma Programme for Learners in their junior or senior year of high school. SCVi also offers Innovation Studios, a unique opportunity for Learners from sixth through 12th grades that leverages technological and human resources to create a hybrid learning environment.
The school offers a high-quality arts and theatre program for all grade levels (including transitional kindergarten), and recently welcomed veteran educator and critically acclaimed actor Ian Johnston to direct iLEAD's International Baccalaureate theatre program. iLEAD also announced a partnership with the International Schools Theatre Association, which Johnston will oversee.
Sports are offered from kindergarten through 12th grade, with Upper School teams participating in the CIF Omega League. The young athletes can play basketball, soccer, flag football, volleyball, cross-country, softball, baseball, golf, and equestrian teams. Renowned coach Ken Erenberg recently joined the SCVi team as athletic director, coming from his most recent position at the now-closed Albert Einstein Academy. Erenberg has won 492 games as a head coach in his career to date, including nine high school titles, and has been named Coach of the Year 11 times by organizations including the Omega, Alpha, and Delphic Leagues and the Gold Coast Conference.
Want to know more about SCVi? Here are a few more reasons to check out the school:
* Individualized learning plans. Whether your child needs extra help or is advanced, we will engage your student where they are and guide their academic achievement even further than you might imagine.
* Entrepreneur and internship opportunities. Our young people are creating and developing new businesses and strategies, using their 21st century skills today — not waiting until they have graduated to start changing the world.
* Options. Not all families are the same, and not all Learners are the same. SCVi offers a variety of individualized learning options, from home study to hybrid learning programs, online classes and concurrent enrollment at College of the Canyons. Whatever your Learner's needs are, they can be met at SCVi!
PARENTS: Registering your child at SCVi is quick and easy: simply visit https://ileadsantaclarita.org/intent-to-enroll/ and fill out the form. You'll receive an email from the SCVi registrar with further instructions. After accepting your spot, complete the registration process by either uploading your documents online or walking them into the SCVi main office at 28060 Hasley Canyon Road in Castaic. Staff are onsite all year to answer your questions, give tours and accept your registration forms.
By Gazette Staff Writer — Wednesday, November 29th, 2017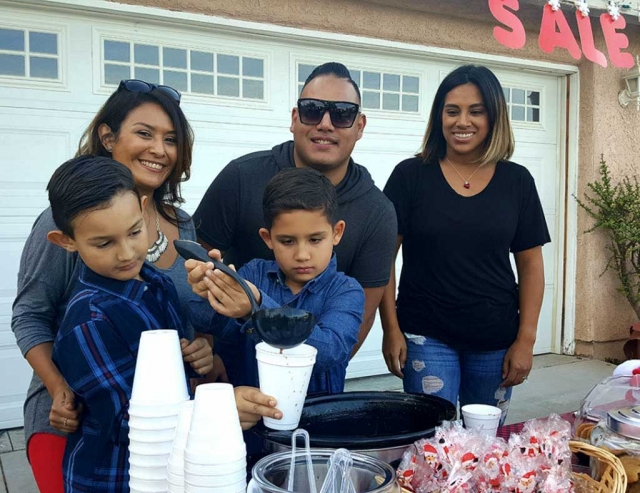 For the past 3 years Brendan Morales, mom Laura Morales, his best friend Colby Satterfield, mom Teresa Satterfield along with their uncle Christopher Zavala have made a large donation to the Fillmore Fire Departments Annual Toy Drive. The boys set up a stand in their driveway offering hot chocolate, goodies and arts and crafts for a donation. They will be out there this Saturday, December 2nd at 331 D Street from 4pm – 7pm. Last year the were able to raise over $300 for this good cause. 2016 photo courtesy of Sebastian Ramirez.
Enlarge Photo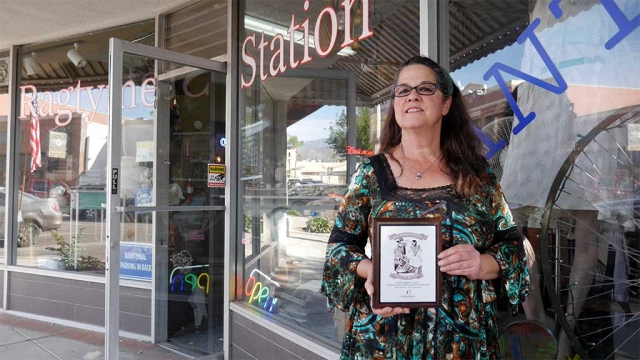 Cindy Largey from Ragtyme Station with her 1st place award for "Best Window Display Contest" at this year's Dia De Los Muertos" (Day of the Dead) event which was held downtown November 2nd. Photo courtesy Diego Rodrigues. Congratulations to Cindy Largey from Ragtyme Station who won First Place in the Fillmore downtown merchant "Best Window Display" contest for Dia De Los Muertos" (Day of the Dead). The window display depicted a standing bride and a skeleton groom riding a vintage bicycle with their pet skeleton doggie holding a "Just Married" sign. The display filled the large window and the neon paint on the skeletons particularly stood out at night. On November 2, over 400 people attended the 4th Annual "Dia De Los Muertos" Day of the Dead celebrated, on Central Ave. in downtown Fillmore CA. Big Brothers & Big Sisters of Ventura County (BBBS) presented the event. BBBS would like to thank all the sponsors, volunteers, vendors and other participants. A huge thank you to: Captain Dave Wareham, Pedro A. Chavez, Los Hermanos Herrera, Radio Lazer, DJ Limon, Ernie Villegas, Francisco's Fruits, La Fondita, E.J. Harrison & Sons, Inc., The Bumper Man. Inc., community members who created altar offerings, Jaime from The Fillmore Bicycle Hub, and to all of the Fillmore and Piru staff, elementary and high school students that participated. We would also like to thank the City of Fillmore, The Fillmore Chamber of Commerce for supporting the event and which proceeds will go towards student scholarships.
Enlarge Photo
By Gazette Staff Writer — Wednesday, November 22nd, 2017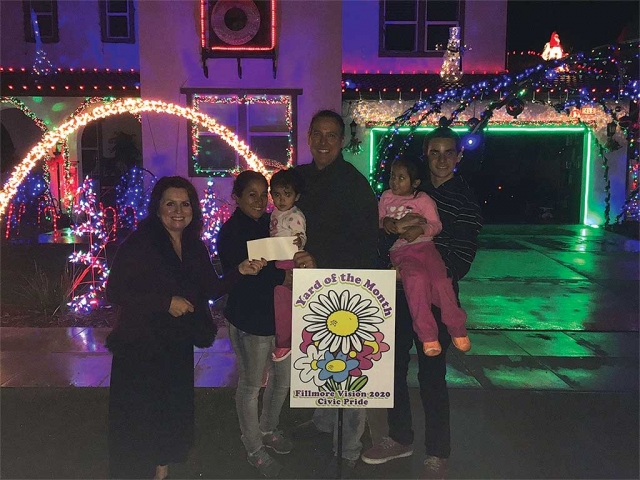 Pictured is a past Christmas "Yard of the Month" decorating award winner, given by the Vision 2020-Civic Pride Committee. Get your decorating done early and you may win this year's $40 gift certificate from Otto and Sons Nursery. Photo courtesy Theresa Robledo.
Enlarge Photo
By Ari Larson — Wednesday, November 22nd, 2017
The Holiday "Yard of the Month" will be chosen from decorated homes and yards within the en-tire Fillmore community. Vision 2020, Civic Pride Committee is putting out a "call" to all the crea-tive and clever, to get their decorating done early, so a list of the winner and honorable mentions may be put in the newspaper, enabling families to tour the neighborhoods.
We invite you to make your suggestions for best decorated yard by phone, text or email to, Ari Larson, at petenari55@hotmail.com or 805-794-7590. She will be making the selection between December 10--11th to give people two weekends to get the decorations put up.
The award will be a $40 gift certificate to Otto and Sons Nursery. The Klittich family have gener-ously continued this award support over the years and Civic Pride Committee members have seen a positive effect in our Fillmore neighborhoods.
By Gazette Staff Writer — Wednesday, November 22nd, 2017
The Fillmore Lions Club has announced that the topic for the 2018 Student Speaker Contest is "What Role Does Integrity and Civility Play in Today's Society?" The contest will be held on Monday, February 5, 2018 at the Scout House, at the end of Sespe Avenue, beginning at 7:00PM sharp. There will be a maximum of six speakers with the winner receiving $100, with a chance to advance to The Zone Contest and to eventually win over $21,000 in money and scholarships. The runner-ups will receive $25 provide that the speech is over five minutes in duration. For more information and to sign up contact M. Tom Ito at Fillmore High School or call Mr. Edmonds at 524-4839. All students living in Fillmore of Fillmore High School age even if attending other school or home taught are eligible. It is best to start early. The topic will be of great interest to parents and to the community. Remember only Six can enter. Submitted by Lions Club member Bill Edmunds.