By Gazette Staff Writer — Wednesday, November 1st, 2017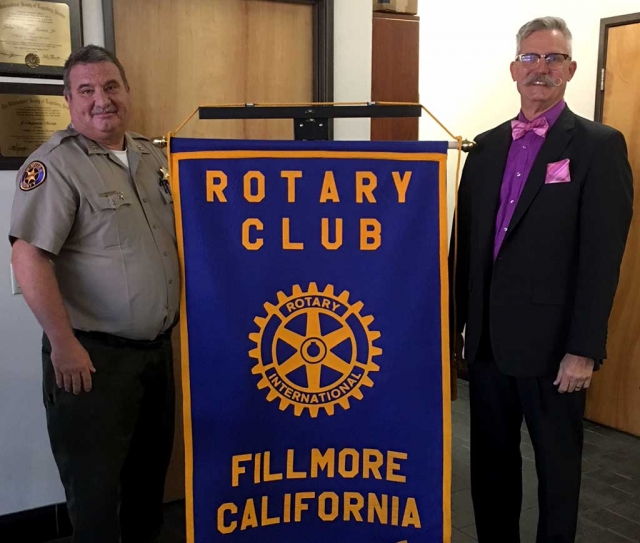 Pictured is Rotary President Dave Wareham with guest speaker Doug Leeper. Doug is Director of Resource Management Agency Code Compliance Division in Ventura County. They check everything from gas pumps at stations, scales at grocery stores, to properties that pose a danger to others. Photo courtesy Martha Richardson.
Enlarge Photo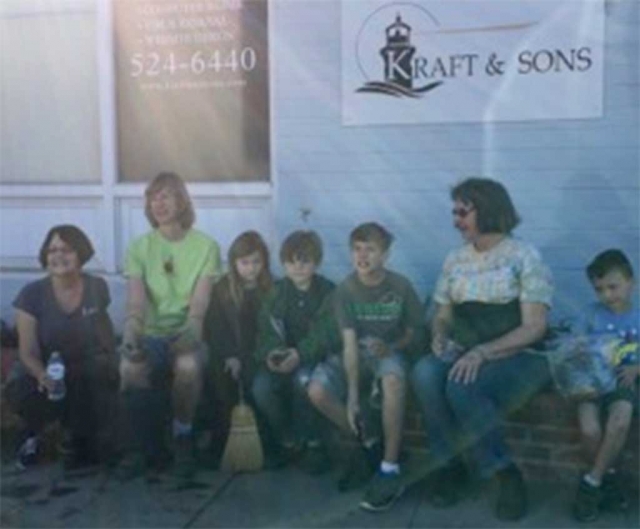 Pictured left to right are some of who participated in helping with the Civic Pride Committee Projects Karen Bagley, Cindy Klittich, Grace Mitchell, Michael Mitchell, Justin Fairall, Linda Nunes and grandson, Jacob Randall.
Enlarge Photo
By Gazette Staff Writer — Wednesday, November 1st, 2017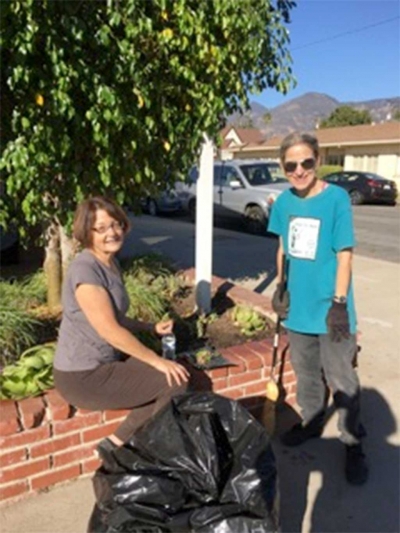 (l-r) Karen Bagley and Annette Ross.
Enlarge Photo
Vision 2020, Civic Pride Committee, with their Statement of Vision being: 'ÄúFoster a thriving small town atmosphere in which people give their time and talents for the good of the community.'ÄĚ accomplished two large projects on Saturday, October 28. Committee members, Annette Ross, Karen Bagley, Cindy Klittich, and Linda Nunes welcomed hard workers, Julie and Justin Fairall, Grace and Michael Mitchell from 4 H groups and James Nunes, who regularly provides muscle and engineering of drip systems for our efforts. We pruned and divided Cape Balsam succulents and Sticks on Fire Euphorbias in three planters within the westside parking lot behind the police station. These planters had been designed and planted in September, 2014 and maintained by our group.
Next we planted succulents at 429 Central and pruned a Ficus tree for Kraft & Sons Computer Store.
Civic Pride meets on the third Wednesday of each month in City Hall at 1:30 pm and we welcome all who are interested in beautifying our community and producing an annual Flower Show to attend.
By Gazette Staff Writer — Thursday, October 26th, 2017
Happy Halloween everyone! I'm going to give you some ideas for Halloween. If you want some ghosts, get a paper or big paper poster (If you want a big ghost), and draw a ghost any size you want. Then cut it out and now, you've got a ghost. Then if you want anything like that like skeletons, zombies, and ghouls, do the same thing. Now pumpkin banners. You'll need string, paper that's orange and green, glue, and scissors. Cut a pumpkin out with the orange paper, and a stem with green paper. Glue them together and draw little designs on the pumpkin. Glue pumpkins to the string and now you have a banner. Halloween can be scary sometimes but fun! Costumes can be fun too! I hope you have a great Halloween!
- Heather Furness, Gazette Cub Reporter
By Gazette Staff Writer — Wednesday, October 25th, 2017
Halloween season is in full swing in Fillmore! A creepy holiday light and music show is on display at 408 Edgewood in The Bridges every night at 7:00, 7:30 and 8:00pm. The display includes music and visuals from Michael Jackson's Thriller, Ghostbusters and The Nightmare Before Christmas. Cruella de Vil and Capt. Hook also join the mayhem, along with music from all your favorite haunts, including songs from Disney's haunted mansion. This year's show has 10 creepy RGB Spiders, 2 Mega Spiders, Meg Spinners, Halloween circles, Giant Pixel Web, and 3 ghosts. You can tune into 97.7 FM on your car radio to listen to the frightfully familiar music. Homeowner Ron Howard went all out to make sure this Halloween is Spooktacular! Ghosts and goblins welcomed.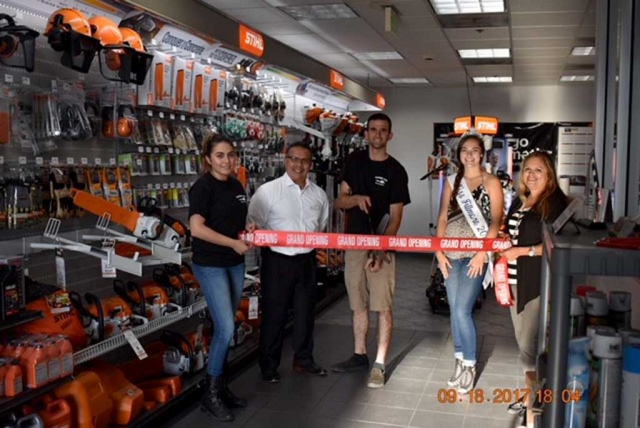 Pictured (l-r) Dulce Zellmer, Martin Guerrero, Evan Zellmer, Miss Fillmore Sara Uridel and Ari Larson cut the ribbon to welcome Fillmore Saw to the community. Photo courtesy Ari Larson.
Enlarge Photo
By Ari Larson — Wednesday, October 25th, 2017
The community welcomed Fillmore Saw with a ribbon-cutting ceremony on September 18, 2017. On hand were Miss Fillmore 2017 Sara Uridel and Fillmore Chamber of Commerce board directors Ari Larson and Martin Guerrero. Evan and Dulce Zellmer offer a variety of saws depending on your needs and also service lawn mowers. Fillmore Saw is located inside Fillmore Rental on Highway 126 (955 W. Ventura St. Rm B). For questions contact Evan Zellmer at 805.827.5130.
By Gazette Staff Writer — Wednesday, October 25th, 2017
Donations of toys, food, diapers and toiletries also sought for Ventura County charities
How do we cope with the good and bad things we face in life? Everyone must overcome hardships like illness, natural disasters, job loss and the deaths of loved ones.
There are lessons to be learned about recovering and thriving after challenging experiences. At this time of year when people give thanks, Community Memorial Health System is sharing personal and inspiring stories that help teach others how to build resilience, strength and hope during trying times.
'ÄúStories of Life'Äôs Joys and Challenges: A Thanksgiving Program'ÄĚ is a free Ethics in Healthcare event and part of Community Memorial Health System'Äôs 2017 Speaker Series. The program starts at 5:30 p.m. Thursday, Nov. 16, at the Museum of Ventura County, 100 E. Main St. in Ventura. James Hornstein, M.D., CMHS Bioethics Committee Chair, will serve as moderator.
Attendees are encouraged to bring donations of toys, food, diapers and toiletries for three charity efforts: Ventura County's FOOD Share food bank; Gabriel's House, a transitional support organization for women and children; and the Ventura County Fire Department's Spark of Love toy drive, which collects unwrapped toys for needy local children.
There will be raffles for prizes throughout the evening program, and those who make donations will receive reusable tote bags.
Registration is free but reservations are required. To secure reservations, please visit www.cmhshealth.org/rsvp or call Brown Paper Tickets at 800-838-3006. Program sponsors are KVTA radio, the Accountable Care Alliance of Ventura, SCAN and Ventura Care Partners Apc.
Community Memorial Health System is a not-for-profit health system, which is comprised of Community Memorial Hospital, Ojai Valley Community Hospital, along with the Centers for Family Health serving various communities within and located in Ventura County, California.
By Gazette Staff Writer — Monday, October 23rd, 2017
Program helps offset college costs to preserve GI Bill benefits for university tuition
In an effort to improve the college-going rate among veterans and active duty military in Ventura County, the Ventura College Foundation is helping Ventura College students who are U.S. veteran and U.S. active duty military offset the cost of tuition through the William and Helen Scarpino Veterans Promise Program, a four-year pilot program funded by donors who cover the first-year costs of enrollment fees for qualifying students, allowing these students to reserve their GI Bill for university tuition.
'ÄúThe William and Helen Scarpino Veterans Promise Program allows us to better assist active duty military and veterans with honorable discharges, to transition into civilian life by helping them further their education and successfully pursue their next career,'ÄĚ said Anne King, Ventura College Foundation executive director.
For the 2017/2018 academic year, the William and Helen Scarpino Veterans Promise Program will award approximately $1,200 to 16 veterans. Applications are accepted from Oct. 1 to 31, and awards will be distributed in January 2018.
To be eligible, students must be U.S. active duty or U.S. veteran (includes U.S. National Guard), a first-time Ventura College student, honorably discharged (if U.S. Veteran) and not currently using a GI Bill. Students must commit to attend Ventura College in both Fall 2017 and Spring 2018 semesters and have completed the FAFSA for the 2017/2018 academic year. Students must maintain a minimum 2.0 GPA and successfully complete at least 70 percent of the classes the student originally registered for.
Designed to eliminate economic barriers to higher education, the Promise grant encourages students to further their education and reach their academic goals. According to Foundation staff, 90 percent of Promise students persist to the second semester at Ventura College compared to 70 percent of their non-Promise counterparts. Promise students enjoy greater retention by taking 25 percent more units than non-Promise counterparts and seeking services available to them on campus, including the Foundation's Lending Library and Scholarship Program.
In addition, the Veterans Resource Center at Ventura College offers a supportive environment and a welcoming campus culture for all veteran students, along with their dependents, and is available to help provide the support needed by veteran students to reach their educational goals.
Established in 1983, the Ventura College Foundation provides financial support to the students and the programs of Ventura College to facilitate student success and grow the impact and legacy of Ventura College as a vital community asset. The Foundation also hosts the Ventura College Foundation Marketplace, an outdoor shopping experience held every weekend on the Ventura College campus east parking lot. For more information, contact Anne King at (805) 289-6160 or aking@vcccd.edu, or visit www.venturacollege.edu/foundation.
By Gazette Staff Writer — Wednesday, October 18th, 2017
Ventura County Arts Council in Partnership with the Fillmore Library is pleased to announce 'ÄúThe First Time'ÄĚ Poetry Contest. The contest is for adults and runs through October 31, 2017. One lucky poet will receive a $50.00 Visa gift card!
There will be a special Poetry Workshop at the Library Saturday, Oct. 21, 2017 from 1 p.m to 2:30 p.m. Fernando Albert Salinas will assist those interested in improving their poetry writing skills. Mr. Salinas currently serves on the VCAC Board and is a local county poet and performer. His writing has appeared in multiple publications including ASKW, Chaparral Journeys and The Aviator.
Poetry submissions may be brought or sent to the Fillmore Library 502 Second Street, Fillmore CA. 93015. Please contact Cathy Krushell at 805.524.3355 for further information.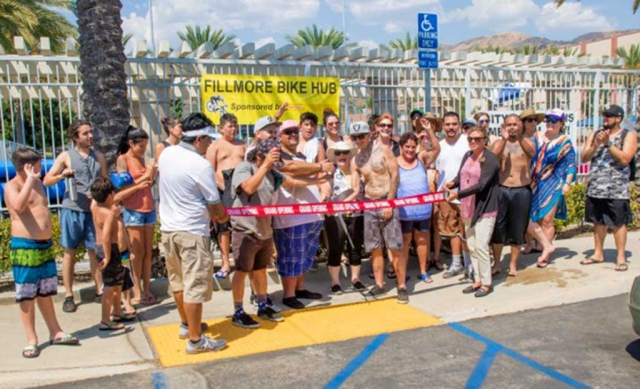 Fillmore Chamber of Commerce welcomed the Bike HUB by hosting a ribbon cutting ceremony. Pictured above are Ralph Jimenez (Pres. Fillmore Chamber), Jaime Ambriz (Bike HUB Project Mgr.), Ari Larson (Fillmore Chamber Board Dir.), Martha Espinoza, Michael Espinoza, Eric Maynard, Timothy Cox, Danny Meraz, Jena Branstetter (Bike HUB Board Secretary),Yvonne Adan (Bike HUB Board of Directors), John Vargas, Martin Gonzalez, Aaron Sandberg, Dulce Cox, Nathan Cox,Timmy Cox and Joshua Cox. Photo courtesy Ron Parker.
Enlarge Photo
By Gazette Staff Writer — Wednesday, October 18th, 2017
Promoting exercise and fun, Bike HUB (a mobile unit) has a mission to foster a safe, healthy community through bicycle-centered education, empowerment and advocacy in Ventura County. They are now in Fillmore. On Sunday, September 2, 2017 they had a bike ride and swim event that included a ribbon-cutting by the Fillmore Chamber of Commerce. For information please contact Jaime Ambriz 805.421.9182 or Email: jambriz@bikeventura.org.
By Gazette Staff Writer — Wednesday, October 11th, 2017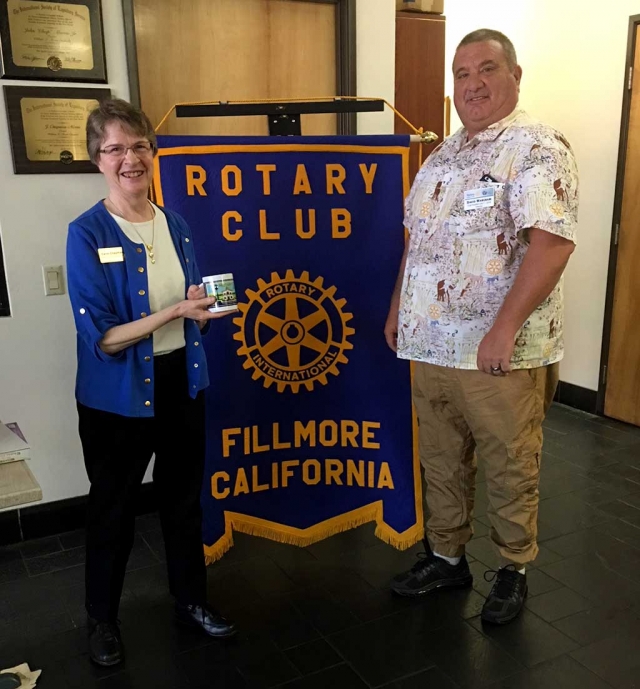 Fillmore Rotary Club hosted Carol Chapman, Ventura County Library Adult Literacy Program Manager, who spoke on the different styles of teaching adults to read and how this free program has changed people's lives. Information on this free service can be obtained at any VC library. Pictured is Rotary member Dave Wareham presenting Carol with a Rotary mug as a thank you. Photo courtesy Martha Richardson.
Enlarge Photo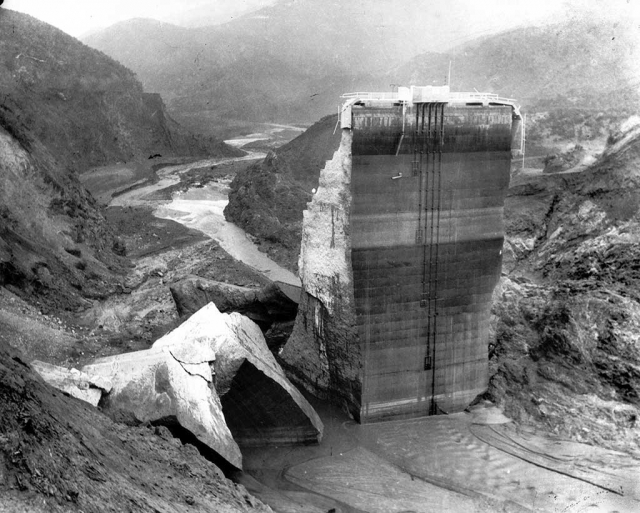 St. Francis Dam photo submitted by Ari Larson.
Enlarge Photo
By Gazette Staff Writer — Wednesday, October 11th, 2017
On Oct. 5, 2017, U.S. Senators Kamala D. Harris and Dianne Feinstein (both D-CA) introduced the St. Francis Dam Disaster National Memorial Act, legislation which would establish a national memorial to honor the lives of the 1928 St. Francis Dam disaster that claimed the lives of 431 Californians. The Dam disaster was California's second largest tragedy in terms of lives lost.
'ÄúWe should not forget the hundreds of lives lost during one of the worst tragedies in California'Äôs history,'ÄĚ said Senator Harris. 'ÄúAnd while this monument will serve as a reminder of the consequences of a failure of infrastructure, it offers a lesson going forward.'ÄĚ
'ÄúIt'Äôs been almost 90 years since the catastrophic breach of St. Francis Dam, one of the most tragic events in California'Äôs history,'ÄĚ said Senator Feinstein. 'ÄúThe dam'Äôs collapse had an impact on the entire nation, with news of the tragedy appearing in newspapers as far away as Maine. This monument will honor the more than 400 lives lost and serve as constant reminder of how critical investments in dam and infrastructure safety are to our communities. That message is just as true today as it was when this horrible event occurred.'ÄĚ
The bill would also establish a 440-acre national monument around the area that would be managed by the U.S. Forest Service, and it would authorize the U.S. Secretary of Agriculture to establish the memorial through the acceptance of donations for the purpose of creating and managing the Memorial.
H.R. 2156, the house companion bill authored by Representatives Steve Knight (CA-25) and Julia Brownley (CA-26), unanimously passed the U.S. House of Representatives earlier this year.
By Gazette Staff Writer — Monday, October 9th, 2017
Actor and comedian Cathy Ladman to host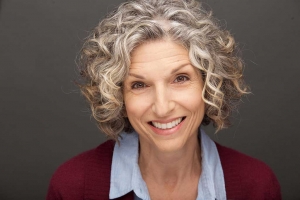 The National Alliance on Mental Illness, Ventura County in conjunction with the Newbury Park High School Theater Department is pleased to announce its first-ever fundraising variety show and night at the theater: Celebrate RECOVERY! An evening of performance to celebrate the depth and diversity of life in recovery with mental illness.
Cathy Ladman has appeared on The Tonight Show nine times, and was also featured on the last two of Johnny Carson'Äôs Tonight Show Anniversary shows, which she considers to be a great honor. She'Äôs made five appearances on The Late Show with Craig Ferguson, had her own HBO One Night Stand comedy special, and was awarded the American Comedy Award for Best Female Stand-Up Comic. A native New Yorker, now living in Los Angeles, Cathy has acted extensively in film and television. Some projects include Mad Men, Curb Your Enthusiasm, and Everybody Loves Raymond. She is currently developing her solo show, 'ÄúDoes This Show Make Me Look Fat?,'ÄĚ about her journey with anorexia, and you can see her in her recurring role on the new Showtime series, 'ÄúI'Äôm Dying Up Here.'ÄĚ
As host and emcee of Celebrate RECOVERY!, Cathy will share stories of her own lived experience related to having a mental health condition. Stories of resilience and hope with a touch of humor.
The event will be held on October 21, 2017 at 6:00p.m. at the Newbury Park High School Performing Arts Center. Regular ticket prices are $125 each and include catered appetizers before the show, a full evening of entertainment, and a dessert bar with coffee afterwards. Performances will include comedy, music, skit, dance, poetry, and more and will be presented by a diverse mix of performers of all ages. Performers will have connections to the mental health community or will have a mental health diagnosis themselves. Tickets are on sale now at www.showtix4u.com. Tickets for door prize drawings will be available for purchase on site, and prizes will be valued at a minimum of $100.
NAMI's classes, programs, and presentations are FREE to the public. In 2016 alone, NAMI's coordinated outreach served the needs of over 5,000 community members, facilitated by 185 volunteers! Events like Celebrate RECOVERY! are vital to NAMI's ability to meet the ever expanding needs of Ventura County community members.
And it will also be an opportunity to reach out in order to raise awareness and erase the stigma of mental illness.
NAMI, the National Alliance on Mental Illness, is the nation's largest grassroots mental health organization dedicated to building better lives for the millions of Americans affected by mental illness. NAMI Ventura County is an affiliate of NAMI Ca. NAMI Ventura County and dedicated volunteer members and leaders work tirelessly to raise awareness and provide essential education, advocacy and support group programs for people in our community living with mental illness and their loved ones.
Sponsorship opportunities are available. Please contact david@namiventura.org.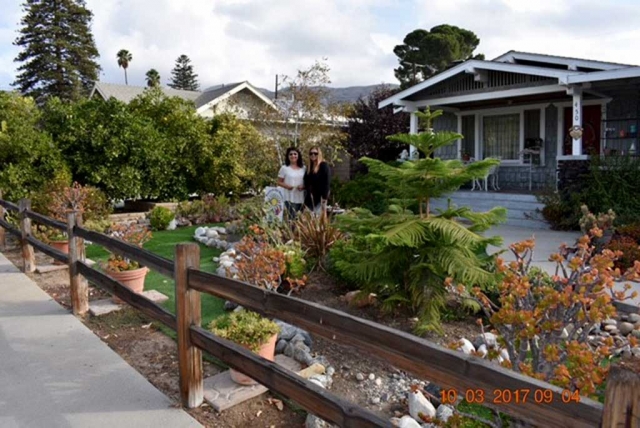 Pictured (l-r) is Mimi Burns and Civic Pride representative Ari Larson standing in the 'ÄúFriendship Garden,'ÄĚ which was awarded Fillmore Civic Pride'Äôs Yard of the Month for September 2017.
Enlarge Photo
By Gazette Staff Writer — Wednesday, October 4th, 2017
Mimi Burns' was awarded the September 2017 Yard of the Month by Civic Pride representative Ari Larson. Mimi was presented with a $40 gift certificate courtesy of Otto & Sons Nursery.
When asked about the inspiration for her yard, Mimi said, 'ÄúI wanted to have a yard that was low maintenance and didn't need much watering. My friends Kim and Wade started by putting up the split rail fence. They then leveled the yard and put the extra dirt in the center making the planter for the flower bed. Kim then put the grass turf down for me. I got the rocks from my friend Susan and my daughter Carina.'ÄĚ
'ÄúI haven't bought a single plant for my yard - everything comes from friends and family. The pine tree was a Christmas present from Carina. The white birch and the purple plum tree were replants from a neighbor that Wade planted for me. The succulents, geraniums and everything else in the yard come from friends who have given me clippings from their plants,'ÄĚ says Mimi when asked about the types of plants featured in her yard.
Regarding the design of the garden, Mimi stated, 'ÄúI have taken these clippings and randomly planted them throughout and it is surprising how they have taken hold and flourished. I want to thank everyone who has contributed to my 'Äėfriendship garden.'Äô It is still a work in progress and a true reflection of 'Äėall things are possible.'Äô Thank you.'ÄĚ
The house is located at 450 Fillmore St. If you would like to nominate a yard in the Fillmore area please email Ari Larson at petenari55@hotmail.com or call 805.794.7590.
By Gazette Staff Writer — Tuesday, October 3rd, 2017
Ventura County Library announces the addition of the MyVCLib mobile app for instant access to Library Services. We have an app for you! Ventura County Library customers can now quickly access online services and resources via an icon on their mobile devices.
The mobile app 'ÄúMyVCLib'ÄĚ delivers the Ventura County Library catalog along with account services such as catalog search, holds, and renewals. You can find the app in the Google Play or iTunes app stores.
Downloadable book and online resource apps are integrated within MyVCLib for easy access to eBooks, eAudiobooks, language learning, movies, and music. Users also have quick links to Ventura County eLibrary content, the Library's event calendar, VCL news, and library location information.
Other features include BookLook, allowing customers to scan a book'Äôs bar code (for example, when in a bookstore) to see if the library owns the title, 'ÄúPopular This Week'ÄĚ suggested reading lists, a place to store library card numbers, and links to the library'Äôs social media and website.
Ventura County Library System:
Inspiring our community to explore, discover and connect.
The Ventura County Library is available 24/7 at www.vencolibrary.org
By Ventura County District Attorneys Office — Tuesday, October 3rd, 2017
VENTURA CA - District Attorney Gregory D. Totten announced today the creation of a Misdemeanor Diversion Program for low-level misdemeanor offenders. The program is an effort to reduce recidivism by providing meaningful education and rehabilitation to appropriate individuals. Beginning October 1, 2017, eligible offenders who choose to participate in diversion will have their criminal charges deferred while they complete rehabilitative classes and pay any restitution owed to the victims. Programming is based on a therapeutic concept known as cognitive behavioral therapy and addresses the individual's particular criminal actions.
Individuals who commit specified misdemeanor crimes will be eligible for diversion only if they have never been convicted of a felony, have not previously been diverted, and have not been convicted of a misdemeanor in the past 10 years. More serious misdemeanor crimes are excluded from diversion, such as driving under the influence, domestic violence, gang-related offenses, crimes exhibiting criminal sophistication, and crimes of significant violence.
Participation is voluntary for offenders. Those who choose not to participate or who fail to complete the program will face criminal charges that have been authorized by a deputy district attorney. Those who complete the diversion program and pay victim restitution, if any is owed, will not face prosecution.
The program is funded entirely by offenders, with neither cost nor revenue to the District Attorney's Office or the County of Ventura. Payment plans are available and a portion of each fee will be deposited into an indigent offender fund that will be used to reduce program fees for indigent defendants who cannot afford the full fee.
The Misdemeanor Diversion Program will be administered by Pacific Educational Services, Inc. (PES), a leader in California diversion programs. PES was selected based upon their proven record of success. A study conducted by the Orange County District Attorney's Office found that while 21 percent of those who declined diversion re-offended within one year, only 6 percent of those who completed the PES program committed a new crime in that timeframe.
The goals of the Misdemeanor Diversion Program are to achieve more positive outcomes and reduce recidivism. Similar programs currently operate in various California counties, including San Luis Obispo, Santa Barbara, Riverside, San Bernardino, and Orange Counties.
Of the program, Mr. Totten stated:
My hope is this program will provide offenders with an opportunity to address the issues that led them to offend in the first place. If we can do that, we will improve the safety of our community and help offenders to change their lives for the better.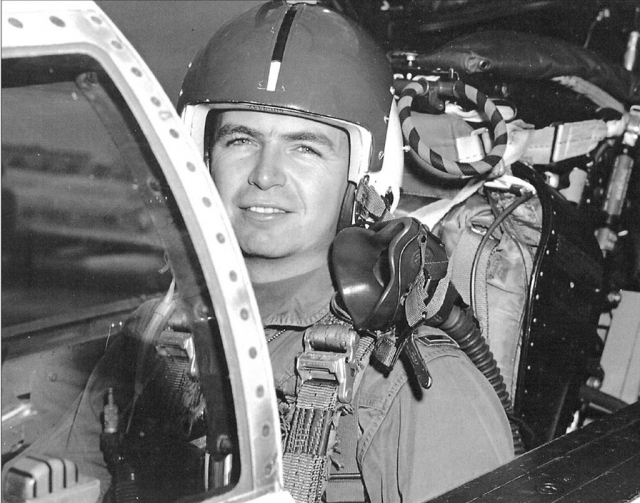 You can purchase the book online at www.amazon.com
Enlarge Photo
By Gazette Staff Writer — Thursday, September 28th, 2017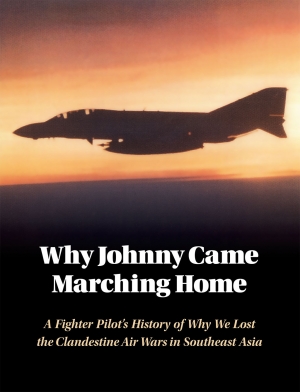 "The author, Russ Goodenough, working with the USAF Historical Research Center staff, assisted my Southeast Asia Declassification Team by identifying specific documents for declassification that could potentially provide special insight into the conflict in SEA. Utilizing this wealth of declassified information, the author has gained an exceptional understanding of the conflict, enhancing & enriching his own combat experience.
'ÄúA reader should follow this fighter pilot'Äôs airborne journey that placed him into benchmark events in the escalating Vietnam conflict. He was one of the first involved. Cockpit experiences combined with research data have created a unique story that portrays this conflict very differently than what we have been told. His detailed portrayal of the massive, clandestine Laotian Air Wars and the CIA involvement deserves to be read by anyone interested in our history. This book should be required reading for all Air Force cadets. Very eye opening!'ÄĚ 'ÄĒ USAF Colonel (ret.) James R. Annis, MBA, MS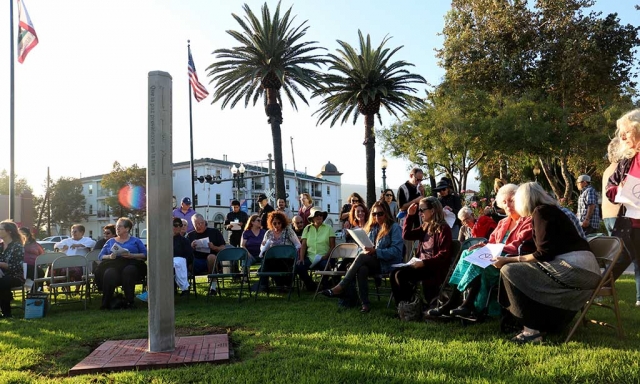 Thursday, September 24th citizens gathered in front of Fillmore City Hall to honor International Peace Day. Photos courtesy Sebastian Ramirez.
Enlarge Photo
By Gazette Staff Writer — Wednesday, September 27th, 2017
A ceremony to honor the International Day of Peace will take place on September 21st at Central Park in front of Fillmore City Hall. The community was invited to participate in the event. The International Day of Peace began in 1982 with a United Nation'Äôs proclamation following a celebration commemorating the 20th Anniversary of the United Nations General Assembly stating 'Äúthat this day be devoted to'Ķstrengthening the ideals of peace both within and among nations'ÄĚ. It was expanded in 2001 to call for a day of global cease fire and nonviolence. Soroptimist International of Fillmore began to honor the International Day of Peace in 2008 with a temporary wooden pole. The permanent Peace Pole was installed in 2010 through the collaboration of the City of Fillmore, local service groups and donations from individuals. The Peace Pole now stands in the southwest corner of City Hall Park to invite person reflection and to stand as a permanent reminder of the need for peace. The Pole has inscribed 'ÄúLet There Be Peace On Earth'ÄĚ in seven different languages. Taking part in the event were Unitarian Minister Maddie Sifantus , Soroptimist President Jane David, Lynn Edmonds, Methodist Pastor Bethany Carpenter, Marlene Barragan and Anthony Palomera. A representative of St. Francis of Assisi Fillmore closed the ceremony. Honored were Janine Rees as Fillmore Peace Maker, and America Munoz as Peace Corps Volunteer in Morocco. A reception followed in Janine Rees'Äôs honor, hosted by Bill Faith and the Rees/Faith families. A special thank you to Lions International of Fillmore for co-sponsoring the event and the Fillmore City Fire Department for setting up the lights.
By Gazette Staff Writer — Wednesday, September 20th, 2017
Ventura County Clerk'ÄďRecorder, Registrar of Voters Mark A. Lunn announced plans to host a National Voter Registration Day event on September 26, 2017, to register voters and encourage participation in future elections.
Started in 2012 for the Presidential Election, National Voter Registration Day is designed to create an annual moment when the entire nation focuses on registering Americans to exercise the right to vote. The goal is to increase participation by encouraging people to register to vote and come to the polls next year.
The Ventura County Elections Division has partnered with libraries throughout Ventura County, Ventura Adult School, Ventura Community College, Moorpark Community College, and Cal State Channel Islands to engage new and existing voters.
The Ventura County Elections Division will be registering voters at the entrance to the Hall of Administration at the Government Center located at 800 South Victoria Avenue, Ventura on Tuesday, September 26, from 8:00 a.m. to 12:00 p.m. Voters can also register at the Elections Division located on the lower plaza of the Hall of Administration, Monday through Friday from 8:00 a.m. to 5:00 p.m. Online voter registration is available in 10 languages: English, Spanish, Chinese, Hindi, Japanese, Khmer, Korean, Tagalog, Thai, and Vietnamese.
Individuals can register to vote in these languages by visiting http://registertovote.ca.gov.
Additional information regarding voter registration is available on the Elections Division website http://www.venturavote.org or by calling the Elections Division at (805) 654-2664.
By Gazette Staff Writer — Wednesday, September 13th, 2017
By Gazette Staff Writer — Friday, September 8th, 2017
Submitted by Lynn Edmonds
Come to the Fillmore Library on Thursday, September 14th at 6:00pm to learn strategies on how to make our community a more peaceful place. After the talk you are all invited to make cranes (from the book 1000 Cranes) to hang as a reminder to work toward peace in both Fillmore and Piru. The event is open to all ages. The talk is a continuation of the Soroptimist International Evening Library talks.