By Gazette Staff Writer — Wednesday, April 27th, 2016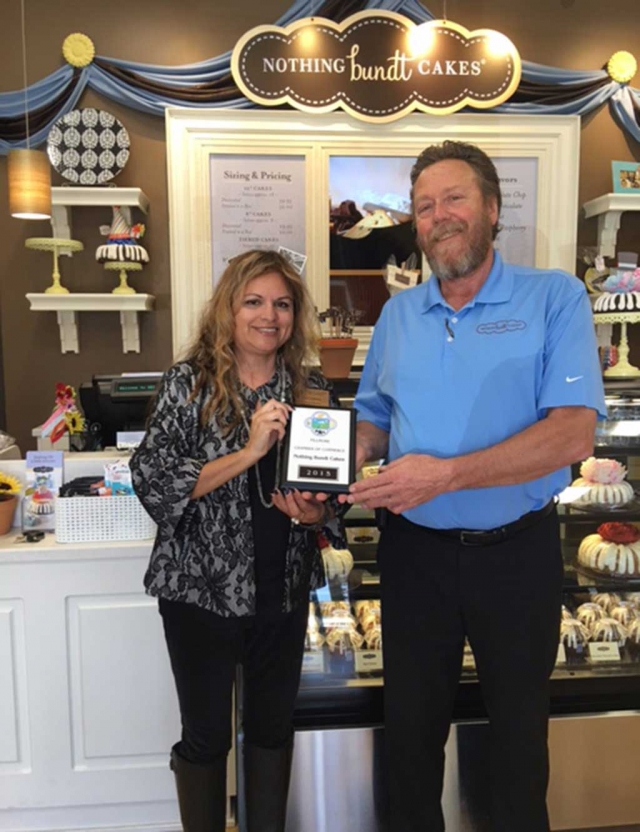 Welcome to our Fillmore Chamber member Nothing Bundt Cakes (1794 S. Victoria Ave.) in Ventura. They have ten cake flavors to choose from and forty unique cake designs. They also feature gifts and cards. Ari Larson from the Fillmore Chamber of Commerce hands Tom Downey the membership plaque.
Enlarge Photo
By Gazette Staff Writer — Monday, April 25th, 2016
Ventura County, CA – Ventura County Community Development Corporation (VCCDC) will host a free educational workshop open to anyone interested in learning more about Estate Planning. This workshop is part of VCCDC's "From House to Home" Homeowner Workshops which are designed to educate homeowners on varying topics such as Financial Planning, Property Taxes, Home Selling and more. The workshop will take place Thursday, April 28th, 2016 at the VCCDC Home Ownership Center located at 2231 Sturgis Road, Oxnard, CA 93030 (conveniently located near the 101 Freeway). The workshop will be provided in English and Spanish, both at 6pm.
Local attorneys Roy Schneider from Schneiders & Associates, L.L.P. and Rennee R. Dehesa from Law Office of Shuck, Becker, & Dehesa , L.L.P will be guest speakers. The workshop will go over the basics of wills, trusts, powers of attorney, living wills, and health care directives. Plus attendees will find out how to: avoid probate and save money, eliminate or reduce estate taxes, protect assets from creditors, protect the interest of their children after their death, and more.
There is no cost to attend the workshop. Space is limited. Seats can be reserved by calling (805) 273-7800 or on VCCDC's website: www.vccdc.org.
About VCCDC
The VCCDC Home Ownership Center is a one-stop-shop where a full circle of services and resources is available to prospective home buyers and homeowners, including: HUD approved pre-purchase education and counseling, post-home purchase workshops, realty, and lending services that include down payment assistance programs and more. VCCDC is a certified Community Financial Development Institution and the only nonprofit organization in Ventura County offering affordable loan products and down payment assistance for first-time homebuyers.
Since it was founded in 2001 as a local non-profit organization, VCCDC has worked to increase homeownership and economic stability in underserved communities of Ventura and Santa Barbara Counties. VCCDC is dedicated to ensuring that homebuyers are prepared for homeownership with the support of certified professionals who provide education and guidance, assisting with planning and problem solving. All VCCDC staff is bilingual, proudly serving the community. VCCDC accomplishes its work in partnership with other community organizations, and is financially supported by private and public funds. Visit us at www.vccdc.org and www.facebook.com/vccdc
By Gazette Staff Writer — Monday, April 25th, 2016
Sierra Bancorp (Nasdaq:BSRR), parent of Bank of the Sierra, today announced that its Board of Directors has declared a regular quarterly cash dividend of $0.12 per share, the same as the dividend paid last quarter but 20% higher than the dividend paid a year ago. The dividend was approved subsequent to the Board's review of the Company's financial results for the quarter ended March 31, 2016, which were close to management's expectations and reflect continued capital strength. The dividend will be paid on May 19, 2016 to shareholders of record as of May 5, 2016. Including dividends paid by Bank of the Sierra prior to the formation of Sierra Bancorp, the Company has paid regular cash dividends to shareholders every year since 1987, comprised of annual dividends from 1987 through 1998 and quarterly dividends since then. The dividend noted in today's announcement marks the Company's 69th consecutive regular quarterly cash dividend.
Sierra Bancorp is the holding company for Bank of the Sierra (www.bankofthesierra.com), which is in its 39th year of operations and at approximately $1.8 billion in total assets is the largest independent bank headquartered in the South San Joaquin Valley. The Company has over 400 employees and conducts business through 28 full-service branches, a loan production office, an online branch, a real estate industries center, an agricultural credit center, and an SBA center.
The statements contained in this release that are not historical facts are forward-looking statements based on management's current expectations and beliefs concerning future developments and their potential effects on the Company. Readers are cautioned not to unduly rely on forward looking statements. Actual results may differ from those projected. These forward-looking statements involve risks and uncertainties including but not limited to the bank's ability to maintain current dividend payments or increase dividend payouts to shareholder, its ability to continue to generate record financial results, changes in economic conditions, interest rates and loan portfolio performance, and other factors detailed in the Company's SEC filings. Sierra Bancorp undertakes no responsibility to update or revise any forward-looking statements.
By Gazette Staff Writer — Wednesday, April 20th, 2016
The 2016 Flower Show is over for another year. Those who participated, both as entrants and spectators, agree it was another great event. There were 339 entries across the nine divisions. The flower show co-chairs, Joanne King and Linda Nunez, worked tirelessly to pull everything together.
However, without the volunteers, vendors and donors, the show would not have gone on! The committee wants give a BIG, SINCERE thank you to all who helped. They are too numerous to name individually and include those who set up the tables, put out the signs, planned for most of the year, took entries, set out the flowers, created the website, sent plants for the plant sale, called the judges, sold the plants, helped the youth with arrangements, carried entries, manned the cafe, sold tickets, took notes for the judges, etc. We even got a few volunteers from the website. Without all the help, there may not have been a Fillmore Flower Show. Also, a thank you to all who came to enjoy the flower show. Fillmore was truly in bloom this year! More than one person was heard to exclaim, "Isn't the community of Fillmore special?"
The Fillmore Vision 20/20 Civic Pride Committee sold tickets for door prizes to make money to support the Flower Show for next year. Many merchants and donors gave items. We wish to thank the following for their contributions:
Ari Larson —Vivi jewelry; Avenue Pet; Bennett's Honey Farm; Carolyn Laskey, Central Station Bar and Grill; Chivas Skin Care—goat milk soap; Diamond Realty & Investments; El Pescador Restaurant, Genmai Restaurant; Joanne King; King and King Ranch; Mary and Ian's Eggs; Ventura County Nursery (Moe Shea); Otto & Sons Nursery; Paula Collin's hand painted gourds; Sandi Ward's Train Stop; The Scented Path; The Treasure Station; Vallarta Restaurant.
Music during the public viewing was spectacularly supplied by Becky Morales on Saturday and Mr. Cooper on Sunday.
Special thanks go to Amelia Aparicio and Doris Nichols. Ms. Aparicio encouraged her students at the Boys' and Girls' Club to enter the composition competition. Ms. Nichols had her Fillmore Middle School students draw roses and other flowers. Along with the other youth who wrote about "Fillmore in Bloom", and those who created arrangements, it was delightful to see such talent on display.
The judges for the Flower Show are professional judges who are in high demand. They travel around to many flower shows, but they really enjoy coming to Fillmore. One of the judges remarked, "This show gets better every year! The arrangements, bouquets and potted plants continue to improve each year."
The Fillmore Flower Show began in 1919. Except for a few years when the volunteers got tired, it has been proud tradition here. Thank you to all who participated, helped and came to the flower show this year. It is never too early to start planning for next year. Look at our website, fillmoreflowershow.com, to see the winning entries and many more flowers and plants.
By Gazette Staff Writer — Tuesday, April 19th, 2016
The 12th Annual NAMI Ventura County Walk benefitting the National Alliance on Mental Illness will be on Saturday April 30, 2016 at the Ventura Promenade. Check in and registration will begin at 9:00 am with the start time for the 5k walk beginning at 10:30 am. The Walk will be held rain or shine. There will be a program from 10:00 am to 10:30 am which will feature speakers from the Ventura County community.
The Walk is a tradition that provides an opportunity to raise awareness about the facts of mental illness, to erase the stigma associated with mental illness, and to raise funds so that NAMI Ventura County can continue to offer all of their programs and services at no cost to persons who can be helped by those services. It gives everyone a chance to show their support for all of the efforts put forth by NAMI Ventura County.
NAMI bases their mission on the principles of support, education, and advocacy for persons impacted by mental illness. They provide classes for family members, providers, and persons with a lived experience of mental illness. They also present in schools, hold support groups for family members, and provide outreach to persons who come to see persons who are in the inpatient psychiatric units in Ventura County. NAMI Ventura County also has a Peer to Peer class for persons in recovery and a Connections support group for persons in recovery as well.
The Walk in Ventura County is a fun family event with activities for children and opportunities to socialize. It also provides our community with a way for us all to come together to show our support for needed services for all persons impacted by mental illness.
To register as an individual walker or to form a team and/or to find information about sponsorships please call 805.641.2426 or visit ww.namiventura.org.
By Gazette Staff Writer — Tuesday, April 19th, 2016
By Gazette Staff Writer — Wednesday, April 13th, 2016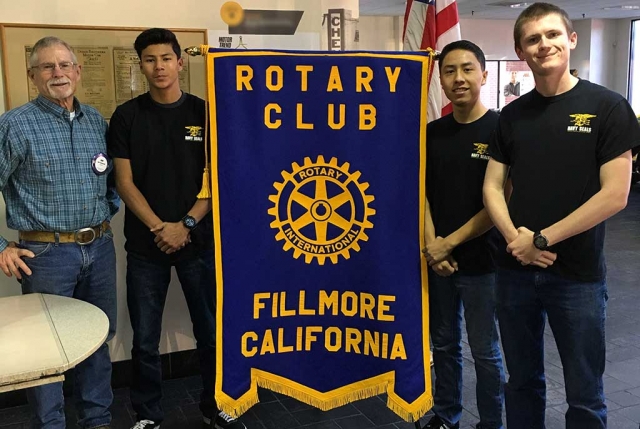 Ricardo Lomeli, Derek Flores and Matthew Hamond presented a program on what they endured during the Navy Seal Invitational last year. It involves team work and physical fitness. They are preparing to compete again this year.
Enlarge Photo
By Gazette Staff Writer — Wednesday, April 13th, 2016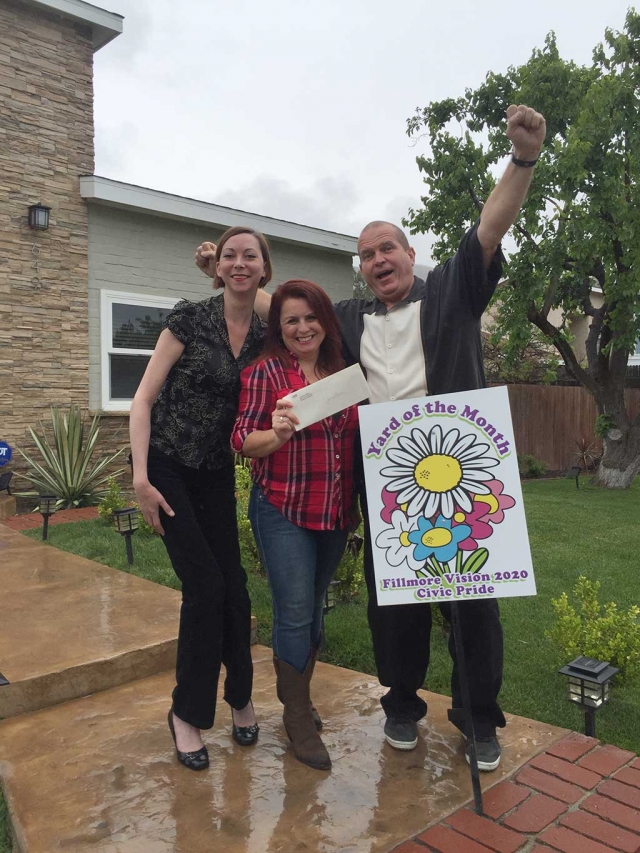 Congratulations to Joe Beebe & Grace Kline, left, for receiving the Yard of the Month Award for April! (As you can see, They are EXCITED!) Amongst the many plants you will find in front of their beautiful home are: Mulberry Tree, Avocado Tree, Japanese Maple, Calla Lillies, Birds of Paradise, Dr. Seuss Plant, Japanese Boxwood and Gorgeous Red Velvet Roses (from Otto & Sons). Please drive by 649 4th Street, cross street A St. to view their beautiful cared for yard by Reyes Landscaping! Thank you to Otto & Sons for their generous gift to the winners of $40. Fillmore Chamber Rep Theresa Robledo presents Civic Pride Vision 2020 Award for Yard of the Month.
Enlarge Photo
By Gazette Staff Writer — Wednesday, April 13th, 2016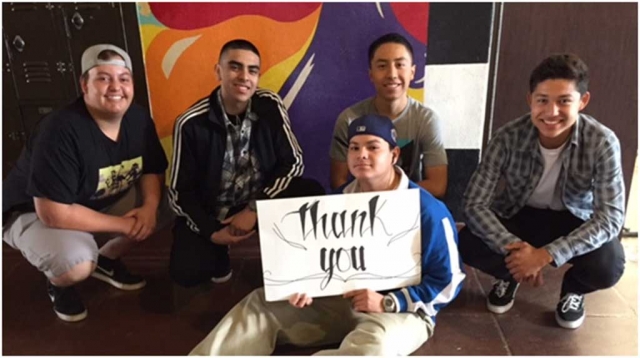 Thank you Rotary of Fillmore for your donation to the Fillmore High School Arts Show. We appreciate your continued support of this event. The show will be this Thursday April 14th at the Memorial Building. The Fillmore High School Concert and Jazz Bands will be performing as well as Ballet Folklorico of Fillmore High School. The Drama Department will be presenting skits and the main room will be filled with student art and photos. Come and celebrate an evening of art with our talented students.
Enlarge Photo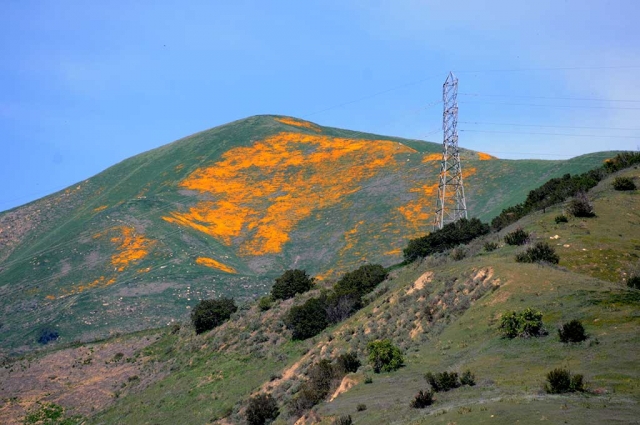 California Poppies
Enlarge Photo
By Gazette Staff Writer — Wednesday, April 13th, 2016
The Official State Flower of California, the California Poppies, are blooming above Fillmore. The California poppy
(Eschscholzia Californica) was designated the state flower of California in 1903. All State Flowers Also known as the flame flower, la amapola, and copa de oro (cup of gold), the California poppy grows wild throughout the state.
Native Americans in California valued the poppy as a food source and for the oil extracted from the plant. Every year, April 6 is California Poppy Day and May 13th - 18th is Poppy Week. Gold is a theme in California symbols; the state colors are blue and gold, the state nickname is The Golden State, and gold is the official state mineral.
By Gazette Staff Writer — Monday, April 11th, 2016
The Ventura County Garden Club will meet on Wednesday, May 4, 2016, at 1:00 PM at St. Paul's Episcopal Church, 117 7th Street, Santa Paula. Lynne Godin, co- owner of "This is a Monarchy," will speak on Monarch butterflies. Rick Krause & Lynne Godin educate children and adults alike at local schools, butterfly encounters and garden clubs. Please attend and learn how to start your own butterfly garden at home. Light refreshments will be served. Members and guests are welcome.
By Gazette Staff Writer — Wednesday, April 6th, 2016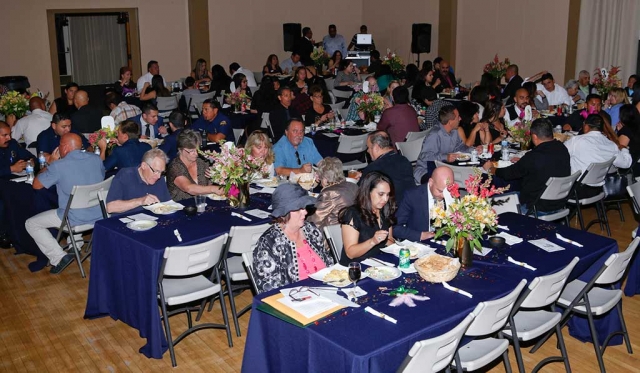 Fillmore Chamber of Commerce Annual Community Awards & Installation Dinner was well attended. Last week's and above photo courtesy KSSP Photo Studio, Fillmore.
Enlarge Photo
By Gazette Staff Writer — Wednesday, April 6th, 2016
The Fillmore Unified School District Board of Education is seeking volunteers to serve on a Citizens Bond Oversight Committee in accordance with Education Code 15266, Board Policy Administrative Regulation AR 7214, and Board Resolution 03-04-21.
The committee will review bond expenditures and report to the public whether these funds are being properly spent on school construction as specified in the measure approved by the voters. The committee will meet quarterly and consist of a minimum of seven members including, but not limited to one representative from each of the following groups: an active member of a business organization representing the business community located within the district, active member of a senior citizens' organization, active member of a bona fide taxpayers' organization, parent/guardian of a FUSD student, and another parent/guardian of a FUSD student who is also active in a parent-teacher organization. No employee, official, vendor, contractor or consultant of the district shall be appointed to the Citizens Oversight Committee. Committee members will serve at least one two year term. The committee will be selected by the Fillmore Unified School District Board of Education and committee meetings will be announced and open to the public.
If you are interested in applying for membership on this committee, please complete a Bond Oversight Committee Interest Form which can be obtained from the FUSD District Office, Business Services Department located at 627 Sespe Avenue, Fillmore, or see the District's website at www.fillmoreusd.org.
By Gazette Staff Writer — Wednesday, April 6th, 2016
The deadline to apply for the Ventura County [Civil] Grand Jury has been extended to April 22, 2016. Applications may be found on the Grand Jury web-site www.ventura.org/grand-jury or by calling (805) 477-1600. As an all-volunteer watch-dog group, service on the Grand Jury provides you with an opportunity to serve your community while learning about local government operations.
The Grand Jury investigates selected complaints received from the public. After investigating a complaint, the Grand Jury issues a written report which includes facts, findings and recommendations.
Basic requirements to qualify for service are: you must be a citizen of the United States, 18 years of age, a resident of Ventura County for at least one year prior to being seated, and with sufficient knowledge of English to conduct jury business. Computer skills are highly desirable. All eligible residents of Ventura County are encouraged to apply.
By Gazette Staff Writer — Wednesday, April 6th, 2016
Monologues from Terre Ouwenhand
Some phenomenal women from history made a visit to the stage at One Step a la Vez teen center on Saturday March 12th. One Step a la Vez hosted a staged reading of selected monologues from Terre Ouwenhand's poetic Voices From the Well. Brought to life were many influential women including conservationist and author Rachel Carson, American artist Georgia O'Keefe, aviation pioneer Amelia Earhart, labor organizer Mother Jones and a fictional young woman based on the real stories of female child soldiers.
This event was visioned by the late Leslie Carson - a woman whose passion for theater and community was so far beyond evident it was contagious and magnetic. Carson and a close circle of friends had the idea to bring this programming to Fillmore in honor of International Women's Day (March 8th). Carson's passing in January did not stop the women she had recruited and cast for parts in the project from seeing it though. Doris Guthrie, Lynn Edmonds, Cynthia King, Jaclyn Ibarra, Ellen Dewey and Kate English continued to hone the production as a special memorial and tribute to their beloved friend.
Chano Ibarra stepped in to help stage and light the event and James Garvic set the sound system.
In honor of Leslie Carson a scholarship has been created, the Leslie Carson Heart on Fire Scholarship. This will be granted to a young woman demonstrating deep passion for the field she intends to embark upon. Donations to this scholarship may be made to One Step a la Vez, PO Box 192 Fillmore, CA 93016.
By Gazette Staff Writer — Tuesday, April 5th, 2016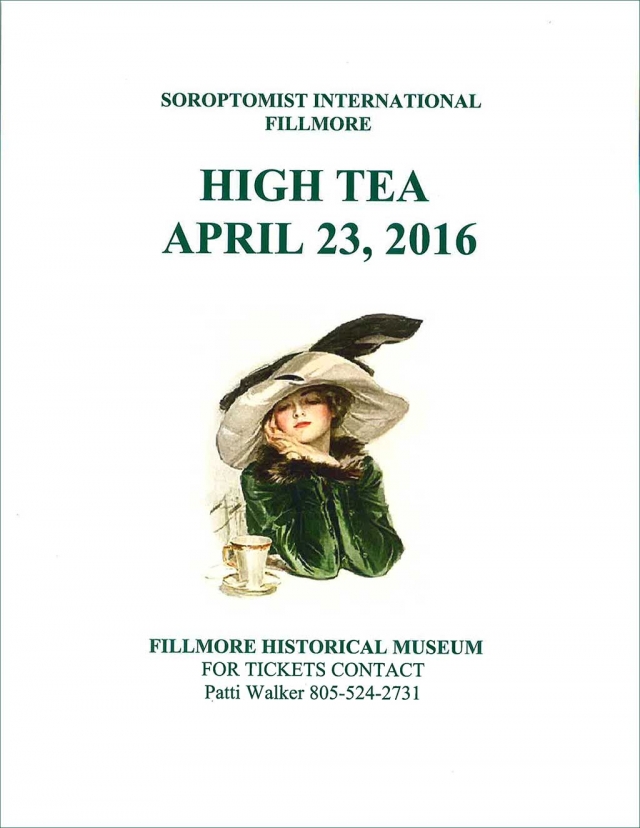 Soroptimist High Tea, April 23, 2016
Enlarge Photo
By Gazette Staff Writer — Tuesday, April 5th, 2016
April 21, 2016
Communicating end of life decisions will be the focus of a free Ethics in Healthcare event Community Memorial Health System is holding as part of its 2016 Speakers Series on Thursday, April 21, from 5:30 to 7 p.m. at the Museum of Ventura County, 100 E. Main St.
Jim Hornstein, M.D., CMHS Bioethics Chair will moderate the latest Ethics in Healthcare event being held in recognition of National Healthcare Decision Day.
The event, entitled "Goodbye to 'Death Panels,' Hello Patient Care - A Must Event for Adults to Understand & Complete Their Own Living Wills" will feature presentations on "How to Complete an Advance Directive," by Diana Jaquez, R.N., manager of CMHS Palliative Care, and a "Toast to Physician Orders for Life-Sustaining Treatment," by Teri Helton, R.N., president of the Ventura County POLST Coalition. Each attendee will receive an advance directive and POLST form. Presenters will review the forms and help attendees complete them. A notary will be available.
Beginning at 4:30 p.m., attendees can arrived before presentations to visit exhibitors with information about elder living, services and programs from local hospice and home healthcare agencies, CMHS Social Services and Palliative Care Services, and representatives from Mission Home Health, Los Robles Homecare, Aegis Living of Ventura and Livingston Memorial Visiting Nurse Association & Hospice.
Registration is free but reservations are required. To secure reservations visit www.cmhshealth.org/rsvp or call Brown Paper Tickets at 800-838-3006.
Community Memorial Health System is a not-for-profit health system, which is comprised of Community Memorial Hospital, Ojai Valley Community Hospital, along with the Centers for Family Health serving various communities within and located in Ventura County, California.
By Gazette Staff Writer — Tuesday, April 5th, 2016
This month, Valley Express celebrates one year of connecting people in the Heritage Valley to resources in their community: schools, work, churches, hospitals, grocery stores, and senior centers. In honor of their year of service, Valley Express is sponsoring an anniversary contest.
To join the one-year anniversary celebration, community members are invited to enter into a random drawing for one of six $25 VISA gift cards by going to the Valley Express website, www.valleyexpressbus.org, and doing one of the following before April 29:
1. Take a short 10-question quiz testing local Heritage Valley knowledge; or
2. "Follow" Valley Express on Twitter or "Like" Valley Express on Facebook, and post a comment with the hashtag #FelizAniversario.
Valley Express service launched in March of 2015, operating two routes in Santa Paula, one in Fillmore, and one in Piru. After twelve months of operation, the service has expanded to include a secondary route in Fillmore, and additional weekend service to/from Piru. In addition, the Valley Express operates door-to-door services for seniors and disabled patrons, as well as for residents that live in far-reaching areas of Heritage Valley.
Valley Express runs on both weekdays and weekends. It also provides supplemental, seasonal bus service in Fillmore and Santa Paula during the school year to accommodate additional student riders.
"Valley Express dial-a-ride and fixed-route services connect people in Fillmore, Piru, and Santa Paula with the most important destinations in their communities," said Ginger Gherardi Councilwoman for the City of Santa Paula. "The system makes it convenient for people to get to the places they need to go."
Monthly fixed-route ridership has grown from roughly 5,800 when the service debuted in March 2015 to nearly 8,000 in February of this year, with ridership topping over 10,100 during October 2015.
Valley Express service is provided through a cooperative agreement between the cities of Fillmore and Santa Paula, the County of Ventura, and the Ventura County Transportation Commission. It is administered by the Ventura County Transportation Commission. The fixed-route and Dial-A-Ride service is the Heritage Valley's own community-based transit program, replacing the former VISTA Dial-A-Ride service sponsored by VCTC.
Day passes, monthly passes, and discounted passes for youth, seniors, and persons with disabilities are available. To learn more about Valley Express bus services, both fixed-route and Dial-A-Ride, call (800) 438-1112 or visit www.valleyexpressbus.org. Remember to visit www.valleyexpressbus.org before April 29 to enter the Valley Express one-year anniversary contest.
By Gazette Staff Writer — Monday, April 4th, 2016
April 20, 2016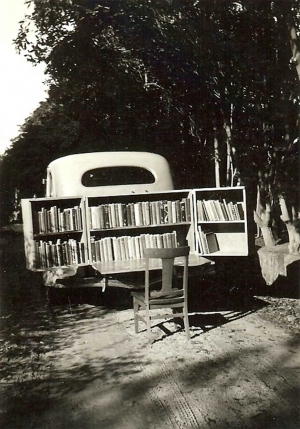 Ventura County Library is celebrating 100 years of service! Please join us to celebrate our Centennial on April 20, 2016 from 4 to 7pm in the E.P. Foster Library Topping Room at 651 East Main Street in Ventura, CA from 4 to 7pm.
Historical exhibits open at 4pm, presentations and speakers will be at 5:30pm. A "Tell us your story" booth will be featured. Catch up on the library's history, share your library memories, and see what others have shared as well. Get a glimpse into what the next 100 years hold for Ventura County Library!
Ventura County Library System:
Inspiring our community to explore, discover and connect.
The Ventura County Library is available 24/7 at www.vencolibrary.org
By Gazette Staff Writer — Wednesday, March 30th, 2016