By Gazette Staff Writer — Wednesday, February 15th, 2017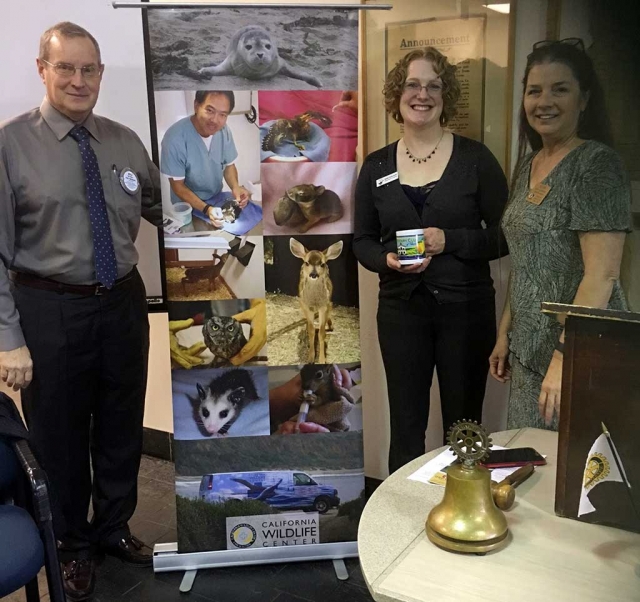 (left)Kyle Wilson Program Chair, Heather Brown from California Wildlife Center and Julie Latshaw. The Wildlife Center cares for sick, injured and orphaned native wildlife and eventually releases them back into the wild.
Enlarge Photo
By Gazette Staff Writer — Wednesday, February 15th, 2017
A Familia a Familia Course is presented by NAMI Ventura County, The National Alliance on Mental Illness is offering a FREE 12-week program in Spanish, starting Monday, February 20, at One Step A La Vez, 421 Sespe Ave., Fillmore, CA 93015 from 6:30 p.m. to 9:00 p.m. p.m
This series of 12 classes are for family members, couples, and friends of loved ones who have mental illnesses such as: severe depression, bipolar disorder, schizophrenia, affective-schizophrenia, panic disorder, obsessive compulsive disorder, post-traumatic stress disorder Dual diagnosis disorders (substance abuse with mental illness).
The program is provided by a team of volunteers, family members, trained by NAMI Ventura County, who know the struggles of a loved one dealing with mental illness.
To register or for more information call: (805) 641-2426 – English or Spanish. The class is limited to 25 people so call soon to reserve a seat. You are also welcomed to review our website: www.namiventura.org
***
Familia a Familia 12 Semanas de Clases
En Fillmore
NO HAY COSTO PARA ESTAS CLASES
Se Presenta un Curso de Familia a Familia
NAMI Ventura County, La Alianza Nacional Sobre Enfermedades Mentales ofrece un programa gratuito de 12 semanas cada lunes, en español, empezando el 20 de febrero, en One Step A La Vez, 421 Sespe Ave., Fillmore, de las 6:30pm a las 9:00pm.
Esta serie de clases es para los miembros de familia, parejas, y amigos de seres queridos que tienen enfermedades mentales como: depresiĂłn severa, trastorno bipolar, esquizofrenia, esquizo−afectivo, desorden de pĂĄnico, trastorno obsesivo compulsivo, sĂ­ndrome de estrĂ©s post traumĂĄtico y desordenes de diagnĂłstico doble (abuso de sustancias con enfermedad mental).
El programa es dado por un equipo de voluntarios, miembros de familia, entrenados por NAMI Ventura County, quienes saben lo que es tener a un ser querido luchando con desordenes mentales.
Para registrarse o para mĂĄs informaciĂłn: llame 805−641−2426 (inglĂ©s o español). La clase se limita a 25 personas. AsĂ­ que llame pronto para reservar un asiento. TambiĂ©n le invitamos a revisar nuestro sitio web: www.namiventura.org para mas informaciĂłn.
By Gazette Staff Writer — Wednesday, February 15th, 2017
Submitted by Joe Ricards
The Fillmore FFA would like to invite you to attend our Annual Tractor Driving Contest. The contest will be held February 18, 2017 at our school farm and will start at 9:00am. Students are encouraged to be dressed from the waist up in uniform. Lunch will be provided by the Boosters Club.
Teams will consist of 5 members per team. However, individual awards will be given. The events will consist of the following:
1. 3 point hook-up.
2. Trailer backing.
3. Picking up a ball with a skip loader.
4. Row crop driving.
5. Cultivating with a spring tooth.
6. Tractor I.D. or trouble shooting.
If you have any questions please call me. Also, please call or E-mail with the number of students you plan to bring.
By Gazette Staff Writer — Wednesday, February 8th, 2017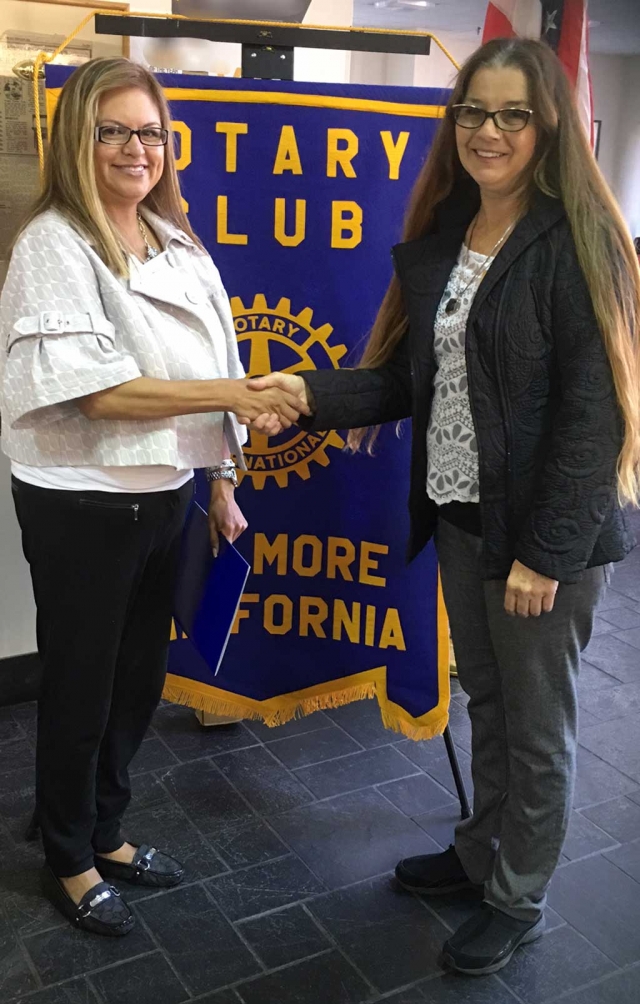 The newest member to the Rotary Club of Fillmore is Ari Larson inducted by President Julie Latshaw
Enlarge Photo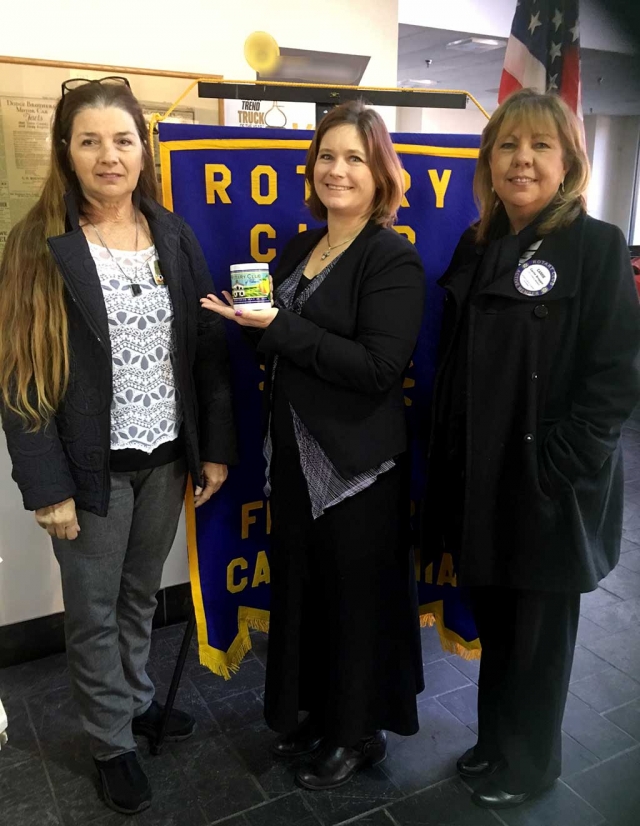 Fillmore Rotary Club Updated on City Projects. President Julie Latshaw, speaker Roxanne Hughes and Program Chair Carrie Broggie Roxanne Hughes, the City of Fillmore Engineer updated the Club on projects she is working on including the new traffic signal on Mountain View/126, more sidewalks and paving local streets.
Enlarge Photo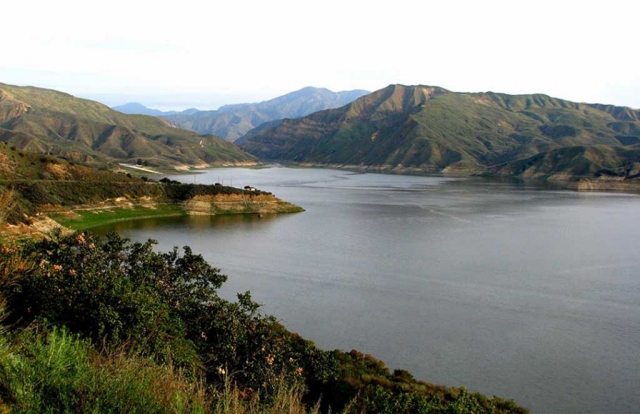 Ventura County Public Works Agency receives grant funding to capture stormwater for groundwater recharge in Piru.
Enlarge Photo
By Gazette Staff Writer — Wednesday, February 8th, 2017
PIRU, CA - The Ventura County Public Works Agency Watershed Protection District's (VCPWA WPD) proposed Piru Stormwater Capture for Groundwater Recharge project was selected for funding of $455,837 by the State Water Resources Control Board under Proposition 1 Storm Water Grant Program, Round 1. The project, which will be a collaborative effort with the United Water Conservation District (UWCD), is one of 27 statewide projects to receive an award from the total $105 million grant fund for this round of funding.
The proposed project will capture runoff from 123 acres in the unincorporated Ventura County community of Piru to remove sediment, trash and other pollutants. Approximately 38.5 acre feet per year of runoff will be captured using the existing storm drain system. The captured runoff will then be conveyed to the northern 26 acres of the existing, inactive UWCD Piru Spreading Grounds, for recharge of the Piru groundwater basin.
"This is a unique opportunity for Piru community to gain cost-effective, long-term, and sustainable recharge of groundwater with minimal design and construction efforts" said Ewelina Mutkowska, Stormwater Program Manager.
"Collaboration with other agencies, municipalities and stakeholders is key to developing new and affordable water resources for the county and a top priority for United Water Conservation District," added Mauricio E. Guardado, Jr., General Manager of UWCD. "We look forward to working with Ewelina and the Ventura County Public Works team on recharging the groundwater of the Piru basin."
The proposed project will provide dual benefits of water quality improvement, compliance with Clean Water Act, and long-term sustainable water supply enhancement. By utilizing existing infrastructure and making a few modification, this project will meet federal and state requirements in the most cost effective manner. Construction is anticipated in summer of 2018.
By Gazette Staff Writer — Wednesday, February 8th, 2017
Santa Clara Valley Disposal will maintain its regular Friday trash, green waste and recyclables collection schedule in Fillmore on Feb. 24, during the week of Presidents' Day.
For more information, call 647-1414.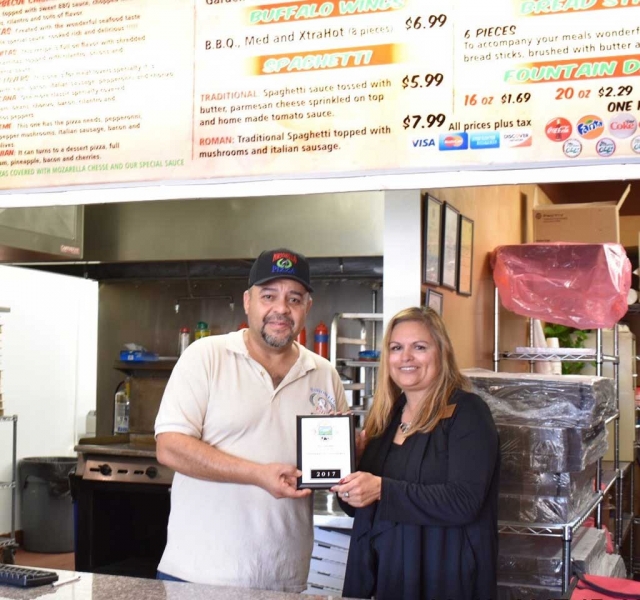 Both FZ Tax Services and Portobello Pizza are members of the Fillmore Chamber of Commerce. (l-r) Bernardino Orea from Portobello Pizza and Ari Larson from the Fillmore Chamber of Commerce, presenting the business with a membership plaque
Enlarge Photo
By Gazette Staff Writer — Wednesday, February 1st, 2017
FZ Tax Services has relocated to the Super A Shopping Center (751 Ventura St./Hwy. 126).) Next door to them
Portobello Pizza has just opened their business. The two will be celebrating joint grand openings on Saturday, February 4th. The public is invited to join in the ribbon-cutting, door prizes, pizza samples and more at 1pm.
By Gazette Staff Writer — Wednesday, January 18th, 2017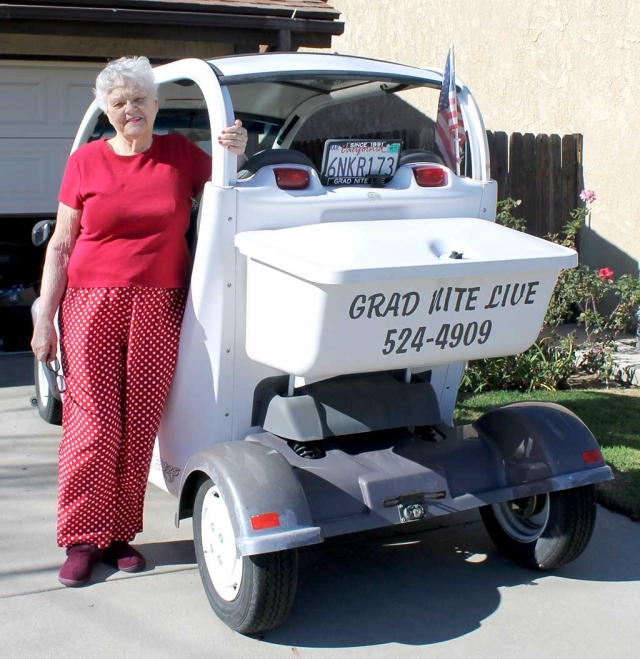 Mrs. Chaney standing next to the infamous Grad Nite Live Electric Car. Mrs. Chaney said, "It is with a heavy heart I am selling my electric car (Grad Nite Live). I can't drive any more so it sits. It needs some TLC and batteries. I drove 10,000 miles since 2002 and never left Fillmore. It will be nice to see my GEM out and about in Fillmore again. Thanks for waving at me all those years."
Enlarge Photo
By Gazette Staff Writer — Wednesday, January 18th, 2017
The City of Fillmore is pleased to welcome our new Parks and Recreation Coordinators Abel Duque and Claire Faith. Abel and Claire both started Monday, January 9th.
Mr. Duque has experience working with recreational and afterschool programs and most recently worked for the Boys and Girls Club in Ventura. He graduated with his Bachelor of Arts in Sociology from California State University, Channel Islands and is bilingual.
Ms. Faith grew up in Fillmore, and has her Bachelor of Arts in Recreation Administration from Humboldt State University. She spent some time as a recreation leader for the City of Eureka and worked outdoor and aquatic programs at Humboldt State.
"We lucked out and found two superstars to move the Parks and Recreation Department forward with fresh and innovative ideas and programs. I cannot wait to see to what they develop." said David W. Rowlands, City Manager.
Early projects include developing a sustainability plan, new recreational programs and a community survey to determine what programs the residents want receive.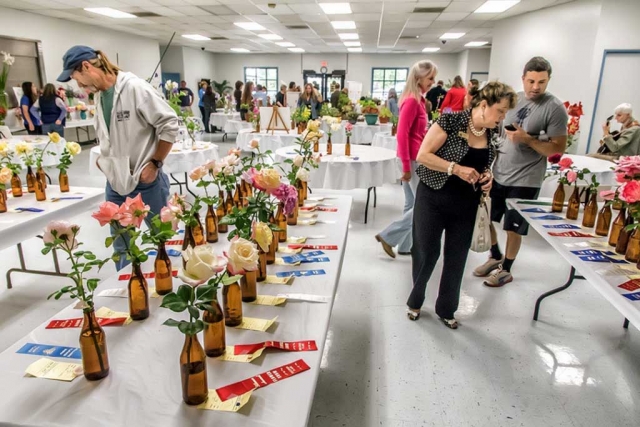 Last year's Fillmore Flower Show theme was "Isn't the community of Fillmore special?" and had 339 entries across nine divisions.
Enlarge Photo
By Gazette Staff Writer — Wednesday, January 18th, 2017
The Fillmore Civic Pride committee announces the date of the spring Fillmore Flower Show. It will be held April 8 and 9, 2017 at the Active Adult Center, 533 Santa Clara in Fillmore. The fun and creative theme for the show this year is "Birds, Bugs and Beautiful Blooms".
According to experts, now is the time to prune roses to get spectacular blooms for the spring flower show in April. If interested, Otto and Sons Nursery is offering rose pruning and seasonal care workshops at their nursery. The workshops are January 21 and 28 from 10 a.m. to 12 p.m. The $15 charge per session includes a $10 gift certificate for next purchase, a goodie bag and opportunities for a door prize. Reservations are a must. Call 805-524-2123 or go to their website for more information.
At the suggestion of the Flower Show judges, a class has been added to Division VI- Miniature Arrangements and Bouquets. In addition to class A size not to exceed 4 inches by 4 inches, new class B size not to exceed 10 inches by 10 inches. This will allow participate more creativity and flexibility.
There will be several more encouragements to participate in the April flower show. Updates are also on the website fillmoreflowershow.com.
By Gazette Staff Writer — Wednesday, January 18th, 2017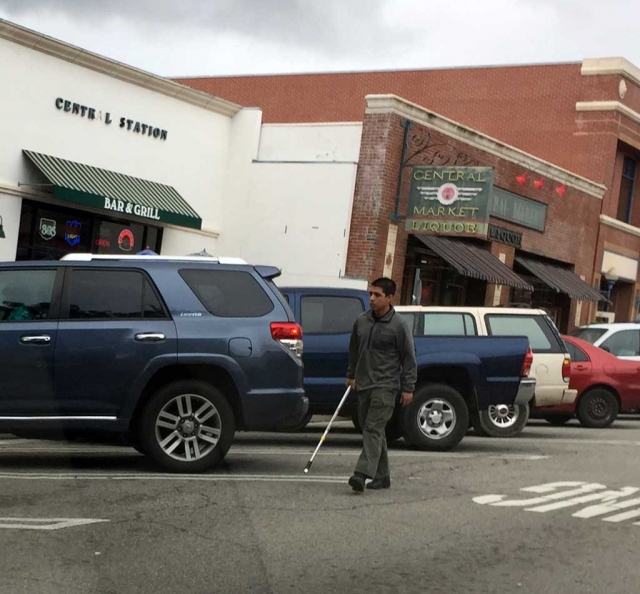 Watch out Fillmore residence, avoid being ticketed on Central Avenue, they are chalking tires.
Enlarge Photo
By Gazette Staff Writer — Wednesday, January 11th, 2017
Santa Clara Valley Disposal will maintain its regular Friday trash, recycling and green waste collection schedule in Fillmore on Jan. 20, during the week of Martin Luther King Jr.
For more information, call 647-1414.
By Gazette Staff Writer — Wednesday, January 11th, 2017
Advances in reconstructive and cosmetic surgeries will be the focus of a free seminar that Community Memorial Health System is holding on Wednesday, Jan. 18.
Samuel Bern, M.D., who specializes in reconstructive and cosmetic surgery, will lead the discussion during the seminar to be held from 6 to 8 p.m. in the eighth-floor Nichols Auditorium at Community Memorial Hospital, 147 N. Brent St.
Dr. Bern will discuss who is a good candidate for surgery and whether it is healthy to have multiple surgeries. He also will discuss breast and facial reconstructive surgery; the future of cosmetic surgery, including facial transplants; and whether television cosmetic reality shows are honest.
Dr. Bern received his medical degree from Yale University. He trained in general surgery at Harvard and plastic surgery at UCLA. He is certified by the American Board of Plastic Surgery, and he is a member of the Society of Surgical Oncology. Dr. Bern has 35 years of experience in plastic surgery. He has been an active member of the Community Memorial Hospital staff since 1992.
Registration is free but reservations are required. Visit cmhshealth.org/rsvp or call Brown Paper Tickets at 1-800/838-3006.
Community Memorial Health System is a not-for-profit health system, which is comprised of Community Memorial Hospital, Ojai Valley Community Hospital, along with the Centers for Family Health serving various communities within and located in Ventura County, California.
By Gazette Staff Writer — Wednesday, December 21st, 2016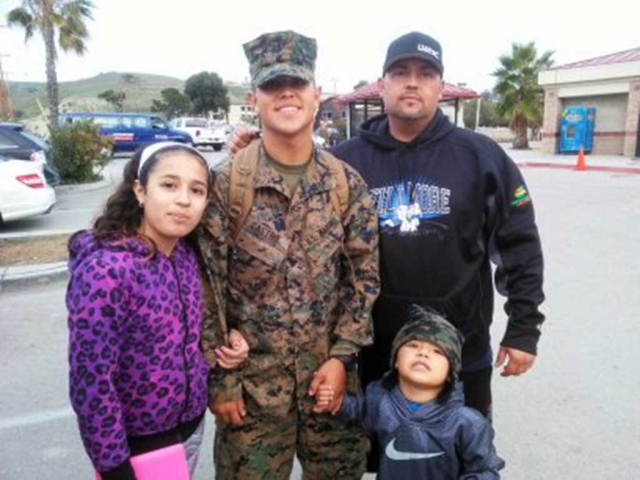 (above) Michael Castro and his family stop and smile for a photo to celebrate his promotion. Story and Photo Submitted by the Castro Family. I want to congratulate my son and F.H.S Grad Michael Castro (class of 2014). Michael was recently promoted to Lance Corporal. For the last few months Michael has been at Fort Benning in Georgia attending ABV (assault breacher vehicle) school this is Michael's 2nd MOS (military occupational specialty) earlier this year Michael graduated from Combat Engineering school as the class Guide. On Dec.16 Michael graduated ABV school as the class Honor Grad. Needless to say Michael is doing well for himself but more importantly he's representing F.H.S and Fillmore very well. In the few pictures he sends me in his civilian clothes Michael is always wearing his F.H.S wrestling sweatshirt, beanie or football shorts or UA so I know he has not forgotten where he came from and is proud of that fact. Michael is now back in So Cal at his new home, Camp Pendleton with his unit 1st Combat Engineer Battalion. Good luck to Michael and all of our young men and women serving our Country. Good job son!
Enlarge Photo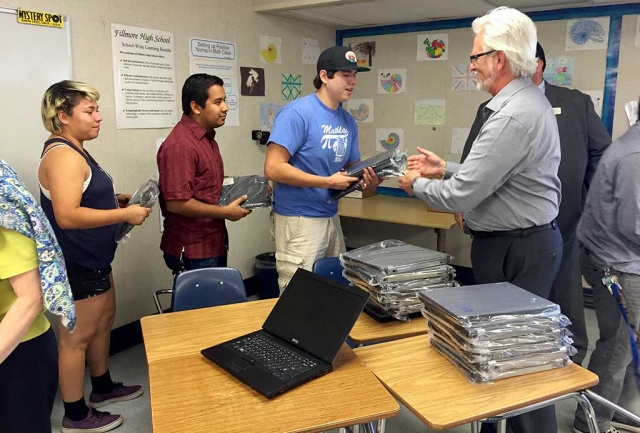 Jim Vigdor, Alcoa, Simi Valley, passes out laptops on behalf of the Alcoa Foundation.
Enlarge Photo
By Gazette Staff Writer — Wednesday, December 21st, 2016
Story and Photo courtesy of Marybeth Jacobsen
'Tis the season to be jolly, and 45 students, from 14 Ventura County high schools, are very jolly this holiday season. This month, they each received a Dell Latitude laptop complete with a Microsoft Office Suite software package, carrying case, flash drive and 4 year warranty.
A $15,000 grant from the Alcoa Foundation made the Workforce Education Coalition's ("WEC") Laptop Advantage program possible.
Students who received laptops submitted a teacher recommendation and an essay about why they need a personal laptop. WEC President, Marybeth Jacobsen, said that, "The essays demonstrated how bright and motivated to succeed these students are. Based on the students' essays, it's clear that the Alcoa grant made it possible for us to positively change some young people's lives. "
Because they now have the tools that they need to excel, these students will no longer be at a disadvantage when they walk into a classroom. The new laptops permit them to carefully complete and submit on line homework, do research, write reports, create PowerPoint presentations, and complete college and financial aid applications.
Next year, the WEC hopes to continue its Laptop Advantage program and to add graphing calculators to the gifts awarded to students. Anyone who would like to support the WEC's work should contact Marybeth Jacobsen at WorkforceEC@gmail.com.
By Gazette Staff Writer — Wednesday, December 14th, 2016
By Gazette Staff Writer — Wednesday, December 14th, 2016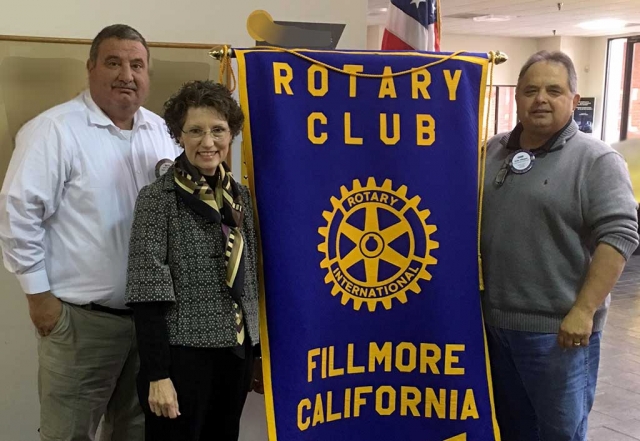 Dave Wareham, President Elect, Marybeth Jacobsen CEO for the Workforce Education coalition and speaker at Rotary, Ernie Villegas program chair.
Enlarge Photo
By Gazette Staff Writer — Wednesday, December 14th, 2016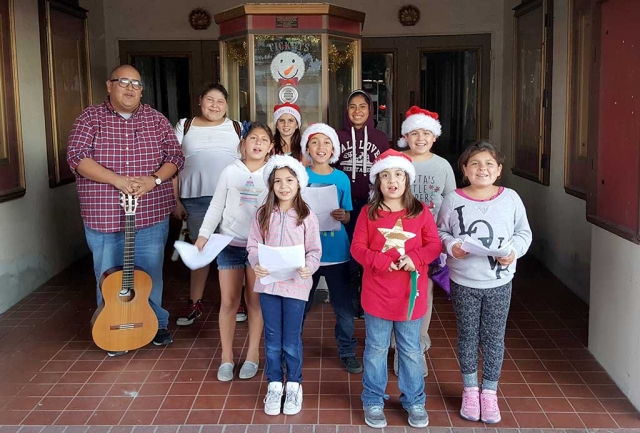 Friday afternoon a group of kids from the Boys & Girls Club got into the Christmas spirit, by singing Christmas Carols to the community in front of the Historic Fillmore Town Theatre.
Enlarge Photo
By Gazette Staff Writer — Wednesday, December 14th, 2016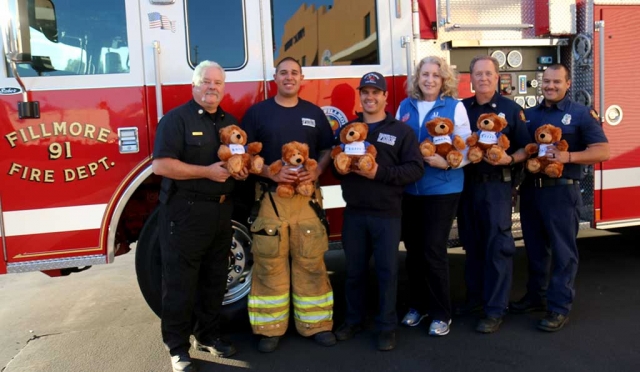 Fillmore Fire Department received a donation of 24 B.U.F.F.Y Bears that will provide comfort to children in times of distress and trauma from Assistance League of Ventura County. All Fire apparatus will be carrying these bears to be given to children in need. Assistance League is a nonprofit volunteer organization dedicated to the enriched of the lives of children in Ventura County and the betterment of their future and will be continuing to supply us as needed in the future.
Enlarge Photo
By Gazette Staff Writer — Wednesday, December 14th, 2016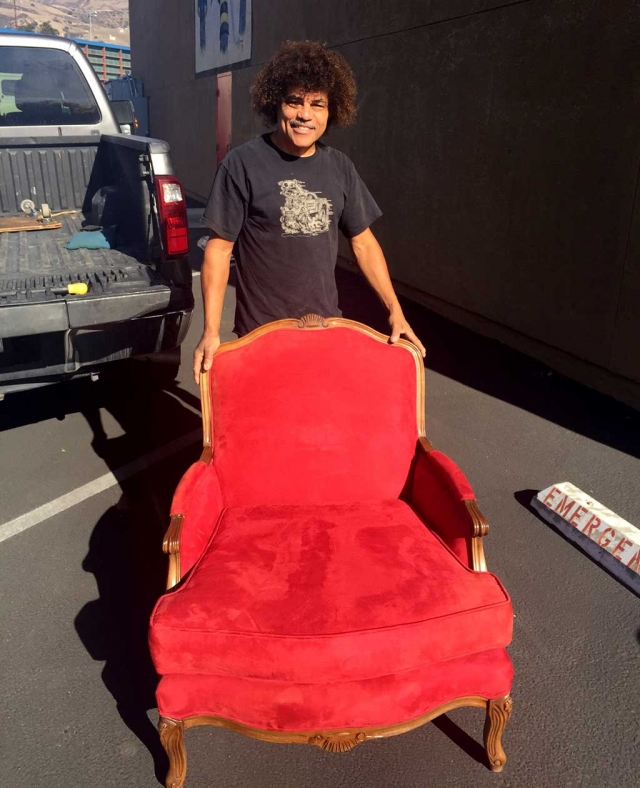 Steve Butcher and friends all pitched in to buy a red chair for Santa Claus off of Craigslist and donated it to the Fillmore Fire Department. They will also store the chair for free for Santa. Photo courtesy of Fillmore Fire Department.
Enlarge Photo