By Gazette Staff Writer — Tuesday, June 16th, 2015
Since Independence Day falls on a Saturday this year, Santa Clara Valley Disposal will maintain its regular Friday trash collection schedule that week.
For more information, call 647-1414.
By Gazette Staff Writer — Tuesday, June 16th, 2015
Ventura County, CA - Federal regulations require state and local agencies that conduct ambient air monitoring for regulatory purposes to submit an Annual Monitoring Network Report. The report must contain specific monitoring network information and be available for a 30-day public inspection period prior to submittal to the U.S. Environmental Protection Agency (U.S. EPA).
In years past, the Ventura County Air Pollution Control District (VCAPCD) prepared the report for Ventura County. This year, the required information for Ventura County is included in a report compiled by the California Air Resources Board (ARB). ARB compiled the Ventura County portion of the report with input from, and review by, the VCAPCD.
A link to the report is provided here:
http://www.arb.ca.gov/aqd/amnr/amnr.htm
A link to Ventura County's Ambient Air Monitoring Network Report web page is provided here:
http://www.vcapcd.org/AirMonitoringNetworkPlan.htm
If you have questions about the Ventura County portion of the report, contact Mallory Ham at mallory@vcapcd.org, or 805-662-6960.
By Gazette Staff Writer — Tuesday, June 16th, 2015
WHO: Gretchen Carlson is an award-winning journalist and host of FOX News Channel's The Real Story with Gretchen Carlson. She previously co-hosted Fox & Friends for eight years and served as a correspondent and co-anchor on the CBS Saturday Early Show. She was crowned Miss America in the 1989 Miss America Pageant.
WHAT: Gretchen holds nothing back in Getting Real, as she addresses the judgments she faced first as Miss America—including judge William Goldman labeling her "chunky"—and later as a woman building a career in the competitive world of broadcast television. Reflecting on her marriage to star sports agent Casey Close and her time as a working mother, Gretchen brings to life the joys and the challenges of raising children while pursuing a career at CBS and FOX. Gretchen reveals that faith, conviction, and family buoyed her as she pursued her dreams and continued to challenge those who tried to dismiss her as a beauty queen.
WHERE: The Ronald Reagan Presidential Foundation and Library
40 Presidential Drive
Simi Valley, CA 93065, 805-522-2977
WHEN: Friday, June 26th, 2015 at 7:00 pm
By Gazette Staff Writer — Tuesday, June 16th, 2015
Need to pay fines for an overdue book or a lost item? Ventura County Library now offers our customers a convenient online method of paying fines and fees.
From the library's website, customers can locate "Pay Fines and Fees" under My Account or under Library Catalog.
The link will take users to Comprise Technologies' SmartPay tm, a secure website. Smartpay is compliant with the PCI Security Standard for credit card transactions.
Customers can login to their account with barcode and PIN and select all or some of their fines to pay. Customers can pay any amount.
The system will present a confirmation receipt of the transaction which can be printed.
Visa and Mastercard credit cards are accepted.
Payment can be made from your tablet, laptop or PC in the privacy of your home or office.
Library users can also make a donation to Ventura County Library.
Visit www.vencolibrary.org or email library.postmaster@ventura.org
About Ventura County Library. Ventura County Library is an 11 branch system throughout Ventura County. VCL lends print and digital materials, and offers downloadable music, ebooks, eAudiobooks, streaming video, including movies, documentaries and TV series. Visit www.vencolibrary.org
By Gazette Staff Writer — Tuesday, June 16th, 2015
July 25, 2015
Community Memorial Healthcare Foundation is holding Motion by the Ocean, a 1K/5K/10K run/walk event on July 25 to benefit the new Community Memorial Hospital.
Motion by the Ocean will be held at the Promenade Park – Oceanfront in Ventura.
Registration begins at 6:30am. The 10k run begins at 7:30 a.m., the 5K at 9 a.m. and 1K at 10:30 a.m. There is a free 1K Fun Runs for Kids. All races are timed and awards will be given based on age group.
This event is open to all abilities and all ages, with an emphasis on health and families. The event also features participant awards, Ventura area exhibitors, health fair and more.
For more information or to register visit www.motionbytheocean.org or call 805-667-2881. Walk up registrants are also welcome the day of the event.
The Community Memorial Healthcare Foundation, formed in 1984, is a nonprofit, charitable organization with the basic mission of providing meaningful ways to educate the community regarding the service capabilities of Community Memorial Hospital; to work with the community to facilitate support of Community Memorial Hospital; and to raise funds for the development, operation and maintenance of programs and services.
The Foundation was organized under the Nonprofit Public Benefit Laws of the State of California and has a 501(c)(3) tax-exempt status under the Internal Revenue Code.
Through the activities and programs of this nonprofit, charitable organization, area residents are ensured that the latest advances in medicine, leading-edge technologies and state-of-the-art equipment are available at Community Memorial Hospital. The Foundation is the manifestation of the belief that the efforts of many citizens working together can positively affect the quality of care in Ventura County.
Community Memorial Hospital is a member of Community Memorial Health System, a not-for-profit health system, which is comprised of Community Memorial Hospital, Ojai Valley Community Hospital, and twelve family-practice health centers entitled Centers for Family Health. The health system is located in Ventura County, California.
By Gazette Staff Writer — Wednesday, June 10th, 2015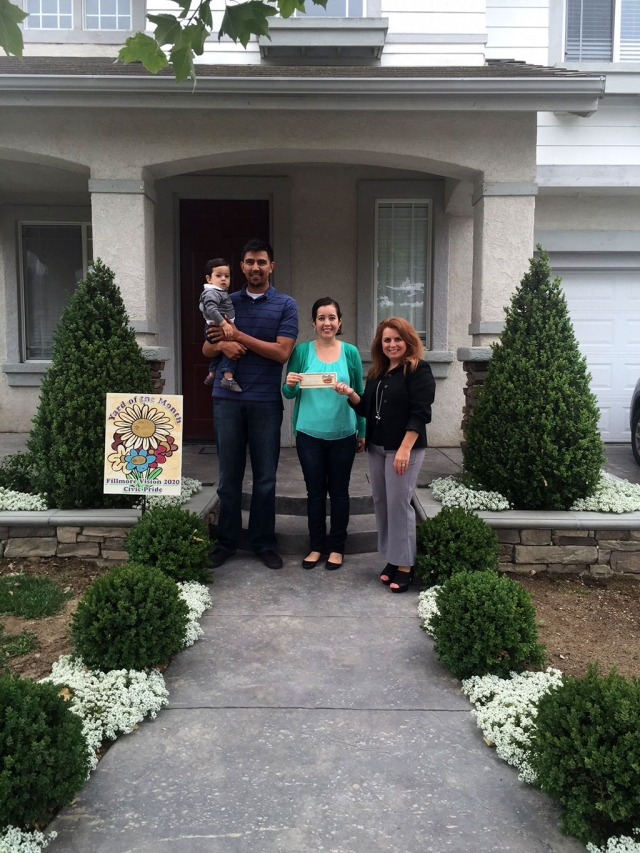 Theresa Robledo with Civic Pride Vision 2020 presents Yard of the Month to Freddy, Cynthia & their precious baby Isaac! Congratulations! Please drive by 760 River Street to view their lovely yard! Their home is located on River Street & Surrey, where you will see Boxwood, Star Jasmine, Roses, Ferns, and beautiful stamped concrete walkway and driveway. Their home is located in the Riverwalk Tract where you will find nice walking paths along the river! Thank you to Otto & Sons Nursery for their generous gift certificate, where they will find more items for their yard!
Enlarge Photo
By Gazette Staff Writer — Wednesday, June 10th, 2015
By Gazette Staff Writer — Wednesday, June 10th, 2015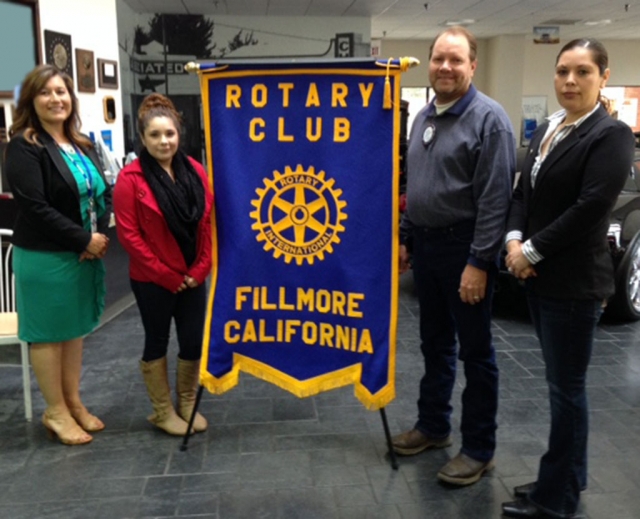 Cynthia Frutos, Principal, Jazmin Nugaray, Rotary scholarship recipient, Scott Beylik and Isla Larin. Jazmin Nugaray, from Sierra High School, was presented with a Rotary scholarship by Scott Beylik, committee member.
Enlarge Photo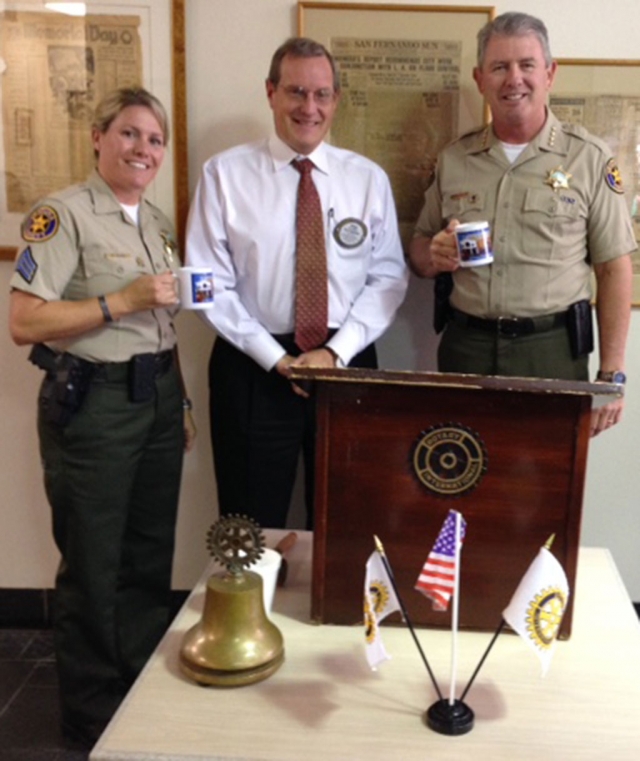 Sergeant Denise Sliva, President-Elect Kyle Wilson and Sheriff Geoff Dean. Sheriff Geoff Dean presented a program for the Rotary Club. He informed the Club about the new improvements to the Fillmore Station and about the excellent job done by the Pharmaceutical Crime Task Force. He also discussed the positive effects of the body worn cameras, such as less citizen complaints. He showed photos of the Unmanned Aerial Vehicle and explained how much it has helped with search and rescue and hasmat situations.
Enlarge Photo
By Gazette Staff Writer — Tuesday, June 9th, 2015
The California Highway Patrol's (CHP) Moorpark Area office is offering a free Start Smart class for teenage drivers and their parents on June 11, 2015, and June 25, 2015. The class will be held at the CHP's Moorpark Area office located on 610 Spring Road, California 93021. The classes begin at 6:00 P.M. and end at approximately 8:00 P.M.
The Start Smart program is aimed at helping future and newly licensed teenage drivers become aware of the responsibilities that accompany the privilege of being a licensed California driver. The program is designed as an educational tool for parents and teenagers in an effort to reduce the number of teenage injuries and deaths resulting from traffic collisions. The program also provides teens and parents with information on defensive driving, traffic laws in California, dynamics of traffic collisions, tips on avoiding traffic collisions and DUI awareness.
For more information or to make a reservation, please call the CHP's Moorpark Area office at (805) 553-0800. Funding for this campaign is provided by the California Office of Traffic Safety through the National Highway Traffic Safety Administration.
By Chip Cadman — Wednesday, June 3rd, 2015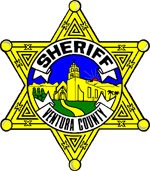 Ventura County Sheriff's Department
A message from Detective Chip Cadman:
Farm Watch readers, we have been experiencing several thefts of fuel recently. The fuel is either being syphoned out of vehicle fuel tanks, or from fuel storage tanks. There has even been a report of a trailer with a fuel tank attached being stolen. Both gasoline and diesel fuel have been taken. If you have been the victim of a fuel theft, please contact the Sheriff's Office immediately and request a deputy respond to your location to take a crime report.
Fuel Tank Security;
• Fuel tanks should always be locked.
• The control switch for electrically operated fuel tank pumps should be located in the house or a locked building.
• If located above ground, the fuel tank should be visible from the house but concealed from the roadway.
• Areas around fuel tanks should be well lighted.
• If possible fuel tanks should not be left in fields overnight, and should not be parked with easy access to, or visible from a road.
• Chain equipment or machinery together if left overnight in fields.
• Secure smaller farm equipment to large objects with heavy chains and case hardened padlocks. Drain the air out of trailer tires, or if possible remove one tire from a side.
The following advice is always wise if you suspect illegal activity on your property:
• Call the Sheriff's Office immediately at 911.
• Be a good witness
• Note suspect descriptions such as age, height, weight, facial hair, clothing, and shoe type.
• If a vehicle is involved, obtain a license plate number and note vehicle color, body damage, bumper stickers, camper shell, after market tires and wheels, etc.
• Provide the dispatcher with information about the time and last known direction of travel.
Agricultural Crimes Detective Chip Cadman greg.cadman@ventura.org
Office 805-384-4726 Work Cell 805-797-6424
Sheriff's Office Dispatch 805-654-9511
Be alert and stay safe!
Chip
Geoff Dean – Sheriff
Gary Pentis - Undersheriff
Steve DeCesari and Guy Stewart - Assistant Sheriffs
By Gazette Staff Writer — Wednesday, June 3rd, 2015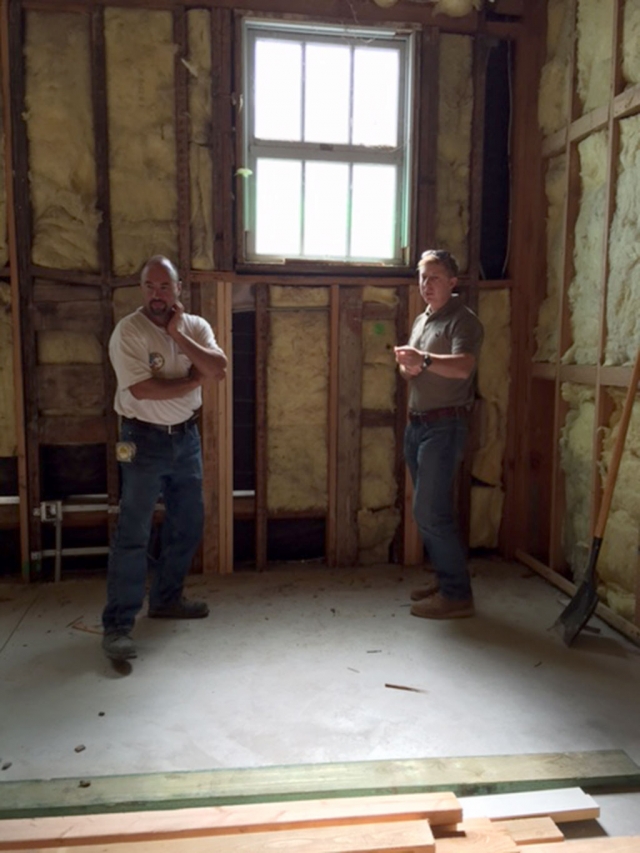 Jose Cobian from Southwest Regional Council of Carpenters confers with Ryan Shirah from Clark Construction about the new windows that will be donated from Clark Construction for the new Teen Study Room at the Boys & Girls Club of Santa Clara Valley. Jose has been donating his time to the project for the past 5 months and now we appreciate Ryan's assistance with ordering the new windows. The project is very exciting and will make a difference for local teens. Thank you Jose, Ryan and Clark Construction.
Enlarge Photo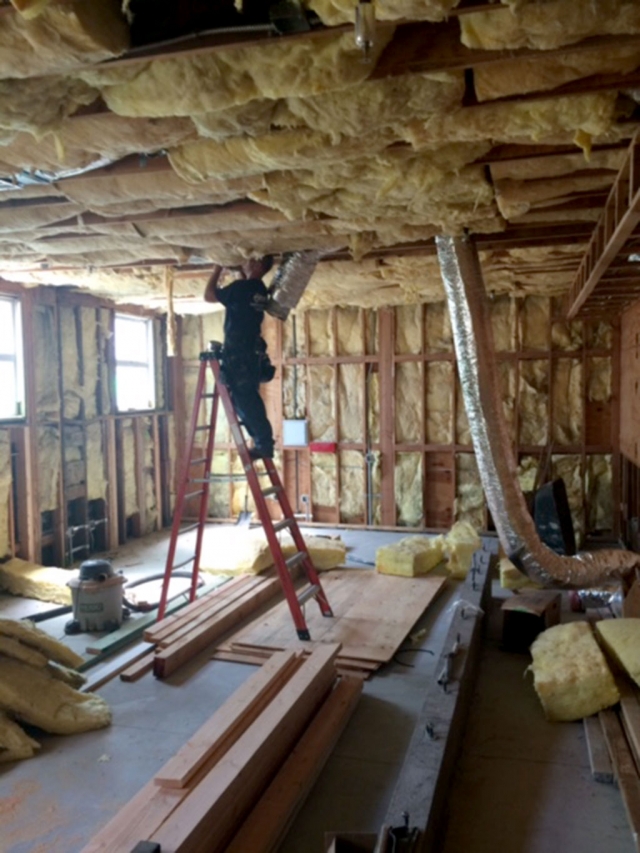 Tom Cabacungan from REED Mechanical Systems, Inc. is finishing installing HVAC/Air conditioning in the new Teen Study Room at the Boys & Girls Club of Santa Clara Valley. The room which has been in the process of rehab for the past 5 months is moving along well. It used to be the girls shower room in the old girls gym when Fillmore High School owned the facility. Currently the Boys & Girls Club lease it from the City of Fillmore. The room is hoping to be finished in Summer.
Enlarge Photo
By Gazette Staff Writer — Wednesday, June 3rd, 2015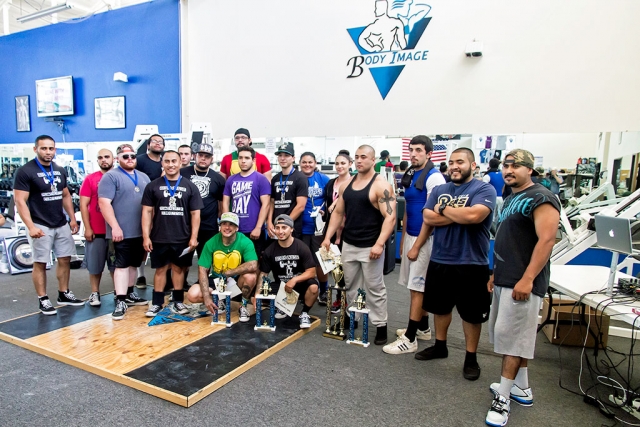 The 2015 Body Image Powerlifting Contest, held Saturday, May 30th, drew a large audience to cheer on the participants. A raffle was held to benefit Fillmore Middle School. Photo courtesy Bob Crum.
Enlarge Photo
By Gazette Staff Writer — Tuesday, June 2nd, 2015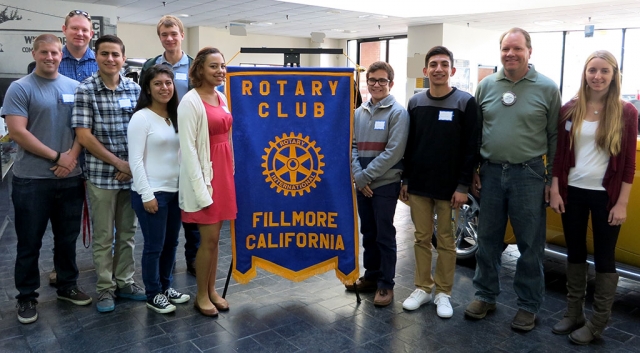 The Rotary scholarship winners and two of the committee members. (l-r) FHS Rotary scholarship winners were Chad Petuoglu, Andy Klittich committee member, Anthony Hurtado, Patricia Vasquez Cabrera, Timmy Klittich, Alinda Reyes, David Cadena, Jorge Hurtado, Scott Beylik committee member and Sara Beylik. The two absent committee members were Dick Richardson and Ed McFadden.
Enlarge Photo
Sean Morris President and Ana Morino. Ana Morino, a former RYLA student and Rotary scholarship winner, spoke at Rotary last week and encouraged the current FHS scholarship winners, also present, to make goals and "look to the moon, not just the stars". She is now a student at San Diego State and is a member of Rotaract, a Club for young adults.
Enlarge Photo
By Gazette Staff Writer — Monday, June 1st, 2015
Ventura, CA - Another wave of local cyclists discovered the benefits of bicycle commuting, thanks to the annual Bike to Work Week campaign presented by the Ventura County Transportation Commission (VCTC) and Ventura County Air Pollution Control District (VCAPCD).
This year's Bike to Work Week campaign, which inspired commuters to try biking as a travel option, ran from May 11-15. Final tallies revealed that online participation increased again, as a record 235 riders filled out a short entry form at www.GoVentura.org. Attendance was also strong at "pit stop" events set up around the county, where 168 riders stopped by despite gloomy weather and the threat of rain at the end of the week.
The "pit stops" were held during morning commute hours in Camarillo (May 11), Oxnard (May 12), Simi Valley (May 13), Ventura (May 14), and Thousand Oaks (May 15). During these events, attendees received free bike tune-ups courtesy of local bike shops, breakfast refreshments, and bike-related giveaways.
"Every year, more and more people discover the benefits of bicycle commuting, which is good for your health, good for traffic congestion, and good for the environment," said VCTC Executive Director Darren Kettle. "VCTC will continue to improve our bikeways and work with citizens to make biking to work an effective commute option."
Eligible participants who registered online were entered for the chance to win one of the items in this year's prize pool. Entries were received from cyclists commuting to local worksites from communities across Ventura County.
This year's prizes consisted of a new bicycle (via $500 gift certificate to Performance Bicycles), presented to Eliverto V. of Oxnard; an Amazon Kindle, awarded to Michele S. of Thousand Oaks; a Garmin GPS Device, awarded to Chris N. of Camarillo; two cellphone mounts won by John G. of Ventura and Mark C. of Simi Valley; and two VISA gift cards in the amounts of $100, awarded to Joy B. of Santa Paula, and $50, awarded to Shelly S. of Ventura.
"Bike to Work Week is becoming a highly anticipated annual tradition," Kettle added. "We're looking forward to making 2016 the best Bike to Work Week yet."
For more information about VCTC, Ventura County bikeways, or VCTC's mobile bikeways app, visit www.GoVentura.org or call (800) 438-1112.
By Gazette Staff Writer — Monday, June 1st, 2015
Calling all children and teen artists
The Ventura County Library wants you to design our new children and teen library cards. The contest will run from June 1 through June 30. Only children (ages 5-12) and teens (ages 13-17) are eligible to participate, one entry per person. All entries must be submitted on a regulated contest form. You may pick up a regulated contest form with contest rules at any Ventura County Library. For library locations please visit www.vencolibrary.org
By Gazette Staff Writer — Monday, June 1st, 2015
Here are some ideas on how you can save water in your garden.
Mulch, mulch, mulch! A layer of 2 - 4 inches of wood mulch will reduce water use tremendously. Don't let the mulch layer get less than 2 inches.
Water your plants in the morning. The cool part of the day is the best time to water.
Water deeply. You need to train the plants in your garden where to find water. By watering deeply, roots will be able to grow deeply and find the moisture they need.
Water your trees. Many of our trees are expecting to have water during the summer because they have always had water during the summer. When watering trees, water slowly and deeply for many hours. Apply water halfway out to the drip line of the tree and not at the trunk of the tree.
Use organic fertilizer. Organic fertilizers breakdown slowly allowing the plant to use the nutrients they need.
Water use communities. When designing your yard, create areas with similar water requirements. Keeping plants together with the same water needs will allow you to water for those plants needs and not the one plant that needs more than the rest.
WUCOLS. This web site will let you know what the water requirements of plants are so you can easily create water use communities in your garden. http://ucanr.edu/sites/WUCOLS/
June 20th - At our Summer Rose Care class at 9am we will be talking about these ideas and answering your dry questions.
Otto & Sons Nursery
1835 E. Guiberson Rd.
Fillmore Ca 93015
805-524-2123
www.ottoandsons-nursery.com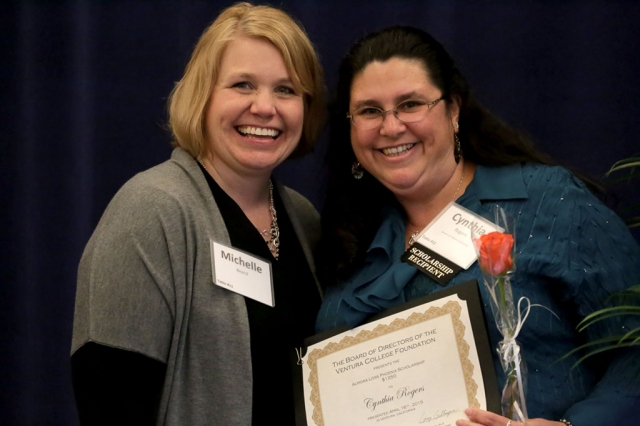 Ventura College Foundation awarded $28,000 in Phoenix Scholarships to re-entry students. One of the scholarship recipients was Cynthia Rogers of Fillmore. She is pictured with Ventura College math professor Michelle Beard. Photo credit Dina Pielaet, 451media.
Enlarge Photo
By Gazette Staff Writer — Wednesday, May 27th, 2015
Opening doors to re-entry students wanting to pursue a college degree
The Ventura College Foundation has awarded a total of $28,000 Phoenix Scholarships to 28 re-entry students this spring, helping them get one step closer to achieving their career goals by returning to Ventura College to study. Re-entry students are defined as people who return to school to learn new skills in order to be competitive in the marketplace or who are returning to school after an extended break.
Each student received a scholarship of $1,000, awarded at the 16th annual scholarship ceremony, which was hosted by the Foundation's staff and board of directors. Stan Weisel, a Ventura resident and founder of the Stan Weisel Endowed Scholarships, sponsored the event this year and has pledged to do so for the rest of his life.
"I didn't know that this was the treasure that I was looking for all my life—to help other people," said Weisel. "Most people would love to make people happy."
The Ventura College Foundation board of directors started the program in November 1999 after learning about the special needs of Ventura College re-entry students.
"Each year, I am inspired by the scholarship recipients' tenacity and their unwavering determination. These students are driven to overcome financial and personal challenges to be in school so they can upgrade their skills and make a better life for themselves and their families," said Richard Taylor, Ventura College Foundation board member and one of the Phoenix Scholarship program founders. "Finding the money and the time to pay for and attend college when you're already working a job and/or caring for a family requires commitment and sacrifice. I am so glad to see the efforts of these students acknowledged with a Phoenix Scholarship."
Weisel is a retired math instructor who taught at East Los Angeles College for a quarter century. He volunteers at the Stan Weisel Tutoring Center at Ventura College, helping students as they study for finals.
To be eligible for a Phoenix Scholarship, students submit an application and essay, and obtain recommendations from counselors, faculty and employers. Recipients are chosen based on their academic goals and progress, along with their financial need.
Established in 1983, the Ventura College Foundation provides financial support to the students and the programs of Ventura College to facilitate student success and grow the impact and legacy of Ventura College as a vital community asset. The Foundation also hosts the Ventura College Foundation Marketplace, an outdoor shopping experience held every weekend on the Ventura College campus east parking lot. For more information, contact Norbert Tan at (805) 289-6160 or ntan@vcccd.edu. Or visit www.venturacollege.edu/foundation.
By Gazette Staff Writer — Wednesday, May 27th, 2015
local author book release
The author will be signing books at:
Fillmore Historical Museum (350 Main St, Fillmore, CA 93015) on June 11th at 4 pm
Bank of Books (748 E Main St, Ventura, CA 93001) on June 20th from 1-3 pm.
Since its beginning as a Southern Pacific Railroad town 100 years ago, Fillmore has been the setting of many legends and true tales, like the St. Francis Dam disaster, the 1994 earthquake, and the Hollywood film shoots. Joaquin Murietta hid in the hills, and the story of the T. Wallace More murder in Rancho Sespe in 1877 was the "murder of the century." Rancho Camulos, owned by the del Valle family until 1924, signifies the last of the Californios. Today, it is owned by the descendants of August Rubel. Tales of the sycamore tree abound, and it is an icon on Highway 126, as is the tower of the Sanitary Dairy, which was ordered from the Sears, Roebuck & Company in Chicago. Oil was discovered early in Shiells Canyon and brought Texaco to town. The fruit industry prospered, and Sunkist was welcomed. Hugh Warring installed indoor plumbing in the Piru Mansion. The likes of "Booty" Sanchez, Marcelino "Woody" Ybarra, Gene Wren, Kevin Gross, Jim Fauver, and Dorothy Shiells still influence the community.
By Gazette Staff Writer — Wednesday, May 27th, 2015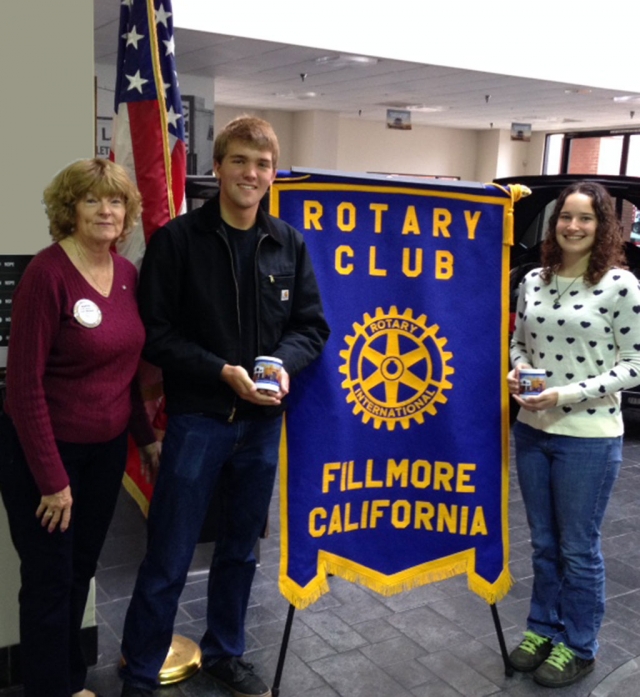 (l-r) Martha Richardson RYLA Chair, Nick Bartels and Jessica Manginelli. The Rotary Club of Fillmore sponsored two Fillmore High School students to attend the Rotary Youth Leadership Award Camp (RYLA). The camp was held in Ojai in April. Jessica Manginelli and Nick Bartels enjoyed the team building activities, leadership skill lessons and motivational speakers. They also enjoyed meeting other students from the county and exchange students from around the world. They are excited to apply what they learned in their own lives as well as at school.
Enlarge Photo
By Bob Crum — Wednesday, May 20th, 2015
Part 1 of 3