By Gazette Staff Writer — Tuesday, August 13th, 2013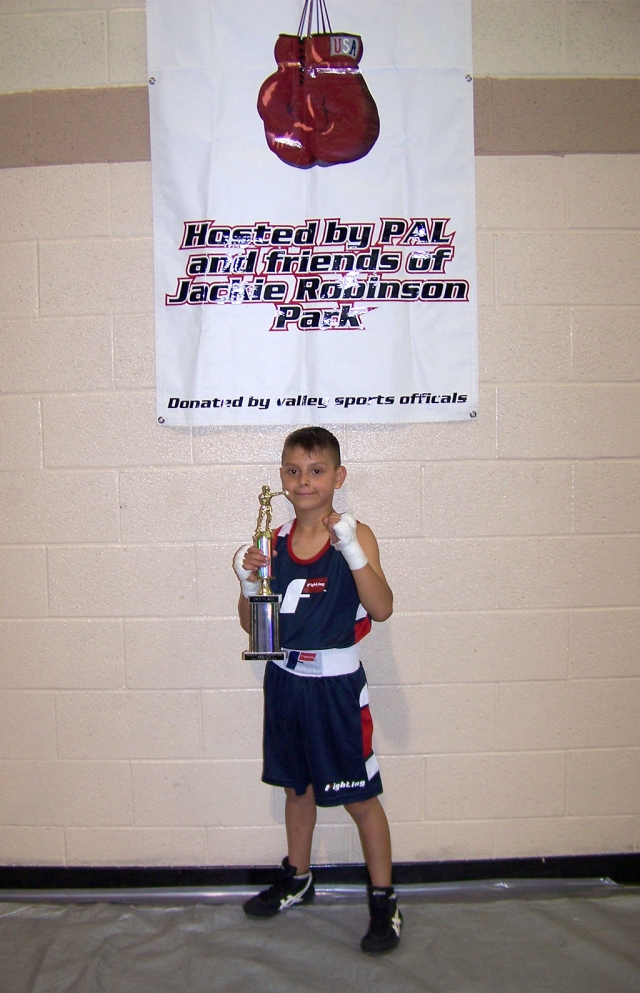 The Fillmore Boxing Club's Diego Amezcua competed this weekend at the Jackie Robinson Park Boxing Show in Littlerock, CA in the 65 lb. weight class. His debut match vs. Abraham Alvarez of Wilmington Boxing Club was three rounds of one minute duration. Amezcua's next bout is scheduled for September 8th in San Fernando.
Enlarge Photo
By Gazette Staff Writer — Tuesday, August 6th, 2013
In Peoria AZ at the Western National Championship Tournament in temperatures of over 100 degrees The Team in Pool Play started by beating Desert Thunder 14-0 and West Valley 6-3 sending Fillmore to the winner's bracket. In bracket play they defeated Electric City Heat 8-0, Santee Gold 5-4 and suffered their first loss against Rancho Trabuco 2-0 sending them to the loser's bracket.
On the loser's bracket they battled their way and defeated Bonita Valley 6-1, Escondido Extreme 3-0, PQ Lightning 13-0 and Charter Oak 7-5. Leaving them to face Rancho Trabuco in the semi-final, The Team battled through 7 innings with a score of 0-0 sending them to international tie breaker. On the 8th inning with a runner on third, Jordyn Walla hit a textbook sacrifice bunt scoring Olivia Robledo for the winning run sending them to the championship game to face West Valley.
In game one of two; Pitcher Lexi Garza and her defense Held West Valley to a single run defeating them with a final score of 15-1. In game two Pitcher Jessie Fontes and her defense shut out west Valley for four innings, on the top of 5th inning West Valley scored a run and pitcher Jessie Fontes tagged out the second run at home for the third out. On Bottom of 5th inning with a runner on third Pitcher Jessie Fontes scored Audrey Clay for the tying run, the very next batter Olivia Robledo Hit a triple down right field scoring Jessie Fontes for the go ahead run. On the last inning with the tying run on third, Pitcher Jessie Fontes struck out the batter for out number three and earned Fillmore 10U B Gold the Western National Champion Title.
The Western National Champions are Isabella Ayala, Sabrina Bracamontes, Janeah Castro, Audrey Clay, Jamie Fontes, Jessie Fontes, Ciana Garcia, Lexi Garza, Zoie Isom, April Lizarraga, Olivia Robledo and Jordyn Walla. The team is managed by Jeff Fontes. Coaches are Louie Garza, Mario Robledo and Karen Fontes. Team mom is Maribel Garza.
Fillmore Girls softball is very proud of this group of Individuals and commend them on their accomplishments.
By Gazette Staff Writer — Wednesday, July 17th, 2013
Fillmore Girls 10U All-Stars have qualified for Western B Nationals and will be traveling to Peoria AZ. to represent Fillmore July 31- Aug 4, 2013. Please come out and support their local fundraisers. Thursday July 25, 2013 we will be having a chicken drive thru dinner at the Fillmore Fire Station from 5-7:30pm. Your $10 donation will include chicken, rice, beans, salad, roll and drink.
Saturday July 27, 2013 we will also be having a $10 donation carwash from 9-1:00pm 847 Ventura St. across from 7-Eleven.
By Gazette Staff Writer — Wednesday, July 10th, 2013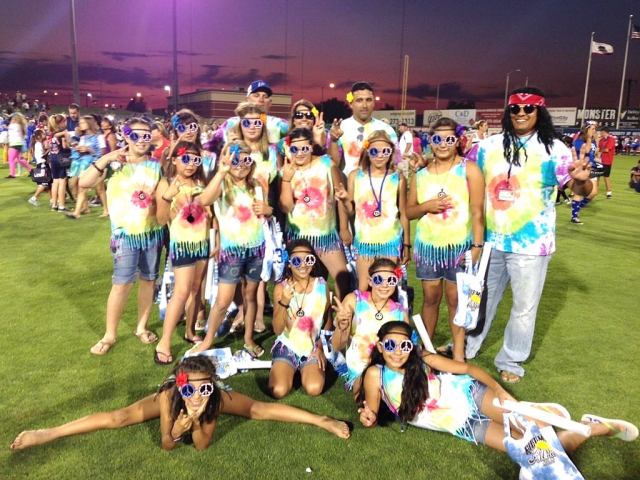 The Team competed at the State Championship Tournament and Qualified for Western Nationals with a record of 2 wins and 2 losses, Beating Los Alamitos 3-0 and East County 14-1. Loses were Vs. Hart 3-5 and PYL 6-7. Western Nationals will be in Peoria, AZ, July 31 – August 04, 2013. Team members are Isabella Ayala, Sabrina Bracamontes, Janeah Castro, Audrey Clay, Jamie Fontes, Jessie Fontes, Ciana Garcia, Lexi Garza, Zoie Isom, April Lizarraga, Olivia Robledo and Jordyn Walla. The team is managed by Jeff Fontes. Coaches are Louie Garza, Mario Robledo and Karen Fontes. Team mom is Maribel Garza.
Enlarge Photo
By Gazette Staff Writer — Wednesday, July 10th, 2013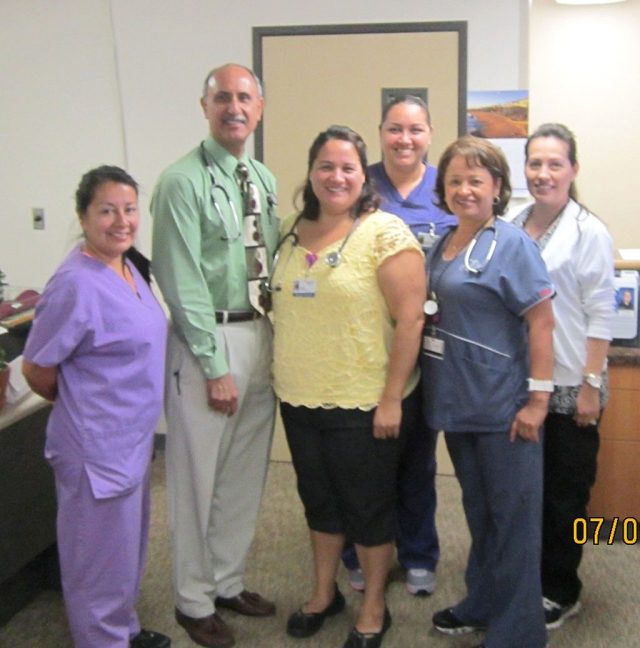 Dr. Raymond Menchaca and his staff have donated their time and service for the 15th year now for the Fillmore Raiders and Cheer for their player physicals this past Saturday. The entire Raider organization would like to Thank him for his dedication to our youth and community. The staff was treated to a catered lunch from Wood Ranch BBQue provided by the Raider Organization. Dr. Menchaca's office is located at 852 W. Ventura St next to McDonalds. They can be reached at 805-524-2672.
Enlarge Photo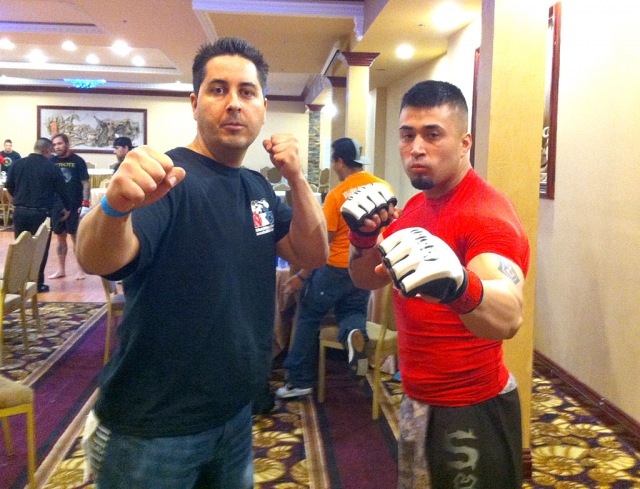 (l-r) Coach Eric "Killa" Escoto and Jose "Chepe" Lira)
Enlarge Photo
By Gazette Staff Writer — Tuesday, June 25th, 2013
On June 9, 2013 at Mansion Fights VII in North Hollywood, CA , Jose stepped into the cage for his debut in the middleweight division (185lb) . Taking the fight on 2 days notice, a fight turned down by several other fighters, his opponent was Decatur Thornton of Rancho Cucamonga , an MMA and Iraq War Veteran. The fight was fast and intense as it didn't make it to the 2nd round. The fight started with strikes being landed by both fighters for the first minute , Jose then dazed his opponent with a right strait and went in for the finish with a flurry or punches. The referee stopped the fight as Decatur could not protect himself any further , and Jose gets a impressive K.O. victory. Jose would like to thank his family, friends, coaches for everything. Jose fought out of Fillmore Boxing & MMA for this fight and looks forward to his next fight soon.
By Gazette Staff Writer — Wednesday, June 19th, 2013
Fillmore's 10U Gold won the fourth Championship in a row on Saturday and Sunday. The team went 6-0 with pitchers Lexi Garza and Jessie Fontes allowing only one run with the help of their strong defense. In pool play, the team beat El Segundo 6-0 and North Torrance 8-0. In elimination play, it beat Hacienda Heights 5-0, Whittier 2-1 and El Rio 7-0. In championship play, Fillmore Gold beat La Habra 3-0. Fontes was the winning pitcher, striking out 15 batters. Olivia Robledo hit a two-run homer and Isabella Ayala had an RBI. Previous Championships where won at Moorpark tournament, Thousand Oaks Tournament and the Third in Corona Tournament. Team members are Isabella Ayala, Sabrina Bracamontes, Janeah Castro, Audrey Clay, Jamie Fontes, Jessie Fontes, Ciana Garcia, Lexi Garza, Zoie Isom, April Lizarraga, Olivia Robledo and Jordyn Walla. The team is managed by Jeff Fontes. Coaches are Louie Garza, Mario Robledo and Karen Fontes. Team mom is Maribel Garza. The team will be competing this weekend in the Simi Valley Tournament.
By Gazette Staff Writer — Tuesday, June 18th, 2013
Michael and Cindy Blatt of Fillmore were part of the ten member contingent of the Ventura County Masters (VCM) swim club competing against 1,633 of the best swimmers in the nation at the 2013 US Masters National Short Course Swimming Championships in Indianapolis, IN. Competing over 4 days in the IUPUI Natatorium, VCM won 8 individual national titles, 2 relay titles, and amassed 50 total medals (top 10 finishes). VCM tallied 427 points to capture 5th place in the combined team standings against over 200 other clubs, and was only 20 points out of 3rd place (12 points out of 4th). VCM did this with only 8 men and 2 women, while other teams placing in the top 5 had between 17 and 116 swimmers. The 8-member men's team finished 4th overall in the men's division (345 points).
VCM's eight individual titles were secured by 4-time World Master Swimmer of the Year honoree Jim Mc Conica in the men's 60-64 age division [200, 500 and 1000-yard freestyle (1:59.52, 5:16.44 and 10:48.25, respectively), and 200-yard backstroke (2:13.89)], Stacey Warmuth in the women's 55-59 age division [1000-yard freestyle (11:57.45)], Hubie Kerns in the men's 60-64 division [200-yard butterfly (2:27.18)], and Mike Shaffer in men's 45-49 age group [100 and 200-yard butterfly (:52.89 and 1:58.54)]. Michael Blatt anchored VCM's two winning 200 freestyle relays with blistering 50 freestyle splits (:22.70). Blatt teamed with McConica, Kerns, and Glenn Gruber in the men's 55+ category, and Gruber, Warmuth, and Cindy Blatt in the mixed 55+ category.
Every member of VCM's CONTINUED »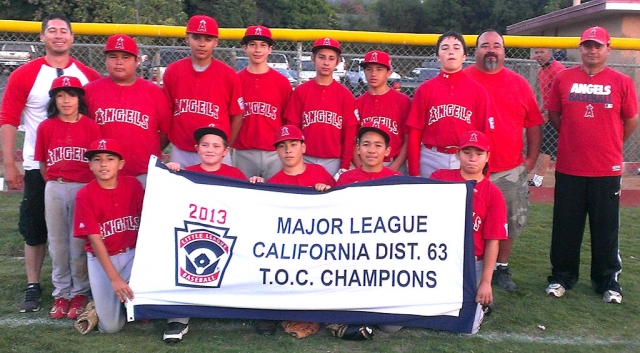 (l-r) (front row) Roy Esquivel, Tyler Court, Diego Magana, Victor Jimenez, Sissy Valencia, (back row) Josh Lagunas, Donovan Salas, Jose Romero, Andrew Perez, Ethan Aguilera, Ricky Holladay, and Blake Palacio. Coaches Fernando Perez and Memo Palacio. Manager Sergio Aguilera.
Enlarge Photo
By Gazette Staff Writer — Tuesday, June 18th, 2013
Congratulations to the 11-12 year old Major division Fillmore Angels who won their TOC Championship game this past Sat June 15th by beating Santa Paula 13-5. The Angels completed their season undefeated with a 18-0 record. That is two titles now for Fillmore Little League this year as the Minor A Cubs brought home the flag on June 8th by beating Montalvo 5-4. Thanks to everyone who came out to support theses teams and coaches.
Next up is All-Star Tournament hosted by Santa Paula Little League. Fillmore's 1st game will be Sunday 6-23 at 6:00 pm vs Goleta Valley. come out and show your support.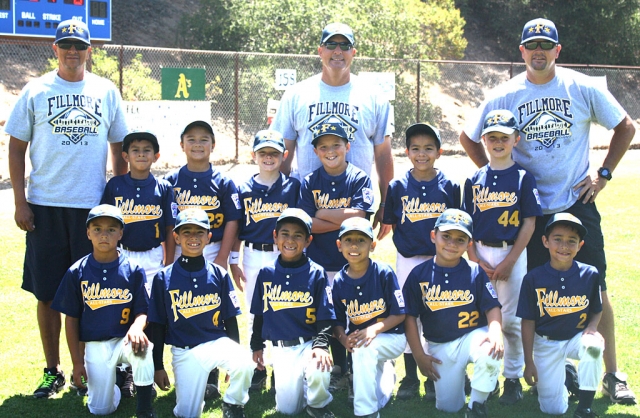 (l-t) (front row) Nathan Delgadillo, Jathan Magana, Mathew Magana, Nathan Perez, Joel Contreras and Theodore Ebell, (back row) Coach Pepe Munoz, Roman Munoz, Jarod Uridel, Ty Morris, Manager/Coach Terry Morris, Phillip Cervantez, Johnny Cardenas, Ty Weeks and Coach Ryan Weeks.
Enlarge Photo
By Gazette Staff Writer — Tuesday, June 18th, 2013
A big congratulations to the team, they placed 7th in the Minor B Allstar Tournament in Oak View, CA. This is the second year that there has been an Allstar tournament for this age group which consists of 7 and 8 year olds. They played one game on Saturday 6-8-13, one game on Sunday 6-9-13 and the final game was this last Sunday 6-16-13.
By Gazette Staff Writer — Wednesday, June 12th, 2013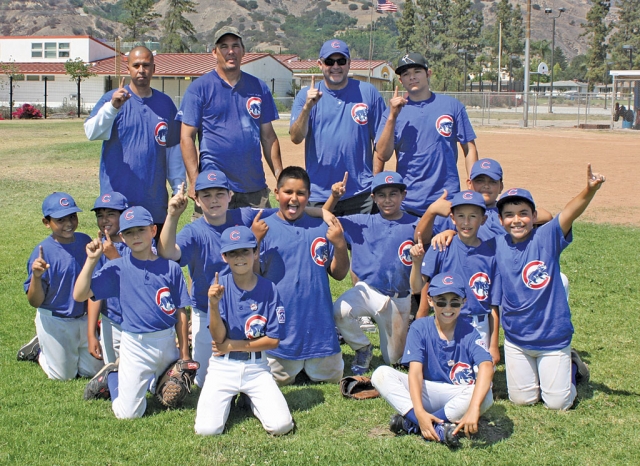 Congratulations to our Little League Minor A Fillmore Cubs who won their TOC Championship game Saturday, June 8th in Fillmore defeating Montalvo 5-4. This was Fillmore's first championship in recent memory for the Minor A division in the Tournament of Champions. In addition to the win over Montalvo the Cubs had road wins over Ojai and Santa Paula. The Cubs would like to thank all of those who came out to support them this past Saturday. Pictured above: Back row from left to right coaches: Frank Cantero, Robert Ferguson, Damon Villa, & Victor Gomez. Middle row from left to right players: Phillip Villanueva, Hector Cervantes, Connel Ferguson, Santos Valdez-Cortez, Nick Jimenez, & Joseph Andrade. Front row from left to right players: Seth Ellis, Damon Villa, George Mooradian, Jacob Cantero, & Jared Schieferle.
Enlarge Photo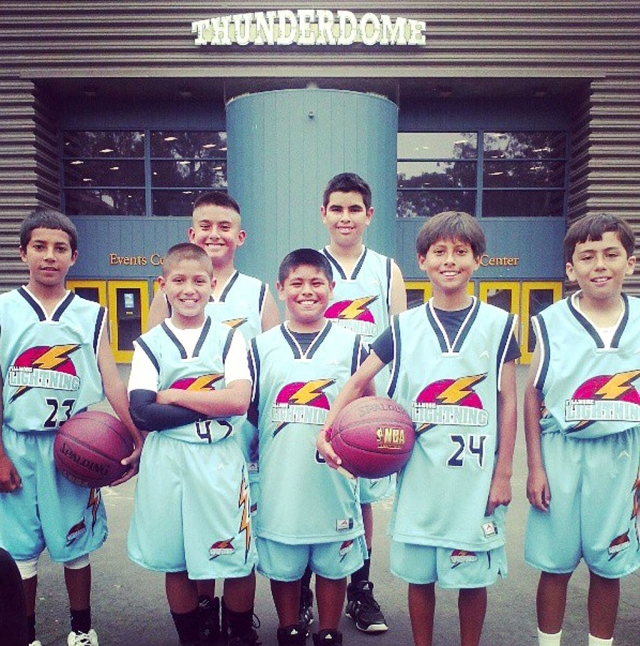 (l-r): Yobany Figueroa, Jaysson Carrillo, George Valenzuela, Justin McElroy, James Flores, Davis Flores, Fabian de Villar (not pictured: Roy Esquivel).
Enlarge Photo
By Gazette Staff Writer — Wednesday, June 5th, 2013
Fillmore's first boys basketball travel team "Fillmore Lightning" competed this past weekend at UCSB Thunder dome in the Swoosh Summer Kick-Off Tournament. Although they did not take the tournament, they did extremely well for their first time competing against veteran teams. Cal Hoops Elite vs. Fillmore Lightning (30-31), SB Vipers Black vs. Fillmore Lightning (47-53), Ventura Celtics vs. Fillmore Lightning (31-27). Next tournament will be held June 22nd and 23rd in Oxnard at Santa Clara High School.
By Gazette Staff Writer — Wednesday, May 29th, 2013
Fillmore takes 2nd place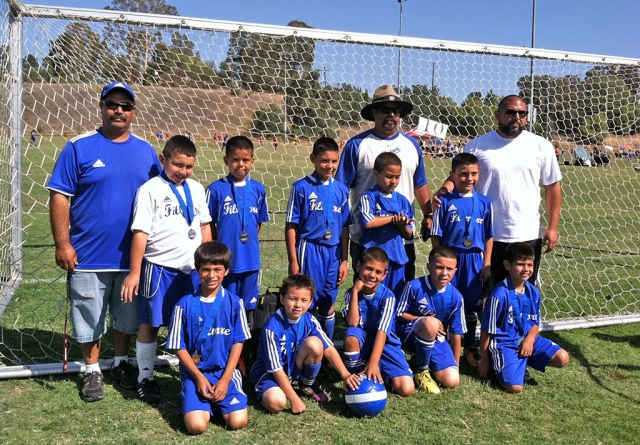 In the Thousand Oaks Memorial Day Tournament, Fillmore boys U-8 team played a U-9 team and took home second place. (l-r) (bottom row) Jathan Magana, Adrian Vasquez, Mathew Magana, Julio Negrete, Diego Alcaraz, (top row) Ivan Becerra, Angel Castorena, Armando Manriques, Alfredo Cardenas, and Dante Reyes. (not pictured) Sebastian Navarrete. Coaches are Joe, Damian and Javier.
Enlarge Photo
By Gazette Staff Writer — Wednesday, May 22nd, 2013
Perce's Kenpo Karate Studio recently competed in a local Karate tournament in Oxnard at St. Johns Lutheran Church. The tournament was held May 4th by the Flores Bros. Kenpo Karate Studio of Oxnard, and had over 130 Students competing from all over Southern California. The results are for Sparring Division 8-9 yrs. old Green-Brown belt 4th place Dave Bustos. 8-11 yrs. old Orange-Blue belt 1st place Celeste Aguilera. 9-10 yrs. old Brown belt 1st place Justice Rodriguez, 3rd place Emiliano Pinedo. 10-13 yrs. old green-Brown belt 1st place Crystal Pinedo, 4th place Erasmo Salazar. 14-18yrs. old Yellow-Blue belt 2nd place Angel Rodriguez. Teen-Adults Blue-Green 2nd place Javier Rodriguez.
Forms Divisions results are CONTINUED »
By Gazette Staff Writer — Wednesday, May 15th, 2013
U-8 boys soccer team from Fillmore went undefeated 12-0 for Oxnard primer soccer league. They took Frist place on Saturday score 7-5. Players names not in any order, Angel Castorena, Ivan Becerra, Alfredo Cardenas, Diego Alcaraz, Armando Manriqes, Mathew Magana, Jathan Magana, Adrian Vasquez, Julio Negrete. Coaches Joe & Damian Magana.
Enlarge Photo
By Gazette Staff Writer — Wednesday, May 8th, 2013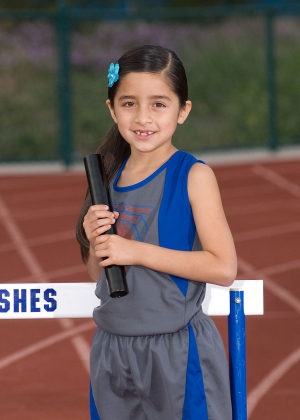 Andrea Laureano
Victor Ortiz, long distance head coach for the Heritage Valley Blazers, recently announced that Andrea Laureano, recently broke her own Ventura County record in the 1600m track event against the home team of the Ojai Roadrunners. Her time, at the April 27th event, of 6:29.52 smashed her previous record by 8.3 seconds. Miss Laureano, age 7, nipped the previous county record against the Thousand Oaks Flyers by .08 of one second. That record was originally established in 1996 by J. Mayers and then tied in 2003 by Taylor McGuirre of the Ventura Tigres.
When asked how she felt about breaking the long time record Andrea said, "I was excited. It was my goal to break the record since the beginning of the season." She said that she has been running track for the Blazers for two years and also for the Fillmore Condors Cross Country team last year. She loves running because it is fun and that she can do it all the time.
Her father and coach Rafael said that Andrea is one of six Laureanos running for the Fillmore/Santa Paula teams. "Andrea has been on the go since she's been in diapers. I haven't been able to slow her down since, so I might as well coach her", said Mr. Laureano. "My wife, Viviana, and I have been involved in the running world for quite some time. We enjoy helping young kids reach their goals and better their self esteem and we can do that best by teaching them how to run". He went on to say that he is grateful for all of the support that their programs get including that of all the other dedicated coaches involved.
"We are proud of Andrea's commitment to the sport and herself", said Julian Morral, president of the Heritage Valley Blazers. "It is our aspiration that others may see themselves in her success and want to come out and give running a try. It is a fun sport for the whole family." He went on to say that with Miss Laureano's success in this event she automatically qualifies for the varsity finals to be held on May 18th and the Championship meet on the first of June. In addition Andrea has qualified to run in the 800m post season events and so far has been just 1.79 seconds away from qualifying in the 400m. "I know that when she returns next year she'll master all of those events." said Morral.
The Heritage Valley Blazers was founded in 1992 when the Santa Paula and Fillmore track clubs merged. They represent track athletes from ages five to 16 years old. They race with other children throughout the county including Newbury Park, Ventura, Ojai, Thousand Oaks, Moorpark, Oxnard and Camarillo. It is part of the Ventura County Youth Track Conference. To learn more please go to: http://www.vcytc.org/track/about.html and http://www.vcytc.org/track/index.html. Information regarding the upcoming cross country season with the Condors which too represents kids from Santa Paula and Fillmore please go to: http://fillmorecondors.org/.
By Gazette Staff Writer — Tuesday, May 7th, 2013
233 swimmers from nine high schools from Ventura county, Santa Barbara county and LA county. The aquatic center was filled to capacity with swimmers, families and friends. FHS swimming coach: Lindsay Bricker
Below are results for Fillmore H.S. Swim Team from the Frontier League Finals that took place on Thursday, May 2. Prelims were held on Tues. April 30. Also included are the overall team results for Varsity Boys and Girls and JV Boys and Girls.
To help you read these results:
If you looked at Event #9 Girls 100 yd. IM JV, in 1st place was Elisabeth Manzano of Fillmore. The number to the far right of the swimmer's name is the points they scored.
By Gazette Staff Writer — Monday, April 29th, 2013
Football, Volleyball, Cross Country, golf, Pep Squad, Basketball, Soccer, Wrestling, Baseball, Softball, Track & Swimming...
Dear Future FHS Parent:
One of the most active community groups working with Fillmore High School every year is the Fillmore High School Athletic Booster Club. This group supports all fourteen athletic teams featured at the High School level. For instance did you know that each year the Athletic Booster Club distributes over $25,000 toward sports at FHS?
Without an active support driven Booster Club we cannot improve, introduce or even maintain existing athletic programs offered at Fillmore High School. So how can you help? Please consider serving as a Booster Club Board Member for the 2013-2014 school year. Elections to select next year's board will be held on MONDAY, MAY 6, 2013 at 6:30PM in the Athletic Office of FHS.
Please feel free to contact the Athletic Department with any questions or concerns you may have. We can be reached at #805-524-8491.
Matt Suttle
Matt Suttle, Athletic Director
msuttle@fillmore.k12.ca.us
Lynn Cole
Lynn Cole, Athletic Secretary
lcole@fillmore.k12.ca.us
By Gazette Staff Writer — Wednesday, April 24th, 2013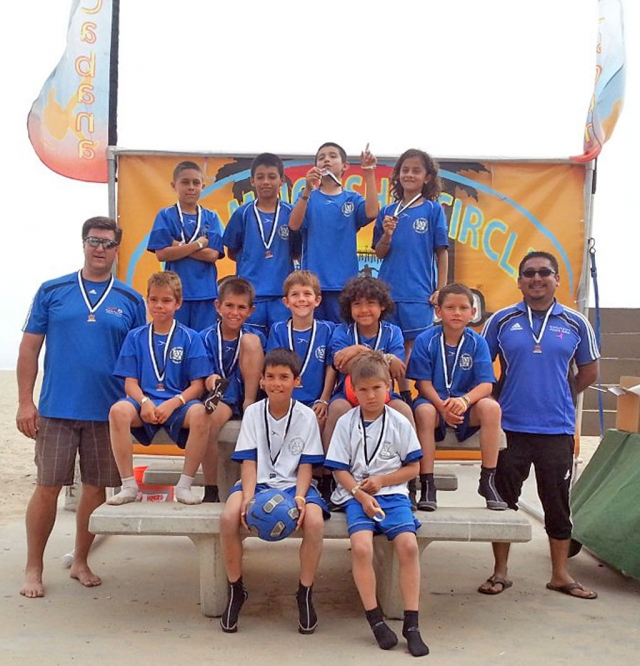 Our local Division U10 AYSO All-star Tournament team participated in Copa Cabana's Annual Beach Soccer Tournament this past weekend. They took second place. Congratulations for their hard work. They played four games in two days in the sand. (l-r) (front row) Damon Villa, Ull Rosten, (middle row) Asst. Coach Darren Rosten, David Goyette, Odin Rosten, Caden Lindsay, Matthew Munoz, Chip Alamillo, Coach Arnold Munoz, (last row) Luke Rangel, Adrian Martinez, Fabian Saldana, and Joey Esparza.
Enlarge Photo
By Gazette Staff Writer — Wednesday, April 24th, 2013
In the first year of Fillmore/ Santa Paula inter league play it was destined to be interesting to say the least, But on April 22nd 2013 11 year old Angel Viramontes would do what only two other players had done in Fillmore Little League history (Rick Stewart and Raphael Meza). Angel took the mound for the Fillmore Blue Jays. With a look of sheer determination and a cheek full of big league bubble gum. Angel started the game off with 3 consecutive strikeouts and continued through the game without letting more than the minimum of 3 batters at bat per inning, completing a "Perfect Game". It wouldn't have been possible without his great defense including Nick Herrera, Jake Saviers, Auggie Osegueda, Noah Faulkner, Jaysson Carrilo, Daniel Mynatt, Remy Richardson, David Julian, Michael Santa Rosa, Julian Lizarraga, Colby Walsh and JJ Dietz. He ended the game with 12 strikeouts
and scored 1 of the teams 2 runs as they went on to win 2-0 against the Santa Paula Red Sox. Interesting fact the last time a perfect game was pitched was Ralph Meza in 2001 and on that team was the Manager of the Blue Jays this year Jesse Stone.