By Anonymous — Wednesday, February 11th, 2009
The National High School Rodeo Association- Wrangler Division (NHSRA-WD), the oldest and largest youth rodeo organization in North America, has named Tyler Forsberg, a 8th grader at Fillmore Middle School as a co-captain of the prestigious Wrangler All-Star Rodeo Team for the Wrangler Division. was selected to the team by a vote of fellow Wrangler Division. Forsberg was selected to the team by a vote of fellow Wrangler Division. (WD) Wrangler All-Star Rodeo team members.
The NHSRA-WD and Wrangler created the Wrangler All-Star Rodeo Team in 1 998 to recognize over 1 ,200 high school student athletes across the United States and Canada for their leadership qualities, academic performance and athletic achievements. The WD Wrangler All-Star Rodeo Team is fashioned after the prestigious Wrangler Champion Pro Rodeo Team, which includes rodeo superstars like Trevor Brazile, Joe Beaver, Dan Mortensen, Dustin Elliott, Kelly Kaminski, Will Lowe, and Hall-of-Famer, the late Jim Shoulders. Similar to their professional counterparts, members of the WD Wrangler All-Star Rodeo team wear official Wrangler competition apparel consisting of Wrangler Twenty X shirts embroidered with the team logo and Wrangler competition jeans. Of this group, a select few have been chosen as co-captains to serve in a team leadership capacity. CONTINUED »
By Taylor Atkins — Wednesday, February 11th, 2009
The Lady Flashes recently defeated Oak Park High School 70-50 at Oak Park on Tuesday, January 29th. Rebecca Herrera led all scores with 27 points while Jill Wilber chipped in 21 points. Then on January 6th, the Flashes defeated La Reina High School of Thousand Oaks 69-39. Aimee Orozco led all scores with 17 points, Jillian Wilber had 13, and Kyla Hernandez and Tori Ayala had 12 points a piece. Rebecca Herrera had 10 steals in that game while Aimee Orozco pulled down 10 rebounds. The Lady Flashes record now stands at 16 and 6 overall and 6 and 2 in league.
By Anonymous — Wednesday, February 4th, 2009
By Anonymous — Wednesday, February 4th, 2009
By Anonymous — Wednesday, February 4th, 2009
By Anonymous — Wednesday, February 4th, 2009
Premier Soccer Santa Clarita Valley (PSSCV) is pleased to announce open team tryouts February 28, 2009 for the upcoming Women's Premier Soccer League (WPSL) 2009 season. PSSCV will compete in the very tough Southwestern Conference featuring 2008 National Champion, Ajax America Women, The tryout will be held at Santa Clarita Central Park at 10:00am and 3:00pm to accommodate as many players as possible. If you have any questions contact the team at psscv2009@gmail.com .
The tryout is open to all amateur women players who are interested in a high level of competition. Players that are currently playing for NCAA or NAIA teams are encourage to tryout, playing with PSSCV will not jeporadize eligibility. According to Head Coach Steve Cooper "This team and it's league affiliation is a perfect fit for women that would like to continue competing at a high level after their college experience." The WPSL consists of 60 teams and four divisions across the USA. The WPSL, at the recent Women's Soccer League (WSL) Draft, had 16 players drafted to the pro league making this team and this league a true spring board to the next level. "We are out to build a team from our area that will complete at the highest level and show that the Santa Clarita Valley and the City of Santa Clarita IS a soccer power not only in Southern California but the entire nation." said team Manager Pat Riggins. CONTINUED »
By Anonymous — Wednesday, January 28th, 2009
By Jose Luis Lomeli — Wednesday, January 28th, 2009
My name is Jose Luis Lomelí and I am the new Head Baseball Coach at Fillmore High School. I am extremely honored and privileged to take over a program with such a rich baseball tradition. Fillmore has won 22 league titles, four CIF titles and countless Junior Varsity championships. I understand what it means to wear a Flashes' uniform having been a member of three league championship teams during the early 1990's. I am looking forward to carrying on this proud tradition at my alma mater. The success of our program on the field throughout the years has been a joint effort with our local community; together we've been a great team!
Budget cuts in our schools make it difficult for our program to operate. Many schools in our county are spending $10,000-$15,000 and some even more, on a yearly basis for baseball. We know we cannot compete with those numbers year in and year out. However, it is extremely important that our players feel like they are just as important as the athletes at these other schools. I believe in providing our athletes with the best safety equipment and uniforms. I want our athletes to feel good about who they are and where they come from. This year we will be renovating our entire uniform supply and begin making much-needed field improvements prior to the start of the 2009 season. This represents a large financial commitment. Therefore, I am extending this invitation for your organization to join our sign sponsorship program for the 2009 baseball season.
One of our fund raising projects is to offer our community businesses the opportunity to help sponsor us by purchasing a sign advertisement. The sign will be professionally made and will be 3'x 6' in vinyl and will feature your business logo and information. The sign will be hung up at our varsity field for the entire baseball season, which runs from March through June. Your sign will be seen by everyone in attendance at our games, including anybody driving by our field. We have three plans available: CONTINUED »
By Anonymous — Wednesday, January 21st, 2009
Fillmore 50, Santa Paula 46 - January 14th.
Fillmore Record 7-8 (1-0 in Frontier League) Noah Aguirre- 16pts, 7 rebounds, 2 steals Chris De La Paz- 12 points, 6 rebounds, 1 steal Troy Hayes- 8 points, 3 steals, 2 assists Mike Watson- 4 points, 8 rebounds (leading rebounder) Arlen Appenzeller- 5 points, 6 rebounds, 3 assists. Fillmore was sluggish offensively but played solid zone defense to hold off the Cardinals.
By Anonymous — Wednesday, January 21st, 2009
Try outs and last day to sign-up. Saturday, January 24th 2009 starting at 8:00am. 7 & 8 year olds – 9:00am, 9 & 10 year olds – 10:30am, 11 & 12 year olds – 2:30pm, 13 & 14 year olds – 1:00pm,. Fee is $120.00. Call 805-746-1246 for more information.
By Anonymous — Wednesday, January 21st, 2009
Hermanos Herrera hosts another benefit concert to help support the FHS Girls Basketball Team. The concert will be Sunday, January 25, 2009 at the Sespe Auditorium at 3PM. The concert will feature Hermanos Herrera, Mariachi Aguilas De Mexico, Trio Guadalajara, and Ballet Folklorico Ollin. Master of Ceremonies will be News Anchor José Ronstadt from Telemundo Channel 52. For more information please call (805) 524 2451. PLEASE SUPPORT THE LADY FLAHES!!!
Enlarge Photo
By Anonymous — Thursday, January 15th, 2009
By Anonymous — Wednesday, January 14th, 2009
By Anonymous — Wednesday, January 14th, 2009
By Anonymous — Wednesday, January 14th, 2009
Fillmore Youth Football & Cheer will be holding our board meeting on Wednesday, January 21st at 6:30 at the Fillmore Senior Center on Santa Clara Avenue. We will be electing a new board. Our Vice President, Secretary, Gold Coast Rep, Team Mom Rep, Asst. Equipment Manager and others are open positions! This is the time to come and get involved and make a difference. If you have any questions, please contact President, Royce Davis at 407-7302. Hope to see you there!
By Anonymous — Thursday, January 1st, 2009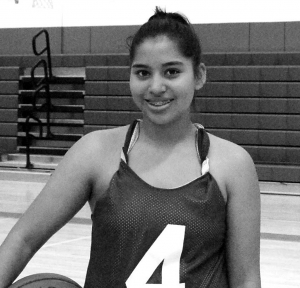 Mariah Perez
Coach Harry Burns has selected Mariah Rivas as player of the week. Mariah is the daughter of Denise and Henry
Rivas. Mariah is a 16 year old Junior at Fillmore High School. Mariah has been playing basketball for 9 years
and has been on Varsity since freshmen year. In the recently concluded Fillmore Tournament Mariah took over as the starting point guard because Rebecca Herrera had a sprained ankle and could not play until the last game
of the tournament. "Mariah did an excellent job filling in for Rebecca, and ran the offense flawlessly," stated Coach Burns. For her strong effort she received All Tournament Honors. Mariah's teammates affectionately call her
"Sharkbait" because she stands 5'3 inches tall and is the shortest member of the Lady Flashes basketball team.
Mariah says she loves being with her family of 3 sisters and 1 brother which give her lots of support. Next to her family Mariah says "Playing basketball is my number one passion."
By Anonymous — Tuesday, December 23rd, 2008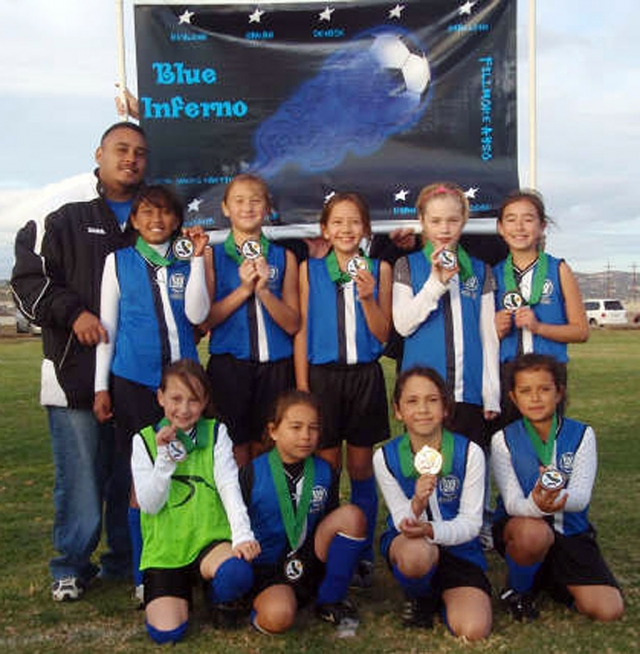 Top Left to right: Coach Omero Martinez, Reylene Martinez, Ryan Nunez, Aviana Ramirez, Sarah Stewart, Shaelene Inda. Bottom Row Left to Right: Emma Couse, Bella Olivares, Maddie Charles, & Denise Santa Rosa. Congratulations Ayso Girls BLUE INFERNO for taking 4th place out of 25 teams from Ventura and Santa Barbara Counties in 10&U AYSO Soccer, last weekend held in Camarillo. WAY TO GO GIRLS!!!!
Enlarge Photo
By Anonymous — Tuesday, December 23rd, 2008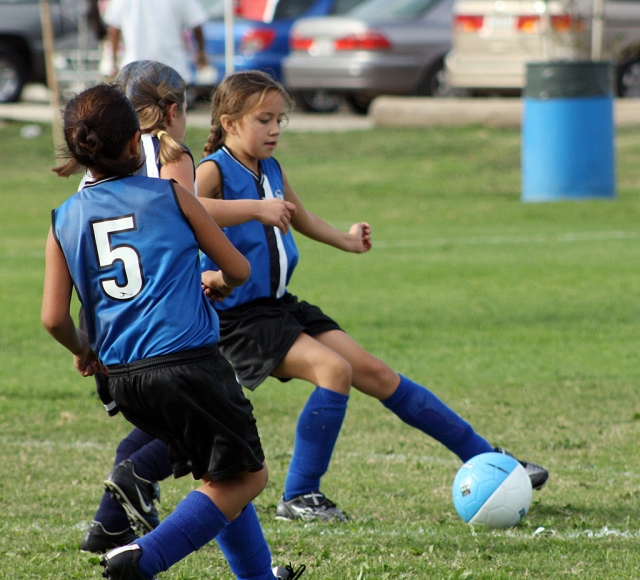 Aviana Ramirez #9 and Denise Santa Rosa #5 fight for the ball.
Enlarge Photo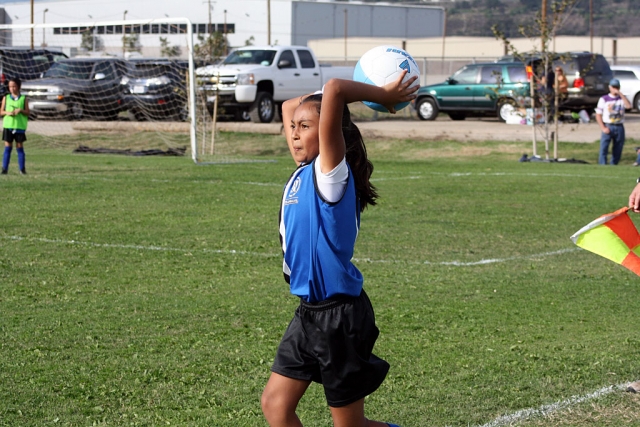 Reylene Martinez throws the ball in during the game, this past weekend in Camarillo.
Enlarge Photo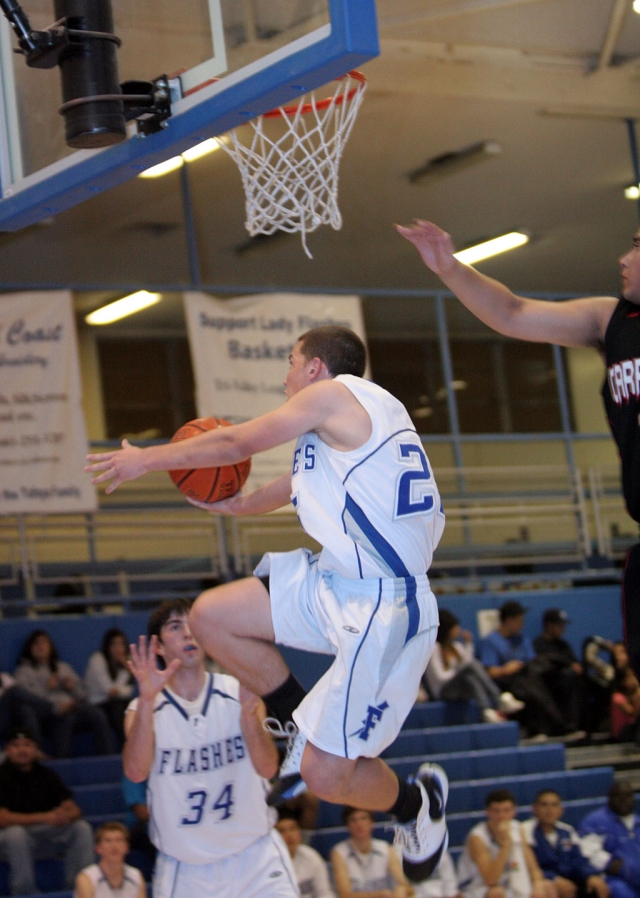 James Nelson makes his move towards the basket. The Flashes placed second in the Fillmore Tournament this past weekend. They beat Channel Islands and Carpinteria and lost to Oaks Christian.
Enlarge Photo
By Anonymous — Wednesday, December 17th, 2008
By Anonymous — Wednesday, December 17th, 2008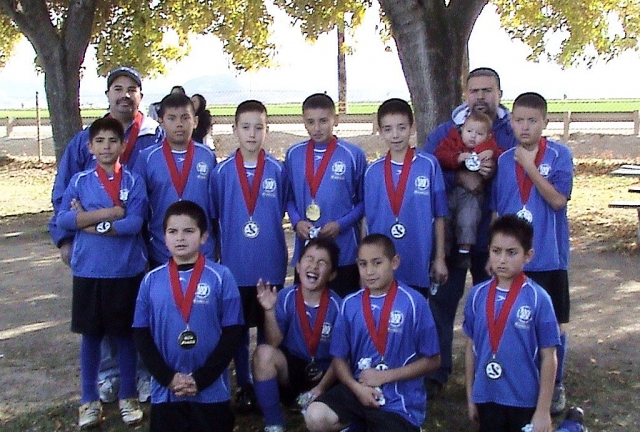 From left to right top row: Coach Joe Magana, Joseph Magana, Andres Andrade, Rodolfo Garza, Gerardo Rodriguez, Gilberto Magana, Asst. Coach Juan Magana and Juan Magana. Bottom Row: Andre Alvarez, Angel Figueroa, Pete Frias and Daniel Rojas. Congratulations to the U-12 Boys-Fillmore Crushers for placing 1st in the local Fillmore AYSO division and for placing 2nd this past weekend in the county Championship held in Camarillo they fought till the end but they lost to Santa Paula 7-6; overall record was 15-1. Top scorers Joseph Magana, Andres Andrade and Juan Magana. Now they will be representing Ventura/Santa Barbara County in the Section Playoffs in Bakersfield in March. Way to go boys and Good Luck!!!
Enlarge Photo