By Anonymous — Wednesday, May 13th, 2009
AYSO Soccer Registration will be held on the following dates: 5/16/09 10:00 am to 3:00 pm, 5/20/09 6:00 pm to 9:00 pm, 5/30/09 10:00 am to 3:00 pm. PLACE: Boys and Girls Club 561 First St (behind Memorial Bldg) Fee:$85.00 per child. Birth Certificate is required for ALL players @ registration.
By Anonymous — Wednesday, May 6th, 2009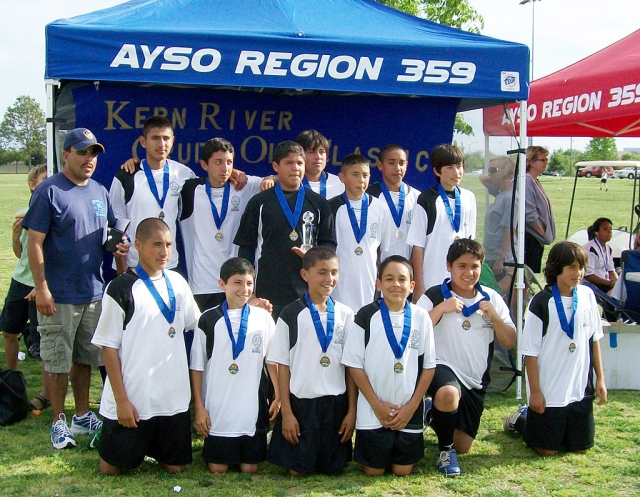 This past weekend AYSO's 14 & Under soccer team brought home the championship trophie. The tournament was held in Bakersfield. The boys played 5 games in 2 days. In pool play Fillmore beat Bakersfield 7-0, Porterville 4-1, another team from Bakersfield 10-1. In the semifinals Fillmore beat Lancaster 6-1. Fillmore beat Porterville 2-0 for the championship. The players families and friends were all there to cheer them on. The boys would liked to thank George Benz and the Law office of George Benz for helping sponsor the tournament. They would also like thank San Cayetano Principal Jan Marholin for her support. Pictured are front row (l-r) Brian Ayala, Jaime Magdelano, Diego Rodriguez, Isaiah Martinez, Christian Laureano, and Franky Chavez. Back row (l-r) Coach Alfonso Martinez, Hugo Valdovinos, Alexis Barajas, Ricardo Gutierrez, Miguel Velasquez, Ruben Camarena, Josh Valenzuela, and Vincent Chavez. Not pictured – Jeremy Brooks, and Marco Mora.
Enlarge Photo
By Anonymous — Wednesday, May 6th, 2009
By Anonymous — Wednesday, May 6th, 2009
On Thursday, April 30th the ladies held their own against the first place team in the Tri Valley league, Oak Park. They lost 5-0 but played solid softball. Kellsie McLain did a great job on the mound holding this good hitting team to only 5 runs. Our defense was also solid recording no errors. Getting our only three hits of the game were Heidi Hinklin, Nadia Lomeli, and Amanda Alamillo. On Monday, May 4th we played Grace Bretheran in a non league game beating them 15-5 in 6 innings. Brianna Martinez was on the mound with Lorraine Duran cataching for her. Both ladies were solid in their positions. Our bats decided to show up for this game with every girl in the line up contributing offensively. Hinklin went 4-5 with 2 RBI's, Erica Rodriquez went 3-3 with an RBI, Samone Vega, and Martinez went 2-4 each with an RBI, Lomeli and Alamillo went 2-4, McLain had 3 RBI's, Kelsey MacDonald had a hit with an RBI, and Jazmyn Alvary had a hit. The Ladies are nearing the end of their season and look forward to a strong finish.
By Anonymous — Wednesday, May 6th, 2009
The National High School Skateboard Association will be holding the second competition for region #1 at the Fillmore Skate Park this Saturday. Fillmore has its own skate team which will be competing in this event. Please come and support our local skate team.
The skate park will be CLOSED to all public skating during this competition. All spectators are welcome! Come and check out all 20 teams from the southern region. Competition begins at 2:00pm
For more information check out the website; sk8nhssa.com
By Anonymous — Wednesday, May 6th, 2009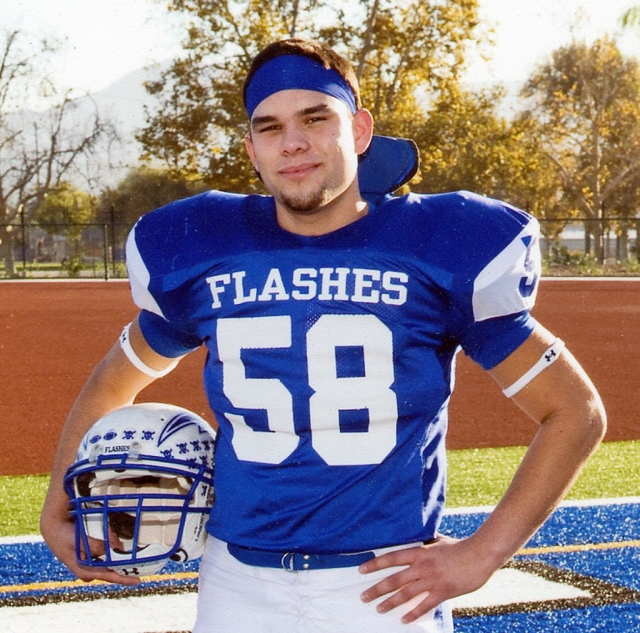 David Esquivel - All CIF Southern Section 2008 Football East Valley Division Offensive Team. Congratulations David, Love The Esquivel Family. Thank you to Coach Dollar and staff & his teammates. Without their support this wouldn't have happened!
Enlarge Photo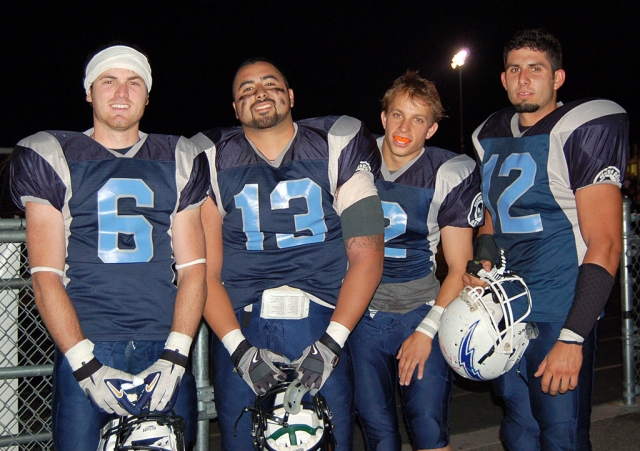 Pictured (l-r) are VC Badgers Christopher McKinnon (class of '06), Jessey Hurtado(class of '04), Tim Godfrey( class of '06) and Adrian Jimenez (class of '04).
Enlarge Photo
By Anonymous — Wednesday, May 6th, 2009
Ventura County Badgers vs. California Blue Knights Football game was held Saturday, May 2nd at Newbury Park High School.
Former Fillmore Flashes, Tim Godfrey, Jessey Hurtado, Christopher McKinnon and Adrian Jimenez played for the Ventura Co. Sheriff Badgers. Adrian #12 FB/LB, Jessey #13 FB/LB, Chris #6 Wide Receiver, Tim #2 Safety.
The Pride Bowl organization donates all proceeds of the games to charity. Some of the past proceeds have been given to the Make a Wish Foundation, Cops n Jocks, Senior Survival Services, Police Activities League, Boys and Girls Clubs, California Peace Officers Memorial Fund, and Ventura County Special Olympics.
The proceeds from this year's Pride Bowl Association will go to the Big Brothers and Big Sisters of Ventura County. Pride Bowl organization began in 1982. Ventura Co. Badgers won 20-0....good job guys!
By Anonymous — Wednesday, May 6th, 2009
The high school athletic department needs your support and encourages you to join the FHS athletic booster club. This group supports athletics for all of the athletic teams featured at the High School. Without an active and support driven Booster Club we cannot improve, introduce, or even maintain existing athletic programs offered at Fillmore High School. Please consider serving as a Booster Club board member for the 2009/2010 term. An election to select next year's board will be held Monday, May 11 at 6:30 P.M. at Fillmore High School, Hall of Fame, located in the Science Building. Should you have questions or concerns, please contact Lynn in the Student Store #524-8491.
By Anonymous — Wednesday, April 29th, 2009
By Anonymous — Wednesday, April 29th, 2009
Flashes varsity softball go 1-1 this week. On Thursday April 22 the girls took on their big rival Santa Paula and beat them in extra innings 7-6. Kellsie McLain was on the mound staying strong for all 8 innings. It was a nail biter at the end. With 2 outs McLain hit a double and Erica Rodriguez came right behind her and hit the game winning single to score McLain. Also contributing offensively were Heidi Hinklin going 2-5, McLain 2-4, Nadia Lomeli 2-4, Torey Perez 2-4, and Amanda Hernandez 2-4. On Tuesday, April 28 the girls lost to Oaks Christian. Brianna Martinez did a great job on the mound allowing only 4 runs to a well coached team. Jazmyn Alvary and Amanda Alamillo got the only 2 hits for the flashes.
By Anonymous — Wednesday, April 29th, 2009
Closing Ceremonies. The public is invited to join the 2009 teams in celebrating the end of the recreational softball and t-ball season. This Saturday, May 2, 2009 at Shiells Park. The day will begin at 10am with the final championship games of the 'Mason Dollar T- Ball Tournament'. Closing ceremonies will start at 12 noon on field #2. Business sponsors will receive a 'Thank You' plaque. The 2009 All Star teams will be announced. Come out and join the celebration! www.fillmoregirlssoftball.com
By Anonymous — Wednesday, April 29th, 2009
Fillmore Youth Football is still looking for Junior 2 and Senior division football players. If interested, please call Jorge at 794-5951 so we can get you registered! Parents and community members...if you are interested in coaching for youth football you must attend our next meeting. For more information, please contact Jorge Bonilla at 805-794-5951.
By Anonymous — Tuesday, April 28th, 2009
By Anonymous — Wednesday, April 15th, 2009
Join Fillmore Youth Cheer, "Raiders". There are still spots available for girls ages 5-14. If interested please attend a MANDATORY MEETING on Tuesday, April 21st at the Senior Center. If you haven't registered, please arrive by 6:00PM. Cost to register is $80.00.
By Anonymous — Wednesday, April 15th, 2009
The girls varsity softball team took on Nordoff Tuesday, April 14th and beat them 6 - 4. Kellsie McLain pitched and Lorraine Duran was the catcher. McLain had 7 strike outs and no walks. The girls played solid defense making only 1 error. Their bats were working pretty well also. They had a total of 11 hits. Jazmyn Alvary and Samone Vega went 3 for 4. Heidi Hinklin went 2 for 4 with a double and Erica Rodriquez also had a double. Kelsey MacDonald and Nadia Lomeli also contributed hits. The girls will play St. Boneventure on Tuesday, April 21 and Santa Paula on Thursday, April 23 both games are at home at 3:30. The girls would appreciate the community coming out and supporting them.
By Anonymous — Wednesday, April 15th, 2009
Fillmore Youth Football is looking for 13 and 14 year olds who meet criteria to play in the Junior 2 or the Senior division. If you are interested or for more information, please contact our President, Jorge Bonilla, at 794-5951.
By Anonymous — Wednesday, April 8th, 2009
By Anonymous — Wednesday, April 8th, 2009
On Saturday, March 28 the Fillmore Rays Jr's League team beat Saticoy in a thrilling 5-2 win. Tyler Forsburg started on the mound giving up only 1 hit and 1 run. Carson McLain then took the mound giving up two hits and 1 run. Going into the 7th inning we thought Saticoy had us, the score was 2-1 in Saticoy's favor but the boys didn't give up. McLain started the inning with a single, Sabino Ramos then got a 2 run RBI. Cameron Riley hit a bomb over the center fi elder's head to score two more runs. All we needed now was three outs, and we did it 3 up and 3 down. CONGRATULATIONS RAY'S!!!!!
By Anonymous — Wednesday, April 1st, 2009

(l-r) Nathan Garnica, Ana Morino, Moneh Magdelano, and Josh Gaither.
Enlarge Photo
By Anonymous — Wednesday, April 1st, 2009
The 2009 Track and Field Season began with a lot of excitement. These athletes take part in a historical event of becoming the first track team on our new facility. Our numbers soured this year with ninety eight athletes almost rounding out the 100 mark. On staff we have Assistant Coaches Matt Suttle, Curtis Garner, Clark Johnson and Brian Ball. The head coach this year is Kimberly Tafoya. Of our 98 athletes, only about one third are from the junior and senior classes, the remaining two thirds are comprised of underclassmen. A very young team shows promise for the track program's future. Some highlights to the beginning of the season include a victorious overall win against Santa Paula High School. The JV Girls, Varsity Girls and Frosh-Soph Boys were victorious against the Cardinals. For the Varsity Boys it came down to the last race, where sadly we were upset in end. Our first Tri-Valley League meet against Carpinteria came to a victorious end as well as the team came together to out score the Warriors. Our next home meet is the Citrus Valley Relays on April 4th, 2009. We will have a small meet with a couple of school just to break in the new facility. CONTINUED »