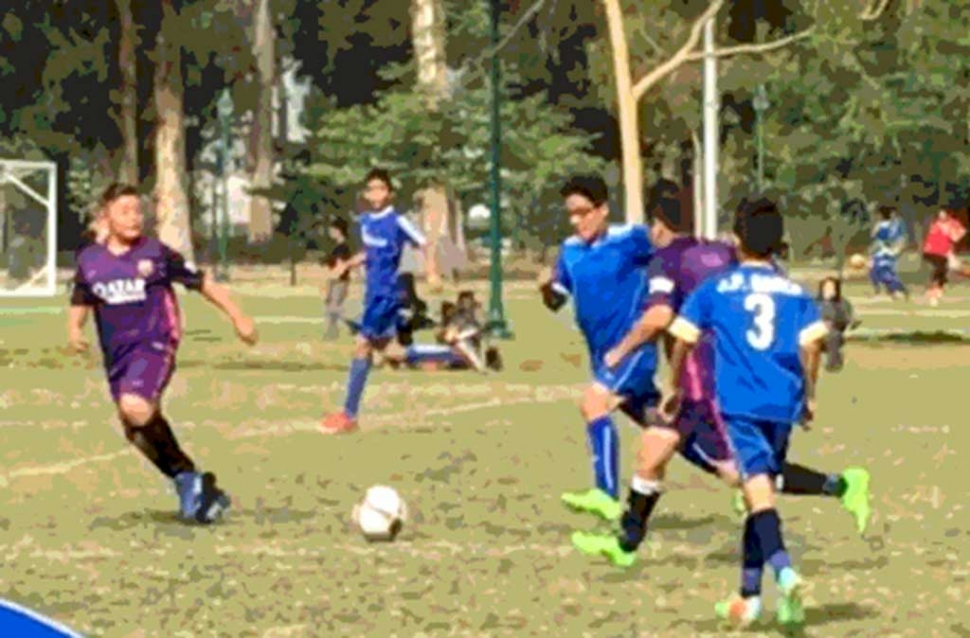 California United U-12 Boys challenging the VC Galaxy defense at this past weekend's game. Photo courtesy Tony Hernandez.
By Gazette Staff Writer — Wednesday, October 4th, 2017
Submitted by Coach Tony Hernandez
U-11 Girls. The California United team came out looking confident and disciplined this last week versus Morelia which paid off with a 3-0 win. It was a great team effort with goals by Marlene Gonzales, Athena Sanchez and Kari Terrazas while Ashley Hernandez had an assist. As we've come to expect from this defense there were no goals scored as Gaby Martinez and Mikayla McKenzie shared time at goalkeeper. Current record 4-0-0.
U-12 Boys. This was a hard fought game the whole way through with California United edging out VC Galaxy in a 1-0 victory. The defense faced a tough challenge throughout the entire game, but they stepped up and held on to the shut out with some great goalie work along the way. The lone goal, and game winner, was scored by Oscar Fuentes for California United. Current Record 4-0-0.
U-13 Girls. Lots of scoring going on in this shoot out against The Pumas that ended in a 4-4 tie. The top California United scorer for the day was Valeria Jaimes with 2 goals while Isabella Regalado and Emily Garcia each had 1. Isabella also added 2 assists while Emily and Daisy Murillo had 1 assist each.