By Kimberly Rivers — Friday, September 2nd, 2011
FUSD is now in Program Improvment. The District. Any Questions?
Ok, so it's early in the school year. And there is a lot happening in FUSD. And in every District. But we're focused here. Even if you don't have kids in the District you should be paying attention because this is YOUR tax dollars being spent, the state of the schools affects property values, whether companies want to bring their headquarters here (Anyone need a job? )...
The numbers are right there, staring everyone in the face. Here is a link to the California Department of Educations records for FUSD... http://dq.cde.ca.gov/dataquest/Acnt2011/2011APRDstPIReport.aspx?cYear=&a...
This record shows that FUSD is now in Program Improvement year 1 (see my article in the gazette if you don't know what PI is or read about it online). Yes there are issues with NCLB and I join most folks in not being a fan of standardized testing BUT until all those educators figure out a feasible way to measure student learning, it's what we've got. And the numbers show that the way it's being done, doesn't cut it. We need to change things up. We are using OLD teaching methods and "analog" classrooms in a 3D world. Just because it's way you've done it for 30 years doesn't mean it is the "right" way. Here's the video I got that terminology (analog classroom vs. 3d) from.
We have to recognize that kids today simply live and operate in a world totally unlike that of their parents. We have to change the look, feel, culture and experience of the classroom.
Now specific to FUSD, when is the community going to demand accountability? I feel like I'm standing on a mountain top shouting all by myself. Folks are not comfortable going on the record (ie. letting me use their names in articles because they are afraid for their jobs in the District and cause they still have kids in the District... is that crazy? Not in FUSD.. it's a fact that they perceive this District as hostile to anyone who speaks out against anything going on, anyone who asks questions, or says" Hold on,, you can't do that".... ) Teachers and staff members who do speak out are reprimanded by colleagues. I am tired of it. Plain and simple. Enough is enough. The folks in charge (school board, superintendents office and ALL ASST. Superintendents) need to step up, have some guts, grow some.... oh you know... and do what is best for the kids. This does not mean we all will agree with what is done,, but going with business as usual is not working.
Last month I met with Dr. Nishino. He asked me Why I choose to take my son out of FUSD. HE WAS THE FIRST ADMINISTRATIVE STAFF MEMBER OF FUSD TO ASK ME THAT QUESTION. The staff members present when I requested my sons enrollment papers back even handed me back my letter explaining why I was pulling him out. There is an environment of fear and of "my way or the highway." Do you know how many students leave FUSD every year? And that means $$$$ lost for FUSD... ask YOUR school board what THEY are doing (they can't wait for others any longer) to bring those families back. I hope that the interim folks being brought in are ready and wiling to rock the boat a bit. To show folks that they need to adapt or get left behind, because you know what? The kids are being left behind...
I have recently attended a school board meeting in a nearby district. Wow ! can I just tell you.. what a true world of difference. Just the agenda itself had more information about the resolutions being passed so folks know what is actually being proposed. Either a school board has an interest in communicating with the community or they don't...
HELLO RESIDENTS OF FILLMORE, ARE YOU PAYING ATTENTION. THESE STUDENTS ARE YOUR FUTURE. ARE YOU WILLING TO ALLOW THE SAME FOLKS YEAR AFTER YEAR TO FAIL THEM ????? THINK ABOUT IT. The middle school has not met state targets for eleven years, and there are school board members still sitting on the Board. I mean really, does that make any sense?
Ask the school board about the NEW school in FUSD. Heritage Valley IndependEnt Studies. ASK ABOUT IT. Has a school board member been paid as a substitute teacher? Isn't there some policy about school board members being employed by the Distsrict? WHAT IS THE DISTRICT DOING ABOUT "AR"? REMEMBER ALL THE PARENTS WHO SPOKE OUT LAST YEAR? HAVE THEY RECEIVED A RESPONSE? DO YOU WANT THE SAME SCHOOL BOARD MEMBERS WHO HAVE SAT BEHIND THE DESK WHILE FUSD MOVED INTO PROGRAM IMPROVEMENT CHOOSING THE NEXT PERMANENT SUPERINTENDENT? REALLY, THINK ABOUT IT. YOU CAN INVESTIGATE. I'll be at the next Board meeting, where will you be on Tuesday night?
THE ONLY STUPID QUESTION, IS THE ONE YOU DIDN'T ASK.
****
Slightly a different topic, (and this is likely to [!@#$] some people off) and this is for Districts across the Nation not just FUSD, since when is it the role of a school District to provide jobs? This is not a cash cow, this is a public school.
Here is a great story that you may have seen about a Superintendent who reduced his OWN pay by $800,000 over 3 years to benefit the District. WOW !
www.abcnews.go.com/US/school-superintendent-larry-powell-takes-800000-pa...
By Kimberly Rivers — Monday, August 1st, 2011
New Interim Superintendent, New Website
I hope everyone has had a wonderful summer. With the first day of school just around the corner (August 16) for FUSD families, I bet many have questions about what this year will be like.
Not only has FUSD hired it's interim Superintendent, Dr. Nishino, but FUSD has a fabulous looking new website.
Have you seen it recently? If not, then you need to check it out. What else is new?
The look is up to date and makes it easy to navigate. Each school's site has the same format, and has a place for a photo of the front of the school, with places for a school calendar and other info for each school to customize.
AND, the entire website can be read in Spanish by clicking once at the top of the site. This is a big deal and I hope it's used by the Spanish speaking families served by FUSD.
I really like the look and feel of the new website. I especially like the photographs added. The revamped site brings it up to date and makes it an "attractive" site to visit. I hope that it will make it easier for the community to connect with their childs school and the District as a whole.
Here's the link to the FUSD site: http://www.fillmore.k12.ca.us/home/
News is coming on the interim superintendent and on other news from the District. Stay Tuned.
By Kimberly Rivers — Tuesday, July 12th, 2011
The Sacramento Bee, Jul. 10, 2011
Editorial: State board is set to approve smart rules on 'parent trigger' for schools
Read more: http://www.sacbee.com/2011/07/10/3757242/state-board-is-set-to-approve.h...
Recognizing some sense of urgency to do something about 1,300 chronically low-performing schools in California, the Legislature last January opted for innovation.
In a first-of-its-kind law in the nation, lawmakers gave parents direct tools to require school boards to act to restructure schools.
But regulations to implement the law have been painfully slow in coming from the State Board of Education. A year and a half after the law's passage, parents and school districts still do not have predictable, consistent rules in place for everybody to follow.
Read more: http://www.sacbee.com/2011/07/10/3757242/state-board-is-set-to-approve.h...
By Kimberly Rivers — Tuesday, May 24th, 2011
A Photo Essay of FHS Prom 2011
By Kimberly Rivers — Tuesday, May 24th, 2011
A Photo Essay of FHS Prom 2011
By Kimberly Rivers — Thursday, May 19th, 2011
Public Documents Made Public
If you've been reading the paper you'll see that School Plans have been in the news. School Plans or SPSA (Single Plan for Student Achievement) are created and approved and overseen by each sites School Site Council (SSC) This is a body bound by state law to decide how best to use categorical monies (money that must be spent on specific programs, populations, goals). SSC always include the principal, staff members and parents. They can also include community members. It is important to note that according the SSC handbook issued by the State Department of Education the principal may not override a decision made by the SSC. Funds must be spent as designated by the SSC.
Here are links to the SPSA's that were approved in June of 2010 at each FUSD campus. They are plans for this school year (2011-2012). Current School Site Councils should be nearly finished with drawing up the plan for next year (2011-2012) and preparing to approve it. SSC's do generall edit, revise and refine the plan over the year based on needs, changes in goals and anticipated budgets and needs for the next school year. These documents are public and should be made easily available to the public. As soon as they are approved I will request them and get up and online here. Hopefully the District will beat me to it.
Fillmore High School:
FHSSchoolPlan.pdf
Fillmore Middles School:
FMSSchoolPlan.pdf
Mountain Vista:
MtnVistaSchoolPlan2010-2011.pdf
Piru Elementary School:
PiruSchoolSchoolPlan2010-2011.pdf
San Cayetano:
SanCayetanoSchoolPlan2010-2011.pdf
Sespe School:
SespeSchoolSchoolPlan2010-2011.pdf
SierraSchoolPlan2010-2011.pdf
By Kimberly Rivers — Saturday, May 14th, 2011
What do you think about the State budget and higher taxes to ensure education funding?
So who was at the Rally? How did it go? How many were there?
Have you seen & read Mr. Hood's letter to the editor? Here's an excerpt:
"California Teachers Association campaigns for the law makers who will support union salaries and state worker's pensions. The unions got the budgets and pensions they wanted, but because members have been so mis-educated by the totalitarian left, the inevitable realities of hating our own American capitalist system, and therefore being ignorant of profit and loss, are coming home to roost. Now that we have helped bankrupt the state, we evidently feel it is ethical to shakedown the taxpayers, as the world evidently owes us a living. But should we hold our breath and stomp our feet if we don't get a raise in our allowance?"
Read the rest of his letter here: http://www.fillmoregazette.com/letters
And check out this piece that was sent to me by a Fillmore area resident, it examines this same issue, presents some suggestions for teachers Unions
"Debt the Teachers' Unions Cause Us
The California Teachers Association is a major contributor to the Golden State's fiscal woes."
By Larry Sand, May 10, 2011
"California's chronic fiscal crisis should prompt a substantive debate about the limits of government and the folly of an expansive welfare state. Instead, leaders of the 325,000-member California Teachers Association are using the struggle to close the Golden State's $15.4 billion budget deficit as an opportunity for some political street theater. The powerful National Education Association state affiliate is spending this week highlighting California's "state of emergency," with large rallies planned in Sacramento and around the state Friday to agitate for billions of dollars in higher taxes. "
Read the rest and then come back and comment : http://city-journal.org/2011/cjc0510ls.html
What are you up to this weekend? I am honored to have been invited to attend the Fillmore High School Prom tonight, I hope to get some great photos and will post a "review" here. Happy Weekend.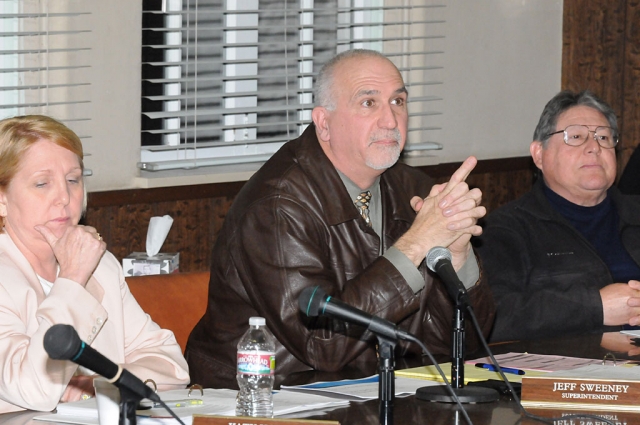 (l-r) Katie Hadley, Jeff Sweeney and Tony Prado
Enlarge Photo
By Kimberly Rivers — Thursday, May 5th, 2011
Wow, as if we didn't have enough local news I received word this morning from several FUSD staff members and parents that this morning (Thursday, May 5, 2011) an email was sent out from Superintendent Jeff Sweeney announcing his retirement effective June 30, 2011. His email included the letter that he delivered to the school board presumably during closed session on Tuesday (May 3) night. Here is the text of his email to staff:
********************
Hi,
This is not a budget update, although there is some optimism coming from Sacramento. We will know better in two weeks after the May Revise. For now, we will wait and hope…
I wanted to share the following letter that I gave to the Board Tuesday night:
Dear FUSD Board of Education,
I wanted to thank you for the last five years of serving the Fillmore Unified School District. It has been a distinct pleasure working with you, the staff, the students, and the community.
I wanted to let you know that I plan on retiring effective June 30, 2011. I will carry with me lifelong memories of working with all of you.
Respectfully,
Jeff Sweeney
Superintendent
The brief note above does not begin to express the experience I have had working with you. I will share more in a future communiqué. Until then, I wish you enough…
Jeff
I Wish You Enough
I wish you enough sun to keep your attitude bright.
I wish you enough rain to appreciate the sun more.
I wish you enough happiness to keep your spirit alive.
I wish you enough pain so that the smallest joys in life appear much bigger.
I wish you enough gain to satisfy your wanting.
I wish you enough loss to appreciate all that you possess.
I wish you enough "Hello's" to get you through the final "Goodbye."
- – - written by Bob Perks
********************************
This announcement comes after a tough year of budget reductions including the noticing of many employees. Sweeney as the top administrator in the District has at times been the target of complaints. According to Mr. Sweeney's contract his employment agreement is renewed and approved annually, so in terms of any side meeting any contract requirements this will be an easy shift.
Now what? According to FUSD Board policy (online at www.gamutonline.net ; login: Fillmore; password: public) BP 4111 pertaining to Personnel:
The Board of Education desires to employ the most highly qualified and appropriate person available for each open position in order to improve student achievement and efficiency in district operations.
BP 2121 Superintendent Recruitment and Selection:
The Board of Education recognizes that it has a direct responsibility to select and employ the Superintendent. Whenever it becomes necessary for the Board to fill a vacancy in the position of Superintendent, the Board shall work diligently to employ a person whose management and leadership abilities are most closely aligned with district needs.
The Board shall establish and implement a search and selection process that includes consideration of:
1. The district's current and long-term needs, including a review of the district's vision and goals
2. The desired characteristics of a new Superintendent, including professional experience, educational qualifications, leadership characteristics, philosophy of education, and other management, technical, interpersonal and conceptual skills, as well as the priorities the Board wants to place on different abilities, traits and levels of knowledge
3. The scope of the search, including whether to promote from within the district or broaden the search to include both internal and external candidates and, if external candidates will be considered, whether to conduct a statewide or nationwide search
4. The salary range and benefits to be offered
5. Basic elements to be included in the Superintendent's contract
6. Whether to hire a professional adviser to facilitate the process
7. How and when to involve the community in certain phases of the selection process
(the section of Board policy that relates to Citizen Advisory Committees cf. 1212 was not available online, I have requested that the text of it be emailed to me, I will post as soon as I can)
8. The best methods for advertising the vacancy and recruiting qualified candidates
9. The process for screening applications and determining how the screener(s) will be selected
10. Interview questions, processes and participants
11. How and when candidates' qualifications will be verified through reference checks
12. Other actions necessary to ensure a fair selection process and a smooth transition to new leadership
Even if a professional adviser is used to facilitate the process, the Board shall retain the right and responsibility to oversee the process and to review all applications if desired.
The Board shall select candidates to be interviewed based on recommendations of the screener(s) and the Board's own assessment of how candidates meet the criteria established by the Board.
The Board shall interview preliminary and final candidates in closed session and determine the most likely match for the district. (Government Code 54957)
The selected candidate shall hold both a valid school administration certificate and a valid teacher's certificate. The Board may waive any credential requirement, but shall not employ a person whose credential has been revoked by the Commission on Teacher Credentialing pursuant to Education Code 44421-44427. (Education Code 35028, 35029, 35029.1)
Before offering the position to the selected candidate or making any announcements, Board members may visit that candidate's current district, as appropriate, to obtain verification of his/her qualifications.
The Board shall deliberate in closed session to affirm the selection of the candidate and shall report the selection in open session. (Government Code 54957)
The Board shall conduct these proceedings in accordance with legal and ethical obligations regarding confidentiality and equal opportunity.
As necessary, the Board may appoint an interim superintendent to manage the district during the selection process.
Regarding the Contract with the Superintendent:
In approving employment contracts with the Superintendent, the Board of Education wishes to encourage the Superintendent's long-term commitment to the district and community while carefully considering the financial and legal implications of the contract in order to protect the district from any potentially adverse obligations.
The Board shall designate a representative to negotiate with the Superintendent on its behalf and shall consult legal counsel to draft the contract document.
The Board shall deliberate in closed session about the terms of the contract.
Terms of the contract shall remain confidential until the ratification process commences.
The Board shall ratify the Superintendent's contract in an open meeting, which shall be reflected in the Board's minutes. Copies of the contract shall be available to the public upon request.
The contract shall include, but not be limited to, provisions for salary and benefits, annual evaluations, term of the contract, and conditions for termination of the contract. The contract should also include general responsibilities and duties of the Superintendent.
The term of the contract shall be for no more than four years. (Education Code 35031)
During the term of the contract, the Board may reemploy the Superintendent on those terms and conditions mutually agreed upon by the Board and Superintendent. (Education Code 35031)
The Superintendent's contract shall be extended only by Board action and subsequent to a satisfactory evaluation of the Superintendent's performance.
In the event that the Board determines not to reemploy the Superintendent, the Board shall provide written notice to the Superintendent at least 45 days in advance of the expiration of the term of the contract. (Education Code 35031)
The Superintendent's contract shall include a provision specifying the maximum cash settlement that the Superintendent may receive upon termination of the contract. However, if the unexpired term of the contract is greater than 18 months, the maximum cash settlement shall be no more than the Superintendent's monthly salary multiplied by 18. The cash settlement shall not include any noncash items other than health benefits, which may be continued for the unexpired term of the contract up to 18 months or until the Superintendent finds other employment, whichever occurs first. (Government Code 53260, 53261)
(cf. 4117.5/4217.5/4317.5 - Termination Agreements)
If the Board terminates the Superintendent's contract upon its belief and subsequent confirmation pursuant to an independent audit that the Superintendent has engaged in fraud, misappropriation of funds, or other illegal practices, the maximum settlement shall be within the limits prescribed by law, as determined by an administrative law judge. (Government Code 53260)
*************************
Next I'll post the stated duties of the Superintendent.
What kind of skills do you think the new superintendent should have?
Bilingual? experience with low income community? success in turning around low performing schools?
What is important to you in your superintendent?
Remember every resident within FUSD has a stake in this. Schools are the foundation of the community and create lifelong links within that community. The quality of schools also affects property values, what companies come to town, job availability, and so on.
Do you think the School Board should form a Community Advisory Committee to assist in the selection process of a new superintendent? I have read about other Districts actually having open town hall interview sessions with final candidates, where the community can meet the final two or three, ask them questions and chat.
here is a link to a PDF report from a district in Pittsburgh, I thought this was very interesting... the questions asked are insightful. http://www.aplusschools.org/SuperReport.pdf
Keep an eye out for full article about Mr. Sweeney's retirement in next weeks Gazette.
Attend the Rally for Education in front of FUSD offices on sespe street next wednesday, here's a link for more info: http://www.fillmoregazette.com/community/fillmorepiru-rally-education
By Kimberly Rivers — Tuesday, May 3rd, 2011
At the April 26, 2011 Board meeting Superintendent Jeff Sweeney provided on paper the Mission, Vision and Goals for the District. It should be noted that all of this information is laid out in Board policies that are available to every member of the public at any time through the Districts website. Keep in mind that many of the policies have been updated recently and you would need to confirm with the District that the policy online is the most up to date version.
The Vision is what the District "looks like" when the Mission has been successful. A Vision is the ultimate goal that all actions are working towards. When the District is exactly the way described in the Vision, it means the Mission has been wholly successful.
VISION:
Rooted in tradition and committed to excellence, FUSD works collaboratively with parents and the community to empower students to succeed in an ever-changing world.
The Mission of an organization, company or school district is the underlying intention for all actions it takes as it works towards its Vision.
MISSION:
To ensure that each students will develop the skills and attitudes essential for success in school and in a diverse society, we are committed to:
-All students learning
-A competent and caring staff participating in decision-making
-Parents as partners
-Effective management of resources
-A safe, healthy and inviting environment
-Excellence in all we do
GOALS for 2010-2011 as laid out by the Board:
To improve the achievement of all students it the goal of all staff, parents, community members and board members within FUSD.
-Special focus will increase the academic achievement of English language learners.
In order to do this we will:
-Provide the highest quality staff for the students in the school district
-Special emphasis will be placed on the salary parity, positive, collaborative workplace environments, retaining quality staff, hiring highly qualified teachers and helping all staff improve and grow professionally through performance evaluation.
-Review and improve District and school discipline plans and procedures to increase the attendance of all students.
-Increase parent outreach, parent involvement, and parent education opportunities.
-Improve communication within the school district and with parents and community partners.
-Maintain clean, orderly and safe facilities for students and staff.
-Evaluate all facets of the instructional program, including the use of technology as an instructional tool, to ensure all curriculum is research-based and effectively implemented.
Do you think the District has met any of its goals? Which ones? Which ones has it failed to meet?
Assistant Superintendent, Director of Business Services Michael Bush, presented the following list to the Board and those in attendance. It is based on recommendations from the Superintendent.
All positions related to the items on this list have been noticed. See notes below the list regarding direction given by the Board that resulted in a few items being moved on the list and which should result in notices being rescinded.
Group A: Superintendent recommends cutting even if no reductions in budget required.
Group B: Superintendent recommends cutting if State reduction is $349 per pupil
Group C: Superintendent recommends cutting if State reduction is $620 per pupil
Group D: Superintendent recommends these items are "untouchable". *I added the Group D designation for ease of reporting, this list was presented but with no Group designation.
(A note on the formatting, I am unable to make nice columns on the blog, so the top line tells you the 4 bits of info for each item, Expense, Savings, Group and # of Students impacted. The info you see for each "expense" is in that order following the item, sorry it is a bit confusing)
Expense Savings Group # of students impacted
Two FHS Teachers $ 155,374 A 988
(- Due to declining enrollment)
Director of Special Projects 70,330 A NA
FHS Asst. Principal 44,781 A 988
(Becomes part-time Dean)
FHS Health Clerk 31,334 A 988
5 Additional Furlough Days 550,000 B 0
Mechanic 77,145 B NA
Align Funding of Facility Mngment 64,548 B NA
Adjusted Site Budgets 31,000 B 3764
One Cabinet Position 150,000 C NA
Raise grades 4-5 by two 117,200 C NA
Raise secondary class size by one 117,000 C 1787
One Educational Services Coord. 100,000 C 3764
General Fund Support of Libraries* 86,653 C 3764
Elementary Music Teacher* 85,782 C 200
Counselor 83,796 C 799
One Cabinet Secretary 80,000 C NA
One Groundsman 64,216 C NA
One Custodian 60,000 C NA
Grade 4-5 Class Size Relief 46,880 C NA
Athletic Director/Clerk 45,487 C NA
Site Administration 807,396 D 3764
Class Size Reduction 580,890 D 1207
2 Vice Principals 235,133 D 1787
Raise Secondary Class Size by 2** 117,200 D 1787
Special Ed Coordinator 114,568 D 3764
Zangle Support 80,923 D NA
Data Specialist 79,059 D NA
Total District Reductions: $4,076,696
*Denotes item moved to Group D by Board on April 26th. Presumably positions affected that have been noticed will be reinstated.
**Denotes item moved from Group D to Group C
Note: Board agreed with all Group D, so all notices attached to those cuts will presumably be rescinded. Mr. Sweeney indicated this on April 26.
***************************************
By Kimberly Rivers — Monday, May 2nd, 2011
written and performed by the DreamYard Preparatory High School SLAM Team. Spring 2011.
Here is a blurb about the school where the video was written/performed etc. Link to video on youtube is below.
DreamYard Teaching Artist - Renée Watson
Video - David Flores
www.dreamyard.com
www.dyprep.org
www.reneewatson.net
www.dflo.net
The DREAMYARD PREPARATORY SCHOOL cultivates Scholarship, Artistry and Character within its students to develop successful individuals and responsible citizens.
DY Prep provides a rigorous arts integrated curriculum that emphasizes problem solving and critical thinking while deepening students' understanding of all subject areas. All of our classes empower students with skills to engage the world creatively and pursue professional careers. Community, creativity and leadership inform a school culture that nurtures the growth of articulate and thoughtful adults. DY Prep is committed to providing the support and guidance that will allow each student to graduate with a Regents diploma, acceptance to a college or university, and a clear path toward a fulfilling and meaningful career.
DreamYard transforms Bronx public schools and communities through the power of project-based arts learning. As the largest arts education provider in the Bronx, DreamYard impacts the social and intellectual growth of thousands of Bronx students through safe, positive and creatively challenging programs.
DreamYard's professional artists partner with classroom teachers and community educators to help students learn in new ways and develop literacy and communication skills. Through year-long programs offered during the school day, after-school, on weekends and during the summer, DreamYard supports youth development, enhances life-long learning skills and promotes creative thinking and expression
Link to "PUBLIC EDUCATION" http://youtu.be/cp6u21F6Wiw