By Gazette Staff Writer — Tuesday, June 2nd, 2009
By Gazette Staff Writer — Tuesday, June 2nd, 2009
By INVESTOR'S BUSINESS DAILY | Posted Monday, June 01, 2009 4:20 PM PT
Voting Rights: It's more than disturbing to see the Justice Department drop a case against armed bullies practicing intimidation tactics last Election Day. No American should ever fear to vote.
http://www.investors.com/NewsAndAnalysis/Article.aspx?id=478343
By Gazette Staff Writer — Wednesday, May 27th, 2009
Story courtesy The Heritage Foundation
The progressive movement suffered a major defeat this Tuesday when California voters rejected all five tax raising measures on the ballot, four out of five of them by nearly 2-to-1 margins. The vote clearly shows that even in one of the most liberal states in the nation, there is an upper limit to how high Americans are willing to be taxed.
The response from the new online left has been largely mute, but Mother Jones blogger Kevin Drum did try and spin the defeat this way:
Historically, California has been a high tax/high service state. That's fine. Some states prefer a low tax/low service model. That's fine too. (It's a lousy idea, I think, but fiscally it's fine.) But over the past few decades we Californians have somehow concluded that we can be a medium tax/high service state. It's a fantasy. CONTINUED »
By George Runner — Wednesday, May 27th, 2009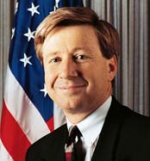 Senator George Runner
Serving the 17th District which incorporates portions of the Los Angeles, San Bernardino, Ventura and Kern counties.
Yesterday, the voters sent a strong message to the California Governor and Legislature – enough is enough! Taxpayers have done their part and will continue to pay their fair share of taxes to the California treasury. After all, California taxpayers pay some of the highest taxes in the nation. Now it's the time for politicians to give taxpayers something in return: Like topnotch, efficient services and the best value for their tax dollars. We must stop wasteful spending, end programs that don't work and adjust spending to the revenue stream – that's what hard working Californians do in their household and business budgets and that's how their state government should operate.
Taxpayers are willing to pay for education, but they don't want to pay for increased spending in public school, which has ballooned more than $11 billion in the last six years despite a declined enrollment of 75,000 students. Especially when test scores and drop-out rates have remained stagnant and these problems continue to go unaddressed.
Californians want improved infrastructure, but they are sick and tired of paying for the construction of overpriced government buildings by public enterprises, weighed down in bureaucracy, when the same building costs 30 percent less at the hands of private builders. CONTINUED »
By Gazette Staff Writer — Thursday, May 21st, 2009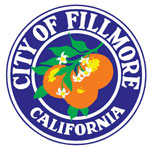 City of Fillmore
FILLMORE CITY COUNCIL
TUESDAY, MAY 26, 2009
REGULAR MEETING
CITY COUNCIL CHAMBERS
6:30 P.M.
FILLMORE CITY HALL
CENTRAL PARK PLAZA
250 CENTRAL AVENUE
FILLMORE, CALIFORNIA 93015-1907
AGENDA
ITEM REFERENCE
1. CALL TO ORDER & PLEDGE OF ALLEGIANCE Oral
2. APPROVAL OF AGENDA Oral
3. ORAL COMMUNICATIONS Oral CONTINUED »
By Gazette Staff Writer — Wednesday, May 20th, 2009
WASHINGTON, DC—The U.S. Senate late Tuesday passed a bill by U.S. Rep. Elton Gallegly (R-Ventura & Santa Barbara Counties) to honor President Ronald Reagan on the 100th anniversary of his birth.
The Senate passed the bill by unanimous consent. On March 9, the House passed it on a 371-19 vote, with one Member voting present. The bill now goes to President Obama for his signature.
The Ronald Reagan Centennial Commission Act will create an 11-member commission that will plan and carry out activities deemed fitting to honor Ronald Reagan on his 100th birthday, which will be on Feb. 6, 2011.
The commission will make recommendations and provide necessary assistance for federal, state and local governmental agencies and civic groups to honor President Reagan's 100th birthday. Such activities could include special stamps or coins. In addition, the commission will recommend to Congress activities to honor President Reagan's 100th birthday, including the possible convening of a Joint Session of Congress. CONTINUED »
By Gazette Staff Writer — Wednesday, May 20th, 2009
Courtesy The Heritage Foundation
When Congress passed its last major energy legislation in 2005, a minor provision was added late in the legislative process that created a $1-per-gallon tax credit for "renewable diesel" fuel created through "thermal depolymerization." The measure was included to benefit a single firm that produced boiler fuel from turkey waste, but in 2007 the Internal Revenue Service ruled that the tax credit also applied to other livestock waste. This led corporate giants ConocoPhillips and Tyson Foods to form a joint venture that turned chicken, cow, and pig fat into diesel fuel.
But just as ethanol mandates drove up the price of food, diverting Tyson's animal fat into the energy market drove up the costs of manufacturing soap. So the soap lobby fought back and earlier this year Congress cut the thermal depolymerization tax credit in half. This made the Conoco/Tyson venture unprofitable, which they have since discontinued.
What does this have to do with the Waxman-Markey cap and trade legislation currently being debated in Congress? Everything. In order to win enough votes to pass cap and trade, Rep. Henry Waxman (D-CA) has given the corporate members of the United States Climate Action Partnership (which includes both private and government-controlled firms like General Electric, Duke energy, Chrysler, and General Motors) a front-row seat in writing the legislation. The motives of these major corporations are simple: if they cooperate with big government in drafting the legislation, they can cut deals to protect their bottom line. If they don't play ball, then big government will just tilt the regulatory scheme in their competitors favor. As the New York Times reports, this is exactly what is happening in the House now: CONTINUED »
By Gazette Staff Writer — Wednesday, May 20th, 2009
Senate Bill 188 would give school administrators another tool to keep their campuses safe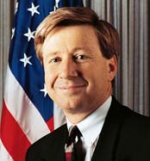 Senator George Runner
Serving the 17th District which incorporates portions of the Los Angeles, San Bernardino, Ventura and Kern counties.
SACRAMENTO – Sen. George Runner (R-Antelope Valley) today won unanimous passage of Senate Bill 188 out of Senate Judiciary Committee. SB 188 allows administrators of educational sites, like schools and technical institutions, to file for a temporary restraining order against people who threaten a campus.
"It is simply commonsense to allow educational sites the same ability to file for a restraining order to protect the campus that businesses have to protect employees," Runner said.
Currently, administrators are not allowed to file for restraining orders on behalf of students. In order to protect a campus, a separate restraining order must but issued for each individual on campus—which means some administrators would need to file hundreds, if not thousands court injunctions.
This bill idea came from the Western Beauty Institute, which operates out of the Antelope Valley. WBI experienced a case of student violence, and the administrator found he was unable to file for a restraining order.
"I am extremely happy that SB 188 passed Committee. It gives a new layer of protection to Colleges and universities in California. I believe that this change will go a long way to protect our students and educators from violence in the classroom and on campuses throughout the state." Said Mark Walker, Director of the Western Beauty Institute.
SB 188 passed by a unanimous 5-0 vote in Senate Judiciary Committee and moves to the Senate Floor.
By Gazette Staff Writer — Wednesday, May 13th, 2009
FILLMORE CITY COUNCIL
TUESDAY, MAY 12, 2009
REGULAR MEETING
CITY COUNCIL CHAMBERS
6:30 P.M.
FILLMORE CITY HALL
CENTRAL PARK PLAZA
250 CENTRAL AVENUE
FILLMORE, CALIFORNIA 93015-1907
AGENDA
ITEM REFERENCE
1. CALL TO ORDER & PLEDGE OF ALLEGIANCE Oral
2. APPROVAL OF AGENDA Oral
3. ORAL COMMUNICATIONS Oral
4. CITY COUNCIL CONSENT CALENDAR (6:40p) CONTINUED »
By Gazette Staff Writer — Wednesday, May 13th, 2009
Despite years of predatory lending that's now led to 10,477 homes in California's 24th Congressional District expected to be in foreclosure during 2009, today Representative Elton Gallegly voted to help mortgage companies continue their irresponsible loan practices rather than helping middle class families keep their homes.
"Leave it to Representative Elton Gallegly to side with predatory lenders instead of the responsible families who play by the rules but are still losing their homes in this recession," said Andy Stone, Western Regional Press Secretary for the Democratic Congressional Campaign Committee. "The last thing Representative Gallegly should be just saying no to in the middle of a foreclosure crisis is cracking down on the abusive lending practices that got us into this mess to begin with."
Background
· The Mortgage Reform and Anti-Predatory Lending Act (H.R. 1728) puts an end to the kind of predatory lending practices that helped lead to the current financial crisis and also prevents borrowers from misstating their income to qualify for a mortgage. [H.R. 1728, # 242, 5/7/09]. CONTINUED »
By Gazette Staff Writer — Wednesday, May 6th, 2009
Story courtesy The Heritage Foundation
Addressing Congress on the State of the Union, President Ronald Reagan told the American people in 1982:
Our citizens feel they've lost control of even the most basic decisions made about the essential services of government, such as schools, welfare, roads, and even garbage collection. And they're right. A maze of interlocking jurisdictions and levels of government confronts average citizens in trying to solve even the simplest of problems. They don't know where to turn for answers, who to hold accountable, who to praise, who to blame, who to vote for or against. The main reason for this is the overpowering growth of Federal grants-in-aid programs during the past few decades.
Reagan not only talked about reviving federalism … he did it. Under President Jimmy Carter the percentage of state expenditures coming from federal funds rose to 35.4%. Reagan lowered that number to 24.9%. Unfortunately, under President George H.W. Bush, President Bill Clinton, and President George Bush that number shot up again; reaching 42.5% in 2005. But now with President Barack Obama in power, wielding his $787 billion stimulus package, state dependency on the federal government has reached a historic new height. USA Today reports: "In a historic first, Uncle Sam has supplanted sales, property and income taxes as the biggest source of revenue for state and local governments." CONTINUED »
By Gazette Staff Writer — Wednesday, May 6th, 2009
April 17, 2009
The White House
1600 Pennsylvania Avenue NW
Washington , DC 20500
Mr. Obama:
I have had it with you and your administration, sir. Your conduct on your recent trip overseas has convinced me that you are not an adequate representative of the United States of America collectively or of me personally.
You=2 0are so obsessed with appeasing the Europeans and the Muslim world that you have abdicated the responsibilities of the President of the United States of America . You are responsible to the citizens of the United States .. You are not responsible to the peoples of any other country on earth.
I personally resent that you go around the world apologizing for the United States telling Europeans that we are arrogant and do not care about their status in the world. Sir, what do you think the First World War and the Second World War were all about if not the consideration of the peoples of Europe ? Are you brain dead? What do you think the Marshall Plan was all about? Do you not understand or know the history of the 20th century?
Where do you get off telling a Muslim country that the United States does not consider itself a Christian country? Have you not read the Declaration of Independence or the Constitution of the United States ? This country was founded on Judeo-Christian ethics and the principles governing this country, at least until you came along, come directly from this heritage. Do you not understand this?
Your bowing to the &n bsp;king of Saudi Arabia is an affront to all Americans. Our President does not bow down to anyone, let alone the king of Saudi Arabia . You don't show Great Britain, our best and one of our oldest allies, the respect they deserve yet you bow down to the king of Saudi Arabia .. How dare you, sir! How dare you! CONTINUED »
By George Runner — Wednesday, May 6th, 2009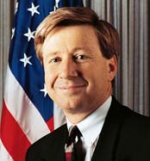 Senator George Runner
Serving the 17th District which incorporates portions of the Los Angeles, San Bernardino, Ventura and Kern counties.
With our economy in shambles and our markets frozen, the last thing we need right now are more Californians out of work. And, as Californians weigh in on the upcoming ballot measures, our state is poised to have the highest tax burden in the country, as well as one of the least business-friendly environments in the nation. The combination of higher unemployment and greater taxes for those still clinging to their jobs and businesses could be fatal for California.
It is well understood, California has been the home to numerous innovators and industry leaders. Unfortunately, many of these companies have been forced to fold or leave the state. Last year, more Californians left the state, some 135,000, than those who settled here, and these numbers are getting worse. In particular, our tech and shipping industries are seriously burdened by the growing regulation coming out of Sacramento. The burdens and restrictions placed on our state's businesses, coupled with federal tax increases targeting their owners and entrepreneurs, could be the perfect recipe for yet another disaster once income, sales, and car taxes passed earlier this year are added to the mix.
The lesson learned must be that California cannot afford irresponsible public policy at a time like this. We must fight for policies that encourage, rather than hinder business growth. Senate Republicans are offering common sense solutions, such as greater workplace flexibility. We're also working to reform government and decrease the tax burden on our citizens.
Now, more than ever, we need those in Sacramento to make the tough choices and put the California taxpayer first. In the end, our damaged economy and the future of this state depends on the decisions made in the Legislature over the next year. We must come to terms with our own problems and put aside our philosophies. If past actions are the beginning, California cannot survive unless Sacramento changes its status quo.
By Gazette Staff Writer — Wednesday, April 29th, 2009
for Kevin McSweeney and Bert Rapp
We are writing this letter in support of Kevin McSweeney and Bert Rapp and all the other hard working and dedicated employees of the City of Fillmore. It is very distressing to us that there have been numerous resignations of management from the City of Fillmore in the past few weeks. As public employees ourselves we wanted to respond to comments made in regard to residency of city employees. One need only look at an employee's dedication to the city not whether they live in the city that they work. It is very easy for a municipal employee to perform their jobs based on politics, to constantly have one's moistened finger in the air to test the political winds in order to make a decision, to stay out of hot water. Consistently Bert Rapp and Kevin McSweeney have resisted this tactic by being embroiled and criticized for their dedication to enforcing the Municipal Ordinance and wanting to produce as high a quality work-product that they could provide.
Our own personal experience was when we submitted plans to build a room addition onto our home in 2005. Kevin required that we obtain a development permit, which is in the city code. We were not happy at having to perform additional work due to the extra time and expense. We could not cajole Kevin out of the requirement. If Kevin made his decisions based on pressure from the citizens you would have nothing more than a banana republic. Kevin stuck to his guns. This is what we want him to do with everyone to make a level playing field.
If anyone has dealt with Bert Rapp one would think that such a kind and gentle man would not be capable of being stubborn. When Bert Rapp thinks he is right about something people call him stubborn. What was Bert hired to do...to be the Public Works director...to evaluate and make decisions to the best of his ability and like Kevin sticks to his guns.
He has done that with the sewer plant project or more correctly the water-recycling project. The water from the plant will be used to irrigate landscaping and to recharge the aquifer because we cannot discharge the water directly into the Santa Clara River. This is one of the big expense items that makes our plant more expensive than Santa Paula's sewer plant. Look at the hue and cry that Bert has had to endure over this plant. He does not whine about it, it is part of the job. Again he has made these decisions to the best of his ability with the best interests of the citizens in mind. Go see the plant for yourself...it was exquisitely constructed. The contractor, who is based in California, only constructs general engineering projects such as water treatment facilities, sewer plants and food processing plants with an outstanding reputation.
Our last point is the subject of institutional memory or knowledge, which is the intent of the vision for the organization, in other words what are we trying to do here? This is an oral tradition that is passed down from the management staff in every organization we, as humans are involved with. It is the vision of the organization. If you strip an organization of its management it takes years to be able to instill this vision in new managers by people from the outside because there is no one left inside. We have seen the vision of Fillmore unfold from the time of the earthquake and the 2020 Visioning meetings. Led by employees who had a stake in that visioning process. Maybe not all of them were residents but all had the good of the community at heart. The bottom line is that whatever the reason the other directors left, we do not want to lose any more from our city organization. When you have a stake in a community you want to finish what you have started. We know that Bert and Kevin feel that way and that they will continue their high level of service that I believe they have always provided.
Sincerely,
Steve and Diane Sutton
Fillmore
By Gazette Staff Writer — Wednesday, April 29th, 2009
Courtesy The Heritage Foundation
Yesterday the citizens of New York and New Jersey who lived through 9/11 were witness to an ominous flashback. A massive aircraft, trailed closely by an F-16 fighter jet, descended towards the city and flew so close and low to Manhattan skyscrapers that office building windows rattled. Fortunately this was not a terrorist attack, but a poorly thought out photo-op by White House Military Office Director Louis Caldera. Before being appointed by President Barack Obama to his current post, Caldera most recently served on the board of directors for the failed bank IndyMac, which is currently under investigation by the federal government for fraud.
This breach of common sense is all too typical of the Obama administration's approach to national security. Just 99 days into office, Obama's performance has already raised serious questions about his national security strategy. CONTINUED »
By George Runner — Wednesday, April 29th, 2009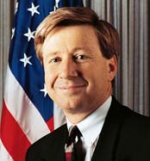 Senator George Runner
Serving the 17th District which incorporates portions of the Los Angeles, San Bernardino, Ventura and Kern counties.
When discussing elections and voting, people often drop the buzz words "voter disenfranchisement." In other words, they argue that policy makers should oppose legislation that might obstruct potential voters from casting their votes.
Ballot access is a Constitutional right and ballot security ensures that this right is upheld. Unfortunately, California is not protecting the democratic process.
Voter fraud caused by lack of ballot security disenfranchises citizens. When individuals who are ineligible to vote, such as felons, illegal immigrants, non-residents, and people with false identities vote, they skew the results, and the voice of all citizens becomes diluted.
Currently, there are no laws in California requiring proper identification to prevent unqualified people from voting. Clearly, California's voting system needs improvement. Fraud discourages voters from participating in our democratic process—why vote if your opinions do not count? It's time to give Californians a reason to vote again and allow all voices to be heard. CONTINUED »
By Gazette Staff Writer — Tuesday, April 28th, 2009
Tax his land, Tax his bed, Tax the table At which he's fed.
Tax his tractor, Tax his mule, Teach him taxes Are the rule.
Tax his work, Tax his pay, He works for peanuts Anyway!
Tax his cow, Tax his goat, Tax his pants, Tax his coat.
Tax his ties, Tax his shirt, Tax his work, Tax his dirt.
Tax his tobacco, Tax his drink, Tax him if he Tries to think.
Tax his cigars, Tax his beers, If he cries Tax his tears.
Tax his car, Tax his gas, Find other ways To tax him fast! CONTINUED »
By Gazette Staff Writer — Wednesday, April 22nd, 2009
Guess our national leaders didn't expect this, hmm? Darrell Scott, the father of Rachel Scott, a victim of the Columbine High School shootings in Littleton , Colorado , was invited to address the House Judiciary Committee's subcommittee. What he said to our national leaders during this special session of Congress was painfully truthful.
They were not prepared for what he was to say, nor was it received well. It needs to be heard by every parent, every teacher, every politician, every sociologist, every psychologist, and every so-called expert! These courageous words spoken by Darrell Scott are powerful, penetrating, and deeply personal. There is no doubt that God sent this man as a voice crying in the wilderness. The following is a portion of the transcript:
"Since the dawn of creation there has been both good & evil in the hearts of men and women. We all contain the seeds of kindness or the seeds of violence. The death of my wonderful daughter, Rachel Joy Scott, and the deaths of that heroic teacher, and the other eleven children who died must not be in vain. Their blood cries out f or answers.
"The first recorded act of violence was when Cain slew his brother Abel out in the field. The villain was not the club he used.. Neither was it the NCA, the National Club Association. The true killer was Cain, and the reason for the murder could only be found in Cain's heart. CONTINUED »
By Tony Strickland — Wednesday, April 22nd, 2009
Bills would transition California to a renewable energy-efficient economy
Sacramento, CA – Senate Bill 463, authored by State Senator Tony Strickland's (R-Thousand Oaks) which would create a tax credit for the purchase and installation of renewable energy resources, passed the Senate Energy, Utilities and Communications Committee. In addition, Senate Bill 542, Solar Energy & Energy Efficiency Programs, which Senator Strickland has joint-authored with Democratic Senator Pat Wiggins (D-Santa Rosa) passed the Senate Energy, Utilities and Communications Committee as well.
"I'm working with Democrats and Republicans to change California to a renewable energy economy to create jobs, reduce our dependence on foreign oil, improve the environment, and lower energy prices. By focusing on legislation that promotes renewable, clean energy, we promote local businesses. When businesses grow, jobs multiply," said Senator Tony Strickland.
Senate Bill 463, Renewable Energy Projects, would entitle a person to a one-time tax credit not to exceed $3,000, or equal to 30 percent of all costs for the purchase and installation of a renewable energy resource project.
Senate Bill 542 would add apartments, duplexes, and commercial rental properties into the California Solar Initiative and other energy efficiency programs to encourage the use of renewable energy.
"California is squeezed between an economic crisis and an energy crisis that requires us to fundamentally rethink how we do business. We need to offer tax credits and incentives for individuals and businesses that transition to renewable, clean energy. Senate Bills 463 and 542 will take us into the 21st century, and will help California become more energy-efficient," said Senator Strickland.
Senate Bill 463 will now go to the revenue and taxation committee. Senate Bill 542 will go on to appropriations committee.
Tony Strickland represents California Senate District 19, which includes portions of Los Angeles, Ventura, and Santa Barbara counties.
By Tony Strickland — Wednesday, April 22nd, 2009
Sacramento, CA – Senate Bill 37, authored by State Senator Tony Strickland's (R-Thousand Oaks) which requires state agencies to provide electronic pay stubs to employees who participate in the direct deposit program, unanimously passed the Senate Public Employment and Retirement Committee. According to the State Controller, Senate Bill 37 can save the State as much as $3.7 million dollars annually by cutting printing costs.
"Senate Bill 37 will take us into the 21st century. In a time of fiscal emergency we need to think about ways to save money and this is a step in the right direction," said Senator Strickland.
Senate Bill 37 will allow state employees who participate in the direct deposit program to electronically receive their statement of earnings. Those employees who do not wish to participate have the option of continuing to receive a paper version of their statement. This bill will be contingent upon the funding of the State Controller's 21st century project, which will have the capabilities to carry out this function. CONTINUED »