By Gazette Staff Writer — Tuesday, November 25th, 2008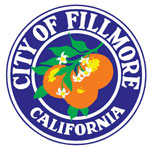 City of Fillmore
FILLMORE CITY COUNCIL
TUESDAY, NOVEMBER 25, 2008
REGULAR MEETING
CITY COUNCIL CHAMBERS
6:30 P.M.
FILLMORE CITY HALL
CENTRAL PARK PLAZA
250 CENTRAL AVENUE
FILLMORE, CALIFORNIA 93015-1907
AGENDA
IF YOU WISH TO SPEAK: Oral Communications is the time for citizen presentations or comments on items not on the agenda, but within the responsibility of the City Council. Please complete an Audience Participation Form prior to the beginning of oral communications and hand it to the clerk if you wish to speak. Please stay within the time limit indicated by the Mayor. If you wish to speak on an item on this agenda, please fill out an Audience Participation Form and hand it to the clerk prior to that item.
AUDIBLE DEVICES: Please ensure all audible devices (pagers, telephones, etc.) are off or otherwise not audible when the Council is in session. Thank you.
AGENDA TIMES: Please note the time listed for each agenda item is the suggested/estimated time for that item to begin. Items may be heard earlier or later than the listed time. The estimation includes providing an occasional 10-minute break. No new business will be considered by the City Council after 11:30 p.m. unless a majority of the Council determines to continue. CONTINUED »
By Gazette Staff Writer — Monday, November 24th, 2008
Written by Lane Marten
Remember Lee Iacocca, the VP at Ford credited with the birth of the Mustang, the man who rescued Chrysler, Corporation from their death throws, and the owner of the famous quote "Lead, follow, or get out of the way"? Well, he's back! He has a new book, and here are some excerpts.
Lee Iacocca writes: Am I the only guy in this country who's fed up with what's happening? Where the hell is our outrage? We should be screaming bloody murder. We've got a gang of clueless bozos steering our ship of state right over a cliff, we've got corporate gangsters stealing us blind, and we can't even clean up after a hurricane much less build a hybrid car. But instead of getting mad, everyone sits around and nods their heads when the politicians say, 'Stay the course'. Stay the course? You've got to be kidding. This is America, not the damned 'Titanic' , I'll give you a sound bite: 'Throw all the bums out!'
You might think I'm getting senile, that I've gone off my rocker, and maybe I have. But someone has to speak up. I hardly recognize this country anymore. The most famous business leaders are not the innovators but the guys in handcuffs. While we're fiddling in Iraq, the Middle East is burning and nobody seems to know what to do. And the press is waving 'pom-poms' instead of asking hard questions. That's not the promise of the 'America' my parents and yours traveled across the ocean for. I've had enough. How about you? I'll go a step further. You can't call yourself a patriot if you're not outraged. This is a fight I'm ready for and willing to have.
The Biggest 'C' is Crisis ! Leaders are made, not born. Leadership is forged in times of crisis. It's easy to sit there with your feet up on the desk and talk theory. Or send someone else's kids off to war when you've never seen a battlefield yourself. It's another thing to lead when your world comes tumbling down. George Bush, Dick Chaney and who is this Bozo coming up next? One of the most Liberal Idiots in the U. S. Senate and he is talking about disarming America . I can't believe the American people are not seeing what he is about to do to this country. May God have mercy on us all. CONTINUED »
By Gazette Staff Writer — Wednesday, November 19th, 2008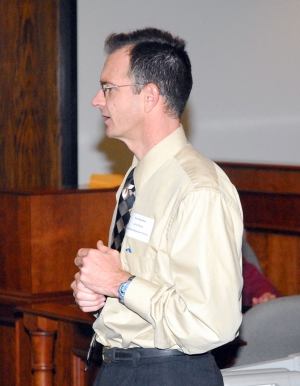 Fillmore City Planner Kevin McSweeney.
Fillmore City Planner Kevin McSweeney spoke at the first city Housing Element Public Workshop, Tuesday evening at City Hall. The Workshop was held as part of the Housing Element Update process. The Housing Element is one of seven elements of the City's General Plan, which prepares for the future housing development in the city. The workshop focused on explaining what a Housing Element is, what the Element contains, and how it affects the Fillmore community. A question and answer segment was included. This was the first workshop; the next one will cover 'Where Do We Go From Here?' The Housing Element can be viewed on the city's website at www.fillmoreca.com.
Approvals of the Element will take about one year, according to Mc-Sweeney.
By Gazette Staff Writer — Wednesday, November 19th, 2008
Governor Arnold Schwarzenegger today signed an executive order to waive fees and help recovery efforts for the victims of the devastating fires in Los Angeles, Orange, Riverside and San Bernardino and Santa Barbara counties.
Yesterday, the Governor announced that a one-stop local assistance center will open in Orange County today to provide services from local, state and community based agencies to those affected by the Freeway Fire. The Governor also sent a letter to the President yesterday requesting a Federal Disaster Declaration to help Californians cope with the effects of these unprecedented wildfires.
The Governor declared a state of emergency yesterday in San Bernardino County and on Saturday in Orange and Riverside counties as a result of the Freeway Fire. He also declared a state of emergency in Los Angeles County as a result of the Sayre Fire. On Friday, the Governor declared a state of emergency in Santa Barbara County as a result of the Tea Fire.
The full text of the executive order follows:
EXECUTIVE ORDER S-15-08
By the Governor
Of the State of California
WHEREAS due to the destruction caused by the wind-driven wildfires beginning on November 13, 2008, I proclaimed a State of Emergency to exist in the Counties of Santa Barbara, Los Angeles, Orange, Riverside and San Bernardino; and
WHEREAS these fires caused harm to people and property, burned thousands of acres, damaged or destroyed homes and other structures, caused evacuations, and caused damage to resources and watershed; and
WHEREAS these fires caused the loss of valuable personal and business records; and CONTINUED »
By Gazette Staff Writer — Wednesday, November 19th, 2008
Governor Arnold Schwarzenegger sent the following letter to President Bush through Karen Armes, Federal Emergency Management Agency Regional Administrator, Region IX, requesting that he expeditiously declare a major disaster for the state of California as a result of damage and destruction caused by wildfires fueled by extremely high winds over the past weekend. Fires in Southern California have destroyed over 800 homes and burned over 40,000 acres to date. The Governor is specifically requesting Individual Assistance (including the Individuals and Households Program, Disaster Unemployment Assistance, Crisis Counseling and Disaster Legal Services); Public Assistance (Categories A-G); statewide Hazard Mitigation; and any other Stafford Act disaster assistance programs that may be appropriate for the counties of Los Angeles, Orange, Riverside, Santa Barbara and San Bernardino. He is also requesting U.S. Small Business Administration disaster loans and funds from the U.S. Department of Agriculture Emergency Loan Program for the affected counties.
Text of the letter:
November 17, 2008
The President
The White House
Washington, DC 20500
Through: Ms. Karen Armes
Acting Regional Director, Region IX
Federal Emergency Management Agency
1111 Broadway Street
Suite 1200
Oakland, California 94607-4052
Dear Mr. President,
Under the provisions of Section 401 of the Robert T. Stafford Disaster Relief and Emergency Assistance Act, 42 U.S.C. §§ 5121-5207 (Stafford Act), and implemented by 44 CFR § 206.36, I request that you declare a major disaster for the State of California as a result of extremely high winds and wildfires beginning November 13, 2008. At this time, impacted counties include Los Angeles, Orange, Riverside, San Bernardino and Santa Barbara. Winds exceeding 70 miles per hour have worsened fire conditions by fanning the flames, causing them to spread with frightening speed. This wind and fire event has already consumed more than 40,000 acres; caused widespread human injury; destroyed and damaged homes, businesses, schools, hospitals and infrastructure throughout the region; and it continues to threaten the lives and safety of many Californians. CONTINUED »
By Gazette Staff Writer — Thursday, November 13th, 2008
Governor Highlights Importance of Emergency Preparedness
Governor Arnold Schwarzenegger today will lead California through its largest emergency response exercise ever to test the state's readiness and response to a major earthquake. With more than 5,000 emergency responders from approximately 100 local, state and federal agencies participating, the Golden Guardian exercise will simulate a 7.8 magnitude earthquake along the southern portion of the San Andreas Fault. Additionally, more than 5.1 million Californians have registered to take part in the ShakeOut Drill, which will be held in conjunction with Golden Guardian 2008. Combined, this is the largest earthquake drill and exercise in U.S. history.
"California has the best emergency operations and first responders in the world, but we always want to get better, which is why this practice drill is so important," said Governor Schwarzenegger. "Here in California we are determined to make preparation the difference between emergency and catastrophe. We cannot make precise predictions about when an earthquake will happen, but we can be prepared."
Golden Guardian 2008 is the statewide emergency preparedness exercise and is paid for by federal homeland security grants. It will test coordination between federal, state and local response and recovery among city, county, and state agencies, community-based organizations and the private sector, as well as the state's Standardized Emergency Management System (SEMS) and mass care and shelter operations.
Dozens of state agencies will participate, including the Governor's Office of Homeland Security (OHS), Governor's Office of Emergency Services (OES), California Highway Patrol, CaliforniaVolunteers, Health and Human Services Agency, California Department of Transportation, California Department of Corrections and Rehabilitation, and others—all with critical roles to play in the event of a disaster. The California National Guard, for example, will be simulating command and control of its more than 20,000 members in crucial areas such as security, transportation and equipment support for the exercise.
"We always want to make sure our first responders have the best training, equipment and procedures," said Office of Homeland Security Director Matthew Bettenhausen. "We always want to examine how we can do things better and how we can best respond to disasters." CONTINUED »
By George Runner — Wednesday, November 5th, 2008
Higher Taxes mean Fewer Jobs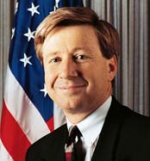 Senator George Runner
Serving the 17th District which incorporates portions of the Los Angeles, San Bernardino, Ventura and Kern counties.
With California's unemployment rate rising above 7%, the national economy shrinking, and the state's budget deficit widening, voters are looking for answers to ease their financial fears and fix the state's budgetary mess.
The temptation among Democrats is to raise taxes in order to fund government programs that they believe would both help people through these difficult economic times and balance the budget. However, increased taxes would only worsen the situation by hindering economic recovery, which in the long run means fewer jobs.
California already ranks among the top ten in hostile business environments in the nation. According to the Tax Foundation, only New York and New Jersey beat California in harsh business climates.
A hostile business climate does not invite entrepreneurs to expand business or start the businesses necessary to create jobs. This means less investment in the state, which means fewer employment opportunities for California residents.
Nearby states like Nevada, Arizona and Texas – all of which have lower income and sales tax rates – are creating jobs, oftentimes by enticing California entrepreneurs to open shop. Were it not for high taxes and burdensome regulations, many of these jobs would otherwise stay in California.
Furthermore, increased taxes will not lead to balanced budgets, especially if state spending is not cut. California has faced this situation before, and should learn from its mistakes when it comes to raising taxes during an economic downturn. In the mid-nineties when California faced a budget deficit and a cooling economy, state leaders decided to raise taxes. Revenues consistently failed to meet the rosy projections.
In hindsight, their actions prolonged economic hardship without solving the fiscal problem of overspending. Based on that experience, now would be the worst time to consider burdening Californians and hindering our economy with higher taxes. Sacramento should not repeat the failed policies of the past.
Help our Troops Call Home CONTINUED »
By Alissa Thompson — Monday, November 3rd, 2008
Dear Friends and Family,
I have created a very important video which I hope you will all view as soon as possible. There is less than a week until the next presidential election, and I hope you will view this video and quickly pass it along if you feel that it is as important as I do.
I know that many of us have different ideas politically, but there are some issues that surpass what I'm hearing on the campaign trails. I have several reasons that I'm choosing not to vote for Barack Obama, but this video discusses the main reason, which is Barack Obama's voting record on NOT providing medical attention to infants born alive through failed abortions.
I usually don't openly express my political opinions, ESPECIALLY in such a public way, but I was so devastated by this story that I felt called to action. Obama and his campaign have NOT been forthcoming about this issue, and are twisting the facts terribly. The video is lengthy, but I wanted to present all of the FACTS. I'm not asking you to change your vote, I just want you to know the truth. I've spent several months researching this issue, and I chose to create a video because there was SO MUCH information that I was afraid that the subject's importance would get lost in an email.
Thank you SO MUCH for taking the time to read this message and view the video.
Please vote your conscience in this election!
-Alissa
By Gazette Staff Writer — Wednesday, October 29th, 2008
Whose Town Do They Want to Take Back? The Town that Gary Creagle and a few others envisioned in the 1980s? Gary and others wanted the City to grow all the way to Piru, build an airport and allow a gaming casino. Do we want Back the dysfunctional Town that nearly brought Fillmore to financial ruin? The voters threw out Gary and his cronies, and with a new city council under Mayor Delores Day, Roy Payne was hired as city manager and the city began to pick up the pieces. Now Gary wants it all back his way, and he's convinced a few newcomers to see things his way.
The frugality of the current City Council and city management is not an issue. Our city has lived within its means for many years now. The cost increases for management employees were largely beyond the city council's control; these were due to increases in medical insurance and the PERS retirement fund. It has been a difficult inflationary year for everyone, yet our city continues to operate on a BALANCED BUDGET. Since the recovery from the 1994 quake, the city has steadily built up RESERVES which amount to about 36% of the current operating budget.
With our financial house in order we can soon look forward to a new community swimming pool, new tennis courts and a new 22 acre park. These long-terms visions are coming to reality thanks to the support of the community and the leadership shown by the current city council. Fillmore needs more jobs and services. Santa Paula Hospital has been reopened and we have a new modern urgent care facility and Fillmore's budding business park and the needed jobs it will bring will soon be realized.
Above all, we are saddened by all the negative commentary about our community and our city. We need to start building bridges rather than creating walls of division. The discussion needs to focus on what is right for Fillmore, not who is right.
That is why we five retired Mayors of Fillmore are supporting Steve Conaway, Cecilia Cuevas and Norris Pennington for City Council. Vote November 4!
Sincerely,
Scott Lee, Mike Mc Mahan, Don Gunderson, Roger Campbell and Evaristo Barajas
5 Retired Mayors of the City of Fillmore
By Gazette Staff Writer — Wednesday, October 29th, 2008
"As I understand it," Obama said during the floor debate, "this puts the burden on the attending physician who has determined, since they were performing this procedure, that, in fact, this is a nonviable fetus; that if that fetus, or child -however way you want to describe it - is now outside the mother's womb and the doctor continues to think that it's nonviable but there's, let's say, movement or some indication that, in fact, they're not just coming out limp and dead, that, in (act, they would then have to call a second physician to monitor and check off and make sure that this is not a live child that could be saved." This, he argued, was too much to ask of a doctor performing abortions, and it could also, as he put it, "burden the original decision of the woman and the physician to induce labor and perform an abortion."
By Gazette Staff Writer — Wednesday, October 29th, 2008
By Gazette Staff Writer — Wednesday, October 29th, 2008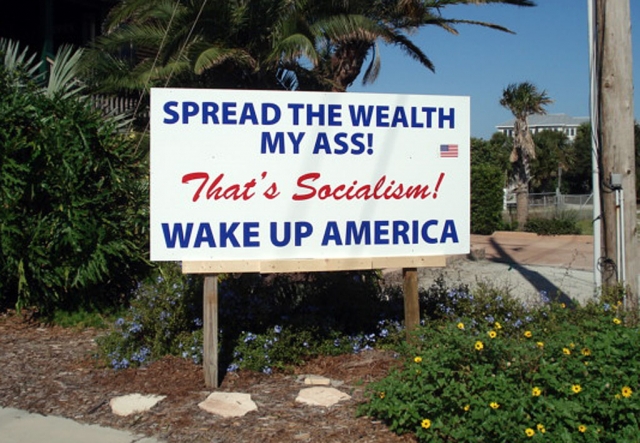 Socialism.
Enlarge Photo
By George Runner — Wednesday, October 29th, 2008
Senate Bill 375 is an Assault on Suburbia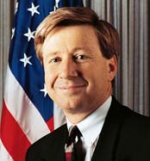 Senator George Runner
Serving the 17th District which incorporates portions of the Los Angeles, San Bernardino, Ventura and Kern counties.
As I mentioned a few weeks ago, Governor Schwarzenegger's deadline to sign or veto bills that were crafted and passed by the Legislature in 2008 was Sept. 30. The Governor rejected many good bills, saying in his veto message that due to a late budget he would only sign bills that are critical to the state.
One bill I wish he would have rejected is Senate Bill 375, which will help implement AB 32 by amending programs that are beyond the current authority of the state Air Resources Board. Specifically, SB 375 will mandate that 17 regional transportation planning agencies around the state adopt, by Sept. 30, 2010, a so-called "sustainable communities strategy" that tells the state how the region will meet specific greenhouse-gas reduction targets for 2020 and 2035, as set by the 11 unelected members of the state Air Resources Board.
In other words, the state will take a big chunk of control away from the local leaders who were elected by the People to plan our communities.
My colleague Senator Dave Cox, of Sacramento, wrote the following summary on the measure:
The intent of the sponsors of SB 375 is to change the development patterns of cities and counties inward, and away from "sprawl" that in their mind encourages long commutes, increases traffic, air pollution and global warming.
What this bill really promotes, in my mind, is social engineering by the State of California that takes away the traditional role of city councilmembers and county supervisors in planning the development of their local communities.
Let me just mention a few important points that caused me to vote against the bill.
Some people like to live in dense downtowns in small condominiums. If they do there are housing options available to them. If a family wants a two-story house on a large lot in a suburban area, they should have that option too. What SB 375 says is that if a city has too much of those kind of houses, they will lose transportation money that the city uses to build roads to those developments. In other words, these houses will be more expensive, or not be built at all.
SB 375 says that home builders who agree to build dense urban-style housing are given immunity from lawsuits that environmental organizations have used in the past to discourage development. A builder who builds a commercial or office development, or one that is defined as "sprawl," would still be subjected to these lawsuits.
SB 375 ignores the development trends that are taking place nationwide, which de-emphasize an urban core and instead develop various "job centers" both downtown and in suburban areas. Local officials have been and continue to find employers who wish to locate developments in these areas with good schools where families with children prefer to live. And these families commutes are shorter than those who choose to live downtown.
The main objection I had is the command and control aspect of SB 375. Our society is built on the concept that citizens have free choice. This bill moves toward taking some of that choice away.
By Gazette Staff Writer — Tuesday, October 28th, 2008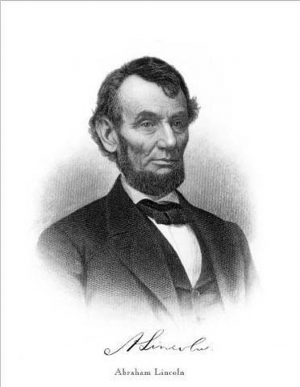 Abraham Lincoln
During this election year let's be reminded of these words:
* You cannot help the poor, by destroying the rich.
* You cannot strengthen the weak, by weakening the strong.
* You cannot bring about prosperity, by discouraging thrift.
* You cannot lift the wage earner up, by pulling the wage payer down.
* You cannot further the brotherhood of man, by inciting class hatred.
* You cannot build character and courage, by taking away people's initiative and independence.
* You cannot help people permanently, by doing for them what they could and should, do for themselves.
-- Abraham Lincoln
By Gazette Staff Writer — Tuesday, October 28th, 2008
FILLMORE CITY COUNCIL
TUESDAY, OCTOBER 28, 2008
REGULAR MEETING
CITY COUNCIL CHAMBERS
6:30 P.M.
FILLMORE CITY HALL
CENTRAL PARK PLAZA
250 CENTRAL AVENUE
FILLMORE, CALIFORNIA 93015-1907
AGENDA
1. CALL TO ORDER & PLEDGE OF ALLEGIANCE Oral
2. APPROVAL OF AGENDA Oral
3. ORAL COMMUNICATIONS Oral
Oral Communications is the time for citizen presentations or comments on items not on the agenda, but within the
responsibility of the City Council. Please complete an Audience Participation Form prior to the beginning of oral
communications and hand it to the clerk if you wish to speak. Please stay within the time limit indicated by the
Mayor. If you wish to speak on an item on this agenda, please fill out an Audience Participation Form and hand it
to the clerk prior to that item.
4. CITY COUNCIL CONSENT CALENDAR (7:00p)
4A. Warrant List for October 28, 2008. Copy
4B. Trust Warrant List for October 28, 2008. Copy
4C. Minutes of July 1, 2008 Joint City Council/Fillmore Unified School District Memo
Meeting.
4D. Minutes of July 1, 2008 Special City Council Meeting. Memo CONTINUED »
By Gazette Staff Writer — Tuesday, October 28th, 2008
Written By Orson Scott Card
Editor's note: Orson Scott Card is a Democrat and a newspaper columnist, and in this opinion piece he takes on both while lamenting the current state of journalism.
An open letter to the local daily paper — almost every local daily paper in America:
I remember reading All the President's Men and thinking: That's journalism. You do what it takes to get the truth and you lay it before the public, because the public has a right to know.
This housing crisis didn't come out of nowhere. It was not a vague emanation of the evil Bush administration.
It was a direct result of the political decision, back in the late 1990s, to loosen the rules of lending so that home loans would be more accessible to poor people. Fannie Mae and Freddie Mac were authorized to approve risky loans.
What is a risky loan? It's a loan that the recipient is likely not to be able to repay.
The goal of this rule change was to help the poor — which especially would help members of minority groups. But how does it help these people to give them a loan that they can't repay? They get into a house, yes, but when they can't make the payments, they lose the house — along with their credit rating.
They end up worse off than before.
This was completely foreseeable and in fact many people did foresee it. One political party, in Congress and in the executive branch, tried repeatedly to tighten up the rules. The other party blocked every such attempt and tried to loosen them. CONTINUED »
By Gazette Staff Writer — Wednesday, October 22nd, 2008
Jack Wheeler is a brilliant man who was the author of Reagan's strategy to break the back of the Soviet Union with the star wars race and expose their inner weakness. For years he wrote a weekly intelligence update that was extremely interesting and well structured and informative. He consults(ed) with several mega corporations on global trends and the future, etc. He is in semi-retirement now. He is a true patriot with a no-nonsense approach to everything. He is also a somewhat well-known mountain climber and adventurer.
Written by Dr. Jack Wheeler
The O-man, Barack Hussein Obama, is an eloquently tailored empty suit. No resume, no accomplishments, no experience, no original ideas, no understanding of how the economy works, no understanding of how the world works, no balls, nothing but abstract, empty rhetoric devoid of real substance.
He has no real identity. He is half-white, which he rejects. The rest of him is mostly Arab, which he hides but is disclosed by his non-African Arabic surname and his Arabic first and middle names as a way to triply proclaim his Arabic parentage to people in Kenya . Only a small part of him is African Black from his Luo grandmother, which he pretends he is exclusively.
What he isn't, not a genetic drop of, is 'African-American,' the descendant of enslaved Africans brought to America chained in slave ships. He hasn't a single ancestor who was a slave. Instead, his Arab ancestors were slave owners. Slave-trading was the main Arab business in East Africa for centuries until the British ended it.
Let that sink in: Obama is not the descendant of slaves, he is the descendant of slave owners. Thus he makes the perfect Liberal Messiah. CONTINUED »
By Gazette Staff Writer — Wednesday, October 22nd, 2008
Governor Arnold Schwarzenegger today announced he has directed the Employment Development Department (EDD) to make available $2 million in job training resources to workers in Los Angeles, Ventura and San Bernardino counties who have lost their jobs because of the recent wildfires.
"Wildfires not only devastate property, but also people's lives," said Governor Schwarzenegger. "This funding will be an important tool in helping workers who lost their jobs because of the recent fires get back to earning a living and rebuilding their lives."
The funds come from the "Dislocated Worker" funds the state receives from the federal government through the Workforce Investment Act. The three counties will be able to request these funds once existing resources have been expended to serve workers unemployed because of the fires. Funds may be used for assistance in returning to work such as skills assessments, job search assistance and job training specifically targeted to the local economy. CONTINUED »
By George Runner — Wednesday, October 22nd, 2008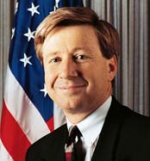 Senator George Runner
Serving the 17th District which incorporates portions of the Los Angeles, San Bernardino, Ventura and Kern counties.
Suppose your car needs repairs. After paying money to a mechanic, it's still broken. Would you be foolish enough to pay the mechanic a second time? Most customers would try something different rather than waste money on a solution that fails to solve the problem. Yet throwing good money after bad is exactly what happened when the City of Los Angeles continued to fund the LA Bridges program, despite the well-known misappropriation of money by the non-profit organization.
In a 10-year-period, the City of Los Angeles has spent more than $100 million dollars on LA Bridges (which is supposed to allocate funds to various youth and anti-gang programs aimed at steering vulnerable youths away from the gang lifestyle) without producing one single success story.
Good intentions aside, without accountability taxpayer funds have been misused, and in some cases, used for criminal activity. Such was the case for the millions of dollars spent on "No Guns," a program funded by LA Bridges and run by Hector Marroquin, a "former" gang member.
It turns out that as the City of Los Angeles continued to fund this program, Marroquin used city funds to give jobs to his wife and two kids at the program while also using his position to continue criminal gang activities, undermining the very goals that he was supposed to fight for. He received an eight-year-sentence for illegally selling assault weapons to FBI investigators earlier this year. His son is on trial for home invasion, and his daughter is being investigated for her involvement in a homicide.
Los Angeles taxpayers should be outraged by the abuse of power and money and saddened by the thousands of youths who did not benefit from LA Bridges.
By creating the Early Intervention, Accountability and Rehabilitation Commission, Proposition 6 would reform existing practices of funding anti-gang programs. Quite simply, the commission would audit every taxpayer funded anti-gang programs for quality and effectiveness. CONTINUED »
By Gazette Staff Writer — Monday, October 20th, 2008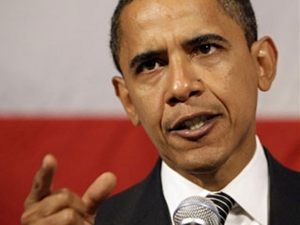 Barack Hussein Obama
Written by Rich Carroll
Conspiracy theories make for interesting novels when the storyline is not so absurd that it can grasp our attention. 'The Manchurian Candidate' and 'Seven Days in May' are examples of plausible chains of events that captures the reader's imagination at best-seller level.
'What if' has always been the solid grist of fiction. Get yourself something cool to drink, find a relaxing position, but before you continue, visualize the television photos of two jet airliners smashing into the Twin Towers in lower Manhattan and remind yourself this cowardly act of Muslim terror was planned for eight years.
How long did it take Islam and their oil money to find a candidate for President of the United States ? As long as it took them to place a Senator from Illinois and Minnesota ? The same amount of time to create a large Muslim enclave in Detroit ? The time it took them to build over 2,000 mosques in America ? The same amount of time required to place radical wahabbist clerics in our military and prisons as 'chaplains'?
Find a candidate who can get away with lying about their father being a 'freedom fighter' when he was actually part of the most corrupt and violent government in Kenya 's history. Find a candidate with close ties to The Nation of Islam and the violent Muslim overthrow in Africa, a candidate who is educated among white infidel Americans but hides his bitterness and anger behind a superficial toothy smile. Find a candidate who changes his American name of Barry to the Muslim name of Barak Hussein Obama; and dares anyone to question his true ties under the banner of 'racism'. Nurture this candidate in an atmosphere of anti-white American teaching and surround him with Islamic teacher s. Provide him with a bitter, racist, anti-white, anti-American wife; and supply him with Muslim middle east connections and Islamic monies. Allow him to be clever enough to get away with his anti-white rhetoric and proclaim he will give $834 billion taxpayer dollars to the Muslim controlled United Nations for use in Africa .. CONTINUED »