By Anonymous — Wednesday, September 17th, 2008
Five passengers in a sedan driven by Fillmore resident Gerardo Villa, 32, were killed in a collision with a power pole Tuesday about 5 a.m.
The California Highway Patrol identified the deceased as Guillermo Aguiniga, 29; Juan Carlos Gallardo, 34; his brother Miguel Gallardo, 23; Horacio Sanchez, 23; and Raul Fletes, 43.
All 5 passengers were ejected from the vehicle at the time of impact. Only the driver was wearing a seat belt.
An Edison Company crew found the accident scene about 6:00 a.m. when responding to a power outage. Guiberson Road was closed to traffic for approximately 5 hours.
According to CHP reports, Villa, the only survivor of the accident, was treated at the Ventura County Medical Center for undisclosed injuries. He was later arrested for felony drunk driving, driving with a suspended or revoked license, and vehicular manslaughter. He is reported held at Ventura County Jail with bail set at $500,000.
By Mariandrea Mueller — Wednesday, September 17th, 2008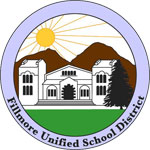 Fillmore Unified School District
Fillmore Unified School District (FUSD) Board held a regular meeting September 16, 2008, at 5:15 p.m. in the Board Room at the District Office. The Principals of FUSD's Schools presented a District Student Performance Report based on annual test results. Superintendent Jeff Sweeney presented to the Board the District's response to the Grand Jury regarding Middle School Safety Recommendations. The Board approved two field trips to Fort Tejon.
The Board met with School Administrators in a study session at the beginning of the Board meeting. The District and Schools have recently received results from various standardized tests given in May. These tests impact the Schools' Academic Performance Index (API), which is a State standard, and Adequate Yearly Progress (AYP), which is a Federal standard connected with No Child Left Behind. Each Principal presented the Board with an explanation of their scores and an intervention plan to increase student achievement.
The District's 2008 API score is 697, which is a 2 point decline from 2007, but there has been a growth of 49 points since 2004. The district did not meet AYP standards in 2008, but met 19 out of 26 AYP criteria.
The Fillmore High School (FHS) API went up 13 points to 691. FHS's CAHSEE (Exit Exam) scores have been gradually increasing. Graduation rates have increased over the past three years, and Dropout rates have decreased. Forty-four percent of incoming Freshmen at are reading at or below a 6th grade level, according to the Accelerated Reader (AR) Program's test results. AR is not a standardized test. The English department is developing an intervention plan, and reading classes are in place. FHS's intervention plan includes working with FMS to improve reading, and using double block classes to improve Algebra performance.
The Fillmore Middle School (FMS) API went down 18 points: from 719 to 701. FMS's intervention plan includes: "implementation of a rotating schedule including an advisory period where students that need remediation can get it during the school day," and "support and training for staff in the area of using and analyzing data on an ongoing basis."
Mountain Vista (MV) Elementary School's API went up 9 points to 712. MV's intervention plan includes improving teacher collaboration and tying grades to actual progress. They believe their success came from collaboration and Response to Intervention (RTI). Programs that helped were: REACH, Horizons, and Waterford/Success Maker.
San Cayetano (SC) Elementary School's API is 704, which is a 14 point dip from 2007. Since 2004, SC has had steady growth with an overall gain of 25 points. SC's intervention plan includes teacher collaboration. According to the report, teachers are "pulling individual student scores and plan to meet monthly to revise and adjust student intervention needs." CONTINUED »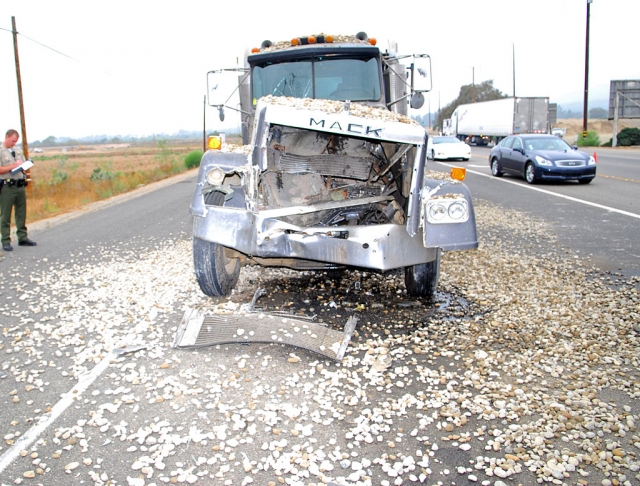 Two eastbound tractor-trailers were involved in a rear-end collision at Hwy. 126 and E Street.
Enlarge Photo
By Anonymous — Wednesday, September 17th, 2008
One fully-loaded gravel truck failed to stop for another truck making a right turn on E Street.
Enlarge Photo
By Anonymous — Thursday, September 11th, 2008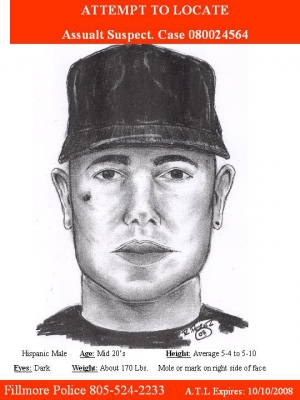 FILLMORE POLICE DEPARTMENT
VENTURA COUNTY SHERIFF'S DEPARTMENT
MEDIA RELEASE
BOB BROOKS, Sheriff
Captain Tim Hagel, Acting Police Chief
Nature of Incident: Sketch of Suspect from Attempted Burglary / Criminal Threats Case
Location: 100 Lora Lane, Fillmore, California 93015
Date & Time/ RB#: September 10, 2008 080024564
Unit Responsible: Special Services - Major Crimes Unit
Suspect:
Hispanic, male, 5'10", medium build, mid-twenties, dark complexion with a mole on the right side of his face. Last seen wearing a black baseball cap, and a black t-shirt with white lettering or emblem on the backside. The suspect spoke English.
Narrative:
On Wednesday, September 10, 2008, at about 11:15 A.M., Sheriff's deputies were dispatched to the 100 Block of Lora Lane, Fillmore, to a report of a male who attempted to force entry into a residence and threatened the adult female inside. When deputies arrived, they discovered the suspect, who was not known to the victim, had already fled the scene.
According to the victim, she was home alone at about 11:10 a.m., when the suspect came to her front door and knocked. The victim opened the door believing it was a visitor. The suspect yelled at the victim that he was going to kill her and tried to force open the door as the victim fought back to close it. The victim was able to force the door closed and lock it, at which time the suspect fled from the residence on foot. Deputies conducted an extensive search of the neighborhood and surrounding area for the suspect but were unable to locate him.
Two other incidents, which have occurred recently in the same neighborhood, may be related. The public is warned to always be aware of their surroundings when walking and to keep the doors and windows to their residences secured and to not open the door to strangers.
Sheriff's major crimes detectives are investigating this incident and have attached a sketch of the suspect.
Ventura County Crime Stoppers will pay up to $1,000 reward for information, which leads to the arrest and criminal complaint against the person(s) responsible for this crime. The caller may remain anonymous. The call is not recorded. Call Crime Stoppers at (805) 524-0970 (Fillmore) or Fillmore Police at 805-524-2233
Officer Preparing Release: Detective Taurino Almazan / (805) 524-2233
Follow-up Contact: Fillmore Police 805-524-2233
Date of Release: September 11, 2008
Approved By: Captain Tim Hagel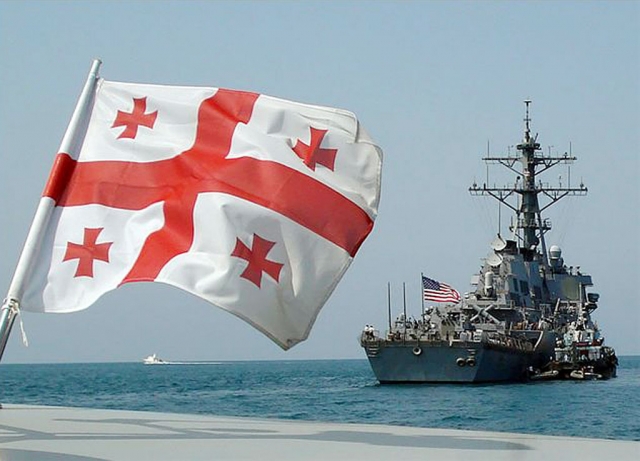 2004 Fillmore High School grad Phillip Diaz is aboard the USS guided-missile destroyer McFaul in the Black Sea. The McFaul was the first US warship to bring aid to Georgia following the Russian attack on that small nation. IT2 Diaz has been in the Navy for nearly 3 years, and has traveled both to the Middle East and Mediterranean. The McFaul is anchored in the port of Batumi, Georgia, in close proximity to the Russian fleet at Sevastopol, Ukraine. The Georgian flag can be seen at port near the USS McFaul.
Enlarge Photo
By Dick Diaz — Thursday, September 11th, 2008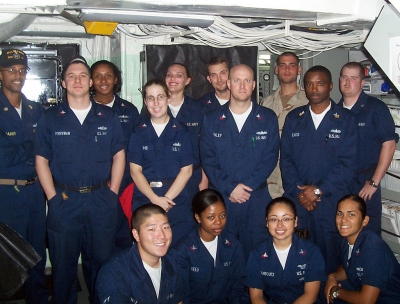 Phillip Diaz with shipmates.
Enlarge Photo
USS McFaul in Georgia.
Enlarge Photo
2004 Fillmore High School graduate Phillip Diaz, is getting a firsthand view of U.S. humanitarian aid efforts in Georgia. United States Navy Information Technician 2nd Class Phillip C. Diaz, 22, is aboard the USS McFaul, which pulled into the port of Batumi, Georgia, Sunday, August 24th, in the Black Sea. The guided-missile destroyer was the first U.S. warship to bring aid to Georgia and was loaded with nearly 55 tons of supplies; bottled water, baby wipes, baby food, blankets and more and anchored in the port of Batumi, Georgia. The USS McFaul's arrival puts the U.S. Navy in close proximity to Russia's Black Sea fleet based in the Ukranian port of Sevastopol. The McFaul is the first Navy ship to arrive in the Black Sea with aid relief. The USS Mount Whitney and the U.S. Coast Guard Cutter Dallas have also been sent to assist. The relief is needed after Russian troops occupied parts of Georgia for nearly two weeks following Georgia's Aug. 7 attack to retake South Ossetia.
IT2 Diaz has been in the Navy for nearly three years and has had one deployment to the Middle East and now to the Mediterranean on a routine cruise. IT2 Diaz began his five-month deployment to the Mediterranean in May of this year and was originally scheduled to return to his home port the end of October, or early November but all return plans have been put on hold. The USS McFaul is home-ported in Norfolk, Va., delivered 82 pallets of supplies donated by the U.S. Agency for International Development. The USS McFaul was in the eastern Mediterranean when it got the call to divert to Georgia. The ship first pulled into Souda Bay, Crete, where it was loaded with supplies, then sailed to the Black Sea.
IT2 Diaz's parents are Richard and Carolyn Diaz, both of Fillmore. "We are very proud of Phillip for serving his country and doing what he's doing. We always tell him we are so proud of what he's doing in the emails we send him and in the satellite phone conversations we have. Phillip recently told me that he feels good to be helping out people that need our help. Phillip cannot say much over the phone, or in emails, but generally tells me to watch and read the news to find out what he is doing. I do that and it makes me nervous to think he is there in harms way, but I always remind him to follow his training, his command officers and to use good judgment. I know if he does that he and his shipmates will be fine." said his father Richard.
By Mariandrea Mueller — Thursday, September 11th, 2008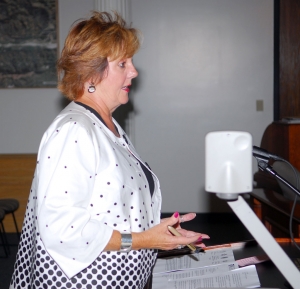 VC Supervisor Kathy Long addressed Tuesday's city council. She asked the council to inform Federal Receiver J. Clark Kelso of Fillmore's opposition to the conversion of the present California Youth Authority facility in Camarillo to a 1,500-bed maximum security prison hospital. Such a plan presents significant economic, housing, employment and safety problems for Ventura County.
Fillmore City Council held a meeting September 9, 2008, at 6:30 p.m. at City Hall. The Council decided to oppose the proposed conversion of the California Youth Authority Correctional Facility (CYAC) to a Medical and Mental Health Facility (MHF) for adult prisoners. The Council approved an engineering expenditure for preparing a response to the draft FEMA map. The Council heard arguments from the public for Measures H and I. The Council received a report from the Heritage Valley Tourism Bureau.
Supervisor Kathy Long spoke to the council about the disadvantages of converting the CYAC to a MHF for adult prisoners. She said that the proposal resulted from a federal court action requiring a certain number of such facilities in each state, and that California was falling short. Receiver J. Clark Kelso, who is responsible for implementing the court order, has chosen locations for several facilities, including the CYAC between Oxnard and Camarillo. The MHF would house Third and Fourth level inmates, and would create 5000 new jobs in the area. An analysis by the California Hospital Association indicates that the MHF would drain the local hospital workforce because of the current nursing shortage. Medical personnel would move from local healthcare facilities to higher paying jobs with the MHF, which would offer to almost double their salaries. Long mentioned that St. John's Hospital, Santa Paula Hospital, and Los Robles Hospital oppose the conversion, as do law enforcement leaders, who believe that the MHF would change the composition of the community for the worse by bringing in inmate's relatives and visitors. Long claimed that an existing housing shortage and lack of appropriate roads to accommodate the increased population would cause problems. According to Long, Camarillo cannot provide any water to the MHF, and Oxnard's sewer system cannot provide for the increased usage. The Ventura County Board of Supervisors opposes the conversion, and in cooperation with other organizations is lobbying Kelso to choose another site. Long believes that Kelso will listen because other communities would welcome an MHF. The CYAC is underutilized, but the Board and others want to increase usage in a way that would serve the local community without being a drain on resources. The Council voted to oppose the conversion because of the effect it would have on Santa Paula Hospital and Fillmore's Urgent Care facility, which could increase the cost of healthcare.
Public Works Director Bert Rapp reported on the progress against FEMA's draft map, and the Council approved additional expenditures not to exceed $57,000 for research and reports to convince FEMA to change its map. Rapp explained that there are questions as to whether FEMA correctly modeled the flooding possibilities. Rapp and experts have noted that FEMA's map shows the Highway 126 bridge at an inaccurate angle. Councilmember Scott Lee advised Rapp to include a picture of the bridge demonstrating that inaccuracy in his next report to FEMA. As a safety precaution, levees have a freeboard area on top which extends three or four feet beyond the expected flood level. FEMA policies state that if any part of a levee's freeboard is below the expected flood level, then the area should be modeled as if no levee exists there. According to FEMA, floodwaters at the levee at the Highway 126 bridge would encroach upon the freeboard by a few inches. FEMA refuses to acknowledge the aluminum I-beams erected by the Army Corp of Engineers to stop flood waters, and therefore is requiring automated flood gates at the Sespe Creek Levee at the railroad. If a new more accurate hydrology analysis indicates that the water flow is less than FEMA's estimate, then there might be no encroachment. A special report could persuade FEMA to revise the map. FEMA has already agreed to revise their Pole Creek analysis. Fillmore had agreed to collaborate with the Ventura County Watershed Protection District on research, but the collaboration might not allow for enough analysis and might not be completed in time. Some of the $57,000 will be paid by developers and some will come from levee assessments which homeowners have already paid. CONTINUED »
By Anonymous — Thursday, September 11th, 2008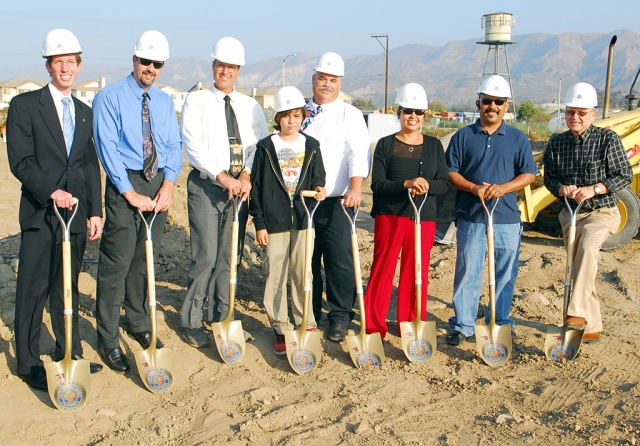 Groundbreaking for the city's new skateboard park took place Tuesday. From left, City Attorney, Ted Schneider, City Manager, Tom Ristau, Dir. Public Works, Bert Rapp, J.J. Rangel, Mayor, Steve Conaway, Mayor Pro-tem, Cecilia Cuevas, David Lugo, and Councilman, Scott Lee. The skate park is expected to be completed by December, 2008.
Enlarge Photo
By Anonymous — Thursday, September 11th, 2008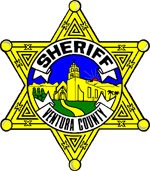 Ventura County Sheriff's Department
On September 5, 2008 , at approximately 11:15 A.M, deputies from the Fillmore Police Department assisted Ventura County Probation Officers with a contraband search in the area of the 900 block of Ortega Street in Fillmore. During the search, suspect Luis Luna 45 of Fillmore, was arrested for multiple counts of a felon in possession of a firearm.
The Fillmore Police and Probation Officers were conducting a search for probation violations. During the search, officers discovered that ex-felon Luis Luna was under the influence of methamphetamines and in possession of three shotguns. Under California law, ex-felons are not allowed to possess firearms.
In this case, patrol and probation officers took a dangerous criminal combination of a felon, guns and drug influence off the streets of Fillmore. Mr. Luna was arrested for felony weapons charges (12021(a)(1) and a misdemeanor charge of under the Influence of controlled substances (11550 (a) H.S). Courtesy of Fillmore Police Department Ventura County Sheriff.
By Anonymous — Tuesday, September 9th, 2008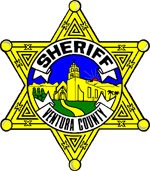 Ventura County Sheriff's Department
Location: Mountain View Street at Sespe Avenue, Fillmore, CA
Date & Time: 09/05/08 / 6:35 P.M
Suspect: Hispanic male, 30's. No physical description
Victim: 11 year-old female
On 09/05/08, at approximately 6:35 P.M, deputies with the Fillmore Police Department responded to a reported assault that occurred in the area of Mountain View Street and Sespe Avenue.
The victim's guardian reported that her 11 year-old told her about the incident immediately after it occurred. The 11 year-old told her that a Hispanic male adult had just approached her on Mountain View Street and pushed her to the ground. The victim stated that she was able to fend off the adult male suspect who then fled in a black,1980's Honda with rear tinted windows.
Anyone with information regarding the incident is asked to contact the Fillmore Police Department, at (805) 524-2235. Additionally, Ventura County Crime Stoppers will pay up to $1,000 reward for information, which leads to the arrest and criminal complaint against the person(s) responsible for this crime. The caller may remain anonymous. The call is not recorded. Call Crime Stoppers at 805-385-TALK (385-8255).
By Anonymous — Tuesday, September 9th, 2008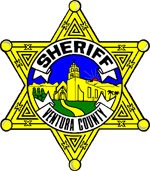 Ventura County Sheriff's Department
The Ventura County Sheriff's Department wants to alert the public of a current crime spree perpetrated against unsuspecting hikers. Theft suspects have been targeting hikers' unoccupied vehicles at the "Thomas Aquinas" trailhead located in the 10000 Block of Santa Paula Ojai Rd. North of Santa Paula.
In the past three weeks, victims have reported eleven vehicle break-ins at the trailhead. Investigators believe the suspects are opportunists that wait for hikers to park their cars. Once the unsuspecting hikers walk away, the suspects smash the vehicles' windows and steal any valuables left behind. The suspects seek cash, jewelry, I-Pods, credit and ATM cards, identity cards etcetera.
The Ventura County Sheriff's Department wants to remind the public to always lock their vehicles and not leave any valuables in their vehicles when left unoccupied. Covering a personal item with a towel is not good enough. These suspects know you have items hidden under jackets and towels. Please call with any tips of suspicious vehicles or persons in the Sulfur Springs/Santa Paula Canyon..
If a member of the public becomes a victim of a theft, report the crime to your local police immediately. Have them send the courtesy report to the Ventura County Sheriff, Fillmore Station. If credit or ATM cards are stolen, victims are encouraged to call their bank and cancel the cards immediately
Ventura County Crime Stoppers will pay up to $1,000 reward for information, which leads to the arrest and criminal complaint against the person(s) responsible for this crime. The caller may remain anonymous. The call is not recorded. Call Crime Stoppers at (805) 524-0970 ( Fillmore ), (805) 494-TALK (Thousand Oaks / Moorpark) or (805) 385-TALK (Camarillo / Oxnard / Port Hueneme).