By Anonymous — Wednesday, October 15th, 2008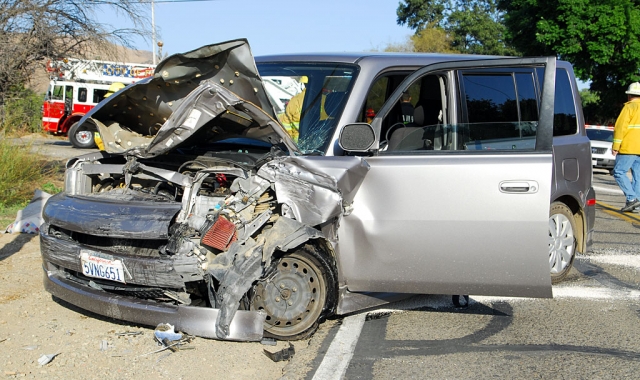 A serious accident occurred Saturday about noon, when two vehicles crashed at Cliff and Old Telegraph Roads. Both drivers and passengers were able to exit the vehicles without the assistance of extraction equipment.
Enlarge Photo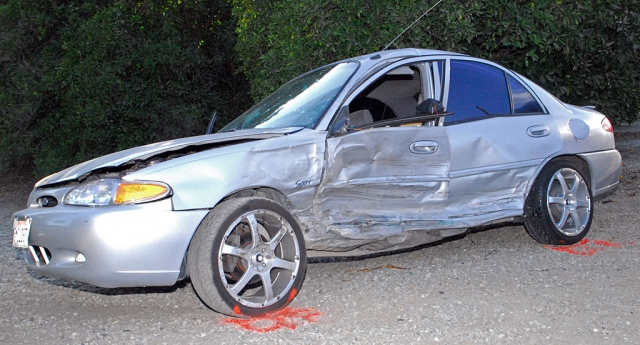 Injured parties were taken by ambulance to a local hospital. Reports of injuries were not available at press time.
Enlarge Photo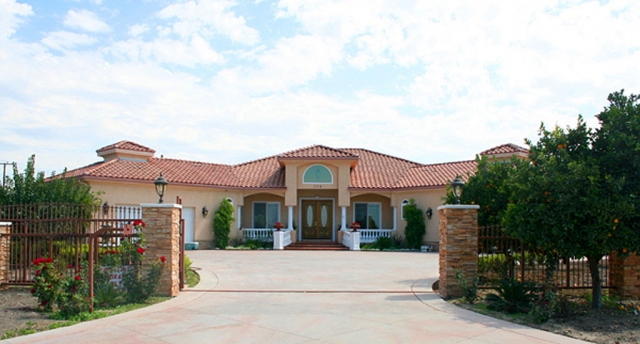 Pictured above is the home of Tony and Marge Anselmo.
Enlarge Photo
By Anonymous — Wednesday, October 15th, 2008
Looking as if it came straight from the rolling hills of Tuscany, the home of Marge and Tony Anselmo is the ideal location for family and friends to gather. This is an entertainer's dream home. The super large kitchen and dining room are the heart of the home and the spot where everyone congregates. A large patio opens off the living and dining room and has a built in barbecue and pizza oven, with a grandchildren's play yard attached. There are three bedrooms and baths, all beautifully tiled, and even his and her workrooms tucked in the corners of the two garages.
"I always dreamed of building a home in an orchard, just like my home in Sicily", says Tony who personally did all the extensive stone and tile work in the home, built in 2004. Not to be outdone, Marge, who hails from an area near Naples, has guided the landscaping and decorating, even making the drapes and valances.
After enjoying this grand home with the surrounding grove of oranges, fig trees, and grapes, you will come away saying, "Bellissimo".
This year the tour will highlight four homes in Bardsdale. The date is Sunday, Nov. 9th from 12:00 to 4:00. The Heritage Valley Fine Arts Sale will take place on the Museum grounds from 11:00 to 4:00 on the same day. Tickets are $20.00 advance sale and $25.00 the day of the tour. They may be purchased through the Museum (524-0948) or at Coffeeboy or Mirage in town, or at any home the day of the tour.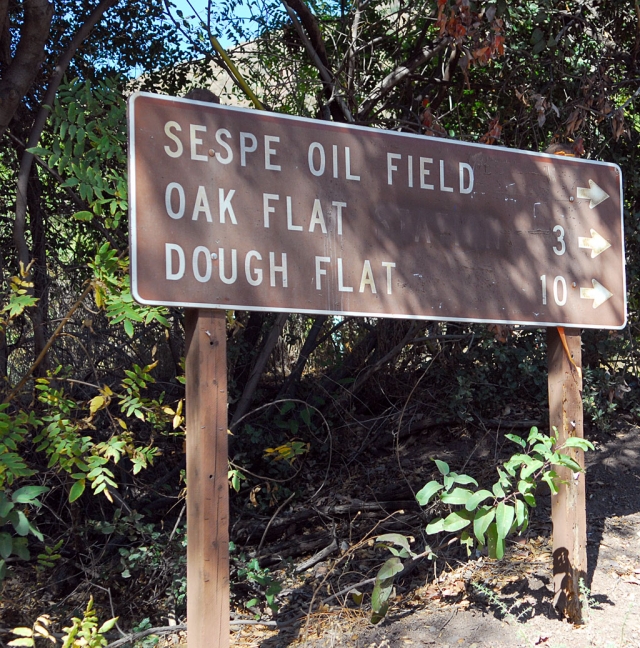 Three men were arrested in the oilfi elds above Fillmore, Sunday. The three, posing as oil fi eld workers, are suspected of stealing equipment for re-sale as scrap metal.
Enlarge Photo
By Anonymous — Wednesday, October 8th, 2008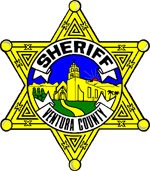 Ventura County Sheriff's Department
Location: Seneca Oilfield – Sespe Mountains- Fillmore, CA
Suspects:
Joseph Hermosillo, Santa Paula, 30 Years Old
Brian Miller, Oxnard, 32 Years Old
Christopher Rail, Oxnard, 27 Years Old
Victim: Seneca Resources Company - Fillmore
On Sunday, 10/05/2008, at about 1137 A.M, the Ventura County Sheriff's Department received a report of a recycling theft in progress. The victim was the Seneca Oil Company. Suspects stole about $28,000 in oilfield parts. The oilfields are located on Squaw Flat Road in the Sespe Mountains above Fillmore.
Detectives report that the Sheriff's 911 Center received a phone call from a Seneca employee who reported three suspicious males were in the mountains posing as oilfield workers. Oilfield and local farm workers have been on alert due to a surge in metal thefts.
The oilfield employee reported to authorities that the suspects were in a remote oilfield using their own commercial truck and forklift. It appeared that they were stealing numerous, large metal parts from oil pumps. When a Seneca employee confronted the suspects, the criminals attempted to use a ruse to escape suspicion. The employee became alarmed and contacted 911.
Deputies responded from Fillmore and closed off the forest access in the Goodenough Road area in an effort to apprehend the suspects.
After an on-scene investigation, the deputies were able to catch all three adult suspects in the act of stealing the oilfield property. Evidence at the scene, and in their truck indicated the three men used sophisticated props and heavy-equipment to complete the metal thefts. They are under investigation for other Santa Clara Valley metal and farm thefts. The Sheriff's Major Crimes Agriculture Detectives responded and are investigating the case.
Hermosillo, Miller, and Rail were all arrested for Felony Grand Theft (487 PC), Felony Conspiracy (182 P.C), and Misdemeanor Trespassing (602 P.C). They were transported to the Sheriff's Main Jail for booking.
Anyone with information regarding similar industrial or farm recycling thefts is asked to contact the Ventura County Sheriff's Department at (805) 524-2235. We need your help in catching these recycle thieves.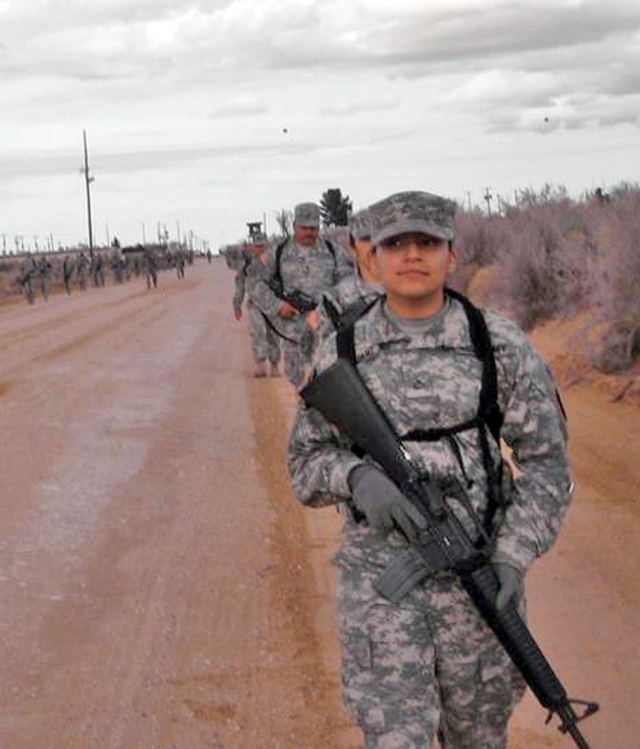 SPC. Juanita Altamirano at her pre-deployment site in Mcgregor, TX.
Enlarge Photo
By Juanita Altamirano — Wednesday, October 8th, 2008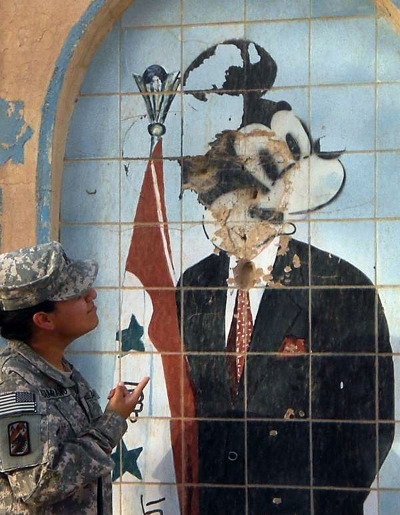 SPC Altamirano in front of a runned down building that used to be a mural of Sadam Husein.
Enlarge Photo
by SPC Juanita Altamirano
In some ways my life could have consisted of going to college, filled with midterms and exams an the night life of parties.An 18yr. old Fillmore High School grad. I decided to go a different route. Two years ago on Sept. 11, 2006 I signed a contract, a contract that showed I was now part of the United States Army Reserves. Private First Class Juanita (Jenny) Altamirano, I was no longer just a civilian I was now a soldier. Attending my Basic Training at Fort Jackson, South Carolina, and continuing my Advanced training at Fort Lee, Virginia. After my training I was assigned to my Unit the 137th Quartermaster Co. in S. El Monte, CA. Just a little over my one year in service I was informed that my Unit was to be deployed to Iraq, and little did anyone know was that I was one of the few that had the choice on whether or not to go do to medical limitations.I chose to go. So there I was off to a country where no one wished to take part. Even though I made the choice to deploy, I admit I was still scared, I mean after all the news always gave us insight of what was taking place, which was not always positive for the most part.There I was now in Iraq living the truth of what I was told it would be like. Days that lasted forever, where everyday was a Monday,an weekends no longer existed. A change of pace I say, being in country has opened my eyes and made me see life a bit different.Made me see an realize that we as civilians and soldiers take to much for granted. Being in this country I don't have all the luxuries of home. For example my others cooking I truely miss.My meals consist of the same things everyday,and we always hope that we have bread an lettuce the next day.Where i rest my head at is what I wish to only be my own bed from home, bunked in a run down building with air conditioning and electricity not much but its my home away from home.With long 12 hour days this is my spot of rest an I am grateful.So here I am 7 months later with only 3 more months to go. I have only heard the bad an I am thankful not to have seen the worst. Living day to day with my fellow buddies an continuing on with the mission. I have come a long way it wasn't easy but with the support of family, friends, and supportive civilians I am making it through. But most of my thanks goes out to my mother Lorraine Perez of Fillmore an my closest friend Maritza Gutierrez also of Fillmore Who both supported me way back when joining was just a dream, Thanks for your support I love you both with all my heart.I would also like to give my prayers to the friends an family of my fellow Armed Force friends, Kailey Andrews, Josh Compos, Joseph Ponce, Philip Diaz, Micheal Edwards and to the rest I forgot to name, my love an support goes out to you.
By Anonymous — Wednesday, October 8th, 2008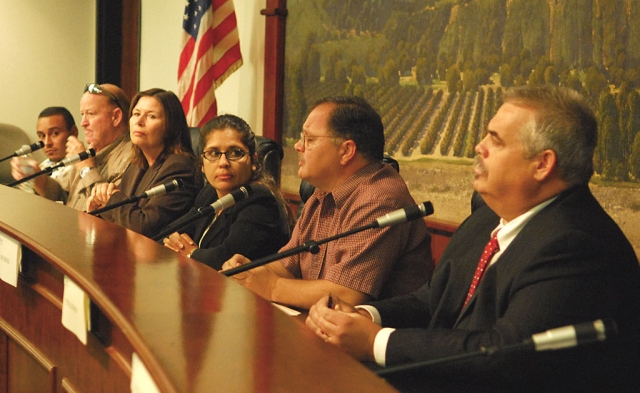 Royce Davis and Marcoz Hernandez were the only no-shows at Tuesday's Fillmore Chamber of Commerce candidate forum. The event was broadcast on Channel 10. From left, council candidates Omero Martinez, Norris Pennington, Gayle Washburn, Councilmember Cecilia Cuevas, Jamey Brooks, and Mayor Steve Conaway.
Enlarge Photo
By Joyce Schifanelli — Wednesday, October 8th, 2008
On Sunday, October 12, more than thirty health care vendors will be on hand from 1P.M. until 5P.M., at the Santa Paula Community Center located at 530 W. Main St. in Santa Paula, for the "1st Annual Santa Paula Adult Health and Wellness Day". The event will benefit area baby boomers, aging adults and caregivers. Administrators of The Gables of Ojai, and Santa Paula Healthcare presented the idea for the fair to hospital administrators also as a way to promote two-year-old Santa Paul Hospital. It has become a collaborative effort of local organizations, actively involved in aging adult and caregiver issues. They include the Santa Paula Senior Center, The Medicine Shoppe (Ojai and Santa Paula), Help Unlimited, Valley Care IPA, Casa Bella, Ventura County Behavioral Health, Twin Pines Healthcare, The Palms at Bonaventure, State Farm (Santa Paula), Secure Horizons and Scan. The goal is to provide aging residents of Santa Clara Valley with current news in health issues, exercise, resources for in-home support, mental health, hospices, pharmacies, adult day care, retirement communities, HICAP, Medicare and health plans, Alzheimer's, Veterans affairs, home safety, disaster planning, conserving energy resources, fraud/scams and spiritual guidance. Additionally, blood pressure screening and free flu shots (limited supply) will be available.
This is the first event of its' kind in Santa Paula, and the afternoon will be filled with crucial health related information, music, fresh veggies, food booths, raffles and fun. It will also be the day to become familiar with Santa Paula Hospital, "The Hospital on the Hill". CONTINUED »
By Anonymous — Wednesday, October 8th, 2008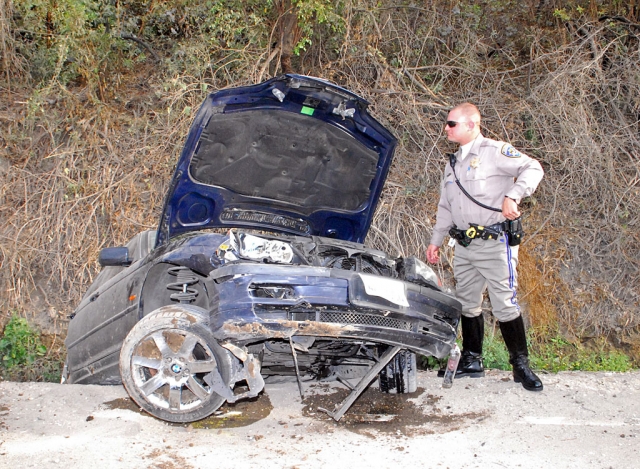 Saturday, fire, ambulance and Sheriff's deputies responded to a call for assistance following an accident on South Mountain Road, across from the Jimenez Farms packing house. Extensive damage was done to the four-door sedan, which was in a ditch, but no report on injuries to driver or any passengers was available.
Enlarge Photo
By Mariandrea Mueller — Wednesday, October 8th, 2008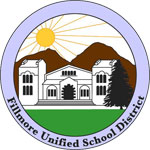 Fillmore Unified School District
Fillmore Unified School District (FUSD) Board held the open session of its regular meeting October 7, 2008, at 6:00 p.m. in the Board Room at the District Office. The Board heard an update from two school principals, discussed a Business Math Course, noted that volunteers are needed for the Bond Oversight Committee, and started a re-negotiation of the City-FUSD Joint Use Agreement.
At a previous Board meeting, the school principals reported on student achievement and school plans to increase student achievement. At this most recent meeting, Katy Hadley, Assistant Superintendent of Educational Services, announced that smaller groups of principals would continue to report at Board meetings to provide updates on student achievement, English learning, discipline and safety, and parental involvement.
San Cayetano Elementary School Principal Jan Marholin and Mountain Vista Elementary School Principal Chrissy Schieferle spoke about Response to Intervention (RTI), which is a data-based early intervention method, and teacher collaboration. San Cayetano and Mountain Vista both have "Program Improvement" (PI) status under the "No Child Left Behind" Act. San Cayetano is a PI 3 school, because it is in its third year of PI and Mountain Vista is a PI 1 school. PI schools must spend 10% of their Title I money on staff professional development. Marholin and Schieferle expect teachers to work out how to implement their professional development training during collaboration meetings. They require teachers to identify specific students that are having difficulty and expect instruction techniques to be adjusted for those children, so that the students will have progressed by the next meeting. Marholin meets with her teachers by grade-level every four weeks, and has arranged for three teachers each month to spend one day visiting other classrooms. Schieferle holds progress meetings every five weeks, and plans to visit a high-achieving school in Moorpark with her leadership teams, which include representatives from each grade. Teachers have collaboration time each week. CONTINUED »
By Dick Diaz — Thursday, October 2nd, 2008
2008 Fillmore High School Graduates at Fort Jackson, South Carolina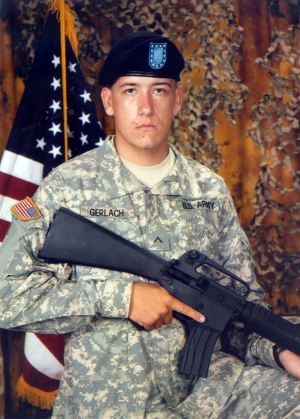 United States Army Private Joanathan "Jon" Gerlach.
Joanathon "Jon" Gerlach, 18 years, is a 2008 graduate of Fillmore High School. Jon entire education was within the Fillmore Unified School District where he also attended San Cayetano Elementary School and Fillmore Middle School.
Jon enlisted in the United States Army in June 2008 right after graduation. His mother is Barbara Gerlach of Piru and his siblings are brother Niles Gerlach 31, of Piru and sister, Andrea Rodriguez 28, of Fillmore. Maternal Grandparents are Jack Sivils of Lake Isabella, California and the late Bonnie Sivils. Grandfather Sivils worked most of his life on the Vanonni Ranch in Saticoy. Jon's Paternal Grandparents are the late Rudolph and Doris Gerlach of Ventura. Growing up Jon enjoyed wrestling and he loved basketball, a sport his Mother tells me he would play for hours. When Jon enlisted in the Army he knew he wanted to make the Army a career and he enlisted for 4 years. His goal is to become an Army Ranger.
United States Army Private Joanathan Gerlach graduated on Friday, September 12th at Fort Jackson, South Carolina. While he was in Basic Training he was assigned to Charlie Company 2-13 Infantry 3rd Platoon, Sky Reapers. At graduation he received a Marksmanship medal for his proficiency with a firearm. He will receive twenty-five weeks of advanced specialty training in Computer Detection Systems at Fort Gordon, Georgia. After completing this training he will then transfer to Fort Benning, Georgia for four weeks of Army Airborne Training. It is then expected that he will then be deployed. Private Gerlach is the first in his immediate family to enlist in the Army; however, his Grandfather Rudolph Gerlach was with the Merchant Marines during WWII and Uncle Rudy Gerlach was with United States Army's 173rd Airborne and is a Vietnam Veteran.
Mother Barbara Gerlach and Private Gerlach's fiancée Carmen Barocio attended Private Gerlach's Basic Training Graduation. Jon and Carmen plan to marry this December. His Mother tells me, "He loved basic training!" She also told me, "I'm so very proud of Joanathan, as I am with all my children, they are good, kind hard working people. I'm also a proud Grandmother of 6 with 2 more on the way!"
All of us in the communities of Fillmore and Piru wish United States Army Private Joanathan "Jon" Gerlach safe travel, a successful career in the United States Army and we thank him and his family for their sacrifices to keep the United States strong.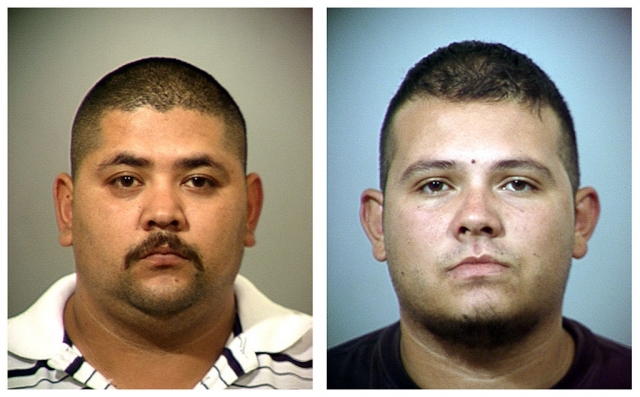 (l-r) Sergio Anguiano and Alexis Vasquez. Both arrested for jewelery scam.
Enlarge Photo
By Ventura County Sheriff Department — Thursday, October 2nd, 2008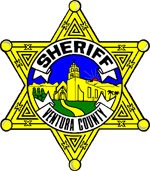 Ventura County Sheriff's Department
On Friday, September 26, 2008, at about 3:30 p.m. Sheriff's patrol deputies and investigators arrested Sergio Anguiano 32, and Alexis Ferreira Vasquez 26, residents of Los Angeles, for attempting to sell fake gold jewelry to a local Fillmore business.
The event began at about 1:50 p.m. when Anguiano and Vasquez entered the business located in the 300 Block of Central Avenue in Fillmore.
The two offered to sell gold necklaces to the business employee. The employee was aware of scams where fake gold is sold by thieves as real gold and suspected the necklaces Anguiano and Vasquez were selling were fake. The employee called the police, at which time Vasquez fled while Anguiano remained at the business.
Sheriff's deputies and investigators arrived at the business and their investigation led to the arrest of Anguiano and Vasquez and the discovery of 27 pieces of fake gold jewelry Anguiano and Vasquez intended on selling to unsuspecting victims. The jewelry included necklaces, bracelets, rings and medallions made of copper and other inexpensive metals. Anguiano and Vasquez were booked into the county jail and charged with felony commercial burglary.
The public is reminded to beware of this and similar scams that include the offering of fake gold bars and/or fake lottery tickets for sale or trade. Any such incidents should be immediately reported to the local police.