By Gazette Staff Writer — Wednesday, November 2nd, 2011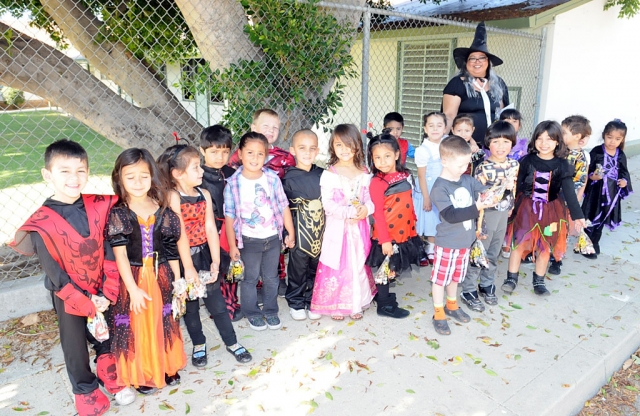 Ms. Vasquez and her kindergarden class walked to Santa Barbara Bank & Trust for treats on Halloween day. On their way back they stopped by the Fillmore Gazette for a photo.
Enlarge Photo
By Gazette Staff Writer — Wednesday, November 2nd, 2011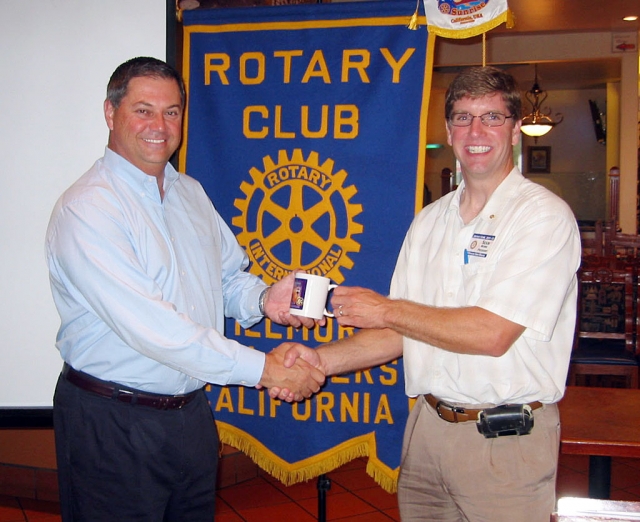 On Tuesday, October 18th the Rotarians heard a presentation by Ed McClements (left) of Barkley Insurance on the Hearth Care Reform bill. Mr. McClements explained 10 keys to understanding employer Play or Pay rules in Health Care Reform. Also pictured is Rotary President Sean Morris.
Enlarge Photo
By Gazette Staff Writer — Wednesday, November 2nd, 2011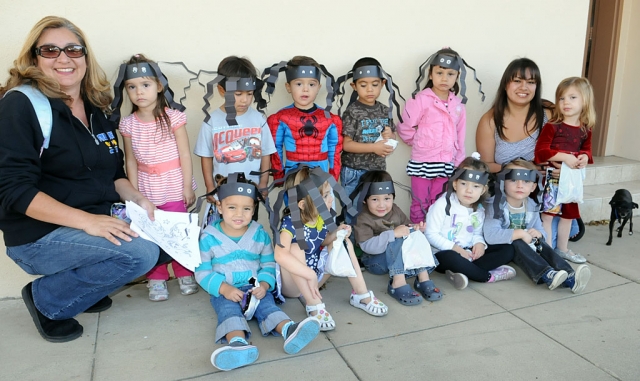 Miss Martha and Miss Salina of Sonshine Preschool escorted a bunch of Scary Spiders to the Santa Barbara Bank for Halloween treats. Gazette mascot, Pebbles, enjoyed the extra pets.
Enlarge Photo
By Gazette Staff Writer — Wednesday, November 2nd, 2011
By Gazette Staff Writer — Wednesday, November 2nd, 2011
Livingston Memorial VNA & Hospice conducts weekly adult bereavement support groups to help those who have experienced a loss. Explore and express feeling, understand the grief process and receive emotional support. Open to the public and free of charge, the groups are held:
Wednesday Afternoons from 3:00 – 4:30 @ The First Presbyterian Church, 850 Ivywood Drive, Oxnard
Wednesday Evenings from 6:30 – 8:00 @ Livingston Memorial VNA, 1996 Eastman Ave (#106), Ventura
The second and 4th Tuesday of the month from 3:00 – 4:00 @ The Townhouse, 4900 Telegraph Rd, (7th floor), Ventura
A monthly class for the newly bereaved is also held:
The second Tuesday of the month from 6:00 – 7:00 @ Livingston Memorial VNA, 1996 Eastman Ave (#106), Ventura
Drop ins are welcome; for more information call: 642-0239
By Gazette Staff Writer — Wednesday, November 2nd, 2011
Sacramento, CA – This Sunday, Californians will be rolling back their clocks as daylight saving comes to an end on November 6, 2012. CAL FIRE and fire departments across the state are reminding residents to replace the batteries in all smoke alarms as well as their carbon monoxide (CO) alarm when they change their clocks.
"We recommend changing the batteries in your smoke alarms twice a year," said Acting State Fire Marshal Tonya Hoover, CAL FIRE. "While you are spending a couple minutes to change the time on all your clocks, it's so easy just to add an extra minute to ensure your smoke alarms and carbon monoxide alarm all have fresh, new batteries as well."
According to the National Fire Protection Association (NFPA), roughly two-thirds of home fire deaths occurred in homes without working smoke alarms. Working smoke alarms increase the change of surviving a home fire by 50 percent.
For decades, firefighters have used the time change as a reminder for residents to change their smoke alarm batteries. This year, officials are adding carbon monoxide alarms to their message following a new state law requiring all single-family homes have a carbon monoxide alarm.
CAL FIRE has the following tips on smoke alarms:
Test smoke alarms once a month.
Replace batteries in all smoke alarms and CO alarms twice a year.
Don't "borrow" or remove batteries from smoke & CO alarms even temporarily.
Regularly vacuum or dust smoke & CO alarms to keep them working properly.
Replace smoke alarms every 10 years.
Don't paint over smoke or CO alarms.
Practice family fire drills so everyone knows what to do if the smoke alarm goes off.
Find more information visit the CAL FIRE Web site at www.fire.ca.gov.
By Raelene Chaney — Wednesday, November 2nd, 2011
November 11th is the last day the students can sell Marie Callender Pies for Grad Nite Live. They will be turning their orders and money in Monday, November 13th so we can process the orders and call them in to Marie Callender. It gets rather hectic the last week and the week-end. If possible please get your selling/buying done as soon as possible. If you want to order pies call Mrs Chaney, 524-4909 or 407-5759 and I'll see that your order is processed on time. We are hoping that this "Pie Sale" will help the students get their ticket for the Graduation Harbor Cruise. Grad Nite Live gets $5.00 for every pie, so if the student turns in 20 pie orders they have made their $100. If they do nothing for our fundraising, then they pay $100 for the Cruise. Parents please help your seniors get their orders filled. Thanks.
By Gazette Staff Writer — Wednesday, November 2nd, 2011
Similar to local Emergency Alert System Tests
November 9, 2011
OAKLAND, CA - The U.S. Department of Homeland Security's Federal Emergency Management Agency (FEMA) and the Federal Communications Commission (FCC) will conduct the first nationwide test of the Emergency Alert System (EAS). The nationwide test will occur on Wednesday, November 9 at 11 a.m. Pacific Standard Time and may last up to three and a half minutes.
The EAS is a national alert and warning system established to enable the President of the United States to address the American public during emergencies. NOAA's National Weather Service, governors and state and local emergency authorities also use parts of the system to issue more localized emergency alerts.
Similar to local EAS tests that are already conducted frequently, the nationwide test will involve broadcast radio and television stations, cable television, satellite radio and television services and wireline video service providers across all states and the territories of Puerto Rico, the U.S. Virgin Islands and American Samoa.
On November 9, the public will hear a message indicating that "This is a test." The audio message will be the same for both radio and television. Under the FCC's rules, radio and television broadcasters, cable operators, satellite digital audio radio service providers, direct broadcast satellite service providers and wireline video service providers are required to receive and transmit presidential EAS messages to the public. A national test will help the federal partners and EAS participants determine the reliability of the system and its effectiveness in notifying the public of emergencies and potential dangers nationally and regionally.
"A national test of our Emergency Alert System, with the vital communications support and involvement of participants, is a step towards ensuring that the alert and warning community is prepared to deliver critical information that can help save lives and protect property," said Damon Penn, FEMA's Assistant Administrator of National Continuity Programs. "Because there has never been an activation of the Emergency Alert System on a national level, FEMA views this test as an excellent opportunity to assess the readiness and effectiveness of the current system. It is important to remember that this is not a pass or fail test, but a chance to establish a baseline for making incremental improvements to the Emergency Alert System with ongoing and future testing. It is also important to remember that the Emergency Alert System is one of many tools in our communications toolbox, and we will continue to work on additional channels that can be a lifeline of information for people during an emergency."
"The upcoming national test is critical to ensuring that the EAS works as designed," said Jamie Barnett, Chief of the FCC's Public Safety and Homeland Security Bureau. "As recent disasters here at home and in Japan have reminded us, a reliable and effective emergency alert and warning system is key to ensuring the public's safety during times of emergency. We look forward to working with FEMA in preparation for this important test."
Over the past two years and as part of ongoing national preparedness planning efforts, FEMA, the FCC and other federal partners, state, local, tribal and territorial governments, Emergency Alert System participants and other stakeholders have been working toward making this test a reality.
As the federal, state, tribal, territorial and local governments prepare for and test their capabilities, this event serves as a reminder that everyone should establish an emergency preparedness kit and emergency plan for themselves, their families, communities, and businesses. Anyone can visit www.Ready.gov for more information about how to prepare for and stay informed about what to do in the event of an actual emergency.
About FEMA
FEMA's mission is to support our citizens and first responders to ensure that as a nation we work together to build, sustain, and improve our capability to prepare for, protect against, respond to, recover from, and mitigate all hazards.
By Gazette Staff Writer — Wednesday, November 2nd, 2011
VENTURA, CA - The Ventura Family YMCA is celebrating YMCA National Week of Prayer November 7th through November 10th. Everyone in the community is invited and encouraged to come and enjoy the messages and fellowship that will be shared by pastors from local churches in the community.
The week's activities will kick off on Monday morning, with a lecture from Bill Findley focused on the theme "Prayer for Non Profits" accompanied by a musical performance by Troy Jones. Tuesday afternoon, Gary Archer from Ventura Missionary Church will have a discussion featuring the topic of "Grey Matters – Senior's Day" with The Silvertones providing musical entertainment. Wednesday will be a special evening dedicated to our youth; activities will include a camp fire, participation from local youth groups, Bubble Rollers, a rock climbing wall and music from The River Community Worship Team and Bible Fellowship. Thursday afternoon, Teen Challenge will provide both music and lecture on the subject of Addiction. Local sponsors have generously provided refreshments that will be served at each day's activities.
This is the fourth year that the Ventura Family YMCA will be participating in the YMCA National Week of Prayer. In addition to the activities held at the Ventura Family YMCA Monday through Thursday, the Y invites the community to participate in events held throughout the community honoring veterans.
The Week of Prayer is an annual event to celebrate the spirituality of the YMCA movement around the world. This week is a tradition that dates back to 1904 when local YMCA's unite to consider their work in the context of the Bible. YMCA is an organization with a heritage based on Christian principals that serves individuals and families of all religions, races, and creeds. Everyone is welcome to come and participate in activities during Week of Prayer regardless of their spiritual background.
Pastor Jim Duran from the River Community Church and Chair of the Y's Mission Emphasis Committee is been an active participant in the YMCA Week of Prayer and knows how beneficial the week can be for everyone.
"I believe this will be the best "Week of Prayer" so far because there is a lot more people involved. The partnerships between the YMCA, local churches and pastors, the business sector, and the community at large are making our week second to none. I am excited about our topics this year because we are coming together to discuss and pray about real life situations that many people deal with but nobody wants to talk about. And if that is not enough, we are inviting all Ventura's youth to unite with a Wednesday Night Youth Event. Where else can you go and get a free meal, great music, superb speakers and hope for the future through the power of prayer? This is an event that the entire community should attend," said Duran.
If you are interested in celebrating in the YMCA National Week of Prayer please feel free to contact Margo Byrne, Executive Director of The Ventura Family YMCA at 805-642-2131 Ext 17 or email margo.byrne@ciymca.org. Or visit www.ciymca.org/ventura.
About the Ventura Family Y
The Ventura Family YMCA serves over 20,000 individuals annually through facility memberships, before & after school childcare, day & resident camps, youth sports, swim lessons, teen programs, and many more healthy lifestyles and community enriching programs throughout Ventura, Oxnard, Ojai, Santa Paula, and Saticoy. Through the Open Doors program the YMCA ensures that no one is ever turned away due to their inability to pay and facility memberships without contracts or join fees makes the Ventura Family YMCA accessible to everyone. The Ventura Family YMCA is located at 3760 Telegraph Rd., Ventura, CA 93003.
By Gazette Staff Writer — Tuesday, November 1st, 2011
Wednesday, October 26, 2011 was a day when Fillmore's reputation as one of the "Last of the Best Small Towns" was reconfirmed. If anyone passed along Central Avenue between the hours of 4pm-7:30pm, you might have wondered about all the activity as enthusiastic young people & seniors & "in- betweeners" worked together to refurbish the planter pots with red, white & blue themed flowers to go with our military banners hung above the street.
This was a long hoped for, and well planned "grass roots" event. Vision 2020 Civic Pride Committee was given permission by our city manager, Yvonne Quiring, to seek sponsor ships to refurbish the pots because of the city's deficit & the landscaper's request for more money to do the work.
The pots had long struggled with hard rocky dirt, poor quality watering systems and frequently exchanged small annuals which did not balance with the pot size.
When the "word" was put out seeking sponsorships, we began getting calls and Wednesday was our first planting event.
All the large diameter pots have been planted with a compact tree rose & the red & blue flowering plants, but there are still small pots needing sponsors. Information is available from Linda Nunes at 805-524-3021 or other Civic Pride committee members like Cindy Klittich & Sarah Hansen.
Sponsors can be "hands on" types, helping with the planting & care or donating type.
They will receive a small plaque attached to the pot & a certificate of appreciation, along with publicity in our newspapers.
Civic Pride would like to recognize our city fire chief, Rigo Landeros for his immense help in driving the skip loader & dump truck for old soil removal. He even helped with shoveling dirt & sweeping. Now how is that for community members working together to benefit our town!
Sponsors that have already become involved are: Otto & Sons Inc., Victoria Pace, Kennedy Smith, Janet Foy, Sespe 4H,, Grace Beer, DDS, Soroptimist International of Fillmore, Gayle Washburn and Patterson Hardware.
By Gazette Staff Writer — Tuesday, November 1st, 2011
November 4 & 5
Join us for two fun-filled days. On Friday, Nov. 4, 2011, from 8:00 a.m. to 3:00 p.m. the Sr. Center will host a display and sale of hand made items and crafts and on Sat., Nov. 5, 2011, from 8:00 a.m. to 1:00 p.m. a giant Rummage Sale. Light refreshments will be served at the Craft Fair. It's a great opportunity to support your Sr. Center and get your Christmas shopping done.
By Gazette Staff Writer — Tuesday, November 1st, 2011
Cal EMA and California Seismic Safety Commission Remind Californians to Be Prepared in Wake of Recent Quakes
Officials provide links to easy steps to build a preparedness kit and watch how-to videos
SACRAMENTO, CA - After a recent string of moderate earthquakes that shook up parts of the Bay Area and Northern California, the California Seismic Safety Commission (CSSC) and California Emergency Management Agency (Cal EMA) have teamed up to remind everyone that now is a good time to refresh home emergency kits, and focus on the need to take simple steps to prepare yourself, your family and pets for the next quake.
One of the most recent quakes rattled nerves late Wednesday night about 23 miles north east of Truckee, California. The 4.7 magnitude temblor did little damage, but residents in seven counties reported feeling the earth shake around 11:37 pm. And, last week's 3.9 magnitude quake near Berkeley was yet another wake-up call to all Californians that earthquakes can occur at any place and any time. Experts warn that if you don't take steps to prepare in advance, the consequences could be disastrous.
Once the ground stops shaking and you're safe to get up from the "drop, cover and hold on" position, experts say your next steps are critical. "Sometimes evacuations are necessary after earthquakes. Making a list of necessities that can be retrieved in a matter of minutes, can prove very useful," said Richard McCarthy, Executive Director for California's Seismic Safety Commission.
Mike Dayton, Acting Secretary of Cal EMA says it's also important to have family plans in place and know what you will do for the first 72 hours after a major quake. "It's just a matter of time before California gets hit by another major earthquake," said Dayton. "When the big one hits, it's likely you'll need to be on your own without power, water and other conveniences, so take some easy steps now to get prepared," he said.
In another effort to boost personal preparedness, Cal EMA and CSSC have partnered with the California Earthquake Authority to launch the "Totally Unprepared" earthquake readiness campaign. Through weekly videos and online resources, the public is encouraged to take simple steps to get on the path to preparedness. They're entertaining and short videos that anyone can watch and learn.
There are lots of resources available to help you get prepared. Check out the following websites to learn more.
www.seismic.ca.gov
www.calema.ca.gov
www.myhazards.calema.ca.gov
www.shakeout.org
www.totallyunprepared.com
www.ready.gov
By Gazette Staff Writer — Tuesday, November 1st, 2011
National Kidney Foundation Serving Southern California and Southern Nevada Offers Free Health Screening in Santa Paula Through Kidney Early Evaluation Program (KEEP)
What: A free health screening for people at risk for kidney disease – area residents with diabetes, high blood pressure or a family history of kidney disease. A health risk appraisal, blood pressure measurement, blood and urine tests will be conducted on an anticipated 85 people throughout the day.
When: Saturday, December 3rd, 2011 from 10:00 am to 2:00 pm
Where: Santa Paula Community Center; 530 West Main St. Santa Paula, CA 93060
Who: Anyone over age 18 showing risk for Kidney Disease (above)
Why: Twenty six million Americans have chronic kidney disease and most don't know it. In the Tri-Counties, one in eight people are suffering from chronic kidney disease. Early detection and treatment, including lifestyle changes and medications, may SLOW or PREVENT its progression to kidney failure and lessen the risk of cardiovascular disease.
"I owe my health to these screenings," Cynthia Mullon told us with great relief. "They're comprehensive and helped me catch my kidney disease before it was too late."
Cynthia, a diabetic for over 20 years, attended a free National Kidney Foundation (NKF) Kidney Early Evaluation Program (KEEP®) screening recently in Newburgh, NY. "I found out that my GFR-a measure of kidney function-had declined immensely since the last screening," she reported.
"It showed that in the course of one year, I had gone from being healthy to being in stage two kidney disease." She is now working with her doctor and following a diet plan and exercise regimen to help prevent or slow further kidney damage.
Cynthia's story is just one of thousands. NKF has provided free early detection screenings to more than 155,000 people at risk for kidney disease. And for each of them, these screenings can be life-changing events.
By Gazette Staff Writer — Thursday, October 27th, 2011
By Gazette Staff Writer — Thursday, October 27th, 2011
SANTA PAULA, CA – Santa Clara Valley Bank (SCVBank;OTC BB: SCVE.OB) today announced its 2011 third quarter results.
SCVBank recorded a net profit of $140,000 for the third quarter of 2011 compared to a net profit of $60,000 for the third quarter of 2010. Net profit for the nine month period ending September 30, 2011 was $384,000 versus a net loss of $(346,000) for the same nine month period in 2010. This improvement in earnings was largely due to the reduction in the provision for loan loss expense. Due to improved credit conditions there was no loan loss provision taken in the first nine months of 2011, compared to a $900,000 provision taken in 2011 during the same period.
Net loan charge-offs for the first nine months of 2011 totaled $279,000 as compared to $1,585,000 for the same nine month period in 2010. Interim CEO and Chairman of the Board Ralph De Leon noted, "We attribute this reduction in charge offs to the hard work of our loan staff to improve the overall quality of our loan portfolio."
SCVBank continues to maintain a strong capital position with a Tier 1 Leverage Ratio of 11.00%, up from 9.09% a year ago. Total risk-based capital is 19.03%, up from 14.81% last September.
Liquidity continues to be very strong as cash and investments total $55,345,000, or 42.67% of total assets at quarter end.
Founded in 1998, SCVBank currently operates three branches in Santa Paula, Fillmore, and Valencia. Under its stock symbol of SCVE.OB, SCVBank's stock is traded through McAdams Wright Ragen, Howe Barnes Hofer & Arnett, and Monroe Securities. The Bank's web site is www.SCVBank.com.
Santa Clara Valley Bank Corporation Headquarters
901 East Main Street
Santa Paula, California 93060
805 525-7847
Statements concerning future performance, developments or events concerning expectations for growth and market forecasts, and any other guidance on future periods, constitute forward looking statements that are subject to a number of risks and uncertainties. Actual results may differ materially from stated expectations. Specific factors include, but are not limited to, the effect of interest rate changes, and the ability to control costs and expenses, the impact of consolidation in the banking industry, financial policies of the United States government, and general economic conditions.
By Gazette Staff Writer — Wednesday, October 26th, 2011
Fillmore's Payless ShoeSource, located in the Balden Center, has closed. The sign in the window reads "Go to Santa Paula Store".
Enlarge Photo
By Gazette Staff Writer — Wednesday, October 26th, 2011
Ventura County Treasurer-Tax Collector Steven Hintz announced that the Secured Property Tax Bills for the 2011/12 tax year will be mailed by October 15, 2011. Property owners who have not received the Fiscal Year 2011/12 secured property tax statement by the end of October should either telephone the office at (805) 654-3744, or send an Email request for a duplicate bill to HelpingHand@ventura.org. A "virtual bill" for each Ventura County taxable parcel is available online through the Tax Collector's website: www.venturapropertytax.org
Hintz further reported that the 2011/12 tax statement information is currently loaded into his office's systems and taxpayers can begin to inquire about their 2011/12 bills, as well as make their payments. Payments can be made by U.S. Mail, by visiting the Tax Collector's Office, or via the Internet from the Tax Collector's website: www.venturapropertytax.org. A total of 246,604 Secured Property Tax Bills will be issued for 2011/12, representing a total secured tax roll of more than $1.179 billion.
The FIRST INSTALLMENT of the 2011/12 secured property tax is due November 1, 2011, and can be paid without penalty as late as December 12, 2011. Office hours are 8:00 a.m. to 4:45 p.m., Monday through Friday. A payment drop box near the East entrance of the Hall of Administration at the Victoria Avenue County Government Center in Ventura will be available until MIDNIGHT on December 12, 2011.
Mailing a check with the payment stub remains an efficient way to pay your taxes. Payments postmarked on or before December 12, 2011 will be considered on time. The timeliness of mailed payments is measured by the U.S. Postal Service cancellation mark. The closure of the Oxnard Postal Annex may impact the timely postmark of your payment. Please take this into consideration when mailing your payment. If you must wait until December 12, 2011, it is recommended that you take your payment into the Post Office and have it postmarked in your presence. State law requires that a 10% penalty be collected for all late payments.
Steven Hintz
Treasurer-Tax Collector
County of Ventura
By Gazette Staff Writer — Wednesday, October 26th, 2011
Join us for the uptown Central Fillmore ARTWALK! One night only, Friday October 28, 4pm to 7pm. Ceramics, sculptor, paintings, pencil art, charcoal, mini-sweet gourmets. Come and enjoy the artist talents hosted by the following businesses: Everyday Fashions, Vintage Pleasures, Edison Up in Arms, Scented Path, Element Computers, Mimstar, Cherry, treasure Station, Attractions Spa, and Bella's Teas & Treats, all on Central Avenue.
By Rigo Landeros — Wednesday, October 26th, 2011
Fillmore Fire Chiefs Corner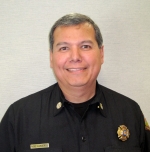 Rigo Landeros, Fillmore Fire Chief
Kids love Halloween! They get to dress up and get free candy! What a perfect holiday! Give your kids some precious Halloween memories that they'll have for life.
Some of you kids already know things that you can do to be safe, like how to cross the street, not to talk to or go with strangers, and things like that. But we adults know how exciting Halloween can be and that can make you forget to be careful.
Here are some tips that we have just for you kids, to help keep you safe on Halloween night! Some of these ideas are called "common sense" ideas; that means that they are things that you should know and use every day in life. You are never too young to learn!
Never, ever go into a strangers' house or even ring their door for treats unless your parents are with you and say that it's okay. There are some people in life that aren't very nice to kids and you have to be careful. Always make sure that your mom or dad is within sight when you go out trick-or-treating.
Be careful when you cross a street. Make sure to look in both directions and make sure that there are no cars coming. If you have a little brother or sister with you, take their hand and help them get across the street, too. If the street has a stop light, wait until the crosswalk light tells you that it's okay to cross, but still check before you cross, looking both ways.
If you are an older kid or young teen, and going out with friends, make sure that your parents know where you are going and who you are going with. This may seem like a pain but they are your parents and they love you. They just want you to be safe.
If you parents give you a curfew, be home when they say. It builds trust between you and them and they are doing it for your own safety. If you are going to be late, call them and let them know.
Have fun on Halloween but keep it safe, have some good, clean fun and your parents will trust you for many Halloweens to come! Showing them how responsible you can be will give you a feeling of pride and make them see just how adult you really are.
By Gazette Staff Writer — Wednesday, October 26th, 2011
If you love strawberries and have an artistic flare, you might enjoy the sweetness of $2,000 awarded to the top pick. The CALIFORNIA STRAWBERRY FESTIVAL seeks submissions for the 2012 Official Poster Contest with $2,000 awarded to the winner. The entry deadline is Monday, January 9, 2012 in what has become an outstanding Festival tradition to showcase each season since the popular event began in 1984. View the collection at: http://strawberry-fest.org/about/poster-archive
The poster will be utilized in marketing and printed on collectible T-shirts and promotional items when the 29th Annual CALIFORNIA STRAWBERRY FESTIVAL gets underway in Oxnard May 19. 20, 2012, traditionally the third weekend in May.
Aspiring Rembrandts need not worry, there are no age requirements or restrictions on artistic mediums to inhibit creativity. Judges will select the winner based on which masterpiece best captures the look and feel of the weekend celebration.
All original art work for consideration must be 16.5" wide and 17" high, centered and mounted on a black matte board 18.5" wide and 19" high. The finished product must be reproduction compatible and void of any writing, including the date (the year and event logo will be inserted during re-production). Contact name and information should be easily viewed on the back. Prior to the deadline and without exception, entries can be mailed or hand delivered to the Festival office 1661 Pacific Avenue #15, Oxnard, CA 93033. (805-385-4739). The winner will be notified Friday, January 13th. Posters will not be returned and must be picked up from the Festival office any time beginning the fourth week of January. The winning original design and all rights of the winning design will become the property of the CALIFORNIA STRAWBERRY FESTIVAL.
Saluting the region's stellar strawberry industry, the CALIFORNIA STRAWBERRY FESTIVAL has received numerous awards for contributing to the community through fundraising efforts that exceed $3.5 million dollars while introducing "green" initiatives and bolstering tourism.
As a non-profit organization, the event is the perfect summer kickoff with proceeds benefiting the community. An all-volunteer board works year-round to produce the weekend celebration where delicious strawberry eats are the main attraction with live entertainment, hundred of arts & crafts, contests, Strawberryland for Kids with free rides and attractions, and more.
More information can be found at www.strawberry-fest.org . Join the Berry Insiders Club for the latest information and benefits at: http://strawberry-fest.org/about/berry-insiders-club. The toll free number is 1-888-288-9242.