By Gazette Staff Writer — Wednesday, January 9th, 2013
Applications now accepted for Grassroots Suite in VCCF Nonprofit Center
CAMARILLO, CA - The Ventura County Community Foundation will offer office space to emerging nonprofits in the new VCCF Nonprofit Center in Camarillo at a fraction of current market rate.
Eligibility criteria and an application form to become a tenant in the new Grassroots Office Suite are posted on vccf.org, with applications due Jan. 31.
VCCF has set aside permanently 1,155 square feet in the recently opened VCCF Nonprofit Center, 4001 Mission Oaks Blvd., for three to five emergent charities. Qualifying organizations will receive a 33 percent discount over current market rate.
The goal of the Grassroots CONTINUED »
By Gazette Staff Writer — Tuesday, January 8th, 2013
Santa Clara Valley Disposal will maintain its regular Friday trash and recyclables collection schedule in Fillmore on Jan. 25, during the week of Martin Luther King Jr.
For more information, call 647-1414.
Sarah Hansen receiving the appreciation award from Civic Pride Committee Member, Linda Nunes.
Enlarge Photo
By Gazette Staff Writer — Tuesday, January 8th, 2013
Ventura County Community Gems member, Sarah Hansen, received a certificate of appreciation for her group, from Fillmore's Vision 2020, Civic Pride Committee for their sponsorship of two replanted pots along Central Avenue. Sarah Hansen had suggested the sponsorship to her group and later, brought them to Fillmore for a special dinner & tour of the Fillmore Historical Museum.
The Ventura County Community Gems group is an "off shoot" of a group in Ventura called "Jewelia". Jewelia was begun several years ago by a group of friends who decided to make a purchase, together, of a diamond necklace which was then shared by each woman getting to wear the necklace on her birthday and for special occasions.
The Ventura County Community Gems group was begun in 2011 by Priscilla VanGundy to give special recognition to a woman that has served her community well. The VCCG group selects women who are nominated from communities through out the county. These women get to wear a diamond necklace for one month of the year as they represent their community. The 12 women in the group meet monthly to decide on fundraising and to get better acquainted and to help each other.
By Gazette Staff Writer — Tuesday, January 8th, 2013
Recently a flurry of activity has been going on at the Ojai Valley Community Hospital. That's because the initial phase of modernizing the 52-year old hospital has begun.
A new roof, and new air conditioning and heating units, have been installed as a part of a plan to bring the hospital into compliance with state-mandated earthquake safety standards. Besides meeting these safety standards, the new heating and air units are a long-anticipated improvement that staff, patients and visitors alike will certainly appreciate as Ojai Valley temperatures routinely dip in the winter and heat up again come summertime.
Inside, the hospital's 4-bed Intensive Care Unit (ICU) was remodeled. New flooring, an improved staff work station, and ceiling braces were installed in the 1,630-square-foot ICU. These enhancements will help the hospital meet seismic laws through 2030.
In the coming years, Ojai residents will see many changes at the 37-bed hospital and its adjacent 66-bed Continuing Care Center, as Community Memorial Health System moves forward with its facility master plan to modernize these two facilities. The next phase of the master plan is a major remodel of the hospital's façade—the first such undertaking since OVCH was built in 1960.
One of the most important projects to be undertaken will be improvements to the 66-bed skilled nursing facility. The health system is exploring the best solution for our Continuing Care Center, a facility that provides inpatient programs and therapy treatments for both short- and long-term placement.
By Gazette Staff Writer — Wednesday, January 2nd, 2013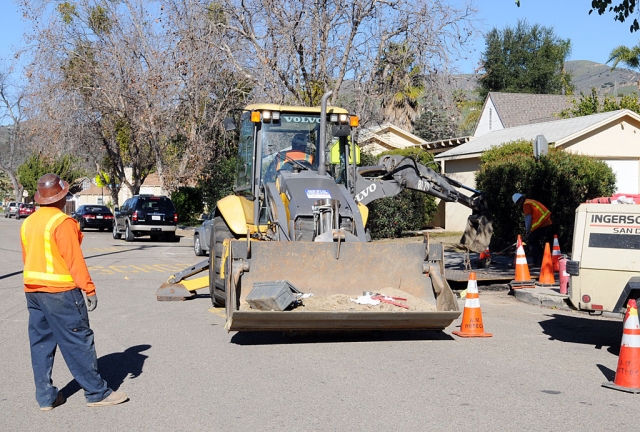 SoCalGas and AM Ortega Construction have been performing maintanence on the city's gas lines (Sespe and Orchard) since December 17, 2012. The work will continue until until January 15, 2013. Parking in the area has become a premium.
Enlarge Photo
By Gazette Staff Writer — Monday, December 31st, 2012
Regional food bank and The Collection at RiverPark's first annual Can Tree Collection drive garners support from community, raised 57,000 pounds of canned food for hungry
VENTURA COUNTY, CA. – On the weekend of Dec. 7-9, Oxnard's newest outdoor shopping and dining destination, The Collection, hosted a weekend full of camaraderie, goodwill and holiday cheer for the first annual Can Tree Collection drive in support of Ventura County FOOD Share's Holiday Tackle Hunger campaign.
The sidewalks adjacent to the site where Ventura County's first Whole Foods Market will be situated were adorned with almost 60 can trees – Christmas trees built with 800 cans of food – as well as a 14-foot can tree constructed with 10,000 cans of food, built and collected by local businesses, community leaders and attendees of the event. Wrapping up the event weekend, more than 57,000 pounds of food were collected, as well as $13,500 in monetary donations.
FOOD Share collects food year-round and through Super Bowl Sunday on Feb. 3, the regional food bank that feeds more than 74,500 people per month is hosting its annual Holiday Tackle Hunger Campaign. During Tackle Hunger, FOOD Share hopes to collect more than $150,000 in monetary donations and 200,000 pounds of donated food to help restock the shelves of their Oxnard warehouse distribution center.
"We are very CONTINUED »
By Gazette Staff Writer — Wednesday, December 26th, 2012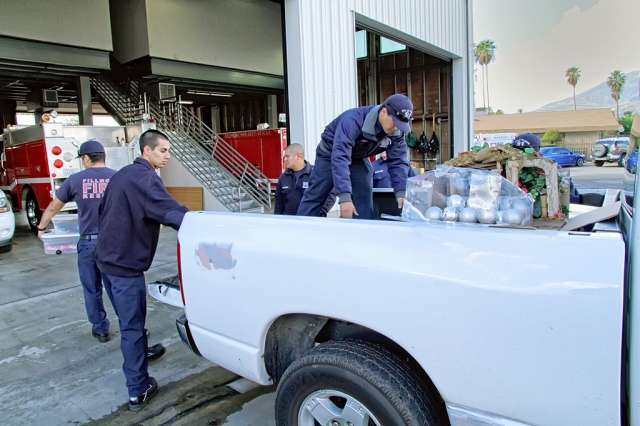 Boxes of Christmas decorative trimmings donated to the Fillmore Fire Department by A Street Self Storage.
Enlarge Photo
By Gazette Staff Writer — Wednesday, December 26th, 2012
Calling all Angels
You can make an immeasurable difference to a patient and their family by volunteering just a few hours a week. Providing relief to caregivers, visiting with patients, and running errands are just a few of the ways volunteers can help. The focus is on learning new communication skills, exploring issues of grief and loss, sharing views of spirituality and understanding concepts of end of life care. Our training begins Wednesday, January 30, from 9:30 AM -12:30 PM and continues for 8 consecutive Wednesdays. Classes are held at Livingston Memorial VNA & Hospice, 1996 Eastman Ave, Suite 101, Ventura. For more information contact Maddy Hazard; 642-0239x775; mhazard@lmvna.org
By Gazette Staff Writer — Monday, December 24th, 2012
SACRAMENTO, CA - Attorney General Kamala D. Harris today announced that the California Homeowner Bill of Rights, a landmark package of legislation that extends key mortgage and foreclosure protections to California homeowners and borrowers, will take effect on January 1, 2013.
The new laws restrict dual-track foreclosures, guarantee struggling homeowners a reliable point of contact at their lender and impose civil penalties on fraudulently signed mortgage documents. In addition, homeowners may require loan servicers to document their right to foreclose.
"For too long, struggling homeowners in California have been denied fairness and transparency when dealing with their lending institutions," said Attorney General Harris. "These laws give homeowners new rights as they work through the foreclosure process and will give Californians a fair opportunity to stay in their homes."
Governor Jerry Brown CONTINUED »
By Gazette Staff Writer — Wednesday, December 19th, 2012

The Fillmore Fire Department Annual BBQ Chicken/Toy Drive happened last Sunday.
Enlarge Photo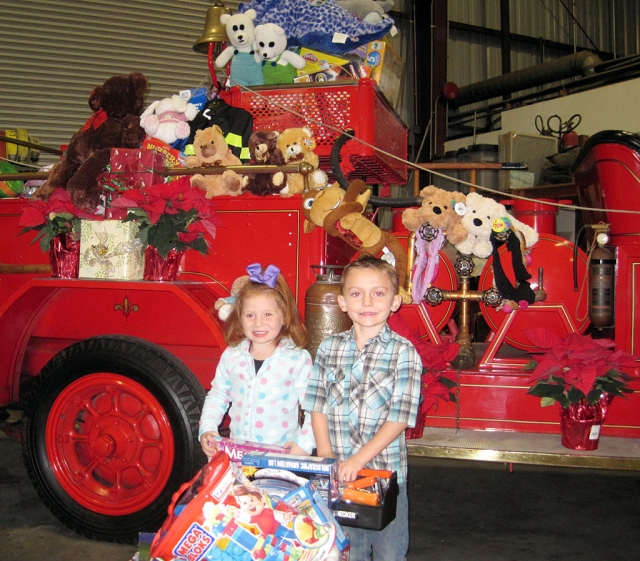 The Fire Department gave away about 300 chicken dinners and received hundreds of toy that will be given away on Wednesday 12/20/12.
Enlarge Photo
By Gazette Staff Writer — Wednesday, December 19th, 2012
The University of California Hansen Agricultural Research and Extension Center (UC HAREC) supports Ventura County agriculture through research and education efforts. Volunteers play a vital role in education outreach and are integral in achieving our mission. We are currently recruiting volunteers for our youth development programs. Join a dedicated group of individuals who share a passion for agriculture and enjoy working with youth of all ages.
Interested individuals may attend an informational meeting in the Small Barn at UC HAREC —Wednesday, January 16th, 3:30 p.m. to 4:30 p.m. or Thursday, January 17th, 10:00 a.m. to 11:00 a.m. The Center is located at 14292 W. Telegraph Rd. in Santa Paula (corner of Briggs Rd. and Telegraph Rd). Please use Briggs Rd. main entrance. Free parking available.
To reserve a spot call or email by January 15th— 805-525-9293 ext. 206 or awfaris@ucanr.edu. Walk-ins also welcome.
For more information about our youth development programs visit our website at: http://ucanr.edu/sites/hansenagcenter/Hansen_Agricultural_Center_Program...
By Gazette Staff Writer — Wednesday, December 19th, 2012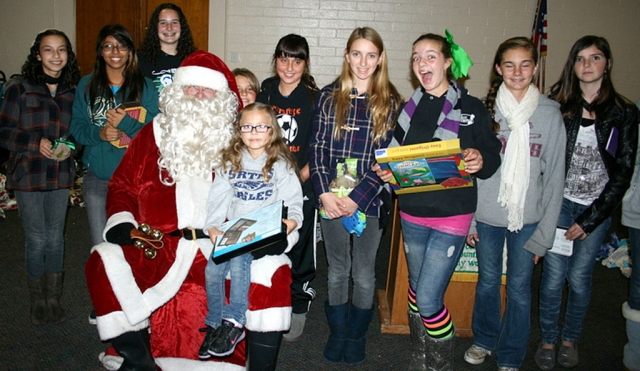 Thanks to Santa for coming to the Bardsdale 4H Christmas party.
Enlarge Photo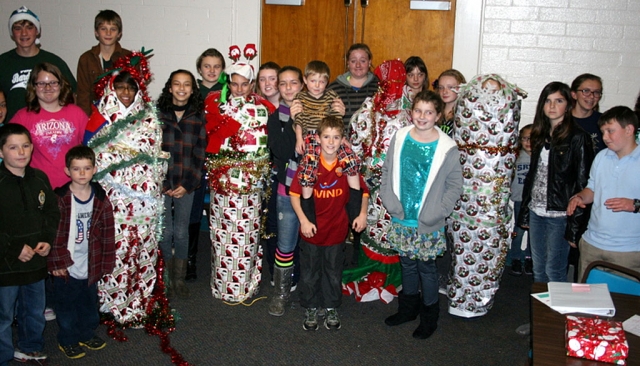 Bardsdale 4H members wrapped up some of their friends at their annual Christmas Party held Monday, December 17th.
Enlarge Photo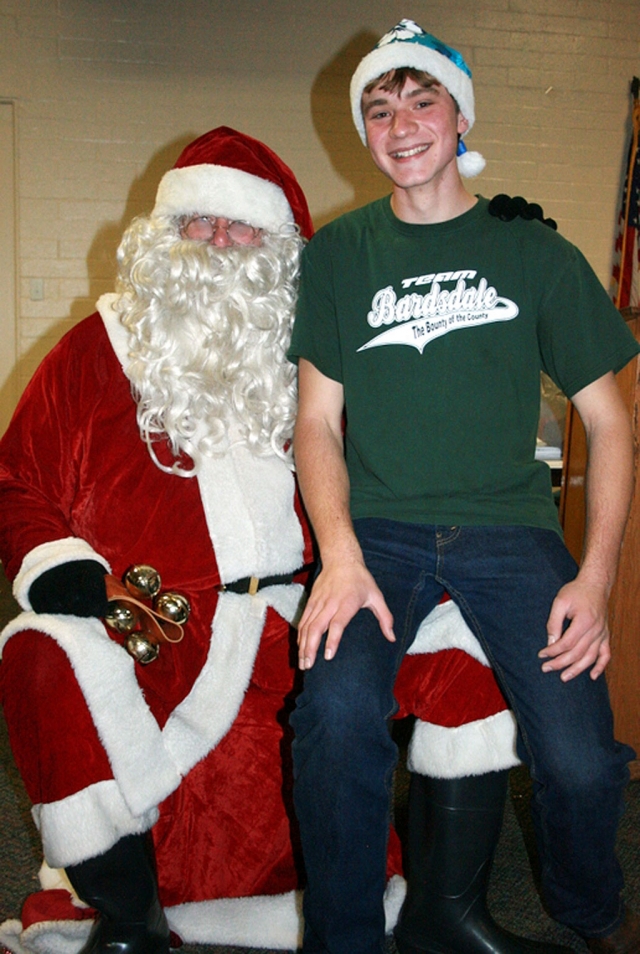 Bardsdale 4H President Timmy Klittich enjoyed visiting with Santa at the club Christmas party.
Enlarge Photo
By Gazette Staff Writer — Wednesday, December 19th, 2012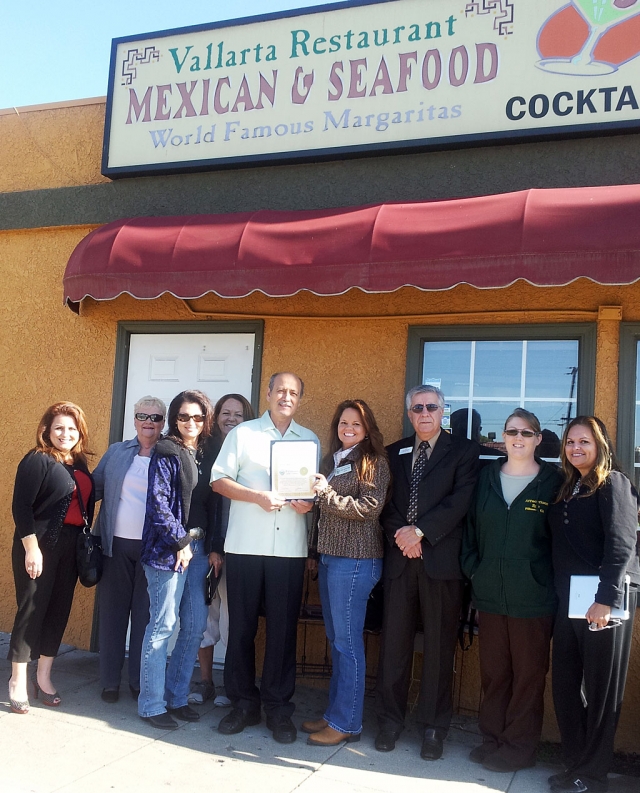 Vallarta's Restaurant is the Fillmore Chamber of Commerce Business of the Month for November. Pictured (l-r) Board Directors from the Fillmore Chamber of Commerce: Theresa Robledo, Evelyn Hasty Administrative Assistant, Rosa Martel Sales and Membership Director, Brenda Ortiz, owner Jose Melgoza, presenting certificate President Cindy Jackson, Carlos Martinez, April Hastings, and Ari Larson.
Enlarge Photo
(l-r) Tanya Melgoza of Estrella Market receiving a certificate of appreciation from Civic Pride Committee member, Linda Nunes, for their sponsorship of a replanted pot on Central Avenue.
Enlarge Photo
By Gazette Staff Writer — Wednesday, December 19th, 2012
Tanya Melgoza and her parents, Francisco and Angela have operated their family grocery store on the corner of Central and Main Street for 12 years and were happy to support our Vision 2020, Civic Pride project to replant the Central Avenue pots with red, white & blue flowers.
When asked why they wanted to help out with this project, Tanya, said, "The people in Fillmore are what make the community what it is…." She spoke of being involved in the community in other ways, like gathering her own "Relay for Life" team for the first time with family and friends participating. Tanya said that they did very well in the relay.
She has a real interest in helping people with their health & wellness. She is a representative for "Advocare" Health supplements for weight loss and serves as a health advisor.
Vision 2020, Civic Pride Committee appreciates people like the Melgoza family who care about their community and serve to make it a better place to live.
By Gazette Staff Writer — Wednesday, December 19th, 2012
Livingston Visiting Nurse Association will hold the following Joint Replacement Class to prepare you for total knee or hip replacement surgery. Home preparation, exercises and rehabilitation information will be discussed. Open to the public and free of charge, the class will be held:
January 2, from 10:00 – 11:00 am @ Cypress Place, 1st floor private dining room, 1200 Cypress Point Lane, Ventura, RSVP Diana Davis @ 642-0239 x 739
By Gazette Staff Writer — Wednesday, December 19th, 2012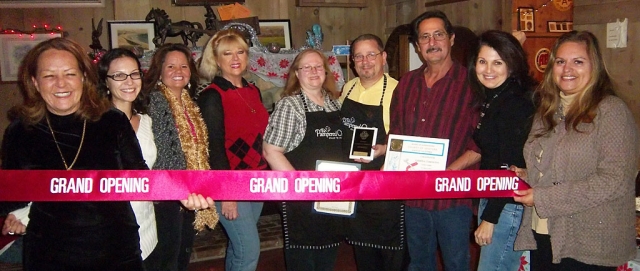 The Fillmore Chamber of Commerce had a grand opening this weekend for two businesses in town. "Gabaldon Construction" - Max and Alma Gabaldon, and "The Pampered Chef" - Tim and Sara Holmgren. Pictured (l-r) Brenda Ortiz/Board Director, Renae Stovesand/Board Director, Cindy Jackson/President, Alma Gabaldon, Sara Holmgren, Tim Holmgren, Max Gabaldon, Rosa Martel/Membership Director, Ari Larson/Board Director.
Enlarge Photo
By Gazette Staff Writer — Wednesday, December 12th, 2012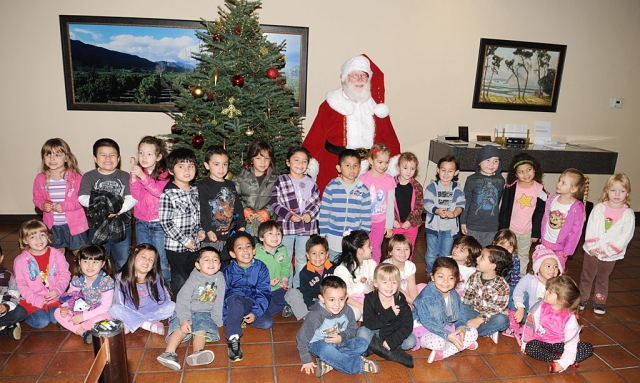 Children from Sonshine Preschool visited Santa Claus at Santa Barbara Bank and Trust Wednesday morning.
Enlarge Photo
By Gazette Staff Writer — Wednesday, December 12th, 2012
The Gazette will be closed Tuesday, December 24th at 3pm and Christmas Day. Deadlines for our December 27th issue is Friday, December 21, 3pm for display advertising and Classifieds. January 3rd New Year's edition, all advertising in by Friday, Dec. 28th, closed 3pm Monday, all day Tuesday. Happy Holidays!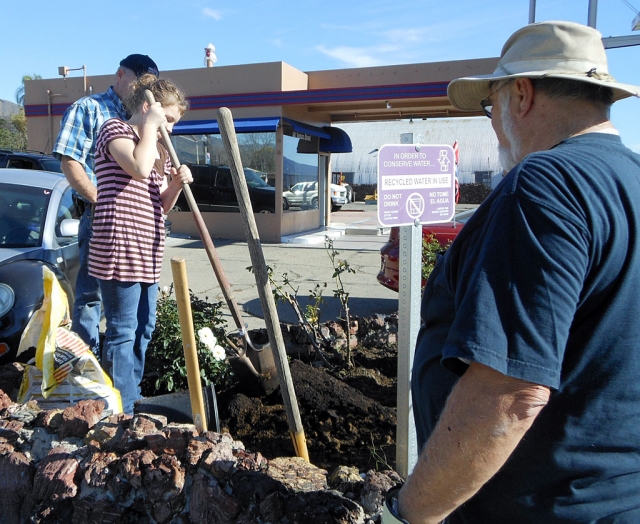 Paige McKeown & her father, Steve, digging holes for the new roses and James Nunes helping out.
Enlarge Photo
By Gazette Staff Writer — Tuesday, December 11th, 2012
The "before" picture of the rock planter at the corner of 126 & Central.
Enlarge Photo
The stucco planters along Central Avenue have begun to get a fresh "look" with the planting of new roses and Mystic Spires salvia. Members of the Civic Pride Committee, Cindy Klittich, Mark Ortega, Linda Nunes, and helpers James Nunes, Timmy Klittich, Steve McKeown, and daughter, Paige removed invasive seedlings, pruned the existing Cape Cod roses, and planted a red shrub rose named, Thrive and a ground cover rose named, White Meidiland along with Mystic Spires salvia, and Star jasmine in the planters at the corner of Sespe & Central Avenue. We will be continuing to replant the remaining stucco planters at a future date.
The rock planter at the corner of Highway 126 and Central Avenue was also replanted with an improved water delivery system. White Iceberg roses, red Thrive shrub roses, blue Mystic Spires salvia and white trailing lantana were added.
Vision 2020, Civic Pride Committee appreciates each volunteer that joined in to help make our community more attractive and Otto & Sons Nursery for assisting with plants and Warren & Marci Thompson for donating bags of topsoil.
Civic Pride Committee invites all who are interested in participating with ideas or help, to our next meeting, January 16, 2013 at 1:30 pm in City Hall, upstairs.
By Ventura County Sheriff Department — Tuesday, December 11th, 2012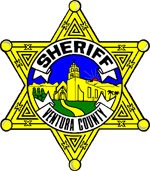 Ventura County Sheriff's Department
The Ventura County Sheriff's Office has kicked off the 27th annual "Share-iff's Toy Drive" to help local families during this holiday season.
Every year, thousands of children experience a Christmas morning with no gifts to open. With the hope of making this year's Christmas morning a little brighter for those in our community, the Sheriff's Office will be collecting new, unwrapped toys for children ages 16 and younger.
All the toys collected will be distributed to the children within the cities of Camarillo, Thousand Oaks, Fillmore, Moorpark, Ojai and the unincorporated areas serviced by the Ventura County Sheriff's Office.
The Sheriff patrol stations will have boxes on hand where the public can leave their unwrapped toys Monday thru Friday from 8:00 am until 5:00 P.M. Donations will be accepted until December 20, 2012. Toys will be delivered on December 22, 2012, by Sheriff's employees who will be volunteering their time.
Toy drop off locations:
Camarillo Police Department – 3701 Las Posas Road, Camarillo (805) 388-5100
Thousand Oaks Police Department – 2101 E. Olsen Road, Thousand Oaks (805) 494-8200
Moorpark Police Department – 610 Spring Road, Moorpark (805) 532 2700
Fillmore Police Department – 524 Sespe Avenue, Fillmore (805) 524-2233
Ojai Police Department – 402 S. Ventura Street, Ojai (805) 646-1414
Ventura County Headquarters – 800 S. Victoria Avenue, Ventura (805) 654-2304