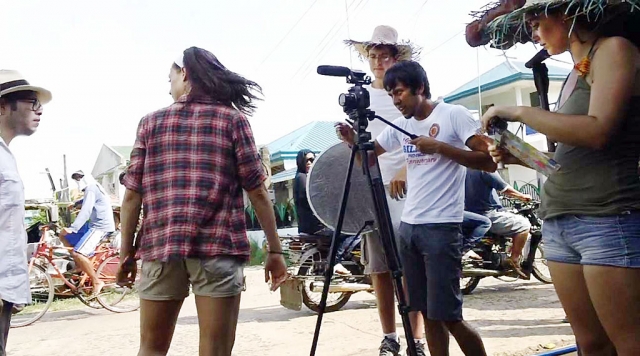 On set.
Enlarge Photo
By Randal Kamradt Jr. — Wednesday, September 26th, 2012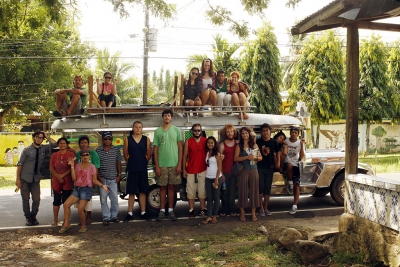 Group photo.
Enlarge Photo
I've found, in my limited experience, that writing a feature film is just like writing an essay in school, or lyrics in a song, or the first line of a news article. You sit on that blank page and search. For hours, maybe for days you grasp at transparent words floating through the air, dependent entirely on luck to find that vital first line. It has to take you and your reader somewhere amazing, and nobody is going to be amazed if you can't first astonish yourself.
That's the feeling I got when I first put hands-to-laptop in November 2011 and started my third film, 'Faraway'. As the story goes: Audrey, a determined young American woman, arrives in the Philippines with a mysterious mission, little money, and no chance of reaching her goal. But when she enlists the help of two friendly locals, Hazel and Rey, and an unfriendly American expatriate, Nick (played by Nicholas Medina), the possibility of success comes into view. All they have to do is cross 300 miles of roads, jungles, and ocean, ward off the attacks of a vicious local motorcycle gang, and keep themselves from killing each other. "Faraway" is a tale of classic adventure, but with the rough-hewn gritty style of an indie.
Principal photography began CONTINUED »
Ventura County Library's Access Video On Demand
Enlarge Photo
By Gazette Staff Writer — Tuesday, September 25th, 2012
Ventura County Library (VCL) is proud to announce the availability of Access Video On Demand, a comprehensive streaming video resource offering a broad variety of documentary, educational, cultural and instructional programming.
Access Video On Demand is available now – just in time for the start of school! Access Video On Demand is available online from any computer with a broadband internet connection through the Ventura County eLibrary at http://157.145.215.81:81/rpa/default/RPA_redr.htm. Free with your VCL card!
Benefits of Access Video On Demand include:
Engaging content from world class producers and broadcasters, including BBC, PBS, ABC News, CNBC, Biography, History Channel, National Geographic, Films for the Humanities & Sciences, Rick Steves & many more
Nothing to check out, nothing to return – no worries about overdue fees or damaged discs
All items are always available (simultaneous use)
Any current cardholder can use Access Video On Demand from home or anywhere with broadband Internet access
Superior video quality – the video player adjusts automatically for an optimal viewing experience in variable bandwidth environments
Because this is a browser-based internet service, the videos can be viewed on PCs, Macs, iPads and other internet-enabled mobile devices
Citations provided for students doing research or homework
The Ventura County Library is available 24/7 at www.vencolibrary.org.
By Gazette Staff Writer — Tuesday, September 25th, 2012
Ventura, CA - Ventura County Clerk Recorder/Registrar of Voters Mark A. Lunn announced today the availability of the Sample Ballot for the November 6, 2012 Presidential General Election.
Lunn said, "The Presidential General Election has many federal, State and local candidates and issues to be decided so it is important to ensure that voters have an opportunity to study the ballot before casting their vote on Election Day.
Sample ballots will be delivered to over 400,000 registered voters beginning Thursday, September 27. Sample Ballots are more than just a list of candidates and ballot measures. Candidate statements, voting instructions and an election calendar are included. The polling place location is important information that every voter should check, since it may change from election to election.
Voters who wish to vote by mail may fill out and return the application on the back of the Sample Ballot booklet no later than Tuesday, October 30.
Additional information is available at the Elections Division website http://recorder.countyofventura.org/elections or by calling the Ventura County Elections Division at 654-2664.
By Gazette Staff Writer — Tuesday, September 25th, 2012
The Ventura County Chapter, Parents of Murdered Children, will be observing The National Day of Remembrance for murder victims, with a ceremony on Tuesday, September 25th at the Ventura County Government Center courtyard, 800 S. Victoria Ave., Ventura, beginning at 5:30 P.M. This ceremony is open to the public and allows all those who have lost a loved one to murder, to honor the victims memory. Please join us for a very meaningful ceremony and light refreshments. "So long as we live, they too shall live and love for they are a part of us, as we remember them." Please join us and forward this message to any one you think might benefit from it. If you would like your loved one's picture included on our picture board, please bring a 3x 5 picture with you to the ceremony.
By Gazette Staff Writer — Monday, September 24th, 2012
Dear Community Friends:
As the Director of Fillmore's Santa Clara Valley Legal Aid, we have been getting a lot of questions regarding the "Deferred Action for Childhood Arrivals- ("DACA"). To accommodate these questions, we will be hosting a presentation on DACA on Thursday, September 27, 2012 at 6 PM at the Fillmore Senior Center.
As you may have read, President Obama has provided a relief process for eligible undocumented youth. Under directive from the Department of Homeland Security, DREAM Act eligible youth will be given a type of temporary permission to stay in the U.S. called "deferred action for childhood arrivals." DACA will be valid for two years and may be renewed at the end of two years. Individuals who receive deferred action may apply for and may obtain employment authorization. The federal government began accepting deferred action requests on August 15, 2012.
Santa Clara Valley Legal Aid has invited immigration attorney Gabriella Navarro-Busch and a team of immigration attorneys to do a presentation to our community about DACA. The presentation will include DACA eligibility, process, how it incorporates the Dream Act, red-flags, how to apply. The presentation will be an overview of the program and then immigration attorneys will be available one on one to meet with people. This event is free of charge and child care will be provided.
Santa Clara Valley Legal Aid Presents:
DACA Immigration Policy Program
Immigration Attorney Gabriella Navarro-Busch
Thursday, September 27, 2012 6 PM
Fillmore Senior Center, 533 Santa Clara Street, Fillmore, CA
Presentation will be in Spanish with translation to English available
Thank You.
Laura Bartels, Director
SANTA CLARA VALLEY LEGAL AID
805-524-1934
By Gazette Staff Writer — Monday, September 24th, 2012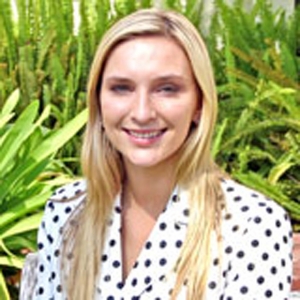 Chloe Keller
Camarillo, CA - Chloe Keller, a 19-year-old Liberal Studies major from Fillmore, is the 2012-2013 CSU Channel Islands (CI) recipient of the prestigious William Randolph Hearst/CSU Trustees' Award for Outstanding Achievement. The $3,000 award, given to one student at each of CSU's 23 campuses, recognizes students with financial need who have overcome significant hardships to excel in academics, community service and personal achievements.
Keller maintains a 3.5 GPA while taking 19 units (6 classes), working part-time at a restaurant, and serving as a mentor to underprivileged and underrepresented students through CI's LEAP (Leaders in Educational Awareness) and EOP (Educational Opportunities) programs. A Liberal Studies major, she is weighing future careers as a teacher or doctor.
"I'm so grateful to be awarded this scholarship," Keller said. "Without the help of scholarships like this, I would be unable to go to college. This allows me to really take advantage of my education and focus on my studies without the added stress of having to work multiple jobs."
Keller worked three CONTINUED »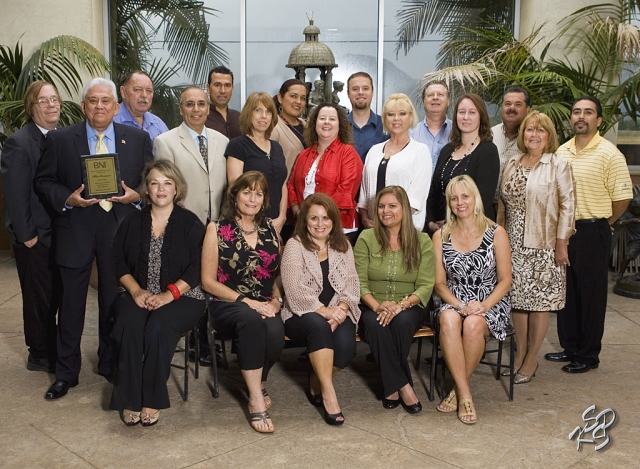 1st row: Leslie McAdam, Attorney with Ferguson, Case, Orr, Paterson; Terri Aguirre, Secretary/Treasurer and with Legal Shield & Identity Theft; Theresa Robledo, President and with Diamond Realty; Ari Larson, Vice President and with Cookie Lee Jewelry; Tammy Hobson with Livewell International. 2nd row: Mark Dominguez, Area Director and with Law Offices of Peyman & Rahnama; Joe Aguirre with Aguirre Financial Services; Valerie Richards with Farmer's Insurance; Susan Wilson with Mary Kay Cosmetics; Alma Gabaldon with Gabaldon Construction; Melanie Fiers with Nerium; Cathy Odle with Original Computer Services, LLC. 3rd row: Charles Morris with KSSP Photographic Studios; Troy Helton, Jr. with Troy Helton, Jr. HVAC and Electrical; Miguel Mercado with Fillmore Auto Electric; Norma Mercado with Heavenly Gifts; Blake Allred with Country Club Mortgage; Larry Holt with SketchPad; Arnaldo Salazar with Salazar Landscaping; and Lupe Carrillo with Santa Fe Commercial Insurance Services.
Enlarge Photo
By Gazette Staff Writer — Thursday, September 20th, 2012
Celebration for reaching $1,000,000 status of business passed throughout our local heritage valley chapter!
On September 13, 2012 BNI Heritage Valley celebrated a milestone in their chapter. This chapter has reached $1,000,000 of business referrals passed within the chapter and the total is rapidly climbing. There are dedicated professional in the group that are very serious about networking and that is what makes this chapter prosper.
BNI - Business Network International is a business and professional marketing program whose primary purpose is to exchange qualified business referrals. It is the most successful organization of its type in the world today, with nearly 6500 chapters in operation in 49 countries. Last year, BNI passed over 6.2 million referrals resulting in more than $2.6 billion U.S. dollars worth of business for our participants. Our uniqueness is that there is only one person per business category and we are a sales team devoted to passing referrals to one another.
Locally our chapter meets at El Pescador in Fillmore every Thursday at 7:30 a.m. to 9 a.m. If you know of someone who is looking to take their business to the next level, please have them visit our chapter or contact Theresa Robledo at 805-625-4450 email: Theresa@DiamondRealtyTeam.com or Ari Larson at 805-794-7590 email: petenari55@hotmail.com
By Gazette Staff Writer — Thursday, September 20th, 2012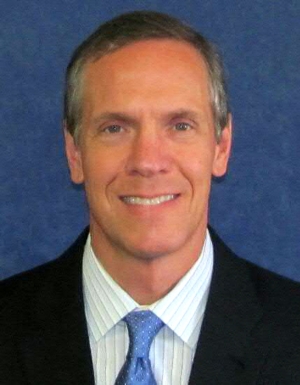 Ventura, CA - Community Memorial Health System welcomes Wilfred G. Garand as its Vice President of Planning and Managed Care, replacing Michael Lurie who retired after over 30 years of service to Community Memorial Health System.
Will comes to CMHS with 20 years experience at hospitals and healthcare systems in the Southern California area.
In his position, Garand will focus on managed care payer relationships and negotiations/re-negotiations of related payer arrangements, as well as providing leadership of business development activities and strategic planning process.
Will received his Masters in Health Information Management and MBA from Claremont Graduate University, and his Bachelor's Degree in Industrial & Labor Relations from Cornell University, New York and is a member of:
• The Healthcare Roundtable/Managed Care and Revenue Officers
• Health Care Financial Management Association (HFMA)
• Healthcare Association of Southern California (HASC)
• Voluntary Hospital Association (VHA)
Community Memorial Health System is a not-for-profit health system, which is comprised of Community Memorial Hospital, Ojai Valley Community Hospital, and eleven family-practice health centers entitled Centers for Family Health. The health system is located in Ventura County, California.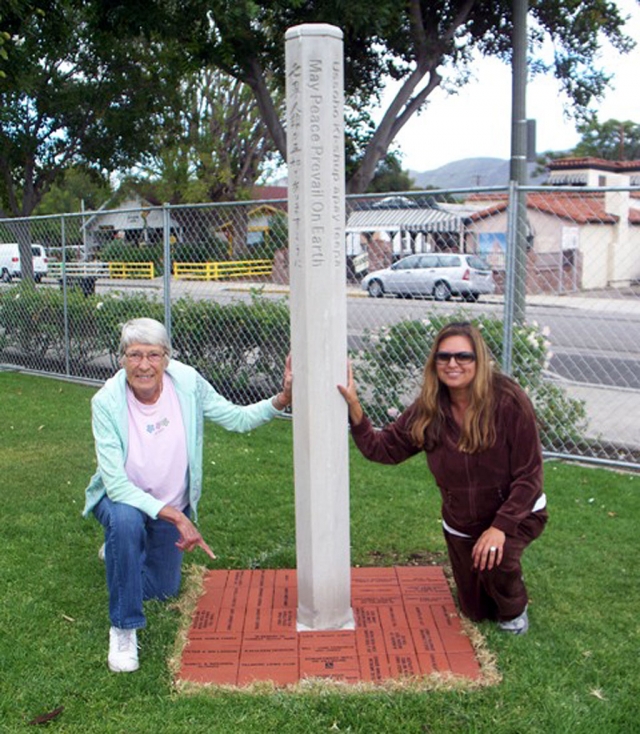 (l-r) Sarah Hansen and Ari Larson, President of Soroptimist International of Fillmore by the Peace Pole located in the front of Fillmore City Hall.
Enlarge Photo
By Gazette Staff Writer — Wednesday, September 19th, 2012
DATE: Friday, September 21st
TIME: 5:30 P.M.
LOCATION: At the Peace Pole in front of the Fillmore City Hall on Central Avenue.
A Peace Pole is recognized as a symbol of peace throughout the world. The International Day of Peace began in 1932 through a United Nations proclamation, "devoted to commemorating and strengthening the ideals of peace both within and among all nations." It was expanded in 2001 to a call for a day of global cease fire and nonviolence.
In 2010, the Fillmore Peace Pole was installed. The community of Fillmore gathered together for a special dedication ceremony. Many members of the community contributed donations to make the purchase possible. All ages met at different locations throughout Fillmore to make paper cranes and at the ceremony one thousand cranes were beautifully draped over trees and bushes.
The pole is made of limestone and stands seven feet above ground. The words, "May Peace Prevail on Earth" are translated into 6 other languages and Braille as well.
Please join us for a short commemorative celebration to honor International Day of Peace this Friday, September 21st at 5:30 p.m. All are welcome!
For more information please contact Sarah Hansen at 524-0132.
More than ever, Peace is needed in our schools, communities, our country, and the world.
By Gazette Staff Writer — Wednesday, September 19th, 2012
In April 1960, the newly formed League of Women Voters Ventura County held one of its first Candidates' Forums for Ventura city council candidates. The Voter Service spokesperson for the League said, "After looking at the sample ballot for Tuesday's city council election, we feel that the only way voters can make an intelligent decision on the 12 candidates running for office is to see, hear and question them." An article in the local newspaper urged citizens to attend the forum to combat "voter apathy".
Forward 50 years and the League of Women Voters Ventura County is still providing candidates' forums to combat voter apathy and provide citizens with an opportunity to "see, hear and question them". Helen LaMonte, Voter Service Director, has announced the following schedule of candidates' forums for several cities of the county. Citizens are urged to attend the forum in your community and meet the people seeking office.
The following candidates' forums have been scheduled:
Fillmore City Council, City Clerk & City Treasurer Candidates' Forums on Wednesday, September 26th from 6:30 - 8:45PM at the City of Fillmore City Hall, 250 Central Avenue, Fillmore
Helen LaMonte, LWVVC Voter Service Director
By Jordyn Vassaur — Wednesday, September 19th, 2012
Fillmore High School has been very busy since this school year started on August 22, 2012. We had a super successful homecoming last week where our football team beat the Village Christian Crusaders 35-17. Flashes Arcade was this year's homecoming theme and the senior float won 1st place, the freshmen 2nd, the juniors 3rd and the sophomore 4th. On another note, this week is Santa Paula week with the big rivalry game on Friday! Make sure you buy your tickets for the game before they sell out! You can purchase your tickets at the high school in the student store from Lynn Cole. GO FLASHES!
By Gazette Staff Writer — Wednesday, September 19th, 2012
Local attorney John Scoles of Taylor, Scoles, and Bartels, was an honoree during a weekend filled with events in Corvallis, Oregon, when the 1962 Oregon State University (OSU) football team, coached by football legend Tommy Prothro, was inducted into the University's Football Hall of Fame.
Scoles attended OSU on a football scholarship on the 1962 team, which was one of the most successful football teams in the history of the OSU program. The 1962 team posted a 9-2 record , including wins over archrival University of Oregon, 12th ranked Stanford,19th ranked West Virginia, Iowa State, Washington State, Idaho and Colorado State. The 1962 team, quarterbacked by Heisman winner Terry Baker, the first player to win the Heisman west of the state of Texas, won the Liberty Bowl contest in a defeat of Villanova in the Fourth Annual Liberty Bowl.
John had a chance to visit with many of his teammates, most of whom were just the tiniest bit disappointed not to be called upon to suit up for the game with Wisconsin which, even without the help of the 1962 team on Saturday, defeated Wisconsin 10-3.
By Gazette Staff Writer — Wednesday, September 19th, 2012
Student/faculty exhibit highlighting Mexican farm laborers will be displayed at new farmworker family housing community built on historic labor campsite
Camarillo, CA - A powerful exhibit created by CSU Channel Islands (CI) students and faculty that presents the history and legacy of Mexican farmworkers known as "braceros" has found a fitting home. "The Braceros of Ventura County" will go on permanent display this fall at Piru's Valle Naranjal, a new farmworker housing community built on an old bracero campsite.
Built by Cabrillo Economic Development Corporation, Valle Naranjal will provide state-of-the-art rental housing for 66 low-income farmworker families. The community brings new life to the historic site of the Piru Labor Camp, known as "El Campo," which housed thousands of workers during the largest guest-worker program in U.S. history. From 1942-1964, the bracero program brought more than 4.5 million Mexican workers into the U.S. – more than 20 percent of them to Ventura County.
The CI exhibit documents their stories in posters, photos, replicas, artifacts and interactive displays. A multi-year project of CI Professor of Chicana/o Studies Dr. Jose Alamillo and his students, the exhibit has been revamped to reflect the history and setting of its new home in Piru.
"The location on CONTINUED »
By Gazette Staff Writer — Tuesday, September 18th, 2012
Ventura, CA - In recognition of Breast Cancer Awareness Month, Community Memorial Health System is offering low-cost early breast cancer detection services to women who schedule a screening mammogram during October through the Breast Center at Community Memorial Hospital and Ojai Valley Community Hospital. The cost is $65.
In addition, our Healthy Women's Program provides early breast cancer detection and surgical intervention for uninsured or underinsured women who qualify.
Early detection and awareness is key in the battle against breast cancer. To schedule a mammogram call Community Memorial Hospital at (805) 652-5093 or Ojai Valley Community Hospital at (805) 640-2250. Digital Mammography is available in Ventura.
Community Memorial Health System is a not-for-profit health system, which is comprised of Community Memorial Hospital, Ojai Valley Community Hospital, and eleven family-practice health centers entitled Centers for Family Health. The health system is located in Ventura County, California.
By Gazette Staff Writer — Monday, September 17th, 2012
By Gazette Staff Writer — Monday, September 17th, 2012
Bring a light pot luck dish and any celebratory items or contributions (i.e. songs, dances, instruments, etc.)
When: Fri, September 21, 6:30pm – 7:30pm GMT-07:00
Where: Fillmore's Health and Wellness Center
Looking forward to seeing you there! Valerie and Janine
By Gazette Staff Writer — Monday, September 17th, 2012
Please Cast Your Vote
Rancho Camulos Museum has been nominated to receive a grant from the Chase Community Giving program sponsored by Chase Bank. It takes just a few moments to cast your vote, and it could result in a substantial financial award for RCM. Here's how it works.
1. Copy this link in your browser:
http://apps.facebook.com/chasecommunitygiving/charity/view/ein/77-037995...
2. The link will take you to the Chase Community Giving Facebook page.
3. Click on the Vote Now button (below the photo of the whale)
4. Type in Rancho Camulos Museum in the Search Charities box
5. Click Vote and follow the instructions.
5. Share the e-mail addresses of friends and family and ask them to vote for RCM.
6. Voting ends September 19th, so please act quickly!
Grant recipients will be determined by the non profits that receive the largest share of votes. If you have any questions, please let me know. Thanks for your participation.
Susan Falck
Manager, Rancho Camulos Museum
By Gazette Staff Writer — Monday, September 17th, 2012
The Fillmore Ebell Club is welcoming the Fillmore Quartet to a new year of entertainment.
The Fillmore Quartet have been singing together for about 8 years. They are currently under the direction of Bob Dudley or Lin Thomas. Also in this foursome are Don Mosbarger and Bill Zelmer. Peggy Boblet accompanies them on the piano. They are well known in Fillmore and have performed at many churches, birthday parties, Bardsdale Memorial Ceremony and other functions. They will be performing secular, patriotic and Christian songs.
Our group meets at 12:30 for lunch catered by Rose Zelmer and following a short business meeting are entertained. If you would like to join in the festivities on September 25th at the Memorial Building please call Lavonne Deeter at 524-2090.
By Gazette Staff Writer — Wednesday, September 12th, 2012
By Joe Woods — Wednesday, September 12th, 2012
The Fillmore High School Sports Hall of Fame will have the Class of 2012 weekend on September 14th and 15th. On Friday the 14th at the Santa Paula vs. Fillmore 102nd Football game at Fillmore, the Hall of Famers past and present will be introduced before the game.
On Saturday the 15th the Hall of Fame Ceremony will be open to the public at no cost thanks to the donations and The Fillmore High School Sports Hall of Fame Golf Tournament. Fillmore High School will open the two gates on Central Ave at six p.m. so that the public my view the Hall of Fame and the gymnasium, where they my view all of the Fillmore High Schools League, C.I.F. Banners, plus the Fillmore High School Hall of Fame wall. The gates at the High School will close at 6:45 p.m.
The Hall of Fame Ceremony will be held at the Memorial Building at Central Ave. and 2nd Street at 7 p.m. The Fillmore High School Sports Hall of Fame Club Members will serve as guides to help the public out to find their way throughout the night.
The Class of CONTINUED »