Fred Ponce Sr. Named Grand Marshal for 39th Annual Piru Christmas Parade
By Gazette Staff Writer — Thursday, December 8th, 2016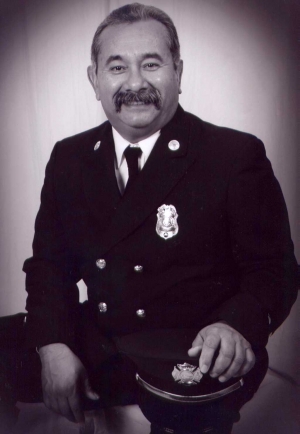 Fred R. Ponce Sr.
The 39th annual Piru Christmas Parade welcomes all entries, including last minute people! Check-in is at San Salvador Mission on Center Street beginning at 12 p.m. for a 2:00 parade. There is no fee for entry. Post-parade activities in the Piru Train Depot area include the Fillmore High School Band and Mariachi Group, food (of course), pictures with Santa, raffles, and a horseshoe tournament. Piru River Band will begin their set at the depot about 2:30 when FHS bands finish. Celebrate the season with us!
Grand Marshal Fred R. Ponce Sr. Biography
I Grew up in the community of Piru, Graduated from Fillmore High School in 1972. I worked in Aerospace in Santa Clarita for 18 years. On April 3, 1972 at the age of 18 I became a Reserve Firefighter for Ventura County Fire Department working out of Piru sta.28 and Fillmore sta.27. On February 4, 1991 I accomplished my goal and was hired as a full time firefighter for Ventura County Fire Dept. During my career I worked at El Rio sta. 51, Port Hueneme sta. 53, Fillmore sta. 27 and Piru sta.28. I also held other positions as a Public Information Officer, Recruiter, Fire Cadet Coordinator and being involved with the Spark of Love Toy Drive for the Christmas Holidays.
On October 1, 2000 I was promoted to the position of Fire Engineer assigned to Piru sta.28. In 2002 I was selected and recognized, Firefighter of the Year for Battalion 5. The last 15 years of my career I worked at sta. 28 in Piru. I wanted to give back to the community that I grew up in, by being involved with the community and helping the citizens of Piru. I was the Fire Dept liaison working with Piru Neighbor Council; I assisted with organizing and instructing the first Piru Cert Team. On March 28, 2016 I retired with 25 years of service with Ventura County Fire Department.
Now I enjoy traveling with my wife Yvonne, camping, fishing and BBQ's with family and friends. My parents are Raymond and Elma Ponce of Piru. I have 4 children Daughter Romie Ponce, sons Fred Ponce Jr., Ray Alvarado and Joseph Ponce. Three step children daughters Susie Sandoval and Veronica Stone, step son Antelmo Sandoval and 15 grandkids.