Laptops Level the Playing Field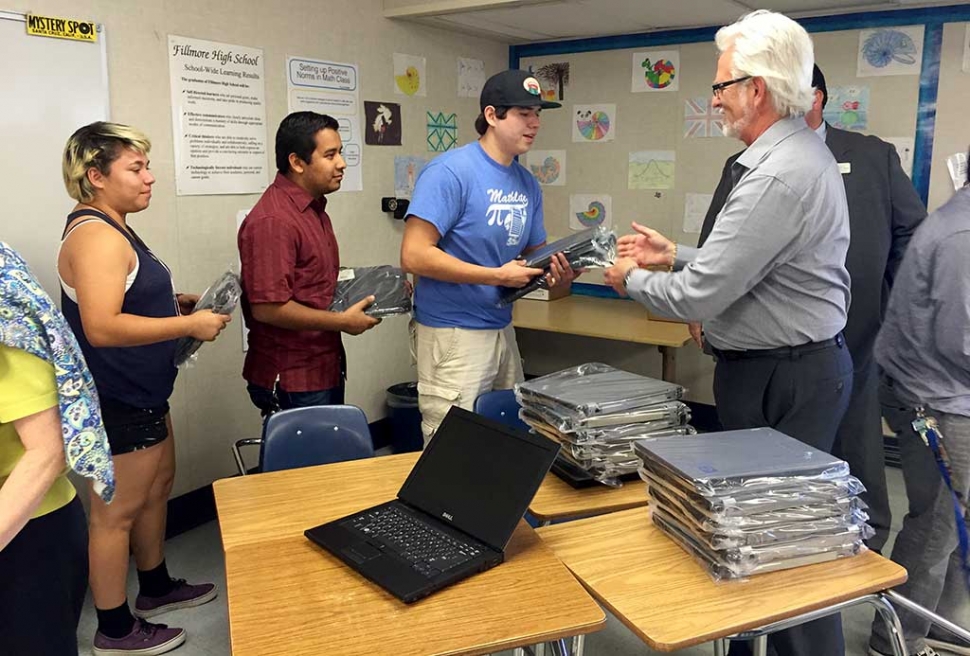 Jim Vigdor, Alcoa, Simi Valley, passes out laptops on behalf of the Alcoa Foundation.
By Gazette Staff Writer — Wednesday, December 21st, 2016
Story and Photo courtesy of Marybeth Jacobsen
'Tis the season to be jolly, and 45 students, from 14 Ventura County high schools, are very jolly this holiday season. This month, they each received a Dell Latitude laptop complete with a Microsoft Office Suite software package, carrying case, flash drive and 4 year warranty.
A $15,000 grant from the Alcoa Foundation made the Workforce Education Coalition's ("WEC") Laptop Advantage program possible.
Students who received laptops submitted a teacher recommendation and an essay about why they need a personal laptop. WEC President, Marybeth Jacobsen, said that, "The essays demonstrated how bright and motivated to succeed these students are. Based on the students' essays, it's clear that the Alcoa grant made it possible for us to positively change some young people's lives. "
Because they now have the tools that they need to excel, these students will no longer be at a disadvantage when they walk into a classroom. The new laptops permit them to carefully complete and submit on line homework, do research, write reports, create PowerPoint presentations, and complete college and financial aid applications.
Next year, the WEC hopes to continue its Laptop Advantage program and to add graphing calculators to the gifts awarded to students. Anyone who would like to support the WEC's work should contact Marybeth Jacobsen at WorkforceEC@gmail.com.