By Mariandrea Mueller — Wednesday, February 4th, 2009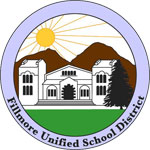 Fillmore Unified School District
The open session of the Fillmore Unified School District (FUSD) Board meeting was February 3, 2009, at 6:00 p.m. in the Board Room at the District Office. The Board discussed actions they are taking to ensure that FUSD has enough money to operate, and heard a report on FUSD's independent study program.
Sierra High School Principal Tony Held presented a report on the independent study program. There are currently 32 students in the program: one Fourth Grader, two Eighth Graders, one Freshman, and multiple Juniors and Seniors. Eleven students are scheduled to graduate this year: six before June and five in June. Graduation requires 230 credits, and the students are limited to 40 credits per semester. Fillmore High School (FHS) students usually take 30 credits per semester. Held noted that the program is not easy. Each independent study student meets with the teacher weekly, and is assigned a work packet designed to be completed in approximately 20 hours. The teacher, who covers all subjects but has a slight weakness in math, is available to answer questions throughout the week. Held explained that there is no money in the budget for an FHS math teacher to help out, and that volunteer peer tutors have so far not been available. CONTINUED »
Pictured above are the three finalist in this years Spelling Bee: Lupita Perez, Dillon Galarza, and Emma Godfrey. Congratulations!
Enlarge Photo
By Anonymous — Wednesday, January 28th, 2009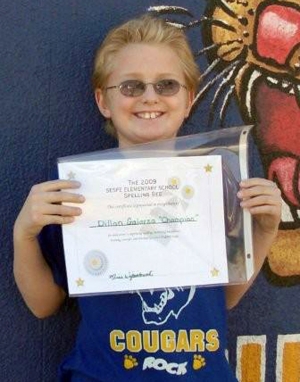 Dillon Galarza takes first place in Scripps National Spelling Bee.
For the first time in Sespe school history, there was a three-way tie for the annual Scripps National Spelling Bee competition. Twelve students were vying for the championship this year. The competitors consisted of Fifth Graders Anthony Cardoza, Emily Garnica, Sereth Malagone, Lu pita Perez, and Serena Rivas. The Fourth Grade competitors were Viviana Ceja, Brenda Delgado, Dillon Galarza, Emma Godfrey, Alana Juarez, Gerardo Sandoval, and Leighanne Thompson.
The Spelling Bee was open to all fourth and fifth graders, but in order to be a contestant, a student needed to pass a written spelling test with a score of 80% or better.
Once the test was over, fourteen of about fifty students remained but two of them needed to opt out, leaving twelve.
The remaining twelve contestants were each issued a Merriam-Webster 2009 "Spell It!" book containing the official spelling bee words. The book contains fourteen word lists from Eponyms (words based on a person's or character's name) to thirteen different language origins; Latin, Arabic, Asian Languages, French, German, Slavic Languages, Dutch, Old English, New World Languages, Japanese, Greek, and Italian. CONTINUED »
By Joyce Schifanelli — Wednesday, January 28th, 2009
Fillmore's new $1.1 million skateboard park is the centerpiece a 22-acre multi purpose Community Park, a vision presented by City officials eight years ago. The skate park, in Phase I of the 22,000 total square foot Community Park, is located at C and River Streets. It has attracted record crowds from as far away as Santa Barbara and San Diego along with local skaters of all ages and experience levels since its unofficial opening on December 22, 2008.
Reviews on the skateboard park have been very favorable! The superiority of the state of the art facility is credited in part to 15 year-old Christian Conaway, multi-medalist street- luge racer including, 1st place in the North American Championships and 6th place in the World Championships in 2008, and his association with skateboarding legend Jeff Tatum. Tatum's consulting and design expertise together with Scott Price of Community Works Design Group, and builders, California Skateparks, led to scrapping original plans for a wooden structure, and creation of the concrete facility. Councilman Steve Conaway, former Mayor of Fillmore, was an aggressive proponent of the project. Although father and son are both skateboarders, the senior Conaway who "long boards" for recreation only admits, "my greatest trick is to not fall. Sometimes I succeed." CONTINUED »
By Dick Diaz — Wednesday, January 28th, 2009
Yeoman Petty Officer 2nd Class Claudia Toledo, USN Active Reserves received the Department of the Navy's "Navy and Marine Corps Achievement Medal" during a ceremony at Port Hueneme! Yeoman Petty Officer 2nd Class (YNPO2) Claudia Toledo received this award on December 7, 2008 for her professional achievement in the superior performance of her duties while serving as a Yeoman Clerk with Navy Cargo Handling Battalion 14 stationed at Port Hueneme. YNPO2 Toledo's battalion is a component of the Naval Expeditionary Logistics Support Group located in Williamsburg, Virginia where YNPO2 Toledo is now attending an advanced training class. Yeoman Petty Officer 2nd Class Claudia Toledo joined the Navy Reserves in 2003 and she is the daughter of Ignacio and Maria Toledo of Fillmore and the mother of Salma 9yrs. Maria and Salma will be traveling to Virginia soon to visit YNPO2 Toledo while she attends her courses. CONTINUED »
Pictured (l-r) Sammy Estrada, Mrs. Dressler, Perla Chavez Hernandez, Taylor Wright, Destiny Alonzo, Cindy Klittich, and Mayor Patti Walker. The children above are the winners of the essay contest sponsored by the Fillmore Civic Pride Committee.
Enlarge Photo
By Mariandrea Mueller — Wednesday, January 28th, 2009
The Fillmore City Council Meet January 27th, 2009
Employee of the July-September 2008 Quarter Angela Mumme.
Enlarge Photo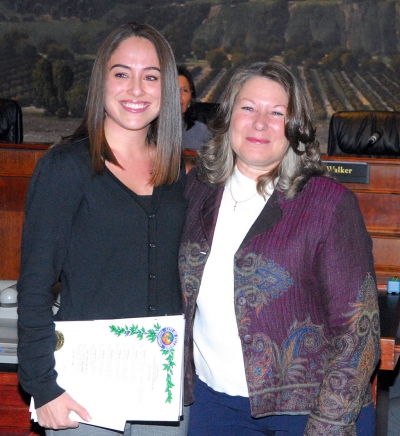 Mayor Patti Walker, on behalf of the Council, presented the award to Angela Mumme.
Enlarge Photo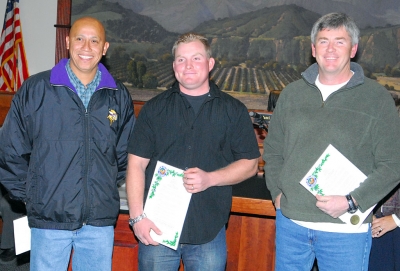 Pictured above are City of Fillmore's Employee's of the Quarter for October - December: Arnold Castaneda, David Brown and Joe Zuniga.
Enlarge Photo
Fillmore City Council met at 6:30 p.m. Tuesday, January 27, 2009 at City Hall. Council Member Laurie Hernandez was absent. The Council honored certain city employees, recognized winners in a student essay contest, received updates on the Central Ave. Storm Drain Project, adopted safety laws for the new skate park, and discussed the Special Projects Manager position.
Mayor Patti Walker, on behalf of the Council, presented awards to city employees. Employee of the July-September 2008 Quarter was Angela Mumme for her outstanding work, positive attitude, and friendly disposition. Employees of the October-December 2008 quarter were Joe Zuniga, Ray Morales, Jaime Magdaleno, Arnold Castaneda, and David Brown. Those five employees were called to duty on New Year's Eve to repair a broken water main. Water was restored by morning. Employee of the Year 2008 was Angela Mumme. She responded, "I'm flattered considering the quality of the people I work with."
Judy Dressler, Chair of the Vision 2020 Civic Pride Committee, presented awards to winners of The Fillmore Civic Pride Essay Contest. The contest was open to 4th and 5th Grade students who submitted 200-word essays on "Why I Like Living in Fillmore." Liz Ocampo won First Place. Diego Aparicio Rodrigues won Second Place. Mirella Lemus won Third Place. Honorable Mentions were received by Perla Chavez-Hernandez, Sammy Estrada, Andrea Diaz, Destiny Alonzo, and Taylor Wright.
Deputy City Manager Bill Bartels said that Central Ave. will be re-opened Monday February 2nd. Crosswalks will be restored before the project to repave Central Ave. from Sespe St. to Highway 126 starts. The project has gone out to bid and paving will occur in late April or early May. Rubberized asphalt will be used. Because the price of asphalt has decreased, the city will also make sidewalk repairs. Large signs advertising downtown Fillmore have gone up adjacent to Highway 126. CONTINUED »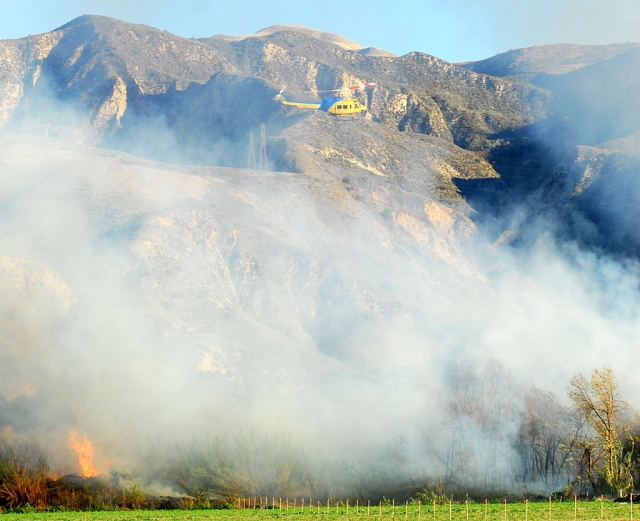 Last Saturday at around 7:30 a.m. a fire broke out in the Santa Clara riverbed. The fire burned about 5 acres, but was contained by 10:00 a.m., even with the Santa Ana winds. Several fire departments and other agencies were called out including a helicopter to help extinguish the flames.
Enlarge Photo
By Anonymous — Wednesday, January 21st, 2009

School Board meeting January 20th, 2009.
Enlarge Photo
By Mariandrea Mueller — Wednesday, January 21st, 2009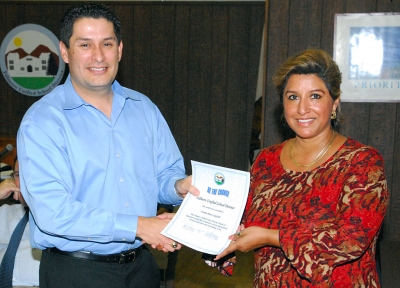 School Board President John Garnica with Norma Perez-Sandford. Perez-Sandford received "Be the Change" certificate at Tuesday night's meeting.
Enlarge Photo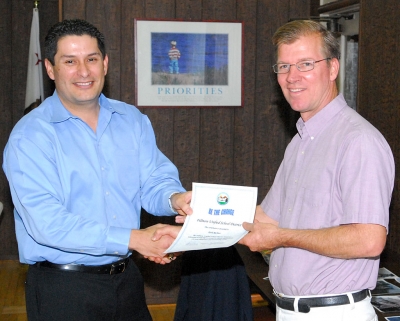 School Board President John Garnica with Kirk Richter. Kirk Richter received "Be the Change" certificate at Tuesday night's meeting.
Enlarge Photo
The open session of the Fillmore Unified School District (FUSD) Board meeting was January 20, 2009, at 6:00 p.m. in the Board Room at the District Office. The Board presented awards to Norma Perez-Sanford and Kirk Richter, discussed grading policies, heard Sespe Players' proposal for facilities' use, approved an e-rate proposal, heard a budget update, and discussed Fillmore High School (FHS) track and field use.
Sierra High School (SHS) Principal Tony Held introduced Norma Perez-Sanford, school counselor for SHS and FHS. Perez-Sanford said that she was guided by God, she loved the community and her work, and was honored. She spoke about the importance of mentors and role models in school. FHS Principal John Wilber introduced FHS teacher Kirk Richter. Richter started a Ventura College agriculture class at the high school to simultaneously teach students landscaping and improve the appearance of FHS's campus. He hopes that the class will continue in the fall. Board President John Garnica, on behalf of the Board, presented "Be the Change" certificates to both honorees for their outstanding work.
Principal Wilber and FHS Counselor Al Arguelles presented FHS's policy on credits and grading for Advanced Placement (AP) and College courses. The policy was designed to encourage students to go to college, and help them get there. AP courses receive an extra .5 credit for calculation of GPA. College courses that are transferable to universities in the U.C. system receive an extra .5 credit and college units for those courses are multiplied by 3.3 to determine the number of high school units credited. According to Board Policy 5127, Honors classes count A's as 5 points, B's as 4 points, etc. There was some controversy in the discussion regarding the rigor of various courses, and whether GPA rankings could be manipulated by a student's choice of classes. Garnica noted that the top 5% of the graduating class is guaranteed admission to a U.C. school. Arguelles explained that students and parents are aware of their options, and that colleges consider transcripts, which list the specific classes taken, when making admissions decisions. CONTINUED »
By Joyce Schifanelli — Wednesday, January 21st, 2009
Government, whether federal, state or local, can be a tricky, rewarding, discouraging, interesting and most often, adverse business. Those who venture into its' realm, whether elected or contracted, are expected to be intelligent, engaging, thick skinned, eloquent, able to compromise, responsible, and have at heart, the best interest of the people they serve. Even in our little town, can one deny that the decisions and actions of our leaders affect thousands of lives in innumerable ways for decades?
This past November, election of a new president with a different message, and numerous state, county and local officials, greatly changed the political landscape and ultimately styles of governing. As obvious as the nationwide call for change in governance, it is also evident that Fillmore's citizens desired change by voting in two new City Council members, the engine for a new Mayor, and a new City Clerk.
Absent the usual political honeymoon, officials in Fillmore, whether returning or new, have in this new year, quickly gotten down to the business of governing our town. However, the early weeks of this young administration have not passed without issue. One notable area of contention exists between City Manager, Tom Ristau, 19-year employee of the City serving nearly 4 years in his current position, and recently elected City Clerk, Clay Westling, a retired, aerospace veteran of 39 years, with 20 years on the job as a program manager of multi million dollar assets. While the City Manager's duties are generally obvious, management of the substantial and intricate workings of the City, who, except those familiar with government, knows the duties of the City Clerk?
In past years, the office of the City Clerk of Fillmore has been low keyed. Legally prescribed responsibilities of the Fillmore office briefly include: keeping accurate books and indexed records of proceedings, publications and postings on time and in appropriate places, keeping certified records of ordinances, custodian of City records and the City seal, appointment and direction of Deputy City Clerks to aid in the completion of work. CONTINUED »
By Anonymous — Wednesday, January 21st, 2009
On January 19,2009 at approximately 0617 hours, Santa Paula Police Officers responded to the Santa Paula Von's Market, located in the 500 block of W. Main St. regarding an armed robbery.
Upon arrival of Officers, it was confirmed that a robbery occurred. Store employees reported that an unknown male subject entered the store and brandished a handgun. The suspect then tied two employees' hands behind their backs and took an unknown amount of cash. The suspect was last seen running westbound on Harvard Boulevard.
A search of the area by SPPD Officers was negative in locating the suspect. SPPD Investigators responded to the scene and took over the investigation.
During the course of the investigation, Peter Khalil Zepeda aka Peter Zepeda 29 years, a Santa Paula resident was identified as the suspect. He was recognized from the store surveillance photos by several SPPD personnel even though he was disguised as an overweight elderly male with a fake white beard. CONTINUED »
At Tuesday night's City Council meeting the Fillmore Flashes Football team was presented a plaque for a successful season. Pictured above (l-r) Coach Matt Dollar, Christian Prado, Ralph Sandoval, Mayor Patti Walker, Victor Moreno and David Esquivel.
Enlarge Photo
By Mariandrea Mueller — Thursday, January 15th, 2009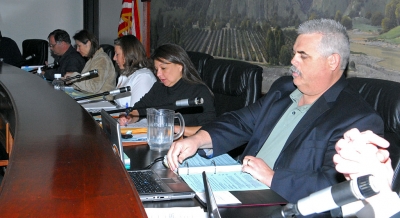 Council members all worked long into the night taking care of city business.
Enlarge Photo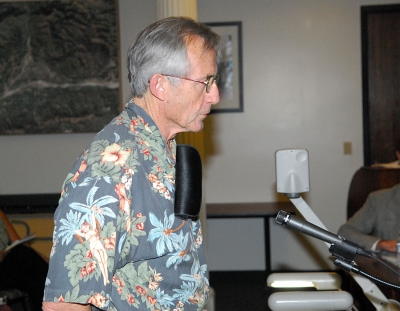 During Tuesday night's council meeting, John Scoles spoke in regards to allowing the community to have access to the high school's all-weather track. As it stands the public is not allowed to run on the track.
Enlarge Photo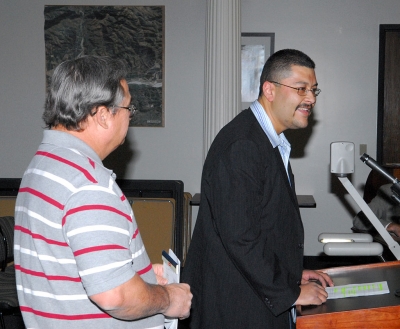 Local pastors Bob Gartner and Ernie Rangel were in attendance at Tuesday night's council meeting. Rangel and Gartner asked the council to waive the fee's for their event that will be held at Delores Day Park, February 15. The Fillmore Area Misterial Association will be hosting festivals to reduce crime and violence in Fillmore.
Enlarge Photo
Fillmore City Council met at 6:30 p.m. Tuesday, January 13, 2009 at City Hall. The meeting lasted approximately 6 hours before going into executive session. Almost 10% of the agenda was postponed to future meetings, but the new Council is becoming substantially more efficient with each meeting. The Council heard City Clerk Clay Westling, honored the Fillmore Flashes Football Team, received updates on downtown signage, made plans to modify the Housing Element, discussed safety laws for the new skate park, and supported upcoming community events.
City Clerk Clay Westling presented a proposal intended to specify his responsibilities and request the Council's help in implementing new procedures and policies regarding those responsibilities. After extensive discussion and some compromises on both sides, the Council and Westling reached an agreement. Westling and City Manager Tom Ristau will meet after City staff's Agenda Preparation Meetings, so that Ristau can receive input from Westling on how to make each Council Meeting Agenda more readable to ordinary citizens. The Council decided to require staff to provide agenda packets by the Wednesday evening a week prior to the City Council Meetings, so that council members have time to ask questions and receive answers about agenda items before the meetings.
Westling and Ristau will cooperate to find a staff member who is willing to be Deputy City Clerk and allow Westling to provide some sort of input on his or her performance review. Ristau will familiarize Westling with the locations of City records. City staff has provided Westling with a workspace in City Hall, where he will be on weekday mornings at 10 a.m., and access to a private conference room as needed. Some issues were tabled to gather more information for future discussion.
The Council authorized City Manager Tom Ristau to enter into a contract amendment with HDR Engineering so that the Housing Element could be modified to accommodate Measure I. The amendment is not to exceed $16,500.The California Department of Housing and Community Development requested major revisions, including the identification of where the units removed from the North Fillmore Specific Plan could be located. Fillmore will host a second Housing Element Workshop at 6 p.m. on January 28th. CONTINUED »