By Anonymous — Wednesday, January 20th, 2010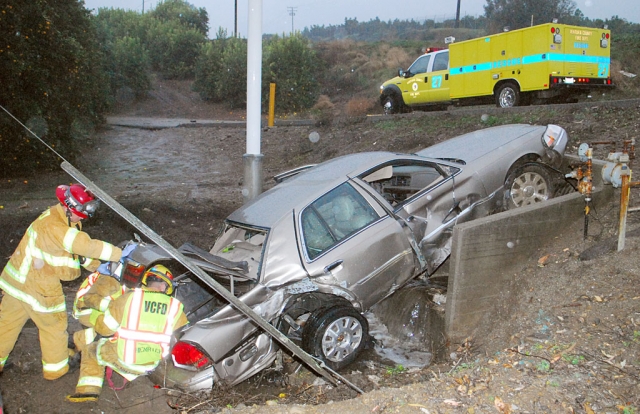 Weather related accidents pile up. Sunday, at approximately 5 p.m., the driver of this car was eastbound when he lost control of his vehicle and dropped down a 25-foot embankment near Atmore Road off Highway 126. The car then clipped several lemon trees, destroyed a steel pipe gate, struck a paved work road, and proceeded down another 15-foot embankment, crashing into a creek. The car then spun around 90 degrees, narrowly missing a power pole, ending up wedged into a concrete culvert, inches away from a high-pressure natural gas pipeline. The driver suffered a few minor scratches to his hand. No passengers were involved.
Enlarge Photo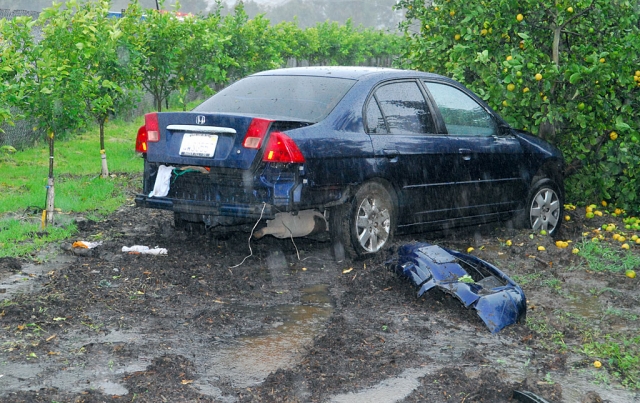 Monday, early afternoon, this Honda Civic was involved in a two-car collision on Highway 126, also near Atmore Road. The car crashed over a ditch, through a heavy steel fence and approximately 100 feet into a lemon orchard. The other vehicle seemed to sustain minor damages. Cause of the accident was not available at press time. No serious injuries were reported.
Enlarge Photo
By Anonymous — Wednesday, January 20th, 2010
After little more than a day's rainfall the Sespe Creek begins to roar. The day before only a trickle flowed through a parched, boulder creek bottom. By afternoon of the second day, a U.S. Geological Services (USGS) team measured the flow under the Old Telegraph bridge traveling past a 12-foot deep area, at 10-feet per second. The next storm will greatly increase the flow.
Enlarge Photo
By Carol Wilson — Wednesday, January 20th, 2010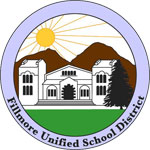 Fillmore Unified School District
Fillmore Unified School District Trustees have learned that the district needs $2.2 million dollars to break even next year.
Mike Bush, Assistant Superintendent for Business told the board at this weeks meeting that "We're dead with less." He went on to say that it's expected that the state will take away at least $2.1 million dollars to help make up for the state budget deficit. Bush added that if the state takes the additional money, that means that the state will have cut the Fillmore school budget by 20 percent over the past three years. This equals $3.6 million dollars. Bush said the state budget is $19.9 billion dollars "Out of whack."
Board member John Garnica noted that California has the lowest credit rating in the country and he pointed out that California has dropped to last place in spending per pupil for education.
Bush also brought to the board the issue of insurance costs for district employees. The district now pays all the costs of the HMO Blue Shield Access Plus and the staff members may choose to purchase a Blue Cross PPO plan. He suggested the district switch from the Access Plus plan to Blue Shield Net Value. This plan would save the school district $150 per month per employee. Bush said the plan has the same basic benefits and the same doctors as the Access Plus. The savings to the district would be over $500,000 dollars, Bush added.
Human Resources Consultant Bev Jones said CONTINUED »
By Richard Durborow — Wednesday, January 20th, 2010
Will Piru Charter School offer a true educational alternative? The answer is a resounding yes!
Piru Charter School supports the Educating the Whole Child approach to learning that includes: using researched-based instructional strategies to increase student achievement, using a social-emotional development program that impacts the attitudes of children in a positive and profound way, and using aerobic exercise to focus, motivate, and invigorate students. This powerful three-step recipe for student success is a true educational alternative and will be the only school in Ventura to offer it!
Lower class size in grades 4-6 to 24 students will mean that all students will receive more of the individual attention they need to successfully enter middle school, high school, and college. As educational material in mathematics, language arts, and the content areas becomes more complex, and as some parents are less able to help their students at home, it is educationally unsound to increase class size to THIRTY-TWO students in grades 4-6. Piru Charter School will be the only school in FUSD to offer this exciting and important student to teacher ratio!
Keeping struggling students in core instruction, rather than having them sent to CONTINUED »
By Anonymous — Wednesday, January 20th, 2010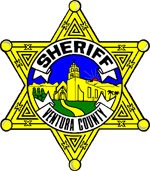 Ventura County Sheriff's Department
The National Weather Service has predicted that several large storms will bring significant amounts of rainfall to the county next week. As the storms approach, the Ventura County Sheriff's Aviation / Search and Rescue Unit would like to remind all residents of the dangers that can come with this type of weather.
As the rain makes its way to the rivers and streams, please stay away from the moving water and be aware that the water can be an attractive nuisance to children. It only takes a small amount of water to wash away vehicles and cause drivers to lose control. As a preventive measure, do not attempt to cross moving water either on foot or in a vehicle. Remember that even normally shallow water crossings can become hazardous during heavy rains, as flows increase during these times.
It is especially important to report any suspicious or dangerous activities in or around waterways over the following weeks. Prevention and early detection is key to avoiding possible tragedies, and in an actual emergency time is of the essence.
By Anonymous — Tuesday, January 19th, 2010
Including Local Farming and Ranching Communities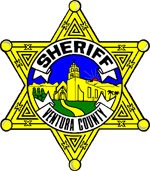 Ventura County Sheriff's Department
Location: Todd Road Jail, 600 S. Todd Road, Santa Paula, CA
Date & Time/ RB#: January 18, 2010
Unit Responsible: Ventura County Sheriff's Department--Todd Road Jail
In anticipation of heavy rains expected to last through the weekend of January 23rd and 24th, the Ventura County Sheriff's Todd Road Jail facility began issuing sandbags on Friday, January 15th. The Jail initially had 3,000 sandbags filled and ready for immediate pick up on a 24-hour basis. To date, approximately 800 of those sandbags have been given out to the public. The Jail has the capacity to fill an additional 10,000 bags if significant flooding issues become a concern within the county.
Members of the public and government agencies needing sandbags should go to the Todd Road Jail with a vehicle capable of transporting the sandbags. Further instructions will be provided via intercoms at the gate or public lobby entrance.
Public notification of this assistance program was made through the Sheriff's Office of Emergency Services and through the highly effective Farm Watch email network. Farm Watch is an email network administered by Captain Tim Hagel at the Sheriff's Santa Clara Valley Station. It is primarily designed to keep local farmers and ranchers informed of crime trends and other issues affecting rural areas of the county. In general, rural areas are impacted much more severely during heavy rainstorms.
By Anonymous — Monday, January 18th, 2010
MUD SLIDE ADVISORY
WITH THE RAIN FORECAST FOR MONDAY THROUGH THURSDAY JANUARY 22ND THERE IS A POTENTIAL FOR MUD SLIDES ON THE HILLS ABOVE FILLMORE.
Fillmore is forecast to receive 6 to 12 inches of rain by Friday January 22nd with periods of high intensity rainfall. The hillsides may become saturated increasing the possibility of mud slides. The current forecast from the National Weather Service for next week is:
"At this time there should be one system on Monday, another one on Tuesday then the strongest storm on Wednesday/Thursday. Current rainfall projections continue to indicate 4 to 8 inches of rain for coastal and valley areas between Sunday and Friday...with 8 to 16 inches in the foothills and mountains. Local amounts over 20 inches are quite likely in favored coastal slope locations."
If this rain develops as forecast or intensifies, there is an increasing probability of debris flows from the hillsides above Fillmore. Debris flows occurred in 1993, 1998 and 2005. Debris flows typically come down during heavy rainfall and without warning. Everyone in the immediate vicinity of the steep hillsides should use caution.
SAFETY MEASURES YOU CAN TAKE:
• Avoid being at the base of a steep hillside during or immediately after periods of heavy rain.
• If your home is vulnerable, avoid downstairs areas nearest the hillside, or seek shelter in the home of family or friends away from affected hillside areas.
FOR UPDATED INFORMATION VISIT:
National Weather Service: http://www.wrh.noaa.gov/total_forecast/getprod.php?wfo=lox&sid=lox&pil=q...
Fillmore Fire Website: www.fillmorefire.com & www.fillmoreca.com
Updates will be available through the rain period on AM Radio 1620
By Anonymous — Monday, January 18th, 2010
City of Fillmore Fire Department
Significant Storm Event Anticipated to Impact the Santa Clara Valley
The Nation Weather Service has forecasted a series of significant storms slated to impact Ventura County over the next week. The anticipated storms are expected to bring between 6"-12" of rain to the Santa Clara Valley. Fillmore residents are being reminded to take preventative measures to insure their safety and property will not be compromised by this inclement weather. Residents are encouraged to identify areas around their home with a high historical propensity for flooding and perform preventative sandbagging before any hazardous condition occurs.
Sandbags may be purchased at reasonable prices from most any home improvement center. A limited supply of sandbags are available for emergency use only at the City of Fillmore Fire Department located at 711 Sespe Place in Fillmore. In the event flash flood conditions impact you or your residence and you require immediate assistance with sandbagging, please call 805-384-1500 and request the Fire Department respond to assist you with your emergency.
Residents are also reminded to stay informed of incoming weather systems by tuning to their favorite news source or visiting the National Weather Service online at www.nws.noaa.gov.
By Dick Diaz — Wednesday, January 13th, 2010
U.S. Army Private Kenneth Fanning
I received an email recently from the mother of a young man I have known for many years. She wrote, "I just wanted to let you know for your article that my son, Kenneth Fanning, has enlisted in the Army. He left November 16th for Fort Leonard Wood, Missouri. He is in Echo Company, 787th Police Battalion, 14th Military Police Brigade. Today, (December 12, 2009) Kenney turned 20! It is the first time he's been away for his birthday." Being away for a birthday for the first time in twenty years is one of those sacrifices our young men and women, and their families make for us when they serve their Country by enlisting in the military. There will also be Christmases, Thanksgiving and many other birthdays that will be missed! Although some may think this is a small sacrifice, or not a sacrifice at all, but to a mother it is a reality that can cause her pause.
Kenneth Fanning, now a United States Army Private, graduated from Fillmore High School in 2008. All of his K-12 education was within the Fillmore Unified School District. He started Kindergarten at Sespe Elementary School then transferred to San Cayetano Elementary School until the family moved to Piru where he attended Piru Elementary School. Kenneth also attended Fillmore Middle School and Fillmore High School. Kenneth and his family were very active in the Ventura County 4-H program where he raised and showed steers at the Ventura County Fair. For the last few years he was a member and the youth leader of the Santa Clara Valley Grange.
Private Kenneth Fanning is the son of CONTINUED »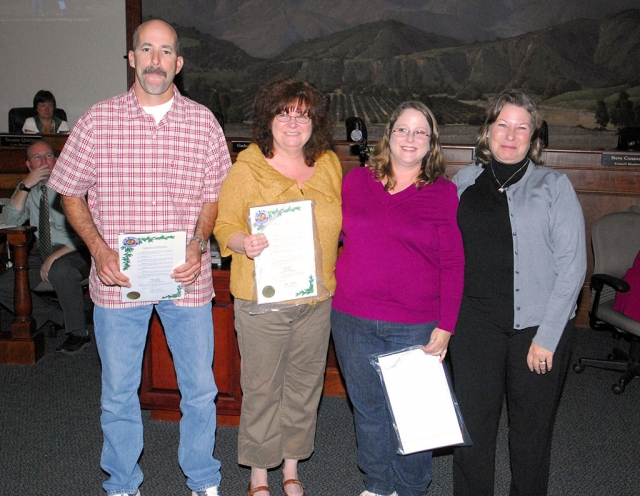 (l-r) Dave Wright, Sandy Campbell and Alisha Tipton with Mayor Patti Walker are the good Samaritans who were recognized at Tuesday night council meeting for assisting in a condominium structure fire on November 22.
Enlarge Photo
By Wanda Castel de Oro — Wednesday, January 13th, 2010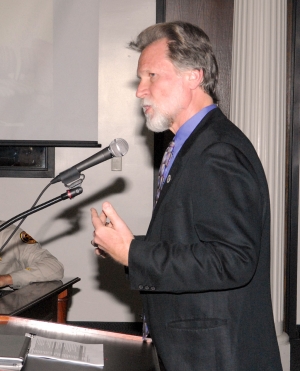 Ventura City Councilmember Carl Morehouse
Being a good neighbor was celebrated with a proclamation at Tuesday's City Council meeting. The night began with Mayor Patti Walker presenting the decree to three Fillmore citizens who assisted in a condominium structure fire on November 22, 2009 in the 200 block of Arundell Circle. The good Samaritans were Sandy Campbell, Dave Wright, and Alisha Tipton. The Proclamation, read by Mayor Walker, said in part, that the actions of the three individuals "reduced the impact of a lift-threatening" situation.
Central to the evening's agenda was the discussion of Senate Bill 375, a greenhouse gas initiative which builds upon AB32, California's groundbreaking law to reduce greenhouse gas emissions caused by urban sprawl.
Ventura City Councilmember Carl Morehouse addressed Council, giving a brief but full overview of the problem that lies ahead for the county in its attempt to comply with the time-restrictive law.
Morehouse began his presentation with the qualifier, "Whatever I say now, don't kill the messenger," which drew a laugh from Council. He went on to explain the team effort of Southern California Association of Governments (SCAG) with city councils and local government. SCAG is the nation's largest metropolitan planning/policy organization, which represents six counties, 189 cities and more than 19 million residents.
With a deadline of June 2012, Ventura County cities are CONTINUED »