By Gazette Staff Writer — Wednesday, March 4th, 2009
Judy Dressler
Judy Dressler was selected as 2008 Citizen of the Year for her volunteerism, and numerous activities for the City of Fillmore. She was one of the founding member of Civic Committee, served as Chair for six years after serving as secretary for many years. Her many accomplishments include Art Walk event, Yard of the Month Committee, Business of the Month campaign, wildflowers seeding campaign, downtown building sign program Vision 2020 street fairs she is currently involved in planning a return of the Fillmore Flower Show in the spring of 2009. She was a dedicated member of Soroptimist International for many years. She always has a positive and cheerful attitude that is contagious to others.
By Gazette Staff Writer — Wednesday, March 4th, 2009
Fillmore Mail Stop
Kathy has been owner/sole proprietor of Fillmore Mail Stop since August 2005. She was selected as business of the year due to her involvement in the community. She is an active mentor and volunteer of the Fillmore Mentor Program and One Step a la Vez Youth Group where she holds essay writing workshops for scholarships. She also organizes quarterly yard sales that benefit One Step a la Vez and the Avon Walk for Breast Cancer, San Francisco, which she has participated in the last three years. Kathy is also involved in Soroptimist International of Fillmore where she chairs two projects the Christmas basket and the Women's Opportunity Award. She is always looking for ways to get involved and make her community better, particularly by being involved with the youth. Currently she is holding book sales in front of Fillmore Mail Stop that sell for a quarter each and 100% of these sales go directly to the Avon Walk for Breast Cancer and the next yard sale to benefit this walk and One Step will be held on March 14 at Trinity Episcopal Church on 2nd and Saratoga and yes donations are already being accepted. Kathy suggests that if you want to get involved and don't know where to go come and talk to her.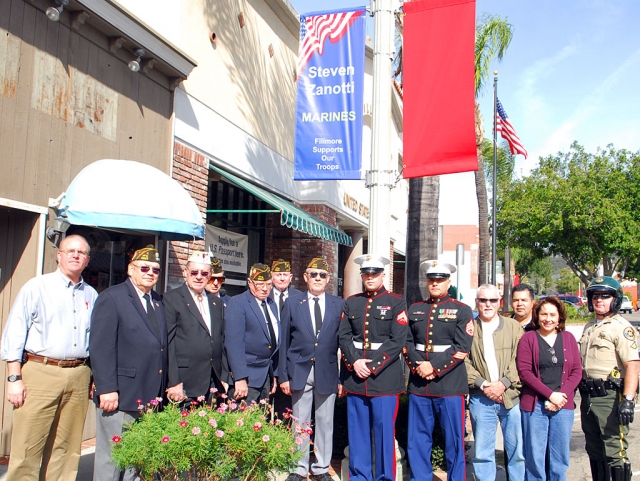 On February 20th, a group of concerned Fillmore citizens and those wishing to honor our nation's military service personnel (pictured in no order) gathered to install military banners on the historic street lamp posts on Central Avenue. The five young men honored were; United States Army Sergeant Kevin "Buddy" Edwards, Specialist Michael Edwards, PFC George Poppic, United States Navy Petty Officer Second Class Phillip Diaz and United States Marine Corps Corporal Steven Zanotti. Deputy City Manager Bill Bartels coordinated the installation of the Banners by City Public Works employees; Joe Zuniga, David Brown and Arnold Casteneda, Zanotti and his parents, Tom and Cindy Zanotti, Staff Sergeant Jacob Avila, School Board Member Virginia de la Piedra, School Superintendent Jeff Sweeney and Fillmore Fire Chief Bill Herrera. Veterans of Foreign Wars Post 9637 Commander Jim Rogers, Past Commander and Treasurer Bill Brunet, Past Commander and Service Officer/Chaplain Al Rosette, Member Bobby Donald and Member Wendell Tilley honored the event with a crisp salute after the first banner was installed.
Enlarge Photo
By Dick Diaz — Wednesday, February 25th, 2009
On Friday, February 20, 2009 at 10:00 a.m. a sizeable, enthusiastic and proud group of family and community leaders gathered in front of the Fillmore Post Office to witness the first five Military Banners installed on the historic street lamp posts of Central Avenue. The five young men honored are; United States Army Sergeant Kevin "Buddy" Edwards, Specialist Michael Edwards, PFC George Poppic, United States Navy Petty Officer Second Class Phillip Diaz and United States Marine Corps Corporal Steven Zanotti. Deputy City Manager Bill Bartels coordinated the installation of the Banners by City Public Works employees; Joe Zuniga, David Brown and Arnold Casteneda.
The parents of Corporal Steven Zanotti, Tom and Cindy Zanotti, stood proudly taking photos, as their son, dressed in his Dress Blue Uniform stood alongside his supervisor, Staff Sergeant Jacob Avila underneath the newly installed banner bearing the name of Corporal Zanotti. Staff Sergeant Avila is a United States Marine Corps Recruiter assigned in Ventura and was the person responsible for recruiting Corporal Zanotti. Corporal Zanotti is currently completing an assignment with the recruiting station after recently returning from Iraq and before he reports for duty at Marine Corps Base Camp Pendleton near Oceanside, California. CONTINUED »
By Gazette Staff Writer — Wednesday, February 25th, 2009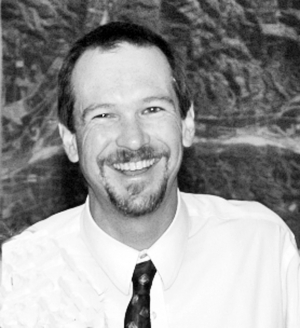 Steve Mcclary
The City of Ojai announced today the hiring of longtime Fillmore City employee Steve McClary to serve as Ojai's new Assistant to the City Manager. An 11-year employee with the City of Fillmore, McClary will begin his new position next month, said Ojai City Manager Jere Kersnar.
Currently employed as Fillmore's Administrative Services Manager, McClary has been responsible for a variety of duties, including human resources, film permits, elections officer, public information liaison and champion of Fillmore's 20-year community plan, dubbed Vision 2020. "Of all the tasks that I worked on during my time in Fillmore, none was more rewarding than Vision 2020," said McClary. "To be able to work directly with Fillmore residents to dream and plan for the betterment of the community was an enriching opportunity and best of all, it was just plain fun."
McClary said he is looking forward to the challenges of working in a new community and said it will be hard for him to leave the community where he began his career in 1991. McClary, 39, started as a reporter for local weekly newspaper The Fillmore Gazette and became editor of the publication in 1993, serving in that capacity until he was hired by the City of Fillmore in 1997 as deputy city clerk. "In many ways, I feel like I grew up in Fillmore, in a professional sense. I was fresh out of college at the time and the small town experience was something altogether new for me," he said.
He replaces retiring Assistant to the City Manager Paulette Matheson Whiting, who held the post for 7 years. Job duties include human resources and risk management, analyzing City issues, preparing staff reports for city council meetings, and serving as public information officer. "When you work in local government in a small town, you get to wear a lot of hats," McClary said. "That's one of the most enjoyable aspects--the job duties and the priorities are always shifting from day-to-day or year-to-year. There is always something new to learn or experience. I am looking forward to getting to know Ojai and I am excited about the opportunity." CONTINUED »
By Mariandrea Mueller — Wednesday, February 25th, 2009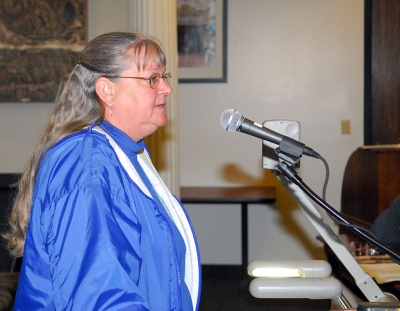 Fillmore High School Swim Team Coach Cindy Blatt expressed her frustration over the fact that her team could not yet access the new swimming pool. With meets scheduled only days away, the team must continue to use the Santa Paula pool because the pool heater and two other minor problems prevent County approval of the facility.
Enlarge Photo
Fillmore City Council met at 6:30 p.m. Tuesday, February 24, 2009 at City Hall to cover a brief agenda. Mayor Pro-tem Gayle Washburn was absent. The Council heard public comments, allocated grant money to non-profits, moved toward regulating push-cart vendors, discussed paving Central Ave., waived fees for the Relay for Life, and thanked Deputy City Clerk Steve McClary for his services.
The Council heard the first reading of a proposed ordinance regulating push-cart vendors and door-to-door solicitation. Council Member Jamey Brooks voted against the ordinance, because he considers it too much government. In response to various fundraisers' concerns, Council Member Steve Conaway reported that Police Sergeant Dave Wareham has said that the spirit of the ordinance would be enforced if the ordinance passes. Both the Council and School Board have for months desired an ordinance regulating push-cart vendors in order to keep students safely out of the path of traffic after school.
After hearing representatives from FOOD Share, Women's Economic Ventures (WEV), and the Long Term Care Ombudsman Program, the Council allocated the $170,500 2009-2010 Community Development Block Grant provided by the U.S. Department of Housing and Urban Development. The previous meeting's staff report had mistakenly listed the Ombudsman Program's desired funds as $1000, although $4000 was requested. The Council decided that the limited amount of money should remain allocated as decided at the previous meeting. It allocated: $13,075 to the Boys and Girls Club of Santa Clara Valley—Fillmore Unit; $4000 to El Concilio del Condado de Ventura; $3000 to FOOD Share, Inc.; $1000 to the Long Term Care Ombudsman Program; $2500 to One Step Center and the Fillmore Piru Mentor Program; $1000 to RAIN for transportation services; $1000 for Turning Point. $79,234 to the City of Fillmore Community Park Project; $50,000 to the Fillmore-Piru Veterans Memorial District; and $7,500 to WEV. The remaining money was needed for administration costs. CONTINUED »
By Joyce Schifanelli — Wednesday, February 25th, 2009
"It's raining, it's pouring" and it is a blessing, especially since Governor Arnold Schwarzenegger officially declared California in a drought last June, precipitated by more than two years of well below rainfall and the driest spring in eighty-eighty years. The Fillmore Lions Club considered the situation important enough to make it the subject of its 72nd Student Speaker Contest on February 2. Impressive presentations were heard from all participants. Seventeen-year old Fillmore HS senior, Natalie Garnica walked away the winner, and 17-year old FHS senior, Rachel Kamradt, along with 14-year old Jeremy Brooks, 9th grader at El Camino HS at Ventura College were runners-up as reported in this newspaper. Nevertheless, there is much more to the story. Backed by substantial governmental data, our state is facing its most significant water crisis in its history. The state is running dry with not enough relief in sight.
How could a potentially devastating drought happen in our technically modern world? The answers are numerous and complex as reported by the contest's winners, Garnica, Kamradt, and Brooks. Natural phenomenon include Southern California's desert topography; severely affected waterways from consecutive years without substantial precipitation across the state; and the drastic reduction of the Sierra Snowpack (61% of normal), the thick layer of snow that typically covers 400 miles of the Sierra Nevada range, the major source of the state's water supply. CONTINUED »
By Gazette Staff Writer — Wednesday, February 25th, 2009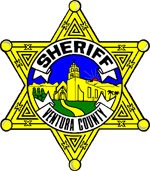 Ventura County Sheriff's Department
Between the late evening hours of 02/17/09 and early morning hours of 02/18/09, unknown suspect(s) forced entry into the Valley Tractor business on Ventura St. in Fillmore. The suspect(s) stole at least 34 Stihl brand power tools that included 21 chain saws, 8 string trimmers, 1 leaf blower, 1 backpack sprayer, 1 pole saw, 1 hedge trimmer and 1 cut-off saw.
The stolen string trimmers and chain saws include different models: String Trimmers: Models FS110, FS80 and FS250. Chain Saws: Models MS260, MS310, MS390, MS361, MS192T, MS250, MS17O, MS460, MS290 AND MS180. Serial numbers for all items have been entered as stolen into CLETS.
Contact detectives Taurino Almazan or Gus Macias at (805) 524-2233 or (805) 947-8097 or (805) 947-8070 with any information. Courtesy VC Sheriff's Crime Analysis Unit.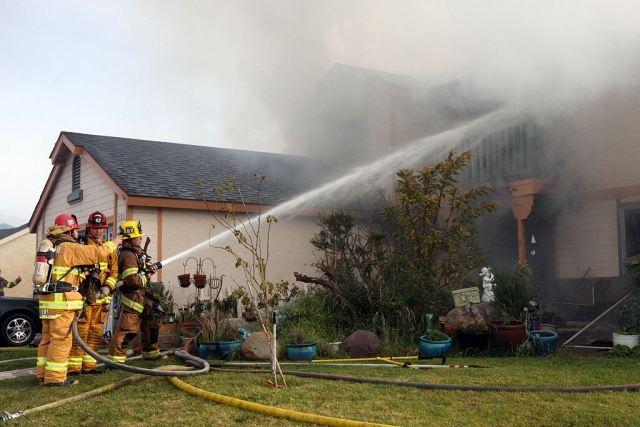 Fire consumed a home on the 200 block of Waterford Lane, Sunday morning. Owners, Evaristo and Gigi Barajas have lived in the home for over 23 years. No one was injured in the blaze.
Photo by Sebastian Ramirez
Enlarge Photo
By Gazette Staff Writer — Wednesday, February 18th, 2009
A two-story Fillmore home was engulfed in flames Sunday morning, February 15, at 7:30 a.m., despite efforts by multiple engine companies including Fillmore, Oxnard and Santa Paula. The owner, former Fillmore Mayor Evaristo Barajas, was not at home at the time. Owner Guillermina "Gigi" Barajas was home, along with their daughter, Alani, 17, and a friend. Gigi had returned from her nursing duties at Santa Paula Hospital and dozed off on a couch in the living room. She awoke to a smoke-filled room and the sound of smoke detectors.
The blaze did not impact neighboring homes in the200 block of Waterford Lane.
The family's pet dog, Starlight, 15, was killed in the fire, along with a Gecko and freshwater fish. Chuy Ortiz, owner of El Pescador, located one block over from Waterford Lane, was one of the first on the scene. He said Alani wanted to go back into the blazing house for Starlight, a Pomeranian, but was restrained by others. The Barajas family had lived in the home for over 23 years.
The Red Cross offered financial assistance to the family so they could purchase much needed supplies, bedding and linens prior to occupying a home generously made available by one of their neighbors.
An electrical short in the living room may have started the blaze.
By Gazette Staff Writer — Wednesday, February 18th, 2009
A Fillmore boy drowned Sunday, February 15, at Lake Casitas, while on a family outing.
Mason Dollar, 4, son of Chris and Kristen Dollar, was last seen feeding ducks on the lake's dock.
Mason was missing for about an hour before a rescue diver discovered his body under the dock at approximately 5:00 p.m.
An ambulance took the boy to Ojai Valley Community Hospital, where he was pronounced dead at 6:38 p.m. Mason left behind his parents, sister Hayley and brother Garrett. See Mason's obituary in the obituary section of this website. Our prayers are with the Dollar family.
By Gazette Staff Writer — Wednesday, February 18th, 2009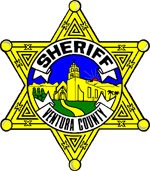 Ventura County Sheriff's Department
On February 17, 2009 at approximately 5:15 a.m., a fatal traffic involving two vehicles occurred on SR-126, west of Atmore Road. The collision killed the driver of one vehicle, and injured the driver and passenger of the second vehicle.
Lonnie Paul Gabriel, twenty years of age from Taft California, was driving his BMW eastbound on SR-126 at an unknown speed, west of Atmore Road. Bryon Cruz, 21 years of age and his passenger, Erik Chavez, 25 years old (both from Fillmore, CA) were traveling westbound on SR-126 in a Ford Explorer and were approaching from the opposite direction. For unknown reasons, Gabriel's BMW swerved out of control through the center median. His car then traveled into the westbound lanes, directly in front of Cruz's vehicle. Cruz had no time to react and the front of his vehicle broadsided the right side of the BMW, causing major damage to both vehicles. Emergency crews from the Ventura County Fire Department, the California Highway Patrol, and American Medical Response (AMR) responded to the scene. The collision forced the partial closure of SR-126 while emergency crews worked at the scene.
Lonnie Gabriel suffered fatal injuries and was pronounced deceased at the scene by ambulance personnel. Bryon Cruz and Erik Chavez were both transported to the Ventura County Medical Center. Mr. Cruz suffered serious injuries including a broken right leg, while Chavez suffered injuries to his head and chest. The cause of the collision is still under investigation by the California Highway Patrol.