By Tom Pedersen — Wednesday, June 10th, 2009
Sunday is Flag Day in the United States. It is a time when all Americans should take time to reflect and ponder on what exactly our flag means and symbolizes. On June 14, 1917 President Woodrow Wilson, upon declaring Flag Day a holiday, reminded the nation, "This flag, which we honor and under which we serve, is the emblem of our unity, our power, our thought and purpose as a nation. It has no other character than that which we give it from generation to generation. The choices are ours. It floats in majestic silence above the hosts that execute those choices, whether in peace or in war. And yet, though silent, it speaks to us - speaks to us of the past, of the men and women who went before us, and of the records they wrote upon it." In recent history, the flag has been considered as an inspiration to those brave souls who risked everything for their country, family, and freedom. One of the most prominent features in the famous painting by Emanuel Leutze of Washington crossing the Delaware on Christmas Day of 1776 is that of the flag accompanying the patriots into battle. In the War of 1812 Francis Scott Key recorded from the deck of a British Navy ship, "And the rockets' red glare, the bombs bursting in air, gave proof through the night that our flag was still there. O! say does that star-spangled banner yet wave O'er the land of the free and the home of the brave." During the long and bloody Civil War the troops on both sides were led into battle by soldiers carrying their respective flags. As long as the soldiers could see the flags they were inspired to fight on. If the flag bearer was killed, another soldier would pick it up and proceed forward rallying the troops to press on. If a flag was captured by the adversary it was a sign that the battle was lost. In February of 1945, a contingent of United States Marines landed upon the beaches of Iwo Jima a small but strategically important island in the Pacific Ocean. The ensuing battle resulted in one of the bitterest and costly battles of World War II. Approximately 7,000 Marines lost their lives with another 20,000 being wounded. The heroism shown by these men is unparalleled in American history. Twenty-seven men were awarded Medals of Honor for their actions. As these gallant men from our Greatest Generation fought their way to the top of the highest point on the island, Mount Suribachi, they found a twenty-foot section of pipe and attached the flag to it which they raised for all to see - both friend and foe. The photograph taken of the flag flying freely in the breeze on Mount Suribachi would become a monument to those men and would inspire those in the service of this country for the remainder of that war and all those since then. When fallen patriots are returned home to their final resting places, their caskets are accompanied by a military escort and are draped with the flag for which they made the ultimate sacrifice. Prior to the interment that flag is presented to the family from a grateful nation as a token of its gratitude. That flag is not merely a brightly colored piece of cloth - it is a symbol of everything that we as Americans stand for - it is a monument to all of those who fought and died to preserve our life, liberty, and pursuit of happiness. It is a monument that should be protected from desecration just the same as the monuments that mark the graves of our fallen heroes. We would never tolerate the desecration of the Lincoln Memorial or the Tomb of the Unknown Soldier and should never allow the desecration of our flag which is, among other things, a memorial to the over one million Americans who have made the ultimate sacrifice to keep it flying proudly and free. As an unknown author aptly stated, "The whole inspiration of our life as a nation flows out from the waving folds of this banner."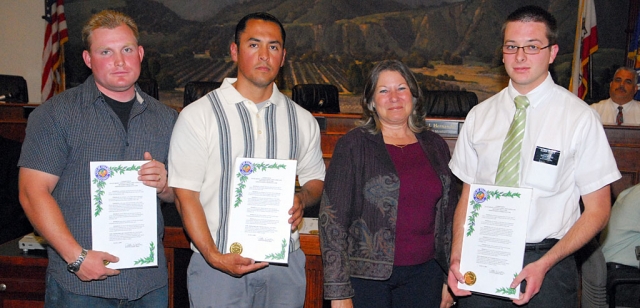 Pictured above are David Brown, Jose Mendez, Mayor Patti Walker, and Benjamin Pratt. They were commended for administering emergency CPR to a jogger who had collapsed on June 1st.
Enlarge Photo
By Mariandrea Mueller — Wednesday, June 10th, 2009
Fillmore City Council met on June 9th. The Council honored local firefighters and passerby who saved a man's life, slightly raised garbage service rates, approved the first steps of what could become an affordable housing distressed home purchase program, discussed the completion of the Water Treatment Facility, prepared for July 4th, and approved contracts for publishing legal notices in local newspapers.
Mayor Patti Walker, on behalf of the Council, commended David Brown, Jose Mendez, Martin Lopez, and Benjamin Pratt for performing emergency CPR. Together they saved the life of a 19-year-old jogger who had collapsed and was not breathing. The jogger's parents were present, expressed their gratitude, and said that he would come home on Thursday.
The Council approved a fee adjustment rate increase effective July 1, 2009 for Santa Clara Disposal Services. Standard Residential service will increase from $23.30 per month to $24.12 per month. Standard Commercial service will increase from $144.66 per month to $148.57 per month. In general, the increase is 3.52 % for residential customers and 2.7 % for commercial customers. The increase will cover increased operational expenses, including an increase in tipping fees at the landfill. CONTINUED »
By Gazette Staff Writer — Wednesday, June 10th, 2009
By Gazette Staff Writer — Wednesday, June 10th, 2009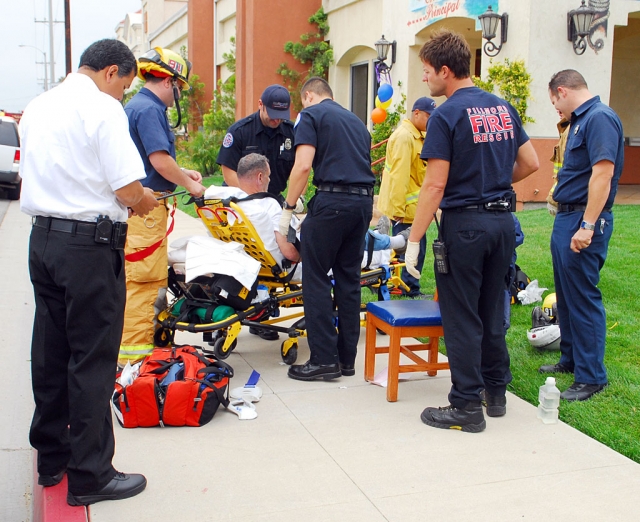 Tuesday afternoon, near the corner of Highway 126 and D Street, a westbound motorcyclist was injured when he attempt to avoid a car that turned into his path. The driver of the car was sited for a right of way violation.
Enlarge Photo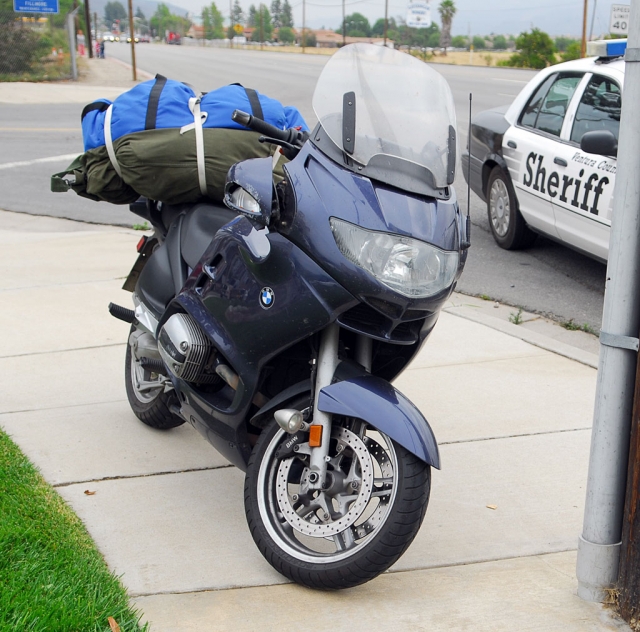 Injuries to the cyclist were not available at press time. He was transported to Santa Paula Hospital.
Enlarge Photo
By Gazette Staff Writer — Wednesday, June 3rd, 2009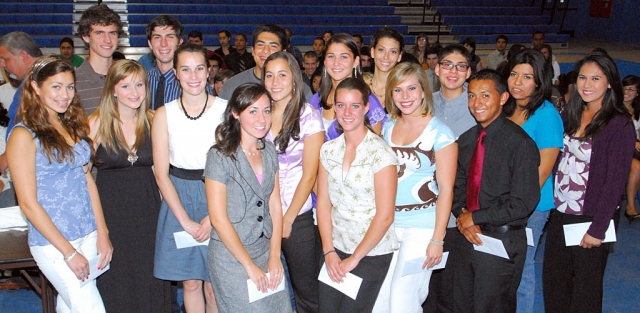 Thursday, May 28, Fillmore High School held their Academic Achievement and Senior Awards program. Several students were awarded scholarships and certifi cates for 3.5 GPA or higher. Above are the recipients of the Alumni Scholarships. Pictured above back row; Jacob Zellmer, Michael Watson, Gabe Manzano, Aimee Orozco, Kyla Hernandez, Jonathan Escamilla Stephanie Bolanos, and Erica Rodriguez. Front row; Natalie Garnica, Karli Chessani, Jillian Wilber, Brina Suttle, Rebeca Herrera, Julie Ann Sandoval, Bailey Pina, and Miguel Alonso. In all a total of $1,612,210 was awarded in scholarships.
Enlarge Photo
By Mariandrea Mueller — Wednesday, June 3rd, 2009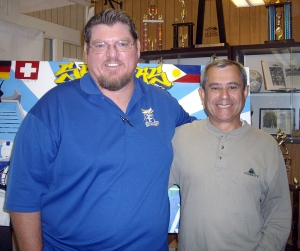 FHS Teacher Matt Dollar and FHS Retiring Counselor Al Arguelles. FHS students had elected Dollar High School Teacher of the Year and Arguelles High School Staff Member of the Year.
The Fillmore Unified School District (FUSD) Board Meeting was held June 2, 2009. The meeting was a striking mix of celebration and sadness, as the Board honored retirees, awarded "Be the Change" certificates, heard about preparations for the Fillmore High School (FHS) Graduation June 4th, heard a teacher and student presentation on the robotics program, and reviewed plans for the budget. On the good side, FUSD has just acquired three new school buses for only $20,000 thanks to an Air Quality Control Board grant. On the bad side, FUSD will barely be able to meet June payroll. As part of the consent agenda, the Board approved a Personnel Order which included New Employees Rosemarie Hibler and Leticia Ramos, who will be the Principals of Sespe School and Piru School, respectively.
The Board awarded "Be the Change" certificates to FHS Teacher Matt Dollar and FHS Retiring Counselor Al Arguelles. FHS students had elected Dollar High School Teacher of the Year and Arguelles High School Staff Member of the Year. Board President John Garnica said that the two had changed FHS for the better.
The Board honored the District's retirees and presented them with certificates and small gifts. The Retirees are: Judith Clark, Tony Held, Al Arguelles, Robyn Arguelles, Ruth Prado, Harry Burns, Ann Reynolds, Carolyn Diaz, Rosa Supina, Geri Lunde, Margaret Giblin, and Marv Kwit. Most of the Retirees were present. Several said that their work had been an honor. Board President John Garnica characterized their contributions as "tremendous" and "incredible". CONTINUED »
By Betty Carpenter — Wednesday, June 3rd, 2009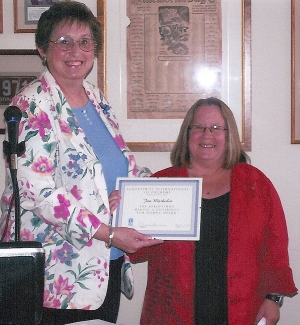 Betty Carpenter presents Jan Marholin, Principal of San Cayetano Elementary School, with the Soroptimist Making a Difference for Women Award for the dedication, devotion and significant impact she has made on the lives of students, school and community.
The Soroptimist International of Fillmore honored Jan Marholin, Principal of San Cayetano Elementary School, with the Soroptimist Making a Difference for Women Award for the dedication, devotion and significant impact she has made on the lives of students, school and community.
The award acknowledges women who, through their personal or professional actitivies, are working to improve the lives of women and girls and is the most prestigious award given by the Soroptimist.
In her five years as principal, Ms. Marholin has modeled the character traits. She is an excellent female model. She works with the staff of 45 as a team and keeps moral high. She is positive, thoughtful, respectful and thinks "outside of the box". When her school needed new sod for the play areas, she teamed with Soroptimist and the Melodrama director and cast, sold tickets which paid for the sod. She works hard not only to provide excellent education for the youth, but to have the teaching occur in a clean, well maintained campus. At a time when monies are increasingly scarce, she has had to be resourceful. CONTINUED »
By Jeff Sweeney — Wednesday, June 3rd, 2009
It is hard to believe the end of the 2008-2009 school year is here. I believe that this has been an exciting and productive year and I sincerely hope that each of you feels the same. I have seen several positive changes as I look around the District. I trust you have seen the changes to each of our facilities. Work was completed at the FHS stadium, giving the school and community a state-of-the-art facility. In addition, FHS was painted and Piru is in the final stages of fresh paint and a new technology infrastructure. New playground equipment was installed at Sespe and new fences installed at Mountain Vista. And, by the time the new school year begins on August 19, FMS will have a brand new field that will be watered by a recycled water project funded by the City.
There has been growth in other areas, too. The following highlights represent a few of our accomplishments over the course of this school year:
San Cayetano Elementary School participated in a robotics competition and had two student teams finish first and fourth overall.
San Cayetano's Principal, Jan Marholin, was recognized for excellence by the local Soroptimists and the County's administrative organization.
Fillmore High School received a six year accreditation via the WASC process. CONTINUED »
By Gazette Staff Writer — Wednesday, June 3rd, 2009
California Environmental Protection Agency State Water Resources Control Board First Year Results of Contaminant Monitoring Program show Mercury and PCB's Remain a Problem in Sport Fish in California Lakes
The State Water Resources Control Board's Surface Water Ambient Monitoring Program (SWAMP) has released the first findings from the largest survey ever conducted in California of contaminants in sport fish from lakes and reservoirs. The results are from the first year of the two year, statewide survey.
The results indicate that problems exist in some areas of the state. Mercury and polychlorinated biphenyls (PCBs) are the two greatest concerns. Mercury contamination is largely a legacy of California mining, and can also reach lakes through the air. It is a persistent problem throughout much of the state. Twenty-six percent of the lakes surveyed had at least one fish species with an average mercury level that exceeds the Office of Environmental Health Hazard Assessment (OEHHA) threshold for considering a consumption limit. OEHHA cannot develop new recommendations based solely on data from this study.
The results for area lakes are as follows (350AVE1=ANCOVA-based average for 350 mm fish at location 1 regarding Largemouth Bass): LAKE PIRU .46; CASTAIC LAGOON .18, CASTAIC LAKE .39; LAKE CASITAS .38; LAKE HUGHES .20; MALIBU LAKE .12; PYRAMID LAKE .37; WESTLAKE LAKE .09; PYRAMID LAKE .37.
PCBs were second to methylmercury as a potential health concern to consumers of fish caught from California lakes. Approximately thirty-six percent of the lakes had a fish species that exceeded OEHHA's Fish Contaminant Goal. However, only 1 percent of the lakes sampled had a species with an average concentration level that exceeds OEHHA's threshold for considering a recommendation of no consumption. PCBs are persistent chemicals that are now banned in electrical, industrial and other applications. Other pollutants were also found, but generally at low levels. CONTINUED »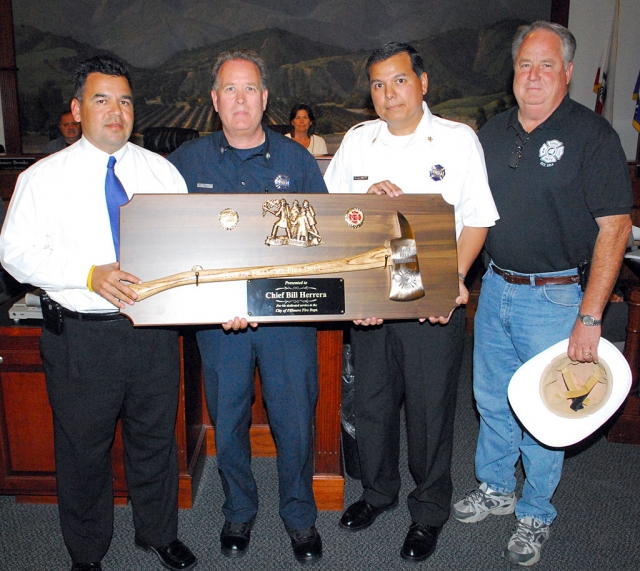 Pictured (l-r) Outgoing Fire Chief Bill Herrera, Captain Bob Thompson, New Fire Chief Rigo Landeros, and Retired Fire Chief Pat Askren.
Enlarge Photo
By Mariandrea Mueller — Wednesday, May 27th, 2009
With Mayor Patti Walker absent, Mayor Pro-tem Gayle Washburn presided over the May 26th City Council Meeting. The Council honored the new Fire Chief and the outgoing Fire Chief of the Fillmore Fire Department, discussed how to make ends meet in Lighting and Landscaping Districts that are not paying their own way, approved change orders for the Water Treatment Plant, set a public hearing for June 9th to discuss garbage collection fee increases, heard public comments, and heard an update from the public and staff on landscaping at Riverwalk Park.
The Council formally appointed Rigo Landeros as the new Fire Chief. Transitional City Manager Larry Pennell presented the appointment. Pennell explained how the firefighters had been evaluated to determine who would be Chief. He not only said that Landeros was the most qualified candidate, but also complimented him on his training, level of experience, leadership skills, and interpersonal skills. He noted that Landeros had been Volunteer Assistant Fire Chief since 1992, and was 2005 Firefighter of the Year. City Clerk Clay Westling swore Landeros into office. Landeros thanked Pennell, Bill Herrera, the Council, the Fillmore firefighters, his wife Laura, and his family. He said that he would work to preserve the high standards currently in place at the fire department.
The Council recognized Outgoing Fire Chief Bill Herrera for his exemplary service. Pennell congratulated Herrera on a job well-done. Mayor Pro-tem Gayle Washburn on behalf of the Council presented him with a proclamation citing his goodwill, energy, fairness, friendliness, and enthusiasm. The Fillmore Fire Department gave Herrera a commemorative white-leather fire helmet and a large plaque containing a life-size highly-polished axe. They presented red roses to his wife Kathy. Herrera thanked his family, the firefighters, and the duty captains. He said that he was sad to be resigning, but knowing that the department would be in capable hands made it easier. He said, "Rigo's going to do an awesome job." CONTINUED »