By Gazette Staff Writer — Wednesday, April 15th, 2009
For the second year in a row 370 students at Mountain Vista Elementary are now published authors! One of Mountain Vista's main goals for their students this year is that every student will be proficient at writing. The students worked through the entire writing process from prewriting, editing, drafting, and illustrating in order to have their own hardbound, full color book. The program is through Student Treasures, a student publishing program based in Kansas. After the students completed their book kits they were sent to the publishers. The publishers color copied the kits and bound them for free. Parents were given the option to purchase additional copies of the books, which were a little less than $18 each after shipping and handling. Some classrooms opted to create a class book. Each student authored a page and created an illustration to be apart of the book. While other classrooms had each student author and illustrate a 15 page book of their own. Each of these books will be a treasure to look at for years to come.
By Gazette Staff Writer — Wednesday, April 15th, 2009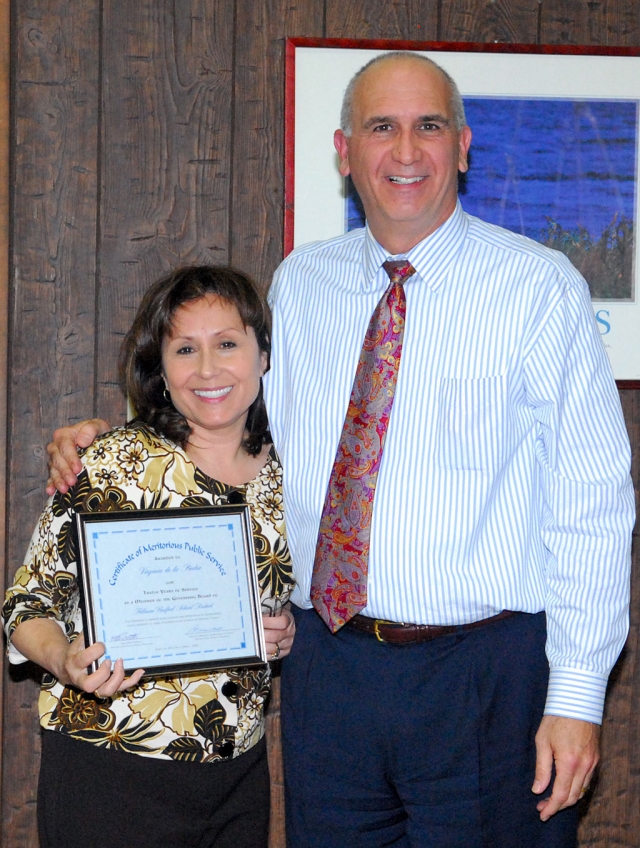 At last night's school board meeting Superintendent Sweeney presented Virginia De la Piedra (left) a Certificate of Meritorious Public Service.
Enlarge Photo
By Gazette Staff Writer — Wednesday, April 15th, 2009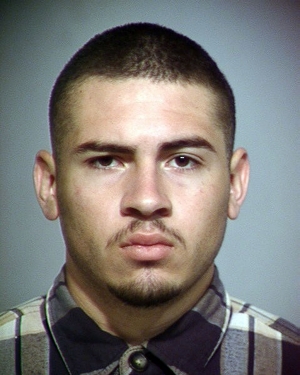 Victor Meraz
In May 2007 victim Alberto Avalos was leaving the area of a party in the 800 block of Blaine Avenue in Fillmore. While standing with other partygoers he was shot and killed in an apparent gang related homicide.
The Sheriff's Homicide Unit opened a criminal investigation into the death of Avalos. Investigators followed leads between Fillmore and Victorville, California, developing information that identified Victor Meraz as being involved in the shooting of Avalos.
Today, after a two-year investigation, Sheriff's Homicide Detectives arrested Victor Meraz for the shooting death of Alberto Avalos. Meraz was arrested while in custody on an unrelated matter at the Sheriff's Pre-Trial Detention Facility in Ventura.
By Gazette Staff Writer — Wednesday, April 15th, 2009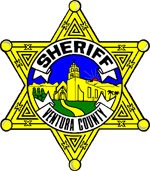 Ventura County Sheriff's Department
On April 15, 2009 at about 2:35 A.M., Sheriffs deputies were dispatched to a home in the 400 Block of 4th Street in the City of Fillmore on a report that a robbery had just occurred inside the home. Deputies received information that the suspect ran from the scene, but was possibly hiding in the area.
Patrol deputies quickly responded to the victim's home and simultaneously searched the area for the 17 year old female suspect. Deputies at the home found two victims identified as a mother and daughter. The suspect was identified as a close relative of the family. The victims reported to deputies that the suspect unexpectedly arrived and forced entry into the home as they slept. The suspect confronted the 19 year-old victim and the mother in their room. The suspect brandished a knife at the two victims, threatening to cut the 19 year-old victim's throat and then cut the mother's arm causing a minor injury. The 19 year-old victim was unharmed. As the victims attempted to call the police, the suspect took the phone preventing them from calling. The suspect stole money from the mother's purse and fled with the 19 year-old victim's purse. Patrol deputies in search of the suspect, arrested her about two blocks from the home. At the time of the arrest, the suspect was carrying some of the stolen property.
The suspect was charged with felony counts of armed robbery, residential burglary, assault with a deadly weapon, false imprisonment, and preventing a victim from reporting a crime to the public. The suspect was lodged in Juvenile Hall. Fillmore Police Department Ventura County Sheriffs Department.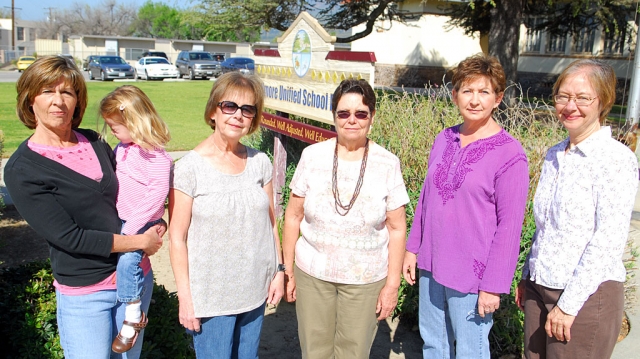 Faces of the Budget Cuts: Pictured left to right - Debby Blaylock, computer lab, 26 years employed losing 1.75 hours a day; Michele Anderson, library clerk, 17 years employed losing 10 days and 1 hour a day; Linda Boynton, computer lab, 29 years employed, eliminated; Sheila Duckett, 29 years employed, computer lab, losing 1 hour a day; Jan Faulkner, 1 year employed, librarian, losing 33 days and 3 hours a day. These cuts are part of the approximate 589 days per year and 31 hours per day that will be lost serving Fillmore Unified students.
Enlarge Photo
By Mariandrea Mueller — Wednesday, April 8th, 2009
Proposed cuts will reduce service to students and eliminate jobs
Like many institutions around the state, Fillmore Unified School District (FUSD) is struggling to make ends meet. The District had already cut its 2007-2008 school-year budget by $1.2 million as funding reductions required, leaving few if any superfluous budget items. The economic downturn has necessitated further reductions. FUSD must reduce its 2009-2010 budgets by an additional $1.7 million.
The School Board has held Budget Study Sessions on 2nd and 4th Tuesdays for the past few months to proactively address the problem. At both the special sessions and the regular board meetings, tensions have been building between the various involved parties. Dr. Mike Bush, Assistant Superintendent of Business Services, has provided a budget update at each meeting, usually accompanied by District Office staff recommendations for potential cuts. Most District employees are categorized as certificated (teachers), classified, or confidential, and two of those groups have union representation which is anxious to alleviate the impact of budget cuts on its members. CSEA (California School Employees Association) represents classified employees such as teachers' aides, library clerks, computer lab instructional assistants, food service workers, school office staff, custodians, maintenance, and grounds workers. FUTA (Fillmore Unified Teachers Association) represents teachers. Fifty-six percent of the proposed cuts are in personnel. Eighty-seven percent of the District's budget is for employee costs, including salary and health benefits.
According to Superintendent Jeff Sweeney, "The administration has worked diligently to ensure that no one group takes a disproportionate reduction over other groups." Fillmore teacher and FUTA President Theresa Marvel disagrees. She said that the District has fewer classified employees than ever, and fewer teachers than ever, but a larger district administration and confidential staff than ever before. Marvel claims the number of district administrators and their support staff has grown disproportionately to enrollment. She also noted that teachers and classified employees are expected to provide more services than ever before. CONTINUED »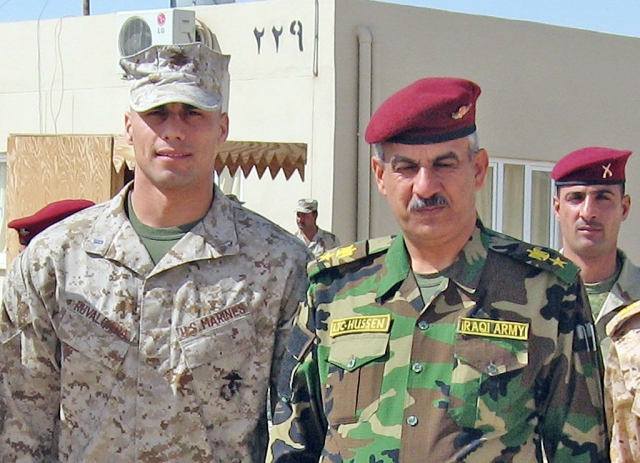 Marcos A. Ruvalcaba with an officer from Iraq.
Enlarge Photo
By Dick Diaz — Wednesday, April 8th, 2009
Fillmore resident Marcos A. Ruvalcaba, 32 years, was promoted to a 1st Lieutenant in the United States Marine Corps on March 30, 2009. 1st Lieutenant Ruvalcaba attended Fillmore schools until the 9th grade when he transferred to St. Bonaventure High School. At St. Bonaventure he participated in soccer and baseball before enlisting in the United States Marine Corps in February 1998. While in the United States Marine Corps he attended Chapman University from 2002-2005 where he studied Criminal Justice. 1st Lieutenant Ruvalcaba continued his college education as an enlisted Marine and earned a Batchelor of Arts degree which allowed him to attend Officer Candidates School. After completing Officer Candidates School in Quantico, Virginia he was commissioned as a 2nd Lieutenant on March 30, 2007 just nine years after enlisting in the United States Marine Corps.
1st Lieutenant Ruvalcaba is the son of Aurelia and Jose Refugio Ruvalcaba of Fillmore. His siblings are Pablo 30 years of Santa Monica, CA, Victor 28 years of Santa Monica, CA, Jose 26 years of Fillmore and Mariza 22 years of Oregon. His maternal Grandparents are Manuel and the late Inez Aparicio of Fillmore and paternal Grandparents Longinos and the late Pachita Ruvalcaba of Fillmore. 1st Lieutenant Ruvalcaba has one cousin serving in the military; Alfredo Quesada served four years in the United States Navy Reserves.
Currently 1st Lieutenant Ruvalcaba is a Ground Intelligence Officer with the Military Transition Team 0720 (MiTT) from Marine Corps Base Camp Pendleton, California embedded with an Iraqi Army Brigade in Al Anbar province Baghdadi, Iraq. He has been deployed for one year and has five months remaining on his deployment. This is his second deployment to Iraq. When 1st Lieutenant Ruvalcaba was promoted to 1st Lieutenant on March 30, 2009 an Iraqi Army Officer (Lieutenant Colonel equivalent) pinned his silver bars on his collar. 1st Lieutenant Ruvalcaba believes this was the first time an Iraqi Officer participated in the promotion of an American Officer! CONTINUED »
By Gazette Staff Writer — Wednesday, April 8th, 2009
19-year-old Dennis Wileman of Fillmore was arrested on hit and run with promise to appear after causing substantial damage to the China Wok Restaurant and Water Store at the VONS center while stunt driving in his lifted F250 truck. The event happened about 3:00 a.m. in the VONS parking lot. Two passengers fl ed the scene but were later apprehended. Sheriff's deputies arrived minutes after the incident and were able to catch Wileman fleeing the area. The truck was impounded as evidence. The entire front of the restaurant had to be sealed off. Wileman claimed he lost control as he approached the BofA teller machine traveling at 25 miles per hour. The extent of damage to building and truck caused the police to dispute this statement.
Enlarge Photo
By Tom Pedersen — Wednesday, April 8th, 2009
One hundred and thirty-two years ago this month, on the site of present day Fillmore, there was a hideous crime committed that shocked the entire state and received significant national media attention. In the early morning hours of March 24, 1877, under the cover of darkness, masked men shot and killed Thomas Wallace More the owner of Rancho Sespe. More and his three brothers owned substantial holdings in California. Most of the property was obtained by purchasing Mexican land grants that had been awarded to prominent Mexican families prior to California becoming part of the United States. Included in these holdings were Rancho Santa Paula y Saticoy, Rancho Lompoc, Rancho del Purisima, La Patera and Santa Rosa Island.
In the early 1850's Rancho Sespe was purchased in a administrator's sale from the family of Don Carlos Antonio Carrillo who had obtained it in a 1829 grant in return for his military service to Mexico. The terms of the purchase, and the resulting payment made by the Mores, was for all the property on both sides of the Santa Clara River from Mupu (Santa Paula) Creek to Piru Creek, and from mountain to mountain on each side. The area encompassed six square leagues which is approximately eighteen square miles. The Mores raised sheep and cattle on the ranch. After the end of the Civil War and the winding down of the California Gold Rush, many of the participants in those events, looking for a new start, opted to settle on and claim land in accordance with the Homestead Act of 1862. A number of those individuals ended up near the junction of Sespe Creek and the Santa Clara River quite near Thomas More's ranch house. A dispute soon arose between CONTINUED »
By Gazette Staff Writer — Wednesday, April 8th, 2009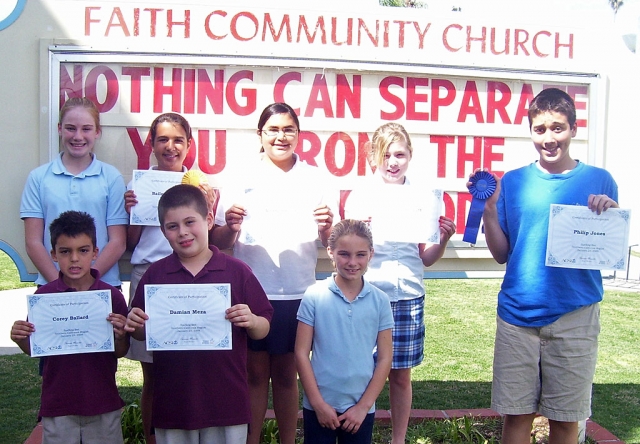 Students from Fillmore Christian Academy (FCA) recently competed in the Association of Christian Schools International Spelling Bee. In the regional competition students in grades first through eighth, who won their class competition, competed with students from other schools. Bailey Huerta (fifth grade) earned a 4th place ribbon and Phil Jones (eighth grade) placed first. Top row: Left to right: Brittany Wilson, Bailey Huerta, Alyssa Garcia, Sarah Stewart, Philip Jones Bottom row: Left to right: Corey Ballard, Damian Meza, Kayla Reiman.
Enlarge Photo
By Gazette Staff Writer — Wednesday, April 1st, 2009
About to Start Third Tour in Iraq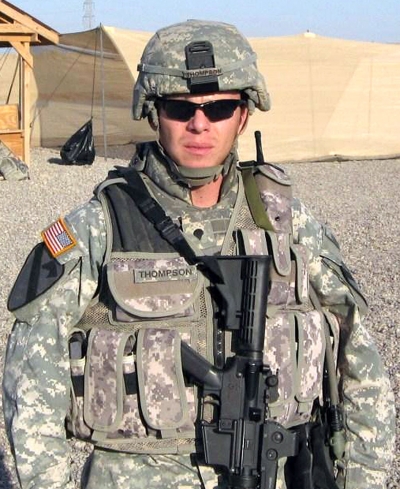 US Army Specialist Mark Thompson.
Enlarge Photo
United States Army Specialist (Promotable) Mark Thompson, 34 years, is about to deploy for his third tour in Iraq. Specialist Mark Thompson attended schools in Ventura, Camarillo and Oxnard before graduation in 2000. He participated in Water Polo and Year Book Photography while Camarillo High School. He enlisted into the United States Army on May 23, 2003 and completed his Army Basic Training at Fort Jackson, South Carolina, Advanced Individualized Training at Fort Eustis, Virginia, Airborne Training at Fort Benning, Georgia returning again to Fort Eustis for Non-Destructive Inspection Certification. Specialist Mark Thompson is considering the United States Army as a career and reenlisted on March 19, 2007 for an additional six years. Specialist Mark Thompson is currently stationed with the 1st Air Cavalry Brigade, 1st Cavalry Division, Bravo Company 615th Aviation Support Battalion at Fort Hood, Texas.
Specialist Mark Thompson has earned Military distinction by being awarded; two Army Commendation Medals, two Army Achievement Medals, two Good Conduct Medals, the Global War on Terrorism Expeditionary Medal, Global War on Terrorism Service Medal, National Defense Medal and the Iraqi Campaign Medal. CONTINUED »