By Gazette Staff Writer — Wednesday, January 26th, 2011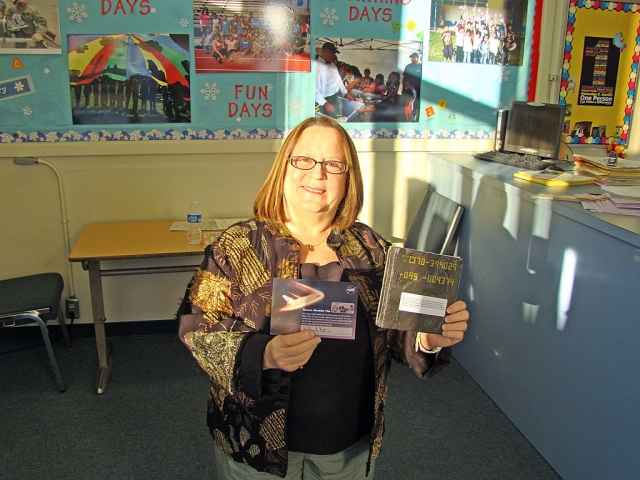 San Cayetano Principal Jan Marholin is holding an original Space Shuttle tile. With the sun setting of the Space Shuttle Program, NASA Explorer Schools were given the opportunity to acquire one tile. Each Space Shuttle carried over 24,000 Separate Thermal Protection System Tiles, and each one was a different size and shape. San Cayetano now has an original tile. It is encased in shrink wrap and cannot be undone. They are vey excited to add this artifact to their NASA Explorer School Program.
Enlarge Photo
By Gazette Staff Writer — Wednesday, January 19th, 2011
Mishell's championship word was quadrilateral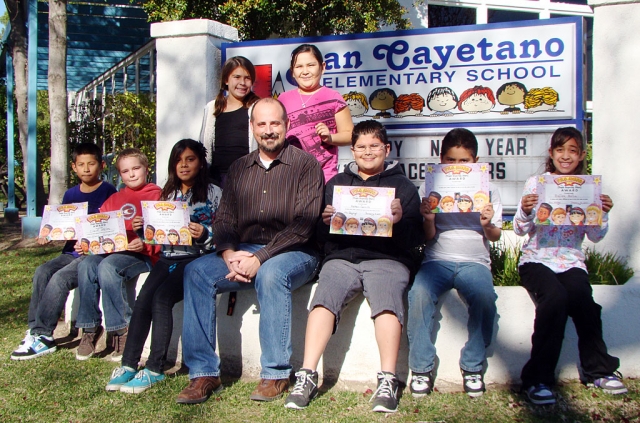 Fillmore High School drama teacher Josh Overton was the guest speaker at San Cayetano's Peacebuilders Awards.
Enlarge Photo
By Gazette Staff Writer — Wednesday, January 19th, 2011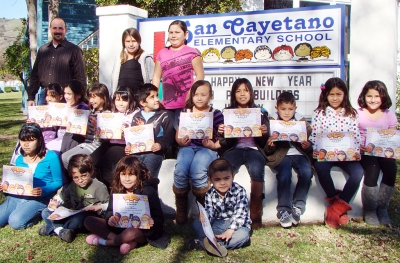 Josh Overton spoke at the monthly Character Counts Assembly.
Enlarge Photo
On Monday, January 10, 2011, San Cayetano School recognized good citizenship and character at their Peacebuilder Assembly for the month of January. Mr. Josh Overton came to San Cayetano to speak to the students about what a good citizen is and how displaying good character could enrich the students and others in the community around them. Each teacher chose a student from his or her class whom showed excellent character and peace-building skills. ASB President, Cali Wyand, and Vice President, Lizzie Castaneda assisted Mr. Overton in handing out the Peacebuilder Awards. The Peacebuilders for January are: Oscar Arriola, Ariel Magana, Alejandro Lanza, Bela Ibarra, Isabela Regalado, Benjamin Stoessel, Gabriela Herrera, Vanessa Cabral, Ixa Ibarra, Janeah Castro, Ruby Baez, Vivianna Ruiz, Carla Olvera, Yazmin Amaya, Jose Acosta, Hailey Avila, Gustavo Valedez, Nathan Carrillo, Clark Helm, and Tereliz. Cali and Lizzie then announced to the students that John Paul Pet is sponsoring the San Cayetano Character Counts Award of a $100.00 savings bond. Mr. Overton presented the Character Counts Award to a deserving first grade student. Miguel Valdez was chosen by the first grade teachers as a model of outstanding behavior and kindness to the other students. To conclude the assembly, students were reminded to turn in their Perfect Attendance tickets. Each month all students who come to school, each day, on time, are given an orange raffle ticket. The students place their tickets in a box and one ticket is drawn. The student whose ticket is drawn is given a backpack full of supplies. Each month, the tickets will be put into a larger box that will be kept until the end of the year. In June, Mrs. Marholin, the principal, will draw from the tickets to give away new bicycles, an I-pod shuffle, and three large stuffed animals.
By Gazette Staff Writer — Wednesday, January 19th, 2011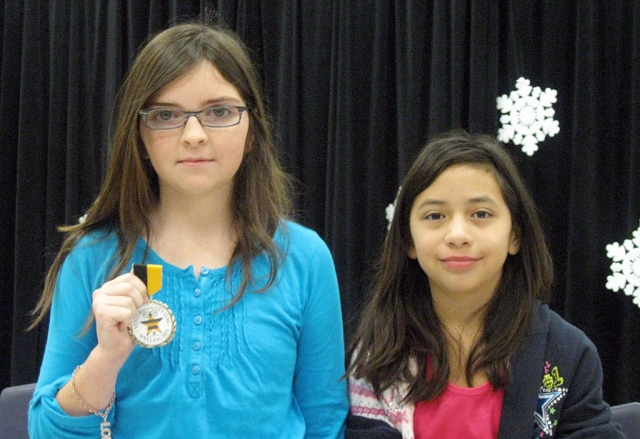 Mt. Vista Elementary Spelling Bee: Pictured are Mishell Beylik (l-r), Mountain Vista Spelling Bee Champion, and runner-up Rebecca Trujillo. Mishell's championship word was quadrilateral. She will proceed to the Area Bee competition next month.
Enlarge Photo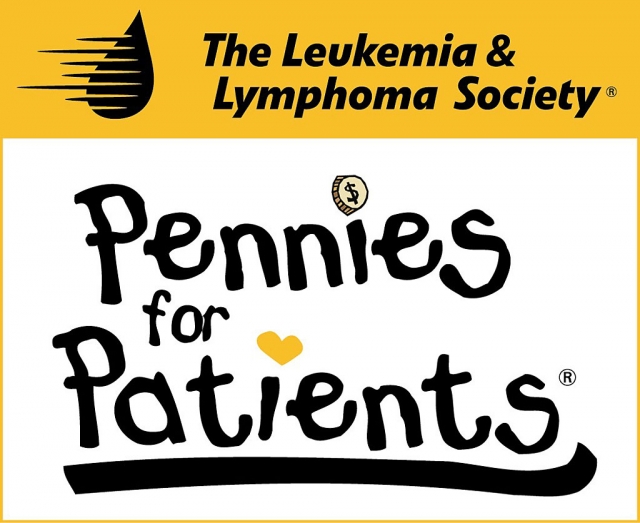 Pennies for Patients
Enlarge Photo
By Mariah Perez — Wednesday, January 19th, 2011
Pennies for Patients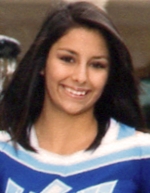 Mariah Perez
Fillmore High School will be starting our annual Pennies for Patients charity drive at the end of the month. The drive will begin January 31st and will end February 11th. As you all may know Pennies for Patients is a Charity that specifically benefits children with Leukemia and Lymphoma. This year the committee in charge is looking to raise at least $50.00 per classroom so that our drive can make a real impact for those in need. In addition, the classroom that raises the largest amount of donations will receive a free BBQ lunch from the Fire Department and Sheriff Department. Once again anything you can give will go towards a good cause and will be greatly appreciated.
Coming up we have our FHS campus beautification day which will be held January 22nd from 8a.m. to 12p.m. This is also opened to the community so we hope to have as many people as possible attend. By coming and helping out you also get the chance to get community service hours. Once again we hope to get as many people as possible to help beautify our school.
By Gazette Staff Writer — Wednesday, January 19th, 2011
A teen education program, "Every 15 minutes" will take place at 1 p.m. on January 24th on Second Street at the Fillmore High School baseball field area. This is an anti-drunk driving program for Seniors and Juniors. It is sponsored by the Police and Fire Departments and the Fillmore Unified School District. It will be interactive. It is a National campaign aimed at reducing teen deaths.
By Gazette Staff Writer — Wednesday, January 19th, 2011
Lecture will be the first in new endowed series
THOUSAND OAKS, CA. The founding father of the psychiatric rehabilitation field will be the first speaker in a new endowed lecture series at California Lutheran University.
Dr. Robert Liberman, a distinguished professor of psychiatry at the UCLA School of Medicine, will present "The Social Brain: How We Can Use It In Health and Disease" at 2:45 p.m. Monday, Feb. 7, in Room 102 of the Swenson Center for Social and Behavioral Sciences.
The free public lecture will be the first in a series established by the estate of Paul and Eleanor Culver of Lake Sherwood in conjunction with the recent opening of the Swenson Center. The endowment will support guest lectures, seminars and undergraduate research opportunities.
Liberman will also present seminars on "Stigma and Criminalization of the Mentally Ill" and "Recovery from Madness" for students in the social sciences who have been selected as Culver Scholars.
A resident of the Conejo Valley for more than 40 years, Liberman was a close friend of Paul Culver. Both were leaders of the Lake Sherwood Community Association.
Liberman, a tireless advocate for providing patients and their families with access to the most effective treatments, has designed novel and successful therapy programs for people with schizophrenia and other disabling mental disorders that have been translated into 24 languages and used on every continent.
At UCLA, where he has been on faculty since 1970, Liberman has conducted research, treated patients and taught undergraduates, graduate students, medical students, psychiatric residents and mental health practitioners from community mental health centers. Psychiatrists and psychologists have come from Europe, South America, Africa and Asia to learn from him.
Closer to home, Liberman led the Oxnard Mental Health Center from 1970 to 1975 and developed and directed the Clinical Research Unit at Camarillo State Hospital from 1970 to 1997.
Liberman, who received his medical degree from Johns Hopkins School of Medicine, has written more than 10 books and more than 400 journal articles. The American Psychiatric Association, the National Alliance on Mental Illness, the National Institutes of Health and many other organizations have honored him for his work. In 2002, the World Health Organization of the United Nations presented him with the Human Rights Award.
The Swenson Center is located at the corner of Faculty Street and Pioneer Avenue on the Thousand Oaks campus. For more information, contact Randy Toland at (805) 493-3015.
By Kimberly Rivers — Tuesday, January 18th, 2011
Is School Board Addressing the Issue of Program Improvement?
"Can you give an estimate as to what percentage of time is spent at school board meetings talking about what individual campuses are doing to get out of PI status? I'm not there for the meetings but it just seems to me that this should be a big issue for board members and they should be grilling the superintendent and principals on a pretty regular basis about this. Are board members complacent about this? Are board members getting this type of information privately during closed sessions because it's embarrassing to the district?"
- Submitted by Fillmore Resident via email, (requested to stay anonymous because of connections to the District*)
For an explanation on Program Improvement see: www.fillmoregazette.com/front-page/state-releases-school-progress-report
My read of this question is that it is asking for my opinion based on what I have seen. So please keep in mind that this particular post is essentially my opinion.
As I prepare to answer this question I find that I want readers to know that I am no fan of "standardized testing". I feel that those bubble tests have numerous problems, and surely fail to assess the "whole child". That being said, standardized tests are in fact a part of the current system of public education. The tests are not only used to assess students in grade and high school, but also for entry into many colleges and universities. This is changing. Some colleges are moving away from the SAT. Progress is happening. You will see in my response below that I think changes are needed throughout the public education system, and surely rethinking standardized testing is one of them. But because our local district must adhere to the "laws of the land", we must continue to operate within the world of standardized tests, not matter how much we wish them gone. But I think both the environment and students can benefit from a discussion of how to better prepare our students to not only do better on those assessments, BUT to learn how to better understand concepts and ideas, think critically about problems put before them and to think outside the box or bubble. If our students get better at those things, they are sure to improve on many levels, and those nasty standardized tests just may be one of them. The folks, who study how people learn, have this information; our schools have access to the current information about how we all learn. We just need to demand the effective processes be implemented. And many of them cost little or no money. (More on that later)
1. Give an estimate as to what percentage of time is spent at meetings talking about what individual campuses are doing to get out our PI status?
At most meetings, I have seen very little if no attention, discussion or direction given regarding the fact that all schools are currently in PI status. So far this year, the Board HAS heard once from each principal regarding his or her plans, goals and changes currently being implemented. From what I have heard most changes are based around the idea of "collaboration", including an emphasis on writing throughout subjects, targeting assistance to each students needs and for the elementary schools to learn what Principal Chrissy Schieferle and staff are doing at Mountain Vista in order to mirror that schools improvement. All plans sounded great although I did not see any clear expectations laid out by the Board for the Principals.
To be frank, I saw a slight shift occur during the recent campaign (disclosure: I was a candidate, in case you didn't know) and following the election. Last year, when parents brought concerns regarding "program improvement" to the Board, Board members seemed to not know anything about it, and to state that all the schools were "excellent". Some Board members seem to still be clinging to the idea that the schools are excellent while at the same time calling for more discussion on how the schools are improving. I am closely watching how the new Board members add to the conversation, and whether or not the Board as a whole either faces this head on or continues to stick its head in the sand.
In my opinion the "PI" issue is so much more than curriculum and collaboration. It is about a true change at the very core of the entire District, here is a quote from the CEO of Baltimore Schools (similar position to superintendent) Andres Alonso ""We have very, very consciously looked at the history of the district, look at what has been done in the past, and we have very, very intentionally tried to do things in a very different way." (www.huffingtonpost.com/2011/01/17/andres-alonso-ceo-of-balt_n_810085.htm...) Alonso was quoted in an interview he gave about the changes he oversaw in that District, which according to the article turned an underperforming District into one of the best in the state.
Now, all that being said, today, Tuesday January 18th the Board will have it's first ever (to my knowledge) study session on "Program Improvement". The title of the session is " Program Improvement: What it is? What it means? And what we are doing about it?" I will be there. And a full report will be made in the paper this week. So the Board will spend one hour learning about Program Improvement. I hope that it grabs their attention and they grasp the seriousness. No one wants the state to take over one of our schools. No one.
2. Are Board members complacent about this? In my opinion they are. Some Board members might be waking up a bit, but the jury is still out on this one. I really think this is an issue that should have folks asking more tough questions, and being much clearer with administrators about what the Board expects to see each and every year. Ask this again in June. And remember, a big part of "PI" is the school choice conversation as well. This year FUSD had declining enrollment. Board members were presented with the numbers. In this tight financial situation each student that leaves the District means less income for the District. Not one question was asked about WHY students were leaving the District. Not one. I would really like to see the Board get interested in the "PI" issue not because it means the schools are "failing" the state standards, but because it means that the schools are "failing" the students, and the community. Remember, the quality of our local schools affects what businesses fill our business parks, it affects property values, crime levels. It affects community. When all schools are in PI that means that students have the right to transfer to a non-PI school outside of the District. That is a right that the law guarantees. The Board should be vigorous about addressing this issue first because of what it means for the students, but second because of the affects that on going "PI" designation has on the number of students enrolled in FUSD schools.
3. Are board members getting this type of information privately during closed sessions because it's embarrassing to the district?" This is a tougher question to answer since the public is not privy to what is discussed in closed sessions. If I understand the restrictions pertaining to closed sessions, any general discussion regarding Program Improvement SHOULD be happening in open session. Again I want to emphasize, that I know of nothing indicating that this is being discussed in closed session, I'm simply responding to this question. I think it would benefit the Board and District as a whole to shed more light on this issue not only because the public should be fully informed about the true state of the schools, but because it would improve the public's perception that the Board is knowledgeable on this and is demanding improvement at all schools, and is prepared to hold administrators accountable. *Keep in mind that employee evaluations made by the Board are generally protected, and MAY be discussed in closed session, and therefore need not be released to the public. BUT the public may participate in evaluation processes. Some Boards do hear from the public regarding administrator and superintendent evaluations.
I hope that answers your questions. Feel free to send a follow up, or post a comment here.
What do you think? Are the School Board members taking this issue seriously? Is it really that 'big" of an issue? Do you care whether or not your child's school is in "PI" status?
Thanks for reading, post a comment because School Matters.
Kimberly Rivers
School Matters Blog at www.fillmoregazette.com/blogs
schoolmatters@fillmorgazette.com
Mail to: Fillmore Gazette, attn: School Matters, 408 Orchard Street, Fillmore, 93015
By Gazette Staff Writer — Friday, January 14th, 2011
Special study session on "Program Improvement" at 5:30 p.m.
FILLMORE UNIFIED SCHOOL DISTRICT REGULAR MEETING OF THE BOARD OF EDUCATION
627 SESPE AVENUE, FILLMORE, CALIFORNIA
TUESDAY, JANUARY 18, 2011
5:30 P.M. – STUDY SESSION
6:30 P.M. - REGULAR MEETING
APPROXIMATELY 9:00 P.M. – CLOSED SESSION
AGENDA
The public may review or request a copy of support materials provided to the Board Members where the word materials appears.
5:30 p.m.
A. CALL TO ORDER AND PLEDGE OF ALLEGIANCE TO THE FLAG
B. ROLL CALL
C. PUBLIC COMMENT ON CLOSED SESSION AND NONAGENDA ITEMS, PETITIONS
This is the time and place to address the Board. State law prohibits the Board from acting on issues not included on the agenda; however, requests may be made for discussion of specific topics at subsequent meetings.
D. STUDY SESSION Program Improvement
6:30 p.m.
E. STUDENTS FIRST Michael CONTINUED »
By Kimberly Rivers — Friday, January 14th, 2011
What: FUSD School Board Study Session on "Program Improvement"; What it is? What it means? What is the District doing about it?
When: Tuesday, January 18th, 5:30-6:30pm
Where: School Board meeting room at FUSD offices on Sespe in Fillmore
Why: This meeting is open to the public. It will be a good time to come and hear about what the District is doing about the fact that ALL seven schools are currently in "PI".
The School Board general meeting will begin at 6:30 following the study session.
By Kimberly Rivers — Friday, January 14th, 2011
"Between a Rock and a Hard Place" by Shane Cohn
Here's a portion of the article, see the full piece at : www.vcreporter.com/cms/story/detail/?id=8531
"What we've tried to do in Ventura County is keep chaos away from kids and families," said Mary Samples, special education local plan area director. "We have worked so hard and diligently with the mental health department to keep everything intact."
The cash-strapped Office of Education will owe approximately $2.5 million for mental health services and up to another $5 million in residential social services during the span of the MOU, Samples said.
"Additional money will now be coming out of school districts, and something else will have to be given up on the general education side of things," said Samples.
Gov. Jerry Brown's proposed budget spared additional cuts to K-12 public education, if a five-year extension of temporary tax increases is approved by voters in June.
But unless an increase in state revenue is provided by the voter-approved tax extension in June, the 2011-12 school year for K-12 California public schools is forecast to lose $2 billion in funding due to the cuts Schwarzenegger had enacted, according to the nonpartisan Legislative Analyst's Office.
Extending the higher tax rates on sales, vehicles and incomes would offset some of the $2 billion in projected school district losses, Brown said.
*************
Ok this is Kimberly again, What do you think of this? Surely special education is a vital and important part of pur public education system, and these program are mandated by the State, but notice that according to this article the "estimated price tag is $7.5 Million" of special education programs in the County serve "550 students". And when we do the math, this comes out to $13,636.36 is being spent per student. See the article for the wide range of services provided, again ALL valuable and needed by these students and families, but note that (according to the article) even Mary Samples, "special education local plan area director" indicates that "something else will have to be given up on the general education side of things".
What are your thoughts on this?
By Gazette Staff Writer — Wednesday, January 12th, 2011
Camarillo, CA. - CSU Channel Islands was recently selected as one of 115 institutions nationwide chosen by the Carnegie Foundation to receive their 2010 Community Engagement Classification. This is an elective classification which recognizes exemplary practices among all populations in a university-wide commitment to community engagement and service learning. Service learning is a teaching and learning method linking course content to "real-life" experiences that center around a community need or issue.
The Carnegie Foundation requested broad information which required a thorough and comprehensive examination of the University's programs and relationships. The Community Engagement Classification recognizes that CI lives up to its mission and commitment to serve the region. This classification will not be awarded again for another five years.
CI featured a number of efforts to engage young people in STEM careers and majors (science, technology, engineering and math). An example is the Summer Science Institute, which is designed to encourage Oxnard College students to pursue STEM majors and to transfer to a four-year university. This past summer 60 students enrolled in 3 week classes, working with faculty research mentors, to study either the health of the ocean from a tall ship or investigate "crime scenes" set up on the CI campus. CI students served as peer mentors.
"At Channel Islands, we share a strong commitment to give back to the community in which we live," stated President Richard R. Rush. "Alexis de Tocqueville, in his 1830 account of Democracy in America, called the acts of service he observed "habits of the heart." Integrating service into student learning, faculty research, and staff activities not only provides better prepared students, but also strengthens the entire community. I am proud of our campus efforts and our 'habits of the heart'."
Since its inception, CI has been building the infrastructure for community engagement and service learning on campus. This effort has been supported by funding, by curriculum and faculty development, by student interest and opportunity, and community partnerships.
The ultimate test of service learning and community engagement is the impact it has on both the University and the wider community. Pilar Pacheco, Associate Director of the Center for Community Engagement, mentioned that, "Through community engagement students begin to understand civic responsibility, which contributes to their learning. They develop leadership skills and a clearer vision of their social responsibility. The relationships they make in this program help them feel more a part of the community and give them a sense that there is application for their studies and that their participation has an impact," she explained.
Pacheco stressed that this was a University-wide distinction because these concepts permeate every facet of life
About California State University Channel Islands
CSU Channel Islands (CI) is the only four-year, public university in Ventura County and is known for its interdisciplinary, multicultural and international perspectives, and its emphasis on experiential and service learning. CI's strong academic programs focus on business, sciences, liberal studies, teaching credentials, and innovative master's degrees. Students benefit from individual attention, up-to-date technology, and classroom instruction augmented by outstanding faculty research.
By Gazette Staff Writer — Wednesday, January 12th, 2011
January 27th
VENTURA CA. - Jill Buckley, Esq., a nationally known expert in the growing field of animal law, will be the guest speaker at a community lecture to be held January 27 at the Ventura campus of the Santa Barbara and Ventura Colleges of Law.
Buckley currently serves as senior director of government relations and mediation for the American Society for the Prevention of Cruelty to Animals (ASPCA). Founded in 1866, ASPCA was the first humane organization established in North America and, today, remains one of the largest in the world.
The Jan. 27 event is sponsored by the law school's student chapter of the Animal Legal Defense Fund (ALDF). Since 1979 ALDF has advocated for stronger enforcement of anticruelty laws and more humane treatment of animals.
The lecture will be held from 5:30 - 6:20 p.m. at the College of Law at 4475 Market Street in Ventura. The public is invited to attend. Space is limited and reservations can be made at bdoyle@CollegesofLaw.org or by calling 805-658-0511.
Since 1969 the Santa Barbara and Ventura Colleges of Law have offered a State Bar-accredited part-time evening program leading to the Juris Doctor degree and academic eligibility to sit for the California Bar Examination.
With a faculty comprised of judges and practicing attorneys who bring real-world experience into the curriculum, classes are taught in a supportive and practical learning environment. The Colleges' more than 1,700 graduates include judges, court commissioners and numerous elected officials as well as hundreds of lawyers practicing throughout California. Further information on the law school may be found at www.CollegesOfLaw.org.
By Kimberly Rivers — Wednesday, January 12th, 2011
"Superheroes Go For Run In the Park on New Year's Day", Rockwall Herald Banner
A fun and hopefully inspiring bit of news.
View the whole article here: www.rockwallheraldbanner.com/local/x1637997740/Super-heroes-go-for-run-i...
By Jim Hardin
Herald-Banner
A Portion:
The event was sponsored by Rockwall Running Center, but Lee Chatham, a Rockwall Running Club member, came up with the idea for a Superman run on New Year's Day.
Chatham was inspired by the sad financial state of the education system and a movie, "Waiting For Superman."
Proceeds from the race will go to DonorsChoose.org, described as "an online charity connecting you to classrooms in need." Promotional material for the race stated that a mission of the effort was "to save America from the cycle of violence and poverty by supporting education at the source — the classroom."
And how does Superman come into play with this effort to meet financial needs — like providing funds for school supplies and basic classroom needs?
The Superman 5k Web site stated that "America's system requires a heroes rescue — an entire army of heroes."
The running bib worn by each runner proclaimed, "I Am Superman."
"I realized we don't have to wait on Superman," Chatham said, referring to the movie title. "We are Superman. We are the super hero saving the day."
*****************
I've got a few great questions from community members, working on responses. Check back soon.
Happy Wednesday, Kimberly Rivers
schoolmatters@fillmoregazette.com
By Kimberly Rivers — Tuesday, January 11th, 2011
Judge Opens NYC Teacher Evaluations to the Public, by Max Folmer
Wow, here is a hot topic right now. What do you think?
Here is a portion with the full article here: www.takepart.com/news/2011/01/11/judge-rules-that-public-has-right-to-se...
January 11, 2011
A New York judge ruled Monday that parents and community members had a right to see 12,000 teacher performance ratings based on their students' test scores.
Judge Cynthia S. Kern ruled that the public interest in how public employees perform outweighed the teachers' right to privacy....
See complete article at link above.
By Kimberly Rivers — Monday, January 10th, 2011
"Rethinking Advanced Placement" By Christopher Drew
Here is a wonderful story about coming changes to many of the the AP tests, along with curriculum changes. Notice how the goal is to move away from having students just memorize a bunch of facts to spit out for the test, but to actually learn and understand concepts and emphasize critical thinking.
Here is a portion of the article, with the complete text at the New York Times: www.nytimes.com/2011/01/09/education/edlife/09ap-t.html?_r=1
"Rethinking Advanced Placement" by Christopher Drew for the New York Times,
January 7th, 2010
WHEN Joan Carlson started teaching high school biology more than 30 years ago, the Advanced Placement textbook was daunting enough, at 36 chapters and 870 pages. But as an explosion of research into cells and genes reshapes our sense of how life evolves, the flood of new material has been staggering. Mrs. Carlson's A.P. class in Worcester, Mass., now confronts a book with 56 chapters and 1,400 pages, along with a profusion of animated videos and Web-based aids that supplement the text.
And what fuels the panic is that nearly every tongue-twisting term and microscopic fact is fair game for the year-end test that decides who will receive college credit for the course.
"Some of the students look at the book and say, 'My gosh, it's just like an encyclopedia,' " Mrs. Carlson says. And when new A.P. teachers encounter it, "they almost want to start sobbing."
As A.P. has proliferated, spreading to more than 30 subjects with 1.8 million students taking 3.2 million tests, the program has won praise for giving students an early chance at more challenging work. But many of the courses, particularly in the sciences and history, have also been criticized for overwhelming students with facts to memorize and then rushing through important topics. Students and educators alike say that biology, with 172,000 test-takers this year, is one of the worst offenders.
A.P. teachers have long complained that lingering for an extra 10 or 15 minutes on a topic can be a zero-sum game, squeezing out something else that needs to be covered for the exam. PowerPoint lectures are the rule. The homework wears down many students. And studies show that most schools do the same canned laboratory exercises, providing little sense of the thrill of scientific discovery.
All that, says the College Board, is about to change.
Next month, the board, the nonprofit organization that owns the A.P. exams as well as the SAT, will release a wholesale revamping of A.P. biology as well as United States history — with 387,000 test-takers the most popular A.P. subject. A preview of the changes shows that the board will slash the amount of material students need to know for the tests and provide, for the first time, a curriculum framework for what courses should look like. The goal is to clear students' minds to focus on bigger concepts and stimulate more analytic thinking. In biology, a host of more creative, hands-on experiments are intended to help students think more like scientists.
Read the rest of the article at: www.nytimes.com/2011/01/09/education/edlife/09ap-t.html?_r=1
By Kimberly Rivers — Friday, January 7th, 2011
This is a new blog called "School Matters" hosted by the Fillmore Gazette. The Gazette responded to my request for a way to inform the public on various school related issues and to respond to questions from the community. I am honored to be able to moderate, facilitate and write for this blog because School Matters. It is my hope that this blog will be a resource for the community and create another avenue for residents to get engaged with our local schools. The state of our schools affects the entire community, not just families. Property values, new business, quality jobs, crime rates, all are affected by how our schools are doing. Everyone needs to care about our local schools.
I want to hear from everyone. Students. Parents. Alumni. Family Members. District Staff. Residents. Business Owners.
What do you want to know about our schools? What do you think the community should know about our schools?
****Did you know that FUSD has an annual budget (2010-11) of $35 Million? That is your tax dollars (state and federal) at work. Is that money being spent wisely? What do you think?
**** What is great about FUSD? What do you love about your schools? What do you wish was different? What do you want to see happen at your local school?
****Is FUSD evolving to meet the needs of our changing economy? If you are worried about the state of our economy, and want to see it "fixed", education must be at the foundation of any "fix". More students must graduate. More students must be minimally proficient, and more must excel. This is needed to create the business leaders and owners of the future. What can local Districts and School Boards do to better prepare current students to succeed?
****Currently all of our seven schools are in "Program Improvement". This is a label assigned by the state for schools that are failing to meet certain benchmarks for the number of students testing at a "minimally proficient" level. Do you know what FUSD is doing to improve the schools? What do you think FUSD should do?
This Blog is for you, the community. Send in your questions.
1. Post your question as a comment on this blog.
2. Send in questions by email: schoolmatters@fillmoregazette.com
3. Write your questions and mail to: Fillmore Gazette, attn: School Matters, 408 Orchard Street, Fillmore, CA 93015
Some guidelines for submitted questions and comments:
1. Please include your name. While I prefer that I have permission to list your name with your question, I am willing to respond to questions submitted anonymously. But in the event that I need to clarify the question or don't understand what you are asking, having a way to contact you can be helpful.
2. For all online comments: Feel free to challenge, question and provide alternative views. That is what good dialogue is all about. BUT I will be very quick to delete and remove any comments that are derogatory, libelous, or disrespectful. Keep in mind it is perfectly OK to criticize when our intention is to help improve it. Just always err on the side of being respectful and forthright. That is why I prefer all comments include your full name, we tend to behave a bit better when our name is attached to our words. Any comments that detract from a respectful dialogue will be deleted.
3. Please state your question clearly. And provide any "context" for your question.
4. Let us know "who" you are: student, parent, guardian, family member, teacher, staff, resident, or business owner.
Once I have your question and I think others will be interested in it, I will do my best to find the best answer. I will research, interview, read and examine various sources to come up with a response. It is my intention to always provide "sound" information from "good" sources. If I am stating my opinion, I will let you know it.
From time to time I would love to have "guest writers" submit an essay (any students interested? District staff, what's on your mind?) on a topic, or an editorial on an issue they feel passionate about that has to do with education, schools, FUSD etc. Just submit it. For these submissions I MUST have your name and contact information. If you are interested, send me your "topic" idea for approval and word limit.
**Note: I do not speak Spanish, but if I receive a question in Spanish I am able to get it translated. I am looking for folks interested in helping me translate (Any bi-lingual students want to volunteer with the local paper?) the entire blog. Contact me if you're interested.
So here we go
 a new year, a new blog, because SCHOOL MATTERS!
Welcome to the Blog and I look forward to reading and responding to your questions.
Best, Kimberly Rivers
By Gazette Staff Writer — Wednesday, January 5th, 2011
Student Sleepout, shelter overnight, discussion slated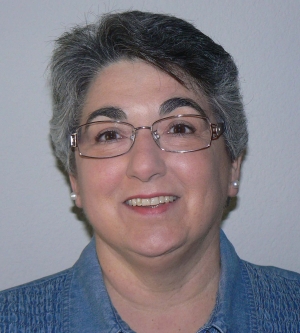 Cathy Brudnicki, executive director of the Ventura County Homeless and Housing Coalition (VCHHC).
THOUSAND OAKS, CA. - A public panel discussion and a Sleepout and shelter overnight for students are planned as part of California Lutheran University's Homelessness Awareness Week.
Experts and activists will discuss "Housing and Homelessness in Ventura County" at 7 p.m. Wednesday, Jan. 26, in the Roth Nelson Room. The panel will feature Cathy Brudnicki, executive director of the Ventura County Homeless and Housing Coalition (VCHHC), Leonard Schneiderman, professor emeritus of social welfare at the UCLA School of Public Affairs, and Darlene Mees, Southern California area director for Lutheran Social Services (LSS). In addition to local issues, they will also discuss homelessness at the regional, state and national levels.
Other activities coordinated by CLU's Community Service Center will provide students with experiences where they can learn more about homelessness. On the evening of Jan. 27, a Sleepout will be held on campus. Students will build housing from cardboard and participate in activities that look at the demographics, stereotypes and causes of homelessness.
On Jan. 28, students will help run the overnight shelter that LSS coordinates with seven Conejo Valley churches. The students will eat dinner with the guests, set up sleeping areas, watch a movie, spend the night, set up breakfast and clean up the sleeping areas.
There are 1,815 people, including 200 children, who are homeless on a given day in Ventura County, according to the VCHHC. There are 117 families who are homeless and nearly three-fourths of them are single-parent families. The number of families affected by homelessness and those at risk of having inadequate or unstable housing is growing with the increase in foreclosures and other economic challenges.
CLU's Center for Equality and Justice is sponsoring the free panel discussion. The Roth Nelson Room is located on Mountclef Boulevard between Olsen Road and Memorial Parkway on the Thousand Oaks campus. For more information, contact Sam Thomas at sthomas@callutheran.edu or (805) 493-3693.
By Gazette Staff Writer — Wednesday, December 29th, 2010
The Fillmore High School "S" Club
The Fillmore High School "S" Club brought Christmas cheer to over sixteen local senior citizens. With the help of Fillmore Auto Electric, Michelle Patterson, Dr. Johnston, Soroptimist of Fillmore, Joe & Terri Aguirre, George Golden, Mail Stop-Kathy Vargas, Cookie Lee Jewelry-Ari Larson, State Farm-Bill Herrera, Edward Jones-Kyle Wilson, Central Station Bar & Grill, Treasure Station, and The Scented Path.
The "S" Club was able to present each senior citizen with a Christmas care package. The "S" Club wrapped and delivered all the gifts. They sang We Wish You A Merry Christmas as they rang the door bell. Although the rain caught up with them that didn't' stop them from bringing smiles and some tears to our local senior citizens. Special thanks to Sarah Hansen for providing the list of senior citizens!
The "S" Club enjoyed this project immensely and touching our senior citizens in such a warm positive manner brought them a good feeling. They plan on making this a yearly project. For more information on the "S" Club visit their website at www.sclubfillmore.web.com or call Mrs. Herrera at (805) 794-1900. New members are welcome.
By Gazette Staff Writer — Monday, December 27th, 2010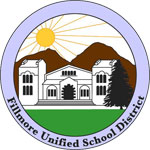 Fillmore Unified School District
FILLMORE UNIFIED SCHOOL DISTRICT REGULAR MEETING OF THE BOARD OF EDUCATION
TUESDAY, JANUARY 4, 2011
5:30 P.M. – CLOSED SESSION, 6:30 P.M. - REGULAR MEETING, 627 SESPE AVENUE, FILLMORE, CALIFORNIA
AGENDA
5:30 p.m.
A. CALL TO ORDER AND PLEDGE OF ALLEGIANCE TO THE FLAG
B. ROLL CALL
C. PUBLIC COMMENT ON CLOSED SESSION AND NONAGENDA ITEMS, PETITIONS
This is the time and place to address the Board. State law prohibits the Board from acting on issues not included on the agenda; however, requests may be made for discussion of specific topics at subsequent meetings.
D. CLOSED SESSION
The Board of Education will meet from 5:30 to 6:30 p.m. to consider matters appropriate for Closed Session in accordance with Government Code Sections 3549.1, 54956.7 through 54957.7 and Education Code Section 35146. If the Board does not complete Closed Session discussions at this time, the Board may adjourn to Closed Session at the end of the regular meeting. DISCLOSURE OF ITEM(S) TO BE DISCUSSED IN CLOSED SESSION School District Pupils (Education Code 35146)
o Expulsion Case Number 10-11-04
o Consideration of Recommendation for Readmission of Students Who Have Completed Term of Expulsion Labor/Negotiations (Government Code 54957.6)
o Update; Direction to District Negotiators (Jeff Sweeney, Mike Bush, Todd Schieferle, Margaret Chidester) for negotiations with the Fillmore Unified Teachers Association (FUTA), the California School Employees Association (CSEA), Confidential Employees, and District Administration. Personnel Matters (Government Code 54957)
o Hiring, Evaluating, Discipline, Dismissal Conference with Legal Counsel - Anticipated Litigation Significant exposure to litigation pursuant to subdivision (b)(3)(A) of Government Code Section 54956.9 (one potential case)
In compliance with the Americans with Disabilities Act, if you need special assistance to participate in this meeting, please contact the Superintendent's Office at (805) 524-6038. Notification 48 hours prior to the meeting will enable the district to make reasonable arrangements to ensure accessibility to this meeting. [In accordance with Government Code 54961 and Board Bylaw 9320(a).]
6:30p.m.
E. RECONVENE TO OPEN SESSION Any Action From Closed Session School District Pupils (Education Code 35146)
o Expulsion Case Number 10-11-04
o Consideration of Recommendation for Readmission of Students Who Have
Completed Term of Expulsion
F. CALL TO ORDER AND PLEDGE OF ALLEGIANCE TO THE FLAG CONTINUED »