By Gazette Staff Writer — Wednesday, April 30th, 2008
We are revamping our local Republican Women's club - the Santa Clara River Valley Republican Women's Federated!
If you are interested in learning more about us and meeting current members, please come to our new membership event and BRING A FRIEND! We need to get organized for the upcoming 2008 elections. This is something you cannot resist! It will be a chocolate party! It is in Ventura because it is a joint event with Ventura Republican Women.
CHOCOLATE PARTY
Saturday May, 3, 2008
2 - 4 PM
NO COST
1215 Anchors Way Dr.
Ventura, CA
Invited Guests: Elton Gallegly, Tony Strickland, Audra Strickland, Neal Andrews (Ventura County Campaign Chair for the McCain Campaign), Jim Monahan
RSVP or questions to:
Larissa Nelson
805-524-3624
or larissamay@sbcglobal.net
By Gazette Staff Writer — Wednesday, April 30th, 2008
Sacramento -- Governor Schwarzenegger proclaimed April 27 – May 3 as "Volunteer Week" in California, CaliforniaVolunteers announced today.
"California depends on its volunteers who willingly work to improve the state we call home, and I deeply appreciate all those who selflessly commit themselves to bettering the lives of others," said Governor Arnold Schwarzenegger.
National Volunteer Week was designated in 1974 to call attention to the tremendous contribution of volunteers. This year's theme, "Volunteer to Change the World" reflects the power volunteers have to make positive and lasting impacts in their communities.
During National Volunteer Week, the Governor's new Secretary of Service and Volunteering, Karen Baker, will hold roundtable discussions with over 100 leaders in the nonprofit sector in Southern California to discuss barriers to volunteering and service and how the state can play a role in addressing them.
"I extend my deepest gratitude to every Californian who gives a small measure of themselves to improve the world around them," remarked Karen Baker, secretary of Service and Volunteering. "I encourage more Californians to find ways they can make a difference at CaliforniaVolunteers.org."
To view the full text of the proclamation, visit http://www.gov.ca.gov/proclamation/9431/
ABOUT CALIFORNIAVOLUNTEERS
CaliforniaVolunteers is the state office that manages programs and initiatives to increase the number of Californians involved with service and volunteering, including the state AmeriCorps program, California Citizen Corps and the Cesar Chavez Day of Service and Learning. Through the innovative Web site, CaliforniaVolunteers.org, individuals and families can find more than 40,000 volunteer opportunities throughout the state involving the arts, education, animals, disaster preparedness, the environment and other areas of interest. Karen Baker, the nation's first state cabinet secretary of service and volunteering leads the organization and First Lady Maria Shriver serves as the honorary chairperson. For more information, please visit www.CaliforniaVolunteers.org.
By Gazette Staff Writer — Wednesday, April 30th, 2008
Safe Neighborhoods Act targeted for November Ballot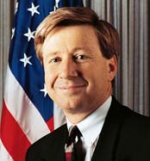 Senator George Runner
Serving the 17th District which incorporates portions of the Los Angeles, San Bernardino, Ventura and Kern counties.
LOS ANGELES – Sen. George Runner (R-Antelope Valley) and Assemblywoman Sharon Runner (R-Lancaster) today were joined by Los Angeles County Sheriff Lee Baca, Rev. Jesse Lee Peterson and Los Angeles law enforcement groups to submit petitions for a November ballot measure, the Safe Neighborhoods Act, to the Los Angeles County Registrar's office.
"We have received passionate responses from voters up and down the state for this ballot measure," said Senator Runner, one of the authors of the measure, along with Mike Reynolds, father of "Three Strike" and San Bernardino County Supervisor Gary Ovitt. "But we are not surprised by their enthusiasm; our constituents tell us all the time that they are fed up with gangs and the violence and destruction they bring to our neighborhoods."
The Safe Neighborhoods Act: Stop Gang, Gun, and Street Crime, is a comprehensive measure that increases punishment for gang and street criminals; establishes sustainable funding for California law enforcement; pays for 21st century tools like GPS monitoring and central gang databases; prevents youths from heading down the wrong path, and protects victims and their families.
"Sheriff and police departments have done an admirable job in fighting gang crime, but they are pushed to the brink and crime rates associated with gangs are starting to rise," Baca said. "We need to join forces and share resources if we are to bring crime rates down and keep our communities safe."
The Safe Neighborhoods Act has been in circulation since late January and needs 435,000 valid petition signatures to qualify for the November ballot. The petitions, which are due next week, are being submitted to each county in the state this week for verification of signatures. Once the signatures have been verified by the county registrars, the Safe Neighborhoods Act will become a qualified proposal for the November ballot.
"We are confident that this measure will not only qualify but receive approval by the voters in November," said Sharon Runner, who co-authored Jessica's Law with Senator Runner in November 2006. "It's time to put serious efforts into saving our children from gang involvement, and it's time to send a strong message to street thugs that the good citizens of California have had it with their lawless and violent behavior."
Reverend Peterson, Founder and President of the national nonprofit organization the Brotherhood Organization of a New Destiny (BOND), stated that a comprehensive law like the Safe Neighborhoods Act is long overdue.
"Children are dying every day on the streets of America because of gangs," he said. "And yet to date California does not have a true statewide plan to deal with the growing crisis. We must change the way we handle gangs if we are to save our precious youth from dying."
Some of the provisions of the Safe Neighborhoods Act would do the following:
Increase penalties for felons and gang members with guns;
Heighten penalties for criminal accomplices;
Prohibit bail for illegal aliens charged with violent or gang crimes;
Strengthen Section 8 Housing compliance;
Toughen laws for methamphetamine distribution and sales;
Protect witness testimony;
Punish smugglers of prison contraband;
Create a statewide gang registry;
Establish the "Use a gun and lose a car" law;
Create the Early Intervention & Rehabilitation Commission;
Allow counties (that are under federal court order to release jail inmates) to operate temporary jail facilities;
Impose felony penalties on serial graffiti offenders;
Learn more at www.safeneighborhoodsact.com
By Gazette Staff Writer — Wednesday, April 30th, 2008
SACRAMENTO -- The California Boating and Waterways Commission will meet April 25 to consider $11.535 million in boating facility improvement grants and loans, discuss the abandoned watercraft program and the Wear It California campaign. The meeting is open to the public and will convene at 8:30 a.m. at the Hyatt Regency Sacramento, 1209 L Street, Sacramento, California. The proposed grant and loan recipients are:
Buckhorn Boat Launch Facility, Black Butte Lake -- U.S. Army Corps of Engineers (USACE)
Because of construction cost increases, the commission will consider a USACE request to combine funds from previously approved funding for the Eagle Pass and Buckhorn boat launching facilities to complete the Buckhorn boat launching facility (BLF). The Buckhorn BLF is the primary facility on Black Butte Lake, located in Tehama and Glenn counties. The project is anticipated to cost $1.8 million.
Ventura Harbor — Ventura County
The commission will consider a phase-one grant of $450,000 to the Ventura Port District for improvements to the Ventura Harbor Boat Launching Facility. The project will demolish and redesign the existing concrete ramp, add an accessible boarding float and stabilize the shoreline. The total project cost is $4.5 million. Previously, the commission consented to grants totaling $1,089,000 for improvements at this location.
Santa Barbara Marina— Santa Barbara County
The commission will consider a phase-one loan of $720,000 to the City of Santa Barbara Waterfront Department to fund improvements to Marina One in the Santa Barbara Harbor. The total project cost is $6,700,000. Replacement of Marina One is needed due to the deteriorating condition and age of the dock system, which is over 30 years old. The commission previously consented to loans totaling $7,291,000 for improvements to Marina One between 1961 and 1985. The loans have been paid in full.
Santa Cruz Harbor – Santa Cruz County
The commission will consider initial loan funding of $1,365,000 to the Santa Cruz Port District (district) for improvements and rehabilitation to the berthing facilities in the North Harbor of Santa Cruz Harbor. The district with its own forces has rebuilt 81 berths to date, but program funding is too slow and the docks are deteriorating faster than the district has dollars and the crew to replace them. The total project cost is $9.2 million. The commission previously consented to loans totaling $15,654,000 for improvements to the North Harbor between 1961 and 2001. The first four loans, totaling $6.2 million, haven been paid in full. The district is current on all other loans.
Dana Point Harbor Marina – Orange County
The commission will consider a second phase loan of $9,000,000 to the County of Orange for improvements to the Dana Point Harbor Marina as part of a larger Dana Point Harbor Revitalization Project. The total project cost is $15,000,000. This loan covers the demolition and reconstruction of berths in the West Marina, installation of gangways, replacement of dock utilities, repairs to the bulkhead, and installation of gates, fencing, a security system and parking area improvements. The commission previously consented to loans totaling $15,500,000 to the County of Orange for the construction of and/or improvements to the Dana Point Harbor Marina.
Grant and loan applications are submitted to the California Department of Boating and Waterways and funding for approved projects is derived from the taxes paid by boaters on the purchase of vessel gasoline and the repayment of principal and interest on department-made loans.
The department may provide grants to a county, city, district or other public agency for the construction and development of small craft boating launching facilities and provide loans to local agencies for the construction of small craft harbors. These grants and loans require the consent of the seven-member Boating and Waterways Commission.
By Gazette Staff Writer — Wednesday, April 30th, 2008
Persons interested in serving on the City of Fillmore Going Green Committee or the Area Housing Authority Commission are invited to apply by May 16, 2008.
Going Green Committee:
Five positions on the Going Green Committee will be filled. The purpose of the Going Green Committee is to assess all of the City's carbon output and energy consumption to develop a response to new state law requiring reduction of carbon output by 10% (Assembly Bill 32 and the Governor's Executive Order S-01-07). The recommendations of the Committee will also include a set of responses and budget items for the City Council to evaluate.
The Committee will determine its meeting dates and times. It is anticipated that the Committee will meet several times a month for approximately three months.
Area Housing Authority:
Fillmore has two seats on the Area Housing Authority Commission, with both seats currently vacant. The Authority, which also includes representatives from the cities of Camarillo, Moorpark, Simi Valley, Thousand Oaks, Ojai, and from unincorporated Ventura County, is responsible for providing a number of services to county residents and holds as its mandate the provision of "decent, affordable housing accommodations for low-income families, elderly, handicapped and disabled residents." The Authority's 15-member Commission generally meets the second and fourth Wednesday of each month at 3 p.m. at the offices of the Area Housing Authority, located at 1400 West Hillcrest Drive in Newbury Park.
Interested persons should submit a letter of interest and a Citizen Advisory Group Applicant Information Form to the City of Fillmore, attention Steve McClary, Administrative Services Manager.
Applications for these positions are available at the office of the Administrative Assistant and on the City's website at: www.fillmoreca.com/cityhall. For information on the application process please contact Administrative Assistant Angela Mumme at 805-524-1500, extension 269 or Administrative Services Manager Steve McClary at 805-524-1500, extension 211. For more information on the Area Housing Authority of Ventura County, please call (805) 480-9991, extension 850.
Local residents interested in being considered for appointment to either commission must submit a City Commission Application Form no later than 5 p.m. on May 16, 2008 to the City Clerk, Fillmore City Hall, 250 Central Avenue, Fillmore, CA. 93015. Applications are available at Fillmore City Hall or on the City's website at www.fillmoreca.com.
Appointments will be made by the mayor, with approval of the city council, following an interview with and recommendation from the City Council Interview/Selection Committee.
For further information on the application process please call (805) 524-1500, extension 211 or extension 269.
By Gazette Staff Writer — Wednesday, April 30th, 2008
The Ventura County Professional Firefighters Association is proud to announce the endorsement of Kathy Long for Ventura County supervisor of the Third district.
For the last 12 years Kathy Long has demonstrated her dedication to the safety of Ventura County's citizens and the men and women who protect them. The safety of our citizens is a priority Firefighters share with Kathy Long according to Chris Mahon, President of the Firefighters Association. "Kathy has the experience and the proven track record to handle the challenges that the county will face in coming years."
The Firefighters Association made the endorsement with a unanimous vote at its February 6 Board Meeting. The Ventura County Professional Firefighters Association represents 425 active members throughout Ventura County including the Ventura County and Santa Paula City fire departments.