By Gazette Staff Writer — Wednesday, December 3rd, 2008
If you want to see the blasphemous song Willie Nelson sings on Colbert Christmas special, while playing one of the Wiseman, (offering not frankincense and Myrrh, but marijuana to the baby Jesus) clik on this link, scroll to the right--more info below the link-
http://current.com/items/89570991/a_colbert_christmas_willie_nelson_sing...
Hyper-real talking head Stephen Colbert fights back Sunday against the power-mad hordes who have declared war on Christmas. His secret weapon: a deliriously strange holiday special.
How strange? Toby Keith sings about Santa dropping nukes from his sleigh on heretics who don't believe in Jesus or Santa, who the country crooner explains are actually the same person.
Colbert and Keith are joined by The Daily Show's old-school faux newsman, Jon Stewart, and musical heavyweights like Elvis Costello, Willie Nelson, John Legend and Feist. Willie Nelson, dressed as one of the Wiseman, offers a gift of marijuana to the baby Jesus.
With their help, Colbert dissects the religious roast beast that is Christmas using satire, drugs, violence and hilarious duets as a scalpel.
The premise is short and silly: Colbert prepares to leave his snow-covered mountain cabin to film a star-studded holiday special in his New York studio, but is menaced by a bloodthirsty bear.
As he remains terrorized inside, his special guests show up one by one to teach him about Christmas, murder, Hanukkah, marijuana, angels and the dirty double entendre known as "nutmeg."
Like everything the postmodern comedian creates, A Colbert Christmas: The Greatest Gift of All is a total riot. It's also a revenue gainer, with a $20 DVD of the show going on sale Nov. 25, just in time for the Christmas tree. CONTINUED »
By Gazette Staff Writer — Monday, December 1st, 2008
Written by Fr. John Corapi
Every Thanksgiving we are reminded to do for at least one day what should be a constant dimension of our spiritual life: Give Thanks. The prayer of thanksgiving is one of the major forms of prayer, along with adoration, reparation, intercession, and impetration (asking for what we need) to name some of the major categories of prayer.
This year, as always, we should count our blessings whoever we are and wherever we are. In the United States of America we should carefully and clearly think of what makes this country great, the essentials that were there from the beginning and that define what we are. By the same token, we should carefully, clearly, and courageously define what is not part of the true fabric of our nations very essence. Things that have become an everyday part of American life threaten to destroy the real country, the one the Founding Fathers founded on Christian principles. Anti-human realities such as abortion, euthanasia, fetal stem cell research, human cloning, pornography, and homosexual sexual relations all of these are foreign to what this country is about and always was about. We should thank God for this, for if this were not true we would have ceased to exist long ago. God has to be first in our lives, not economic prosperity. If you are right with God, the economic factor will fall into place. If not, then greed, fraud, deceit, and every vice under the sun will rule. No one will trust the government, the corporate world, the professions, etc. The moral unraveling precedes the ultimate unraveling of a nation or a world. Chaos is the inevitable result, and death follows close behind.
Immorality is un-American, and a threat to national security. I said that right after 911, and it is more true now than ever. In my lifetime I have experienced the moral erosion of our national consciousness. It's as if large segments of the population had some portion of their brain removed or their eyes blinded. We should recall that all of the old ways are not inferior to some of the new ways. We must likewise recall that Gods ways are not our ways. God's ways are as far above our ways as the heavens are above the earth. God can't indeed write straight with crooked lines. He can bring good out of the worst evil, not that the evil should be accepted or countenanced, but when we've done all we can do to fight the evil, know that we haven't lost. Jesus Christ is the Lamb of God, and Prince of Peace to be sure, but don't ever forget that He is also the Lion of the Tribe of Judah. The violence and power with which God himself will confront and destroy the evil that threatens us far surpasses anything we could do.
So, this Thanksgiving thank God for God! God is in charge! Don't forget that. God is all-good, all-merciful, all-loving, and all-powerful. He will fight the enemies of what is true and good. If God is for you, who can be against you! Thank God for your faith and your family, your health and your wealth no matter how large or small. The spirit of thanksgiving makes a heavy heart lighter. It will clear your head of a thousand worries and concerns. One thing alone is important: your personal relationship with the Father, Son, and Holy Spirit. If that is right you will be right. If that is right, the entire world can be sinking into hell under the weight of its sins and misery, you will fly above the turmoil, destined for the glory held in store for the sons and daughters of the Lord of the Universe.
Have a blessed and happy Thanksgiving!
Fr. John Corapi
By Gazette Staff Writer — Wednesday, November 26th, 2008
The Bardsdale United Methodist Church invites the community to join them for two wonderful and joyous musical celebrations this Christmas season.
On Saturday, December 6, at 5 PM, the Bell Choir presents "Ring Noel" where people not only listen to festive bell arrangements but also have the opportunity to join in the ringing. A stew dinner is included with the evening's merriment. Adult tickets are $10 each while a family can attend for $25.
The traditional and long-time favorite, "Christmas Vespers", will continue as a gift to the community on Sunday, December 14, at 5 PM. The sanctuary will be filled with the talented voices of the Bardsdale choir singing songs of the season accompanied by organ, piano and flute.
Come and help celebrate Christmas in Bardsdale.
By Gazette Staff Writer — Wednesday, November 19th, 2008
The Fillmore Area Ministerial Association is sponsoring the Fillmore Community Thanksgiving Worship Service on Wednesday night, November 26, 2008. This service begins at 7 PM. It will be held at the Fillmore Foursquare Church at 324 Sespe Avenue. Several congregations of our city will be participating. A special presentation in song and drama will be presented by the Agape Mime Troupe. Scriptures, worship songs and prayers of thanksgiving will all be part of this thanksgiving gathering. The new Assembly of God pastor, Jerry Garife will be presenting a devotional. Scriptures tell us to give thanks to the LORD for He is good and His love endures forever. Come join us in giving thanks!
By Gazette Staff Writer — Wednesday, November 12th, 2008
He deemed her "sexually provocative"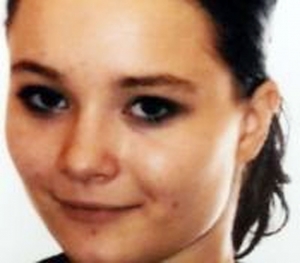 Lidia Motylska, 19, was strangled in an alleyway in Leeds by Iraqi immigrant Abobakir Jabari who objected to his Kurdish flatmate's relationship with her.
(Story by The Yorkshire Post)
Also, she, a non-Muslim -- Catholic no less -- was dating his Muslim roommate. "Muslim killed Catholic girl in love with flatmate," by Jeni Harvey for the Yorkshire Post, November 12 (thanks to Jeffrey Imm):
A TEENAGER was brutally murdered by her boyfriend's Muslim flatmate because he did not approve of him going out with a Catholic.
Lidia Motylska, 19, was strangled in an alleyway in Leeds by Iraqi immigrant Abobakir Jabari who objected to his Kurdish flatmate's relationship with her.
Yesterday Jabari, 39, who was given British citizenship in 2005, pleaded guilty at Sheffield Crown Court to murdering the petite Polish teenager.
The court heard he garrotted her from behind, using the cord from his tracksuit bottoms, before inflicting "gratuitous" wounds on her lifeless body. He stabbed her repeatedly in the chest and stomach and slit her throat.
Sentencing Jabari to life imprisonment with a minimum tariff of 19-and-a-half years, Mr Justice McKinnon said the murder involved an exceptional degree of violence.
"There is a suspicion that you lured this young woman to her death and marked your disapproval of her and her relationship by gratuitous violence upon her," he said.
The court heard that Jabari grew up in Iraq and was conscripted to the Iraqi army but then deserted. He became involved with the Communist party and later helped opponents of Iraqi dictator Saddam Hussein's regime flee to Syria.
He came to England in 1999 with his then wife, but they separated in 2003 and he went on to gain British citizenship.
In July 2004 he began working at Symphony Kitchens in Gelderd Lane, Leeds. CONTINUED »
By Gazette Staff Writer — Wednesday, November 5th, 2008
The Bardsdale United Methodist Women will host their annual Thanksgiving Luncheon on Tuesday, November 11 at 12 noon in LeBard Hall. This festive meal will include the traditional turkey, dressing and all the trimmings as well as pumpkin pie. Takeouts are available.
To acknowledge our Veterans on this special day, the guest speaker will be Julie Arundell. A 1996 graduate of Fillmore High, she earned her Bachelor of Science in Nursing from the University of Wyoming. She was commissioned into the U.S. Army and served five years as an Army nurse serving at stateside base hospitals including Walter Reed Medical Center in Washington D.C. In 2005, Ms. Arundell was deployed with the 2nd Forward Surgical Team to Afghanistan where she was the Operating Room Nurse Manager and provided care to U.S. soldiers as well as Afghani military and police. She is currently earning her graduate nursing degree at UCLA to become a Family Nurse Practitioner and will graduate in 2009.
Bardsdale United Methodist Church is located at 1498 Bardsdale Avenue. For more information, call the church at 524-2070.
By Gazette Staff Writer — Wednesday, October 29th, 2008
Faith Community Church Patio, 461 Central Ave.
Friday October 31st 5:30 pm – 8:00 pm. There will be games, trunk or treat, a snack bar to purchase food and drinks, and the general store will provide 'treats' in exchange for tickets from the game booths. BRING your family and join us for a fun time! Admission is free.
By Gazette Staff Writer — Tuesday, October 28th, 2008
Written by Fillmore Pastor Leslie R. Lanier, Wayfarer's Chapel Lutheran Church
Dear friend,
While the economy, health care, and national defense are important issues in the upcoming presidential election, moral issues such as abortion are equally if not more important because they affect the very moral foundations of our society. Therefore, it is important that the voters have the facts on where Senators McCain and Obama stand on abortion.
First, a definition of terms.
1) Partial-birth abortion: An abortion procedure used late in a pregnancy where a child is delivered except for its head. The back of its head is then cut open and its brains are sucked out so that it can be delivered dead. The child has not been completely born when it is killed, hence the name "partial-birth" abortion.
2) Partial-Birth Abortion Ban Act: Passed by the House with a vote of 281-142, passed by the Senate with a vote of 64-34, and signed into law by President Bush on November 5, 2003, the Act prohibits the partial-birth abortion procedure from being practiced in the United States.
3) Gonzales v. Carhart: The April 2007 Supreme Court decision upholding the constitutionality of the Partial-Birth Abortion Ban Act.
4) Freedom of Choice Act: A bill before congress, sponsored by abortion-rights advocates, in reaction to the "Gonzales v. Carhart" decision, which would protect abortion rights in the United States. This bill would permit partial-birth abortions where the "health" of the mother is an issue. Since the "health" of the mother could include any physical or mental stress or discomfort suffered by the mother during her pregnancy, the Freedom of Choice Act would in effect nullify the Partial-Birth Abortion Ban Act and again allow partial-birth abortions to be practiced in our country.
The following gives the stand and voting record of Senators McCain and Obama on abortion-related issues.
Partial-Birth Abortion: CONTINUED »
By Gazette Staff Writer — Tuesday, October 28th, 2008
Written by CatholicVote.com
A critical election for our country is fast approaching. Many of you have worked very hard to bring the issues of life, faith, and family to the forefront of this campaign. We are rightly worried about a country that is so casual about the destruction of innocent human life and indifferent about the attacks on the institution of marriage.
The time has come for Americans to get on their knees and beg Our Father for mercy for our Nation.
Earlier today, Edward Cardinal Egan of New York released a letter along with a photo of a 20-week old unborn child. He asked his readers to look at the photograph and ask themselves if there is any doubt that the picture is a human being.
He closed his letter with these powerful words: "Do me a favor. Look at the photograph again. Look and decide with honesty and decency what the Lord expects of you and me as the horror of "legalized" abortion continues to erode the honor of our nation. Look, and do not absolve yourself if you refuse to act."
The Lord told us in 2nd Chronicles:
"If my people, upon whom my name has been pronounced, humble themselves and pray, and seek my presence and turn from their evil ways, I will hear them from heaven and pardon their sins and revive their land." CONTINUED »
By Gazette Staff Writer — Tuesday, October 28th, 2008
1 Samuel 8:18 "When that day comes, you will cry out for relief from the king you have chosen, and the LORD will not answer you in that day."
Written By Huntley Brown
(below Huntley Brown's letter, is an explanation of Liberation Theology. Obama's pastor, Jeremiah Wright, was mentored by a man who wrote a book on Black Liberation Theology. Below the explanation of Liberation Theology, is the Pope's explanation of the Catholic Churches condemnation of Liberation Theology's Marxist principals.)THIS is a COMMUNIST teaching!!)
Dear Friends, A few months ago I was asked for my perspective on Obama, I sent out an email with a few points. With the election just around the corner I decided to complete my perspective. Those of you on my e-list have seen some of this before but it's worth repeating...
First I must say whoever wins the election will have my prayer support. Obama needs to be commended for his accomplishments but I need to explain why I will not be voting for him.
Many of my friends process their identity through their blackness. I process my identity through Christ. Being a Christian (a Christ follower) means He leads I follow. I can't dictate the terms He does because He is the leader.
I can't vote black because I am black; I have to vote Christian because that's who I am. Christian first, black second. Neither should anyone from the other ethnic groups vote because of ethnicity. 200 years from now I won't be asked if I was black or white. I will be asked if I knew Jesus and accepted Him as Lord and Savior..
In an election there are many issues to consider but when a society gets abortion, same-sex marriage, embryonic stem-cell research, human cloning to name a few, wrong economic concerns will soon not matter.
We need to follow Martin Luther King's words, don't judge someone by the color of their skin but by the content of their character. I don't know Obama so all I can go off is his voting record. His voting record earned him the title of the most liberal senator in the US Senate in 2007. CONTINUED »
By Gazette Staff Writer — Monday, October 27th, 2008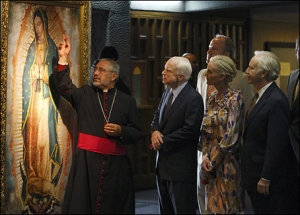 Blog posting by Anne (aussieannie)
This is probably my most important blog posting to date, it is long but I ask that you read it all. To the end of this, there is a not well known, but startling revelation about the elections in 2000 and how Bush's election, in my opinion was won through the intercession of Our Lady of Guadalupe and how Our Lady under her title of the Immaculate Conception is now showing her motherly hand to American's again during this election campaign.
An important message needs to travel the country of America and even my country of Australia, because we will never overturn abortion here in Australia until the United States does.
This is all important, because the up and coming US elections have never been more important than these two defining facts:
If Obama wins he will introduce the "Freedom of Choice Act" he stated to Planned Parenthood, "Senator Obama says clearly, "The first thing I'd do as president is sign the Freedom Of Choice Act." So what will FOCA (Freedom of Choice Act) do? This is what Cardinal Rigali said,
"Despite its deceptive title," he wrote, "FOCA would deprive the American people in all 50 states of the freedom they now have to enact modest restraints and regulations on the abortion industry. FOCA would coerce all Americans into subsidizing and promoting abortion with their tax dollars. And FOCA would counteract any and all sincere efforts by government to reduce abortions in our country."
Obama is the most pro-abortion candidate to ever run for national office on a major party ticket.
If McCain wins he will have with him a passionately pro-life vice president, both supporting the building of a culture of life. George W Bush has made a decisive changes already in the ability to overturn Roe vs Wade. When he came to power the Supreme court judges were 7 – 2 in favour of Roe vs Wade, to date now, thanks to Bush, it is 5 – 4 in favour.
One more pro-life nomination needed when the next judge retires...one – they are nearly there.
Some startling facts have just come to light, and I will print the full article (with my added highlights) from Life Site:
Interview with Film Star Eduardo Verastegui about His McCain Endorsement
By Anita Crane
October 22, 2008 (LifeSiteNews.com) - Eduardo Verastegui, producer and lead actor of the 2007 American film Bella, met with Senator John McCain on October 17 in Miami, where they discussed the human rights at stake in this presidential election. Now Verastegui is using his star power – and more – to help McCain and Governor Sarah Palin win the votes of Latinos. CONTINUED »
By Gazette Staff Writer — Monday, October 20th, 2008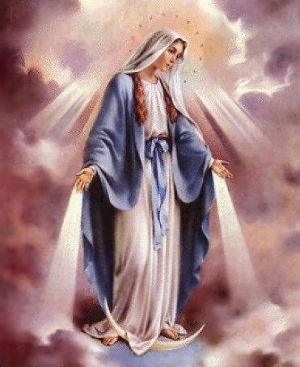 Written By Fr. John Corapi
Among the most important titles we have in the Catholic Church for the Blessed Virgin Mary are Our Lady of Victory and Our Lady of the Rosary. These titles can be traced back to one of the most decisive times in the history of the world and Christendom. The Battle of Lepanto took place on October 7 (date of feast of Our Lady of Rosary), 1571. This proved to be the most crucial battle for the Christian forces against the radical Muslim navy of Turkey. Pope Pius V led a procession around St. Peter's Square in Vatican City praying the Rosary. He showed true pastoral leadership in recognizing the danger posed to Christendom by the radical Muslim forces, and in using the means necessary to defeat it. Spiritual battles require spiritual weapons, and this more than anything was a battle that had its origins in the spiritual order—a true battle between good and evil.
Today we have a similar spiritual battle in progress—a battle between the forces of good and evil, light and darkness, truth and lies, life and death. If we do not soon stop the genocide of abortion in the United States, we shall run the course of all those that prove by their actions that they are enemies of God—total collapse, economic, social, and national. The moral demise of a nation results in the ultimate demise of a nation. God is not a disinterested spectator to the affairs of man. Life begins at conception.
This is an unalterable formal teaching of the Catholic Church. If you do not accept this you are a heretic in plain English. A single abortion is homicide. The more than 48,000,000 abortions since Roe v. Wade in the United States constitute genocide by definition. The group singled out for death—unwanted, unborn children.
No other issue, not all other issues taken together, can constitute a proportionate reason for voting for candidates that intend to preserve and defend this holocaust of innocent human life that is abortion.
I strongly urge every one of you to make a Novena and pray the Rosary to Our Lady of Victory between October 27th and Election Day, November 4th. Pray that God's will be done and the most innocent and utterly vulnerable of our brothers and sisters will be protected from this barbaric and grossly sinful blight on society that is abortion. No woman, and no man, has the right to choose to murder an innocent human being.
May God grant us the wisdom, knowledge, understanding, and counsel to form our conscience in accordance with authentic Catholic teaching, and then vote that well‐formed Catholic conscience.
God Bless You
Fr. John Corapi
By Gazette Staff Writer — Monday, October 13th, 2008
A Statement of the Catholic Bishops of California
in support of Proposition 8:
A Constitutional Amendment to Restore the Definition of Marriage
August 1, 2008
"Only the rock of complete and irrevocable love between man and woman is capable of acting as a foundation for a society that can be home to all human beings."
--Pope Benedict XVI, addressing the John Paul II Institute
for Studies on Marriage and the Family, May 11, 2006
The issue before us with Proposition 8 is "marriage"--an ancient, yet modern, human institution which pre-exists both Church and government. Marriage, history shows us, is intrinsic to stable, flourishing and hospitable societies. Although cultural differences have occurred, what has never changed is that marriage is the ideal relationship between a man and a woman for the purpose of procreation and the continuation of the human race.
On May 15, 2008, the California Supreme Court ruled that the current law defining marriage as between a man and a woman is unconstitutional. This radical change in public policy will have many profound effects on our society, because it
* Discounts the biological and organic reality of marriage--and how deeply embedded it is in our culture, our language and our laws and ignores the common understanding of the word marriage; and because it
* Diminishes the word "marriage" to mean only a "partnership" -- a purely adult contractual arrangement for individuals over the age of 18. Children -- if there are any -- are no longer a primary societal rationale for the institution.
As teachers of the faith, we invite our faithful Catholics to carefully form their consciences. We do that by drawing on the revelation of Scripture, the wisdom of Tradition, the experience and insights of holy men and women as well as on what can be known by reason alone.
Crystallizing the teaching on marriage, the Catechism of the Catholic Church (1603, 1604) proclaims:
God himself is the author of marriage. The vocation to marriage is written in the very nature of man and woman as they came from the hand of the Creator. Marriage is not a purely human institution despite the many variations it may have undergone through the centuries in different cultures, social structures, and spiritual attitudes. The well-being of the individual person and of both human and Christian society is closely bound up with the healthy state of conjugal and family life.
With all this in mind, we, as bishops, offer counsel to our Catholic people in California in their response to this radical change in California's public policy regarding marriage.
First, same-sex unions are not the same as opposite-sex unions. The marriage of a man and a woman embraces not only their sexual complementarity as designed by nature but includes their ability to procreate. The ideal for the well being of children is to be born into a traditional marriage and to be raised by both a mother and a father. We recognize that there are parents who are single and we laud them for the great sacrifices they make in raising their children.
Second, we need to recall that marriage mirrors God's relationship with us -- and that marriage completes, enriches and perpetuates humanity. When men and women consummate their marriage they offer themselves to God as co-creators of a new human being. Any other pairing -- while possibly offering security and companionship to the individuals involved -- is not marriage. We must support traditional marriage as the source of our civilization, the foundation for a society that can be home to all human beings, and the reflection of our relationship with God.
Third, we need to remember that we are all children of God possessed of human dignity and that each of us is created in God's image. Protecting the traditional understanding of marriage should not in any way disparage our brothers and sisters -- even if they disagree with us.
Fourth, we must pray and work for a just resolution of this issue which is so important to the well being of the human family.
Fifth, as citizens of California, we need to avail ourselves of the opportunity to overturn this ruling by the California Supreme Court. On the November general election ballot, there will be Proposition 8 which reads: "Only marriage between a man and a woman is valid or recognized in California." That language simply affirms the historic, logical and reasonable definition of marriage -- and does not remove any benefits from other contractual arrangements.
And finally, we strongly encourage Catholics to provide both the financial support and the volunteer efforts needed for the passage of Proposition 8. And -- please exercise your citizenship and vote in November.
By Gazette Staff Writer — Tuesday, October 7th, 2008
By Gazette Staff Writer — Friday, September 26th, 2008
First United Methodist Church in Santa Paula is having its Annual Bazaar early this year on Saturday, October 11, 2008 from 9:00 a.m. 'til 2:00 p.m. with lunch being sold and served from 11:00 a.m. 'til 1:30 p.m. at 133 North Mill St., near Santa Barbara St. and one block west of 10th St.
Halloween, Fall, Christmas, and Holiday Decorations; Crafts, Tea Towels, Aprons, Dolls; Homemade Jam and Fresh Produce; Granny's Attic (random used or vintage treasures); Lunch for only $7.50 includes Homemade Soup, Roll, Pie and Beverage; Pie and Beverage only for $4.00
By Gazette Staff Writer — Wednesday, September 24th, 2008
The Friends of Bardsdale Church will be hosting "OctoberFest", Saturday October 25, from 5 to 8 PM, at the spacious and elegant Grimes Canyon home of Monty and Maio Winkler.
The festive evening is the first fundraising event planned by the group and will begin with hors d'oeuvres, beer and wine, and a silent auction. Following a Bavarian-themed dinner, the fun will continue with a live auction.
A sampling of items up for auction include vacations in destinations such as Hawaii, Las Vegas, Big Bear and Oxnard Shores. Some recreational offerings are a round of golf for four at Elkins Ranch, tickets to Disneyland, Six Flags, whale watching and Dodgers baseball. Works of art by local artists and an opportunity to have a painting of your own residence can be won by bid. There are tickets to theatre productions at Moorpark Melodrama, Rubicon and Theatre League and dinners from local restaurants. Transportation needs can be met with a 1991 Cadillac Seville.
Friends of Bardsdale Church is a group of friends from the communities of Bardsdale and Fillmore who see a need to raise funds to upgrade and maintain the church, a county historical landmark. "OctoberFest" seemed an appropriately themed celebration as the church was founded in 1892 by German families who migrated to Bardsdale from the Midwest.
Tickets for "OctoberFest" are limited and cost $20 per person. For ticket information, call 524-5202 or 524-2070.
By Gazette Staff Writer — Wednesday, September 10th, 2008
Dick Williams is a composer, recording artist, and Bible teacher who shares the simple truths of God's Word in every day life through his music and teaching. He will be featured September 17, at 7pm at Fillmore Foursquare Church, 324 Sespe Avenue, Fillmore.
God has gifted him with a powerful, but gentle prophetic word for those to whom he has opportunity to minister.
Dick has served the Lord in public ministry for twenty-four years. He has been privileged to take this ministry of music and teaching the Word of God to seven different countries, including Yugoslavia, Hungary, and Czechoslovakia.
You will be encouraged and refreshed through the ministry of Dick Williams as he seeks to lift up the Lord Jesus Christ.
By Gazette Staff Writer — Monday, September 8th, 2008
Courtesy Catholic League
On August 24, House Speaker Nancy Pelosi told Tom Brokaw on NBC's "Meet the Press" that the Catholic Church has not been able to decide when life begins; she was quickly criticized by many bishops and lay Catholics (including the Catholic League) for misrepresenting the Church's teaching. No source of criticism was more important than that of the United States Conference of Catholic Bishops (USCCB).
Three days later, Pelosi's office issued a statement acknowledging that the Church teaches that life begins at conception. However, it also said that St. Augustine offered a different perspective and opined that "many Catholics do not ascribe to that [the Church's] view."
Yesterday, the USCCB issued another statement (see below): it is a two-page reply that offered a historical account of the Catholic Church's teaching on abortion. The release makes it clear that the Church has always been unequivocally opposed to abortion. The new statement was written to "help end confusion caused by recent misrepresentations of Catholic Church teaching on abortion," a process that was "prompted by misleading remarks by Speaker of the House Nancy Pelosi."
Catholic League president Bill Donohue weighed in as follows:
"Nancy Pelosi continues to give currency to the idea that the Church's teaching on abortion has evolved over time, and that in any case there is more than one legitimate Catholic position on this subject. She is twice wrong. It is precisely because of people like Morton Kondracke of the Fox News Channel, Anthony Stevens-Arroyo of the Newsweek-Washington Post 'On Faith' blog site, and anti-Catholic groups such as Catholics for Choice, that the confusion continues to rage. All of them defend Pelosi's ignorant remarks.
"Nineteen Catholic members of the House have publicly asked Pelosi to 'correct the public record' on this issue. Her steadfast refusal to do so is keeping this matter alive. One wonders what it will take to get her to retract her comments before more damage is done to the Catholic Church, to her and to the Democratic Party." CONTINUED »
By Gazette Staff Writer — Wednesday, August 27th, 2008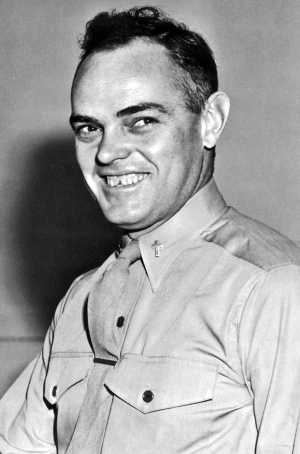 Rev. Ernest D. Miller
The WW II era Navy Chaplain's Gear Case of the Rev. Ernest D. Miller, former pastor of the Fillmore United Methodist and Fillmore Community Churches, has been donated to the Smithsonian Institute, in Washington, D.C.
The Chaplain's Gear Case and military artifacts were of interest to the Smithsonian Institute for their historical value to the Division of Military History and Diplomacy, at the National Museum of American History. The items were presented to Smithsonian Associate Curator, Kathy Golden, in Washington D.C., on July 21, 2008, by Rev. Miller's son, Dan Miller.
After graduating from Andover Newton Theological School, in 1942, Rev. Miller joined the Navy, in June of 1943, and served as a Lt. in the Chaplain's Corp. He ministered to both marines and sailors. He served at sea and on land in the Philippines and New Hebrides, in the S. Pacific Theater of Operations campaigns, during WW II. He also served at Quantico, Virginia, as well as Camp Pendleton and El Toro Marine Bases, in S. California. Chaplain Miller was assigned to the USS Oakland, serving in China, after the war. In 1948 he returned to civilian life and served as a pastor with the United Methodist Church; S. California Conference. He died, in Fillmore, in 1982 while pastor of the Fillmore Community Church.
Rev. Miller's, widow, Ruth E. Miller, a retired Fillmore High School teacher, resides in Fillmore.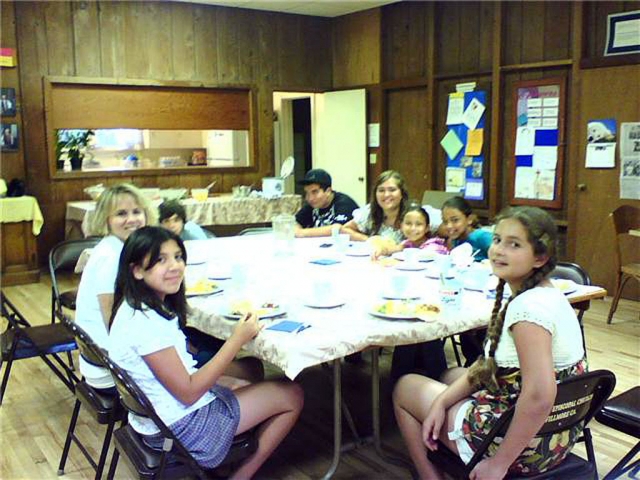 The Real Meal.
Enlarge Photo
By Gazette Staff Writer — Wednesday, August 13th, 2008
This past week, the Rev. Julie Morris from Trinity Episcopal Church invited youth ages 12 to 16 to share time nourishing their bodies, minds and souls. They discussed what it means to be healthy inside and out while preparing food for lunch each day. Thirteen youth participated in the week-long program, and they want to continue by meeting once or twice each month during the school year. Pictured above are those who were able to attend Friday, August 08, 2008 : Ashley Gonzalez (7th grade), Chelsy Fizgerald (7th grade), Rev. Julie, Rudy Gonzalez (9th grade), Brandon Aguilera (7th grade), Stephanie Gonzalez (12th grade), Erika Mendez (6th grade) and Arlinda Reyes (6th grade).