By Gazette Staff Writer — Thursday, September 8th, 2016
The Bardsdale United Methodist Women are announcing that their semiannual yard sale will be on Saturday, October 1, from 8 a.m. till noon.
As always, great bargains can be found in a wide variety of pre-owned and gently used household treasures.
Maybe you have items lying around your home that you don't need anymore and would like to donate, please call the church at 524-2070 or Marcia at 524-3674. For more information about the sale or Bardsdale United Methodist Church, go to bardsdaleumc.org or check out our Facebook page.
By Bill Wilson — Monday, May 2nd, 2016
A new release of State Department documents to government watchdog Judicial Watch bring new information about Hillary Clinton's role in the deadly attack on the US consulate in Benghazi. Judicial Watch, which forced the State Department to release the papers through the Freedom of Information Act, says the documents actually reveal two scandals, "The first is Hillary Clinton telling different stories to different foreign leaders about the Benghazi attack - including an admission that it was a terrorist attack. The second is the State Department's cover-up of these documents." Let us remember that Clinton and the White House had stated that an anti-Islam film had caused a spontaneous attack on the compound. A blatant lie.
Judicial Watch reports that the documents confirm that on September 12, 2012, Clinton informed Egyptian Prime Minister Hisham Kandil that the attack "had nothing to do with the film." Judicial Watch reports that Clinton issued an official State Department press statement, approved by the White House, placing the blame for the attack on an Internet video: She said, "Some have sought to justify this vicious behavior as a response to inflammatory material posted on the Internet. The United States deplores any intentional effort to denigrate the religious beliefs of others. Our commitment to religious tolerance goes back to the very beginning of our nation. But let me be clear: There is never any justification for violent acts of this kind."
Judicial Watch reveals that on September 12, Clinton told Kandil, "We know the attack in Libya had nothing to do with the film. It was a planned attack - not a protest." Kandil responded, "You're not kidding. Based on the information we saw today we believe that group that claimed responsibility for this is affiliated with al-Qaeda." Two days later, at the ceremony when the bodies of the four Americans who were killed arrived in the US, Clinton again left the implication that it was all due to the video: "We've seen the heavy assault on our post in Benghazi that took the lives of those brave men. We've seen rage and violence directed at American embassies over an awful Internet video that we had nothing to do with."
It was only after State Department officials leaked to the public that the White House story was a fabrication that Clinton admitted "that information has changed...that's not surprising. That always happens." When pressed for more information at a Congressional hearing, Clinton responded: "What difference at this point does it make?" A Congressional report from five House committees said that Clinton and the White House "perpetuated a deliberately misleading and incomplete narrative..." In other words, they lied. 2 Timothy 3:13 says, "But evil men and seducers shall wax worse and worse, deceiving and being deceived." That Clinton is not in jail, but instead running for the highest political office in the land is a travesty.
Have a Blessed and Powerful Day!
Bill Wilson
www.dailyjot.com
By Gazette Staff Writer — Tuesday, April 5th, 2016
The Daily Jot
Written by Bill Wilson
www.dailyjot.com
On March 8, 2007, The Daily Jot stated: Communism is on the rise in America and seeks to take over the nation without a single revolutionary shot fired. Communism is found in the public school system. Communism is found in the political system. Communism is found in the federal government. But Communism went out with Gorbechev, right?--The tearing down of the Berlin wall; the fall of the Soviet Union. Wrong. Communism is alive and well. Its just not called communism anymore. It is reshaped into a form more acceptable to the American people. It is disguised and is infiltrating every aspect of American society, especially religious circles. And once the pulpit falls, so will the nation.
Communism is a religion that seeks to replace God with the state. Communist strategists realized that America as a godly nation would never fall into their hands. So a change in strategy had to be employed. The strategy was three-fold: 1) appeal to Americans' sense of justice by creating victim classes such as women, homosexuals, the environment, and skin color; 2) convince godly people to believe that communist values are the same as Christian values; and 3) continue teaching secular humanism as aggressively as possible. It fits with the Communist Manifesto calling for the abolition of religion, morals, property ownership, and even marriage. Yes, the Manifesto refers to marriage as a form of prostitution.
The victim classes already have been established. With women it is the sexual revolution and feminism-the breakdown of society by breaking down the traditional family structure. With homosexuals it is the tolerance and homosexual equality movement-the continued breakdown of the institution of marriage. Communism has sought to divide humans by skin color and to inflame animosity between them. And many have been influenced by the "green revolution" of radical environmentalism, such as the flawed science of global warming or climate change, that seeks to redistribute wealth to pay for the damage humanity has done to God's creation.
Not many people will admit they are communists. Progressive is a word used to describe today's communists. A politician can be a member of the Democratic or Republican party and still be a ideological communist. A pastor can be a leader of a conservative church, but be an ideological communist. Its not about what you say, its about what you do and what you support. Communism is the antithesis of God and it is seeking to destroy our nation through its "Critical Thinking" doctrine. Jesus said in Matthew 24:24, "For there shall arise false Christs, and false prophets, and shall show great signs and wonders; insomuch that, if it were possible, they shall deceive the very elect." Beware of the new communism.
Have a Blessed and Powerful Day!
Bill Wilson
www.dailyjot.com
By Gazette Staff Writer — Tuesday, March 22nd, 2016
It's Spring and that means it's time for the Bardsdale Church Spring Yard Sale hosted by the Bardsdale United Methodist Women. Saturday, April 9th, is the day and 8 am till noon is the time to find great bargains.
LeBard Hall and the parking lot will be full of gently used treasures that will entice both savvy and casual shoppers alike.
If you have items you would like to donate, call Marcia at 524-3674 or the church office at 524-2070. The church is located at 1498 Bardsdale Avenue, two and a half miles south of Fillmore.
By Gazette Staff Writer — Wednesday, March 9th, 2016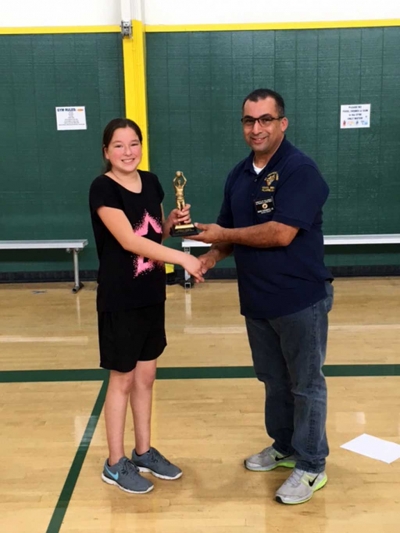 Congratulations to 9 year old Natalia Velasco for winning the Knights of Columbus Free Throw Championship and moving on to the State finals.
Enlarge Photo
The Knights of Columbus held the Regional finals for their annual Free throw Championship on Sunday February 28th in Moorpark with 6 Fillmore Boys and Girls participating. Participants came as far as Santa Maria to participate.
Congratulations to 9 year old Natalia Velasco for winning and moving on to the State finals that will be held Saturday March 19th and 11:00am at Rancho San Antonio Boys home at 21000 Plummer St Chatsworth Ca. 91311
There will be a total of 9 contestants for each age group in Boys and Girls divisions. Each contestant shoots 25 consectutive shots and if there is a tie they have a shootoff of 5 shots each until a winner is determined
Once again we would like to Congratulate Natalie and wish you Good Luck in the Finals.
By Gazette Staff Writer — Wednesday, February 17th, 2016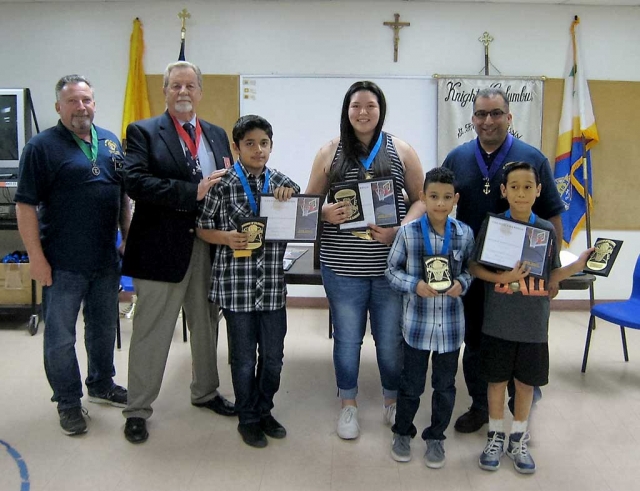 Six boys and girls from Fillmore, Ca. ages 9 to 14, were named local champions of the 2016 Knights of Columbus Free Throw Championship, and have earned the right to compete at the district level. St Francis of Assisi Council 8800 in Fillmore sponsored the local competition at the Fillmore Boys and Girls Club on Saturday, January 30, 2016. All youngsters ages 9 to 14 were eligible to participate. Natalie Velasco was the 9-year-old girls' champion. Sophia Velasco was the 10-year-old girls' champion and Makhi Hooker was the winner of the 10-year-old boys' division. In the 11-year-old bracket, Nathan Perez was the boys' champion. The Twelve-year-old winner in the boys' division was Javier Benito Avalos. The 13-year-old girls' division was won by Elsa Ramirez. Each contestant attempted 15 free throws in the contests. All ties were settled by successive rounds of five free throws per contestant until a winner emerged. Each of these winners will compete in the district competition to be held on Sunday February 28th at 1:00 pm at the Boys and Girls Club 200 Casey Rd , Moorpark Ca. 93021 with an eye toward moving on to the state and international levels. Front row Benito Avalos, Makhi Hooker, Nathan Perez Back Row Youth Director John Holladay, district Deputy Joe Lee, Elsa Ramirez, Grand Knight Mark Cervantez.
Enlarge Photo
By Gazette Staff Writer — Monday, January 11th, 2016
We've all heard that the owners of Sweet Cakes by Melissa bakery have been persecuted by the state of Oregon for not baking a cake for a same-sex wedding because of their Christian convictions. And their penalty for adhering to their faith ended up totaling $136,927.07, which they paid in its entirety on December 28th, 2015. Merry Christmas to them!
But as The Blaze reported a day later, that wasn't the end of the sad tale. The owners of the bakery, Melissa and Aaron Klein, had three separate bank accounts, a checking and savings account and a separate one marked solely for contribution to their church.
Evidently... http://godfatherpolitics.com/27769/obama-ignores-worldwide-christian-per...
By Gazette Staff Writer — Monday, January 4th, 2016
Written by Michael Ware
We live in a world that neither believes the truth nor want to hear the truth. There was a time that people could give facts and not fear reprisal, but that day has passed. We live in an age where all we do is good and right. Nothing you wish to do is wrong as long as you do not hurt someone else. Well, unless you want to smoke crack, Marijuana, or tobacco. These things doctors and scientists have determined are harmful to your health.
This is the reason that the government has outlawed... http://freedomforce.com/8499/boston-doctor-dismissed-for-stating-medical...
By JosĂ© H. Gomez — Monday, December 21st, 2015
By Archbishop JOSÉ H. GOMEZ
On Sunday, Dec. 13 I had the privilege to open the holy doors of the Cathedral of Our Lady of the Angels to mark the start of this Extraordinary Jubilee Year of Mercy.
A door that is open is a sign of welcome and hospitality. And in this Year of Mercy, God is opening wide the door to salvation, welcoming everyone into his house, his family, the Church.
Every one of us needs to pass through this door of mercy. This Year of Mercy is a new time for all of us to seek and rediscover the mercy of God.
Our Christian life is meant to be a life of continuing conversion to God — every day, year after year, growing deeper in our love for God and our commitment to being his disciples. And conversion always begins — and always begins anew — when we become aware of God's mercy and love in our lives.
So this is an important year for the Church. But it is also an important year for the world.
Nearly a generation ago now, St. John Paul II wrote: "The present-day mentality, more perhaps than that of people in the past, seems opposed to a God of mercy, and in fact tends to exclude from life and to remove from the human heart the very idea of mercy."
Sadly, I think this is even more true today.
In a world where it seems that war and violence are constant, a world that confronts us daily with the realities of spiritual and material poverty, injustice and human suffering, many find no "evidence" for a God of mercy, no "proof" that creation is being guided by a loving hand.
And as society's belief in God's mercy fades, we see that the idea of mercy is declining in our public life. We see it in some of the statements of our politicians and in our media on certain issues — we seem to be getting colder and tougher in our language, more fearful and less forgiving. Are we becoming what St. John Paul suggested, a people with no mercy?
This is one of the core challenges of the new evangelization — to proclaim God's mercy to a society with no mercy, to hearts that seem to have forgotten the very idea of mercy. As I see it, mercy is the question of our times and it is also the answer. The people of our times want to know if mercy is real and, if it is, they want to know, where can mercy be found? Our Holy Father Pope Francis tells us that the Church must be a "credible witness to mercy." And he is right. Mercy alone can be credible in a world that is lacking in mercy. That means that God's mercy in our own lives must become a call for us to practice mercy towards others — to be merciful as our heavenly Father is merciful.
As we believe in his mercy, we need to live by that mercy, and we need to make his mercy real in the lives of others.
Jesus revealed God's mercy in words of instruction, advice, consolation and comfort; in praying for people and forgiving them and bearing insults and indignities with patience. These are the seven traditional spiritual works of mercy that Jesus calls each of us to practice in our lives. He also calls us to practice the seven corporal works of mercy, as he did — feeding the hungry and giving drink to the thirsty; sheltering the homeless and clothing the naked; visiting those who are sick and those who are in prison; burying the dead.
As the Catechism reminds us, the Church's traditional works of mercy are all works of "love for the poor."
And every year at this time, our parishes offer many beautiful expressions of our works of mercy for the poor.
As we begin this Year of Mercy, let us pray for one another. May all of us in the Church rediscover the corporal and spiritual works of mercy and find ways to make mercy the way for our lives — being kind and merciful to our brothers and sisters as God is kind and merciful to us.
Mercy alone is a credible answer to the question of our times.
Let us ask our Blessed Mother Mary to help us to proclaim that God's mercy is real and to show the people of our times that mercy can be found everywhere there is a Christian.
WELCOME TO SAINT FRANCIS OF ASSISI
"A Rest Stop for the Soul"
Address: 1048 West Ventura Street, Fillmore, CA 93015
Telephone (805) 524-1306 Fax (805) 524-0784
Our Pastoral Center Office Hours:
Sunday 10AM to 3PM
Monday thru Thursday 10AM to 8PM closed for lunch from 1 to 2PM
Friday: 10AM to 1PM
Saturday: 9:30AM to 12:30PM
Email: stfrancisoffice@sbcglobal.net
Web site http://www.stfrancisfillmore.com/
By Bob Crum — Wednesday, December 16th, 2015
Video by Bob Crum
By Bob Crum — Tuesday, December 15th, 2015
Story and photos by Bob Crum
By Bill Wilson — Tuesday, December 8th, 2015
Tuesday, December 8, 2015
Written By Bill Wilson, www.dailyjot.com
Presidential candidate Donald Trump Monday called "for a total and complete shutdown of Muslims entering the United States until our country's representatives can figure out what is going on." Trump cited a Pew Research poll in his news release that indicated 25% of the Muslim population agreed that violence against Americans in the US is justified as part of the global jihad and 51% agreed that Muslims in America should have the choice of being governed according to Shariah. Almost immediately, Trump drew criticism from Hillary Clinton, Jeb Bush and Marco Rubio, calling his remarks offensive, reprehensible, outlandish and divisive. But in reality, Trump is in alignment with US immigration law.
The Immigration and Nationality Act. passed June 27, 1952 and became Public Law 414, states in Chapter 2 Section 212 the prohibition of entry to the US if the Alien belongs to an organization seeking to overthrow the government of the United States by "force, violence, or other unconstitutional means." It also prohibits the entry of Aliens who are members of or affiliated with any organization that advocates or teaches, the overthrow by force, violence, or other unconstitutional means of the US or of all forms of law, and Aliens who publish, circulate and distribute materials teaching or advocating the overthrow by force, violence or other unconstitutional means of the US Government or of all forms of law.
This by its very definition would rule out Islamic immigration to the US, but this law is being ignored by the White House and by presidential candidates who think it divisive and reprehensible to ban the entry of those whose ideology is Islamic. All Muslims who attest that the Koran is their life's guiding principal subscribe to submission to Islam and its form of government. This is not religious discrimination because Islam, disguised as a religion, seeks to bring all people under submission to Sharia. It is in their Constitution, the Koran, which commands Islamists to conduct violence against or to kill those who do not submit to allah and the prophet--at least 109 times, in context.
Trump pointed out that Islam's hatred for America is "beyond comprehension." He stated, "Until we are able to determine and understand this problem and the dangerous threat it poses, our country cannot be the victims of horrendous attacks by people that believe only in Jihad, and have no sense of reason or respect for human life." The current "president" has seeded America with hundreds of thousands of such people. Galatians 6:7 says, "Be not deceived; God is not mocked: for whatever a man sows, that shall he also reap." The crop is growing. When it reaches harvest, America will rue the day it elected this "president" and the politically correct cowards that support his way of thinking. Irrespective of what you think about Trump, he is absolutely in alignment with US law and the right to self defense on this issue.
Have a Blessed and Powerful Day!
Bill Wilson
www.dailyjot.com
By Gazette Staff Writer — Tuesday, December 8th, 2015
By Gazette Staff Writer — Tuesday, December 8th, 2015
By Gazette Staff Writer — Wednesday, November 25th, 2015
On this First Sunday of Advent, we are called to be vigilant at all times and pray that you have the strength to escape the tribulations that are imminent."
-- Luke 21:36
Be vigilant and pray. That is Jesus' message to us as we begin Advent. There are so many things in our culture that compete for our attention, especially in these difficult times. They can cloud our vision and make us spiritually drowsy. The Church suggests that our Advent rituals and spiritual practices help us to remember, in faith, that God is with us – Emmanuel.
Join us this first Sunday of Advent to Worship God at anyone of our six Masses
Saturday Vigil Mass at 5PM (English) Sunday Mass: 9:15 and 11:15AM (English) 7AM, 1PM and 6PM (Spanish) Our Address: 1048 West Ventura Street, Fillmore, CA 93015
Telephone(805) 524-1306 Fax (805) 524-0784
Gift Store and Pastoral Center Office Hours:
Sunday 10AM to 3PM
Monday thru Thursday 10AM to 8PM closed for lunch from 1 to 2PM
Friday: 10AM to 1PM
Saturday: 9:30AM to 12:30PM
Email: stfrancisoffice@sbcglobal.net
Web site: www.stfrancisfillmore.com
DID YOU KNOW THAT WE WILL CELEBRATE A HOLY YEAR OF MERCY ?
Pope Francis will open "The Jubilee Year of Mercy" on December 8, 2015, the fiftieth anniversary of the closing of the Second Vatican Council. Here are a few important themes for reflection during this important year.
Jesus is the "face" of the Father's mercy
Jesus of Nazareth, Pope Francis writes in Misericordiae Vultus, the Bull of Indiction of the Extraordinary Jubilee of Mercy, is the "face" of the Father's mercy—he reveals the mercy of God by his words, actions, and person. We follow Jesus' example when we open ourselves to the Father's mercy by looking "sincerely" into the eyes of our brothers and sisters, including those "who are denied their dignity." How have you experienced the Father's mercy in your own life? How might Jesus be calling you to look "sincerely" into the eyes of those who are denied their dignity?
Mercy is "the beating heart of the Gospel"
Pope Francis writes: "It is absolutely essential for the Church and for the credibility of her message that she herself live and testify to mercy." Mercy, he says, is "the beating heart of the Gospel" (Misericordiae Vultus). To live mercy, we must rediscover both the spiritual works of mercy (counsel the doubtful, instruct the ignorant, admonish sinners, comfort the afflicted, forgive offences, bear patiently those who do us ill, and pray for the living and the dead), and the corporal works of mercy (feed the hungry, give drink to the thirsty, clothe the naked, welcome the stranger, heal the sick, visit the imprisoned, and bury the dead). Which spiritual works of mercy might Christ be calling you to practice? Which corporal works of mercy?
Mercy "demands justice"
"True mercy, the mercy God gives to us and teaches us,demands justice, it demands that the poor find the way to be poor no longer," Pope Francis notes. "It asks us, the Church, us, the City of Rome, it asks the institutions — to ensure that no one ever again stand in need of a soup-kitchen, of makeshift-lodgings, of a service of legal assistance in order to have his legitimate right recognized to live and to work, to be fully a person" (Address to Jesuit Refugee Services, 9/10/13). In your own life, and in your faith community, how do you work for justice? Do you seek to address the root causes of problems that affect those who are vulnerable?
Ideas for Living Mercy during the Jubilee Year
There are many ways we can respond to the call to live mercy. Here are a few ideas: Put Two Feet of Love in Action. Use the "Two Feet of Love in Action" guide to consider how you can strengthen both charitable works and social justice at home and as part of your faith community. Visit www.usccb.org/twofeet for more information.
WELCOME TO SAINT FRANCIS OF ASSISI
"A Rest Stop for the Soul"
Address: 1048 WestVentura Street, Fillmore, CA 93015
Telephone(805) 524-1306 Fax (805) 524-0784
Our Pastoral Center Office Hours:
Sunday 10AM to 3PM
Monday thru Thursday 10AM to 8PM closedfor lunch from 1 to 2PM
Friday: 10AM to 1PM
Saturday: 9:30AM to 12:30PM
Email: stfrancisoffice@sbcglobal.net
Web site www.stfrancisfillmore.com
By Gazette Staff Writer — Wednesday, November 4th, 2015
WELCOME TO SAINT FRANCIS OF ASSISI PARISH
"A Rest Stop for the Soul
Address: 1048 West Ventura Street, Fillmore, CA 93015
Telephone(805) 524-1306 Fax (805) 524-0784
Our Pastoral Center Office Hours:
Sunday 10AM to 3PM
Monday thru Thursday 10AM to 8PM closedfor lunch from 1 to 2PM
Friday: 10AM to 1PM
Saturday: 9:30AM to 12:30PM
Email: stfrancisoffice@sbcglobal.net
Web site www.stfrancisfillmore.com
This Sunday's Gospel Message:
Generosity is an attitude, not an amount
"For they have all contributed from their surplus wealth,
but she, from her poverty, has contributed all she had."
-- Mark 12:44
In today's Gospel, Jesus makes it clear to his disciples that generosity is an attitude, not an amount as he points out the widow's contribution to the temple treasury. Through the hospitality we give to those in need, we become the response: God hears the Cry of the Poor.
Join us This Sunday to Worship God at anyone of our Six Masses
Saturday Vigil Mass at 5PM (English)
Sunday Mass: 9:15 and 11:15AM (English) 7AM, 1PM and 6PM (Spanish)
Children's Gospel: All children in grades 1 to 6 are dismissed with a Catechist to explore, pray and listen to the Sunday Gospel in words that our children can understand at the 9:15AM Mass in English and at the 1PM Mass Spanish. Children return to their parents at the time of the creed.
Join us for a special Mass at Bardsdale Cemetery, Monday, November the 9th at 11AM.
During the Month of November, we honor the memories of our loved ones who have gone before us marked with the sign of faith. Please invite your family and friends to join us for this special Mass. May the souls of the faithful departed through the mercy of God rest in peace.
Women's Retreat
All women are invited to join Our Lady of the Assumption Parish Women's Retreat
November 6 - 8, 2015At Forest Home Retreat Center 655 Burnham Rd., Oakview, CA Come refresh your soul and deepen your relationship with Christ on this spirit filled retreat. The weekend includes meals & lodging beginning Friday evening at 5:00 pm and concludes with 11:00 am Mass Sunday. Fellowship and worship with other women of faith. Saturday and Sunday Masses; Reconciliation and Adoration Saturday evening. Saturday morning rosary hike and ample time for quiet reflection and fellowship. Praise & worship music lead by Lee Anne Sanchez. Retreat Guest Speakers are: Cindy Rippee, Rosemary Temprendola, Fr. Leon Hutton and Deacon Don Huntley. Registration is available online at the parish website at www.olaventura.com Cost is $175. Please submit your registration prior to November 1, 2015. Please contact Women's Ministry Coordinator and Retreat Director Kati Escallier at (805) 642-7966 ext. 142 or Kescallier@ola-vta.org
Eucharistic Adoration 24 hour prayer chapel
The families of Saint Francis have built a Perpetual Adoration Chapel and take turns praying before our Eucharistic Lord.To sign up for adoration or for information please contact one of the following leaders: Delia (661) 886-1592, Olivia 368-4944, Rafaela 990-7603, or Toni 844-9760.
Care and Prepare: Finding Loving Care at the End of Life
Since the legalization of assisted suicide in California, we have heard from many people with two basic questions: How do we navigate the current medical reality and ensure ethical, quality care for our loved ones Is there more that we can do now to stop assisted suicide in CA? To answer those concerns, the Archdiocese of LA is hosting five training sessions throughout the Archdiocese called "Care and Prepare: Finding Loving Care at the End of Life". Co-sponsored by Institute for Human Caring at Providence Hospital, the sessions will provide vital information on Church Teaching on End of Life, Accessing Quality Care, Protecting Loved Ones, and Caring Pastorally at the End of Life. We will also offer a strategic plan for action on Thursday, November 12th: Sacred Heart Parish
10800 Henderson Rd, Ventura, CA 93004
By Gazette Staff Writer — Wednesday, November 4th, 2015
The Bardsdale United Methodist Women will be honoring our country's veterans with their annual Veteran's Day Luncheon on Wednesday, November 11, beginning at 12 noon in LeBard Hall.
This yearly, buffet-style turkey luncheon allows members of the community to join together to salute our local veterans who have given of themselves to maintain the freedom we all hold so dear.
The cost is still only $12.00 and take-outs are also available. Please call the church for tickets at 524-2070
This Saturday, November 7, Bardsdale Church is sponsoring a tour of four beautiful Bardsdale residences and the historic Gothic-style church from 10 am until 3 pm. Guests will enjoy a variety of architectural styles and appointments as they visit the homes in the rural community of Bardsdale- the town that never was.
Tickets for the tour are $25.00 per person and can be purchased at the church or any of the homes. Light refreshments will be available at the church. For more information, call the church at 524-2070 or Joanna at 524-0312.
By Bill Wilson — Monday, November 2nd, 2015
The score-plus of wars in the Middle East have done something that the Ottoman Empire, the last Islamic caliphate, was unable to do--invade Europe and the US without firing a shot. Hundreds of thousands of Islamists are entering Europe and the US as war refugees, a resettlement directed by the pro-Islamic United Nations. This invasion by Islam contains peaceful families that want to get out of war torn areas as well as militant terrorists embedded in the population and disguised as refugees. Neither European nor US officials can separate the two. But one thing for certain: these are not folks who are going to embrace the US or European culture and assimilate. They are death-cult colonists.
Jeremiah 51:14 speaks of the Lord's judgment of Babylon for its enthusiastic destruction of His people, saying: "Surely I will fill thee with men, as with locusts; and they shall raise a battle cry against thee." The US and Europe are not Babylon, but both match some of the descriptors written by Jeremiah of sinning against the Lord, the habitation of justice. Both the US and Europe have advocated in the strongest terms the division of the land of Israel and have accepted the lies of Islam, those who wish to not only occupy the land of Israel, but to destroy the Jewish people. There are consequences to the actions of leaders, and Europe and the US have been cause to the current invasion. The West is being resettled.
Where Islam goes, crime, violence and destruction follow like that of the locust. WorldNetDaily reports that Austrians are arming themselves at record rates to defend themselves from anticipated attacks by Muslim invaders, but obtaining a firearm and ammunition in Germany, Britain, Denmark and the Netherlands is practically impossible for the average citizen. And self-defense is not even a valid reason to purchase a gun in these countries.The New York Times reports that Australia's former prime minister Tony Abbott warned in London that the continent risked "fundamentally weakening itself" through "misguided altruism" as large numbers of asylum seekers arrive, and that these countries are "now in peril."
The legal immigrants who built America came to the US for opportunity and freedom. They assimilated as Americans, the ideal of what being American means. They adopted our language, our work ethic, our customs, our spirit of exceptionalism, our laws and our dreams of making the world a better place. The vast majority of those coming in today have no intention of becoming "American." They have come to colonize and impose. This presents a quandary for the Church. Exodus 22:21 says, "You shall neither vex a stranger, nor oppress him." Also, Numbers 15:16 says, "One law and one ordinance shall be for you and the stranger that sojourns with you." These "immigrants," legal or illegal, are here. We need to deal with it. There are laws that need to be followed and the gospel needs to be shared. With the peril there is opportunity.
Have a Blessed and Powerful Day!
Bill Wilson
www.dailyjot.com
By Gazette Staff Writer — Monday, October 26th, 2015
It is very eye-opening and disturbing to learn just how the US "president's" policies have enabled a holocaust within the Christian communities in the Middle East and Africa perpetrated by Islam. Frustrating is that those of us who know and understand the truth of this matter find it difficult to do anything about it. Injustices are taking place and those in power are winking and nodding at them, using their words to placate, but doing nothing substantial to end them. We cannot allow frustration to prevent us from action. The lives of our brothers and sisters in Christ are in the balance and we have to start calling out what we know to be true. Their voices are not heard. They need a voice. We need to make it an issue.
Let me relay a story to you as written by a long-time Daily Jot reader: "This past weekend my brother-in-law who is a doctor, wrote an article...talking about the Muslim atrocities and their evil god. His daughter, my niece, said people at work had sneered at her and mocked her because of the article. She was upset because her father had taken a public stand against Islam and called it what it is, a monstrous evil. She was afraid he might be attacked or killed. I told her that not long ago I had to make that decision myself. Was I going to let the fear of being attacked or killed prevent me from speaking out in every public forum I could find, or was I going to do what God has called me to do, be salt and light. I decided I would speak out and let God protect me. I told her that her father had done the right thing by his actions.
"Even here in America where we aren't really in that much danger, the Muslims have done such a good job of terrifying people that we're afraid to speak out. If we don't fight now, from a position of strength, then when we reach the point that we MUST fight or be destroyed, we will likely be fighting from a position of weakness...I keep remembering the verse from the book of Revelation (12:11), "And they overcame him (Satan) by the blood of the Lamb and the word of their testimony, AND THEY LOVED NOT THEIR LIVES UNTO DEATH." Jesus says those who will save their lives will lose them, but those who lose their life for Christ's sake will find them... Keep putting the truth out. Some people will act on it."
This is an example of the complexity of what we face. But we must act. Nothing is being done because the voices are not loud enough. What can you do? You can talk it up every where you go. Say, "Did you know that our "president" is allowing Christians to be massacred in the Middle East and Africa?" That will start the conversation. Write your newspapers. Call in to radio shows. Organize a protest. Be a voice as if it were your very own family member was about to be tortured by these Islamic beasts. What would you do? In Africa, we are reaching out in rural areas to evangelize the Muslims and to support Christians who are at risk. If you want to support our efforts, we always need assistance. Whatever you do, take the first step. Let's make this an issue.
Have a Blessed and Powerful Day!
Bill Wilson
www.dailyjot.com
By Gazette Staff Writer — Wednesday, October 21st, 2015
VENTURA, CA - Pope Francis' recent canonization of St. Junipero Serra, founder of Mission San Buenaventura (1782), will be celebrated November 21 at the historic Main Street church in downtown Ventura.
Archbishop Jose H. Gomez of Los Angeles will preside at a bilingual Mass, to be preceded by a 6:00 p.m. candlelight procession, starting at the site of the former Chumash Hutash Festival and San Miguel Chapel, at Thompson and Palm Streets in Ventura. The procession will conclude at Mission San Buenaventura, 211 E. Main St., at which point the Mass will begin.
The Mass is also among the first in a series of events connected to the 150th anniversary of the City of San Buenaventura's Incorporation in 1866. The city's roots (and its official name) trace to Mission San Buenaventura's founding by Father Serra on Easter Sunday, March 31, 1782; it was the ninth and last mission the Franciscan priest founded in California before his death in 1784.
"The canonization of Saint Junipero Serra offers us an opportunity to reflect on the evangelization and religious legacy the Franciscan Friars initiated through the Mission system in Alta California," said Father Tom Elewaut, Mission pastor, who was among those present for the canonization ceremony September 23 in Washington, D.C.
"This is also a time for recognition and integration of the First People of the Land who helped the padres establish the Missions and our Catholic legacy," said Father Elewaut. He noted that the establishment of the missions provided the foundation for the growth of Catholic Church ministries: parishes, educational communities, health care facilities, and numerous outreach organizations like Catholic Charities and St. Vincent de Paul Societies.
Concelebrating priests for the Nov. 21 Mass will include Auxiliary Bishop Robert Barron, recently named Episcopal Vicar for the Santa Barbara Pastoral Region of the Archdiocese of Los Angeles. San Buenaventura parishioners will be joined by clergy, religious and parishioners from the 37 parishes of the Santa Barbara Region (Ventura and Santa Barbara Counties).
The Mass will be live-streamed in the Mission's O'Brien Hall in order to accommodate the anticipated overflow of worshippers. A reception will be held in the Mission Garden following the Mass. General parking will be available at the Ventura County Fairgrounds (Harbor Boulevard at Figueroa Street) with shuttle transportation provided to the procession site. Additional parking is available at the Museum of Ventura County lot and the lot behind the Knights of Columbus Hall off Santa Clara Street.
For information on the event (including seating arrangements and media passes), contact the Mission Parish Office at (805) 643-4318, or visit www.sanbuenaventuramission.org
211 East Main Street, San Buenaventura, California 93001-2622
www.sanbuenaventuramission.org