By Gazette Staff Writer — Wednesday, April 22nd, 2015
This Saturday, April 25, the Bardsdale United Methodist Women will hold their semi-annual Courtyard Sale from 8 am until noon in LeBard Hall and parking lot.
Loads of bargains are waiting for both the serious and casual shoppers in all areas of household items such as clothing, kitchenware, tools, books and more. There is plenty of grass parking behind the church and help will be available to assist in loading your vehicles.
The church is located two and a half miles south of Fillmore at 1498 Bardsdale Avenue. If you are looking for a church home, please join us on Sunday mornings at 10 am.
By Gazette Staff Writer — Wednesday, April 15th, 2015
There are a couple of events at the Bardsdale United Methodist Church that are worth noting in your calendars.
On Saturday, April 25, from 8 am until noon, the United Methodist Women will have their Spring Courtyard Sale in LeBard Hall and the outside parking lot. Shoppers can always something at a huge savings and this sale will be no exception. If you have any last-minute donations for the sale, please contact the church at 524-2070.
The Orange Pealers, Bardsdale's hand bell choir, will host a Mother's Day Tea on Saturday, May 9. Attendees will enjoy a variety of teas and accompaniments as they view models strutting down the LeBard Hall Runway in fashions scoured from the Courtyard Sale. This fairly-new event has become extremely popular and the seating at the tables fill up fast. More information will come later but be sure to set this day aside.
All are invited to worship at this country church which is located at 1498 Bardsdale Avenue, just south of Fillmore. Sunday service is at 10 am.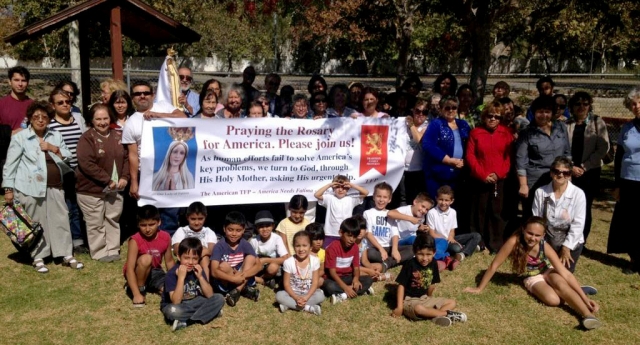 Please join the pro-peace, pro-family rosary and procession on Saturday, March 21st, at Sheills Park, ending at Saint Francis of Assisi Church.
Enlarge Photo
By Gazette Staff Writer — Wednesday, March 11th, 2015
March 21st
YOU ARE CORDIALLY invited to a Rosary Rally recently organized for Fillmore to strengthen and celebrate the family as designed by our Creator.
On Saturday, March 21, 2015, at 12 PM there will be a pro-peace and pro-family rosary and procession from Sheills Park to St. Francis of Assisi Church in the City of Fillmore. The participants will join in singing, and in the recitation of the Rosary and the Divine Mercy Chaplet, praying for the physical and spiritual health of members of their families, the community, the country and of the world.
To clarify, the procession will take place from the park to the Church, NOT from the Church as previously stated. Our apologies for any confusion. We hope to see you there at the park! For any further information, please contact Darlene Lorenz at (805) 524-9929.
By Gazette Staff Writer — Wednesday, March 11th, 2015
Saint Francis of Assisi Parish News "A rest Stop for the Soul!" Holy Mass Schedule Sat at 5PM Sunday Vigil 9:15 and 11:15AM in English 7AM, 1 and 6PM in Spanish. At our Parochial Mission San Salvador in Piru, the Mass Schedule is Saturday Vigil at 7PM and Sunday at 8:30AM in Spanish and an English Mass at 10AM.
Father Norm will offer Two Amazing Lenten Reflections at Saint Francis. The first one is on Sunday March 22 at 4PM and the second one is on Monday March 23 at 7:30PM. Everyone in the community is invited to attend. We expect a packed church, please arrive early.
SAINT FRANCIS OF ASSISI ACADEMY—St. Francis of Assisi Academy is now
accepting applications for the school year 2015/2016. Pre– K program is for four-year-olds (must be four by December 1st, 2015). Class is very small and limited in size. Program is half day from 8:30a.m. to 11:30a.m. For applications or more information, please come to the pastoral center
Good Catholic reading is free and available at the pamphlet rack here at your parish. Start your Lenten journey learning more about your faith in short and easy pamphlet form that will inspire, inform, and help you to evangelize others. Wishing you a Holy and Blessed Lenten Season !
Holy Week 2015 Schedule
Holy Thursday, April 2nd
8:30AM Morning Prayer
7 PM Bilingual Mass Adoration in the hall till 12 midnight. The Adoration Chapel will close at 6PM on Holy Thursday and re-open on Easter Sunday after the first Mass 8AM Candles for the Blessed Sacrament can be picked up before Mass starts.
Good Friday, April 3rd
Morning Prayer 8:30AM
12noon Children's Stations
3PM Good Friday Service
Holy Saturday, April 4th
Morning Prayer 8:30AM
Vigil Bilingual Mass begins at 7:30PM in the
courtyard with the blessing of the new candle.
SAINT FRANCIS OF ASSISI ACADEMY—St. Francis of Assisi Academy is now
accepting applications for the school year 2015/2016. Pre– K program is for four-year-olds (must be four by December 1st, 2015). Class is very small and limited in size. Program is half day from 8:30a.m. to 11:30a.m. For applications or more information, please come to the pastoral center
Fr. Norm will offer
Two Amazing
Lenten Reflections.
• Sunday March 22 at 4PM
• Monday March 23 at 7:30PM Both will be held in the church
WELCOME TO SAINT FRANCIS OF ASSISI "A Rest Stop for the Soul"
1048 West Ventura Street, Fillmore, CA 93015 Telephone (805) 524-1306 Fax (805) 524-0784
Our Pastoral Center Office Hours:
Sunday 10AM to 3PM
Monday thru Thursday 10AM to 8PM closed for lunch from 1 to 2PM
Friday: 10AM to 1PM
Saturday: 9:30AM to 12:30PM
By Gazette Staff Writer — Wednesday, February 25th, 2015
If you have a pre-school child at home at least three years of age, check out the Friday Morning Storytime at Bardsdale United Methodist each Friday morning from 10 am until 11:30.
Children hear stories and participate in other learning activities, enjoy a snack and have free play at no cost to their parent or grandparents who are invited to join the fun.
Call Grandma Sharon at 524-0587 or the church at 524-2070 for more information. The church is located at 1498 Bardsdale Avenue.
By Gazette Staff Writer — Monday, February 16th, 2015
Written by Bill Wilson
www.dailyjot.com
NOTE: When writing about God and Jesus, The Daily Jot means YHVH as God and Yeshua Ha Mashiach as Jesus--the actual original names and the true nature and character of them.
What many Bible scholars overlook in their postulation about end time prophecy is that there was an empire that arose out of 670 years of battles, eventually conquering the Middle East and parts of Europe after the Roman Empire. The Ottoman Empire, an Islamic Caliphate, benefitted from Muslim conquests beginning with Mohammad (circa 622) until it was officially formed in 1291. By then, Muslims ruled the Middle East, parts of Eastern Europe, and had advanced on Italy and Spain. The Ottoman Empire emanated out of Turkey, coalescing the Caliphate and uniting Islam from 1291 to 1922. It was ended with a severe, seemingly fatal blow, when Turkey became a Republic in 1922 and abolished the Caliphate in 1924.
From 1096 to 1291, seven Crusades responded to hundreds of years of Muslim attacks on Europe, threatening to eliminate Christianity from the world. Even in 1801, the Ottoman Empire's sanctioned piracy prompted America to commission a navy to fight. The Ottomans had required ransom of what amounted to 20% of the US government's revenue, yet were still taking our ships and enslaving our Christian citizens. Renown Crusade historian Thomas F. Madden of Saint Louis University writes: "Christians in the eleventh century were not paranoid fanatics. Muslims really were gunning for them...From the time of Mohammed, the means of Muslim expansion was always the sword."
Madden continues: "With enormous energy, the warriors of Islam struck out against the Christians shortly after Mohammed's death. They were extremely successful. Palestine, Syria, and Egypt-once the most heavily Christian areas in the world-quickly succumbed. By the eighth century, Muslim armies had conquered all of Christian North Africa and Spain. In the eleventh century, the Seljuk Turks conquered Asia Minor (modern Turkey), which had been Christian since the time of St. Paul. The old Roman Empire, known to modern historians as the Byzantine Empire, was reduced to little more than Greece...That is what gave birth to the Crusades."
Madden says the Crusades "were not the brainchild of an ambitious pope or rapacious knights but a response to more than four centuries of conquests in which Muslims had already captured two-thirds of the old Christian world. At some point, Christianity as a faith and a culture had to defend itself or be subsumed by Islam. The Crusades were that defense." Prophetically speaking, the Ottoman Empire met several criteria of what could rise again as the beast empire. For example, Ezekiel 38:12 says Gog (the antichrist, emanating from modern Turkey), attacks "To take a spoil, and to take a prey." If you are watching prophecy, keep an eye on Islam--it is an antichrist religious system and it seeks to reestablish world rule.
Have a Blessed and Powerful Day!
Bill Wilson
www.dailyjot.com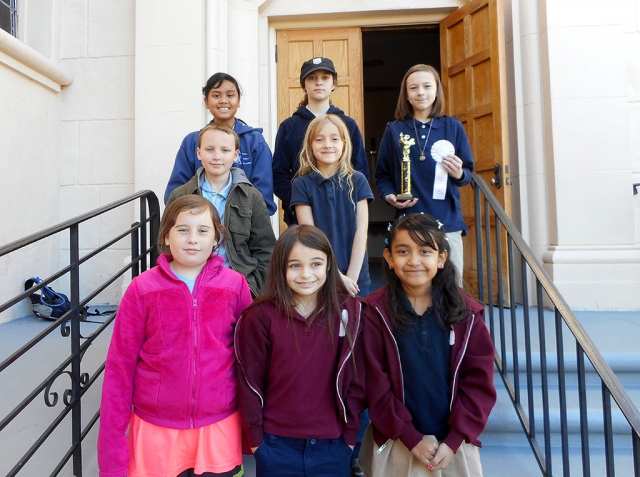 (l-r) (front row) Yetta Hurd (4th grade), Anna Walls (3rd grade), Viviana Ramirez (1st grade); (second row) Gabriel Lidikay (6th grade), Brenna Larson (2nd grade); (third row) ImaJoyZerrudo (5th grade), Ashley McKnight (7th grade), Sebastian Lidikay (8th grade).
Enlarge Photo
By Gazette Staff Writer — Monday, February 2nd, 2015
On Friday, January 16, Fillmore Christian Academy sent 8 students to compete in the Association of Christian Schools International (ACSI) District 6 Spelling Bee. They competed with other students from private schools in Ventura and Los Angeles Counties. All of our FCA students did very well, and, in fact, our 8th grade student, Sebastian Lidikay, won first place not only in his own grade level, but in the spell-off for the top 16 spellers in grades 5-8 he also placed first and has earned the privilege to represent not only Fillmore Christian Academy but our whole ACSI district at the regional spelling bee on February 28 in Pasadena! Great job Sebastian and all the FCA students!
By Gazette Staff Writer — Monday, January 19th, 2015
Cal Lutheran event also includes lunch, service project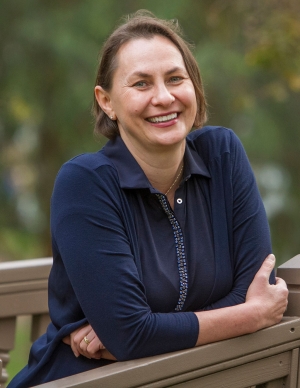 Rabbi Belle Michael
THOUSAND OAKS, CA - The public is invited to learn about and discuss drought from different religious perspectives, share a vegetarian lunch and participate in a service project at California Lutheran University on Friday, Feb. 6.
"Hoping for Rain: Interfaith Day of Study and Service" will be held from 11 a.m. to 3 p.m. to celebrate Tu B'Shevat, the Jewish holiday marking the beginning of a new year for trees. Cal Lutheran Rabbi Belle Michael will discuss the holiday, which falls on Feb. 4 this year, at the start of the event.
The day will begin in Lundring Events Center, where Michael and three religion faculty members will each discuss drought and the hope for rain in relation to different faiths. Rose Aslan, an assistant professor, will cover the Muslim faith. Rahuldeep Gill, an assistant professor, will talk about Sikhism. Michael will discuss the Jewish faith. Sam Thomas, an associate professor, will explore the topic from the Christian perspective.
At 1:10 p.m., a vegetarian lunch will be served in the nearby SEEd (Sustainable Edible Education) Project Garden. A period of reflection will follow. Lunch is $8 for community members. To make a reservation for the lunch, go to CalLutheran.edu/CampusMinistry/events.
The event will conclude with a service project in the garden, where students and staff grow produce to support the campus' sustainability efforts and the local food movement. Volunteers will participate in a variety of activities, including planting native, drought-tolerant plants and installing water-saving irrigation lines.
There is no charge or RSVP required for the lectures and service project.
Lundring Event Center is located in the Gilbert Sports and Fitness Center on the north side of Olsen Road near Mountclef Boulevard on the Thousand Oaks campus.
Campus Ministry and the Religion Department are sponsoring the event. For more information, contact Michael at bmichae@callutheran.edu or 805-493-3644.
By Gazette Staff Writer — Wednesday, December 24th, 2014
This Sunday, Bardsdale United Methodist Church is pleased to welcome to the pulpit Bishop Minerva Carcano of the California-Pacific Annual Conference.
The first Hispanic woman to be elected to the episcopacy of the United Methodist Church, Bishop Carcano oversees more than three hundred churches in Southern and Central California, Hawaii, the Pacific Islands, Guam and Saipan. She was appointed to this area in 2012 after serving in the same capacity for the Desert-Southwest Conference from 2004-2012.
Bishop Carcano is a third-generation Methodist and felt the call to ordained ministry as a child and was active in youth ministry. She was ordained an elder in 1979 and served as pastor of churches in Texas, California and New Mexico. Being also the first Hispanic woman to be appointed as a District Superintendent, she led districts in Texas, Oregon and New Mexico.
In 2013, she was one of fourteen religious leaders invited to meet with President Obama to discuss immigration reform and is the lead spokesperson for the UMC Council of Bishops on the the subject of immigration. She is married and has a daughter attending college.
Please come and hear her inspiring message beginning at 10 AM at the historic Bardsdale Church. It is located at 1498 Bardsdale Avenue. There is plenty of off-street parking behind the church.
By Gazette Staff Writer — Monday, December 15th, 2014
On December 7th, 2014 the community of Fillmore began the celebration of our beloved Mother, the Virgen de Guadalupe, with a procession from Shiells Park to Saint Francis of Assisi Church. This celebration is important to because the Virgen de Guadalupe is a sacred saint who is deeply connected to the Mexican culture. It was a blessing to see hundreds of people be part of this procession and celebration and thank you to all community members, La Banda Mas Picosa, Las Guadalupanas, volunteers, familia Martinez and all the people who made this celebration possible!
By Gazette Staff Writer — Tuesday, December 2nd, 2014
This Saturday night at 5 PM, Bardsdale United Methodist Church's bell choir, The Orange Pealers, will present their annual Christmas dinner and concert, Ring Noel. This favorite holiday program directed by Marcia Heerema will provide sounds of the season and will be accompanied by a pasta dinner. Guests will even be allowed to ring bells with the choir. Tickets are $10 per adult and $25 per family. For more information or to buy tickets, call Marcia at 524-3674, Mimi at 524-1823 or the church at 524-2070. The church is located at 1498 Bardsdale Avenue.
By Gazette Staff Writer — Tuesday, December 2nd, 2014
The Bardsdale Church's annual Christmas Vespers concert will take place on Sunday, December 14 at 5 PM in the historical Sanctuary. This gift to the community by the church's choir tells the story of Christmas with traditional favorites as well as some not-so-familiar arrangements. Choir Director John Brothers first brought this event to life in the 1950's and was carried on by Bill Bartels. Marsha Porter currently directs the choir and has selected some wonderful music to highlight the group's talent and the festiveness of the season. Please bring a friend and enjoy this wonderful program. The church is located at 1498 Bardsdale Avenue.
By Gazette Staff Writer — Tuesday, October 14th, 2014
Holy Cross Church of Moorpark is holding its 30th Annual Holiday Boutique on Saturday, November 8th, 9am to 6:30pm, and Sunday, the 9th, from 8:30am to 3:00. Crafters, Grand Prize Drawing of $1,500 cash, homemade Burritos and baked goods. Have your picture taken with Santa on Sunday form 10am to noon. Address: 13955 Peach Hill Rd, off Spring Rd, and Science Dr/Miller parkway. Admission and parking are free.
By Gazette Staff Writer — Tuesday, September 23rd, 2014
A unique Holiday Boutique will take place on Sat., Nov. 8th from 9 a.m. to 2 p.m. at St. Paul's/Emmanuel Church, 117 N. 7th St., Santa Paula, CA. Find unique gifts, holiday items, Christmas crafts, plants, jewelry and new and used treasures. Proceeds will benefit the community outreach programs of the church. For information please call Marilyn Harvey@805-647-5210.
Www.stpsp.org
By Gazette Staff Writer — Friday, September 19th, 2014
By Gazette Staff Writer — Monday, September 15th, 2014
Manassas, Va. – Today, The Cardinal Newman Society released the list of schools recognized by the Catholic Education Honor Roll as2014 Schools of Excellence. Since 2004 the Honor Roll has celebrated quality Catholic education throughout the United States.
Saint Augustine Academy of Ventura, California has been named, for the eighth consecutive year, to the Catholic Education Honor Roll -one of only two Catholic High Schools in the Archdiocese of Los Angeles to receive such a distinction. The Academy also holds the distinction of being the longest ongoing member of the Honor Roll for California schools – achieving Honor Roll status every year since 2007. St. Augustine Academy, located in East Ventura, is a K-12 private Catholic Academy which features a classical curriculum, forming students in the classical liberal arts.
Headmaster of Saint Augustine's Michael Van Hecke states:
"It is an honor for St. Augustine's to be recognized by the Catholic Education Honor Roll as a School of Excellence in the United States. This distinction confirms our commitment to the mission of Catholic education. I applaud the parents,students, teachers, staff and supporters for their hard work and commitment to assuring that a strong Catholic identity grounds all we do in preparing our students to be future leaders in both society and the Church."
Honor Roll schools receiving this designation are marked by the integration of Catholic identity throughout all aspects of their programs and excellence in academics. This year seventy-one schools received the honor of being named as a School of Excellence. This is less than five percent of the Catholic high schools in the United States.
"Since competition began in 2004, the Honor Roll has been a helpful tool for administrators, families, and benefactors in recognizing the quality of a Catholic high school education," said Patrick J. Reilly, President of The Cardinal Newman Society.
This year's Honor Roll schools are diverse: large and small, new and long-established, highly selective and those with open enrollment admissions policies, as well as a variety of tuition rates. The common trait is an institutional commitment to providing a truly integrated and faithful Catholic education across all disciplines and in all areas of student activities.
By Gazette Staff Writer — Tuesday, August 12th, 2014
By Gazette Staff Writer — Wednesday, August 6th, 2014
Have you ever thought about becoming a Catholic?
You may have-or felt something inside calling you
to look into the Catholic Church. Don't wait! Respond
to God's voice inviting you on a journey of love...
Are you a baptized Catholic,
but have yet to receive the Sacraments of Eucharist
and /or Confirmation?
If you need answers, come to our inquiry night!
No obligations. Just come! We welcome you!
Wednesday, September 3rd
6:00pm room 7
For more information, please contact
the parish office (524-1306)
or call Marie Alviz at 509-0467
By Gazette Staff Writer — Wednesday, July 2nd, 2014
The Fillmore Church of Christ invites the public to a Food Share distribution each Monday, 4 to 5:30 P.M., 219 Mountain View at Highway 126, beginning July 7. Comida gratis, todos los lunes, 4:00 to 5:30 P.M., Iglesia de Cristo.
By Gazette Staff Writer — Tuesday, June 17th, 2014
Time is running out to enroll your children, age 3 to grade 12, in Bardsdale Church's Vacation Bible School which is themed, "Workshop Of Wonders" based on Psalm 77:14a. The week's activities begin Monday, July 14, and concludes Friday, July 18, from 9 am until noon. The cost for five mornings of supervised fun is $15 per child and includes Bible stories, science, recreation, crafts, music and a nutritious snack. Each family also receives a CD of music.
The deadline to enroll a child is July 1. Don't delay because only the first 100 kids are guaranteed enrollment. Call Sharon at 524-0587 for more information or to request an application.