By Gazette Staff Writer — Wednesday, June 17th, 2009
Begins Monday
Fillmore Church of Christ, located at 219 Mt. View St. at Highway 126, reminds all children from 4 years through 7th grade to join us at Vacation Bible School next week, June 22 through June 26, 6:30 PM to 8:40 PM. Our theme is Kingdom of the Son: A Prayer Safari, where children will discover how to get to know God through prayer. Each evening children will enjoy singing, Bible stories, skits, playing games, crafts and special snacks.
On Friday night, June 26, there will be a short program of songs and pictures followed by a barbeque. Parents are invited to enjoy this event with their children beginning at 6:30 PM at 219 Mt. View Street.
For more information, call 524-2851, or 524-3641.
On June 22-26 The Fillmore Church of Christ will be hosting a "Kingdom of the Son" Safari Vacation Bible School for children ages 2-16 years old. Come for a week of games,activities, snacks and a whole lot of fun while learning from the bible. Everyone is the community is welcomed. Don't miss out on this wild adventure!For more information feel free to call 524-2851 or 524-3641.
By Gazette Staff Writer — Wednesday, June 17th, 2009
By Gazette Staff Writer — Monday, June 1st, 2009
Catholic League president Bill Donohue comments on President Obama's choice of Miguel H. Diaz, a Catholic theologian, to be his ambassador to the Vatican:
In choosing professor Miguel H. Diaz to be the U.S. Ambassador to the Vatican, President Obama has selected a man whose writings do not address such hot-button issues as abortion, embryonic stem cell research, doctor-assisted suicide and gay marriage. In that regard, it appears this is a safe choice.
It is disconcerting, nonetheless, to learn that Diaz supported Kansas Governor Kathleen Sebelius for the position of Secretary of Health and Human Services. Sebelius is so extreme on abortion that she has been publicly criticized by the last three archbishops in Kansas City, Kansas. Moreover, when the current archbishop, Joseph F. Naumann, asked her to name a single instance in 30 years of public service where she supported restrictions on abortion, she could not name one. Thus, his decision to request that she not present herself for Communion.
It is a lame argument to say that it is morally acceptable to promote abortion-reducing public policies while jettisoning all legal remedies. If we applied this same logic to racial discrimination, no one would regard someone who worked to reduce the incidence of discrimination while abandoning all legal strategies as a bona-fide opponent of racism. Both approaches would be demanded.
It is a sad commentary on the Democratic party that out of the entire country they can't field a candidate to represent the U.S. to the Vatican who is unequivocally opposed to abortion-on-demand.
By Gazette Staff Writer — Monday, June 1st, 2009
Catholic League president Bill Donohue comments on the nomination of Sonia Sotomayor to the U.S. Supreme Court:
When John Roberts was nominated to be on the high court, Senator Dick Durbin told CNN that he considered it fair game to probe Roberts about his Catholicism. Durbin released a glowing statement yesterday on Sotomayor that never mentioned her religion. When Roberts was questioned by Senator Arlen Specter and Senator Dianne Feinstein, they both asked him whether he agreed with President John F. Kennedy about separation of church and state. Neither even mentioned Sotomayor's religion in their respective statements yesterday.
When Roberts was nominated, Dahlia Lithwick, legal analyst for Slate, said, "I wouldn't underestimate the influence of his religion"; when Samuel Alito was nominated, Lithwick said that "People are very, very much talking about the fact that Alito would be the fifth Catholic on the Supreme Court if confirmed." Yesterday, Lithwick posted a lengthy piece on Sotomayor that never mentioned her religion. When Roberts was nominated, NPR's Nina Totenberg said that his wife was "a high officer of a pro-life organization. He's got adopted children. I mean, he's a conservative Catholic." Yesterday, she simply mentioned that Sotomayor attended Catholic schools without ever raising it as an issue. When Roberts was nominated, journalist Adele Stan noted his religion and said, "Rome must be smiling." Yesterday, in her positive assessment of Sotomayor, she never mentioned her religion.
What's going on? Are liberal Catholics Catholic? Obviously not, at least according to liberals. After all, if Sotomayor were known as a practicing Catholic, those who fretted over Roberts and Alito would have called 911 by now. White House press secretary Robert Gibbs, however, put their worst fears to rest yesterday when he said of the Puerto Rican jurist, "I believe she was raised Catholic." If this is true, then the telling verb "raised" would explain why liberals like Sotomayor—she's one of those Catholics they can trust. Let's hope they're wrong.
By Gazette Staff Writer — Friday, May 29th, 2009
A retired farmer has spent more than 30 years building an enormous scale model of a Biblical temple. Alec Garrard, 78, has dedicated a massive 33,000 hours to constructing the ancient Herod's Temple , which measures a whopping 20ft by 12ft.
The pensioner has hand-baked and painted every clay brick and tile and even sculpted 4,000 tiny human figures to populate the courtyards.
Historical experts believe the model is the best representation in the world of what the Jewish temple actually looked like and it has attracted thousands of visitors from all over the globe.
But Mr Garrard, who started the elaborate project in his 40's, says his masterpiece will not be finished in his lifetime.
"I've always loved making models and as I was getting older I started to think about making one big project which would see me through to the end of my life," he said.
"I have an interest in buildings and religion so I thought maybe I could combine the two and I came up with the idea of doing the Temple .
"I'd seen one or two examples of it in Biblical exhibitions, but I thought they were rubbish and I knew I could do better.
"I have been working on it for decades but it will never be finished as I'm always finding something new to add."
Mr Garrard, from Norfolk , spent more than three years researching the Temple , which was destroyed by the Romans 2000 years ago and deemed to be one of the most remarkable buildings of ancient times.
He then started to construct the amazing 1:100 scale model, which is now housed in a huge building in his back garden.
"Everything is made by hand. I cut plywood frames for the walls and buildings and all the clay bricks and tiles were baked in the oven then stuck together," he said.
Mr Garrard sculpted and painted 4,000 figures, measuring just half an inch and all wearing their correct costumes including 32 versions of Jesus.
Visitors come from all over the world to see the model and Mr Garrard provides binoculars so they can see all the details.
In Pictures: Model of Herod's Temple All Pictures by: Geoff Robinson Photography.
By Gazette Staff Writer — Friday, May 29th, 2009
By Chelsea Schilling
An article from WorldNetDaily.com
(Note from Jan: The content of this article from WND is shocking -- or is it? Our freedoms are being eroded, our privacy rudely stolen, and the "brave new world" is being established. Stay in the Bible and develop an "eternal worldview" while remaining salt and light while we have time.)
The federal government is forcing 3 million Americans to disclose sensitive, personal information about finances, health and lifestyle in a 14-page survey -- including questions about availability of household flush toilets and difficulty with undressing and bathing.
The 2009 American Community Survey, an annual supplement to the decennial census, asks about residents' personal relationships and whether a home has hot and cold running water, a flush toilet, bathing facilities, appliances and phone services. It also asks how many rooms are in a home and what vehicles are used at each household.
The new questionnaire asks respondents what they pay for electricity, gas, water and sewer every month and whether residents receive food stamps. CONTINUED »
By Gazette Staff Writer — Tuesday, May 26th, 2009
Story By Jan Markell
America is at a crossroads. Many are asking if she can be saved, or has God abandoned America? What a pitiful conclusion, if so, for a nation that has been a beacon of hope for the oppressed of the world. How often has America banded to fight off aggression or traveled to the ends of the earth to aid the less fortunate? How many missionaries has she provided to the world saving an untold number of lost souls?
Some say America must be punished for her sins, but are they really that much more grave than other wealthy nation? Luke 12:48 reminds us that from those given a great deal will be required much more. Have we used our God-given assets properly?
My radio guest on May 16 was John McTernan, author of God's Final Warning to America and As America Has Done to Israel. (As America Has Done to Israel will be on my Web site in the next few days.) Since 1987, John has tracked judgment on America when we abuse the unborn, look the other way at the radical gay agenda, and cause any kind of harm to God's covenant land of Israel. Some have "issues" with this. I am not sure why since there is a biblical illustration for each category. Ever heard of Sodom and Gomorrah? CONTINUED »
By Gazette Staff Writer — Wednesday, May 20th, 2009
group will improve parkways and general appearance with cleanup, weed abatement, fence repair and painting
On Saturday, June 6, 2009, ACTION and Calvary Community Church will work together with area Christians to assist in meeting the needs of families living in difficult situations. We are currently preparing for this day of service, to be held in the town of Piru, California.
Over 500 Christian volunteers plan on blanketing the older neighborhoods to improve the parkways and general appearance with general cleanup, weed abatement, fence repair and some painting. We also want to encourage community involvement by inviting as many people as possible from the town of Piru, including youth to participate in this enormous blessing. We hope that you will be a part of this day, by signing up at http://www.actionvc.org/
By Gazette Staff Writer — Wednesday, April 29th, 2009
We live in a wonderful country! And God has blessed America in many ways. Each year, Christians gather all across our nation to celebrate God's goodness and to pray for His guidance. This year Fillmore will participate again in the annual National Day of Prayer. Thursday, May 7th is that day. This year's theme is "Prayer, America's Hope." Christians from all across Fillmore will gather at this year's chosen church, Faith Community Church, at FCC's D Street Campus at the corner of D St. and Sespe Ave. A number of Fillmore area pastors will participate. There will also be singing and some congregational interaction. We will pray for our nation, our national & state leaders, our community & schools and other things related to our nation's future. Anyone who loves this country and wants to pray for its future is welcome to come. Meeting will be held from 12:05 to 12:55 p.m. For information call Faith Community Church at 524-5564.
By Gazette Staff Writer — Wednesday, April 29th, 2009
By Gazette Staff Writer — Wednesday, April 22nd, 2009
Town Hall for Hope is your opportunity to sit down with people in your community for a nationwide town hall meeting led by Dave Ramsey. Thousands of venues across the country will host the event, broadcasting Dave's live presentation. In the opening half hour, Dave will offer straight talk about the economy, recession, foreclosures and more. He'll carefully explain where we've come from, where we are now, and what we should be doing with our money during this time. Then, Dave will spend an hour answering your questions live! We'll take questions by phone, email, Twitter, Facebook, YouTube and more!
Dave Ramsey is a personal money-management expert, an extremely popular national radio personality and bestselling author of The Total Money Makeover. In his latest book, a follow-up of his enormously successful New York Times best-sellers Financial Peace and More Than Enough, Ramsey exemplifi es his life's work of teaching others how to be financially responsible, so they can acquire enough wealth to take care of loved ones, live prosperously into old age, and give generously to others.
This Free Event will be held at Faith Community Church on Thursday, April 23, 2009 at 355 D Street at 7 pm PST. For info contact FCC at 524-5564 or 524-3344.
By Gazette Staff Writer — Wednesday, April 22nd, 2009
Saturday, May 2, from 8 am till noon
Spring is here and so is the annual Courtyard Sale at the Bardsdale United Methodist Church. Mark your calendar for Saturday, May 2, from 8 am till noon.
Hosted by the United Methodist Women, there will be a large selection of items ranging from home furnishings to the smallest knickknacks.
If you would like to donate any items, call Marcia at 524-3674 or Joanna at 524-0312.
The church is located at 1498 Bardsdale Avenue.
By Gazette Staff Writer — Wednesday, April 15th, 2009
Story by Jan Markell
Yom HaShoah is the annual day to remember the slain six million Jews who perished under the crush of the Third Reich. This year the date falls on April 21. More than Jews perished. Hitler wanted to do away with his enemies and anyone who didn't have blue eyes and blond hair. During the Carter administration, America officially recognized this important day as well. Many non-Jews attend memorial services in their area.
Let me take you to Israel for just a moment and relate the scenario on Yom HaShoah. The land literally comes to a halt, at least for two minutes! At precisely 8 AM each year, a two-minute siren is sounded throughout the land. Everyone in Israel freezes in their tracks. Rowdy teens grind to a halt. Children climb off their toys and stand at attention next to teachers or parents. All vehicles stop, forming a line of paralyzed transportation. Many drivers stand by their cars and trucks in solemn silence.
Some say the two minutes seems like eternity. In their hearts, every Jew in Israel is saying, "Never again; no never again!" But now Mahmoud Ahmadinejad says he plans on doing it again! He'd also like to perpetrate a Holocaust on Americans. CONTINUED »
By Gazette Staff Writer — Wednesday, April 8th, 2009
Join us on the steps of City Hall for our annual Easter Sunrise Service on Sunday, April 12th at 6:30 a.m. Several local churches are coming together to host this celebration of the resurrection of our Lord and Saviour, Jesus Christ The service will include greeting one another, worship songs, Bible reading and prayer. Be refreshed and renewed as we reflect together on the presence of the Lord in our lives.
By Gazette Staff Writer — Wednesday, April 8th, 2009
Story By Bill Wilson
The mouthpiece of the new world order -- the mainstream news media -- is falling all over itself to show the images and symbols of how leaders of the 20 most powerful nations on earth came together to "save the world." Their tinny reporting has all the makings of a corny B movie about a bunch of inexperienced, yet cunning crooks, plotting to close down or control all the places where people keep their money, steal the world's wealth, redistribute it among their buddies, and deceive the masses while appearing to be a frat house of raucous superheroes. Unfortunately, the world stage is little different than Hollywood and the myth of the movie is, in truth, a reality show.
Great Britain's Prime Minister Harold Brown whipped the media into a frenzy by declaring, "I think a new world order is emerging and with it the foundations of a new and progressive era of international cooperation." Brown underscored a global Communist theme in saying, "We have resolved from today, we will together manage the process of globalization to secure responsibility from all and fairness to all." Brown summarized the accomplishments of the G20 summit saying world leaders embarked on the largest redistribution of wealth in history by agreeing to reform banks, restructure the global financial system, give money to the poor and ensure "a green recovery." CONTINUED »
By Gazette Staff Writer — Wednesday, March 25th, 2009
The Fillmore Church of Christ will be hosting a new class on current issues facing teens today, beginning April 1st. Subject matter will include dating, sex, relationships, suicide, homosexuality, drugs and other topics. Games, activities and snacks will begin at 6:30 on Wednesday nights with the class to follow from 7:00 to 8:00. The leaders will be Connie and Jarrod Fike. Connie Fike has 31 years experience working with youth in this area. She holds degrees in psychology, social work and is a member of the American Association of Christian Counselors. Jarrod received his education from Freed-Hardeman University and works with the youth. For more information, please call 501-5294.
By Gazette Staff Writer — Wednesday, March 25th, 2009
Story Courtesy Christian Newswire
Family of Irving 'Bud' Feldkamp, Owner of the Nation's Largest Privately Owned Abortion Chain, Dies in Montana Plane Crash
Some of you may have seen the major news story of the private plane that crashed into a Montana cemetery, killing 7 children and 7 adults.
But what the news sources fail to mention is that the Catholic Holy Cross Cemetery owned by Resurrection Cemetery Association in Butte - contains a memorial for local residents to pray the rosary, at the 'Tomb of the Unborn'. This memorial, located a short distance west of the church, was erected as a dedication to all babies who have died because of abortion. CONTINUED »
By Gazette Staff Writer — Wednesday, March 11th, 2009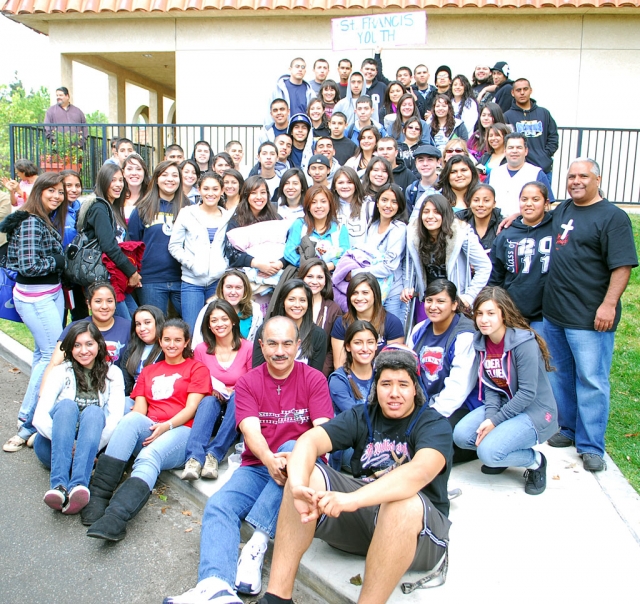 Saint Francis Youth Ministry would like to thank Mr. Bill Herrera and State Farm Insurance for their sponsorship to Saint Francis Youth Programs. Saint Francis Confirmation Class getting ready to go to Wright Wood Ca. Mountains on a Spiritual Retreat and would like to thank the community of The City of Fillmore for their prayers and support towards our young people.
Enlarge Photo
By Gazette Staff Writer — Monday, February 23rd, 2009
Keep reading to the bottom of the page -- don't stop at the feet (You'll see).
Two traveling angels stopped to spend the night in the home of a wealthy family.
The family was rude and refused to let the angels stay in the mansion's guest room.
Instead the angels were given a small space in the cold basement.
As they made their bed on the hard floor, the older angel saw a hole in the wall and repaired it.
When the younger angel asked why, the older angel replied, CONTINUED »
By Gazette Staff Writer — Wednesday, February 18th, 2009
Now accepting applications for the 2009-2010 school year. Monday – Friday 8:30AM-11:30AM. Students must be 4 yrs. old by 12/01/09. $75.00 registration fee, $180.00 monthly tuition. Contact Maggie for more information at 524-1306.