By Gazette Staff Writer — Wednesday, April 14th, 2010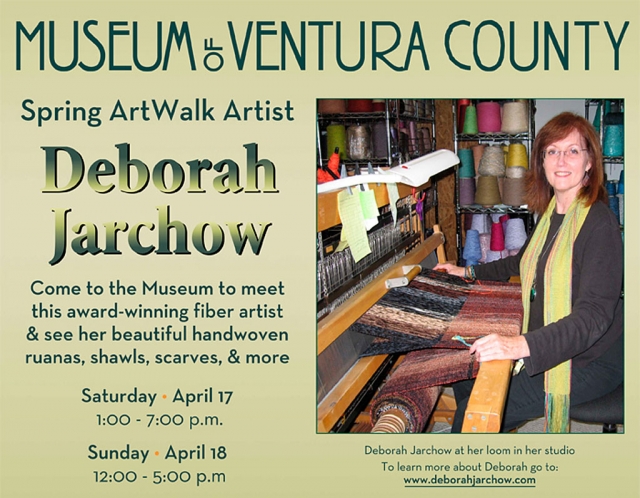 Deborah Jarchow
Enlarge Photo
By Gazette Staff Writer — Wednesday, April 14th, 2010
Come to the Ojai Center for the Arts and share a medieval experience with the Ojai Madrigal performing traditional Renaissance and medieval music -- a cappella madrigals, folk songs, chants and carols, almost all of it written prior to 1650.
This is a rare chance to hear the group perform on a stage in our storied theatre. Be in the audience and hear each soaring voice as they blend and intertwine in delicate harmonies, sometimes haunting, sometimes playful, in rich unison and complex counterpoint.
Madrigali seeks to bring this once wildly popular music back to life, not in some stuffy academic setting, but full of spirit, color, drama, and emotion s, romantic, fanciful, bawdy, and joyous.
The Madrigalis, under the direction of Jaye Hersh, turned 20 last year. Known for there participation in the Ojai Shakespeare Festival productions at Ojai's Libbey Bowl they have traveled as far as Barcelona, Spain and Siena, Italy to joyfully perform their music.
"It's what many would consider Renaissance music," said Hersh. Hersh said their repertoire covers all different kinds of music, sacred and secular and that "madrigali was written for the joy of music. One of the first notated songs was a ten part round that we still sing today, providing the tune for 'Three Blind Mice', 'Row, Row, Row You're Boat', and 'Frere a Jacque'."
The troupe will perform at 7:30 p.m. with tickets on sale at the door, $12 for Adults and $10 for Seniors, Students, and Art Center members. For more information call 272-5293.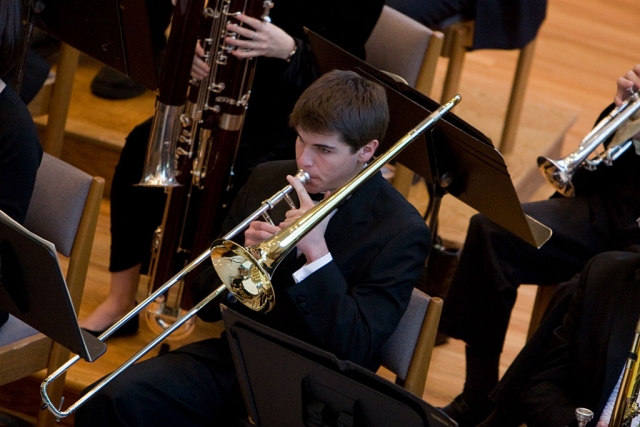 Ricky Lucchese performs
Enlarge Photo
By Gazette Staff Writer — Monday, April 12th, 2010
New director of bands to conduct one piece
THOUSAND OAKS, CA - California Lutheran University's wind and jazz ensembles will perform at 8 p.m. Friday, April 30, in Samuelson Chapel.
The concert will begin with the 50-member Wind Ensemble playing favorites from its repertoire, including Peter Mennin's "Canzona" and Andrew Boysen's "Variations on a Theme of Sousa." A highlight will be the "Concertino, Opus 107" by CĂ©cile Chaminade with flute soloist Wyndi May, a CLU senior majoring in music and flute performance.
Michael Hart, who will become CLU's director of bands in fall, will conduct the Wind Ensemble in the "Circus Bee" by Henry Fillmore. Music professor Daniel Geeting will conduct the other pieces.
CLU's Jazz Improvisation Ensemble will improvise on tunes from the American songbook with adjunct faculty member Peter Woodford directing.
The chapel is located south of Olsen Road off of Campus Road on the Thousand Oaks campus. Additional parking is available at the corner of Olsen and Mountclef Boulevard.
Donations will be accepted for the "Wind Ensembles Play Favorites" concert. For more information, call the Music Department at (805) 493-3306 or visit http://www.callutheran.edu/music.
By Gazette Staff Writer — Wednesday, April 7th, 2010
The Art of Erin Gafill, a San Francisco painter with family roots in Carmel's historic art colony beginnings, will hold an opening reception Sunday, April 11 for her current work on view at the Ojai Center for the Arts, 113 S. Montgomery.
Gafill's exhibit entitled, "The Passionate Landscape," features her expansive, vibrant scenes of the Central Coast, from Tomales Bay in the north to Big Sur in the south.
"These works were inspired by my great-great grandmother Jane Gallatin Powers, who was a California plein air painter," said Gafill. "My painting process itself begins with drawing what I see every day, the trees, the hills, the shape of sky and sea. Using bold brushstrokes and a full-spectrum palette I hope to convey the sense of awe I feel when confronted by the spectacular and powerful natural beauty of this region."
Gafill's roots go deep in California history. Galfill's great-great grandmother had the first artist's studio in Carmel establishing an art colony there with her husband Frank. Gafill's grandparents Lolly and Bill Fassett, were also area art pioneers who built one of Big Sur's most famous landmark, Nepenthe Restaurant, a legendary watering hole for artist, poets, writers, and bohemians.
An internationally collected and award-winning writer, painter, and teacher, Gafill was chosen as the first American artist-in-residence of the Japanese Hamada International Children's Art Museum. Her work created there is now displayed at the Monterey Museum of Art. She is also the cofounder of Big Sur Arts Initiative, a nonprofit arts education organization dedicated to nurturing art and culture in the Big Sur community.
You are invited to meet the artist at the reception 1-3:00 p.m., April 11. Her exhibit, " The Passionate Landscape," continues until May 5. The Art Center is open Tuesday though Sunday 12-4:00 p.m.
For more information call 644-0117 or go to ojaiartcenter.org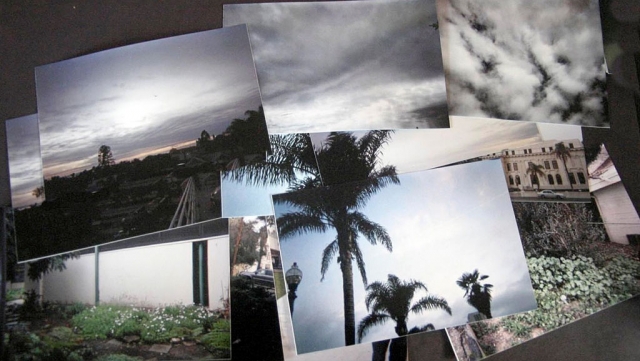 Digital Collage in Progress
Enlarge Photo
By Gazette Staff Writer — Wednesday, April 7th, 2010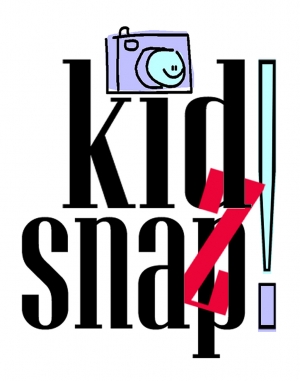 Kidz Snap
KIDZSNAP and ELEMENTS are two youth photography and digital collage exhibits on public display at the City Corps building at 77 California St. on Saturday, April 17 during the City of Ventura's Spring Art Walk. KidzSnap from 1 – 5 pm and Elements from 5-9 pm There will be refreshments and musical entertainment by Dew Watts Right and Land' n Sea will be offered to all ages who attend.
KIDZSNAP: is a children's photography program offered by the Buenaventura Art Association. This program delivered over 100 disposable cameras into the hands of ten Ventura classrooms. The young artists were instructed by local photographers, Linda Peterson, Erin Mason and Lisa Dodge on how to use their camera, look for a good photo and take a successful photograph. Each budding photographer will not have seen their images until ArtWalk! The KidzSnap program was funded by the Ventura County Community Foundation (VCCF)'s ArtsLIVE Grant Program as well as donations from Carlos Avila of Photographix and Ventura Visitors and Convention Bureau. The KidzSnap exhibit will offer a digital slide show as well as one 8"x10" printed photo by of each participating photographer.
ELEMENTS: Earth, Air, Fire and Water, is a Digital Collage program facilitated by arts educator Lynne Okun. Fifteen teenage members of City Corp took classes on the basics of photography, Photoshop and i-movie software. Ventura's City Corp youth, volunteer many hours of time and energy to other organizations through out our community. This project was designed to give them an opportunity to be young artists who create individual ideas and images as well as work together on an abstract project culminating in a event all of their own. ELEMENTS was funded through the City of Ventura's ArtsLIVE grant from the VCCF. Both programs and their debut weekend will bring together friends, family and community to experience visual creations through the eyes and hearts of Ventura's youth.
For more information visit www.buenaventuragallery.org , call Buenaventura Art Association at 805.648.1235 Or visit www.venturaartwalk.org or www.venturacitycorps.org.
By Gazette Staff Writer — Wednesday, April 7th, 2010
The Museum of Ventura County is now taking registration for their summer Chumash Youth 2010 program. The two sessions are June 21-25, and June 28-July 2, from 9:00 a.m. to 12:00 noon, and are open to students currently in 3rd or 4th grade.
Each session features presentations about Chumash culture, traditional arts, songs, and games. Hands-on activities include making yucca cordage, soapstone pendants, arrowheads, and simple musical instruments. Chumash elder Julie Tumamait-Stenslie will also teach Chumash songs and share legends and stories of her people.
T-shirt, snacks and all materials are included in the registration fee, which is $50 for the general public, $40 for museum members. Scholarships are available; for information, call (805) 641-1876 x 300. Registration forms may be downloaded under education resources at www.venturamuseum.org, or picked up at the Museum of Ventura County, 89 S. California Street in Ventura, from 11 a.m. to 6 pm, Tuesday through Sunday.
By Gazette Staff Writer — Wednesday, April 7th, 2010
SACRAMENTO, CA – The California State Fair today announced the partial lineup for its 2010 State Fair Concert Series.
"The State Fair is all about family, fun and value. At a time when most concert tickets in this region are $75 or more for lawn seats, we're delighted to offer fairgoers the chance to see great shows at great prices," said State Fair CEO & General Manager Norbert J. Bartosik.
No other Fair in North America has a FREE concert series with big name artists, but California State Fair officials are committed to making sure their concert series always has shows that are free with Fair admission.
General viewing of all concerts is free with State Fair admission but a limited number of reserved seats will be sold at an additional price of $10-49 each. Reserved seating in the Gold Circle area will go on sale Thursday, April 15 through www.tickets.com.
"This region has been hit very hard with foreclosures, furloughs and huge economic challenges. And we understand that not everyone can afford a stadium concert ticket," Bartosik said. "We're lucky enough to have an intimate outdoor venue where nearly every seat is a great seat and half of them are free."
Here is the lineup so far:
‱ THE CONTINUED »
By Gazette Staff Writer — Wednesday, April 7th, 2010
Free public presentations and performances slated
The Fourth Annual Festival of Scholars at California Lutheran University will showcase the work of students, faculty and alumni from Sunday, April 25, through Saturday, May 1.
Scholarly work by undergraduate and graduate students in the College of Arts and Sciences, School of Education and School of Business will be featured in public presentations, demonstrations and performances.
In celebration of CLU's 50th anniversary, this year's festival also includes alumni discussing their work. Chris Elkins, a 1970 graduate and highly regarded microbiologist who has done extensive research into disease-causing bacteria, will receive the 2010 Outstanding Alumnus Award.
More than 250 faculty-mentored student projects are featured in the festival. During the General Poster Session, students will be available to discuss their research on the way television shapes children's ideas of family, cyber bullying among college students, and effective techniques for delivering bad news. The School of Business Poster Session will feature projects on online social networking in churches, the costs of depression in the workplace, and a new marketing plan for Coca-Cola.
Three students will present projects that incorporate social scientific research and their own civic engagement. They delved into HIV/AIDS in rural Uganda, Mexican immigration, and the causes of the Los Angeles high school anti-immigration walkouts of 2006. A class of freshmen will discuss the documentary they filmed about an undocumented immigrant woman who has been provided sanctuary by a Simi Valley congregation for the last two years.
Several faculty members will discuss their sabbatical projects on science, education, religion, music and other topics.
Recitals, an art exhibit and a nature tour are also slated. Screenings followed by faculty panel discussions will explore crime, punishment and the unconscious sense of guilt in the movies "Fargo," "In Bruges" and "Crimes and Misdemeanors."
CLU's Office for Undergraduate Research is presenting the free public events.
For a complete list of events and projects, go to http://www.callutheran.edu/fos
By Gazette Staff Writer — Monday, April 5th, 2010
Pedro de la Cruz's exhibit of paintings titled "She is so Strong Willed" shows at the Buenaventura Art Galley from April 27 to May 22, 2010. Opening Reception is Saturday, May 1 from 4-7pm.
"She is so Strong Willed" is an exhibit of color and confidence. The recent works de la Cruz is homage to women of courage and strength. His canvas, proudly adorned with bold and beautiful women, have modern angles and feminine curves.
From powerful to passionate, de la Cruz's subjects flirt, seduce and cajole with their postmodern compositions, intelligence and grace. The artist has a defiant disregard for standard rules of painting. A bohemian dogma which when paired with his talent for addressing various viewpoints in two dimensions, give de la Cruz a freedom to express the unique beauty of his muse.
A native of Mexico, de la Cruz has taken classes on the figure, design and color, but was never formally trained. His interests in history, art, fashion and architecture are the foundation for his artistic motivation. Frequenting regional galleries or cosmopolitan museums, he tunes into art movements and master painters succeeding before him, for inspiration and drive to keep painting. De la Cruz has exhibited in Santa Barbara, Carpenteria and Ventura. This is his first solo show with Buenaventura Art Association.
The Buenaventura Art Gallery is located at 700 E. Santa Clara Street, Ventura, CA 93001. Hours are Tuesday-Friday from noon-5pm and Saturday from 11 am to 5pm. Please call (805) 648-1235 or visit www.buenaventuragallery.org.
By Gazette Staff Writer — Monday, April 5th, 2010
By Gazette Staff Writer — Monday, April 5th, 2010
Lecture by prolific composer precedes concert at CLU
The Eighth Annual New Music Festival at California Lutheran University will feature the music and words of Grammy Award-winning composer Libby Larsen.
CLU choral ensembles and faculty and student soloists will present the "New Music Concert: The Music of Libby Larsen" at 8 p.m. Friday, April 23, in Samuelson Chapel. Areté Vocal Ensemble, a professional group in residence at CLU, will also perform in the free concert. Wyant Morton, chair of the music department and director of choral and vocal activities, will conduct.
One of America's most performed composers, Larsen will present "The Concert Hall that Fell Asleep and Woke Up as a Car Radio" at a free public lecture earlier in the day. She will talk about the concert music tradition and the role of the composer in it at 10 a.m. in Samuelson Chapel.
The prolific composer has created a catalog of CONTINUED »
By Gazette Staff Writer — Thursday, April 1st, 2010
Farmers who fought closure will discuss documentary
California Lutheran University will present a documentary on a large urban farm and a discussion with the farmers who fought its closure at 7:30 p.m. Monday, April 19.
"The Garden" will be screened in Lundring Events Center in the Gilbert Sports and Fitness Center as part of the Reel Justice Film Series. Several of the farmers involved will participate in a post-screening discussion.
The 2008 film, which was nominated for an Academy Award for Best Documentary Feature, tells the story of one of the country's largest urban farms, backroom deals, land developers, green politics, money, poverty, power and racial discord. The documentary by Scott Hamilton Kennedy explores the fault lines in American society and raises crucial and challenging questions about liberty, equality and justice for the poorest and most vulnerable among us.
The 14-acre South Central Farm, also known as the South Central Community Garden, started as a form of healing after the L.A. riots and operated from 1994 to 2006 in one of the country's most blighted neighborhoods. The farm was sold in 2004 and the farmers were evicted in 2006. The farmers, mostly immigrants from Latin America, disputed the validity of the sale in court and staged protest vigils.
CLU's Center for Equality and Justice is sponsoring the free event. For more information, contact Sam Thomas at (805) 493-3693 or sthomas@callutheran.edu.
By Gazette Staff Writer — Thursday, April 1st, 2010
Ensemble will sing at St. Peter's Basilica at Vatican
The California Lutheran University Choir will perform at 2 p.m. Sunday, April 18, before it leaves for a concert tour of Italy.
The choir will perform with the CLU Women's Chorale at the "Bon Voyage Concert" in Samuelson Chapel.
In preparation for its Italian tour, the CLU Choir will perform Italian and American music. Featured works include a setting of "The Lord's Prayer" by Italian master Giuseppe Verdi, and Julian Anderson's "Beautiful Valley of Eden" from "Four American Choruses" for four choirs and four conductors.
The concert will also feature the world-premiere performance of "Three Songs for Benedict," which was composed by CLU music professor Mark Spraggins. The show will close with folk songs and rousing spirituals.
Wyant Morton, chair of the music department and director of choral and vocal activities, will conduct.
The 80-voice CLU Choir will present concerts in Italy from May 16 through 25. The singers will perform at St. Peter's Basilica in the Vatican in Rome and at St. Mark's Basilica in Venice. Other concert stops include Verona, Florence and Assisi.
This will be the choir's first concert tour of Italy. It has previously performed in Sweden, Norway and England and throughout the United States.
The CLU Choir is the premiere choral ensemble at CLU. The choir has earned a reputation for its commitment to performing the finest in choral literature from all eras in their original languages. While dedicated to performing works that represent the university's Lutheran heritage, the choir also embraces innovative new music and multicultural pieces.
Donations will be accepted.
Samuelson Chapel is located off of Campus Drive south of Olsen Road in Thousand Oaks. Additional parking is available in the lot at the corner of Olsen and Mountclef Boulevard.
For more information, call the Music Department at (805) 493-3306 or visit http://www.callutheran.edu/music .
By Gazette Staff Writer — Monday, March 29th, 2010
Local quilters demonstrate their techniques at the Museum of Ventura County during the museum's free Sunday Family Times on April 18, May 16 and June 20 from 1-3 p.m. The museum's Sunday Family Times arts and crafts events are held on the third Sunday of the month.
Sunday, April 18 the art project involves making traditional quilt pieces out of paper; on May 16 children learn how to stencil on fabric squares; and on June 20 the project involves recycling remnant pieces into a quilt design.
The quilters' visits and the quilt-themed art projects reflect the museum's current exhibit Becoming Art at the Seams: a Juried Exhibition of Contemporary & Art Quilts, running now through June 20.
The Museum of Ventura County, now at 89 S. California Street in downtown Ventura, is open Tuesday through Sunday from 11 a.m. to 6 p.m. Admission is free except for some events. For information, go to http://www.venturamuseum.org or call (805) 653-0323.
By Gazette Staff Writer — Monday, March 29th, 2010
Calling artists with a passion for the berry best
 California Strawberry Festival organizers are extending the Arts & Crafts artist application deadline so artists may apply who desire to showcase their original works at the heralded event that attracts thousands in Oxnard the weekend of May 15, 16, 2010. Beyond the February deadline, applications are still being accepted on a continuous basis for space or waiting list consideration.
The presentation has won awards from Sunshine Artist Magazine and attracts artists from across America, from New York to Washington State. The juried showcase with over 300 presenters features a variety of mediums ranging from collage, drawings, leather, glass, mosaic, mixed media, photography, graphic art, sculpture, handmade toys and youth accessories. (The jewelry, clothing and purses/bags categories are already full). No mass, commercially produced arts and crafts items are acceptable. Product quality and presentation play a key role in the selection process. "The art vendors are a highlighted tradition of the Festival because patrons love browsing through the booths to find that perfect something they can't get anywhere else," says Dana Hale-Mounier of Pacific Fine Arts.
Art applicants CONTINUED »
By Gazette Staff Writer — Monday, March 29th, 2010
The Ventura County and Santa Barbara County chapter of the National Association of Watch and Clock Collectors will present their annual Antique Clock and Watch Mart at the Commemorative Air Force Museum located in the Camarillo Airport, Camarillo, CA on Sunday, April 18th from 10:30 a.m. to 2:00 p.m. In addition to over 50 tables of clocks, watches and other horological items, this year we will also include antique and collectable jewelry and other antiques and collectables. Experts will be available to give free appraisals, information on individual clocks, and also repair quotes. This is a free, no obligation public service and people are encouraged to bring their clocks for appraisal and evaluation or to simply find out a little about them.The $10.00 Mart admission includes a tour of the CAF WWII Air Museum and Aircraft as well as the opportunity to win fantastic door prizes including a ride in a vintage WWII airplane. Children are admitted free.
The NAWCC is a nonprofit organization whose members include hobbyists, collectors, and professionals. The common bond is a fascination with the art and science of timekeeping and timepieces. You can learn more about the NAWCC at www.nawcc.org. And more about Chapter 190 at www.nawcc-ch190.com
Everyone interested in watches and clocks, (modern or antique), is invited to visit and join our chapter.
The Ventura County Chapter 190 of the National Association of Watch and Clock Collectors was chartered in September, 2006, and distributes a monthly newsletter to members. Membership applications will be available at the Mart, or by calling 805-988-1764.
The Commemorative Air Force hangars are located at the Camarillo Airport. The airport is just off Highway 101 in Camarillo. Exit Los Posas and travel south to Pleasant Valley Road. Turn right and then another right onto Eubanks Street (2nd light) into the airport. On the corner of Eubanks and Airport Drive, look for the CAF sign on the hangar.
For more information regarding the Mart, please contact Ernie Jenson at (805) 482-6021
By Gazette Staff Writer — Monday, March 29th, 2010
The time is now to think art. If you are a fine artist or appreciate the arts make your plans now to take part in the traditional opening weekend of summer with the 33rd annual "Art in the Park."
The open-air juried art show is presented by the Ojai Center for the Arts, 113 S. Montgomery St., the oldest nonprofit art center in California. Drawing artists from all over California, the Art Center accepts work in the following categories: oil, acrylic, pastel, watercolor, glass, wood, photography, sculpture, ceramics, fine jewelry, and mixed media. Cash prizes are awarded, but the weekend offers something more.
Ojai maybe a small town but is blessed with a large number of artists and hosts quality galleries set against a backdrop of breathtaking mountain views and surrounded by enough open space for a solitary hike. At the forefront of the slow food movement, those attending the event can peruse a variety of eateries, several wine tasting rooms, and a superb farmer's market on Sunday. In the evening Ojai offers several live theatre and music venues and only minutes away by foot.
Plan ahead and take part in an Ojai tradition under the canopy of Libbey Park's century-old oak trees. Enjoy the beautiful casual surroundings and mingle with artists and patrons throughout the weekend.
Come discover Ojai this Memorial Day weekend.
For an artist's application or further information about Art In The Park, call (805) 646-0117 or go online at www.ojaiartcenter.org.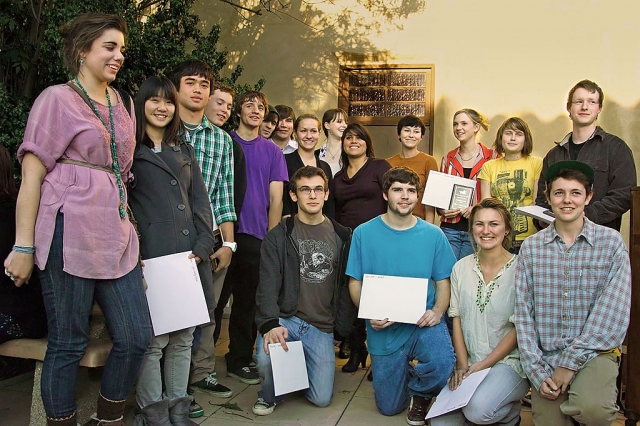 Awesome Art Winners.
Enlarge Photo
By Letitia Grimes — Monday, March 22nd, 2010
The opening of the 9th annual "Awesome Art" show last Thursday at the Ojai Valley Museum was not so much an exhibit as it was an explosion of creativity and talent. Young artists from six local high schools created 407 outstanding works for the exhibit.
Beginning at four in the afternoon, the students, with parents, friends, teachers and other art lovers, poured through the doors of the museum, filling the gallery with high energy. Museum Exhibit Designers, Fred Kidder and Roger Conrad, had organized and installed a polished professional display for the show. An upgrade to the lighting system, made possible by a grant from the Ojai Civic Association, brought out the colors and forms of each creative work. By the end of the reception, two hours later, over 400 people had visited the "Awesome Art."
After going from one work to another, chatting and admiring the students' achievements, many in the crowd eventually spilled into the museum patio, where volunteers from the Museum's Events Committee had set up a delicious display of heaped strawberries, pizza slices, and lemonade, along with mounds of cookies brought by Ojai Valley School.
In an afternoon still warm from a beautiful early spring day, Karen O'Neill presented the Marion E. Smith Awards for Excellence in Art, created jointly with her brother, Michael Burgos, and named in memory of their mother, whose love and support for young people in the arts continues in this Ojai tradition. As the awards were announced and gratefully accepted by each young artist, the entire gathering applauded with appreciation, not just for their own school or family, but also for the spirit of the exhibit as a whole.
The sheer volume and high quality of the art made it an overwhelming job to select award winners. According to Shahastra, a local painter who was one of the three judges of the show, the awards went to works combining rich imagination with excellent craftsmanship, a fusion of qualities that would be needed by the students to take their art out into the world.
The Best in Show award went to Lily Mays, Oak Grove School, for a stunning assemblage. Her large-scale, mixed media piece featured Barbie dolls, a mouse trap, text, a tape measure, and other surprising elements, all working synergistically to send a powerful message about the treatment of women's bodies in our society.
First Place winners were: Ceramics, Dustin Jones, Nordhoff, for "Tree Beard," a sculptural and very whimsical use of clay combining two different glazes; Digital Art, Pat McCarthy, Nordhoff, for "Armageddon," an intense and brooding image of destruction with a single flower of hope; Drawing, Sloane Tribble, Nordhoff, for "Abstract," an intricate web of morphing organic forms; Graphic Design, Kai Littlefield, Ojai Valley, for "Peace," a meticulously unified CD case design with a contemporary use of Asian brush strokes; Mixed Media, Isabel Hong, Besant Hill, for "Untitled," an ink collage showing a mastery of drawing combined with well-crafted collage elements; Painting, Laurel Tisserand and Luke Jackson, Oak Grove, for "Old Soul," a collaborative creation making a contemporary urban social statement with layered graffiti and a mysterious central icon; Photography, Ryley Swanner, Oak Grove, for "Untitled," a close-up image of a horse with a ray of light at the exact moment of illuminating the eye and burnished strand of hair; Sculpture, Melissa Carlson, Nordhoff, for "Untitled," a tour-de-force of woven ceramic bands using the luster glaze made famous by Beatrice Wood.
Second Place winners were: CONTINUED »
By Gazette Staff Writer — Monday, March 22nd, 2010
The Ojai Valley Museum hosts its 5th NATIVE PLANT SALE on Saturday, April 3 from 9 a.m. to 3 p.m. in the museum's Back Courtyard. In celebration of the Easter Weekend, this sale will include Orchids and Easter Lilies in addition to the usual inventory of native and drought resistant plants. All plants available for sale are suitable for climate and water conditions of the Ojai Valley and nearby southern California valley communities.
Plants are being provided by Lawrence Nicklin, Plantasia Landscaping; Scott & Betsy Smith, Euterpe Farms; David Mason, The Village Florist. Plant experts will be available during the sale for advice and information.
Proceeds from the Plant Sale benefit the Programs of the Ojai Valley Museum. Museum Members receive a 10% discount on purchases; a Membership Table is available at the Plant Sale for new member sign-ups throughout the day.
Event will be held at the Ojai Valley Museum, 130 W. Ojai Avenue. For more information, call (805) 640-1390.
By Gazette Staff Writer — Monday, March 22nd, 2010
"SUNDAY GATHERING"
Ojai Valley Museum Director Michele Pracy will conduct a presentation on "THE BUSINESS OF BEING AN ARTIST"
Sunday, March 28, 2010
2 – 4 p.m.
Museum Back Courtyard
130 W. Ojai Ave.
Ojai, CA
Free for 2010 Museum Members
$8 Non-members
$5 Students
Seating is limited, Reservations required, Call: (805) 640-1390
The topic is especially geared toward Awesome Art Student participants, but all practicing artists are welcome!