By Gazette Staff Writer — Wednesday, June 16th, 2010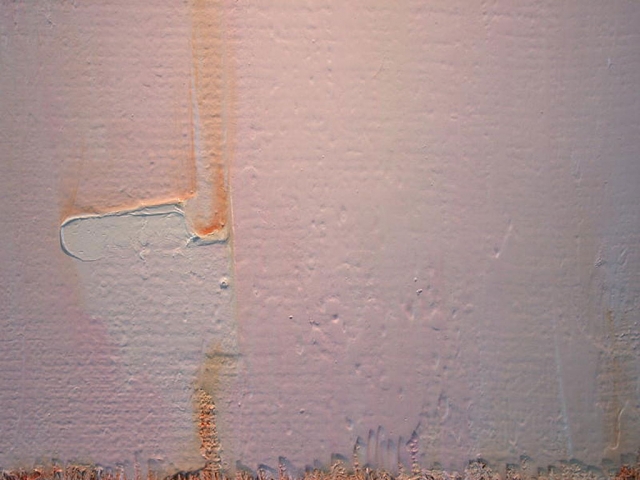 Pink Orange.
Enlarge Photo
By Gazette Staff Writer — Monday, June 14th, 2010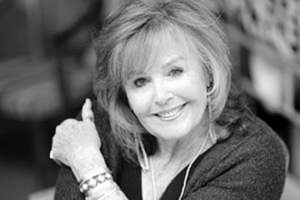 Sandra McCullough
VENTURA, CA (June 10, 2010) – Gallery 255 will be exhibiting new work by Sandra McCullough one of the resident artists of the Sea Breeze Art Studios which she also founded in 2004. Ms. McCullough's new work is a series of oil paintings. She has developed a unique surface of burlap and textured plaster on top of wood panel boxes. Her palette is in shades of pink and orange that is reminiscent of sherbet. One of the intrigues of this body of work is the juxtaposition of physical raw ingredients of wood, burlap and plaster to the sumptuous use of oil paint color.
In May 2004, as Owner/Founder, Sandra started Sea Breeze Art Studios and Gallery 255 (formerly Sea Breeze Art Gallery) in a dirty warehouse on Laurel Street from the ground up. While maintaining her full time artist studio and with her innate appreciation of dynamic artistic talent, Sandra has built a successful creative community within Sea Breeze Art Studios. Gallery 255 has also become successful as a selling contemporary art venue for artists whose exhibits rotate every four weeks.
Sandra McCullough has been creating art for over 50 years. With an adventurous personality, an entrepreneurial spirit and an interesting background, she continues to articulate those assets and her love of color in her artwork.
"Pink & Orange" runs July 8 – 31, 2010. The opening artist reception will be held on Saturday July 10 from 5:00-9:00pm.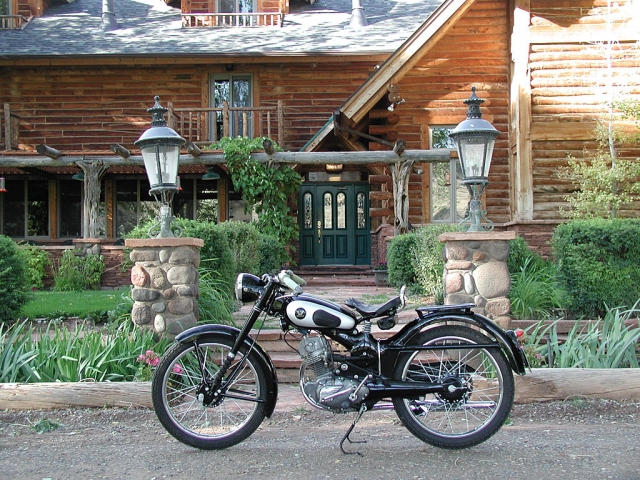 A vintage Honda motorcycle.
Enlarge Photo
By Gazette Staff Writer — Monday, June 14th, 2010
A very unique exhibit of exceptional vintage Honda Motorcycles to be shown at the California Oil Museum. Opening June 20 with a reception to meet the collector, Ron Mousouris, from 1-3pm. Nine motorcycles will be on display from 1952 to 1967 with one beautiful 1994 rare racing machine. These are from the collection of Ron Mousouris of Carpenteria. Hours are Wed – Sun 10am to 4pm. Admission is $4 Adults, $3 Seniors, $1 Students 6-17 and 5 & under are free.
One of the featured bikes is a 1954 Honda Benly J. The name "Benly" is a slightly altered Japanese word that translates to mean "convenient" in English. The Benly J of 1954 was the first Honda motorcycle ever to be raced in international competition. It was raced in Sao Paolo Brazil endurance race.
The Benly J was designed by Soichiro Honda, the founder of the Honda Corporation. Mr. Honda employed Mr. Kyoshi Kawashima, to assist with development of the engine and suspension. Mr Kawashima who was the very first employee of the Honda Company became president of the Honda Corporation when Mr. Honda retired.
The Honda Benly J represented the biggest gamble the Honda Company ever took on. There were over 140 motorcycle manufacturers in Japan during the 1950s. Had the 1954 Benly failed for any reason it would have meant almost certain death for Honda.
Here are a few key design features
1. 89cc single cylinder, 4 stroke pushrod activated over head valves.
2. Unitary swingarm/engine (the engine pivots in the frame with the swingarm
3. Inverted telescopic front suspension
4. Monoshock torsion block rear suspension
5. Reverse pivot brake an clutch levers
6. This example raced at the Mt Asama races of 1954
7. Never sold outside Japan
Vintage Honda collector and master restorer, Ron Mousouris, started hanging out at the local Honda shop during the "Summer of Love" in 1967. In September of '69, when the first Sapphire Blue Honda CL350 Scrambler was uncrated at the shop, his sense of urgency peaked. The Honda CL350 cost $810 new and he had saved about $600. The shop owner recognized that the only way to get Ron to stop hanging around the shop all the time was to get him a bike. He let Ron work off the balance in his service department.
Ron rode the CL350 with reckless abandon every day for three months. One evening in late November he walked to the garage to find his Honda gone
Stolen. The vacancy in the garage felt like a crushing weight. "I wasn't a particularly skilled rider at the time so the perpetrator may well have saved me from injury or worse", said Ron. "In any case the life lesson that I have carried with me ever since is that a healthy person should acquire motorcycles regularly and often. This principle can also be applied to spouses. I have seen it done. For me though, it has always been motorcycles".
What: Honda Motorcycles: Early Years to Present Day Racing
Where: City of Santa Paula's California Oil Museum
When: June 20 to September 26
More information: Jeanne Orcutt, 805-933-0076 ext 291, jorcutt@spcity.org
www.oilmuseum.net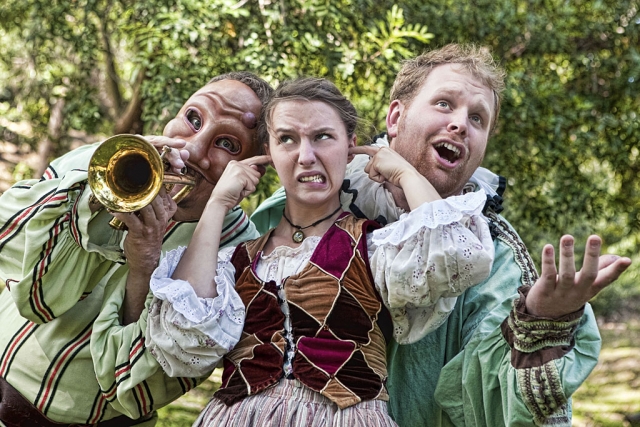 Dale Adrion is The Jailor, Rebekah Brockman is Luciana and Jaromb Brown is The Second Jailor in the Kingsmen Shakespeare Company's production of "The Comedy of Errors."
Enlarge Photo
By Gazette Staff Writer — Monday, June 14th, 2010
Production of 'Comedy of Errors' great for families
(THOUSAND OAKS, Calif. – June 14, 2010) The 14th Annual Kingsmen Shakespeare Festival will begin on a lighthearted note with a family-friendly staging of "The Comedy of Errors" weekends from July 1 through 18 at California Lutheran University.
The Kingsmen Shakespeare Company will present the play in the style of commedia dell'arte, making it a fast-paced, very physical show that is heavy on belly laughs. The characters, some in masks, will go into the audience to plead their cases. The green show, or pre-show production, will introduce commedia dell'arte to the crowd in a fun way involving audience participation.
One of Shakespeare's shortest plays, this is a great show for families.
"The Comedy of Errors" is a tale of mistaken identity involving two sets of identical twins separated at birth. Egeon, the father of one of the sets of twins, is condemned to death but is given a day to raise the ransom required to save him from execution.
Laurie Walters, who played daughter Joanie Bradford on the television show "Eight is Enough," portrays the Abbess, who helps bring about a resolution in the end.
CLU alumnus Kevin P. Kern, artistic director of the new Pensacola Shakespeare Theatre in Florida, is directing "The Comedy of Errors." A member of the theatre faculty at the University of West Florida, Kern is a veteran of the Kingsmen stage and a former director of the company's Apprentice Company and Summer Theatre Camp. He made his directorial debut with the festival in 2008 with a production of "As You Like It" set in the 1970s.
Performances are slated at 8 p.m. July 1, 2, 3, 9, 10, 11, 16, 17 and 18 in CLU's scenic Kingsmen Park. The festival grounds open at 5:30 p.m. for picnicking. Pre-show entertainment featuring Renaissance music, comic Shakespearean improvisations and wandering performers begins at 6:45 p.m.
Tickets are $15 and free for those under 18. Reserved lawn box seating is $60 to $75. Parking is available at the corner of Mountclef Boulevard and Olsen Road.
The Kingsmen Shakespeare Company is the professional theatre company of CLU. In addition to producing one of the area's most popular outdoor theatrical events, it provides apprentice programs, an educational tour program and summer theater camps for youth.
For more information, visit http://www.kingsmenshakespeare.org or call (805) 493-3455.
By Gazette Staff Writer — Wednesday, June 9th, 2010
June 27th, 2010
The Ojai Valley Museum has created a unique fundraising event, an auction of altered Libbey glass bowls, as a benefit for Ojai's "Save Libbey Bowl" campaign. The idea for local artists and artisans to produce artwork on the bowls originated in May 2009 and will culminate in a Gala Auction of the altered bowls on June 27th at a private home. The museum will donate half of the proceeds from the "Bowled Over" auction to the Rebuild Libbey Bowl fundraising effort. The auction will take place midway through the museum's current exhibition, "Ojai's Libbey Bowl: Past/Present/Future," which runs through July 11, 2010.
In March, the Ojai Valley Museum asked Libbey Inc. to donate clear glass, over-sized bowls to the museum for the auction. Libbey agreed and donated the requested bowls in five different shapes, for the especially selected artists to embellish.
On April 10th, the selected artists were invited to a museum reception where they chose their clear glass bowls to later return as fully realized works of art for the auction. At the auction a mini catalogue documenting all of the bowls will be given to the participating artisans and auction attendees as a memento of the project.
Local artists who were invited to embellish bowls include ceramicists, painters, printmakers, photographers, wood sculptors, and glass artists. All were asked to "think outside the glass" as a challenge to their standard media preferences. In addition to the local artists, celebrities such as Larry Hagman (Master of Ceremonies at the auction), Sergio Aragonés, and Ellen DeGeneres' mother, Betty DeGeneres, were invited to participate. Robert Zollweg, Creative Director, Libbey Inc., will also embellish a bowl for the auction.
Artists participating in the "Bowled Over" auction are: John Aaron, Richard Amend, Sergio Aragonés, Barbara Bowman, Christine Brennan, Eilam Byle, Myrna Cambianica, Larry Carnes, Moira Casey, Gayel Childress, Leslie Clark, Kerry Crank, Evelyn Dayman, Betty DeGeneres, Merilee Eaton, Ruth Farnham, Richard Franklin, Yvette Franklin, Valerie Freeman, Kelly Greene, Larry Hagman, Ray Harding, Linda Harmon, Claire Hill, Kate Hoffman, Nancy Horwick, Gerry Kennon, Oatley Kidder, Joe Leech, Karen Lewis, Sherry Loehr, Kirk Lowry, Mary Ann Maybaum, Laura Peck, Elise Pogofsky-Harris, Sylvia Raz, Fred Rothenberg, Paul Roux, Teal Rowe, Betty Saunders, Jeff Seaton, Shahastra, Sharlene Smartt, Edie Smith, Susan Stinsmuehlen-Amend, Linda Taylor, Anna Thomas, Kaarina Tienhaara, Iris Williams, Dennis Wood, and Robert Zollweg.
Libbey Inc. and Ojai Creates, who donated the materials for artists to use, have generously sponsored this fundraiser. The members of the "Bowled Over" Auction Committee, which has been organizing the event, are: Bobbie Boschan, Anna Cho Wagner, Laura Peck, Michele Ellis Pracy, and Esther Wachtell.
For further information or to purchase tickets to the "Bowled Over" Auction, please call the Ojai Valley Museum (805) 640-1390, Monday through Friday, 9 a.m. to 5 p.m.
By Gazette Staff Writer — Tuesday, June 8th, 2010
The best in family entertainment from across the world comes to the Rubicon Theatre in Ventura, CA as "Magic for Our Military" on June 19, 2010. Magicians from England, Belgium, Israel, Las Vegas and Hollywood will make their way to the Rubicon to support Sealed With A Wish Foundation, Inc., a non-profit organization dedicated to providing some of the comforts of home to U.S. troops serving in combat zones. Performances at 2:00 P.M. and 8:00 P.M.
Sealed With A Wish Foundation, Inc. is a 501(c)(3) charitable organization that serves to enrich the lives of U.S. troops serving in combat zones by providing comfort/care items from home. Most members of the Board of Directors are also members of the Academy of Magical Arts Hollywood's Famed Magic Castle.) SWAW's Board of Trustees includes Neil Patrick Harris, Steve Valentine, Susan Powell (Miss America 1981) and Lance Burton, Master Magician.
By Gazette Staff Writer — Tuesday, June 8th, 2010
June 6 to September 4
(Ventura, California) Paintings and drawings with big themes, tall orders, huge dreams and grand ideas will be on display for public viewing at Community Memorial Hospital when the Community Memorial Healthcare Foundation presents its "The Big Show" art exhibit which opened on June 6 and runs through Sept. 4.
The exhibit is a joint partnership between CMH, the Buenaventura Art Association, the Ventura Chamber of Commerce's Leadership Ventura and the Community Memorial Healthcare Foundation.
All paintings and drawings on display are by local artists, with proceeds to be used for future exhibits as well as to benefit local artists, the Buenaventura Art Association and the foundation's philanthropic efforts.
Community Memorial Hospital is a member of Community Memorial Health System, a not-for-profit health system, which is comprised of Community Memorial Hospital, Ojai Valley Community Hospital, and nine family-practice health centers entitled Centers for Family Health. The health system is located in Ventura County, California.
By Gazette Staff Writer — Tuesday, June 8th, 2010
Susan Seaberry's exhibit of recent works titled "Innocence and Experience: The Figure in Art" shows at the Buenaventura Galley from June 22 to July 17, 2010. Opening Reception is Friday, July 9 from 5-8 pm. Meet the artists for First Fridays Ventura at the Buenaventura Gallery on July 2 from 5-8 pm.
Part independent rebel with intuitive talent and part designer with tendencies towards fashionista, Seaberry deliver her figures as characters from fabled tales whose human qualities relate to us as effortlessly as our own reflection. Colorful, whimsy and poised with drama or intrigue, the subjects express strength and individuality, two values Seaberry honors and executes with grace.
With nods to mythic subjects and symbolism art scholars interested in deciphering a hidden meaning will be amused. Those with a need for a immediate gratification will be intrigued as well. Her palate is "just to die for, daahling!" and her most recent simplistic pieces are drawn with the trained eye many artists dream of achieving. No frames on these larger charcoals will allow these bodies to move with those in the room, bringing an element of motion to the exhibit.
With 5 decades of successful CONTINUED »
By Gazette Staff Writer — Friday, June 4th, 2010
Journalist tracked Honduran boy's search for mother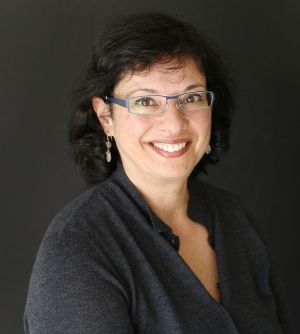 Sonia Nazario is the author of "Enrique's Journey: The Story of a Boy's Dangerous Odyssey to Reunite with his Mother," a 2006 national bestseller that won two book awards.
(THOUSAND OAKS, Calif. – June 4, 2010) The Pulitzer Prize-winning journalist who chronicled a Honduran boy's struggle to find his mother in the United States will speak at 10 a.m. Thursday, July 1, in Overton Hall at California Lutheran University.
Sonia Nazario is the author of "Enrique's Journey: The Story of a Boy's Dangerous Odyssey to Reunite with his Mother," a 2006 national bestseller that won two book awards. The book is based on her 2003 newspaper story, which won more than a dozen awards including the Pulitzer Prize in Journalism for feature writing, the George Polk Award for International Reporting and the Robert F. Kennedy Journalism Award Grand Prize. The book is required reading for incoming freshmen at dozens of colleges and high schools across the country.
Nazario has spent 20 years reporting and writing about social issues, most recently as a projects reporter for the Los Angeles Times. Her stories have tackled some of the country's most difficult problems. She was a Pulitzer Prize finalist in 1998 for a series on children of drug-addicted parents and she won a George Polk Award for Local Reporting in 1994 for a series about hunger among California schoolchildren.
The writer, who grew up in Kansas and in Argentina, has written extensively from Latin America and about Latinos in the United States. Hispanic Business Magazine has named Nazario among the most influential Latinos, and Hispanic Magazine has designated her a "trendsetter."
The CLU California Reading and Literature Project is presenting the free lecture and book signing. RSVP by Friday, June 25, to the School of Education at (805) 493-3705.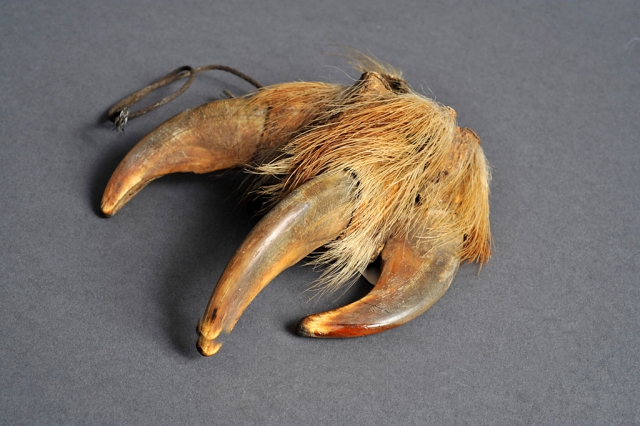 Bear Claw
Enlarge Photo
By Gazette Staff Writer — Tuesday, June 1st, 2010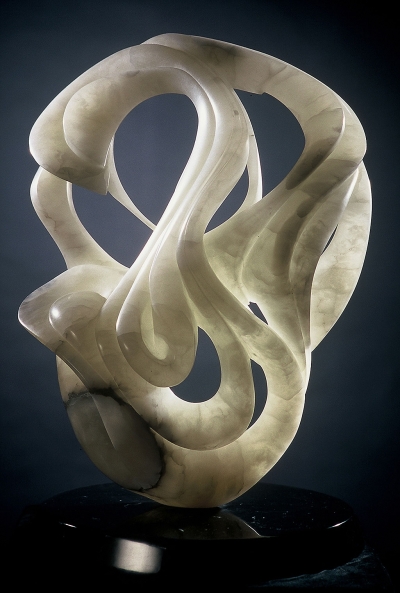 And Thats All There Is
Enlarge Photo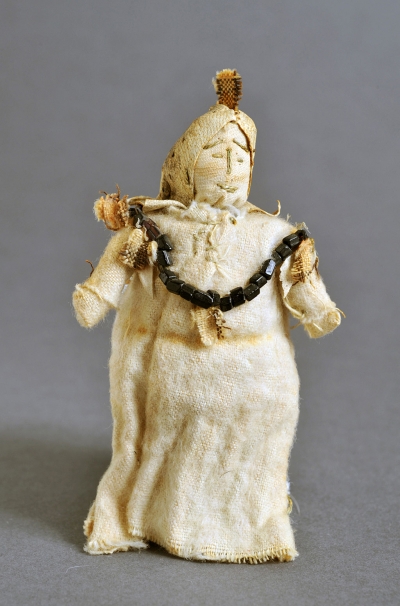 Mission Era Chumash Doll
Enlarge Photo
When the Museum of Ventura County holds its free Sunday, July 4 Reopening Celebration at 100 E. Main Street in Ventura from 11:00 am – 6:00 pm, visitors will not only see a spacious new front plaza with a water feature and a mosaic time line, a state-of-the-art event pavilion, and a renovated visitor center, but also four new exhibits. One will focus on the odd and unusual in the museum collection, another upon a legendary woman of mystery, and a third upon the timeless beauty of stone. And just in time for the nation's birthday, the George Stuart Historical Figures¼ will return, with the focus on the founding of America.
The 89 S. California Street location, which the museum occupied temporarily during construction, will be closed permanently after June 20.
The new museum exhibitions include:
Rare, Precious and Unusual: Treasures from the Collection (through September 6) From the mundane to the sublime, precious items, oddities and works of art from the collection are featured, some never before shown in a museum setting. See rare Chumash baskets, as well as the unexpected: the claws of Old Three Toes, a legendary bear who roamed the Sespe in 1780; an albino pocket gopher; and a Humboldt Penguin raised in an aviary in Fillmore. The museum began in 1913 with a collection of objects acquired by local doctor Cephas Bard, who came to Ventura after the Civil War and who often accepted historical objects in lieu of cash payment for his services. Today the museum collection contains more than 30,000 works of art and artifacts.
Between Fact and Fiction: The Lone Woman of San Nicolas Island (through October 17)
Highlighting a figure of both fact and fiction, this exhibition explores the different perceptions developed around the Lone Woman of San Nicolas Island, as people have sought the elusive truth about her. Celebrated in legend and books such as the children's classic "Island of the Blue Dolphins," this San Nicolas islander was left alone in 1835 on one of the most remote of the Channel Islands, until she was found and brought in 1853 to Santa Barbara, where she died within weeks of her arrival. The exhibit includes a specially commissioned, one-quarter life-size figure of the Lone Woman by artist George Stuart.
Liberty! The Genius of the People (through September 6)
This grouping of George Stuart Historical FiguresÂź features personalities involved in the American Revolution and the founding of the nation. These one-quarter life-size sculptures are renowned for their expressive faces and detailed costumes.
Romancing the Stones (through October 3)
The light plays with surfaces and translucency in an exhibit of stone sculpture by Ventura artist Michele Chapin.
By Gazette Staff Writer — Tuesday, June 1st, 2010
Workshops at CLU cover technique, musicals, the Bard
(THOUSAND OAKS, Calif. – May 27, 2010) The 25th year of the Kingsmen Shakespeare Company Summer Theatre Camp will begin in June at California Lutheran University.
CLU started the camp through its continuing education program and the drama department later took it over. When the Kingsmen Shakespeare Company took charge several years ago, it added a focus on the Bard. Throughout the years, the camp has retained its goal of helping students develop self-confidence, discipline, teamwork skills and acting techniques in fun and educational workshops. The number of participants is limited so that students can receive individual attention.
In "Beginning Shakespeare," children will learn basic acting technique and its application to the Bard's work, working up to presenting scenes on the Kingsmen Shakespeare Festival stage. "Shakespeare in Production" is an intensive four-week training/rehearsal workshop that provides advanced students with an opportunity to hone their acting skills and perform an adaptation of "A Midsummer Night's Dream" on the festival stage. Students in "Acting Techniques" will study voice, movement, approaching a script, improvisation and stage combat and present play scenes before an audience. "Musical Theatre" will cover vocal technique and auditioning and culminate with a performance of selections from a well-known musical.
Ken Gardner, a CLU theatre arts professor who taught at the camp in its first year, is in his 14th year as director. "Musical Theatre" teacher Barbara Wegher-Thompson, who teaches at CLU and has been involved with the Young Artists Ensemble, is also one of the camp's original teachers. Actors from Kingsmen Shakespeare Company, the professional theatre company of CLU, also provide instruction.
Workshops will be held Monday through Friday on the following dates:
"Beginning Shakespeare" (ages 8 to 12) – June 21 through July 2; July 5 through 16, 8 a.m. to noon
"Acting Techniques" (ages 12 to 16) – June 21 through July 2, 1 to 5 p.m.
"Shakespeare in Production" (ages 13 to 18) – July 5 through 30, 2 to 5 p.m.
"Musical Theatre" (ages 12 to 16) – July 19 through 30, 8 a.m. to noon
"Shakespeare in Production" costs $400. All the other workshops are $285.
Registration is available online at http://kingsmenshakespeare.org. For more information, call (805) 493-3455 or e-mail info@kingsmenshakespeare.org.
By Gazette Staff Writer — Tuesday, June 1st, 2010
The Ventura County and Santa Barbara County chapter of the National Association of Watch and Clock Collectors will meet Sunday, June 20 at noon at Ventura College, Building B, in the cafeteria. The NAWCC is a nonprofit organization whose members include hobbyists, collectors, and professionals. The common bond is a fascination with the art and science of timekeeping and timepieces. You can learn more about the NAWCC at www.nawcc.org. And more about Chapter 190 at www.nawcc-ch190.com
Everyone interested in watches and clocks, (modern or antique), is invited to visit and join our chapter. Members of the public are also invited to attend. There is a three dollar admission charge. Watches and clocks will be on display. There will be a mart followed by an informational meeting and a program.
Our program this month on June 20 at 1:15 p.m. will be a photo montage and recap of our annual Mart which was held on April 18th, at the Oxnard Airport, Commemorative Air Force Museum.
The Ventura County Chapter 190 of the National Association of Watch and Clock Collectors was chartered in September, 2006, and distributes a monthly newsletter to members. Membership applications will be available at the meeting, or by calling 805-988-1764.
By Gazette Staff Writer — Friday, May 28th, 2010
Professional instruction covers solo, chorale singing
(THOUSAND OAKS, Calif. – May 28, 2010) California Lutheran University's Summer Vocal Institute returns in July with a two-week program of choral and solo singing.
The full-day program for 12- to 18-year-old aspiring singers will be held from July 11 through 24.
The two-week institute covers vocal technique, solo repertoire and performance. Students will explore their voice and artistry through one-on-one coaching/lessons, daily master classes and course work in technique, sight singing, performance etiquette, interpretation, movement, and classical and musical theater repertoire.
Both weeks will include a mix of choral and solo singing. Wyant Morton, who chairs the music department and conducts the chorale ensembles at CLU, will lead an intense week and a half of ensemble singing that will culminate in a concert. Master teachers Angela Rasmussen Hicks, a mezzo-soprano on the CLU faculty, and Valencia Vas, a classically trained soprano on the Pepperdine University faculty, will focus on solo singing with students.
The program features opportunities to attend or perform in concerts. There will be three performances that will be open to the public, including one featuring Hicks and Vas.
The institute is open to youths of all levels, whether they just started singing in a choir or have been studying voice for several years. Enrollment is limited to preserve the individualized nature of the program.
Three $1,000 scholarships, which are renewable for four years, will be awarded to prospective students of CLU at the end of the institute.
Tuition is $865. For more information, go to http://www.callutheran.edu/music/svi, call (805) 405-0148 or (818) 605-3944, or e-mail CLUSVI@callutheran.edu.
By Gazette Staff Writer — Wednesday, May 26th, 2010
The Fillmore Unified Elementary Band and Fillmore Middle School Bands will be performing on June 2, 2010 at Fillmore Middle School Gymnasium. The concert will begin at 6:30 p.m. and admission is free. All four district elementary schools will be represented: Piru, San Cayetano, Sespe, and Mountain View Elementary. Juliette Resor will direct the approximately 225 band students who participate in the elementary band program. The FMS bands, directed by Greg Godfrey will also perform several selections. Solos, duets, and a "mass" band performance will also highlight the evening. Please come and support the local music programs.
By Gazette Staff Writer — Wednesday, May 26th, 2010
Camarillo, Calif., May 26, 2010 – CSU Channel Islands (CI) will host a new gallery presentation entitled Memory's Touch, featuring a variety of mixed media work by women artists from Southern California. The show will open with a reception on Thursday, June 3, from 5 to 7 p.m., in the John Spoor Broome Library on the CI campus. The reception is free and open to the public and light refreshments will be served. There will also be an informal curators' conversation about the presentation.
Participating artists are selected members of the Southern California Women's Caucus for Art (SCWCA), the largest chapter of the 27 national chapters of the Women's Caucus for Art. This leading national organization for women actively engaged in the visual arts profession is also an affiliated society of the College Art Association.
The show is co-curated by art historians Denise Lugo, a lecturer at CI, and Karen Schifman, a professor at CSU Northridge and board member of SCWCA. Featured in this exhibition are nineteen artists, all dealing with the topic of memory. There are paintings, drawings, photography, quilts, book making and fiber art which demonstrate, through artistic interpretation, memory's personal and compelling ability to inspire both happy and painful recollections.
Participating artists are Ulla Barr, Lucy Blake-Elahi, Elizabeth Bloom, Marie Cenker, Molly Enholm, Rosalie Friis-Ross, Doro Hofmann, Ann Isolde, Sandra Lauterbach, Meg Madison, Carmen Monne Martin, Penny McElroy, Freyda Miller, Sandra Mueller, Avinger Nelson, Sue Ann Robinson, Orly Ofry Ruben, Deborah Thomas, and Elizabeth Wallace.
The exhibition will run from June 1 to July 28. Gallery hours are Monday through Friday, 9 a.m. to 5 p.m. Limited parking is available on campus. A daily permit is $6. Free parking is available at the Camarillo Metrolink Station/Lewis Road parking lot in Camarillo with bus service to and from the campus. Riders should board the VISTA Bus to the campus; the fare is $1 each way. Buses arrive and depart from the Camarillo Metrolink Station every 30 minutes from 7 a.m. to 10 p.m. Monday through Friday. For exact times, check the schedule at www.goventura.org.
For additional information please contact Karen Schifman at 310-993-1137 or karen.j.schifman@csun.edu.
CSU Channel Islands is accredited by the Accrediting Commission for Senior Colleges and Universities of the Western Association of Schools and Colleges.
CI Mission Statement
Placing students at the center of the educational experience, California State University Channel Islands provides undergraduate and graduate education that facilitates learning within and across disciplines through integrative approaches, emphasizes experiential and service learning, and graduates students with multicultural and international perspectives.
By Gazette Staff Writer — Tuesday, May 25th, 2010
Find Out What Your Treasures Are Worth
Does that vase your grandmother gave you have more than sentimental value? Do you suspect your bookshelf holds a valuable first edition, or do you think you made a real find at a garage sale? Find out at Museum of Ventura County's Appraisal Day, Wednesday, July 21, where you can get a verbal auction estimate of worth from the experts at Bonhams & Butterfields. The event hours are 10:00 a.m. to noon, and 1:00 to 3:00 p.m.
Cost is $15 per item for guests, $5 per item for museum members (memberships will be available for purchase), with a limit of five items per person. Appraisal Day is always well attended, so plan on plenty of time to wait outside: first come, first served, no appointments. Estimates are given in the following areas only: fine art, furniture, decorative arts, books and manuscripts, jewelry, prints, photographs, and Asian pieces. Proceeds will benefit museum programs.
For further information go to www.venturamuseum.org or call (805) 653-6715. The Museum of Ventura County returns July 3 to their newly renovated facility at 100 East Main Street in downtown Ventura, across from Mission San Buenaventura.
By Gazette Staff Writer — Monday, May 24th, 2010
'Syncopation' will feature 'south of the border' music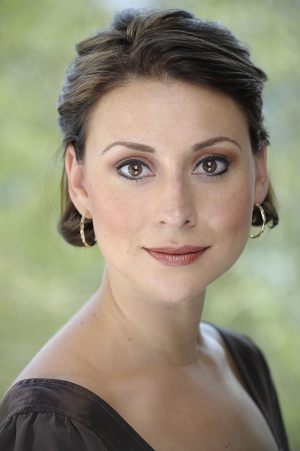 (THOUSAND OAKS, Calif. – May 21, 2010) Former Miss California Jacquelynne Fontaine will sing at a cello concert in Overton Hall at California Lutheran University at 4 p.m. Saturday, June 5.
The "Syncopation" concert will feature mostly "south of the border" music. Fontaine, a CLU alumna who is earning a doctorate in voice performance at University of Southern California, will perform "Bachianas Brasileiras No. 5" by Brazilian composer Heitor Villa-Lobos in two movements. The first is an aria and the second is a dance.
This will be followed by French composer Cesar Franck's "Panis Angelicus." The premiere cellist, Joyce Geeting, and pianist Christine DeKlotz will perform "The Grand Tango" by Argentinean composer Astor Piazzolla. Geeting and her student cellists will perform Argentinean tangos "Mellow Cellos Tango, La Cinquantaine" by Gabriel Marie and "Siciliennes" by Gabriel Faure and Maria Teresia von Paradis as well as "Seven Duets" by Chicago composer Lee Burswold. The concert will also feature ragtime music including "The Entertainer" by Scott Joplin.
Fontaine is a soprano who has performed with orchestras ranging from the Orchestra di Roma del Lazio to the Glendale Symphony to the Conejo Pops. Her operatic lead roles include Pamina in "The Magic Flute" and Donna Anna and Donna Elvira in "Don Giovanni" with the Tuscia Operafestival in Viterbo, Italy, and Ilia in "Idomeneo" with USC Opera at the Thornton School of Music.
Geeting, who has a doctor of music arts in performance and pedagogy, recently performed concerts in Chicago and Mexico City featuring "Body Notes" by Chicago physiologist and composer Hector Rasgado-Flores.
A $10 donation is requested. For more information, call (818) 712-0587.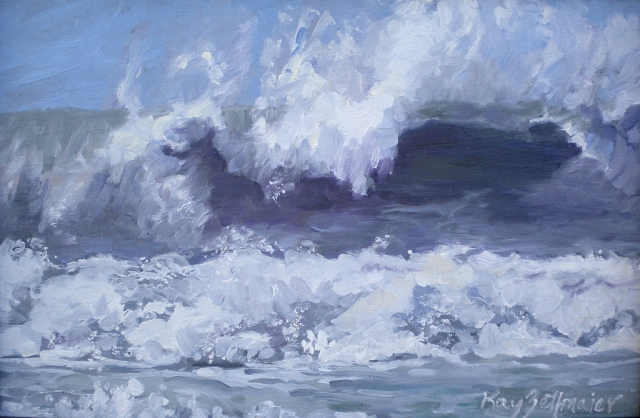 "El Nino at Pierpont" oil painting by Kay Zetlmaier.
Enlarge Photo
By Gazette Staff Writer — Tuesday, May 18th, 2010
Kay Zetlmaier's collection of oil paintings "Land and Sea, Our Beautiful Coastline" will be exhibiting at the Harbor Village Gallery from Wednesday, June 16 to Sunday, July 11, 2010. An Artist Reception will be held on Friday, June 18, 2010 from 5 – 8pm.
One is thrown into nature's adventures as their eyes are awakened touring Kay Zetlmaier's exhibit of lively oil paintings. Her works are full of movement and expression, coming fresh from the scene, illuminating her plein-air style. Warm and expressive brushstrokes reveal influences of Monet and Joaquín Sorolla. Framed California's coastlines are portrayed in full exposure with a range of passion and excitement from powerful, crashing waves to bright and serene vistas.
Zetlmaier grew up in California enamored with nature and art. A passionate Californian she greatly enjoys living in Ventura, so close to many inspiring, beautiful sites. With an appreciation for education, Zetlmaier's studies include a Bachelor's degree from CSU Long Beach, a Masters from CSU Dominguez Hills, as well as various workshops and classes by Connie Peterson, David Gallup, and others. She has worked with watercolors, acrylics and through the past five years her work has concentrated in the medium of oil. An inspiring Californian plein-air, Impressionist, David Gallup, has been a vital mentor to her, teaching her to run free with color, harmony and personal expression.
Zetlmaier's character is full of adventure and passion and has shared her zeal for art as an art teacher at Ventura High School for over twenty years. Her adventures don't stop in California or in the classroom, she has been fortunate enough to travel around America's amazing landscapes, including the Grand Canyon, Yellowstone, and Alaska, bright Mexico, cool Canada, and even Europe's intriguing historical sites throughout Italy and Greece.
Zetlmaier's exhibit of oil paintings truly quenches your soul's thirst for beauty and adventure.
This is Zetlmaier's second solo exhibit with the Buenaventura Art Association.
The Harbor Village Gallery is located at 1591 Spinnaker Dr., entrance # 3 in the Ventura Harbor Village, next to the big lawn. Open Monday through Thursday (closed on Tuesdays) from 12 to 5 p.m. and Friday, through Sunday from 11a.m. to 6p.m. For more information, call the gallery at 805-644-2750 or visit www.harborvillagegallery.com or www.buenaventuragallery.org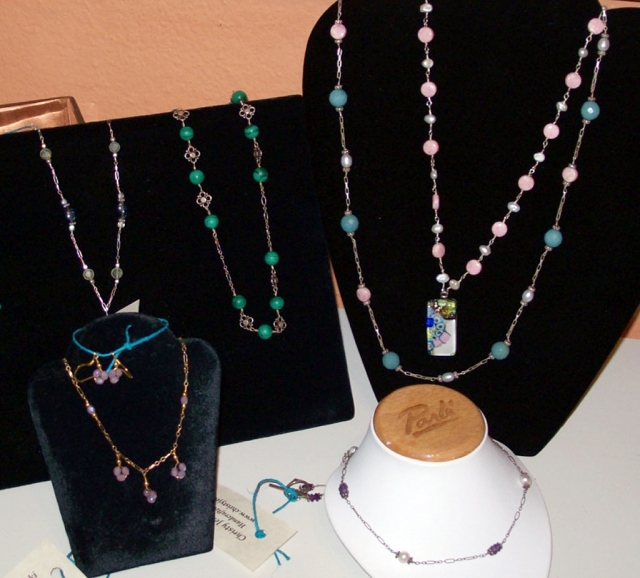 Jewelry at the Harbor Village Gallery
Enlarge Photo
By Gazette Staff Writer — Tuesday, May 18th, 2010
Tammy Woodford and Christy Smolenski are offering a jewelry wrapping workshop with silver, semi-precious stones and gems on Saturday, June 5,, 2010 from 11 a.m. to 12:30 p.m. at the Harbor Village Gallery. The cost is $25 for Buenaventura Art Association Members and $30 for the general public. The price includes all materials and tools. Participants will go home with a full set of tools and one piece of hand-made (by you) jewelry - necklace or bracelet!
Smolenski is currently the Featured Artisan at the Harbor Village Gallery's Artisan Store and is featuring hand-crafted jewelry and beach artwork. She has been working with jewelry for the past fifteen years, following the passion and instruction from her mother. Woodford has been practicing jewelry-making silver jewelry for many years and has been a member of the Buenaventura Art Association since 2008. Recently, she led a jewelry demonstration for Ventura Harbor Village's "Mom's Night Out" on May 6, 2010.
Sign up for the workshop at the Harbor Village Gallery or call during Open Gallery Hours. You can also pay online with PayPal via the Buenaventura Art Association's home page.
The Harbor Village Gallery and Artisan Store is located at 1591 Spinnaker Dr., entrance # 3 in the Ventura Harbor Village, next to the big lawn. Open Monday through Thursday (closed on Tuesdays) from 12 to 5 p.m. and Friday, through Sunday from 11a.m. to 6p.m. For more information, call the gallery at 805-644-2750 or visit www.harborvillagegallery.com or www.buenaventuragallery.org
By Gazette Staff Writer — Monday, May 17th, 2010
July 11, 2010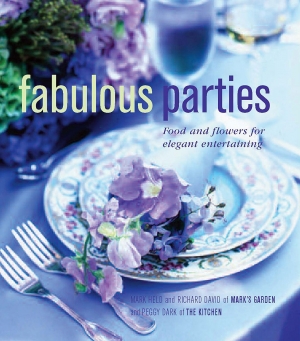 Peggy Foote Dark grew up in Ventura in a family of devoted cooks, and following that tradition, eventually founded The Kitchen for Exploring Foods, one of Southern California's premier catering firms. On Sunday, July 11 at 3:00 pm, Dark comes to the Museum of Ventura County's new event pavilion on Main Street to sign the book "Fabulous Parties: Food and Flowers for Elegant Entertaining," which she wrote with florists Mark Held and Richard David of Mark's Garden. Along with food tasting, the event includes Dark's discussion about the book, which adapts the principals of planning lavish large events to the more intimate scale and budget of home entertaining. She also plans to talk about how her career was influenced by her family and her hometown of Ventura.
Attendance is $15 for the general public, $10 for museum members. Call 805-653-0323 x 10 to make reservations. The event is being held in the Museum of Ventura County's newly constructed Martin V. and Martha K. Smith Pavilion, part of the museum's renovated 100 East Main Street location in Ventura.
Peggy Foot Dark, a graduate of the University of California Santa Barbara, co-founded The Kitchen for Exploring Foods in Pasadena in 1984, a catering and gourmet take-out business with a devoted Southern California following. Mark Held and Richard David are the owners of Mark's Garden in Los Angeles, recognized in 1999 by the London Financial Times as one of the outstanding florists in the world.
On July 3, the Museum of Ventura County returns to its renovated facility at 100 East Main Street, Ventura, with a free admission celebration on the 4th of July. Go to www.venturamuseum.org for more information.