By Anonymous — Monday, November 3rd, 2008
FILLMORE UNIFIED SCHOOL DISTRICT
REGULAR MEETING OF THE BOARD OF EDUCATION
TUESDAY, NOVEMBER 4, 2008
5:15 P.M. – CLOSED SESSION
6:00 P.M. - REGULAR MEETING
627 SESPE AVENUE, FILLMORE, CALIFORNIA
AGENDA
The public may review or request a copy of support materials provided to the Board Members where the word materials appears.
5:15 p.m.
I. CALL TO ORDER AND PLEDGE OF ALLEGIANCE TO THE FLAG
II. ROLL CALL CONTINUED »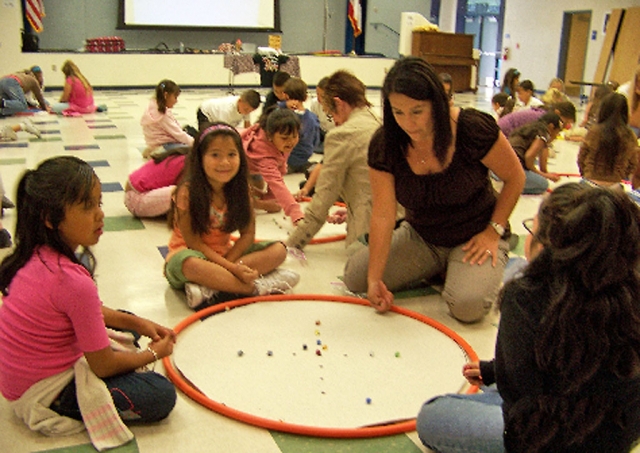 Mrs. Schieferle, Mountain Vista Principal, shows off her shooting skills to Arianna Salas.
Enlarge Photo
By Anonymous — Wednesday, October 29th, 2008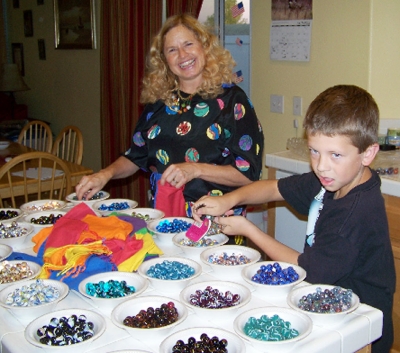 "The Marble Lady" (Cathy Runyan) helps Luke Myers bag over 13,000 marbles for the fundraiser.
Enlarge Photo
Marbles have been very popular at our school since it opened. Kids can be seen before school, during their recesses, and after school out in the yard playing "Poison" a marble game that is played in the dirt. They are so popular that there are school rules just for marbles.
On Tuesday, October 21, Mountain Vista had a special visitor. Her name is "The Marble Lady." Her other name is Cathy Runyan. She is known throughout the country. She came to our school to share her love of marbles with us. She gave 7 assemblies about the history of marbles, her interview from the Today Show, inventions made with marbles, and taught us the National Marble Tournament game called Ringer. She set up mats with hula hoops and let every child play the game Ringer during the assemblies! It was truly one of the best interactive assemblies. She even tied in positive character traits, which is a high priority here at Mountain Vista, by using "Kindness Marbles" to remind us to do at least one kind thing for another person each day.
During the same week, we had a marble fundraiser to raise money for the classrooms. We have sold over 425 bags of marbles! The students are so very excited and the classrooms will benefit, also!
Marbles are amazing little balls of glass. They are so simple in structure, but can be used to do mighty things. Many inventions included marbles, they teach kindness, bring together children who may not normally get together, teach patience, perseverance, and just bring joy to a child…or an adult. If you have not tried marbles, give it a shot! You may find like many of us that even a teacher, a parent, or a grandparent can enjoy the game. Marbles do not discriminate based on age, sex, size, athletic ability, or race. So knuckle down and have fun!
*We want to thank Cathy Runyan, "The Marble Lady" for all of her excitement and for her love of children and marbles. If you would like to contact her, she can be reached at themarblelady.com. We would also like to thank Peter Caperelli at landofmarbles.com for selling us all of the amazing marbles and sharing discounts with all of the students.
By Anonymous — Wednesday, October 29th, 2008
Yes, it is true, the Wells Fargo Stagecoach is coming to the Fall Carnival at San Cayetano Elementary School. The carnival will be on Thursday October 30th from 5-8 p.m. The Annual Fall Carnival is very special this year as it is being sponsored by Wells Fargo. The carnival benefits all four Fillmore and Piru elementary schools. The stagecoach will be available by 5PM and courtesy of Wells Fargo everyone who wishes may have the opportunity that they have always wanted--- to sit on a real stagecoach! Come and join the fun! This is truly a community event with support from our local fire and police departments, the Boy Scouts, Cub Scouts, and our secondary students working for community service hours! See you on Thursday October 30th at 5 p.m.
By Anonymous — Wednesday, October 22nd, 2008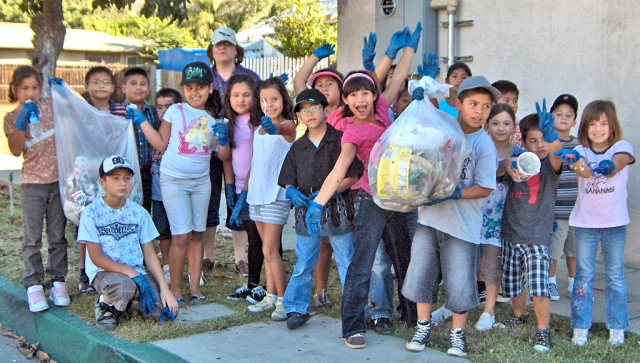 On Oct. 8th it was Walk to School Day. San Cayetano is a school of service. In addition to walking for health, each class picked up trash around their campus vicinity. The 4th and 5th graders walked to Fillmore High School and walked around the new track. On their way back to San Cayetano they picked up trash. The 2nd and 3rd graders picked a neighborhood block to pick up trash and kinder and 1st cleaned up San Cayetano. It was a healthy-service day for all.
Enlarge Photo
By Anonymous — Wednesday, October 22nd, 2008
An FUTA sponsored Q & A with the FUSD School Board Candidates will take place Thursday, Oct 23rd, at 3:30 p.m. in the FHS Library. All candidates running for the three open spaces on the Board will be invited to participate. All FUTA members are encouraged to attend the Q & A. The Election will be held November 4th. Remember to VOTE!
Why should you care who is on the FUSD School Board? The School Board must provide financial oversight for the district; sets the tone of labor relations within the district; and sets district policies. Be sure to attend and hear the candidates' answers.
By Anonymous — Wednesday, October 22nd, 2008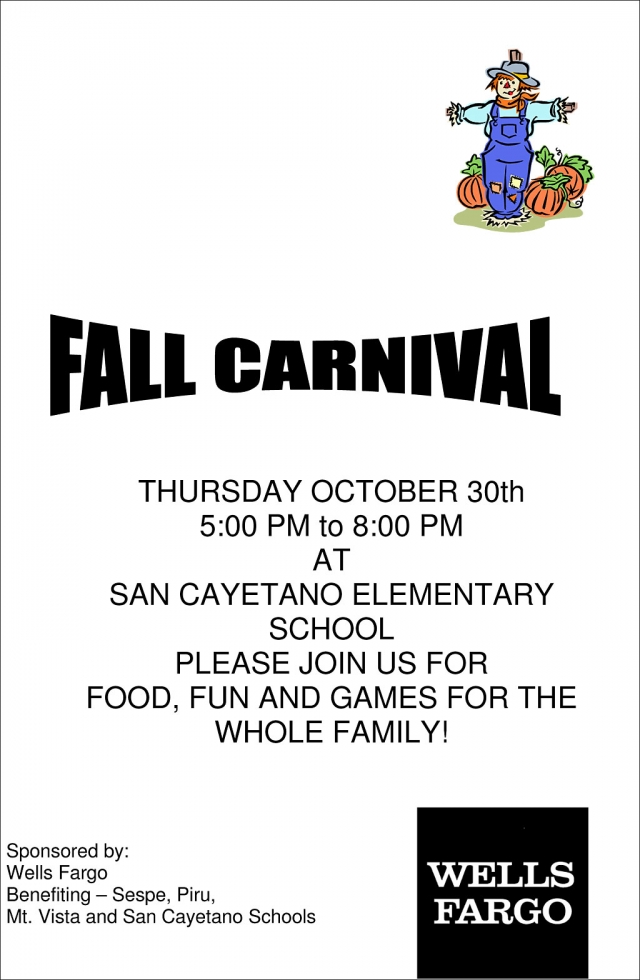 Fall Carnival
Enlarge Photo
By Anonymous — Wednesday, October 22nd, 2008
Innovative Public-Private Partnership to Provide 8 Megawatts of Renewable Power
Furthering his commitment to reduce California's greenhouse gas emissions, Governor Schwarzenegger today announced the state has partnered with SunEdison to provide affordable solar power at 15 California State University (CSU) campuses and the CSU executive office. This innovative public-private partnership will protect the environment by providing a zero-emission 8 megawatt (MW) solar photovoltaic power system to the California state university campuses.
"California is going green and we are doing it first and we are doing it fast," said Governor Schwarzenegger. "With the partnership being announced today between California and SunEdison, we are seeing more tangible results and more follow through in reducing our state's carbon footprint. This partnership is a good deal for the state, the planet and our economy – all at no cost to taxpayers."
The 8 MW of energy produced by the solar panels are expected to deliver approximately 12 million kilowatt hours of clean renewable energy in the first year of operation. This amount of solar generated electricity represents five percent of the entire CSU system's yearly energy consumption. Over the life of the contract, the partnership will offset approximately 9,485 metric tons of carbon dioxide, which is the equivalent of removing 48,937 cars from the road.
New SunEdison solar panels will be installed on rooftops, atop parking canopies and in ground-mounted arrays at the following locations: CA Maritime Academy, Vallejo; CSU Bakersfield; CSU Channel Islands; CSU Chico; CSU Fullerton; CSU Humboldt; CSU Los Angeles; CSU Monterey Bay; CSU Pomona (Cal Poly); CSU Sacramento; CSU San Bernardino; CSU San Bernardino (Palm Desert): CSU San Francisco; CSU San Marcos; CSU Stanislaus; and, the CSU Office of the Chancellor, Long Beach.
"California's continued economic, environmental and social prosperity depends on sustainable energy and technology," said CSU Chancellor Charles B. Reed. "As the nation's largest university system, the CSU welcomes this opportunity to lead the way." CONTINUED »
By Anonymous — Wednesday, October 22nd, 2008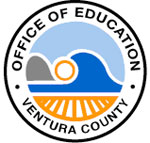 Ventura County Office of Education
Two schools in Ventura County have teamed up to put more books in the hands of students and to create a larger student library for a new school designed specifically for students with autism. Michele Darden and Linda Goodwin, parents of students at Madrona Elementary School and Triton Academy, were the masterminds behind this creative collaborative project.
Every year, Madrona Elementary School hosts a fundraising book fair during their parent conference week. This year, Madrona Elementary School generously offered to make Triton Academy the beneficiary of their school's donations during the "One for Books" fundraiser. Each classroom at Madrona has a "One for Books" collection jar and during the week of the book fair, the students bring in change for their classroom jar. There will be contests and prizes for the classes who collect the most money; all money collected at Madrona will directly benefit Triton Academy's library. Triton Academy students also wanted to be part of this event; their students are participating in this fundraiser by donating their loose change, too. Triton Academy, now in their second year, is a school within the Ventura County Office of Education that utilizes evidenced-based educational practices for students with autism. CONTINUED »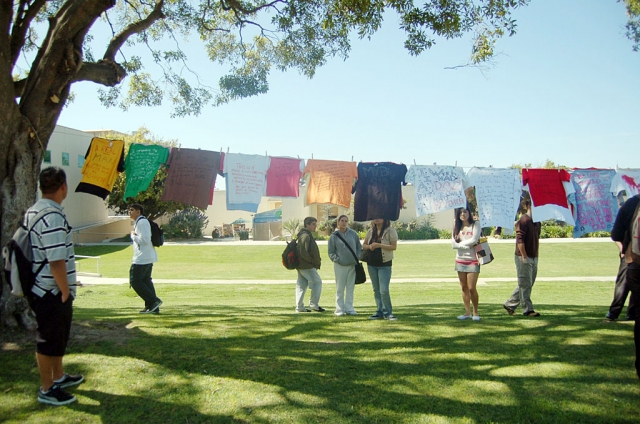 The Survivor Empowerment Project.
Enlarge Photo
By Anonymous — Wednesday, October 22nd, 2008
VENTURA: The Survivor Empowerment Project encourages survivors and friends and family members of survivors of domestic abuse, violence and rape to design t-shirts in an attempt to break the silence and end the violence. The Project will be hosted by the Psychology Club on October 29 (Wednesday) from 8 a.m. — 2:30 p.m. on the lawn between the LRC and the Science Building. T-Shirts are provided and the public is invited to participate by creating a tribute t-shirt, visiting the resource booths and hearing the speakers.
Speakers (all in Room UV-2 – times/speakers subject to change):
• Nichole, on Tale of Violence, 8:30 a.m.
• Brittany, Domestic Violence Aftermath 9:30 a.m.
• Sebastian, Transsexuality & Associated Violence, 10:30 a.m.
• La Shonda Blunt, Date Rape & Date Rape Drugs, 11:30 a.m.
• Dawn Reid, Sexual Abuse & Prevention, 12:30 p.m.
• Susy Rios, District Attorney's Victim Services Info, 1: 30 p.m.
Resource Booths Available:
• InterFACE Children and Family Services
• UCLA Santa Monica Rape Treatment Center
• Coalition to End Family Violence
• Rainbow Alliance
• Ventura College Student Health & Psychological Services
• District Attorney's Office, Victim Services
For additional information, please contact Professor Lucy Capuano Brewer at 654-6400 ext. 1395 or Public Information Officer Alisa Moore at 654-6462.
By Anonymous — Wednesday, October 22nd, 2008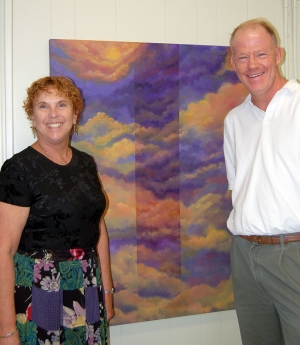 Nancy Latham and Steve Turner
VENTURA: After several years in the FL building plus emergency moves to the LRC and back to the FL Building after a massive flood, the Educational Assistance Center (EAC) now has a new permanent home in the Administration Building. Everyone is invited to visit their new offices on October 22, from 1 p.m. to 4 p.m.; light refreshments will be served.
The EAC relocated their staff and counselors to the former Counseling Office and their test proctoring from Guthrie Hall to the former Admissions and Records Office, providing them with enough space to accommodate them appropriately and making them more centrally located on campus.
The Educational Assistance Center (EAC) promotes the educational and vocational potential of students with disabilities by enhancing their total integration into mainstream college life.
Students with learning, visual, hearing, speech, mobility, and psychological disabilities, as well as acquired brain injury and other health impairments, are eligible to apply for the support services or instruction needed to fully participate in the educational process.
These special services include: one-stop early registration assistance, assessment of learning problems, sign language interpreters, notetaking, readers, transcribers, tutors, mobility assistance, personal, disability-related academic and vocational counseling, handicapped parking, alternative testing, alternate media, assistive computer technology and other assistive devices. Instruction is available in job-seeking skills, adaptive physical education, learning skills, and assistive computer technology. Classroom instructional materials and college publications are available on request in alternate formats.
For additional information, please contact Coordinators Nancy Latham at 654-6400 ext. 3149, or Steve Turner at 654-6415, or Public Information Officer Alisa Moore at 654-6462.
By Anonymous — Monday, October 20th, 2008
FILLMORE UNIFIED SCHOOL DISTRICT
REGULAR MEETING OF THE BOARD OF EDUCATION
TUESDAY, OCTOBER 21, 2008
5:15 P.M. – CLOSED SESSION
6:00 P.M. - REGULAR MEETING
627 SESPE AVENUE, FILLMORE, CALIFORNIA
AGENDA
The public may review or request a copy of support materials provided to the Board Members where the word materials appears.
5:15 p.m.
I. CALL TO ORDER AND PLEDGE OF ALLEGIANCE TO THE FLAG
II. ROLL CALL CONTINUED »
By Anonymous — Wednesday, October 15th, 2008
Piru School has received a grant from the National Endowment for the Humanities to enhance the teaching, study, and understanding of American history and culture through some of America's greatest works of art.
Picturing America provides large laminated artwork, which will be displayed at the Piru Library, and may be used in the classroom to further understanding and motivate students on American history and culture. Currently on display is American Pottery (1100-1960), which explores several American cultures' creation of utilitarian vessels; now regarded as works of art. Additionally, facts, pictures, and literature are also available to support the artwork. Displays will change periodically throughout the year. So come visit the Piru Library!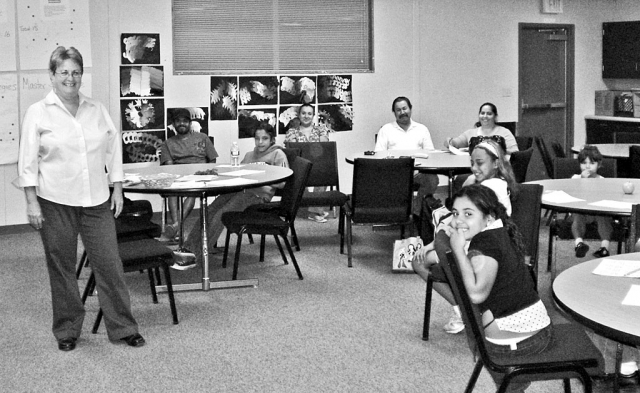 Ruth Ricards along with parents and students learned about nutrition during Club Success.
Enlarge Photo
By Anonymous — Wednesday, October 15th, 2008
Club Success is a program that offers a day long retreat for middle school students prepared and attended by Jim Higgins from the Higgy Foundation and both FMS counselors, Mrs. Wyand and Mrs. Reyes-Deutsch. The students take part in a variety of activities designed to build self-esteem, examine life choices and have a good time.
Club Success enables students to see themselves as capable and vital to the school community. Club Success provides opportunities for students to reconnect with family and teachers in a positive way.
This past Thursday, September 26th, Club Success was another Success motivating students to make positive choices and really know that their families support them was the final outcome of this wonderful day.
Thank you Club Success! We are the change… Together we do Think, Believe, Create and Achieve.
By Anonymous — Wednesday, October 15th, 2008
The 2009 Senior Class will be taking orders for Marie Callender's Thanksgiving Pies. Starting next week. They will be delivered to you on Tuesday Nov 25th 2008. This is our "big" fundraiser - last year they sold 1335 pies and we netted $ 6,300. so hopefully we sell more this year. Thank you, Raelene Chaney
ALSO: Grad Nite Live Fundraiser: Donate your old cars, trucks, boats or RV running or not we will haul it away FREE ..call Mrs Chaney 524-4909 for pick up arrangements.
By Anonymous — Wednesday, October 15th, 2008
SACRAMENTO – State Superintendent of Public Instruction Jack O'Connell today announced 27 school districts will share $26.6 million in Professional Development in Reading for Special Education Teachers Pilot Program grants. The list of grantees is attached.
"There's a critical need to provide professional development for special education teachers in California," said O'Connell. "We must ensure that students receiving special education services are given the maximum access to a good education so they can reach a higher level of achievement and be well prepared for college or the world of work after high school. This grant will provide support to special education teachers so they can improve reading and language-art instruction to special education students and help them reach their full potential."
Approximately 10 percent of California students are designated as needing special education services. However, according to the California Department of Education's 2006 document, Developing Highly Qualified Teachers and Administrators Initiative, there is a critical shortage of qualified teachers in a number of fields, including special education. Between 14 percent and 49 percent of special education teachers are also underprepared, meaning they do not possess a full credential.
Carryover funds from the federal Reading First program provided funding for this competitive three-year Pilot Program grant. The grants were separated into two groups: Priority 1 grants provide funding to local educational agencies eligible but currently not participating in Reading First, to give professional development for special education teachers in reading for kindergarten through grade three. Priority 2 grants are for Reading First districts' special education teacher professional development in kindergarten through grade twelve. The funds must be used to train and support these teachers in the use of reading/language arts instructional programs for students receiving special education services.
Eligible applicants included local educational agencies with a great need for special education teacher professional development. The goal is to provide students needing special education services with adequate reading instruction through core or intensive intervention programs so they will make progress toward grade-level reading proficiency, meet all reading/language arts goals of his or her Individualized Educational Program, and move closer to the proficiency level outlined in the California English Language Content Standards.
The grantees were selected based on the quality of their applications. The grantees will be held accountable for assisting special education teachers in fully implementing the requirements of the grant. The requirements include providing opportunities for special education teachers to learn how to deliver instruction to increase student progress, the grantee's use of student assessments, monitoring of student academic progress, demonstrated leadership, professional development plan, and collaboration between general and special education staffs.
For more information on the Professional Development in Reading for Special Education Teachers Pilot Program grant, please visit http://www.cde.ca.gov/fg/fo/r12/setpd07result.asp.
Professional Development in Reading for Special Education Teachers Pilot Program
Priority 1 Grants
County Name Local Educational Agency Amount
Fresno Parlier Unified School District $97,500
Orange Capistrano Unified School District $1,462,500
Riverside Corona-Norco Unified School District $1,365,000
Riverside Val Verde Unified School District $390,000
San Bernardino Chino Valley Unified School District $975,000
San Joaquin Lodi Unified School District $916,500
Priority 2 Grants
County Name Local Educational Agency Amount
Alameda Oakland Unified School District $643,500
Contra Costa Mt. Diablo Unified School District $585,000
Fresno Fresno Unified School District $4,018,749
Los Angeles Hacienda-La Puente Unified School $858,000
Los Angeles Lancaster School District $1,248,000
Los Angeles Palmdale School District $1,950,000
Merced Merced City School District $780,000,00
Orange Santa Ana Unified School District $2,535,000
Sacramento Elk Grove Unified School District $2,905.500
Sacramento Robla School District $214,500
San Bernardino Ontario-Montclair School District $1,599,000
San Diego Cajon Valley Union School District $253500
San Diego South Bay Union School District $390,000
San Francisco San Francisco Unified School District $2,248,500
San Mateo Ravenswood City School District $351,000
Santa Clara San Jose Unified School District $897,000
Solano Vallejo City Unified School District $1,677,000
Trinity Lewiston Elementary School District $19,500
Ventura Rio Elementary School District $253,500
Ventura Santa Paula Elementary School District $331,500
Los Angeles Los Angeles Unified school District $1,311,583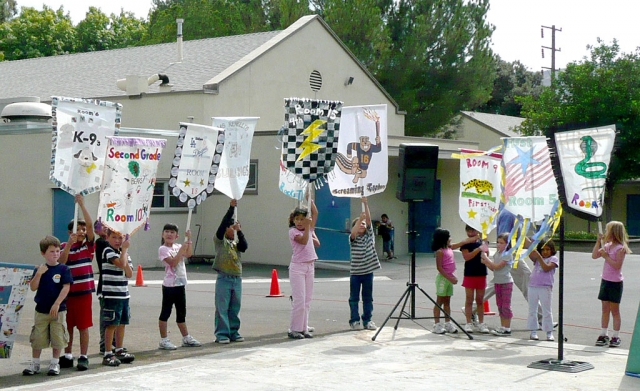 (Above) Opening Ceremony with class banners of the Piru Elementary Olympics. "Citius, Altius, Fortius," last week the Olympic Motto came to life for students at Piru Elementary as they reached for "swifter, higher, and stronger" achievements in their school Olympics. After practicing at lunch recess for weeks at their Olympic Training Center the student athletes were ready to meet the competition. The Games began with a grand procession of classes around the athletic field to the Opening Ceremonies. While their class banners proclaimed their class' presence students were welcomed to the competition in the spirit of the Olympics. Following the lighting of the Olympic flame the opening day competition began. To classmate cheers athletes pulled with all their strength in the tug-of-war competition and later ran swiftly in a shortened marathon. Winners were awarded "Olympic" medals for their success. Throughout the week at lunch recess the competition continued when grade levels vied for soccer medals. Piru's Olympic Games culminated Friday afternoon as individual students and teams gave their best as they struggled for success in long jump, shot put, jump rope, hula hoop, Frisbee throw, and running relay. As the games drew to a close every student had an opportunity to compete to the encouragement of his or her classmates. And, Piru Elementary School echoed with the pleasure of its students.
Enlarge Photo
By Anonymous — Wednesday, October 8th, 2008
By Natalie Garnica — Wednesday, October 8th, 2008
Homecoming week was a great success, and student participation was at a record high. All of the floats turned out wonderfully, although there was an upset with the Juniors beating the Seniors for the first time in about 20 years. The senior class did come out ahead in class points, but the juniors were close behind.
Santa Paula Week is the week after we return from our October break, and will include noon time activities, a rally, and a Halloween costume contest to "scare away the Cardinals". The Santa Paula football game will be our first home game in quite some time, so be sure to show your support for our JV and Varsity teams.
On Tuesday the girls golf team had a match away at La Reina and girls volleyball game is scheduled to have a match against Santa Paula on Thursday.
The results are in, and last June 62 seniors qualified for the California Scholastic Federation and will hopefully be wearing the gold sash at graduation. CSF is made by getting As and Bs in core classes for the last five semesters, and in order to wear the sash and become a life member, a student must continue their excellent grades during their senior year.
The Drama Club and ASB are putting together a student Film Festival – high school students may submit a film that could win them a substantial scholarship. Clips from winning films will be shown at a gala event near the end of the school year that the community is encouraged to attend.
For more information, call the student store at 524-8491.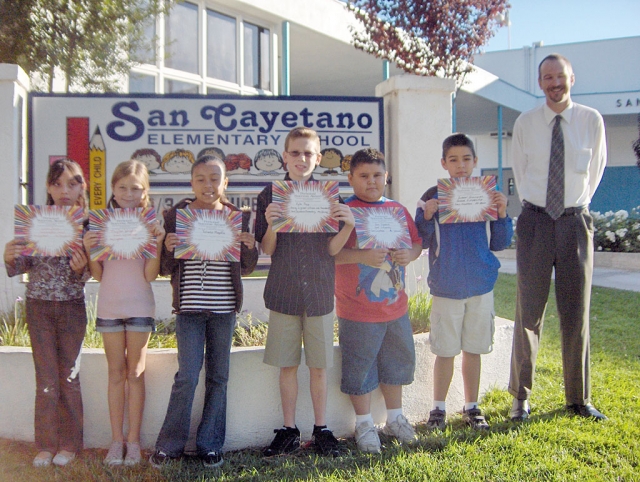 September's Peacebuilders
Enlarge Photo
By Anonymous — Wednesday, October 8th, 2008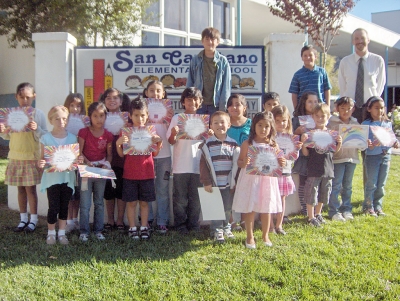 September's Peacebuilders
Enlarge Photo
On Tuesday, October 7, 2008, San Cayetano School recognized good citizenship and character at their Peacebuilder Assembly for the month of October. Mr. Steve McClary, the Administration Service Manager for the city of Fillmore, came to speak to the students about what a good citizen is and how respecting others is important. He talked about how we can be good citizens to help our school and community. Each teacher chose a student from his or her class whom showed excellent character and respect in the month of October. Roman Torango and Ian Overton, the San Cayetano ASB President and Vice-President assisted Mr.McClary in handing out the Peacebuilder Awards. The Peacebuilders for October are: Aaliyah Arias, Ty Wyland, Angelina Delgadillo, Evan Alamillo, Rosie Zamora, Julia Pace, Daniela Chavez Hernandez, Jason Martinez, Ulany Valencia, Dafnee Martinez, Andrew Hernandez, Gisselle De La Paz, Reymundo Hernandez, Brenda Feliz, Karli Zavala, Yulianna Magana, Taylor Wright, Jose Esparza, Kyle Popp, Ismael Dominguez, Julisa Garza, and Michelle Higuera. Mr.McClary then announced the San Cayetano Character Counts Award of a $100.00 savings bond sponsored by the Rainbow Foundation. Mr. McClary presented the Character Counts Award to a deserving second-grade student. Ashley Alvarez was chosen by the second grade teachers as a model of kindness and respectfulness to the other students and school community. To conclude the assembly, students were reminded to turn in their Perfect Attendance tickets. Each month all students who come to school, each day, on time, are given a purple raffle ticket. The students place their tickets in a box and one ticket is drawn. The student whose ticket is drawn is given a NASA backpack with the book Max Goes to the Moon in it. Each month, the tickets will be put into a larger box that will be kept until the end of the year. In June, Mrs. Marholin, the principal, will draw from the tickets to give away two new bicycles. Ana Rincon, a fifth grade student, from Mr. Maus's class, in room 28, won the Perfect Attendance Award for October.
By Anonymous — Monday, October 6th, 2008
FILLMORE UNIFIED SCHOOL DISTRICT
REGULAR MEETING OF THE BOARD OF EDUCATION
TUESDAY, OCTOBER 7, 2008
5:15 P.M. – CLOSED SESSION
6:00 P.M. - REGULAR MEETING
627 SESPE AVENUE, FILLMORE, CALIFORNIA
AGENDA
The public may review or request a copy of support materials provided to the Board Members
where the word materials appears.
5:15 p.m.
I. CALL TO ORDER AND PLEDGE OF ALLEGIANCE TO THE FLAG
II. ROLL CALL
III. PUBLIC COMMENT ON NONAGENDA ITEMS, PETITIONS
This is the time and place to address the Board. State law prohibits the Board from acting
on issues not included on the agenda; however, requests may be made for discussion of
specific topics at subsequent meetings.
IV. CLOSED SESSION
The Board of Education will meet from 5:15 to 6:00 p.m. to consider matters appropriate for
Closed Session in accordance with Government Code Sections 3549.1, 54956.7 through
54957.7 and Education Code Section 35146. If the Board does not complete Closed Session
discussions at this time, the Board may adjourn to Closed Session at the end of the regular
meeting.
1. DISCLOSURE OF ITEM(S) TO BE DISCUSSED IN CLOSED SESSION
• School District Pupils (Education Code 35146) CONTINUED »
By Anonymous — Wednesday, October 1st, 2008