By Gazette Staff Writers — Wednesday, November 10th, 2021
Last week, Sierra High School students dressed up in costumes to scare away drugs for Red Ribbon Week! Photo courtesy Sierra High School Website.
Enlarge Photo
By Gazette Staff Writers — Wednesday, October 27th, 2021
On Wednesday, October 20th, Fillmore Unified School District wore orange to promote Unity Day to prevent bullying and promote kindness. Pictured are members of Rio Vista Kindness Squad greeting students on Unity Day. Photo courtesy Rio Vista School website.
Enlarge Photo
By Gazette Staff Writers — Wednesday, October 20th, 2021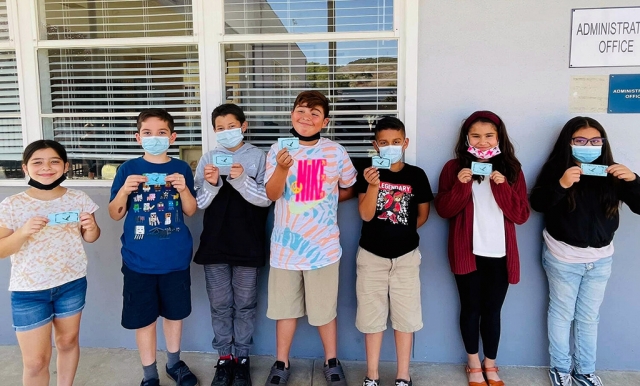 Above and below are some of San Cayetano's Eagle's Nest winners for the week. When our students strive for the best, they earn tickets which may turn into a reward if their lucky ticket is chosen. Keep up the great work! Courtesy San Cayetano School Website.
Enlarge Photo
By Gazette Staff Writers — Wednesday, October 6th, 2021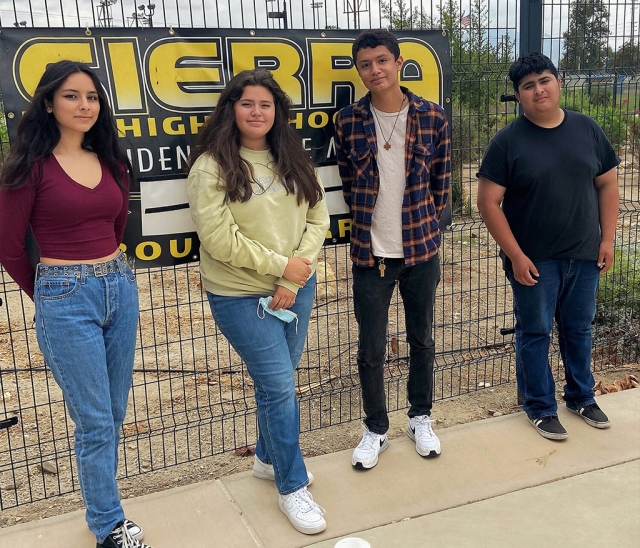 Above are Sierra High School Students of the Week Elisa Ochoa- For being determined to make up all of her work and getting it done (Gonzalez). Jennesa Hurtado- She is always on task, puts in extra effort and is a true Sierra Warrior. She also exemplifies all aspects of SHS P.R.I.D.E. (Karayan). Paul Oseguera- Paul has A's in all of his classes. This includes English 11 and 12. His citizenship is exemplary. He is a Sierra Warrior Model Student (Chavez). Mauricio Alcala- Participated daily and helps his peers in understanding materials (Lomeli). Courtesy Sierra High School website.
Enlarge Photo
By Gazette Staff Writers — Wednesday, September 29th, 2021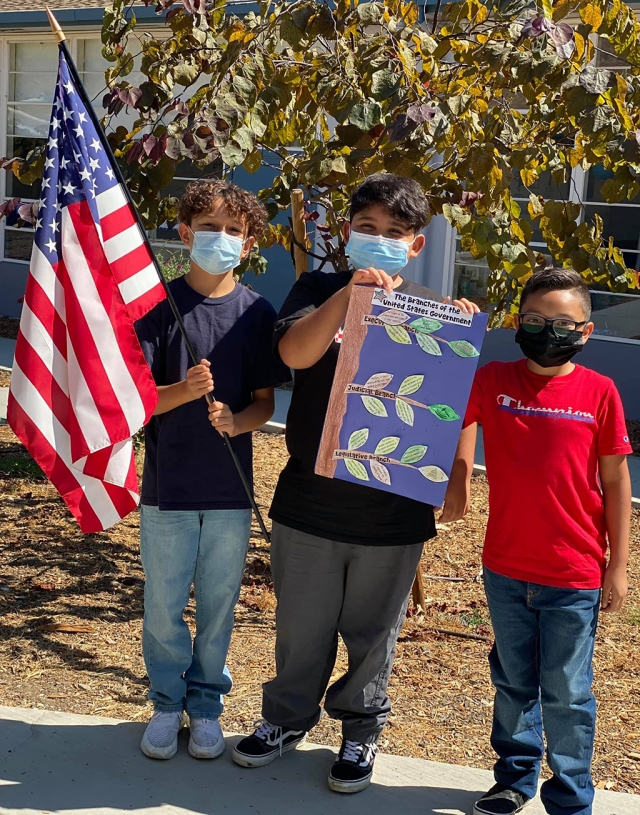 On Friday, September 17th, Fillmore Unified celebrated Constitution Week by participating in a variety of activities from AP Government students reciting the preamble, to discussions and lessons on the significance of the preamble and Constitution. Pictured are students from San Cayetano showing off their schoolwork and American spirit. Photo Courtesy San Cayetano Elementary School Website.
Enlarge Photo
By Gazette Staff Writers — Thursday, September 23rd, 2021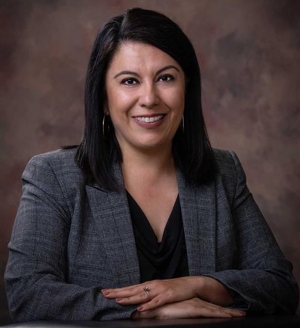 Christine Schieferle, Superintendent, Fillmore Unified School District
Written by Christine Schieferle, Superintendent, Fillmore Unified School District
September 23, 2021
This is an exciting week for Fillmore Unified School District. We began Homecoming week on Friday September 17, with a Flashes Football win against Oak Park. Our students played great, demonstrated positive sportsmanship, and our community came out and cheered on our team. Our new Flashes Spirit Tunnel made its debut and contributed to the exciting atmosphere. We thank the Fillmore Athletic Boosters Club for their generosity! On Saturday, September 18, FHS hosted a well-attended, outdoor Homecoming Dance in the West Wing. On Sunday, Trustee Morris and I had the pleasure of supervising Float Building, and we all look forward to seeing the floats this evening in the Blue and White Parade starting at 6:00 p.m. Our amazing Fillmore High Alumni Association has a great evening planned to honor and celebrate Flashes pride and tradition. We will wrap up the week on Friday, hosting Santa Maria High School for our 2021 Homecoming Football Game. These traditions are one of the many reasons why we are proud to live in Fillmore and have our students attend FUSD schools!
On Monday, September 20, Trustees and District Staff had the opportunity to attend the Agriculture Administrator's night at Otto and Sons. I would like to thank The Fillmore High Ag. Department for coordinating a beautiful evening for the Fillmore, Santa Paula, Ventura, and Carpentaria Agriculture Career Technical Education (CTE) programs.
We're close to the finish line for the CTE Building construction. Landscaping installation is complete, and they have checked all the irrigation lines. There are 2 final pieces of equipment will be arriving by Friday. Staff is being trained to operate the equipment. We have a Haas Mini Mill, Rotary lifts and Hunter equipment training scheduled. They are also finalizing the date for the plasma table training. We anticipate that the students will be touring the new facilities and trained on procedures and starting to train on the equipment prior to fall break and will fully move into the building after fall break. Finally, Desks are in place, the new building is getting its final clean-up and waiting for students to arrive.
On Friday, September 17, all schools celebrated Constitution Day by participating in a variety of activities from AP Government Students reciting the preamble, discussions, and lessons on the significance of the preamble and constitution. Our teachers planned engaging lessons, and students had fun while learning.
Today is the 26th day of school and we will continue to celebrate our students back in school full time. Fillmore Middle School and Fillmore High are preparing mid-quarter progress reports and will mail home to families by the end of the week. We are completing our beginning of the year testing in English Language Arts and Math and have started reading intervention at 3 of our elementary schools. We are still recruiting for intervention teachers at Piru School.
I'd like to thank our staff for their dedication to our students and for the time they are taking to implement the many new health requirements and public health mandates. I would also like to thank our families for their continued support and patience as we work through this school year prioritizing student and staff safety, teaching and learning, and social and emotional wellness. We ask that you please continue to prescreen your children each day and keep them home if they have any COVID Symptoms. Working together, giving one another grace, and putting our students first will make this a great school year. Thank you!
By Gazette Staff Writers — Wednesday, September 22nd, 2021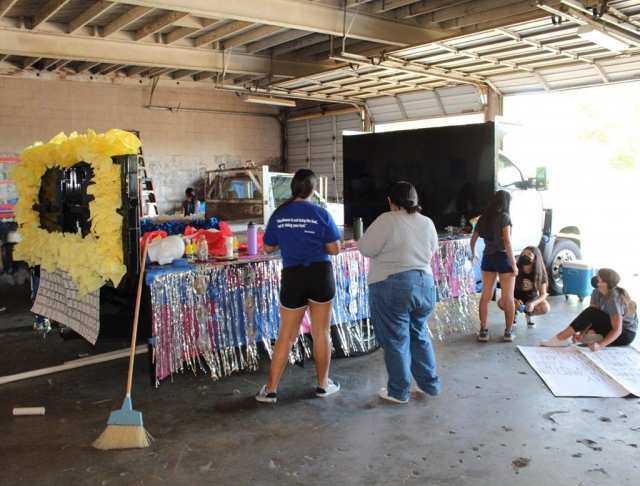 Fillmore High School celebrated Homecoming this past week, and to prepare for the big game FHS students participated in Dress-Up Days, lunch time activities and the Fillmore tradition of float building. This past week at the Fillmore bus garages students from each grade, and staff gathered while following COVID-19 guidelines, to prepare their floats for the Homecoming Parade and Fillmore's Blue & White Night. Photo courtesy Angel Esquivel-AE News.
Enlarge Photo
By Gazette Staff Writers — Wednesday, September 22nd, 2021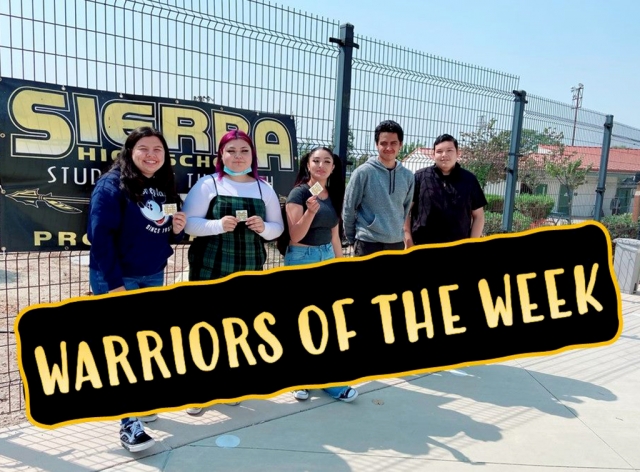 Sierra High School's Warriors of the Week: Mercedes Espinosa; "She arrives each day with a positive attitude and happy to be at Sierra. In addition, she always offers to help in class. Way to go!" Mr. Karayan. Isabel Gonzalez; "She really prioritizes her school work, she is so helpful as our 5th period office aid. She's made a lot of progress in her cyber high class, and she's a kindhearted and strong individual." Miss Jackie. Alena Ochoa; "Turning in all of her work, doing great on her quizzes, and working with food services during nutrition." Mr. Gonzalez. Matthew Tello; "For not missing any homework and for getting things done!" Mr. Lomeli. Jose Mendez Villegas; "For being a great all-around student who works hard to be successful." Mr. Chavez.
Enlarge Photo
By Gazette Staff Writers — Wednesday, September 15th, 2021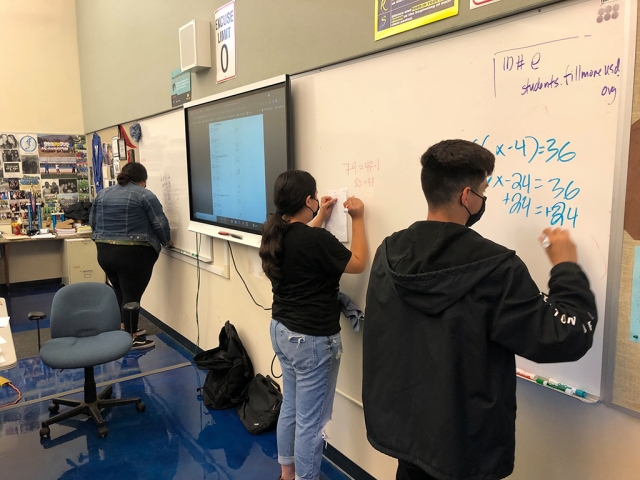 These dedicated Sierra High students attend Breakfast Club before school to get their work done. During Breakfast Club teachers open their doors and offer tutoring support on assignments. All students are invited to join. Doors open at 7:30 am. Courtesy Sierra High School Website.
Enlarge Photo
By Gazette Staff Writers — Wednesday, September 8th, 2021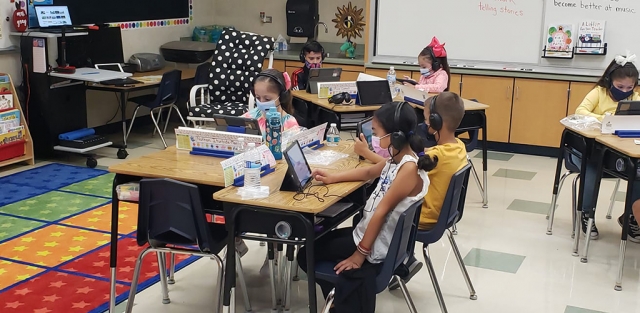 Pictured are a group of Wildcats, from Mrs. Gray's 2nd Grade class at Mountain Vista, as they practice their reading skills using their iPads. Courtesy Mountain Vista Elementary School Website.
Enlarge Photo
By Gazette Staff Writers — Wednesday, September 8th, 2021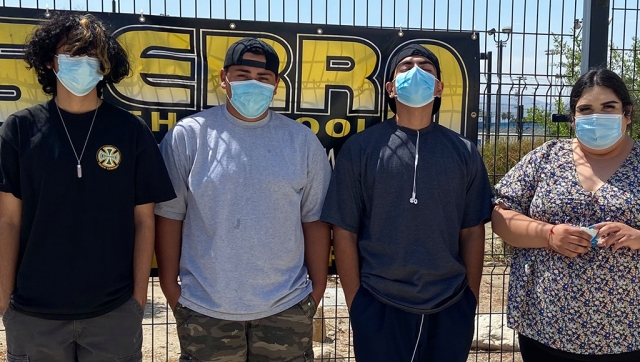 Each week teachers get to choose a Student of the Week. For the first full week of school these superstars rose to the challenge: Christian Zamora for being respectful and maintaining a 98.7% in English-Mr. Chavez. Christopher Hernandez for always being respectful, positive, and showing integrity. He shows up early each morning and helps get PE equipment ready-Mr. Karayan. Julian Meraz for stepping up to get work done at Sierra and assisting in the office each morning before his day starts-Mrs. Henrey. (For Mr. Gonzalez) Angela Ramirez for being a class leader, willing to ask for help and willing to help others-Mr. Lomeli. Courtesy Sierra High School Website.
Enlarge Photo
By Gazette Staff Writers — Wednesday, August 25th, 2021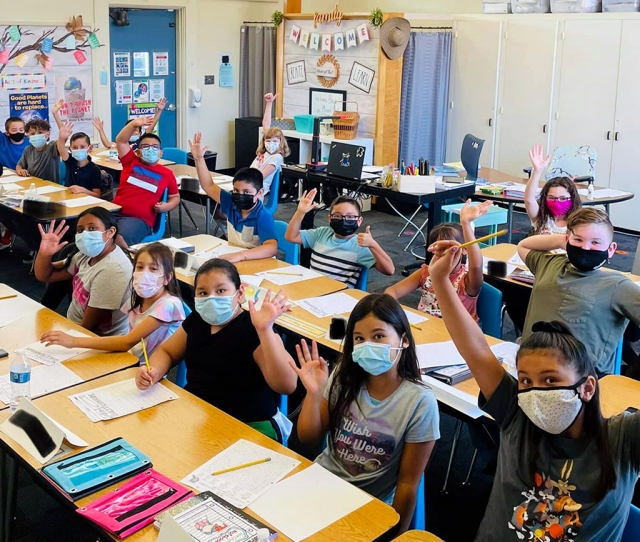 Students at San Cayetano Elementary are excited to be back to in the classrooms. Pictured are student wearing their masks and waving as they smile for a photo. Photos courtesy San Cayetano School Website.
Enlarge Photo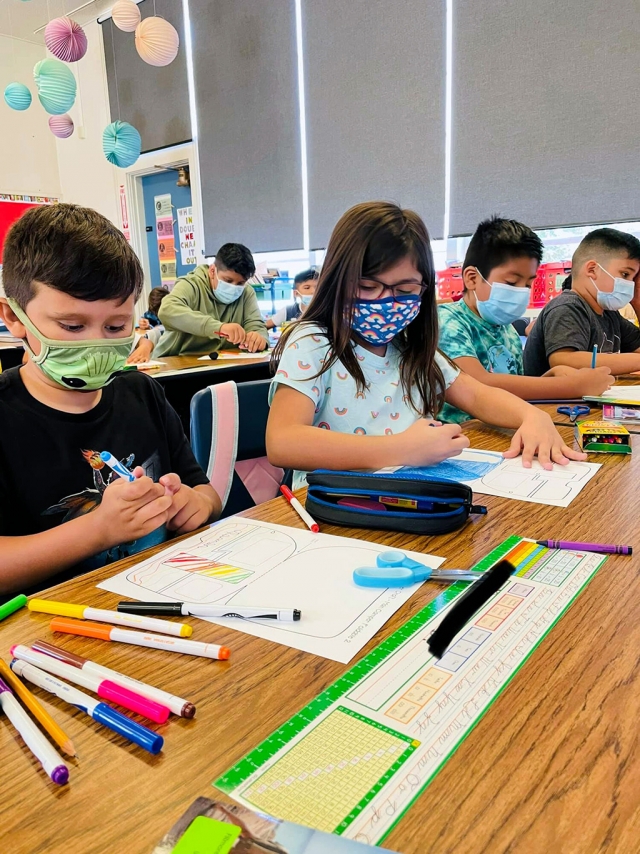 Students doing classwork.
Enlarge Photo
By Gazette Staff Writers — Wednesday, August 25th, 2021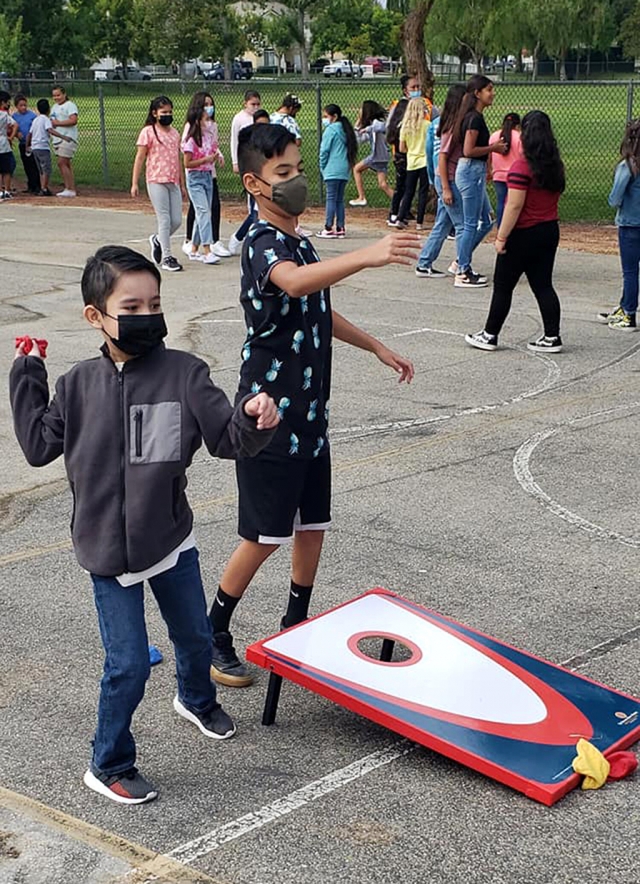 Thursday, August 19th was the first day of school for Fillmore Unified. Students at Mountain Vista Wildcats are back! They had a great first day of the 2021-2022 school year. (Above) students playing cornhole during recess. Photos courtesy Mountain Vista School Website.
Enlarge Photo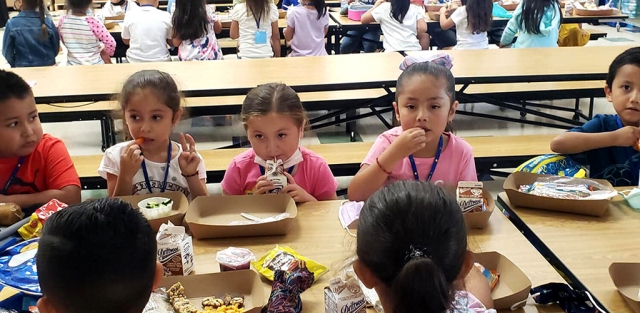 Students enjoying lunch and chatting with friends.
Enlarge Photo
By Gazette Staff Writers — Wednesday, August 25th, 2021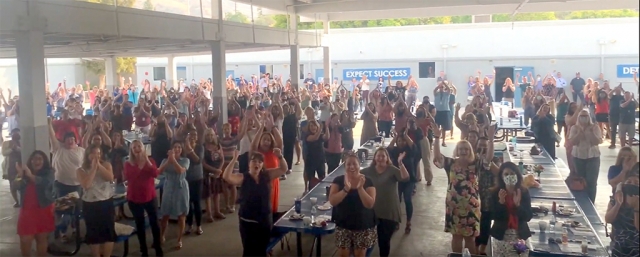 The Fillmore Unified School District welcomed back all staff during a Welcome Back Rally at Fillmore Middle School. FUSD was excited and ready to welcome students back to school on August 19th.
Enlarge Photo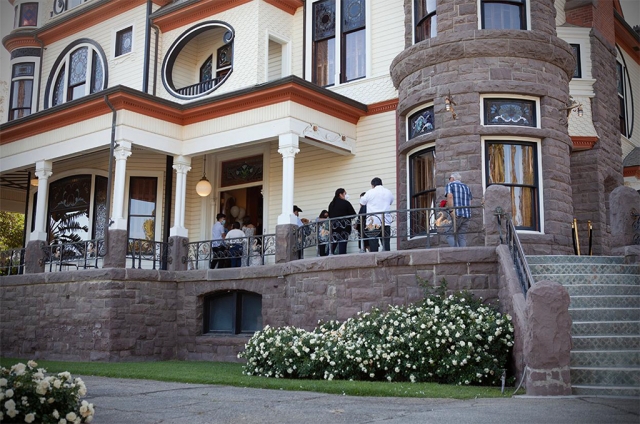 Piru Neighborhood Council held its 8th Annual Graduation and Scholarship Dinner on the grounds of the Newhall Mansion.
Enlarge Photo
By Gazette Staff Writers — Wednesday, August 18th, 2021
On May 26th, the Piru Neighborhood Council held its 8th Annual Graduation and Scholarship Dinner. Seniors from Fillmore High School and Sierra High School were in attendance with their families for a lovely evening on the beautiful grounds of the Newhall Mansion, which hosted the event through their generous donation to the Piru Graduating Class of 2021. Adam Brooks, Events Manager at The Newhall Mansion, was giving of his time Manny Mendoza, the PNC's Member-at-Large and his team of volunteers organized a beautiful evening: Maria Christopher from Rancho Camulos was at the sign in table, Carmen Hernandez and Lorena Cardenas assisted in seating the graduates and their families, and Juanita Mendoza helped to make sure the event was running smoothly.
The gorgeous flowers were donated by Marlene De La Cruz of Marlene's Flowers, a local Piru Business, and Sandra Pirello who cut the flowers herself from her property Raymond Ranch, and were arranged the night prior by volunteers Carmen Hernandez, Maria Christopher, Lorena Cardenas, and Juanita Ramirez-Mendoza. Carrie Celaya, a new member and
volunteer to the Piru community, addressed the guests, and served as a co-Master of Ceremonies.
A delicious dinner was donated by the Newhall Mansion and presented by Newhall Mansion Chef Giancarlo Negron; Dinner was served by Oscar Mendez (PNC President), volunteers Carmen Hernandez, past PNC Treasurer Lorena Cardenas, and volunteer Danny Ramirez. Drinks for the evening were donated by Sanchez Liquor in Piru. Ken Wiseman, the PNC Vice President and Chief Workforce Development Officer at AMS Fulfillment, was the first guest speaker and delivered a powerful and motivational message to the graduates, sharing personal stories of challenges and triumphs along his life path.
Coffee was donated by Starbucks in Fillmore, and the cake was generously donated by the Ramirez and Mendoza Families, and was provided by Super A Foods in Fillmore. Irene Ruiz, past PNC President picked up the cake and coffee for the event, while volunteers Roy Ruiz Jr. and Danny Ramirez helped with the setup of the tables and chairs.
Balloons were possible through generous donations and provided by Lupita Cisneros of Sweet Dlights, a local business in Piru.
Betty Lou Wiseman of AMS Fulfillment arranged for countless products and prizes donated by their clients. Each student received a backpack, water bottle, and Piru 2021 ball cap, and were also invited to each pick an additional item ranging from tablets, restaurant gift cards, designer handbags, shoes, clothing, cookware, bedding sets, computer bags, and an afternoon boat cruise. Volunteers Juanita Ramirez-Mendoza and PNC VP Ken Wiseman kept the gift giving flowing.
Piru Resident Viridiana Quintana, Community Engagement and Economic Development Coordinator for the Mulvaney Center for Community Awareness and Social Action, gave a heartfelt and inspiring speech to the students. She offered herself as a resource and encouraged each graduate to remember to become active in community involvement and shared how special graduating high school was in her life.
Everto "Veto" Ruiz, Professor of Chicano Studies at California State University Northridge and Social Activist, delivered an inspirational message calling out his ancestors who had roots in Piru and noted how much Piru meant to him. He also performed the song, "A Ti", which means "To You", and is a song he wrote, giving thanks to all the family members, friends, and community members who help young adults reach their dreams.
PNC President Oscar Mendez , finished the evening by additionally thanking the PNC Executive Board and all the volunteers and committee members for their hard work.
Six Scholarships were awarded at the close of the event. Recipients were chosen by Piru resident volunteers Sara Martinez and Carrie Celaya, both are educators and remarkably each chose the same recipients so there was no need for deliberation. Carrie praised the students for their hard work, and the forward momentum they have to further their education. Natasha Medina - Sierra High School, Emma Ortiz - Filmore High School, Ricardo Cruz - Fillmore
High School, and Omar Hernandez - Fillmore High School, Conner Appel - Fillmore High School, and Paulina Fernandez - Fillmore High School.
This wonderful event was made possible by many generous donors and sponsors including The Newhall Mansion, Ken and Betty-Lou Wiseman, Piru Pizza, Jimmy and Lucy Sanchez, Anthony and Vicki Henderson Jimenez, The Ramirez Family, Jody and Judy Daley - Lovett, Sweet Dlights Balloons, Designsbyme_ch, "Father Stu" Film Production, Super A Foods, Starbucks, Cold Stone Creamery,El Pescador Mexican Restaurant, Piru Petroleum Club, Dagne Dover, Our Place, Olive and June, AMS Fulfillment, San Salvador Mission, James P Finch, Cliff Nielsen & Lisa Crockatt, The Mendoza Family, Martha Pinon, Marlene's Flowers, Sandra Pirello, Lorena S. Elias, Vons, Sanchez Market, Olive Garden, Red Lobster, Piru Youth Sports, Piru/Filmore Citrus Association, Soludos, Craig Electronics, Magic Mountain.
Volunteers who helped in so many ways include, Roy and Irene Ruiz, Sarah Martinez, Danny Ramirez, Patti Mendez, Anthony Solis, Lorena Cardenas, Carrie Celaya, Juanita Ramirez-Mendoza, Maria Christopher, and Carmen Hernandez.
By Gazette Staff Writers — Wednesday, August 18th, 2021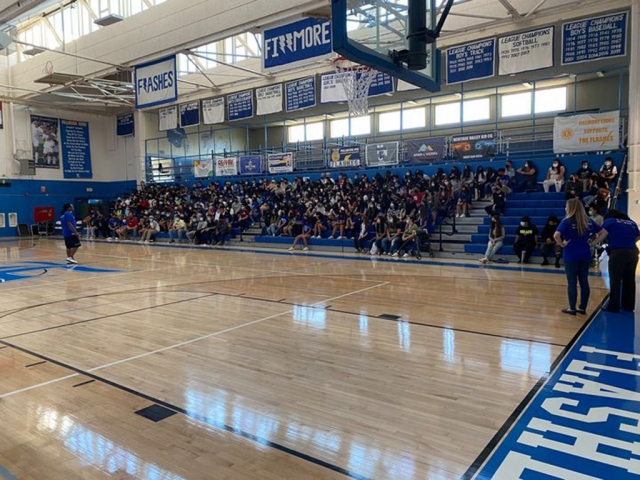 On Tuesday, August 10th, Fillmore High School welcomed the Class of 2025 which participated in orientation last week in the FHS Gym. Photo courtesy Fillmore High School blog.
Enlarge Photo
By Anonymous — Wednesday, August 4th, 2021
Campus tours available for programs offering in-demand skills
VENTURA, CA — Ventura County Community College District colleges, including Ventura College, begin their fall semester this month. To assist students with the registration process for fall 2021, the college will host a Set Sail Saturday registration event on Saturday, August 7, from 9 a.m. to 1 p.m.
"Ventura College is committed to student success and making sure our students start on the right course towards their completion success. Visit on August 7, so we can help you register for your fall classes and begin your successful journey at Ventura College," said Jesus Vega, dean of student services.
Representatives from Student Services, Admissions and Records, Counseling, and Financial Aid will be available to answer questions at the event. In addition, the campus is hosting a Career Education Programs Open House to provide information and campus tours for in-demand career programs such as Automotive Technology, Child Development, Diesel Mechanics, Manufacturing, and Social Media Marketing.
The event is free and open to the public; free parking is available in the college's West Lot. Current students with a valid college ID can ride the bus for free (Go to goventura.org for information). Attendees can follow the signs for check-in in the Main Quad.
All students should bring a photo ID, and those applying for financial aid should bring the following items:
• 2019 Student/Parent tax information
• 2019 Student/Parent W2s
• Other 2019 income information for Student/Parents
• Social Security numbers (or Deferred Action for Childhood Arrivals - DACA number) for
Student/Parents, if you have one
• Alien registration number (A#), if you have one
• Driver's license, if you have one
For more information, visit the Financial Aid Website
For questions about the event, visit www.venturacollege.edu/setsailsaturday.
By Anonymous — Wednesday, May 26th, 2021
Moorpark, Oxnard and Ventura colleges' students honored
(CAMARILLO, Calif.) May 21, 2021–Not even a pandemic could stop this year's graduates of Moorpark, Oxnard and Ventura colleges from pursuing—and achieving—their educational goals. In recognition of what these resilient students have accomplished, the Ventura County Community College District (VCCCD) leadership collaborated with its three colleges to celebrate the 5,370 students in the class of 2021 who have earned their degrees or certificates.
Festive Drive-Thru Graduations were held on May 20 at each college's campus and Ventura College East Campus in Santa Paula.
"We are always proud of our graduates and all that they accomplish, but this year's graduates hold a special honor for their persistence in completing their education when most of their classes were remote," said Chancellor Greg Gillespie. "As these students become VCCCD alumni, they are well-prepared for their next steps of a career or transferring to a four-year college or university."
"The board of trustees recognizes the successes of the class of 2021 graduates," said Chair Joshua Chancer. "Despite the pandemic, students worked on their academics and important causes, such as diversity, equity and inclusion for all students and the community.
As part of the celebration activities, graduating students are being highlighted in a virtual yearbook on Moorpark, Oxnard and Ventura colleges' graduation webpages. Like traditional bound yearbooks, the online version includes photos of participating graduates along with their information and photos of campus life. The 2020 virtual yearbooks took gold in the statewide 2021 Pro Awards by the Community College Public Relations Organization (CCPRO).
The community is invited to visit each college's webpage to watch graduation speeches by District and college leadership and student leaders. The Ventura College Chorus also performs the "Star-Spangled Banner" via video.
Inspired by the graduates' achievements, the college presidents offered these heartfelt words:
"Congratulations to Moorpark College graduates who have been resilient in the face of a global pandemic and reckoning with social justice; they have also committed to academic and career success," said Moorpark College President Julius Sokenu. "We are proud that the class of 2021 has earned 3,209 degrees and 1,535 certificates. They will transfer to top research universities as well as obtain careers in high-demand, high-wage industries. Moorpark College degrees and certificates offer graduates pathways to economic prosperity. Some will earn the promotion that motivated them to return to college. They are the future of our county, region, state and nation."
"This past year has been devastating for higher education. Yet, in the face of a global pandemic, a concomitant economic abyss that shuttered thousands of businesses, a toxic political environment which spawned an unimaginable insurrection at the nation's Capitol, and a wave of racist violence that brought our dream of unity and fellowship to its knees, a uniquely resilient cohort of students persisted with their education, most of which was online, and earned the right to graduate this month. These graduates are the very promise of America, and their grit keeps us hopeful that all of the calamities of the past year—and the many other challenges our nation faces—are not insurmountable," said Oxnard College President Luis Sanchez.
"At Ventura College, our students and their families recognize that graduation is an important milestone in their lives and careers," said Ventura College President Kim Hoffmans. "Ventura College celebrated its 95th year of providing high-quality, affordable instruction and services to help our students succeed. I personally want to commend and recognize our students for navigating rigorous coursework to accomplish their academic goals. As our graduates chart their future education or career voyages, I hope they apply what they learned at VC to their future endeavors and fondly remember our college."
About Ventura County Community College District
The Ventura County Community College District is a member of the 116-campus California Community College system and serves approximately 31,000 students annually. The District's three colleges--Moorpark, Oxnard and Ventura--offer programs in general education for degrees and certificates, transfer to four-year colleges and universities, career technical education, and provide opportunities to engage in co-curricular campus activities. For more information, please visit vcccd.edu.
By Anonymous — Friday, March 5th, 2021
By Anonymous — Friday, February 5th, 2021
The Ventura College Art Department received a $50,000 endowment from Carnegie Art Cornerstones. The donation was coordinated by the Ventura College Foundation. The money will be used to establish a fund to provide support to the college's visual arts gallery/exhibition program and to help foster the education and artistic growth of up and coming student artists.
"Providing a gallery exhibition experience for our students gives them the opportunity to be recognized for their talent and to build their artistic resume," says Jesse Groves, Ventura College's gallery director and curator. "Right now, there are minimal platforms for students to show their work. These exhibits also serve as a way to bring culture to the community."
Student artists at Ventura College work in a variety of visual art forms including ceramics, sculpture, photography, painting and digital media. The endowment agreement allows the college the flexibility to decide how the exhibits will be organized and how students will be selected to participate. "We might have group shows, solo exhibits or both," says Groves. "The endowment will enable the school to include more students and their work."
Ventura College typically holds six to eight exhibits a year in the college's main gallery space. "Young artists have the heart and energy but lack funds to express themselves artistically. A portion of the donation will go towards art supplies so students have what they need to create," says Groves. "Funds will also be used to prepare the exhibits themselves. A lot goes into transforming student art to the gallery wall."
"Carnegie Art Cornerstones is delighted that the Ventura College endowment will benefit students directly as well as the community," says Amy Cherot, who is a board member for both the Ventura College Foundation and Carnegie Art Cornerstones.
"We're grateful for the Carnegie Art Cornerstones' generous donation," says Kim Hoffmans, Ventura College president. "Art plays an important role in our culture and society. The endowment will help the next generation of local artists find their voice."
In-person exhibits have had to be postponed during the COVID-19 pandemic. The endowment funds will be used once in-person gallery exhibits resume.
Ventura College Foundation
Established in 1983, the Ventura College Foundation is a 501(c)(3) nonprofit organization and operates financially independent from Ventura College. It transforms students' lives through education by providing innovative and vital resources and financial support. The Foundation collaborates with Ventura College to enhance human potential, civic engagement, careers and academic success of students enabling their effective impact and legacy on the college, local workforce, and our community. The Foundation also hosts the Ventura College Foundation Marketplace; an outdoor shopping experience held every weekend on the Ventura College campus. For more information, contact Julie Harvey at (805) 289-6502 or jharvey@vcccd.edu or visit www.VenturaCollegeFoundation.org.
Carnegie Art Cornerstones
Carnegie Art Cornerstones received its 501(c)3 designation in 2002. Its mission is to promote creativity, learning and growth in the careers of artists, and to inspire passion and appreciation for arts and culture in Oxnard and Southern California. It invests in emerging artists primarily through college scholarships. With this support, students can create and share their work to inspire an appreciation for the arts without a financial burden. With financial resources, the board believes that artists can execute their vision and will be able to share their art with others. www.carnegieartcornerstones.com