By Gazette Staff Writer — Monday, November 10th, 2008
By Gazette Staff Writer — Wednesday, November 5th, 2008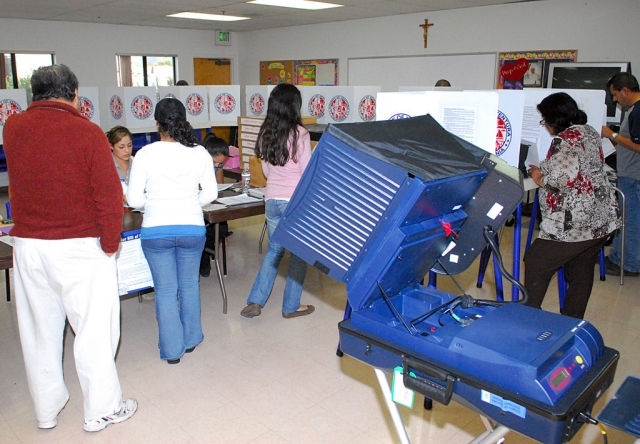 Voters did their duty by voting on November 4th, at St. Francis of Assisi church.
Enlarge Photo
By Gazette Staff Writer — Wednesday, November 5th, 2008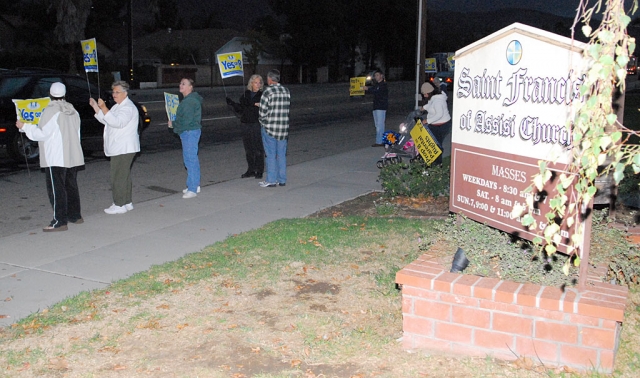 Yes on 8 supporters came out in sturdy numbers Friday through Monday before the November 4th election. The sign-holding event took place in front of St. Francis of Assisi Church in Fillmore. At press time Proposition 8 was ahead in the polls but had not declared a victory. The Proposition supports a constitutional ban on same-sex marriage.
Enlarge Photo
By Gazette Staff Writer — Wednesday, November 5th, 2008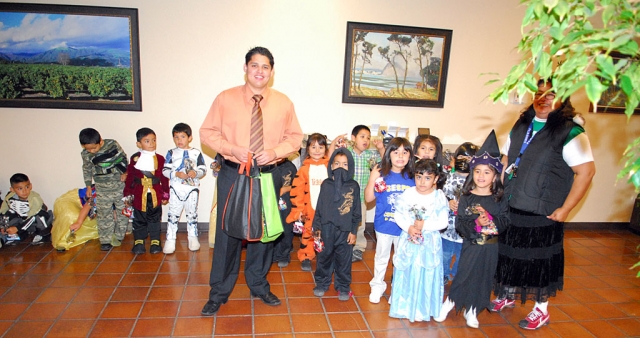 Santa Barbara Bank and Trust handed out candy to Sespe Elementary students, last Friday.
Enlarge Photo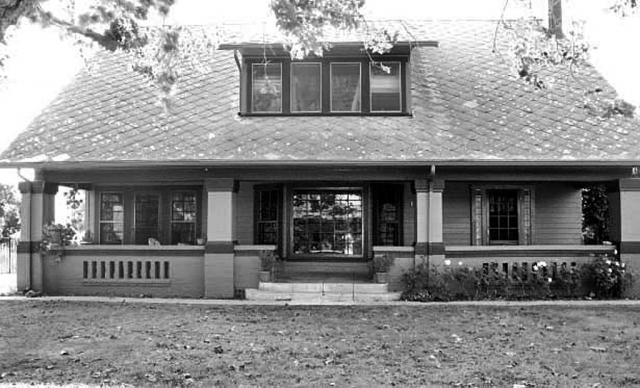 Craftsman
Enlarge Photo
By Gazette Staff Writer — Wednesday, November 5th, 2008
Fillmore is known for its Craftsman-style houses and Bardsdale has many excellent examples. The Bartel's Craftsman home has been in the family for three generations and the newest family members, Bill, Laura and their three children, have preserved the style of their home while updating and modernizing it. Eliminating some of the changes made in the 1960's has brought back the beauty and warm qualities of their home. The original oak and Douglas fir floors gleam in newly repurposed rooms. Bill's grandfather's bedroom is now his music room and the original kitchen has become a game room with inlaid hardwood game boards in the floor. New granite counters have been added in the new kitchen and a wall opened to the gracious dining room. The color scheme used both inside and outside is very unusual and adds to the classic feeling of the home. Anyone thinking of remodeling an older home will find lots of ideas here.
The Bartel' s home may be seen during the Fillmore Historical Museum Annual Fall Home Tour. The date is Sunday, Nov. 9th from 12:00 to 4:00. The Heritage Valley Fine Arts Sale will take place on the Museum grounds from 11:00 to 4:00 on the same day. Tickets are $20.00 advance sale and $25.00 the day of the tour. They may be purchased through the Museum (524-0948) or at Coffeeboy or Mirage in town, or at any home the day of the tour.
By Dick Mosbarger — Wednesday, November 5th, 2008
Fillmore High Alumni Association
Several issues ago, in the alumni newsletter, The Flashbacks, an article explained how the Junior Arches came into being at the graduation ceremonies at Fillmore High School. Prior to 1940, graduation ceremonies were held in the high school auditorium, but in 1940, lights were installed at the football field, so that year the ceremonies were held outdoors. To enhance the proceedings, Ms. Alice Hansen and Ms. Bea Albright came up with the idea of having junior class members hold arches, under which the seniors would walk. It was decided that Shasta Daisies would make great adornments for the arches, and the juniors who were honored to carry the arches had the responsibility to scout around to find enough flowers to cover the wooden frames. This was the plan, until the daisies became hard to find locally, so in 1977, Shasta Daisies were planted at the school farm for use as arch material, as well as providing flowers for weddings, funerals, and other such events. In 1989 the daisies were plowed under, and since then, the junior arches have been covered with balloons, artificial flowers and crepe paper, which were not nearly as attractice as the daisies. This year, under the direction of Kirk Richter, class of '77 and his horticulture students at the high school, it is hoped to have Shasta Daisies again for the arches. Kirk and his class have planted 400 square feet of area at the high school, with plant material donated by Conway Spitler. Kirk doesn't think this will be enough material for all the arches, so he is requesting that anyone who has Shasta Daisies and would be willing to donate rooted cuttings to plant another 400 square feet of area, to please contact him at 524-8423, or call Dick Mosbarger at the alumni office, 524-0416. If you do not want to give up some of your plants, but would be willing to donate the flowers next June 4 for the 2009 graduation ceremonies, please call these same people. Many graduates of Fillmore High would be very pleased to once again see the Junior Arches as part of graduation.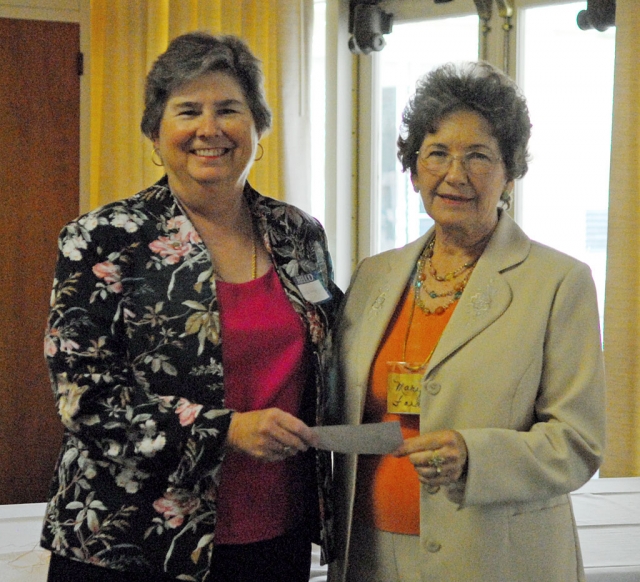 Martha Gentry, President of the Fillmore Historical Society, seen here accepting a $500.00 donation from Fillmore Ebell Club President, Mary Ford.
Enlarge Photo
By Gazette Staff Writer — Wednesday, November 5th, 2008
The Fillmore Historical Museum was founded in 1970 by retired Spanish teacher and author Edith Moore Jarrett at the request of the Fillmore Chamber of Commerce. Originally it was located on the ground floor of the Fillmore Masonic Temple building.
Its artifacts were all donated by local citizens who found it important to preserve the history of Fillmore, Piru, Sespe and Bardsdale and its families.
We at the museum still believe in the importance of preserving this history. In fact, recently the museum accepted Fillmore Ebell Club's scrapbooks & memorabilia dating back to the early1900s.
Over the years we have grown from that small space into a museum site on 6/10th of an acre along the railroad right of way. There are three buildings, the 1887 Southern Pacific Depot, the 1905 Hinckley House, and the 1919 Bunkhouse. All have been moved and restored through the efforts of museum volunteers and interested community donors.
We are not supported financially by any large governmental entity, only by fundraisers, grants and donations by private citizens and organizations such as the Fillmore Ebell Club.
The donation from the Fillmore Ebell Club will be used in the development of the landscaping of the site, the final large project to be completed after the construction of a garage which will be next to the Hinckley House.
By Gazette Staff Writer — Wednesday, November 5th, 2008
Book Sale "Fountasia"! - November 15, 2008, 10:00 AM – 4:00 PM
What is green and read and provides unique inexpensive holiday shopping opportunities? Why it is the annual Rancho Camulos Museum book sale! Come browse among the hundreds of quality used books on topics as varied as art, gardening, cooking, history, mystery, travel, romance, children's, etc. Gently used books are thoughtful environmentally - friendly gifts that show you care. Sale proceeds will be used to help restore the 1850's fountain at this non-profit National Historic Landmark which is dedicated to California historic preservation, restoration, and education efforts. There will be free children's activities throughout the day. Details at www.ranchocamulos.org On Highway 126, 2 miles East of Piru and 10 miles west of the I-5 at Santa Clarita. 805-521-1501
By Gazette Staff Writer — Wednesday, November 5th, 2008
The Boys & Girls Club of Santa Clara Valley provides positive programs and activities for children in Fillmore, Piru and Santa Paula during the critical hours of the day when kids face the greatest dangers of negative involvement in gangs, drugs, and other detrimental experiences.
In an effort to concentrate on the needs of the community of Fillmore, the Boys & Girls Club will be hosting a "Focus on Fillmore" luncheon at their First Street clubhouse. This meeting is open to all concerned citizens wanting to provide positive solutions for the children of Fillmore.
"The purpose of this free lunch is to meet with community and business leaders as well as parents and other concerned citizens wanting to make a difference in the lives of Fillmore's youth," remarked Mike Hause, chair of the "Focus on Fillmore" task force and President/CEO for the Santa Clara Valley Bank in Santa Paula and Fillmore. "This meeting will be the first of many to learn firsthand from the citizens of Fillmore what we can do together to support the positive development of our children."
The "Focus on Fillmore" task force will meet on November 12th beginning at noon until 1:00 PM at 565 First Street in Fillmore. Lunch will be provided free of charge to all attending. Reservations are requested to ensure enough food will be available for all attending and may be made by calling (805) 525-7910. This is not a fundraiser for the Boys & Girls Club but a gathering of concerned citizens to discuss how we can gather together to focus on what may be done to benefit the children of Fillmore.
To learn more or to make reservations, call the Boys & Girls Club of Santa Clara Valley at (805) 525-7910.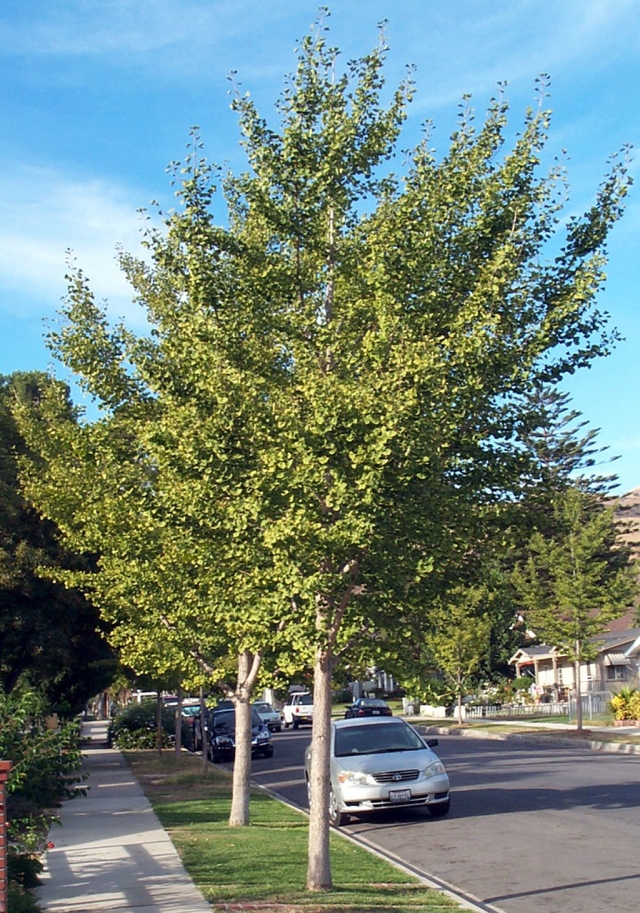 Maidenhair tree (Ginkgo biloba)
Enlarge Photo
By Gazette Staff Writer — Wednesday, November 5th, 2008
Written By Bill Dewey and Steve McClary, Fillmore Vision 2020 Civic Pride Committee
Maidenhair tree (Ginkgo biloba): This tree is a welcome addition to the landscape. There is a particularly nice grouping of them in the 400 block of Saratoga Street where they have been used as a street tree in the parkways on both sides of the street. This tree is an ancient survivor from prehistoric times (200 million years ago) when it grew worldwide; it is now native only to two small areas in China.
This is a graceful tree, attractive in any season, especially in fall when leathery light green leaves turn gold before dropping quickly and cleanly making a golden carpet where they fall. Most mature trees are 35-50 feet and typical width is no more than one-half to two-thirds of height. It is important to plant male trees that do not produce messy, fleshy, ill-smelling fruit. Two recommended varieties are Autumn Gold and Saratoga.
In general, Ginkgos are not bothered by insects or diseases, and they are very tolerant of air pollution, heat, and acid or alkaline conditions. They are also resistant to oak root fungus.
By Gazette Staff Writer — Wednesday, October 29th, 2008
Whose Town Do They Want to Take Back? The Town that Gary Creagle and a few others envisioned in the 1980s? Gary and others wanted the City to grow all the way to Piru, build an airport and allow a gaming casino. Do we want Back the dysfunctional Town that nearly brought Fillmore to financial ruin? The voters threw out Gary and his cronies, and with a new city council under Mayor Delores Day, Roy Payne was hired as city manager and the city began to pick up the pieces. Now Gary wants it all back his way, and he's convinced a few newcomers to see things his way.
The frugality of the current City Council and city management is not an issue. Our city has lived within its means for many years now. The cost increases for management employees were largely beyond the city council's control; these were due to increases in medical insurance and the PERS retirement fund. It has been a difficult inflationary year for everyone, yet our city continues to operate on a BALANCED BUDGET. Since the recovery from the 1994 quake, the city has steadily built up RESERVES which amount to about 36% of the current operating budget.
With our financial house in order we can soon look forward to a new community swimming pool, new tennis courts and a new 22 acre park. These long-terms visions are coming to reality thanks to the support of the community and the leadership shown by the current city council. Fillmore needs more jobs and services. Santa Paula Hospital has been reopened and we have a new modern urgent care facility and Fillmore's budding business park and the needed jobs it will bring will soon be realized.
Above all, we are saddened by all the negative commentary about our community and our city. We need to start building bridges rather than creating walls of division. The discussion needs to focus on what is right for Fillmore, not who is right.
That is why we five retired Mayors of Fillmore are supporting Steve Conaway, Cecilia Cuevas and Norris Pennington for City Council. Vote November 4!
Sincerely,
Scott Lee, Mike Mc Mahan, Don Gunderson, Roger Campbell and Evaristo Barajas
5 Retired Mayors of the City of Fillmore
By Gazette Staff Writer — Wednesday, October 29th, 2008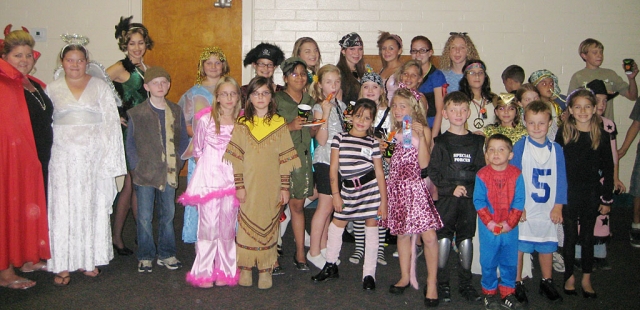 Bardsdale 4-H members got to show off their Halloween costumes at the club's general meeting/Halloween party held on Monday night, Oct. 27. Fun games and lots of candy were enjoyed by the enthusiastic crowd.
Enlarge Photo
By Gazette Staff Writer — Wednesday, October 29th, 2008
The members of Bardsdale 4-H are participating in the county-wide food drive called "TRICK OR TREAT SO OTHERS CAN EAT" (TOTSOCE). This is a community service event organized by Ventura County 4-H and Food Share to collect canned and other non-perishable food items to benefit families in need in Ventura County.
Each month, ten to fifteen members of our club work at the Oxnard warehouse of Food Share sorting food for distribution to the needy. This month we have been requested to NOT come because FOOD SHARE DOESN'T HAVE ANY FOOD for us to sort!
Please help restock our county food bank by donating whatever amount of food you can. Bardsdale 4-H members will be leaving orange doorhangers in several neighborhoods requesting donations to be left on your porch. So please contribute if you are able to help. You can also leave donations at the drop box in VONS during November.
Bardsdale 4-H thanks you for helping feed the hungry!
By Gazette Staff Writer — Wednesday, October 29th, 2008
These names were received from October 16 to October 22, 2008.
A light will be shining on the Hospice "Light Up A Life" Tree at the Fillmore Plaza, 251 Central Avenue, Fillmore. Join us for the Tree Lighting Ceremony on Saturday, November 29, 2008 at 5:00 PM
IN MEMORY OF:
Myrtle warren
Don Bradley
Tyler Bradley
Jeff Hansen
Estelle Johnson
Bill Johnson
Paula Taylor
Barbara Lynne Morris
Diana Dudley
Harold R. Foy
Clarence Henderson Jr.
Larry Henderson
IN HONOR OF:
Irene Morris
Harry Williamson
Judy Smith
Veronica Morris
Fillmore Women's Service Club
By Gazette Staff Writer — Wednesday, October 29th, 2008
By Gazette Staff Writer — Wednesday, October 29th, 2008
Testing of grower's thermometers will again be conducted at the Agricultural Commissioner's Office at 815 East Santa Barbara Street in Santa Paula.
Growers should take thermometers to their packinghouse by Monday Nov. 3rd. The packinghouses should then deliver the thermometers to the Agricultural Commissioner's Office no later than 8:00 a.m. Tuesday Nov. 4th. The thermometers will be ready for pick up by noon.
Please follow these instructions; if you do not, you may lose your thermometer!
1) Remove thermometers from individual boxes or wrappings.
2) Attach a NEW TAG securely to the top of EACH THERMOMETER. Each tag should have your name and packinghouse on the back in indelible ink; ballpoint pen only. Felt tips and roller writers do not work.
THERMOMETERS WITHOUT NEW TAGS WILL NOT BE TESTED!
New Tags are available at the Agricultural Commissioner's office.
3) Move thermometers in strong containers, as they will become wet in the ice bath during testing. Cardboard is not appropriate.
4) Thermometers would always be moved in the vertical position with the bulb end down to avoid damage.
For questions, please contact the Ventura County Agricultural Commissioner's Office at 805-933-2926.
By Gazette Staff Writer — Wednesday, October 29th, 2008
KSSP Photographic Studios is holding its annual Halloween Special on October 31st between 2pm and 7pm. Children, 12 and under in costume, will be photographed for free. There will also be a contest for best costume.
The event will feature a Halloween-themed set at our studio at 330 Central Ave. in Fillmore. Doors will open at 2pm on Halloween. Walk-ins only – no appointment required. For each family, their children, 12 and under in costume, will be photographed together free of charge. One free 4x6 print will be provided per family. No purchase is necessary. Additional prints and packages will be available. Adults and families, all in costume, can also be photographed for a nominal charge. The best child's costume, independently judged, will be awarded a free family portrait session (no costumes required) with an free 11x14 wall portrait.
KSSP is a full service photography studio specializing in portrait, wedding and quinceanera photography (and video). KSSP is the Fillmore High School senior and dance photographer.
For further information, please contact KSSP Photographic Studios at 524-6400.
By Gazette Staff Writer — Wednesday, October 29th, 2008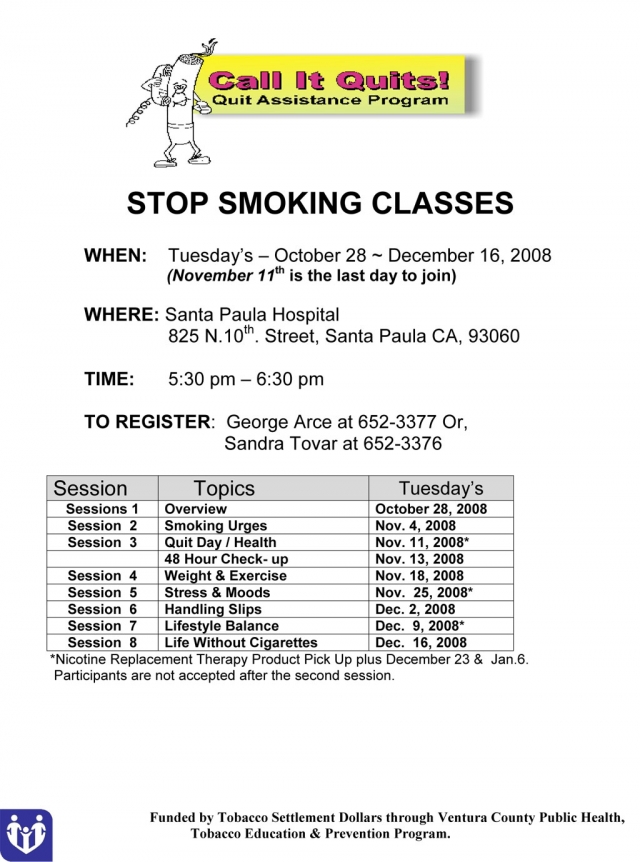 Stop Smoking
Enlarge Photo
By Gazette Staff Writer — Tuesday, October 28th, 2008
Advice for Children, Parents, Drivers & Homeowners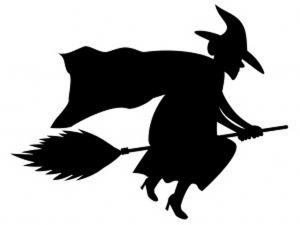 Happy Halloween!
Halloween is a time of great fun for children, but it can be a little scary for parents and drivers. Children are often out after dark, crossing busy streets and perhaps going to unfamiliar homes.
"With excited kids frantically going from neighbor to neighbor, drivers need to be particularly cautious," said Ray Palermo, director of public information for Teachers' Insurance Planℱ. "However, by following some simple advice, parents, children, drivers and homeowners can all have a safe, enjoyable time."
· If children are out at night, drivers need to be particularly careful at dusk and when driving either over a hill or around a curve, where visibility is limited. Use high beams to see and be seen.
· Trick-or-treaters should always be accompanied by an adult or travel in a group. Children should be told not to eat any unwrapped candy or treats until they return home where their parents can see them. Making sure kids have already eaten before heading out may help.
· Parents may want to limit kids to local events run by police stations, firehouses, senior citizen centers or local businesses, or organize their own through their school.
· Parents should incorporate reflective tape in costumes or add bright colors to increase visibility. Make-up rather than masks should be worn to help ensure that children have an unobstructed view of their surroundings.
· Trick-or-treaters may be caught up in the excitement of the day and not be as careful as they should. They should always cross at corners and look both ways before crossing. Drivers need to keep a careful eye on the road and on the sidewalk, in case anyone darts out from between parked cars.
· Children should stay on the sidewalk or if none is available, walk facing the lane of traffic, and they should carry a flashlight.
· Homeowners should clear their yards of anything that can be tripped over and be sure to have a front door or walkway light on, and refrain from decorations that use an open flame that could ignite a child's costume.
Floss Silk Tree (chorisa speciosa).
Enlarge Photo
By Gazette Staff Writer — Wednesday, October 22nd, 2008
Written By Bill Dewey and Steve McClary, Vision 2020 Civic Pride Committee
Fillmore is home to many beautiful species of trees, many of which do quite well as street trees or yard trees in our climate. The Fillmore Vision 2020 Civic Pride Committee will be highlighting many of these wonderful examples in the weeks to come.
This week we will take a look at the Floss Silk Tree (chorisa speciosa). The tree is native to South America. The heavy trunk of the common variety is studded with thick spines to protect it from foraging animals. Leaves are divided into leaflets like fingers of a hand, dropping during autumn flowering. The large, showy flowers somewhat resemble narrow-petaled hibiscus or orchid blooms. "Majestic Beauty" is a thornless variety bearing rich pink blooms. Trees grow 3-5 feet in youth, then more slowly to an eventual 30-60 feet at maturity.
This beautiful specimen can be seen by going north on Central Avenue, then left on Stonehedge, and right onto Woodgrove Lane, where the tree is located at the top of the cul-de-sac in a central planter. It is currently spectacular!!