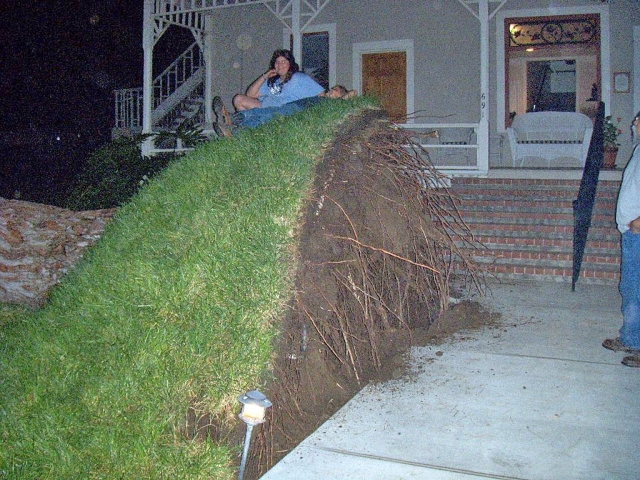 One of two old Cypress trees in the front property of Round Rock Hotel in Piru toppled over Thursday night at approximately 10 p.m. Employee Fernie Vancini was at the hotel at the time.
Enlarge Photo
By Gazette Staff Writer — Wednesday, September 17th, 2008
By Gazette Staff Writer — Wednesday, September 17th, 2008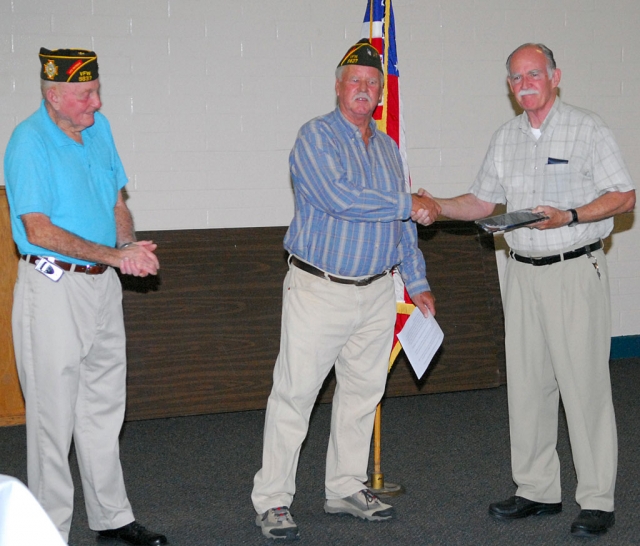 Fillmore Gazette publisher Martin Farrell received a plaque Tuesday night from the Veteran's of Foreign Wars Post 9637 for his support and dedication to the VFW. Left to right, John Pressey, Victor Westerberg are shown with Farrell.
Enlarge Photo
By Gazette Staff Writer — Wednesday, September 17th, 2008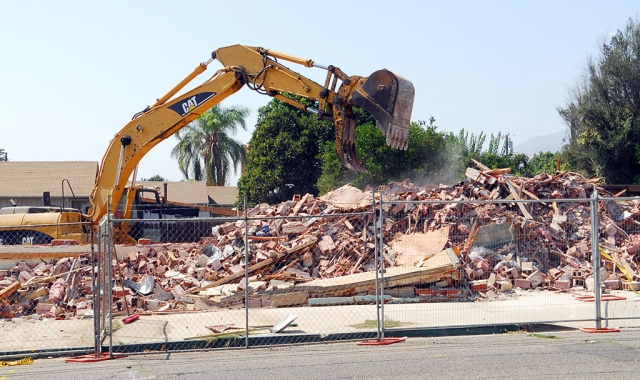 Like the giant toy claw crane waiting to grab a prize, the bucket scoops down on Richard's Meat Market, which has been closed since the 1994 earthquake.
Enlarge Photo
By Gazette Staff Writer — Wednesday, September 17th, 2008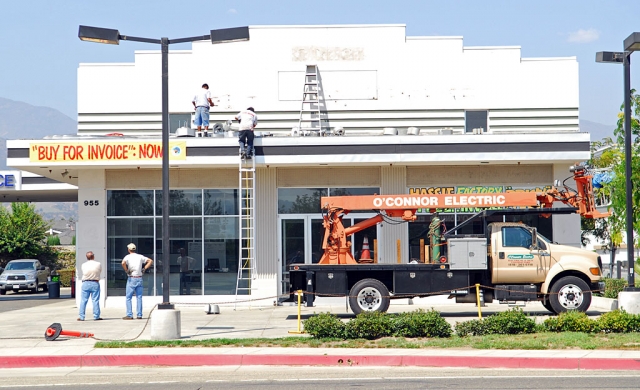 Fillmore has lost its Dodge-Jeep dealership. Last week Schaiers Dodge shipped out its stock of cars and had the signage removed from its building at 955 Ventura Street (Hwy. 126). It is another sign of a flagging American economy.
Enlarge Photo
By Gazette Staff Writer — Wednesday, September 17th, 2008
Rancho Keleje Alpacas will participate in the 2nd Annual "National Alpaca Farm Days"
On September 27 and 28, alpaca breeders from across the United States and Canada will invite the public to come to their farm or ranch to meet their alpacas and learn more about these inquisitive, unique animals. From 10 AM to 4 PM, Rancho Keleje Alpacas will open up their gates and welcome guests for an up close and personal glimpse into the alpaca lifestyle!
Rancho Keleje Alpacas is owned and operated by Leslie Warren and Jeff & Jackie Warren. It is located six miles east of Fillmore near Piru at 3626 Howe Rd.
What IS an alpaca?
Alpacas, cousins to the llama, are native to the Andean Mountain range of South America, particularly Peru, Bolivia, and Chile.
Alpacas were first imported into the United States in 1984. Since then, the alpaca industry has grown steadily, according to the Alpaca Owners and Breeders Association (AOBA), the backbone of the alpaca industry. Current estimates total over 120,000 registered alpacas with the Alpaca Registry, Inc. (ARI) in the United States and more than 4,000 AOBA members in North America.
There are two types of alpacas in the United States today. Although almost physically identical, what distinguishes the two types of alpacas is their fiber. The Huacaya (wa-Ki'-ah) is the more common of the two and has a fluffy, extremely fine coat. The Suri is the rarer of the two and has fiber that is silky and resembles pencil-locks.
Adult alpacas stand at approximately 36 inches at the withers and generally weigh between 150 and 200 pounds. They do not have horns, hooves, claws or incisors. Alpacas are alert, intelligent, curious, and predictable. Social animals that seek companionship, they communicate most commonly by softly humming.
Alpacas are shorn, without harm, every twelve to eighteen months. They produced five to ten pounds of luxurious fiber. Long ago, alpaca fiber was reserved for royalty. Today it is purchased in its raw fleece form by a fiber cooperative, hand-spinners and fiber artists. Knitters buy it as yarn.
Because of its soft texture, alpaca fiber is sometimes compared to cashmere. Making the fiber even more coveted, it has the luster of silk. Alpaca is just as warm as wool, yet 1/3 the weight of wool to achieve that warmth. It comes in 22 natural colors, yet can be dyed any desired shade.
Containing no lanolin, alpaca fiber is also naturally hypoallergenic. Most people who are sensitive to wool find that they can wear alpaca without the itching or irritation they feel from wool because alpaca fiber is smooth.
Additional performance characteristics include: stretch, water repellency, and odor reduction. For travelers, clothing made from alpaca is desirable because it is wrinkle-resistant.
To find out more about National Alpaca Farm Days visit www.NationalAlpacaFarmDays.com . To find out more about Rancho Keleje Alpacas, visit www.ranchokelejealpacas.com or call (805) 794-2405.
By Gazette Staff Writer — Wednesday, September 17th, 2008
The Bacon Family of Fillmore, CA are ready to battle for a win when they play against The Stringham Family of Costa Mesa, CA on the nationally syndicated Family Feud, beginning on Thursday, September 25. The high-stakes game where contestants must guess the most popular answers to survey questions posed to 100 people in order to win big money airs Monday-Friday at 6:00 p.m. on KCAL (Channel 9).
The Bacon Family – which includes Aaron, a new dad who serves in the Navy; sister-in-law Alisha, a dedicated mom and sales representative; sister-in-law Jessica, a veterinary technician and all around animal enthusiast; father-in-law David, a manager and driver for a trucking company; and wife Brittney, a fun-loving and energetic wife and mom – will be the ones to beat when they face off with The Stringham Family in America's favorite family game show.
"We have always watched Family Feud, so one day we thought we'd try and get on the show," said David. "If we win, we're all taking a family cruise."
"This family has a big heart," said host John O'Hurley. "Let's hope that they can pull through for a win."
Will Fillmore's Bacon Family win enough to take a family cruise? We're not saying, but viewers can find out by tuning in beginning Thursday, September 25.
By Gazette Staff Writer — Wednesday, September 17th, 2008
Learn more about prevention, the early detection and how to reduce the risk of cancer at a free symposium that Community Memorial Health System is holding on Saturday, Oct. 18, at the Ventura Beach Marriott.
"Staying Cancer Free" will run from 7:30 a.m. to 1 p.m., and will feature local board-certified physicians speaking on the following topics:
 Exercise and nutrition, by Ann Kelley, M.D.;
 Tobacco and cancer, by Thomas Brugman, M.D.;
 Skin cancer detection and prevention, by Samuel Bern, M.D.;
 Screening for cervical cancer and HPV, by Lois Barnes, M.D.;
 Colon cancer screening, by Benito Pedraza, M.D.;
 Prostate cancer detection, by Thomas Fogel, M.D.
Men and Women of all ages are encouraged to attend who have concerns about early detection and prevention of cancer. Anyone with a family history of cancer, or has been diagnosed with or is being treated for cancer, as well as spouses, caregivers and healthcare professionals.
The symposium is co-sponsored by the American Cancer Society and The Wellness Community of Valley/Ventura. The Ventura Beach Marriott is located at 2055 Harbor Boulevard in Ventura.
Space is limited, so reservations are suggested. Call 652-5385, or visit www.cmhshealth.org/rsvp.
By Gazette Staff Writer — Wednesday, September 17th, 2008
The Ventura County Department of Behavioral Health and the Ventura County Chapter of the American Red Cross wish to express their heartfelt condolences to the victims, families and residents of Ventura County who were affected by the tragedy of September 12, 2008.
In offering support the Behavioral Health Department and the American Red Cross are working together to provide support services to the community.
Mental Health Concerns (24 hours) - 1-800-671-0887
Other Support Services – 805-339-2234
By Gazette Staff Writer — Wednesday, September 17th, 2008
VENTURA — Ventura County farmers and ranchers will soon have a faster and easier way to file pesticide use reports (PURs). The Agricultural Commissioner's Office is preparing to launch a Web-based reporting system that will allow the mandatory reports to be filed electronically.
Growers and others responsible for filing PURs are invited to attend a workshop on Friday, Sept. 26, to learn more about the new reporting system. Sponsored by the Farm Bureau of Ventura County, the Ventura County Agricultural Association, and the Agricultural Commissioner's Office, the workshop will be from 9:00 to 11:00 a.m. at the Courtyard by Marriott, 600 E. Esplanade Drive, Oxnard.
Since 1990, California has required that all agricultural pesticide use be reported monthly to the County Agricultural Commissioner, who in turn must report the data to the Department of Pesticide Regulation. The State has a broad legal definition of "agricultural use," so the reporting requirements include pesticide applications to parks, golf courses, cemeteries, rangeland, pastures, and along roadside and railroad rights-of-way.
In addition, all post-harvest pesticide treatments of agricultural commodities must be reported, along with all pesticide treatments in poultry and fish production, as well as some livestock applications. The primary exceptions to the reporting requirements are home and garden use, and most industrial and institutional uses.
The electronic filing system is expected to speed up the process and reduce the cost of compliance. The Sept. 26 workshop will include a presentation by the Ventura County Agricultural Commissioner's Office explaining how growers can sign up for the online reporting program. The Santa Barbara County Agricultural Commissioner's Office will describe how the program has worked in that county, and representatives of companies that operate free electronic reporting systems for growers will demonstrate their services.
The workshop is free, but space is limited and reservations are required. Please contact the Farm Bureau at (805) 289-0155 no later than Tuesday, Sept. 23 to reserve a spot.
By Gazette Staff Writer — Wednesday, September 17th, 2008
Sunday, October 12, 2008
1:00pm-5:00pm
Santa Paula Community Center
530 W. Main St, Santa Paula
We will be providing the most current news and information regarding:
• HEALTH ISSUES • SPIRITUAL GUIDANCE
• EXERCISE • RESOURCES FOR IN HOME SUPPORT
• FRAUD • MENTAL HEALTH EDUCATION
• EDUCATIONAL PANELS • HEALTH SCREENING
Plan to join us for what will be an extremely enjoyable and
educational day! Tell/ Bring a Friend.
For more information contact:
Christine Fenn at (805) 646-1446, x105
By Gazette Staff Writer — Wednesday, September 17th, 2008
Oxnard Holiday Parade Celebrates "A Cinematic Christmas"
Applications are now available for Oxnard's annual Christmas Parade scheduled for Saturday, December 6, 2008. This year's theme celebrates "A Cinematic Christmas" and participants are encouraged to create entries using movies as a backdrop. Interested clubs, schools, individuals, bands and businesses are encouraged to apply. Applications may be picked up at the Oxnard Downtown Management District office located at 326 South "B" Street (in the parking structure across from City Hall), or downloaded from the city's website at www.ci.oxnard.ca.us. To receive an application by mail, call (805) 247-0197, or email oxnardparade@aol.com. Deadline for entry is October 31, 2008.
For general information on the parade and other downtown holiday events, please contact the Oxnard Convention & Visitors Bureau at (805) 385-7545 or log on to www.visitoxnard.com.
By Gazette Staff Writer — Wednesday, September 17th, 2008
VENTURA, CA – This year, the Ventura Family YMCA is hosting its 10th Annual Dinner and Auction Fundraiser, themed "California Cruising", on the Scarlett Belle River Boat. The fundraiser will be held on October 4th from 5:00 – 9:00 pm. Attendees will cruise through the beautiful Channel Islands Harbor while enjoying a wonderful dinner, great company and the chance to bid on amazing auction items. All of the proceeds from the evening will help to fund the "Open Doors" scholarship program which provides memberships, childcare, youth sports, camp and aquatics activities to those in need.
The "Open Doors" scholarship program, which assures that no one is turned away due to their inability to pay, is what separates the Y from being just an ordinary gym. The program provides seniors a place to make friends, children the ability to try new activities and individuals the opportunity to become stronger in spirit, mind and body, regardless of the financial status. This program makes the YMCA a place where everyone can belong.
With the economy's downturn, the Ventura Family YMCA has made significant changes to ensure that participation and membership is available to everyone. With the elimination of membership join fees and an increase in the scholarships that are available, the YMCA is currently providing assistance to more 500 individuals and families in the area. In order to maintain the "Open Doors" program and ensure its success, the YMCA holds two main fundraisers throughout the year to help increase its scholarship capabilities and to make sure that it can keep up with the necessary demand as times get harder.
The 2008 California Cruisin' fundraiser includes a wonderful evening with a "boat casual" atmosphere, live auctions, hors d' oeuvres, dinner, dancing and entertainment, all while cruising the harbor. Tickets for the event are $125 per person with a portion of the ticket purchase being tax deductible. To purchase tickets online visit register.ciymca.org, using the keyword "California Cruising", or contact Dana Ziegert at 805-642-2131 ext. 12, email: dana.ziegert@ciymca.org. For individuals who are unable to attend, but would like to donate to the "Open Doors" Program, checks can be made out to the Ventura Family YMCA c/o California Cruisin' and mailed to 3760 Telegraph Rd. Ventura CA 93003.
Come see how we've been building strong kids, strong families and strong communities in Ventura since 1887 and join us in a new generation of health, family and friendship at the YMCA!
The Ventura Family YMCA serves over 20,000 individuals annually through facility memberships, before & after school childcare, day & resident camps, youth sports, swim lessons, teen programs, and many more healthy lifestyles and community enriching programs throughout Ventura, Oxnard, Ojai, Santa Paula, and Saticoy. The Ventura Family YMCA is located at 3760 Telegraph Rd., Ventura, CA 93003. Visit www.venturaymca.org or call (805) 642-2131 ext 24 for more information.
By Gazette Staff Writer — Wednesday, September 17th, 2008
A mandatory Orientation will be held this week for families interested in qualifying for either of two homes in Santa Paula. Groundbreaking is scheduled for October.
The orientations will be held at Santa Paula Railroad Depot, 200 N. 10th St. in Santa Paula on Wednesday, September 17 at 7:00 PM and Saturday, September 20 at 10:00 AM. Both will be conducted in English and Spanish. Interested parties may attend either session, but all adults who will live in the home must attend a session.
Preference will be given to families currently living in Santa Paula.
For more information, please call the office of Habitat for Humanity of Ventura County at (805) 485-6065.
General Criteria for Habitat selection:
You must be a legal resident of the United States
You must be a resident of Ventura County for at least one year
You must be currently living in poverty housing be a first time homebuyer
Your income must be between 30% and 50% of the median income of Ventura County (currently at $80,000 per year)
You must be able to pass a credit check
You must be willing to put in 500 hours of "Sweat Equity" building your house or another Habitat house
You must be willing to partner with Habitat for Humanity of Ventura County and attend training classes regarding home ownership
The Mission:
Habitat for Humanity of Ventura County is a nonprofit, ecumenical Christian housing ministry seeking to eliminate poverty housing and homelessness from Ventura County and the world, making decent shelter a matter of conscience and action.
We are a locally run affiliate of Habitat for Humanity International.
Habitat for Humanity works in partnership with people from all walks of life to build simple decent and affordable housing. The houses then are sold to low income families at no profit and with no interest charged. Volunteers provide the labor, and Habitat for Humanity of Ventura County raises funds from individuals, foundations, corporations, businesses, faith based organizations and grants to build the houses. Working alongside volunteers, partner Families themselves invest 500 hundred hours of labor, called 'sweat equity,' into building their home and the homes of others.
By Gazette Staff Writer — Thursday, September 11th, 2008
In 1982 the United Nations proclaimed the International Day of Peace be "devoted to commemorating and strengthening the ideals of peace both within and among all nations." In 2001 the United Nations expanded the observance of The International Day of Peace to include the call for a day of global cease fire and non-violence, and invited all nations and people to honor a cessation of hostilities for the duration of the day.
Sorpotimist asked the City of Fillmore to proclaim September 21, 2008 as International Day of Peace. With the cooperation of the City of Fillmore, Sorpotimist will be celebrating International Day of Peace on Sunday Sept. 21, 2008 in front of City Hall at 1:30 PM. The celebration will include the installation of a temporary Peace Pole with the word "PEACE" written in many different languages. Soroptimist, with the help of the Fillmore community, will install a permanent Peace Pole the following year. Be part of history and join Soroptimist in the 1st annual International Day of Peace celebration!
Sorpotimist is inviting the entire community, all service clubs, school clubs, and local congregations to join hands in an effort to commemorate this day. Let's work towards converting humanity's noblest aspirations for world peace into a practical reality for future generations.
Please contract Sarah Hansen (805) 524-0132 or Oralia Herrera (805) 524-6936 for additional information and/or questions about the celebration.
By Gazette Staff Writer — Thursday, September 11th, 2008
By Gazette Staff Writer — Wednesday, September 10th, 2008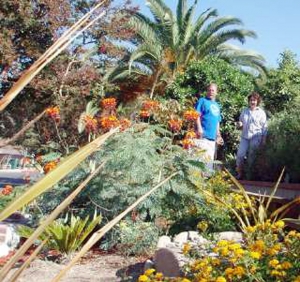 Irma and Greg Murray's yard of the month.
Irma and Greg Murray, of 914 Central, Fillmore, have been chosen to receive the Civic Pride Vision 2020 "Yard of the Month" award for September which includes a donated Otto & Sons Nursery gift certificate.
According to Irma, Greg does all the work and the beautifully kept yard is a showcase for the successful use of drought resistant plantings and water saving practices.
The yard's elevated planters were cleared after the Murray's moved in 4 years ago and additional railroad ties were added to divide the area further, keeping mulch and water from running away. A drip watering system and decomposed granite walkway were added, as well as a windmill sculpture and a blue glass globe for accent.
Greg said that he chose plants that would attract butterflies and hummingbirds to the garden. While we were admiring the yard a large moth was helping "himself" to the Lantana nectar and hummingbirds zipped & darted all around. The yard was vibrant with Mexican Bird of Paradise, Salvia plants in red, hot pink, and purple, yellow Lantana, bronze & pink Flax, while purple Nightshade(Solanum), roses and redbud trees added vertical dimension. The redbud varieties were Oklahoma and Forest Pansy. Fragrance filled the air as leaves were brushed in passing along the walkway.
Greg said that many of his trees & roses were from Otto & Sons and was very pleased to receive the gift certificate.
By Conway Spitler — Wednesday, September 10th, 2008
Our area from a friend's view!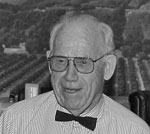 Conway Spitler
First, the Bennett honey farm near Piru where we purchased some eucalyptus honey. They have a beehive behind glass which my grandsons enjoyed.
Next, the Fillmore Fish Hatchery where they enjoyed feeding the fish and watching them jump for the pellets. In talking with one of the workers, I was surprised to hear that hatchery stocks lakes and steams far north as Atascadero and as far south as Puddingstone Lake in San Dimas. I had thought that Castaic, Piru, Casitas, and Pyramid Lakes were all the places.
Then to visit the Fillmore train. While in the gift shop (located in a train
car) we felt today's earthquake. I thought the train car was just shifting due to aging shock absorbers. Beverly accused my oldest grandson of jumping on the train car's platforms and causing it to sway. She later apologized.
After the train, well with eight and six year olds where else but the Golden Arches in beautiful Fillmore. After that, by happenstance, turned into the Fillmore School District Farm where the boys enjoyed petting some steers and horses. I recommend this little side trip for young kids.
How many Fillmore residents have taken time to do this little tour with their children or grandchildren?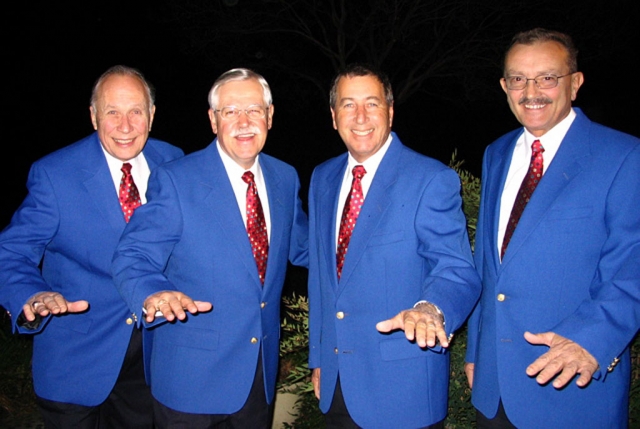 The Fillmore Ebell Club will be entertained this month by Top-Notch, an award winning barbershop quartet, at the Veterans Memorial Building on September 23, 2008.
Enlarge Photo
By Gazette Staff Writer — Wednesday, September 10th, 2008
The Fillmore Ebell Club will be entertained this month by Top-Notch, an award winning barbershop quartet, at the Veterans Memorial Building on September 23, 2008.
Top-Notch is a very active quartet that promises lots of "audience appeal and high quality show entertainment." So recommends the membership of the seven-time International Chorus Champions, the Masters of Harmony. Top-Notch has recently appeared with the Pacific Chorale, and the Riverside Master Chorale. Other appearances include the Motion Picture and Television Relief Fund dinner. See and hear them at www.topnotchquartet.com
Larry Goodfried (Lead) started his musical career as a professional trumpet player, appearing on stage with such icons as Jack Benny, and numerous movie sound tracks. In recent years, Larry has been featured in many productions of The Music Man, including the Glendale Alex Theater, The Whittier Center Theater, and the Thousand Oaks Performing Arts Center. Larry has won five gold medals with the Masters of Harmony.
Art Taylor (Tenor) recently celebrated his 45th year as a member of the Barbershop Harmony Society. Art has earned nine chorus gold medals as a barbershopper. Two with the Phoenix Phoenicians, and seven with the Masters of Harmony.
Bob Heron (Baritone) plays the piano and organ and has been singing all of his life. Prior to joining the Barbershop Harmony Society, he spent fifteen years as a music director and pianist for the Morgan-Wixson Theater in Santa Monica. He has earned five gold medals with the Masters of Harmony. Bob was the baritone of the quartet "Time Honored, the 2002 Far Western District Senior champion quartet.
Dan Place (Bass) is a 47-year barbershopper. The wall of his den is covered with photos of his many quartet and chorus achievements. As a long time member of the Arcadia chorus and a seven time gold medal winner with the Masters of Harmony, Dan is the expert crooner of all those low notes. It is often said in the barbershop world that the gals swoon for the tenor, but they go home with the bass.
Though Top-Notch is weighted down with barbershop gold, they're a light-hearted foursome who will delight you when invited to your next event.
Anyone interested in more information, or becoming a member of the Fillmore Ebell Club, may call Trisha Armstrong at 805-727-1901.
By Gazette Staff Writer — Wednesday, September 10th, 2008
The old Richard's Meat Market will be demolished on Thursday, September 11. As of now there are no plans to rebuild.
Enlarge Photo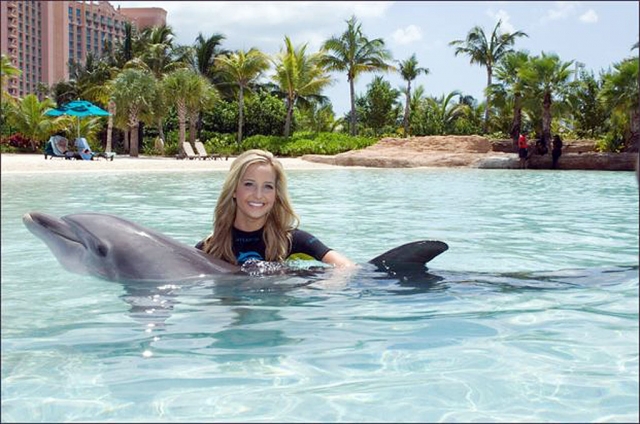 Taylor with Dolphin.
Enlarge Photo
By Gazette Staff Writer — Wednesday, September 10th, 2008
Congratulations To Taylor Atkins – Miss California Teen USA 2008 for competing August 12th through 16th at Miss Teen USA 2009 in the Bahamas and placing in the Top 15 out of the 51 teen delegates that represented each of there home states.
Taylor, you did an awesome job representing the state of California at Miss Teen USA!
Taylor will complete her reign as Miss California Teen USA and will crown the next titleholder on Sunday, November 23rd at the Miss California and Miss California Teen USA 2009 pageant being held at the Riviera Hotel in Palm Springs.
Many thanks go out to Taylor's friends & fans for their loving support. Thank you to the businesses of the Piru community for their kind generosity including the Piru Neighborhood Council, Piru Petroleum Club and Rancho Temescal.