By Dick Mosbarger — Wednesday, January 28th, 2009
The class reunions for the Honored Classes at this year's alumni dinner are shaping up and people are getting the word out as to what is planned for those classes whose graduation years ended in 4 and 9, as well as all the other graduating classes from Fillmore High.
The class of '44 will meet for lunch at El Pescador in Fillmore on Saturday, June 6 and then reconvene at the Memorial Building for the alumni dinner. Biz Basolo is in charge in getting this class reunion started. If you have any questions, you can call him at 524-5841.
Em Casner Wendel has sent out letters to all her classmates of the class of '49 inviting them to lunch on Saturday, June 5, with continued visiting that evening at the alumni dinner. For more information, call Em at 805-642-7220.
Ann Mosbarger Scanlin has invited all graduates of the class of '54 to meet at the alumni dinner at the Memorial Building on Saturday, June 6, for their 55th class get-together. Ann can be reached at 805-646-6460
Bob Morris and his committee have planned a Friday/Saturday gathering for the class members of the class of '59. Friday evening, June 5th will be a dinner at a place yet determined, and Bob hopes everyone will reconvene at the alumni dinner on Saturday night. If you need more information you can call Bob at 805-524-0096.
Lucy Rangel Sanchez, class of '69 is hoping someone will pick up the ball for her class and send out information about meeting at the alumni dinner on Saturday, June 6. The alumni office will be glad to help in any way they can. CONTINUED »
By Conway Spitler — Wednesday, January 28th, 2009
Ten top jobs today did not exist in 2004!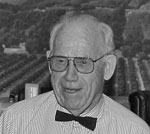 Conway Spitler
31 billion searches on Google every month. In 2006 there were 2.7 billion to Google. There are 54,000 words of
English, five times as many as when Shakespeare was here! Ten top jobs did not exist in 2004! TV 23 years, radio 20 years. Audience of 50 million in four years. Two million registered on My Space One out of four employees have been with employer less than four years. 200 million My Space subscriber, 1992 one million.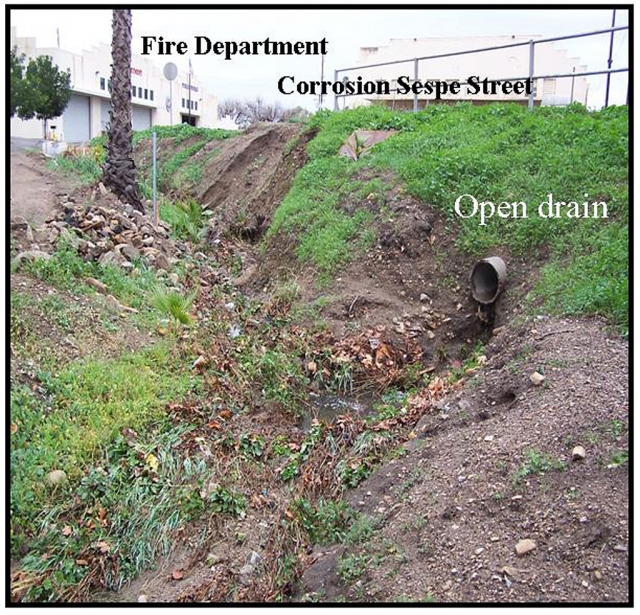 Drainage Problem on Sespe Street.
Enlarge Photo
By Milan Boyanich — Wednesday, January 28th, 2009
Bert Rapp, the city Public Works Director, has ignored the open ditch along the railroad tracks off Sespe. He claims that the city has no money to repair this eyesore. The ground under Sespe Street is deterioration and caving in. Public works does not maintain nor has ever cleaned the ditch out. Bert states he was unaware of the drainage pipe or the ground caving in under Sespe Street. The city's property runs along Sespe Street and is parallel to A Street Self Storage. Bert says that the city does not have the money to install a drain pipe in that area. The storm water from A Street and Sespe Street, and drainage water from the Fire Department also runs down into this ditch. All storm water drainage from the pipe dumps into the ditch and is causing the ground to cave in. There is nowhere else for the water to drain to except into the ditch. With all the money the city is spending on storm water drainage I don't understand why this is being ignored.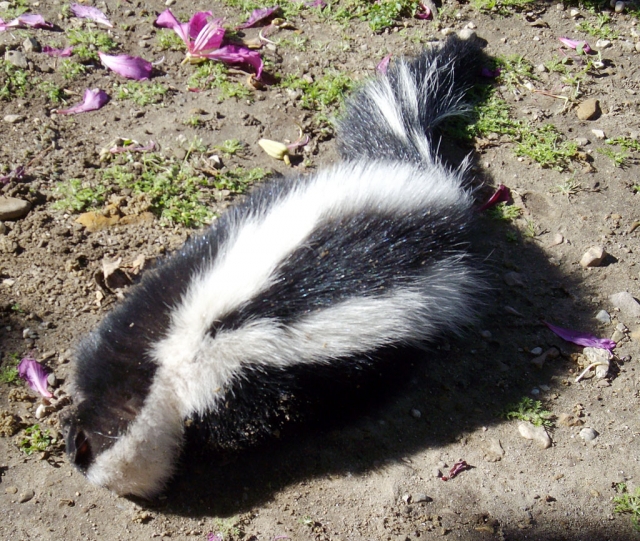 Skunk
Enlarge Photo
By Gazette Staff Writer — Wednesday, January 28th, 2009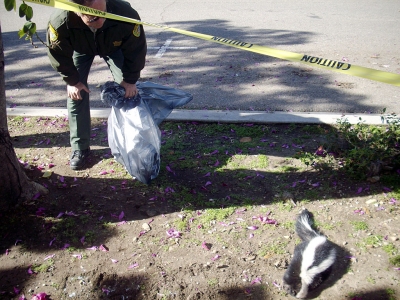 Animal Control Officer Bob Wisma
Enlarge Photo
Animal Control Officer Bob Wisma gets ready to euthanize a skunk (below) that had taken up residence under The Fillmore Gazette and adjoining offices. Wisma used phenobarbitol to sedate the female skunk which was then taken to a Ventura County Animal Regulation laboratory, where its brain will be tested for rabies. Skunks are the second largest carrier of rabies, behind bats. The skunk had made the entire building, located at Sespe and
Orchard, a smelly affair for the last two weeks.
By Gazette Staff Writer — Wednesday, January 28th, 2009
Next Monday, February 2 will the the Fillmore Lions Club student speaker contest for 2009. This annual contest starts the winning student on the path to win over $21,000 in college scholarships. The topic this year is "Water-Will California be left high and dry?".
Entering the contest is a great experience for any student. Looks great on your college resume, and for applying for scholarships. You still have time to enter. Call Bill Edmonds at 524-4839 or see Mr. Josh Overton at FHS (DRAMA ROOM)
The public in invited to attend as well as teachers and parents. The contest begins at 7:00 pm sharp at the Scout House at the end of Sespe Ave. RSVP —at 524-4839 or with any Fillmore Lions member.
By Gazette Staff Writer — Wednesday, January 28th, 2009
Benefit will help women's hearts
Members of the Soroptimist International of Fillmore are helping in the efforts of the American Heart Association Go Red For Women movement to raise awareness of heart disease, the No. 1 killer of women. They are recruiting local individuals and companies to join millions across the nation in going red on Friday, February 6, National Wear Red Day, to support the fight against heart disease.
On National Wear Red Day, millions of Americans wear red to show their support for women and the fight against heart disease. Companies nationwide generate awareness and raise funds to help fight heart disease in women by asking their employees to donate $5 to wear red to work. Money raised will benefit research and education to help reduce the incidence of heart disease in women.
Wear Red Day is a component of Go Red For Women, the American Heart Association's national movement to raise awareness of heart disease in women and encourage women to take charge of their health.
"Wear Red Day is an opportunity for everyone to remember their friends and family members who have suffered from the disease. It's also a time to think about their own hearts and take charge of their own health", said Terri Aguirre, Go Red Chair. CONTINUED »
By Gazette Staff Writer — Wednesday, January 28th, 2009
The Fillmore Chamber of Commerce is seeking nominations for the 2008 Citizen of the Year. Nomination forms can be picked up at the Chamber office 557 Ventura Street during our normal business hours, Tuesday, Wednesday, & Thursday 10:00 AM - 5:00 PM.or you can go to our website www.fillmorechamber.com and download the nomination form.
Remember: Nominations must be submitted by February 19, 2009 before 5:00 PM
By Gazette Staff Writer — Wednesday, January 28th, 2009
By Gazette Staff Writer — Wednesday, January 28th, 2009
The HP Wright Library in Ventura will be closing early, at 7 pm, on Tuesday, February 3, for the Ventura City Library Advisory Commission meeting. The public is welcome to attend this meeting.
The HP Wright Library is located at 57 Day Rd. in Ventura. Hours of service are Monday and Tuesday 10 am – 8 pm, Wednesday 12 pm – 6 pm, Thursday 2 pm – 6 pm, Friday 12 pm – 6 pm, Saturday 12 pm - 5 pm, and closed on Sunday.
The Ventura County Library is available 24/7 at www.vencolibrary.org
By Gazette Staff Writer — Wednesday, January 28th, 2009
Annual Campaign for Youth Helps Kids and Families in Need Take Part in YMCA Programs
VENTURA, CA-The Ventura Family YMCA announces the kick-off of its 2009 Campaign for Youth. Proceeds from Campaign for Youth will help meet the growing needs of Ventura and its surrounding communities by providing financial assistance for individuals and families who want and need YMCA programs but may not otherwise be able to afford them. Campaign for Youth will start on February 6th and commence on March 6th; during that month volunteers will work together to raise $115,000.
The Ventura Family YMCA has made many changes to ensure that no one is turned away from the YMCA due to their inability to pay, especially during these tough economic times. The YMCA's Open Doors scholarship program allows children and families the opportunity to benefit from, family strengthening, YMCA programs such as child care, day camp and programs for at-risk youth. Campaign for Youth also supports members in programs such as aquatics, resident away camp, youth sports and helps assist members in need with membership fees.
This year's campaign theme, "Red, White, and Blue" was designed to symbolize the patriotic resurgence that Ventura is sharing along with the rest of America. Last year, the Ventura Family YMCA Campaign for Youth raised $110,721, which allowed more than 1,200 kids and families the opportunity to participate in programs. These funds were made possible through the hard work of over 80 volunteers and generous contributions from more than 359 local business and individuals.
This year, The Ventura Family YMCA is asking for help from the community. The goal is to raise $115,000 in one month. To reach this goal the YMCA is looking for team campaigners, phone campaigners and donors. In addition to monetary donations the YMCA is looking for food donors to help support campaign report night dinners as well as product donors for door prizes, which will be given to campaigners to show appreciation for their efforts
If you would like to donate or volunteer during Campaign for Youth 2009 please contact Amy Bailey at amy.bailey@ciymca.org or call 805-642-2131 ext 24.
ABOUT THE VENTURA FAMILY YMCA
The Ventura Family YMCA is a branch of the Channel Islands YMCA and serves over 20,000 individuals annually through facility memberships, before & after school childcare, day & resident camps, youth sports, swim lessons, teen programs, and many more healthy lifestyles and community enriching programs throughout Ventura, Oxnard, Ojai, Santa Paula, and Saticoy. The Ventura Family YMCA is located at 3760 Telegraph Rd., Ventura, CA 93003. Visit www.venturaymca.org for more information.
By Gazette Staff Writer — Wednesday, January 28th, 2009
The Alzheimer's Association is offering The Savvy Caregiver Program, a free, six-week educational training program for families caring for a loved one with Alzheimer's disease or other dementias. The Savvy Caregiver will be held for six Tuesdays, February 17 through March 24, from 10AM to Noon at the Ventura County office of the California Central Coast Alzheimer's Association, 1339 Del Norte Road, Camarillo.
Nonprofessional caregivers will acquire skills and knowledge of dementia, handling difficult situations and managing behavior. Attendees will also learn about managing their own well-being and resources available in the community to help.
Seating is limited and registration is required. Please phone Norma Featherston, Area Director, at the Alzheimer's Association, (805) 485-5597 to register.
By Gazette Staff Writer — Wednesday, January 28th, 2009
Year-long Term includes 134th annual Ventura County Fair
Ventura County (January 20, 2008) The board of directors of the 31st District Agricultural Association, better known as the Ventura County Fairgrounds, has elected former Ventura County District Attorney Michael D. Bradbury to the office of president of the Board of Directors. The board also elected director Janis Berk, to the office of Vice-President.
The Ventura County Fairgrounds is owned by the State of California and administered by the 31st District Agricultural Association under the direction of the Division of Fairs and Expositions, Department of Food and Agriculture. A nine member Board of Directors, appointed by the Governor, oversees the Association. The 31st DAA is a self-supporting entity, receiving no tax dollars.
The 2009 Ventura County Fair, "Where it's a Wonderful Life" will be from Wednesday, August 5 through Sunday, August 16. More information can be found at www.venturacountyfair.org or by calling (805) 648-3376.
By Gazette Staff Writer — Wednesday, January 28th, 2009
Through the Humane Society of Ventura County's efforts, more animals found their way into loving homes in 2008 than during the previous year.
In all, the private non-profit Ojai animal shelter reported overseeing 699 pet adoptions last year, up from 591 adoptions in 2007. While the bulk of the pet adoptions were for dogs and cats, the Humane Society also finds homes for other animals, including pigs, rabbits, ducks, horses, birds, turtles and guinea pigs.
Cyndy Treutelaar, president of Humane Society of Ventura County's Board of Directors, attributes the increase in adoptions to the organization's community outreach services.
"We're out in the schools, our volunteers are manning booths, the Ventura County Star runs our 'Pet of the Week,' we're advertising more," Treutelaar said. "It's a lot of things."
The shelter also reported a significant increase in the number of pets spayed or neutered in 2008 – 1,944 pets – up from 1,862 pets in 2007. Again, Treutelaar credits the Humane Society of Ventura County's public awareness campaign, but she also points to grant money that the non-profit has secured that allows it to offer periodic free spay and neutering services. CONTINUED »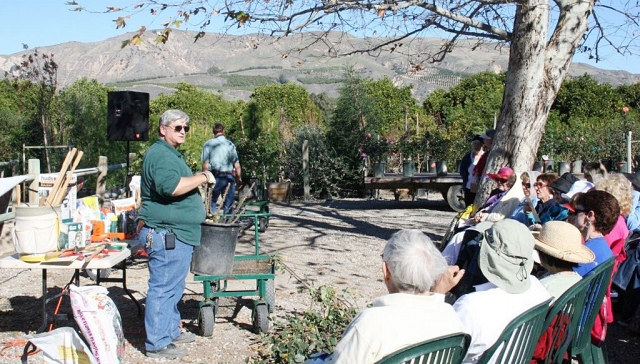 In the picture Mike Connell demonstrates pruning techniques to the enthusiastic crowd in the outdoor classroom.
Enlarge Photo
By Gazette Staff Writer — Monday, January 26th, 2009
Otto & Sons Nursery is holding classes at its Rose Care University every Saturday in January. The class covers rose pruning, dormant spraying, mulching and fertilizing for beautiful roses. The last class of the year will be on January 31st from 10-noon. The cost of the class is $15.00 and reservations are required. Call
524-2123.
By Gazette Staff Writer — Wednesday, January 21st, 2009
By Gazette Staff Writer — Wednesday, January 21st, 2009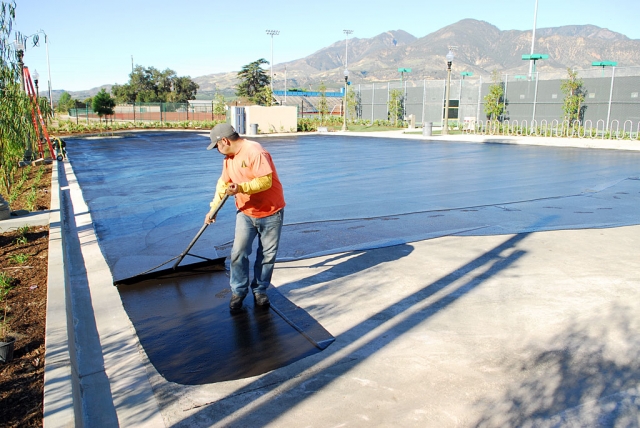 A worker seals the asphalt at the new swimming complex on First Street.
Enlarge Photo
By Dick Mosbarger — Wednesday, January 21st, 2009
Fillmore High Alumni Association
The project of revitalizing the Junior Arches/Shasta Daisy project that the alumni association is involved in has hit a couple of snags, and we are looking for help so that this year' senior class can walk to the graduation platform under the traditional arches of Shasta Daisies.
Kirk Richter, class of '77 and his horticulture class at the high school planted a large area of rooted cuttings, thanks to the donation of Conway Spitler, but it wasn't enough of an area to provide the flowers needed for the graduation arches. A call was sent out for donations of more cuttings from anyone who has Shasta Daisies in their yard, but none have been received.
A second glitch that has occurred is that the Horticulture class, which was being sponsored by Ventura College has been canceled, so there is no organized group to care for the existing plants and to plant any new material that is received. This topic will be brought up at the next alumni board meeting in February to see what assistance the alumni can give to Kirk to keep this project going.
So what is now needed is for people to come forward with flowers for the arches for graduation so this tradition, which was started in 1940, can once again become a reality after an absence of 20 years.
Anyone having plant material that we can use for planting more area of the school, or flowers that can be used for the Junior arches this year, please call Kirk at 524-8423 or the alumni office at 524-0416, or e-mail: staff@FillmoreHighAlumni.com. The alumni association is very interested in getting this tradition restarted.
By Gazette Staff Writer — Wednesday, January 21st, 2009
Welcome back! Hope your holidays were lovely! February 4, 2009 1:00 pm. Board meeting 12:00 pm. St. Paul's Episcopal Church 117 7th St. Santa Paula. Program: Andrew Wyatt, Director of Horticulture, Santa Barbara Botanic Garden. Sp0eaking to us on "Groundwork for success of native plants".
By Gazette Staff Writer — Wednesday, January 21st, 2009
KSSP Photographic Studios has been awarded the photography contract by Fillmore Girls Softball & T-Ball for its 2009 season. Boys 4 œ to 6 years and girls 4 œ to high school age are eligible to register and play in the league.
KSSP will provide photography services including team & player pictures and action shots. Each player who registers will receive a folio with a team and the individual player pictures plus a photo button. KSSP will also offer package upgrades and add-ons to the basic package. KSSP will photograph selected games and make actions shots available for purchase.
Registration for Fillmore Girls Softball & T-Ball is currently underway. Registration will occur this Saturday, January 24th, 9am to 12 pm at the Fillmore Middle School. Fees may be paid at a later time if needed and financial assistance is available for those that qualify Contact Jason at 524-3333. More information can also be found at their web site http://FillmoreGirlsSoftball.com.
Principal photographers at KSSP are Carmelita Miranda and Charles Morris. KSSP is a full service photography studio specializing in portrait, wedding and quinceanera photography (and video). KSSP is the Fillmore High School photographer.
For further information, please contact KSSP Photographic Studios at 524-6400 or visit http://ksspphotostudios.com
By Gazette Staff Writer — Wednesday, January 21st, 2009
Local fitness club welcomes Healthways SilverSneakers members at no cost
Curves of Fillmore is rolling out the red carpet to members of the award-winning Healthways SilverSneakers Fitness Program, the nation's leading exercise program designed for older adults. Beginning January 1, 2009, SilverSneakers members are eligible to join Curves of Fillmore at no cost.
"We are so pleased to welcome local SilverSneakers members to Curves of Fillmore," said club owner Denise Johnson. "As you age, your risks for debilitating disease increase, and being overweight or obese significantly adds to that risk. At Curves of Fillmore, we have programs that help women of all ages do the three most significant things they can do to decrease their risks -- manage their weight, exercise regularly, and eat healthfully."
Call 524-0337 to schedule your Tour and Fitness Asessment.
There are 6,500 Curves locations and more than 2.5 million women in the U.S. who are eligible for the SilverSneakers program.
For more information about Curves of Fillmore, please contact Denise Johnson at 524-0337.
About Curves
Curves works every major muscle group with a complete 30-minute workout that combines strength training and sustained cardiovascular activity through safe and effective hydraulic resistance. Curves also works to help women lose weight, gain muscle strength and aerobic capacity, and raise metabolism with its groundbreaking, scientifically proven method that ends the need for perpetual dieting. Founders Gary and Diane Heavin are considered the innovators of the express fitness phenomenon that has made exercise available to around 4 million women globally, many of whom are in the gym for the first time. With nearly 10,000 locations worldwide, Curves is the world's largest fitness franchise. For more information, please visit: www.curves.com.
About Healthways, Inc.
The SilverSneakersÂź Fitness Program is a product of Healthways, Inc. Healthways is the leading provider of specialized, comprehensive Health and Care SupportSM solutions to help millions of people maintain or improve their health and, as a result, reduce overall healthcare costs. For more information regarding the Healthways SilverSneakers Fitness Program, visit www.silversneakers.com or call 1-800-295-4993.