Fillmore High Alumni News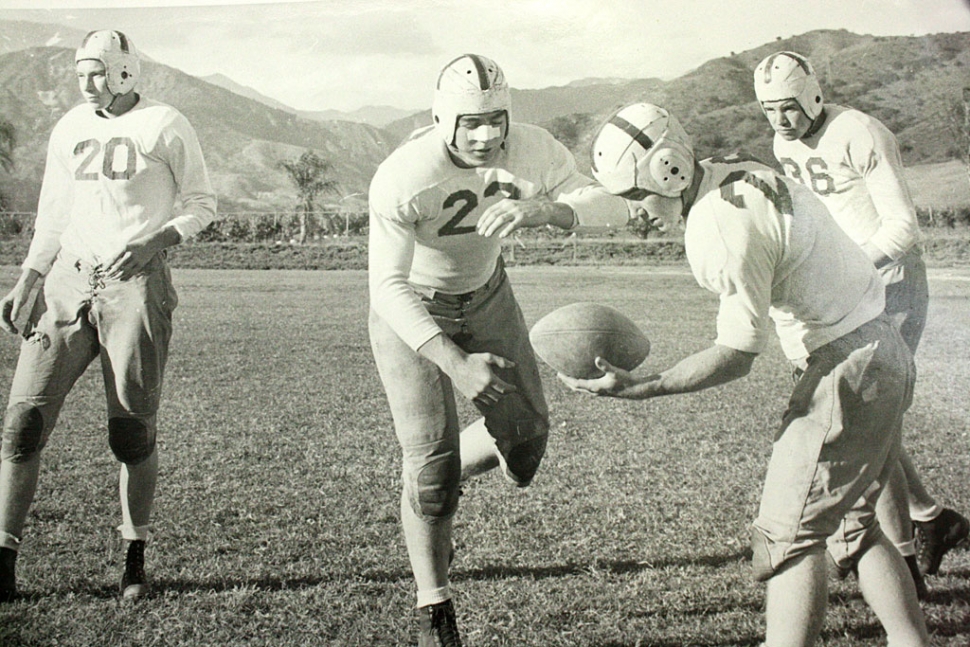 In this weeks Alumni Picture, Flashes Football players, Class of 46, Hoyt Brodesson, Buck Bassolo, Neil Kennedy, and George Potter.
By Gazette Staff Writer — Wednesday, November 3rd, 2010
This week we've been told that the 100th game between Fillmore High and Santa Paula high has been sold out. Just to be sure, you may want to call the High School yourself to confirm. 805-524-6100. One thing that is not sold out yet is the DVD Documentary, "Nine Miles" produced by the Alumni Association. Although Pre-orders are going swiftly. Before they sell out at the game, you may want to call the the Alumni Assoc to guarantee your DVD. 805-524-0416. By calling now, you can confirm your DVD, and pay for it when you pick it up either at the big game, or starting on Monday Nov, 15th with extended hours at the Alumni office. The office will be open from 9:00AM to 6:00pm on Monday, Wednesday, and Friday, November 15th, 17th, and 19th, so you can pick up your DVDs. Make a note, the office will be closed for lunch from 12:00 noon to 1:00pm on those days. Tuesdays and Thursdays the office is closed. There is much excitement surrounding the Football game on November 12th. Time Warner Cable will be taping highlights of the game, and producing a story about this historic rivalry. It will be aired on their "High School Sports Rewind" show on Tuesday, November 16th at 7:00pm on their Time Warner Cable SoCal Channel 101. The show will also be available on their Local Video on Demand service. To find their sports programming just go to Ch. 1, Select LOCAL, SoCal Sports, then HS Sports Rewind. On November 13th, the first Hall of Fame Induction ceremony will take place at the High School. Coaches, Athletes, and Championship teams will be inducted. Here are a few of the inductees. Coaches, Mr. J.W. Gastrich who was the principal at Fillmore High and started the Sports program in 1914. Eugene Kennedy, Bruce Dempsey, and Epi Torres. Some of the Teams that will be inducted include the 1926 Boys Basketball Team, the 1935 Boys Football Team, The 1977 Boys Football Team, and the 1991 Girls Cross Country Team. There will be 82 Athletes inducted in this first Hall of Fame induction. Here are a few of them. 1933 Toolie Palmer, 1938 Vernon (Slim) Johnson, 1942 Bill Pearson, 1944 Gene Wren, 1949 Don Burroughs, 1955 Roger Palmer, 1961 Bruce Gibby, 1967 Jim Ruiz, 1972 Joel Mozley, 1977 Rosa Aparicio, 1985 Greg Baldwin, 1991 Tory Cabral, 1996 Julie Arundell. The Alumni Association wishes to thank all those involved in making this evening one to remember for all the inductees. "All Hail to our Alma Mater, May her fame live long"