By Gazette Staff Writer — Tuesday, February 5th, 2013
If you're looking for a place to spend a magical St. Valentine's Day, consider joining us at the Bardsdale United Methodist Church for a Sweetheart Dinner on Thursday, February 14 in LeBard Hall.
Beginning at 5:30 pm with appetizers, guests will enjoy a catered dinner by Ruben Ronquillo. The entree will be beef or chicken with rice pilaf, veggies, Caesar salad, and dessert accompanied by romantic music for your dancing pleasure.
Suggested donation is $35.00 for a couple or $20 per single. Since it is being catered and space is limited, reservations are a must. Please reserve your seating by February 11 by calling the church office at 524-2070, Marcia at 524-3674, or Mimi at 524-1823.
We hope you bring your sweetheart or come by yourself and be our sweetheart. The church is located at 1498 Bardsdale Avenue, two miles south of Fillmore.
By Gazette Staff Writer — Tuesday, January 22nd, 2013
The Bardsdale United Methodist Church Orange Pealer Bell Choir is having a Sweetheart Dinner on Valentine's Day, Thursday, February 14.
The dinner will start with appetizers at 5:30 pm and followed with a catered dinner at 6 pm. The menu will be a choice of chicken or beef, or both, rice pilaf, steamed vegetables, Caesar salad, rolls, beverage and dessert.
There will be a romantic musical program with room for you to dance with your special one.
Suggested donations are $20 per person or $35 per couple. Reservations are required. Please call the church at 524-2070, Marcia at 524-3674 or Mimi at 524-1823 to reserve your seating.
Come spend a magical evening with us at the Bardsdale Church. Bring your sweetie or come and let us be your sweetheart.
By Gazette Staff Writer — Wednesday, January 16th, 2013
Priority registration will be given to those new students who are sibling/ relatives of current or past students.
After the Priority registration ends January 31st, then registrations is open to all.
Students Must be 4years old by December 31st 2014
$75.00 Registrations per month
Tuitions for 2012-1013 will be $185.00 per month
If you have any questions, please feel to ask or call Maggie at 524-1306 for additional information
By Gazette Staff Writer — Monday, January 14th, 2013
By Jan Markell
www.olivetreeviews.org
March 1, 2012
In the early days of all things "purpose driven," I didn't say much. I was, admittedly, skeptical. I had a hunch churches might experience the promised growth thanks to the movement behind "purpose driven," the seeker-sensitive movement; however, it might not be a healthy growth. But as the years moved on, I started hearing about wreckage. Calls and e-mails told me that beloved congregations were caving to all things unsound and even unscriptural. Members were told that the ends justified the means. In other words, numbers trumped everything.
So, I began to watch Pastor Warren more carefully. When he praised the freedom in Syria in 2006, I just shuddered. When he spoke to the Islamic Society of North America (ISNA) and withheld the gospel, I reacted again. ISNA is a front for the Muslim Brotherhood. When he told Alan Colmes to "give Jesus a try for 60 days," I came close to writing him off.
When Rick began featuring... http://archive.constantcontact.com/fs019/1101818841456/archive/110942259...
By Gazette Staff Writer — Tuesday, January 8th, 2013
By Gazette Staff Writer — Tuesday, January 8th, 2013
VENTURA COUNTY FELLOWSHIP OF CHRISTIAN ATHLETES TO HONOR DR. PEDRO GARCIA, JAN. 24 Fundraising event, "God's Hand in an American Dream," to celebrate Cuban refugee's 50 years of service and achievement in America
Ventura, CA - The Ventura County chapter of the Fellowship of Christian Athletes (www.venturacountyfca.org) is honoring educator and Camarillo resident Dr. Pedro Garcia at a fundraising event, "God's Hand in an American Dream," Thursday, January 24, 2013, 11:30 A.M. to 1:30 P.M., at the Tower Club in Oxnard. The event will chronicle Dr. Garcia's 50 years of faith, freedom and achievement, from his escape from Cuba as a teen to his career as an educator and ministry to sports programs.
After his dissident father became a marked man, Dr. Garcia fled Cuba with his brother in 1962. Eventually reunited with his parents in America, Dr.
Garcia followed his mother's footsteps as an educator, earning graduate degrees in Educational Administration and progressing from teacher to superintendent. Concurrent with his career in education, Dr. Garcia has ministered to coaches and athletes, sharing his spiritual journey and teaching Biblical leadership in sports. His first job in America was with Campus Crusade for Christ at UCLA, where he worked alongside legendary basketball coach John Wooden.
"Dr. Garcia embodies the mission of the Fellowship of Christian Athletes,"
said Ed Lyon, area director for the Ventura County chapter. "By joining us to honor this brilliant, brave and godly man, event participants will help us fund the ongoing work of FCA in our schools and communities."
"Pedro and our entire family are humbled by this tribute event," said Dr.
Priscilla Partridge de Garcia, wife of Dr. Pedro Garcia and longtime FCA organizer. "God's light led my husband to America, where he has devoted his life to students, athletes and future educators."
Proceeds from ticket sales, table sponsorships, and event program advertising will fund Fellowship of Christian Athletes' programs in Ventura County. Individual tickets are $65, which include event admission with a traditional Cuban luncheon. VIP tickets are $95, which include a pre-event reception in addition to the event and luncheon. Table sponsorships range from $1,000 to $5,000.
To purchase tickets, sponsorships or ads, visit www.venturacountyfca.org and click on the homepage link for the event. For more information, contact area director Ed Lyon, 805-746-4725, elyon@fca.org.
"God's Hand in an American Dream," Ventura County Fellowship for Christian Athletes fundraising event honoring Dr. Pedro Garcia Thursday, January 24, 2013, 11:30 A.M. to 1:30 P.M.
The Tower Club, 300 East Esplanade Drive, Oxnard, CA 93063, 805-983-7777
About Fellowship of Christian Athletes:
The Fellowship of Christian Athletes is touching millions of lives… one heart at a time. Since 1954, the Fellowship of Christian Athletes has been challenging coaches and athletes on the professional, college, high school, junior high and youth levels to use the powerful medium of athletics to impact the world for Jesus Christ. FCA is the largest Christian sports organization in the world. FCA focuses on serving local communities by equipping, empowering and encouraging people to make a difference for Christ. To learn more, visit
www.fca.org.
By Gazette Staff Writer — Wednesday, December 19th, 2012
By Gazette Staff Writer — Monday, December 10th, 2012
This Sunday afternoon at 5 p.m., Bardsdale United Methodist Church will offer its annual Christmas Vespers program as a gift to the community in the historic sanctuary.
Begun in the 50's by Choir Director Emeritus John Brothers, this holiday event features traditional Christmas tunes as well as unfamiliar selections that tell the story of the birth of the baby Jesus.
The Chancel Choir along with guest voices and musicians are directed by Marsha Porter and accompanied by organist Dennis Prichard.
Please come, relax for an hour or so, and let this musical program put you in the spirit of the season.
The church is located at 1498 Bardsdale Avenue.
By Gazette Staff Writer — Monday, December 3rd, 2012
Community invited to participate in Jewish traditions
THOUSAND OAKS, CA - California Lutheran University's Hillel Club will host the campus' annual Hanukkah celebration from 5:30 to 7 p.m. Thursday, Dec. 13, in the Roth Nelson Room.
"Shine Your Light" will feature the lighting of the candles on the menorah. The community can also join faculty, staff and students in enjoying traditionalfood and activities. A disc jockey will play music.
This year Hanukkah takes place from sundown on Dec. 8 through Dec. 15. Every year, Jewish people around the world celebrate Hanukkah to commemorate the rededication of the Holy Temple in Jerusalem after the Maccabees defeated the army of the Greek ruler Antiochus Epiphanies and won their religious freedom.
Hanukkah is referred to as the Festival of Lights because, according to tradition, when they rekindled the menorah it burned for eight days although it only held enough oil to burn a single day. The holiday is a reminder to rekindle our spiritual lights and shine for the world.
The Roth Nelson Room is located on Mountclef Boulevard between Olsen Road and Memorial Parkway in Thousand Oaks.
For more information, contact Hillel Club President Alli Himber at ahimber@callutheran.edu or rabbinical intern Belle Michael at bmichae@callutheran.edu.
By Gazette Staff Writer — Wednesday, November 28th, 2012
MAKING MUSIC PRAYING TWICE at Notre Dame Learning Center. Little children 5 years and younger are invited to St. Francis of Assisi Christmas Music Day! Come sing Christmas music with Mom and Dad as we tell the story of Jesus' birth. This is an interactive day with song, dance, instruments and parachute designed to benefit the whole family Come as a family and stay for refreshments. Take home a special gift. Register for Sun. Dec. 9, 2:00 - 3:30, or Sun. Dec. 19, 2:00 - 3:30. Registration Fee per family is $6. Limited to 8 children. Call or e-mail Sister Florette Marie, 496-3243, Ext. 735, florettemarie@yahoo.com. Michael Lara, 524-2865 Thank you. Sister Florette Marie
BEARERS OF LIGHT ADVENT RETREAT - Sunday, December 9, 2012
embracing the season of waiting, enjoying each other for what we are, sharing love & inspiration as bearers of light 1 - 4pm Mass at 4pm. Rich hours for personal contemplation, walking, gazing, listening, blended with time for sharing with the group At Mater Dolorosa Passionate Retreat Center 700 North Sunnyside, Sierra Madre, CA 91024. Seating is limited. Call Michael to reserve a space: 524-1306. Free Will Donation for the retreat. All Are Welcome. We will car pool and leave Saint Francis around 12 noon. Bring dinner money we will stop somewhere for dinner. Please respond by December 3rd noon. God Bless
Afternoon Affair Boutique - Saturday, December 15, 2012
From 11AM to 3PM in Classroom 5&6 at Saint Francis of Assisi Pastoral Center Come support Saint Francis of Assisi Church. No long lines, something for everyone. Unique and beautiful handmade decorations, jewelry, Mary Kay cosmetics, Scentsy Candles and much more... Vendors reserve your table today. $20.00 donation required. All vendors must be registered members of Saint Francis of Assisi or San Salvador Mission. Space is limited. Call 794-1900
Nativity Exposition - Sunday, December 16, 2012:
Bring your Nativity to be blessed and share it with our parish members. Drop off your nativity between 8 and 8:30AM. Our Expo. Starts at 9AM and finishes at 2PM. Pick up is 2:30PM
FREE to participate and FREE entrance. Volunteers needed to supervise event. For questions or to reserve your vendor table call Oralia Herrera at 794-1900
COME BY AND VISIT OUR GIFT STORE IN THE PASTORAL CENTER!
Start your Christmas shopping early. Nice gifts, at reasonable prices!
SAINT FRANCIS OF ASSISI CHRISTMAS TREE FARM
Our trees are freshly cut Oregon Douglas fir and Noble fir trees. Did you know that the Christmas tree began as a reminder of the tree of life and the life-giving cross of Jesus Christ? When you see the evergreen Christmas tree you will also see the life-giving tree of life on which Jesus hung as our crucified savior. Please invite your family & friends to support our Christmas tree farm. For more information call the Pastoral Center at 524-1306
By Gazette Staff Writer — Monday, November 26th, 2012
Two popular holiday musical events are coming up at the Bardsdale United Methodist Church.
"Ring Noel" will welcome in the holiday season as the church's bell choir, The Orange Pealers, will host its popular bell concert and supper on Saturday, December 8 at 5 pm in LeBard Hall. Attendees will not only enjoy a sumptuous meal but also participate in the bell ringing. Tickets are $10 for adults, $25 for families and children under 5 are free. Reservations are strongly recommended.
The annual Christmas Vespers concert will take place Sunday, December 16, in the church's beautiful sanctuary. This free gift to the community will feature Bardsdale's Chancel Choir along with guest voices and musicians under the direction of Marsha Porter and accompanied by organist Dennis Prichard.
For more information, call the church at 524-2070. Bardsdale United Methodist church is located at 1498 Bardsdale Avenue.
By Gazette Staff Writer — Tuesday, November 6th, 2012
The Bardsdale United Methodist Women will host their annual Thanksgiving Luncheon on Monday, November 12, at 12 noon in LeBard Hall. For only $12.00, adult guests will feast on turkey and dressing, mashed potatoes, green beans, sweet potatoes, salad, rolls and, of course, pumpkin pie. Children dine free. Take outs will be also available.
To honor our Armed Forces and all Veterans who have served, there will be a musical program of patriotic songs following the meal.
For more information, call 524-2070. The church is located at 1498 Bardsdale Avenue.
By Gazette Staff Writer — Tuesday, October 2nd, 2012
This Saturday morning (October 6, 2012), 8 a.m. until noon, the United Methodist Women of Bardsdale will host their Fall Courtyard Sale.
Besides the usual selection of clothing, kitchenware, small appliances, books, shoes and furniture, there will be several tables of Christmas decorations to get you in the spirit of the holiday season.
Proceeds from this popular event supports the ongoing ministries of the Bardsdale United Methodist Women.
The church is located at 1498 Bardsdale Avenue.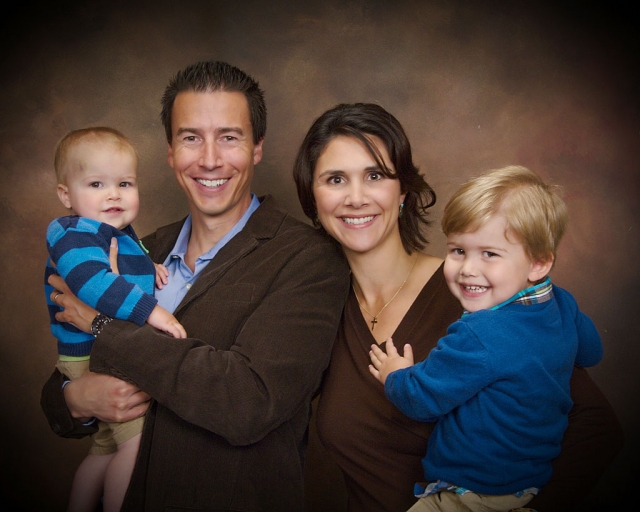 The Bouligny Family
Enlarge Photo
By Gazette Staff Writer — Monday, October 1st, 2012
Heritage Valley Bible Church recently moved their weekly service to 461 Central Avenue, where they meet each Sunday morning at nine o'clock. The service combines worship in music, prayer, fellowship, and verse by verse teaching from the Bible.
Heritage Valley Bible Church exists to share Jesus' message of love and the forgiveness of sin, while also training up mature followers of Christ through the regular teaching and application of God's Word. They believe the Bible is sufficient to guide people to live a joy-filled, God-honoring life, and invite others to come discover what great things God has in store for those who trust Him.
Pastor Larry Bouligny joined their fellowship in June of 2011. He was trained at The Master's Seminary in the San Fernando Valley and has a heart to make disciples of Christ through expository preaching, corporate prayer and Christian fellowship. He lives in Fillmore with his wife, Becca, and two young sons.
In addition to the Sunday morning service, Heritage Valley Bible Church also hosts a Sunday evening home bible study, weekly Wednesday night prayer meeting, and a monthly fellowship lunch.
Learn more by visiting Sunday morning at 9 a.m. at 461 Central Ave. in Fillmore, online at http://www.hvbible.org/, or by phone at 524-5494.
By Gazette Staff Writer — Tuesday, September 25th, 2012
Sacramento, CA - With schools in California trying to figure out how to implement new gay history mandates, some ideas that may be introduced next week are spurring fresh controversy.
Critics of the new law, SB 48, are concerned that October, which has been designated as Lesbian, Gay, Bisexual and Transgender History Month, is already being used to distort and politicize history. Attorneys at the Pacific Justice Institute, which led signature-gathering efforts that fell short of getting an SB 48 repeal on the ballot, argue that most of the 31 selections for this year's list of gay "icons" are inappropriate for K-12 audiences.
This year's list, which can be found at www.lgbthistorymonth.com, includes a drag queen, the first person believed to have had a sex-change surgery, several political and same-sex marriage activists, and a baseball player with 2 career home runs. One of the better-known individuals on the list is Katharine Lee Bates, who wrote "America the Beautiful." Bates never claimed to be lesbian, but she is deemed an LGBT icon because she never married and had a close relationship with a female colleague who she lived with for many years.
Last year's LGBT History Month drew fire for highlighting controversial entertainer Lady Gaga. The event also ignited controversy in New Jersey, where officials called for the firing of a teacher who dared to criticize it on her personal Facebook page.
Brad Dacus, president of Pacific Justice Institute, commented, "What we are already seeing in advance of LGBT History Month underscores why we fought SB 48 and why we continue to fight for sanity in social studies. Young children learning patriotic songs like 'America the Beautiful' don't need to hear about the author's alleged sexuality. Nor should our kids be learning that drag queens, activists and politicians are important because of their behavior in the bedroom."
PJI is encouraging parents to talk to their kids' teachers and principals to find out whether they will be promoting LGBT History Month in October. PJI is also offering to represent teachers who conscientiously object to requirements that they teach revisionist or politicized history.
Pacific Justice Institute is a non-profit 501(c)(3) legal defense organization specializing in the defense of religious freedom, parental rights, and other civil liberties. Pacific Justice Institute works diligently, without charge, to provide their clients with all the legal support they need.
By Gazette Staff Writer — Tuesday, September 25th, 2012
By Gazette Staff Writer — Wednesday, September 12th, 2012
It's time to register children for catechism. Families who have children in Grades 1 and 2 please pick up a registration forms in the Vestibule or Parish Office. Families who have children in Grades 3,4,5,6, please come to our First Communion registration meeting is on Wednesday September 26 at 6PM in the church. It is very important to send our children to catechism, sports are important, but please do not put them before Jesus. Please be sure to sign up your children for catechism.
4 Stages of Marriage – The 4 stages of marriage are: (1) Romance, (2) Disillusionment, (3) Misery,.. If your marriage suffers, and then to (4) Awakening. Many marriages experience the first 3 Stages. Marriages that end in divorce never make it to the 4th Stage of Awakening.
Don't give up CONTINUED »
By Gazette Staff Writer — Wednesday, September 12th, 2012
CAMARILLO, CA - St. John's Seminary announced today that it will honor five long time Catholic leaders at its Fifth Annual Distinguished Alumni Dinner on Sunday, September 30th at St. John's Seminary in Camarillo.
Alumni to be honored include Monsignor Timothy J. Dyer, Pastor of St. Patrick and St. Stephen of Hungary Parishes in Los Angeles; Cardinal William J. Levada, Prefect Emeritus of the Congregation for the Doctrine of the Faith at the Vatican; Monsignor Jeremiah J. McCarthy, Executive Director of the Seminary Department of the National Catholic Education Association; Monsignor Donal Mulcahy, Pastor Emeritus of Our Lady of Assumption Parish in Ventura; and Marvin J. Southard, DSW, Director of the Los Angeles County Department of Mental Health. These alumni will be honored for many years of service to the Church and wider community in which they have ministered, says Monsignor Craig Cox, Rector and President of St. John's.
"Our Distinguished Alumni Dinners at St. John's have become an opportunity to recognize celebrate the achievements of our alumni and welcome them back to our campus to share a special evening with their families, friends and the seminary community," says Msgr. Cox. "Their lives model for our seminarians a profound dedication to Christ and the Church, a vision of living out our baptismal and priestly vocations. We are looking forward to honoring them and many more of our exceptional alumni in the future."
The evening includes CONTINUED »
By Gazette Staff Writer — Monday, September 10th, 2012
The Bardsdale United Methodist Women will host their fall Courtyard Sale on Saturday, October 6, from 8 am until noon.
Shoppers will find great bargains on clothing, housewares, home furnishings, knick-knacks, holiday items, toys and more.
If you have any items you would like to donate, please call Marcia, 524-3674, or the church at 524-2070.
The church is located at 1498 Bardsdale Avenue.
By Gazette Staff Writer — Tuesday, September 4th, 2012
Fillmore, CA - The Right Reverend Diane Jardine Bruce, the first woman elected bishop in the history of the Episcopal Diocese of Los Angeles, will be making a pastoral visit to Trinity Church in Fillmore on September 23, 2012. She will preach and preside at the 9:00 service of Holy Eucharist. Everyone in the community is invited.
Along with Bishop Mary Glasspool, Bishop Bruce assists the Bishop Diocesan J. Jon Bruno in ministry to the diocese, which spans six counties and comprises approximately 150 parishes, missions, and other institutions. Bishop Bruce's responsibilities include multicultural ministries, stewardship, and oversight of the congregations in the southern third of the Diocese.
Prior to her election as bishop suffragan in 2009, Bishop Bruce served 10 years as rector of St. Clement's by-the-Sea Church in San Clemente. She was previously associate rector of the Church of the Messiah, Santa Ana, California. Prior to ordination she served Wells Fargo Bank as vice president, compensation management and analysis. She was employed by Wells Fargo (formerly Crocker Bank) in various capacities since 1980.
Ordained a priest in 1998 in the Diocese of Los Angeles, Bishop Bruce speaks Spanish, Mandarin and Cantonese as well as English. She holds a doctoral degree from Seabury-Western Seminary as well as a master of divinity degree from the Claremont School of Theology and a bachelor's degree in linguistics from the University of California at Berkeley.
Please join us for this historic visit. Trinity Church can be found at the corner of Second and Sarasota streets in Fillmore and on the web at www.trinityfillmore.org.