By Gazette Staff Writer — Wednesday, June 6th, 2012
This Sunday, Bishop Mary Ann Swenson of the United Methodist Church's California-Pacific Annual Conference will deliver the message as the Bardsdale United Methodist Church concludes its two week celebration of its 120th birthday.
Bishop Swenson oversees over 400 churches in Southern California from San Luis Obispo County to San Diego as well as the churches in Hawaii, Guam and Saipan in the Pacific.
Visioning for the future will be the theme this Sunday.
Following the 10 am worship will be a traditional Methodist potluck. There will be no 8:30 casual service this Sunday. It resumes June 17.
By Gazette Staff Writer — Tuesday, May 29th, 2012
This Sunday, June 3, the celebration begins to commemorate the 120th birthday of the founding of the Bardsdale United Methodist Church. Beginning with the 10 am worship service, the focus will be on looking back over the past twelve decades as a fledgling church took root and continues to grow today.
Retiring Santa Barbara District Superintendent, Rev. Catie Coots and current pastor, Rev. Kent Fromer, will be joined by former Bardsdale ministers Craig Brammer, Dr. Bob Ness and Ed McRae in leading the service.
At approximately 11:15, Organist Dennis Prichard will play a selection of period pieces on the Schoenstein organ to be followed at 11:30 by some sharing of special memories of life in the historic church. There may also be sing-a-longs and skits.
Being good Methodists, you know there has to be food. A celebration luncheon begins about 12 noon with indoor or outdoor seating followed by a special birthday cake.
After the meal, there will be antique car rides and tours of the church along with displays of historic photos. There will be information about the many mission projects and activities of the church.
The day will conclude at 2 pm with a Blessing Prayer and the tolling of church's bell.
The celebration will conclude June 10 with the theme of looking ahead to the next 120 years. Bishop Mary Ann Swenson will deliver the message on this day. (Please note that there will NOT be an 8:30 casual service on these two celebratory Sundays.)
By Gazette Staff Writer — Tuesday, May 29th, 2012
Abraham asked the Lord to spare 50 righteous people. God responded to Abraham's plea "If I find in Sodom fifty righteous within the city, then I will spare all ....Genesis 18:16-33
The movie " Corpus Christi " is due to be released this June to August. A disgusting film set to appear in America later this year depicts Jesus and his disciples as homosexuals! As a play, this has already been in theaters for a while. It's called "Corpus Christi" which means "The Body of Christ". It's revolting mockery of our Lord. But we can make a difference.
That's why I am sending this e-mail to you. If you do send this around, we just might be able to prevent this film from showing in America and the Philippines. Let's stand for what we believe in and stop the mockery of Jesus Christ our Savior. Where do we stand as Christians? At the risk of a bit of inconvenience, I'm forwarding this to all I think would appreciate it, too. Please help us prevent such offenses against our Lord. There is no petition to sign, no time limit, or minimum number of people to send this to.. It will take you less than 2 minutes!
If you are not interested and do not have the 2 minutes it will take to do this, please don't complain when God does not have time for you because He is far busier than we are. Hey it's worth a shot!
Apparently, some regions in Europe have already banned the film. All we need is a lot of prayer and a lot of e-mails.
LET'S GET THE WORD OUT!
....Will God be able to find at least 50 righteous people who are willing to express their concern and voice their opinion against this act of blasphemy.
Her children rise up and call her blessed (happy, fortunate, and to be envied).
Proverbs 31:28, AMP
By Gazette Staff Writer — Wednesday, May 23rd, 2012
Journey Around the World and Deep into the Faith "Experience the "most vivid Catechism Ever Created"
Creator and host Fr. Robert Barron illuminates what Catholics believe and why, while immersing you in the art, architecture, literature, music and all the riches of the Catholic tradition. *Brad Miner, The Catholic Thing blog Father Artur, will present this exciting 10 week course on Sunday afternoons from 3 to 4:30PM at Saint Francis of Assisi Church, 1048 W. Ventura Street. We begin on Sunday June 26th and end on August 26. Please join us for this popular course! No registration needed. Free to everyone!
By Gazette Staff Writer — Wednesday, May 16th, 2012
Praying for our loved ones in active military service... Lord, Please protect and guide;
• Sergeant Ricky Barajas, U.S Army Kuwait, the 420th movement control Battalion. Son of Ricky & Anna Barajas, Grandson of Salomon & Eloisa Barajas & Javier & Maria Zendejas
• Sergeant Michael Anthony Chavez, Air Force computer specialist, Edwards air force base Grandson of Adon & Lola Chavez.
• 1st Lieutenant Chris Gurrola, Air Force Pilot Training, Corpus Christi , Texas
Son of Tim & Amy Gurrola
Specialist, Eleazar Lopez, US Army,
Infantry, Fort Lewis, Washington
Brother of Victoria & Sofia Lopez
• Private First Class, Joshua Luna, US Army, Afghanistan Bravo Troop, 5-1, Grandson of Frank & Rosie Luna
• Private first class Michael O'Neil , US Army, Afghanistan intelligence division Grandson of Dick Diaz,
• Ltc. Gordon A. Richardson, U.S. Army. Fort Leavenworth, Kansas, Nephew of Charles & Alyce Richardson.
• Private, First Class , Paul Warnke, US Army, 82nd Airborne Division, Grandson of Al & Helen Rosette.
FAMILIES OF NAZARETH MOVEMENT
if you are single, married, a parent, a grandparent, or in college... Families of Nazareth Movement is for YOU! We meet on Tuesday evenings at 7:30pm. Call Marie at 509-0467 for more information.
We are now on Facebook
Look for us - Saint Francis of Assisi Roman Catholic Church Fillmore California
Resurrect your Marriage!
A Worldwide Marriage Encounter Weekend is full of fresh love, rebirth and new beginnings. All married couples deserve a richer, fuller life together! The next WWME Weekends are July 20-22 and Sept 21-23 in Chatsworth. Apply online at www.twocanlove.org or call Jeanine and Russ Walker at 805-648-4244.
PLEASE ATTEND OUR EUCHARISTIC PROCESSION
We will have a Corpus Christi Eucharistic procession on June 10th following the 1PM Mass. We need 5 families to make altars for the Blessed Sacrament. Children are invited to wear their first communion clothes and small children are encouraged to dress as angels. If you are interested in making an altar, please see Fr. Barney
Memorial Day Mass on Mon., May 28, 2012 at 10am at Santa Clara Cemetery in Oxnard
Today is our 2 second collection for the Cardinal McIntyre Fund for Charity.
BE IMITATORS OF CHRIST
Together in Mission helps our poorer Catholic parish and schools keep their doors open in our Region. If you forgot to return your pledge for Together in Mission, commitment pledge forms are in a box in the vestibule, sacristy and pastoral center office. It's simple to return, drop your pledge in the collection or mail it to; Saint Francis of Assisi 1048 West Ventura Street, Fillmore, CA 93015
"Rejoice in the Lord Always!"
Young Adults Annual Weekend Retreat June 8-10th, 2012
Come and experience the grace of the 27th World Youth Day. This year's theme is Rejoice in the Lord always. It is the Church's vocation to bring joy to the world. Join us to understand how true joy can transform your heart. The retreat begins on Friday at 7pm and concludes Sunday at noon. Cost: $125 per person. A $50 deposit confirms your reservation Telephone 626-355-7188 Facsimile 626-355-0485 www.materdolorosa.org
By Gazette Staff Writer — Wednesday, May 16th, 2012
Note from Jan: In over 30 years of watching the signs of the times, I have never seen such a convergence of indicators that reveal our time is short. So as we consider evil, take it to the next step: It heralds our times and it tells us that His return is at the door. The Bible says that a last generation will be "as the days of Noah." Those days were wicked and violent.
In the vernacular of today, George Soros is one evil dude. He's a puppet master. He's pulling the strings of almost everything that is wicked. He's one of the primary one-worlders. He has a war against good. He just does what is right in his own eyes even if that collapses nations.
Jack Kinsella has given me permission to send this report from last January. He is one of my most frequent radio guests. I encourage you to subscribe to his daily Omega Intelligence Letter here.
Written by Jack Kinsella, www.olivetreeviews.org
George Soros was born in Budapest, Hungary in 1930, meaning he will turn eighty-two this August. Soros likes to call himself a philosopher and a philanthropist, but his philosophy is the overspreading of Marxist-style S
ocialism and his philanthropy is limited to funding far-left partisan groups and causes.
Soros' main claim CONTINUED »
By Gazette Staff Writer — Wednesday, May 2nd, 2012
The Bardsdale United Methodist Women invite you to a Mother's Day Tea and "almost fashionable" Fashion Show on Saturday, May 12, at 2 p.m. You will enjoy a variety of tasty treats and teas as you enjoy a display of fashions rescued from the recent Courtyard Sale. A suggested donation is $15.00. The funds raised will help support the Bardsdale Bell Choir as they prepare to attend the AGEHR conference in June. Call the church at 524-2070 for more information.
By Gazette Staff Writer — Monday, April 30th, 2012
"Blessed is the nation whose God is the Lord!" Ps. 33:12 And God has blessed America in many ways. Each year, Christians gather all across our nation to celebrate God's goodness and to pray for His guidance. This year Fillmore will participate again in the annual National Day of Prayer. Thursday, May 3rd is that day. This year's theme is "One Nation Under God." Christians from all across Fillmore will gather at this year's chosen church, Promesa de Jesus/ Faith Community Church @ 461 Central Avenue. A number of Fillmore area pastors will participate. There will also be singing and some congregational interaction. We will pray for our nation, our national & state leaders, our community & schools and other things related to our nation's future. Anyone who loves this country and wants to pray for its future is welcome to come. Meeting will be held at 7 p.m. For information call 524-5564 or 524-3344.
By Gazette Staff Writer — Wednesday, April 18th, 2012
Congratulations to all our Youth who will be sealed with the gift of the Holy Spirit in the Sacrament of Confirmation this Saturday, April 21st at 10AM. Your parish family is very proud of you.
Our 2012 Youth Candidates are: Deana Aguilar, Karina Aguilar, Raquel Aguilar, Guadalupe Aguirre Jr., , Minelia Arevalo, Liliana Becerra, Christian Betancourt, Jason Camarillo, Marissa Carrillo, Christian Cortez, Felipe Cortez, Gustavo Cortez, Sarena De La Cruz Mayra Flores, Fabian Gutierrez, Robert Herrera, Nicholas Johnson, Jose Lomeli Jr. , Salvador Lopez, Sara Lopez, Jose Madrigal, Kaitlyn Magaña, Kendra Magaña, Kathya Mateo, Carlos Mercado, Analissa Morales, Juan Moreno, Bryan Muños, Brooke Pimentel, Jessie Ponce, Sandra Ponce, Kiana Ramirez, Valery Rodriguez, Rogelio Santa Rosa, Martin Soria, Rudy Soria, Erika Texin, Alex Tovar, Josué Valenzuela, and Vincent Vargas Jr.
First communion news CONTINUED »
By Gazette Staff Writer — Tuesday, April 10th, 2012
Spring and summer is going to be a joyous and busy time at the Bardsdale United Methodist Church so we invite you to mark your calendars and join us for all or some of these events.
On Sunday, April 22, at 3 PM, Fillmore High graduate, Dr. Grey Brothers, will bring an ensemble of singers from Westmont College to present a musical program that's sure to please all who attend. Dr. Brothers is the son of John and Myrt Brothers, long-time former teachers in Fillmore.
The following Saturday, April 28, will be the popular spring Courtyard Sale from 8 until noon. Shoppers will be amazed at the variety of bargains they find inside and out. Proceeds benefit the ministries of the United Methodist Women.
Returning for its CONTINUED »
By Gazette Staff Writer — Tuesday, April 3rd, 2012
David Kinnaman's book is based on nationwide study
THOUSAND OAKS, CA - The author of a new book on why young Christians are leaving the church will speak at 8 p.m. Thursday, April 19, in Overton Hall at California Lutheran University.
David Kinnaman of Ventura will discuss his book "You Lost Me: Why Young Christians are Leaving Church … and Rethinking Faith," which was released in October. In it, he uses research to show how pastors, church leaders and parents have failed youth and why this will have long-term consequences for young adults and churches. With the help of contributors from across the Christian spectrum, Kinnaman offers adults ideas for passing on a lasting faith and provides young people with suggestions for developing and maintaining faith throughout their lives.
Based on a new nationwide study conducted by the Barna Group of 18- to 29-year-olds with a Christian background, the book counters persistent myths about young dropouts. Kinnaman is the president of Barna.
Kinnaman also wrote CONTINUED »
By Gazette Staff Writer — Wednesday, March 28th, 2012
Palm Sunday at Saint Francis of Assisi - All are welcome on; Saturday 5PM Sunday 9:15 and 11:15 AM Domingo 7AM 1 & 6PM
For the Palm Sunday Gospel, we return to the Gospel according to Mark. The account of the Passion takes up nearly one-third of Mark's entire Gospel and, of all the evangelists, he is the one who presents the details most graphically. He depicts the humanity of Jesus most intensely, describing his sufferings thoroughly. Mark portrays Jesus as a complete fulfillment of the "Suffering Servant" of Isaiah, the obedient, humble slave dying on
a cross of whom Paul speaks in Philippians. But it is important to remember that we call this "Holy Week" and not "sad week" or "suffering week," for each of the readings today, even the lamentations of the psalm, end in the promise of the strength and hope that is granted by God to those who faithfully give of themselves in love. As we enter into this week through these readings, we must reflect deeply on the sufferings of Jesus, but still be confident in the joy of risen, eternal life that awaits all of us who faithfully walk with him through these days.
Our Bilingual Holy CONTINUED »
By Gazette Staff Writer — Wednesday, March 14th, 2012
TONIGHT AT 6PM - We will have Eucharistic Adoration during confession. Various priests will hear individual confession. Bring your friends and family. Mass in Spanish will follow.
This Sunday at 3PM Father Peter Banks a Capuchin Franciscan will offer us an afternoon Lenten reflection in the church. Hospitality will follow either in the the courtyard or parish hall. Fr Peter is a wonderful speaker, everyone is invited to be inspired on this Fourth Sunday of Lent.
Easter Eggs
Could you help with our Easter egg hunt? We are in need of plastic filled eggs that are sealed with scotch tape. Bring them to the Pastoral Center or to the box in the sacristy. In the Name of our Parish Children. Thank you.
By Gazette Staff Writer — Monday, March 12th, 2012
A Castle Playhouse Opportunity Drawing
Westlake Village, CA — Habitat to the Max, one of the outreach ministries at St. Maximilian Kolbe Catholic Church in Westlake Village, will host their Annual Fundraising Dinner, Silent and Live Auctions and Opportunity Drawing on March 31, 2012 to raise funds for their fifth Habitat for Humanity home. Dinner tickets are on sale for $50 each. Contact Mary at 818-970-8121 to purchase tickets or for more information.
This year, Habitat to the Max's very special Opportunity Drawing Prize is an amazing castle playhouse for children. It was designed and built by members of Habitat to the Max Ministry and Habitat for Humanity volunteers. The castle was sponsored by ServiceMaster Clean Disaster Restoration Ventura County Franchisees (Todd Russell and Bruce Mason of ServiceMaster by T.A. Russell, and Hayko Aldzhikayian of Service Master by C2C Restoration).
The winner of the Opportunity Drawing will receive the castle playhouse, along with three sets each of the prince and princess costumes, all handmade furniture, accessories, moving and set up within a 50 miles radius of Westlake Village, CA.
Opportunity Drawing tickets are on sale until the drawing on March 31. You can purchase a single ticket for $10.00, 3 tickets for $25.00, 7 tickets for $50.000, 15 tickets for $100.00, and 100 tickets for $500.00. You do not have to be present to win. The winner will be notified by phone. Contact Mary at 818-970-8121 to purchase tickets or for more information.
If you win, but CONTINUED »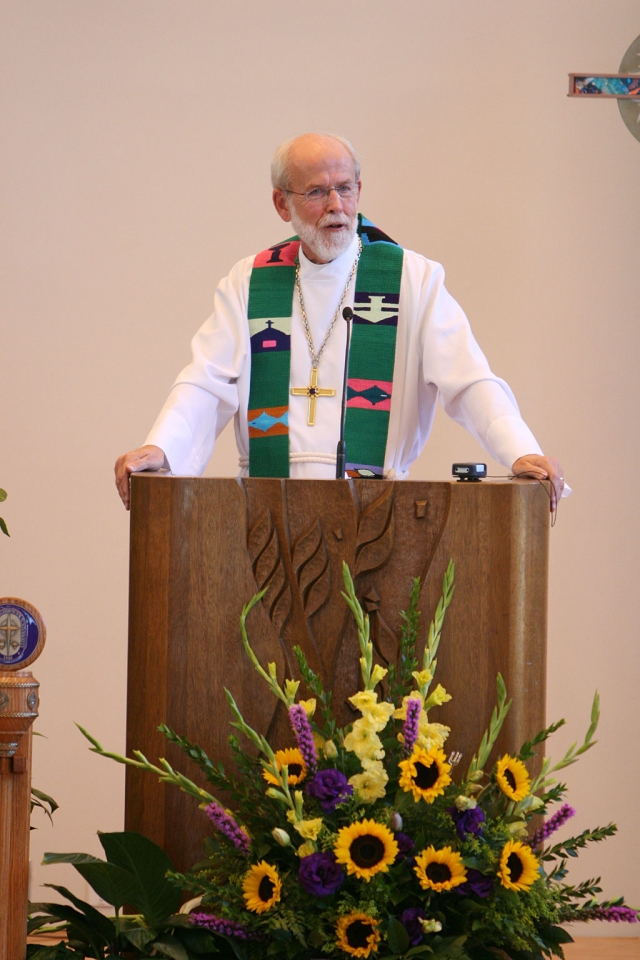 Rev. Mark Hanson
Enlarge Photo
By Gazette Staff Writer — Wednesday, February 22nd, 2012
Keynote presentation at CLU is open to public
THOUSAND OAKS, CA - The public is invited to the keynote presentation of a higher education conference at California Lutheran University that is part of a national initiative to explore the idea of vocation on college campuses.
The Rev. Mark Hanson, presiding bishop of the Evangelical Lutheran Church in America, will discuss "Vocation and Reflection" at 7:30 p.m. Friday, March 9, in Samuelson Chapel.
The talk will kick off a two-day conference for NetVUE, the Network for Vocation in Undergraduate Education. The regional gathering, one of seven being held throughout the country in 2011-2012, will focus on vocation as it relates to experiential learning. Presenters will discuss civic engagement, study abroad and service learning.
CLU geology professor CONTINUED »
By Gazette Staff Writer — Tuesday, February 21st, 2012
SAINT FRANCIS OF ASSISI ACADEMY
St. Francis of Assisi Academy is now accepting applications for the school year 2012/2013. This is a Pre– K program (must be 4yrs. by December 1st 2012). Program is from 8:30a.m. to 11:30a.m. From September 2012 to Mid June 2013. For applications or more information please come to the Parochial Center, or call Maggie at 805-524-1306
SAINT SEBASTIAN SCHOOL SERVES 3 PARISHES AND OURS IS ONE OF THEM.
We are enrolling now for the 2012-2013 school year. If interested, please call us for more information or stop by any time to visit a classroom. Applications are also available for tuition assistance from CEF (Catholic Education Foundation). Applications can be picked up at our school office and are due back to our office by Friday, March 3. Telephone 525-1575
6 HOUR Voltive Candles
We have small CONTINUED »
By Gazette Staff Writer — Wednesday, February 8th, 2012
Event offers learning, fellowship for Lutheran adults
Julia Fogg
THOUSAND OAKS, CA - Senior Fest 2012 will cover topics ranging from computer basics to community gardening at California Lutheran University on Tuesday, Feb. 28.
With the theme of "Loving God When We're Well & Loving God When We or Someone We Love Is Ill," the event will run from 9 a.m. to 4 p.m. at the Thousand Oaks university. Senior Fest brings Lutheranstogether for learning, devotions and fellowship to enhance their physical, spiritual, social and intellectual lives.
Keynote speaker Marva J. Dawn, an internationally renowned theologian and author, will make presentations at 9:30 a.m. and 1 p.m. in Samuelson Chapel. Dawn leads the nonprofit Christians Equipped for Ministry in its mission to prepare professionals and lay people for deeper Bible study and more active involvement in Christian life and ministry. A popular speaker for people of all ages, the Washington resident has preached and taught at seminaries, clergy conferences, churches, assemblies and universities throughout the world. She continues despite severe health issues, including a leg amputation that she discusses as a way to share her faith and convictions. Dawn has written more than 20 books, several of which have wonawards and been translated into languages including Chinese, Korean and Portuguese. She is a teaching fellow in spiritual theology at Regent College in Vancouver and holds four master's degrees and a doctorate.
Senior Fest also CONTINUED »
By Gazette Staff Writer — Wednesday, February 1st, 2012
St. Francis of Assisi Academy is now accepting applications for the school year 201/2013. This is a Pre-K program (must be 4years by December 1st 2012) Program is from 8:30 to 11:30 a.m. From September 2012 to Mid June 2013. for applications or more information please come to the Parochial Center, or call Maggie at 805-524-1306.
By Gazette Staff Writer — Monday, January 23rd, 2012
Performers include new CLU Gospel Choir
THOUSAND OAKS, CA - California Lutheran University will present a free gospel concert for the first time at 8 p.m. Friday, Feb. 10, in Samuelson Chapel.
The new CLU Gospel Choir, which formed in September, is one of the acts performing at the "Black History Concert: The Sunday Morning Experience." The show will feature a variety of soloists, choirs and groups singing both traditional and contemporary gospel music.
V3, an Oxnard- and Los Angeles-based group, will sing traditional gospel music. The group's director, Brandon Binder, also conducts the CLU Gospel Choir. Other featured performers will include William Johnson and the gospel group Purpose.
The chapel is located south of Olsen Road near Campus Drive on the Thousand Oaks campus.
For more information, contact Daniel Lawrence at 805-493-3489 or lawrenc@callutheran.edu.
By Gazette Staff Writer — Tuesday, January 10th, 2012
Peace Pole ceremony to follow in rose garden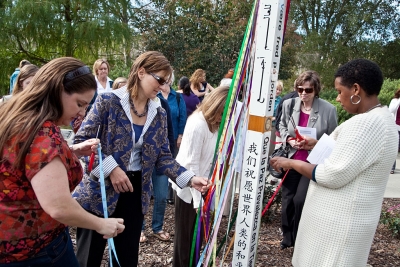 2011 Peace Pole ceremony
Enlarge Photo
THOUSAND OAKS, CA - California Lutheran University will honor Martin Luther King and others who promote peace and social justice with chapel and Peace Pole services on Wednesday, Jan. 25.
The chapel service will begin at 10:10 a.m. in Samuelson Chapel. It will feature gospel and inspirational music highlighting the idea of starting within oneself to make a change in the world. Students and members of the staff and community will recite the "I Have a Dream" speech given by the late civil rights leader and Nobel Peace Prize recipient.
Following the service, the university will affirm its commitment to peace and challenge attendees to do the same at the CLU Peace Pole in the chapel rose garden.
The chapel is located south of Olsen Road near Campus Drive in Thousand Oaks.
The Office of Campus Ministry, Black Student Union and Multicultural Programs are sponsoring the free event. Call 493-3489 for more information.