By Gazette Staff Writer — Wednesday, June 8th, 2011
Call to Artists, $500 in Prizes
The Ag Art Alliance is now accepting entries for the 4th Annual Art About Agriculture Exhibit at the Santa Paula Art Museum (www.santapaulaartmuseum.org) to open on November 5. Deadline for entries is September 23. To request a Prospectus with Rules and Guidelines and Entry Form from John Nichols at agartalliance@gmail.com.
The Ag Art Alliance was formed in 2007 by Gail Pidduck and John Nichols. The purpose of the exhibit is to promote Art About Agriculture by exploring all the facets of agriculture from workers to water, from machinery to fields and to the food that goes on our plates.
Art about Agriculture is open to all artists over the age of 18 working in both two and three-dimensional media who create art that in some way draws its inspiration from our agricultural heritage and/or contemporary agriculture. That inspiration may include, but is not limited to, depictions of rural landscape, farm animals, farm products, rural life, or art that in a more abstract way deals with issues and ideas related to agriculture.
All styles of work are considered: painting, drawing, photography, sculpture, mixed media, ceramics, batik, metals, and tapestry.
Specifications
Artists may enter a maximum of 3 works. Work should not exceed 150 pounds and the size limit is 36x48. Wall hung work must be framed and ready for hanging. Works on paper should be glazed. The Ag Art Alliance reserves the right at all times to exclude any work that presents complex exhibition challenges. Only work created in the last two years and not previously shown in an Art About Agriculture show will be considered.
Entry Requirements
Selection will be made from digital images emailed to the Ag Art Alliance at agartalliance@gmail.com or sent by mail on a CD with 1-3 images (300 pixels per inch at about 4x5 inches. This size usually reproduces well in newspapers and magazines. (If the image is too large for email use a service like Pando or YouSendIt). No PowerPoint or similar presentations. Include name, contact information, medium, titles, sizes, and prices. Images must be received by September 23, 2011.
Jurors
Works for the exhibition will be selected by a panel of Ag Art Alliances curatorial staff and John Nichols and Gail Pidduck.
Sales
All artwork must be for sale to be eligible for the exhibit. The Santa Paula Art Museum and the Ag Art Alliance receive a 40% commission on all sales.
Prizes
There will be $500 in prizes awarded by a panel of judges.
Fees
If you are mailing your art submission please include a non-refundable processing fee of $30. If you are emailing your submission please send the processing fee by mail or using Pay Pal. Address for PayPal payments is john@sespe.com. No submissions will be viewed until the processing fee is received. The fee covers the submission of up to 3 images. Make checks and money orders payable to the Ag Art Alliance.
By Gazette Staff Writer — Tuesday, June 7th, 2011
Ventura, CA - Community Memorial Hospital's first-floor lobby and hallways is decorated with a vibrant and eclectic mix of paintings and drawings by local artists as the hospital holds its "Splashes of Color" art exhibit that began Monday and will run through Sept. 14.
A "Meet the Artists" reception is set for Tuesday, June 28, from 5 to 7 p.m., in the hospital's first-floor lobby. This event is open to the public.
The exhibit, a joint partnership between CMH, the Buenaventura Art Association and the Community Memorial Healthcare Foundation, is located on the first floor at Community Memorial Hospital, 147 N. Brent St. in Ventura. Any proceeds are used for future exhibits as well as to benefit local artists and the foundation's philanthropic efforts.
The exhibit's theme, according to Layla Hallberg, executive director of the Buenaventura Art Association, came in a sudden burst of inspiration during an organizing meeting. Committee members were struggling to come up with a theme, Hallberg said, when Haady Lashkari, a Community Memorial Health System administrator, blurted out, "Why don't we just call it 'Splashes of Color'?"
"We all thought that was absolutely an appropriate theme," Hallberg said. "The colors will give the hospital a good, summertime feeling."
For the exhibit, local artists were asked, "What does 'Splashes of Color' mean to you? Watermelon dribbling down a chin 
A sprinkler in summer 
Abstract shapes? Whatever it means, we want to see your interpretation."
About 50 artists answered the call, Hallberg said, and the 85 works on display will cover "all sizes, styles and mediums. It's a really good group."
Community Memorial Hospital is a member of Community Memorial Health System, a not-for-profit health system, which is comprised of Community Memorial Hospital, Ojai Valley Community Hospital, and nine family-practice health centers entitled Centers for Family Health. The health system is located in Ventura County, California.
By Gazette Staff Writer — Monday, June 6th, 2011
Ten Ventura County artists will produce complete works in just two hours as part of a unique event entitled "Art in Two," June 11, from 5:30 to 8 p.m. at the Buenaventura Art Association Gallery in Ventura.
The works will feature a variety of styles, including landscapes, seascapes, Plein Air, impressionism and realism in mixed media, water colors and oil. Each piece will progress from initiation to completion while onlookers watch, and then will be auctioned off to those in attendance.
The event is being organized by the gallery to benefit the Brain Injury Center of Ventura County, a non-profit organization serving people with brain injuries and their families to help them lead better lives. All of the artists are donating their works to the cause.
Featured artists include some of the most prominent painters in the region, including Gloria Rubio, Christine Leong, Georgia Lee Scarlott, Tassia Erickson, Paulo Ruvalcaba, Kitty McGinnis, Thomas Pratley, Jackie Urband, Michelle Baggenstoss and Brent Hanson.
Reservations can be made by calling event organizers Stephanie Garman and Holly White at 805.650.6980, or by calling the Brain Injury Center at 805.482.1312. They can also be ordered online at www.BrainInjuryCenter.org. The cost is $50 per person and includes wine and refreshments. Attendance is limited to 100 people.
By Gazette Staff Writer — Tuesday, May 31st, 2011
June 11, 2011
SANTA PAULA, CA – A retrospective exhibit of works by beloved Santa Paula artist Norman Kirk will open at the Santa Paula Art Museum, 117 N. 10th Street, Santa Paula, on Saturday, June 11, 2011 with an opening reception from 4 – 6 p.m. To request an invitation please call the Museum at 805-525-5554 or email info@santapaulaartmuseum.org.
Norman Kirk has explored a broad spectrum of two and three dimensional mediums in a diverse variety of approaches throughout his career, but is best known for his watercolor paintings.
"It is an honor for the Santa Paula Art Museum to be able to feature Norman Kirk's work. He is a true Santa Paula treasure," said Jennifer Heighton, Executive Director of the Museum. "The exhibit will include a number of his earliest paintings, some have never been seen. It is rare to have such a comprehensive collection of an artist's work in a single exhibit."
Kirk was schooled in the classics at the Cleveland Museum of Art and continued his studies at the Los Angeles Center School of Design, UCLA, Chouinards and De Paul University.
Mr. Kirk taught watercolor painting at Ventura College for 18 years and often conducts private workshops. In 1984, he was selected to execute a series of watercolors illustrating the Lake Casitas Olympic events for presentation to both local and international officials. His painting of the original winery at the Old Creek Ranch Winery and his current watercolor of the Noble Oak Vineyard and Winery grace the fine wine from the Ojai Valley.
Kirk is a signature member of the National Watercolor Society and Watercolor West. He is a published artist and is currently represented in several galleries in California. Mr. Kirk was the cover artist and program book illustrator for the Ventura County Design House and has painted extensively throughout the USA, Europe and Caribbean.
The exhibit will run until October 9th, and may be viewed during regular Museum hours: Wednesday – Saturday, 10 AM – 4 PM, and Sundays, 12 PM – 4 PM. The Museum is located at 117 North 10th Street, Santa Paula, CA 93060.
By Gazette Staff Writer — Tuesday, May 31st, 2011
Youth can sign up for solo, choral program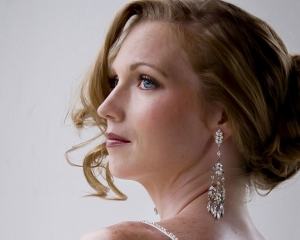 Master Teacher Angela Rasmussen Hicks.
THOUSAND OAKS, CA. - The California Lutheran University Summer Vocal Institute is now accepting registrations for its two-week program in July.
The program for 12- to 19-year-old aspiring singers begins on Sunday, July 10, with orientation and coaching sessions. It will continue from 9 a.m. to 4:15 p.m. Mondays through Fridays through July 22.
The institute covers vocal technique, solo repertoire and performance. Students will explore their voice and artistry through one-on-one coaching, daily master classes and course work in technique, sight singing, performance etiquette, interpretation, movement, and classical and musical theater repertoire.
Both weeks will include a mix of choral and solo singing. Wyant Morton, who chairs the music department and conducts the chorale ensembles at CLU, will lead an intense week and a half of ensemble singing that will culminate in a concert. Master teachers Angela Rasmussen Hicks, a mezzo-soprano, and Heidi Valencia Vas, a classically trained soprano, will focus on solo singing with students. Both Hicks and Vas are CLU faculty members.
The program features opportunities to attend and perform in concerts. There will be three performances that will be open to the public. Hicks and Vas will perform at 7 p.m. Wednesday, July 13. The Choral Concert will be at 7 p.m. Wednesday, July 20, and the Solo Vocal Works Concert will be at 7 p.m. Friday, July 22. All concerts will be held in CLU's Samuelson Chapel.
The institute is open to youths of all levels, whether they just started singing in a choir or have been studying voice for several years. Enrollment is limited to preserve the individualized nature of the program.
Tuition is $865. To register or for more information, go to http://www.callutheran.edu/music/svi or call (805) 405-0148 or (818) 605-3944.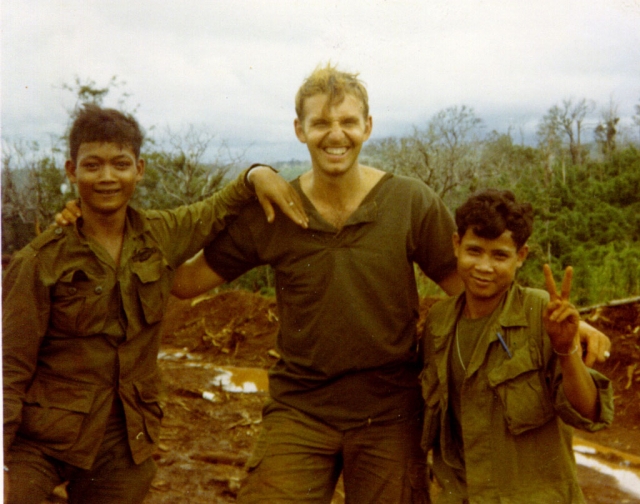 Theatre arts professor Michael J. Arndt poses with two Kit Carson Scouts in Vietnam in 1970.
Enlarge Photo
By Gazette Staff Writer — Tuesday, May 31st, 2011
CLU professor produces piece after return to Vietnam
THOUSAND OAKS, CA. - A California Lutheran University professor will present the first workshop reading of his piece based on his service in the Vietnam War and interviews with combat veterans from six wars at 7 p.m. Saturday, June 18.
"Under Fire: Stories of Combat Veterans Across Generations" by theatre arts professor Michael J. Arndt of Thousand Oaks will be presented in the Preus-Brandt Forum.
Drafted into the army after graduating from college in 1968, Arndt was an infantryman who conducted reconnaissance missions and was involved in 52 combat assaults. Last year, he returned to the battlefields of Vietnam for the first time to confront the traumatizing memories of what he had seen there.
Arndt took a sabbatical from CLU and received funding from the Ventura County Arts Council's Artists in Community Partnership Grants Program to put his experiences and those of other combat veterans into a theater piece. He worked with the local chapters of the Military Order of the World Wars and the Military Order of the Purple Heart to conduct more than 15 interviews of veterans from World War II, the Korean War, the Vietnam War, the Gulf War, the Iraq War and the Afghanistan War. From their stories, he created a work that weaves their diverse experiences into a common fabric displaying the fears, loves, humor, terror, and courage shared by men who have lived through war. Though technology has changed, he found that the realities of human beings in combat have not changed significantly through the generations.
The production features scenes with actors portraying veterans interspersed with clips from the interviews Arndt conducted. A panel discussion will follow the reading.
The production and discussion are designed to give veterans and their families an opportunity for sharing and healing and provide those who have not experienced war with an understanding of the experience. Arndt hopes to share the format with theater artists in other parts of the country so that other veterans can share their stories in the same way.
The workshop is free and open to the public. The forum is located south of Olsen Road between Campus Drive and Mountclef Boulevard on the Thousand Oaks campus.
For more information, contact Arndt at arndt@callutheran.edu or (805) 493-3416.
By Gazette Staff Writer — Wednesday, May 25th, 2011
Teens can audition for 'Romeo and Juliet'
THOUSAND OAKS, CA. - The Kingsmen Shakespeare Company has expanded its Rhodes Junior Apprentice Company program to include a production of "Romeo and Juliet."
The company is open to 13- to 19-year-olds. Acting auditions for all roles will be held from 1 to 4 p.m. Saturday, June 4, and Sunday, June 5, at California Lutheran University in Thousand Oaks. Teens should prepare a 90-second monologue from any of the Bard's plays. Technical and design applications are also being accepted.
Rehearsals for the staging of the classic tale of young love will begin June 20. Stage combat, the structure of Shakespearean verse, line interpretation, character development and staging will be covered.
Directed by Michael McCambridge with Kingsmen Shakespeare Company and California Lutheran University, the production of "Romeo and Juliet" will be presented at 2 p.m. July 30 and 31 and Aug. 6 and 7.
The junior apprentices will also take biweekly classes taught by members of the Kingsmen Shakespeare Company, the professional theatre company of CLU. Topics will include improvisation, voice and movement for Shakespearean acting, and advanced acting techniques.
The junior apprentices also write Shakespeare-spoofing skits that they perform in Will's Corner before each production of the 2011 Kingsmen Shakespeare Festival on the CLU campus. They interact with audience members as part of the "Greenshow" pre-show entertainment and work backstage. They also act as ushers, stuff programs and sell refreshments.
This year's festival will feature performances of "The Taming of the Shrew" from July 1 through 17 and "The Merchant of Venice" from July 22 through Aug. 7. Pre-show entertainment featuring the Rhodes Junior Apprentices and college-aged apprentices begins at 6:45 p.m. and shows begin at 8 p.m.
The junior apprentice program is named in honor of Rick Rhodes, an Emmy Award-winning composer from Oak Park who coordinated it for many years before he died in 2005.
The cost of the program is $300.
To schedule an acting audition, call (805) 493-3014 between 9 a.m. and 1:30 p.m. Monday through Friday. Applicants should also register online at http://kingsmenshakespeare.org or email messages of intent to Artistic Director Michael J. Arndt at arndt@callutheran.edu. Include theatrical experience, reason for applying and any summer conflicts.
By Gazette Staff Writer — Tuesday, May 24th, 2011
Made in Ojai IX "Know Hope" Exhibition
The Ojai Valley Museum
Saturday, May 28
5 to 7 p.m.
Open to the General Public
Contributor: Michele Ellis Pracy
On Saturday, May 28 from 5 to 7 p.m. the Ojai Studio Artists and the Ojai Valley Museum will co-host a reception celebrating their current group exhibit, "Know Hope." Although the exhibit opened April 28, and will close on June 12, OSA's celebration and Awards Ceremony honoring the 2011 Scholarship recipients will take place mid-way through the exhibit.
Five Ojai art students will receive 2011 Ojai Studio Artists Scholarships at the event. The young artists were selected from a wide variety of submissions and juried by a committee of OSA members. The scholarships are part of an ongoing program created to recognize talented burgeoning artists and assist them with their education. The 2011 award winners are: Tristan Walczak, Sarah Pilcher, Rachel Curry, Kathryn Barron, and Hannah Atkinson.
Over the years OSA has awarded nearly $150,000 in scholarships and donations to art students and arts organizations in the Ojai Valley. "Support for the arts is more important than ever," says Ruth Farnham, OSA scholarship committee member, "and the payoff is ongoing."
Funds for the OSA Scholarship Program are generated from a variety of sources such as private donations, fundraisers, a percentage of sales from Ojai Studio Artists' work, and fall studio tour ticket sales. This year the annual Ojai Studio Artist's Tour will be on October 8-9. For more information on the Ojai Studio Artists and their tour, please visit http://www.ojaistudioartists.org/
The May 28th Artists' Reception and Scholarship Awards Ceremony is free and open to the public. Refreshments and a no-host bar will be provided at the event. Most of the work in the "Know Hope" exhibition is available for purchase. The Ojai Valley Museum receives a small commission from the art sales to support its exhibition program.
The Ojai Valley Museum, established in 1967, is generously supported in part by Museum Members, Private Donors, Business Sponsors and Underwriters, the Smith-Hobson Foundation, Wood-Claeyssens Foundation, City of Ojai, Rotary Club of Ojai.
The museum is located at 130 W. Ojai Avenue, Ojai, CA. Adult admission is $4.00. Gallery hours are noon to 4 p.m. Wednesday, Thursday, Friday, and Sunday, and Saturdays, 10 a.m. to 4 p.m. Tours are available by appointment.
For more information, call the museum at (805) 640-1390, ext. 203, e-mail ojaimuseum@sbcglobal.net or visit the museum website at http://www.ojaivalleymuseum.org/
By Gazette Staff Writer — Tuesday, May 24th, 2011
Workshops cover the Bard, technique, musicals
THOUSAND OAKS, CA. - The Summer Theatre Camp presented by the Kingsmen Shakespeare Company and California Lutheran University returns for its 26th year with new classes and a new director.
This year, students who have completed "Beginning Shakespeare" can take "Advanced Shakespeare" I or II sessions. Each two-week workshop covers Shakespeare scenes and stage combat at a progressively more advanced level and culminates in the presentation of scene work on the Kingsmen Shakespeare Festival stage. "Advanced Shakespeare I" also includes acting techniques and "Advanced Shakespeare II" includes period dance.
In "Beginning Shakespeare," children will learn basic acting technique and its application to the Bard's work, leading up to presenting scenes on the stage. Students in "Acting Techniques" will study voice, movement, approaching a script, improvisation and stage combat, and will present scene work before an audience. "Musical Theatre" will cover vocal technique and auditioning and culminate with a performance of selections from a well-known musical.
Michael McCambridge of Sherman Oaks brings 40 years of experience in education and drama to his new role as camp director. McCambridge chairs the teacher education program at California Lutheran University and teaches a creative drama course for the university's theatre arts department. He has directed drama programs in kindergarten through 12th grade schools, founded two theater companies and guided community and professional theater organizations.
"Musical Theatre" teacher Barbara Wegher-Thompson, who teaches and choreographs at CLU and has been involved with the Young Artists Ensemble, is one of the camp's original teachers. The teaching faculty also includes actors from the Kingsmen Shakespeare Company, the professional theatre company of CLU that presents the Kingsmen Shakespeare Festival each summer.
Workshops will be held Monday through Friday on the following dates:
"Beginning Shakespeare" (ages 8 to 12) – June 20 though July 1; July 11 through 22, 8 a.m. to noon
"Acting Techniques" (ages 12 to 16) – June 20 through July 1, 1 to 5 p.m.
"Advanced Shakespeare I" (ages 8 to 16) – July 11 through 22, 1 to 5 p.m.
"Musical Theatre" (ages 12 to 16) – July 25 through Aug. 5, 8 a.m. to noon
"Advanced Shakespeare II (ages 8 to 16) – July 25 through Aug. 5, 1 to 5 p.m.
Individual sessions cost $285. Two sessions cost $525 and three sessions $750. Classes will be held in the CLU Theatre Arts Building.
Registration is available online at http://kingsmenshakespeare.org. For more information, call (805) 493-3455 or email campshakespeare@kingsmenshakespeare.org.
By Gazette Staff Writer — Monday, May 23rd, 2011
A fleet of tall ships demonstrate their seafaring power, beauty at Tall Ships Challenge
OXNARD, CA. - Tall ships are coming to Channel Islands Harbor Jun. 24-26. A total of six tall ships will weigh anchor at the harbor as part of the American Sail Training Association's Tall Ships Challenge race series. These majestic ships will be open for visitors to explore Jun. 24-26.
While at the Channel Islands Harbor, people of all ages can climb aboard the decks and relive the ships' colorful history through docent stories. Battle re-enactment sails, a pirate camp, Civil War encampment, tours and educational programs are also part of the festivities. Visitors can also enjoy live entertainment as well as arts & crafts and food and beverage from the many vendors.
Some ships visitors can explore include the Californian, the Official Tall Ship Ambassador for the state of California. Built in 1984, it is a replica of the speedy 1847 Revenue Cutter, the C.W. Lawrence. The ship is 145 feet long, 101 feet tall and with all nine sails flying, carries 7,000 square feet of sail.
The Spirit of Dana Point is a traditionally built replica of a 1770s privateer employed during the American Revolution. The ship is classified as a 118-foot topsail schooner, with a sparred length of 118 feet and 5,000 square feet of sail.
Cash ticket sales will be available at the festival. Credit card purchases will be available online at www.tallshipschannelislands.com and through Ticketmaster. For more information on the Tall Ships Challenge, visit the Channel Islands Harbor website at www.channelislandsharbor.org.
Channel Islands Harbor serves as a center of recreation, boating, shopping and watersports activities. The harbor is home to three yacht clubs and nine full-service marinas that provide berths for 2,150 boats. It also hosts the Ventura County Maritime Museum. Located at Fisherman's Wharf, the museum is a cultural center dedicated to the interpretation of maritime history through interactive exhibits and educational outreach. For more information on the Channel Islands Harbor, visit the website at www.channelislandsharbor.org.
By Gazette Staff Writer — Monday, May 23rd, 2011
Ventura, CA - All American Ballet Company (AAB) will present a Spring Gala Dance Concert on Sunday, June 5th at 2:00 p.m. at the Buena High School Auditorium at 5670 Telegraph Rd. in Ventura.
Featured will be AAB School students and alumni performing exciting, new works choreographed by AAB's talented staff, including renowned AAB founder and artistic director, Clarissa Boeriu, and award-winning, contemporary choreographer, Jason Coosner.
Families with children of all ages are encouraged to attend. This is a chance to enjoy delightful dancing at all levels – the results of disciplined ballet instruction at each stage of achievement, from adorable pre-ballet students ages 3 and 4 years old to highly-skilled pre-professionals who have studied ballet for many years.
Tickets are $20 for adults and $10 for children 12 years old and younger, and can be purchased online at www.AllAmericanBallet.org or by calling 805-650-6316.
By Gazette Staff Writer — Thursday, May 19th, 2011
"Committed to Community Service Through the Years: The History of the Santa Paula Police Department"
The California Oil Museum (1001 E. Main St., Santa Paula, Wednesday – Sunday 10 a.m. to 4 p.m.), the Santa Paula Historical Society and the Santa Paula Police Department are announcing the opening of a new exhibit entitled, "Committed to Community Service
Through The Years: The History of the Santa Paula Police Department". This opening coincides with the dedication and unveiling of the Santa Paula Police Memorial, Saturday, May 21st, 2011 at 11:00 a.m. The Monument, located in the 900 block of East Santa Barbara Street (between the Gazebo and the Railroad Depot) stands to recognize the dedication officers have made to the city both before and after the Santa Paula Police Department was established in 1923. The Monument and exhibit recognize the sacrifices of Marshal Henry N. Norman who died in 1913 and Officer James E. Barmore who died in 1953. The Memorial's brick pathways feature the names and years of service of past police personnel who served the Santa Paula Police Department.
The exhibit, to be displayed in the Santa Paula Historical Society Hengehold Gallery, is a timeline of department history and personnel separated into categories under each of the department's 13 Chiefs of Police, from Lee Sheppard (1923-1929) to present Chief Stephen MacKinnon (who joined SPPD in 2005).
This exhibit will also feature police memorabilia, uniforms, equipment and the technology that was available during each specific era. Much of the equipment and vehicles used during those times have been replaced with newer technology. Such modernization is beneficial for crime-fighting, but unfortunately, much of the artifacts from the past were not saved. They can be viewed and examined in this exhibit through countless photos which will give you a glimpse of working conditions and tools available to police and dispatchers over the last century.
WHO: California Oil Museum
WHAT: Committed to Community Service
Through the Years: The History of the Santa Paula Police Department
WHEN: May 21, 2011 – September 25, 2011
WHERE: 1001 E. Main Street, Santa Paula, CA 93060 (Hours: Wednesday – Sunday, 10 a.m. to 4 p.m., Adults $4, Seniors $3, Youth 6-17 $1, Children 5 & under and Members are FREE)
By Gazette Staff Writer — Tuesday, May 17th, 2011
June 18, 2011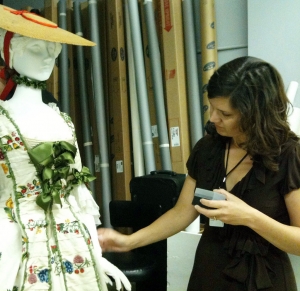 Take a peek inside the legendary, lavish wardrobes of the French Bourbon Dynasty, when the Museum of Ventura County presents Royal Robes, Champagne and Chocolate on Saturday, June 18 at 2:00 p.m. Guests will enjoy champagne and sweets during Dr. Kimberly Chrisman-Campbell's illustrated presentation on the extravagant royal garments of the Bourbon era, including those of Marie de Medici, Louis XIV, Madame Pompadour, and Marie Antoinette.
An art historian specializing in fashion and textiles, Chrisman-Campbell's talk includes images of historic portraits, fashion plates, surviving garments from the era, and George Stuart Historical Figures¼ depicting the Bourbons. The event at the museum's Martin V. and Martha K. Smith Pavilion is $25 for the general public, $20 for members. For reservations call by June 10 to (805) 653-0323 x 315. Admission includes entrance to all museum exhibitions, such as the George Stuart Historical Figures¼ of the Bourbon Dynasty. Local artists will also be demonstrating in the museum courtyard.
Chrisman-Campbell recently co-authored the publications Fashioning Fashion: European Dress in Detail, 1700 – 1915, which accompanied the Los Angeles County Museum of Art's exhibition of the same title, and Paris: Life and Luxury in the Eighteenth Century, accompanying a current exhibition at the J. Paul Getty Museum. She has worked as curator, educator and/or consultant for museums and universities around the world, including the Los Angeles County Museum of Art; The Huntington Library, Art Collections, and Botanical Gardens; The J. Paul Getty Museum; the Portland Art Museum; the MusĂ©e Galliera; and the Fashion Institute of Design and Merchandising. She currently serves on the editorial boards of Dress, and the Texas Tech University Press Costume Society of America Series.
The Museum of Ventura County is located at 100 East Main Street in downtown Ventura. Hours are 11 a.m. – 5 p.m. Tuesday through Sunday. Admission is $4 adults, $3 seniors, $1 children 6-17, members and children under 6 are free. For more museum information go to www.venturamuseum.org or call 805-653-0323.
By Gazette Staff Writer — Monday, May 16th, 2011
Let Us Make You Smile
This is your invitation to attend a delightful afternoon concert of happy, toe tapping and hands clapping band music. Maestro Bruce Colell has chosen marches, musicals, big band songs and specialty numbers guaranteed to make you smile.
Attending our free June 5th spectacular is a perfect beginning of summer. Plan an after concert BBQ or gathering with your friends to celebrate this season's final program of the Ventura County Concert band.
Remember, when you're smiling, the whole world smiles with you!
When: Sunday June 5th, 2011 – 3:00 PM
Where: Ventura HS Auditorium
By Gazette Staff Writer — Monday, May 16th, 2011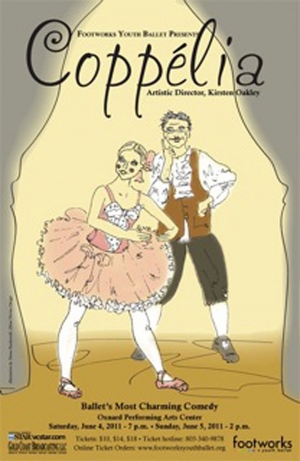 Coppélia, a lighthearted comedy, is the story of a spirited young peasant girl who sneaks into a toymaker's workshop and pretends to be the toymaker's favorite doll. The original story is written by E.T.A. Hoffman (who also wrote the story of The Nutcracker). The ballet, showcasing some of the finest youth dancers in the Ventura County area, is a great opportunity to introduce children to the art of ballet. By providing an opportunity to understand the meaning of the story through a special story time (an hour before each performance), as well as a translation of the miming used in the ballet, children will be able to better understand the story.
What: FOOTWORKS YOUTH BALLET announces its premier production of classical ballet's most charming comedy COPPELIA. A free family educational lecture and story time will begin one hour prior to the performances in the Oxnard Performing Arts Center Lobby.
Where: Oxnard Performing Arts Center – 800 Hobson Way, Oxnard
When: General Public
Saturday June 4, 7:00 P.M.
Sunday June 5, 2:00 P.M.
Outreach Performance
Friday June 3, 10:00 A.M.
(Please contact your child's school to encourage this opportunity to see COPPELIA: Act II and special excerpts of Act III. Call (805) 340-9878 for more information.)
Who: Footworks Youth Ballet, Kirsten Oakley, Artistic Director
Tickets: $10, $14, $18
For more information or to purchase tickets, call (805) 340-9878 or visit the website: www.footworksyouthballet.org
By Gazette Staff Writer — Monday, May 16th, 2011
Santa Paula High School Student Art Show at California Oil Museum
The 13th Annual Santa Paula High School Student Art Show – Las Medallas De Oro – will open at the California Oil Museum on May 22 and runs until July 24, 2011. The California Oil Museum is at 1001 E. Main Street in Santa Paula. Nearly 100 students' artworks will be represented from the classes of three art teachers; Ellen Park, Mariann Romero, and Mike Torres. An opening ceremony will be held from 10:30 am to 11:30 am on May 22. At 11:00 am, ribbons and prizes will be given out to top winners in front of dignitaries, families, friends, and guests. The artworks will be judged by esteemed local artists and community leaders. This annual event is a culmination of student efforts throughout the year and a celebration of their accomplishments. Students participate in every step of the preparation for the show including label making, poster designing, matting, hanging, and display, and are supported by the school's GATE program which provides funding. Join us as we view and support the work of Santa Paula's future leading artists!
Who: Santa Paula High School Art Students
What: Las Medallas De Oro Art Show
Where: California Oil Museum, 1001 E. Main St., Santa Paula
When: May 22 – July 24, 2011
Admission and Hours: $4 Adults, $3 Seniors, $1 Students 6-17, years 5 and under and members are free. Open Wed – Sun 10am to 4pm.
Phone: 805-933-0076 and website www.oilmuseum.net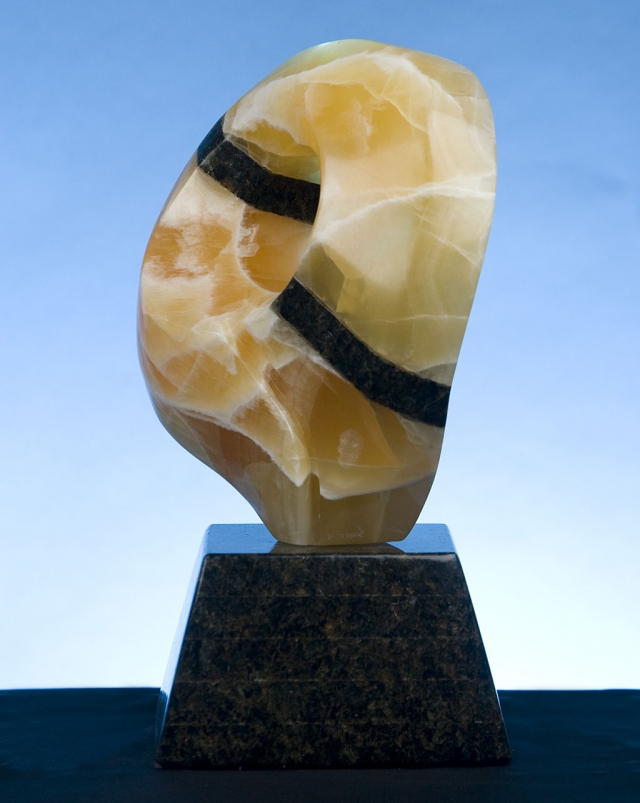 CG Mind Meld
Enlarge Photo
By Gazette Staff Writer — Tuesday, May 10th, 2011
Duane Dammeyer's solo exhibition, Eclectic Stone, at the Buenaventura Art Gallery will show from May 24th to June 18th, 2011. Opening reception is Saturday, May 28th from 4:00 – 7:00 pm.
ECLECTIC STONE is a celebration of the diverse nature of Dammeyer's stone sculptures and of the many sources that inspire his work. Expect to see multiple types and colors of stone, each revealing the artist's vision of the image within. ECLECTIC STONE will showcase realistic, stylized and abstract sculptures, forms inspired by humans and animals and forms reflecting the organic and fluid curves and textures found in nature. Dammeyer's work also includes geometric shapes such as spheres, triangles and cubes played against organic forms and constructions integrating combinations of different stones into a single piece.
With each sculpture that Duane creates, he attempts to generate, in the viewer, an emotional connection with the work. People often are influenced differently viewing the same piece of his art and learning these connections continues his creative process. The finished piece is a give and take between the artist and the stone as interpreted through the eyes and emotions of the viewer.
Dammeyer's work can be seen locally at Ojai Studio Artists' show and tours, Art City, the Artists Union Gallery and Buenaventura Art Association galleries. His work was juried "Best of Show" at the 2010 California Sculptors Symposium.
This is Dammeyer's second solo show with the Buenaventura Art Association.
The Buenaventura Art Gallery is located at 700 E. Santa Clara Street, Ventura, CA 93001`. Hours are Tuesday-Friday from noon – 5 pm and Saturday from 11 am to 5 pm. Please call 805.648.1235 or visit www.buenaventuragallery.org.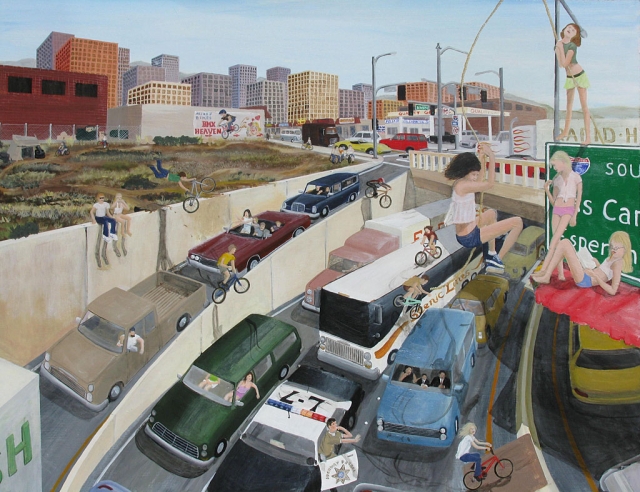 BMX Heaven
Enlarge Photo
By Gazette Staff Writer — Tuesday, May 10th, 2011
The Harbor Village Gallery is pleased to present "A Matter of Time", a show of new works by Jeffrey Zatlin showing from May 18th – June 27th, 2011. Artist's reception will be on Friday, May 20th, 5-8 pm
In this solo exhibit, the Los Angeles native presents an honest and humorous look at how change really comes about, and how our culture and lifestyle help to create a future that is not quite what we thought it would be. Through his paintings, Zatlin hopes to lead the viewer to consider whether innocence and optimism can still prevail in a world that no longer hides it's darker side.
"I want to say something when I stand before a canvas. I want to get a point across with that work. We're all trying to make things better for ourselves in a world that gets more and more complicated, polluted, congested, less dignified, more insensitive, more shocking, less private, and not at all what Disney thought it would be in 'Tomorrowland'. And somehow we are still able to identify our innocence and curiosity. And cherish who we are."
A graduate of UCLA, his recent group exhibitions include the Harbor Village Art Gallery in Ventura, Tarfest 2010 at the Korean Cultural Center, Happy Los Angeles, the Women's Club of Hollywood, Cal State University Channel Islands and the LA Municipal Art Gallery.
This is Jeffrey Zatlin's first solo show with Buenaventura Art Association.
The Harbor Village Gallery is located at 1591 Spinnaker Drive, Entrance #3 in the Ventura Harbor Village. Open every day except Tuesday from 12 – 5 pm. For more information, call the gallery at 805.644.2750 or visit www.harborvillagegallery.com or www.buenaventuragallery.org.
By Gazette Staff Writer — Monday, May 9th, 2011
New Exhibition of George Stuart Historical FiguresÂź and Monologues Opens May 17
The 250-year ascent and descent of the French Bourbon dynasty is traced through the personalities depicted in the George Stuart Historical FiguresÂź exhibition How Sweet Power Went Sour: The Bourbon Dynasty, opening at the Museum of Ventura County on May 17 and running through September 11.
The exhibit of one-quarter life-size sculptures highlights personalities such as Louis XIV, the personification of royal grandeur, and later rulers Louis XVI and Marie-Antoinette, symbols of excess and corruption, executed during the French Revolution. Other featured figures include Madame de Pompadour, Marie de Medici, Napoleon Bonaparte, Louis XVIII and Charles X.
Stuart's accompanying monologues will be presented as three Tuesday lectures at 1:30 p.m. in the Martin V. and Martha K. Smith Pavilion. Out with the Old - In with the New will be presented on June 7, The Age of the Sun King on July 5, and After Us, the Deluge on August 16. Each monologue is $15 for the general public, $10 for museum members, and includes admission to all museum galleries. For reservations, call (805) 653-0323 x 315.
The Museum of Ventura County is located at 100 East Main Street in downtown Ventura. Hours are 11 a.m. – 5 p.m. Tuesday through Sunday. For more museum information go to www.venturamuseum.org or call 805-653-0323.
By Gazette Staff Writer — Monday, May 9th, 2011
Camarillo, CA. - The CSU Channel Islands Choral Association (CICA) will present its second spring concert entitled "Ain't Necessarily So" on Sunday, May 15 at St. Columba's Episcopal Church in Camarillo, 1251 Las Posas Road. The performance will begin at 3 p.m. and will also include children from the Los Primeros Elementary School in Camarillo.
The concert will feature a broad spectrum of musical selections. Classical selections will include music by Mozart, Puccini, Verdi, Johann Strauss and Bizet. The children from Los Primeros will do selections from different musicals such as 'Tomorrow' from Annie, 'Somewhere Over the Rainbow' from the Wizard of Oz and others. As a special treat the choir will do a medley from Gershwin Portrait.
The event is free and open to the public and includes complimentary parking. The concert is sponsored by the Channel Islands Choral Association. Donations to support the choir will be accepted at the door.
The CSU Channel Islands Choir is a class at the University that is open to students, faculty and community members. Auditions for community members are held twice per year with the next audition taking place in August. For additional information, contact the instructor, Professor KuanFen Liu at 805-278-0375 or kuanfen.liu@csuci.edu
About California State University Channel Islands
CSU Channel Islands (CI) is the only four-year, public university in Ventura County and is known for its interdisciplinary, multicultural and international perspectives, and its emphasis on experiential and service learning. CI's strong academic programs focus on business, sciences, liberal studies, teaching credentials, and innovative master's degrees. Students benefit from individual attention, up-to-date technology, and classroom instruction augmented by outstanding faculty research.